CBD Review: Velobar's Peanut Butter CBD Protein Bar
Jun 6, 2020 | SOC
CBDCBD EdiblesCBD Protein
Velobar CBD Protein Bar — Peanut Butter 25mg
Pros
Organic ingredients
Third-party lab tested for contaminants and impurities
Hemp grown in the USA
Use of superfoods
Plant-based proteins
No artificial ingredients
Soy-free
Gluten-free
Non-GMO
Cons
No broad-spectrum or full-spectrum option
Texture is a bit dry
Velobar CBD Protein Bar — Peanut Butter 25mg
Product Review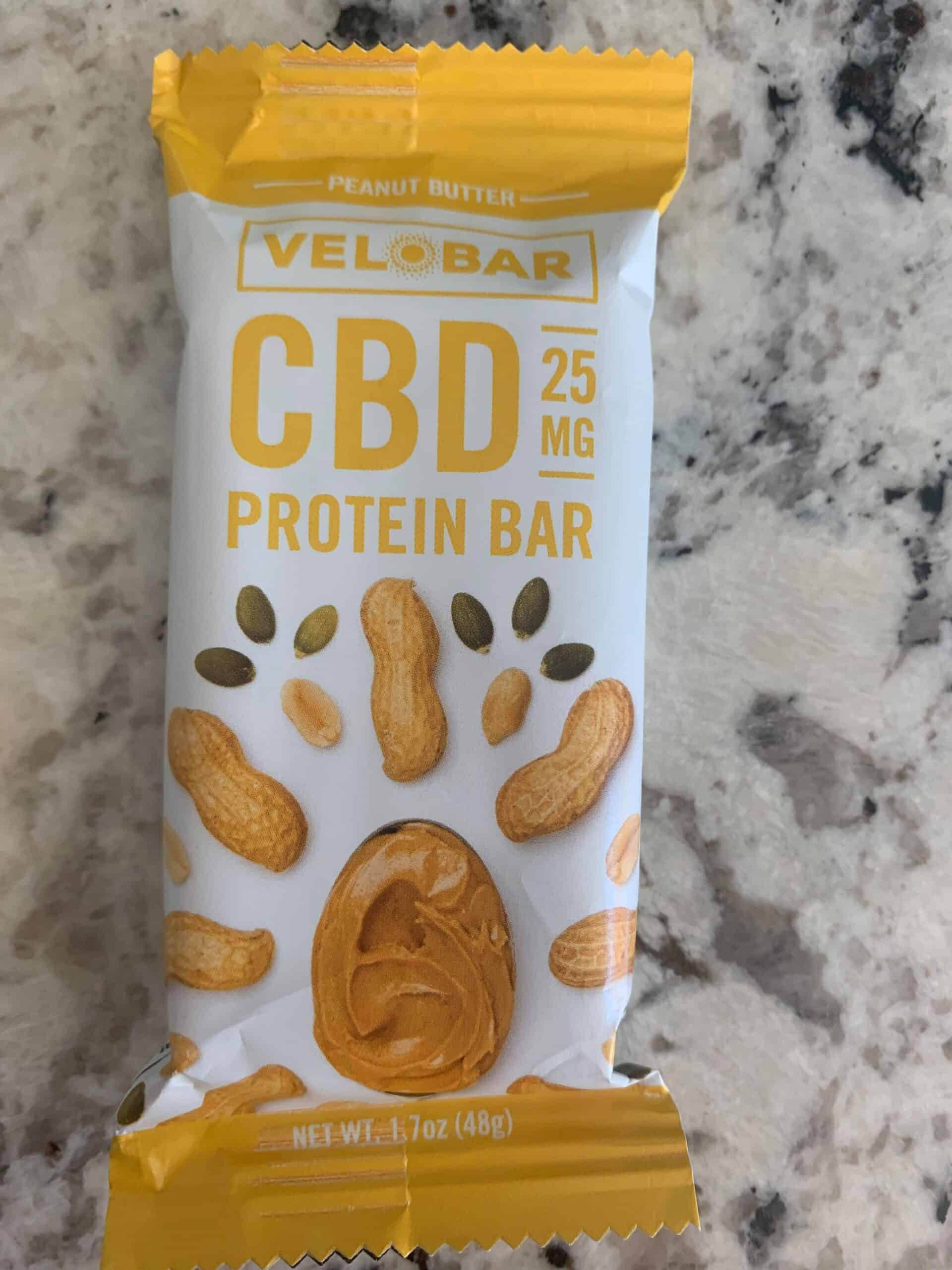 Brand Overview: Velobar
The motivation behind Velobar was to craft the best-tasting and healthiest CBD edible around. In fact, the goal was to develop a recipe that would surpass every other health bar and protein bar on the market. With the help of a nutritionist, Brant Reiter, the CEO and co-founder of Velobar, came up with two CBD-infused bars — one with a peanut butter flavor and the other with a dark chocolate flavor.
But these aren't flavors manufactured in a lab. No, these flavors come from real ingredients found in nature. Brant's philosophy was and still is all about mixing the benefits of hemp-derived CBD with the benefits of superfoods like nuts, seeds, dark chocolate, sea salt, and natural sweeteners like dates, agave, and tapioca syrup.
Additionally, Velobar uses CBD isolate in its protein bars which get tested by a third-party lab for potency and safety. To remain fully transparent, Velobar includes the test results on its website. Also, the company sources its hemp from licensed farms in the U.S.
At this time, the company only carries CBD protein bars.
Products: Edibles
Price Range ($-$$$$): $$$
---
About Velobar's Peanut Butter CBD Protein Bar — 25mg
Velobar's CBD Peanut Butter Protein bar contains 10 grams of plant-based proteins and 25mg of CBD isolate. Therefore, this is a vegetarian and vegan-friendly product and is THC-free. The bar includes organic ingredients like peanuts, pumpkin seeds, chia seeds, flaxseeds, and agave.
Additionally, the protein bar is gluten-free, soy-free, and GMO-free.
You can eat this bar as a post-workout snack, after a hot yoga class, a tough hike, as a caffeine alternative, or anytime you're in the mood for a satisfying, yet health-conscious snack.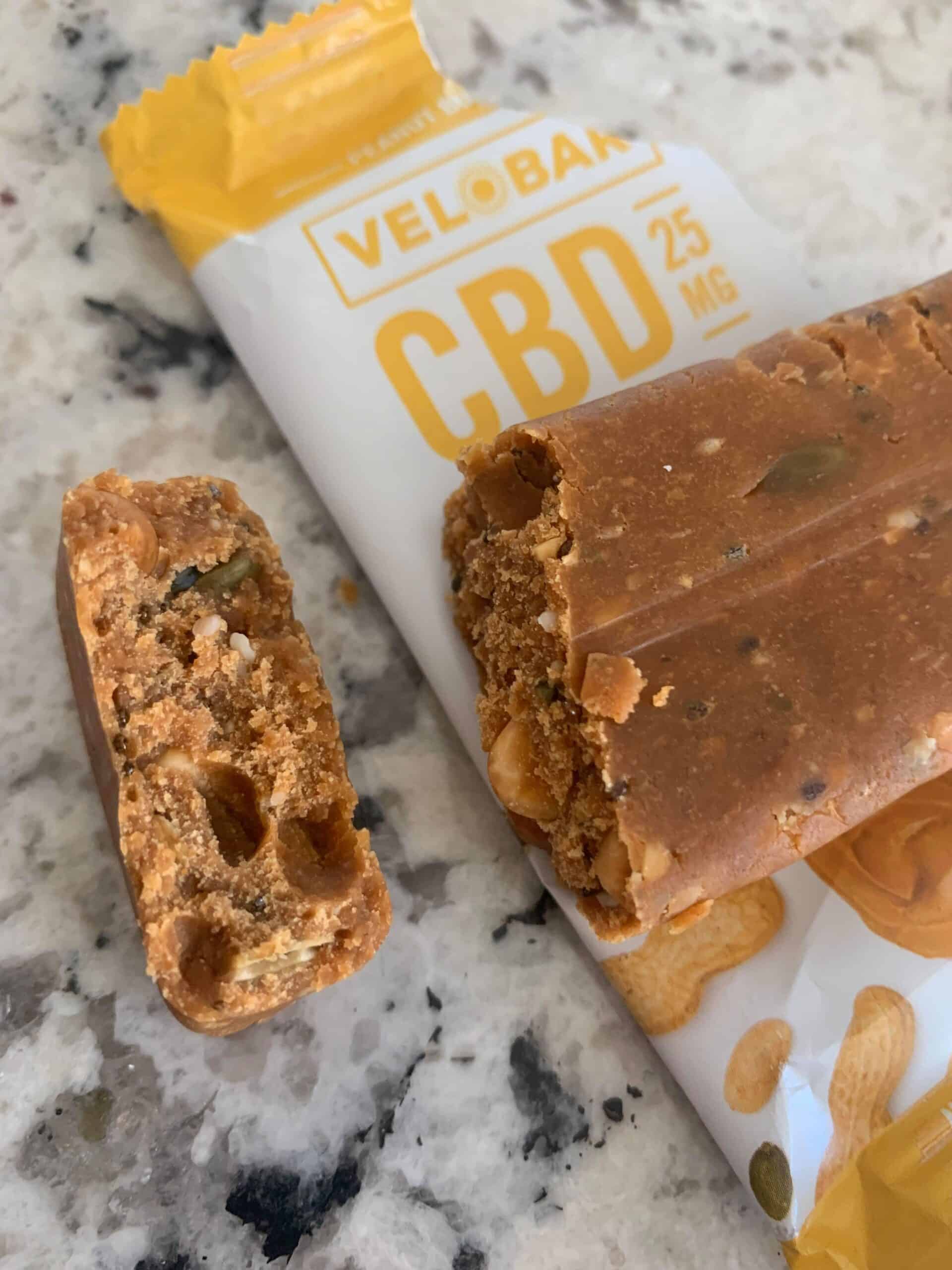 ---
Velobar Peanut Butter CBD Protein Bar — 25mg Specifications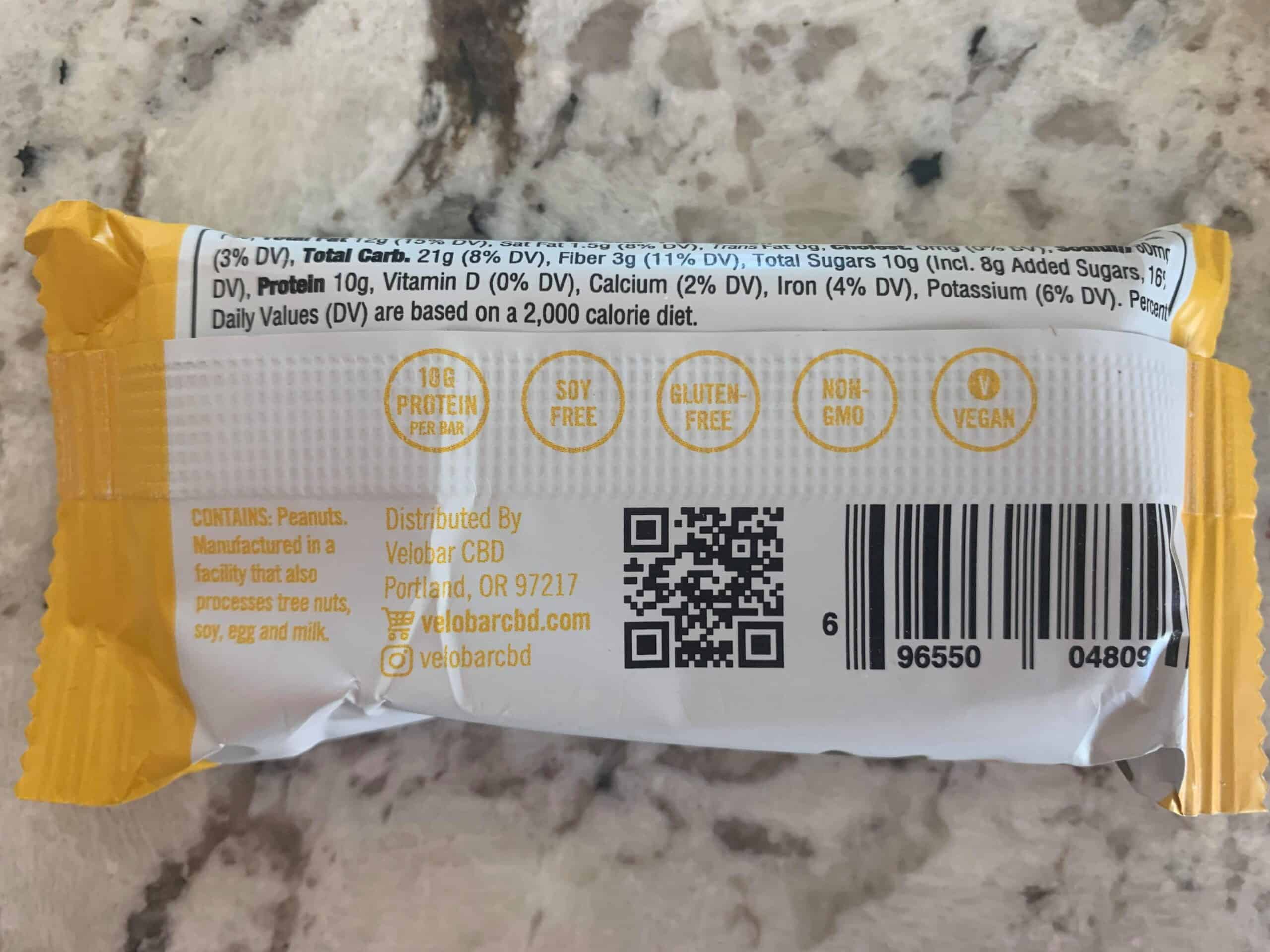 25 mg CBD isolate per bar
Net weight: 1.7oz.
1 bar per wrapper
0% THC
Soy-free, gluten-free, non-GMO, vegan
10 grams of plant-based protein
Ingredients: organic peanuts, organic tapioca syrup, organic agave, organic pumpkin seeds, organic chia seeds, organic flaxseeds, organic hemp hearts, sea salt, hemp-derived crystalline CBD
---
How We Tested the Velobar Peanut Butter CBD Protein Bar — 25mg
I tested two of Velobar's CBD Peanut Butter protein bar's about a week apart. The first time I ate this bar was during the mid-day. I'm not a big coffee drinker, so when I'm craving a pick me up, I grab a handful of walnuts, almonds or some other source of good fats. Grabbing this bar instead was the perfect substitute.
The second time I ate this bar was around 7 pm, an hour after finishing dinner. I wanted something sweet but healthy, and this bar was a great option. Not only was I looking forward to the taste, but I wanted to see if the CBD would positively impact my sleep.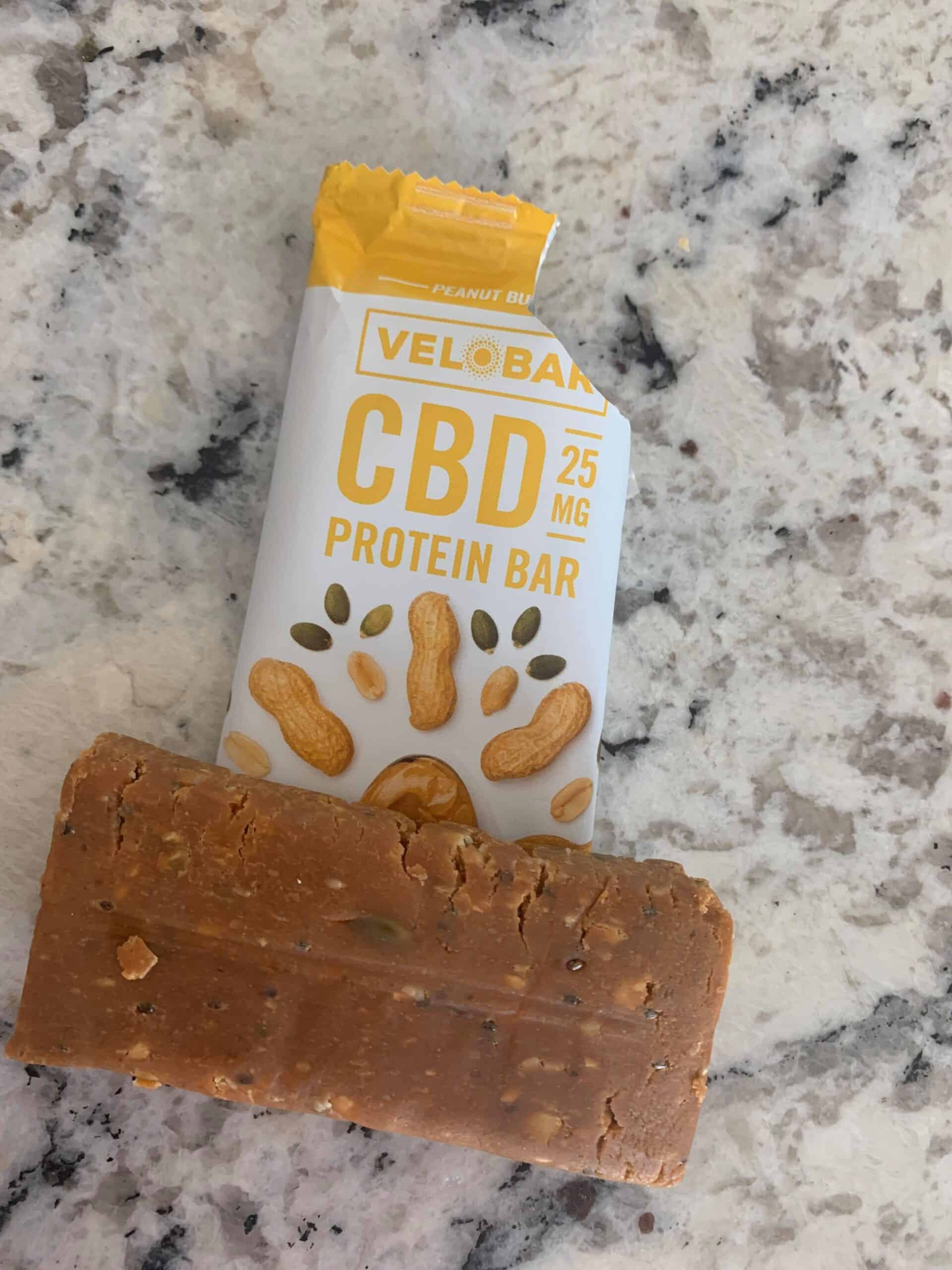 ---
How the Velobar Peanut Butter CBD Protein Bar — 25mg Worked for Me
Eating Velobar's CBD protein bar as an afternoon snack was a wise decision. I loved the pieces of peanuts and seeds in the bar that made it delightfully crunchy. The peanut butter flavor was on point and the effects I felt were even better. About 30 minutes after finishing the bar I felt deeply calm and focused. These effects were a huge help to getting me through my busy schedule as a solopreneur.
Eating the bar for a second time was a wonderful experience. It satisfied my craving for something sweet and was also satiating. Since I ate this bar after dinner it helped me unwind and prepare for the relaxing part of my day. My sleep was great and I woke up feeling refreshed.
Overall, I'm a big fan of Velobar's CBD protein bars, both the peanut butter and dark chocolate option, which I wrote about in a separate review. The taste was amazing, and I was very happy with the calming effects.
---
Useful and Unique Things to Know About Velobar Peanut Butter CBD Protein Bar — 25mg
Velobar's Peanut Butter CBD Protein Bar is made with 90% or more organic ingredients. Most of the competition is not doing this. Plus, many of the CBD protein bars use whey or soy protein, synthetic vitamins, preservatives, and artificial flavors. But, Velobar does not. When the company talks about making the best tasting and healthiest bar around, it's serious.
The source of protein in this bar comes from organic nuts and seeds, and instead of using refined sugars or corn syrup, Velobar uses natural sources of sweeteners like agave and tapioca syrup.
In addition, the company does something that most companies do not. It pays a third-party lab for a full panel of testing. The lab tests the CBD isolate for any metals, mold, bacteria, yeast, mycotoxins, or volatile organic compounds. They also test the cannabinoid profile to ensure there are zero traces of THC.
Making this big financial commitment is a testament to Velobar's dedication to making safe, clean, and high-quality products.
---
Velobar Peanut Butter CBD Protein Bar — 25mg Ratings
In the next sections gradings from 0-100 on our review, these grades add up to give the product's overall score.
PRESENTATION • 100
Gorgeous designs on the packaging and easy-to-follow labeling.
RELIABILITY • 100
Consistent effects and same great taste with each bar.
QUALITY • 100
Organic ingredients sourced directly from nature.
FLAVOR / SMELL / or EASE OF USE • 90
Peanut butter flavor was really nice, but the bar was a tad dry.
VALUE • 100
Pricier than CBD oil but delivers on value.
---
PROS of the Velobar Peanut Butter CBD Protein Bar — 25mg
The positive aspects of this bar are numerous. But, at the top of our pros list are the features that make Velobar's protein bar shine. First, we love the long list of plant-based ingredients (no fake stuff), a comprehensive panel of lab testing for safety and consistency, and of course the high-quality source of hemp.
---
CONS of the Velobar Peanut Butter CBD Protein Bar — 25mg
The cons list is very short in comparison to the pros list. One minor note for improvement is the dryness of the bar. It's not extremely noticeable, but compared to the dark chocolate bar, the peanut butter bar is slightly dry. Secondly, we wish there was a broad-spectrum or full-spectrum CBD option. However, we do understand this would alter the taste of the bar and make it taste earthy or hemp-like.
---
How Velobar Peanut Butter CBD Protein Bar — 25mg Stacks Up Against the Competition
Velobar's CBD protein bars far exceed the competition as far as we're concerned. Some of the CBD protein bars out there are pretty good, yet they don't hit as many marks as Velobar does.
We saw a couple of bars with natural, superfood ingredients, but they weren't organic. And the ingredients list wasn't as well-rounded and nutritious either. Also, it's rare to see the level of transparency that Velobar offers. It posts its lab-reports online for all inquiring minds to see. Other companies might share a lab report showing the cannabinoid profile, but that's it.
And even though the bars cost $5 each (a little less when buying in bulk), the competition is priced about the same. Yet, Velobar's price is more than fair considering the level of quality they bring to the table.
---
Saving Money With Our Verified Velobar Coupons
Save money by using our verified CBD Edibles here at Save On Cannabis the World's largest online cannabis coupon code directory.
---
Disclosure: I received these products gratis so that I could try them and then share my honest opinion with the SOC community. I am employed by Save on Cannabis to write honest reviews and provided a flat rate payment for the writing of the review. SOC may receive recurring affiliate payments for purchases made based on this content.

We tested the Green Roads' Daily Dose Strawberry AK CBD oil dropper, read our expert breakdown, this CBD concentrate stood up to our tests.
Our reviewer tested out the Medterra Good Morning Capsules, read our first hand trials of how these CBD pills worked. See how if these are worth your money.
In our PhenoPen review learn about this GMP certified vape pen made of Full Spectrum CBD oils. Find out if it is worth your time and money.