CBD Review: Every Day Optimal CBD – 1000mg Tincture
Apr 5, 2019 | Romy
CBDCBD TincturesCBD Vape Oils
Every Day Optimal CBD - 1000mg Tincture
Pros
Fights pain and inflammation
All natural ingredients
Great taste
Easy to use
Easy to dose
EVERY DAY OPTIMAL
Product Review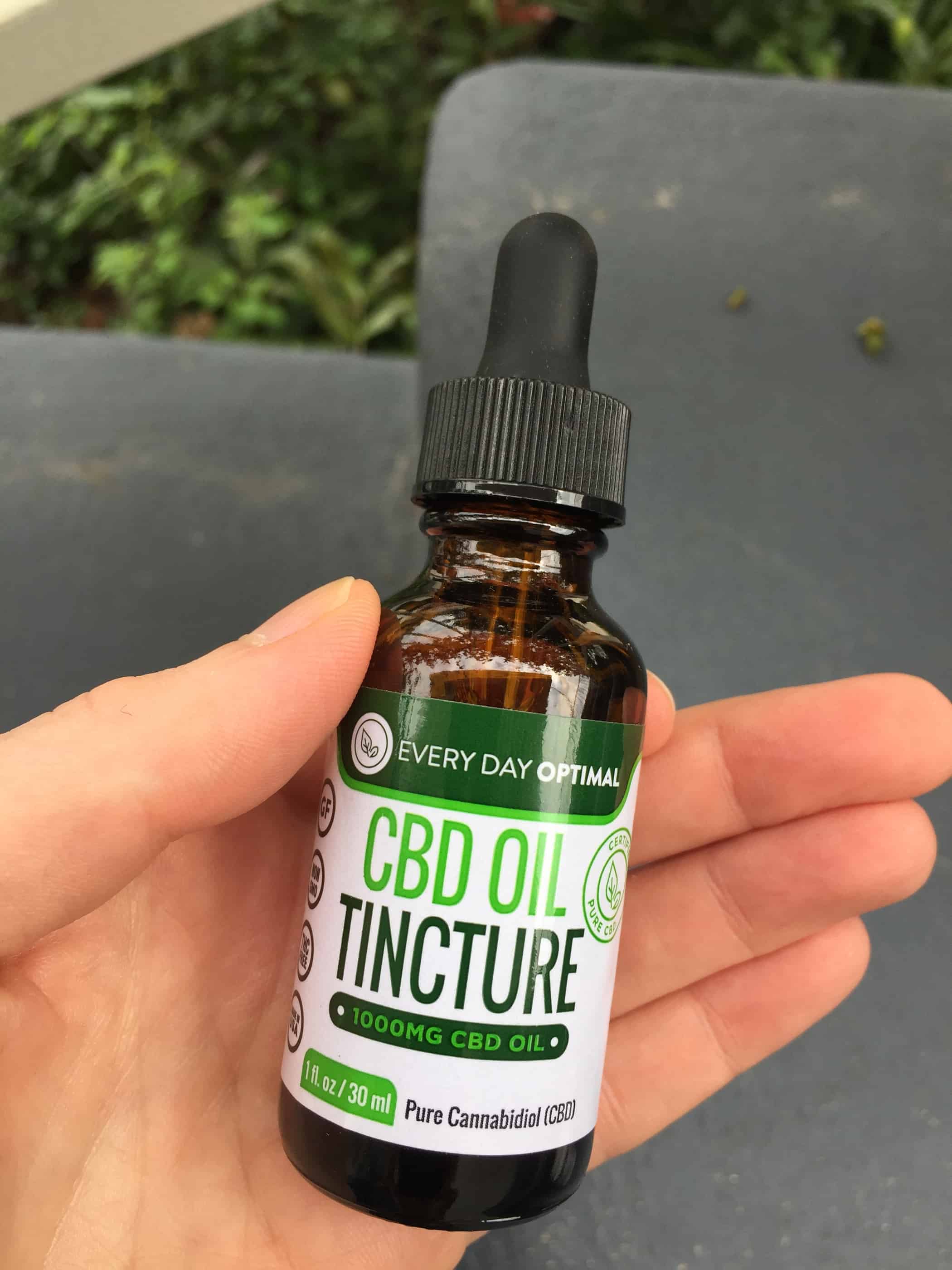 Brand Overview: EVERY DAY OPTIMAL
Every Day Optimal's founders work with the industry's best farmers to grow CBD-rich hemp in an effort to bring high-quality products to your door. They have a "people first and business second" philosophy and welcome customers to reach out to them with questions, comments, and concerns. Working alongside bona fide medical doctors who are experts in medical marijuana, Every Day Optimal products are curated for effective pain management and nutrition. Best of all, the company has enough confidence in their products to offer a 30-day money back guarantee.
Products: Capsules & Pills, Gummies & Edibles, Tinctures, E-Liquids, Bundles
Price Range ($-$$$$): $$-$$$$
---
About the EVERY DAY OPTIMAL CBD OIL TINCTURE – 1,000 MG
Every Day Optimal's peppermint flavored tincture provides an easy and effective way to consume CBD. Taking only half a dropper gives you 16.6 mg of CBD in this 1000mg oil tincture, offering a safe and all-natural way to fight inflammation, anxiety, insomnia, PTSD, and chronic pain. This product is completely free of THC, meaning it won't get you high or make you fail any urine tests. Made with quality industrial grown organic hemp, this tincture is devoid of toxic chemicals like heavy metals and pesticides.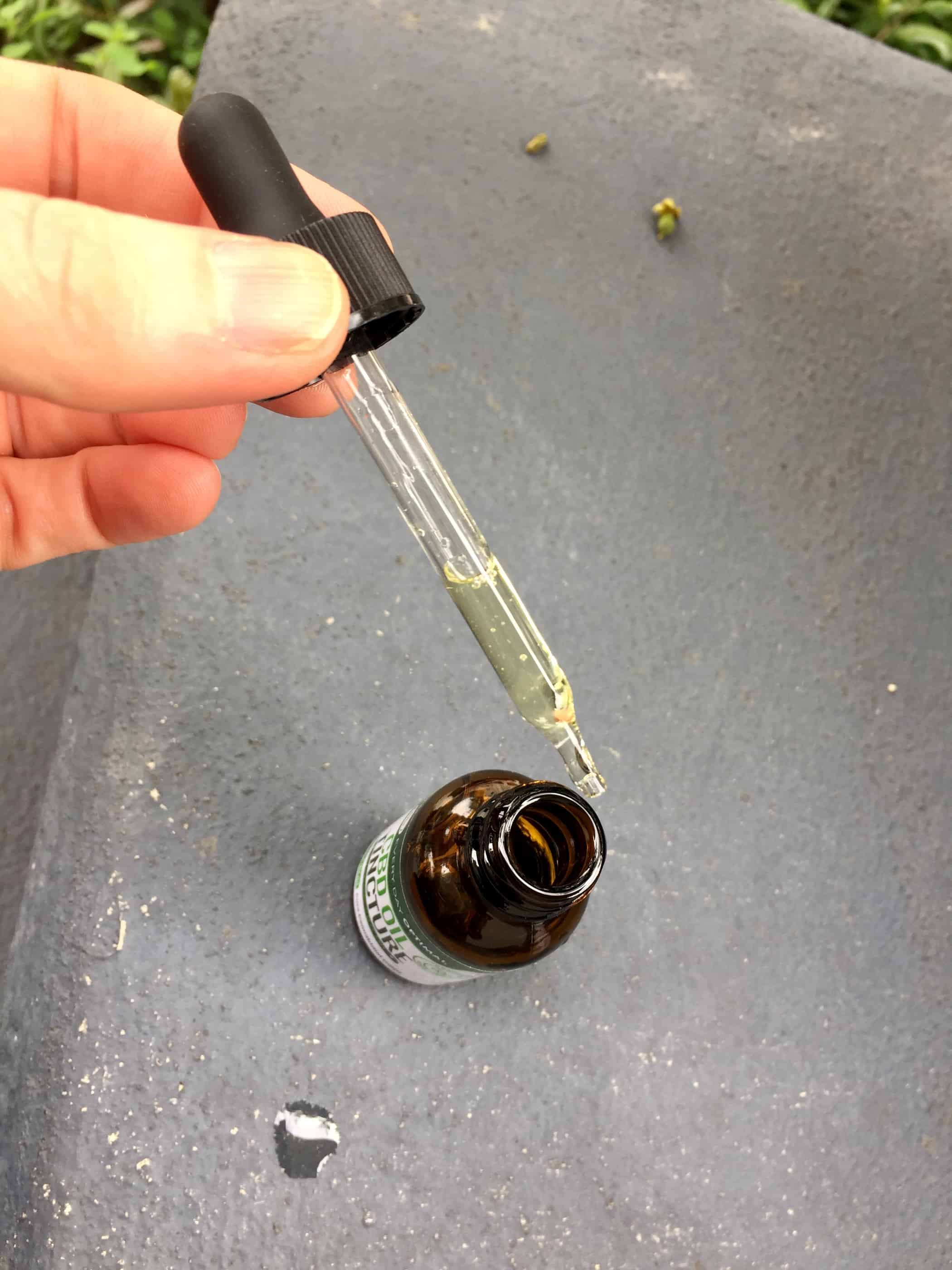 ---
EVERY DAY OPTIMAL CBD OIL TINCTURE – 1,000 MG Specifications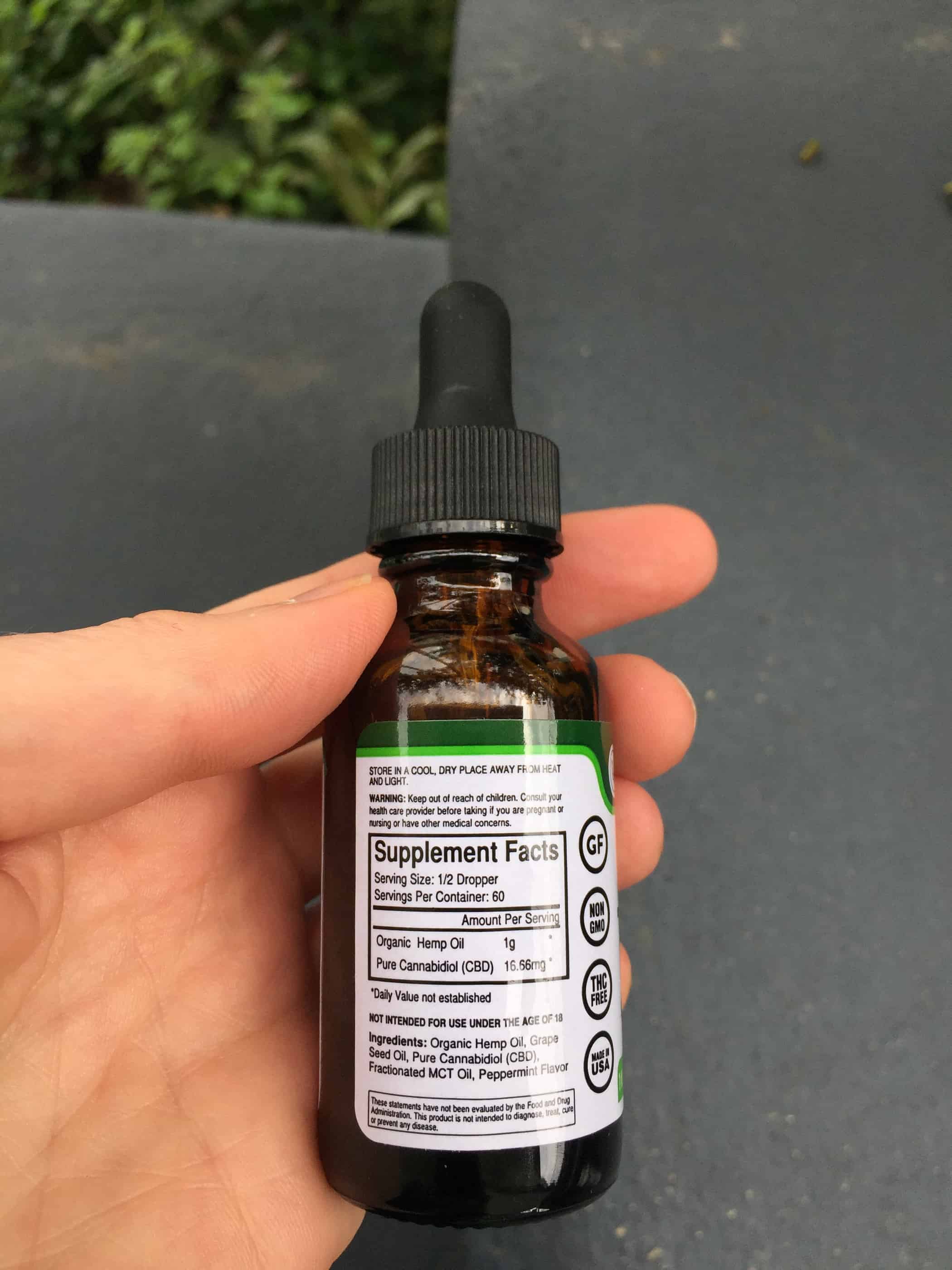 Bullet point breakdown of the specs of the product, this could be hardware technical details or something like cannabinoid /terpene /testing results.
Serving Size: Half a dropper
Servings Per Container: 60
Organize Hemp Oil: 1 g
Pure CBD: 16.6 mg
1 fl. oz. / 30 ml
Directions: Shake well, take 1-2 servings daily or as needed
Made from Industrial Grown Hemp
Non-GMO Hemp Cultivars
100% Vertically Integrated
Organic Farming Practices
Complete Plant Profile
Ingredients: Organize Hemp Oil, Grape Seed Oil, Pure Cannabidiol (CBD), Fractionated MCT Oil, Peppermint Flavor
THC-Free
Gluten-Free
Made in the U.S.A.
---
How We Tested the EVERY DAY OPTIMAL CBD OIL TINCTURE – 1,000 MG
Ever since my foot got run over by a car earlier this year, it's been swollen and inflamed, especially after walking for more than twenty minutes. This is a total bummer because my favorite form of exercise is walking, especially hiking. I was prescribed meloxicam, which is basically a strong version of ibuprofen, and while it helps a little, I was interested in a more natural way to fight the pain and inflammation. I wanted to try Every Day Optimal's CBD Oil Tincture because I really liked their gummies. Recently, I went to Big Bear for a mini-vacation and told my travel buddy/sister that we could only go on short hikes that are relatively flat. I wanted to test out this product, in combination with the meloxicam, to see if I could hike for more than ten minutes without needing to turn back. About an hour before we left for the Big Bear Discovery Center, which has a hike that's only .5 miles, perfectly doable, I took 2 servings of this tincture for a total of 33.2 mg of CBD.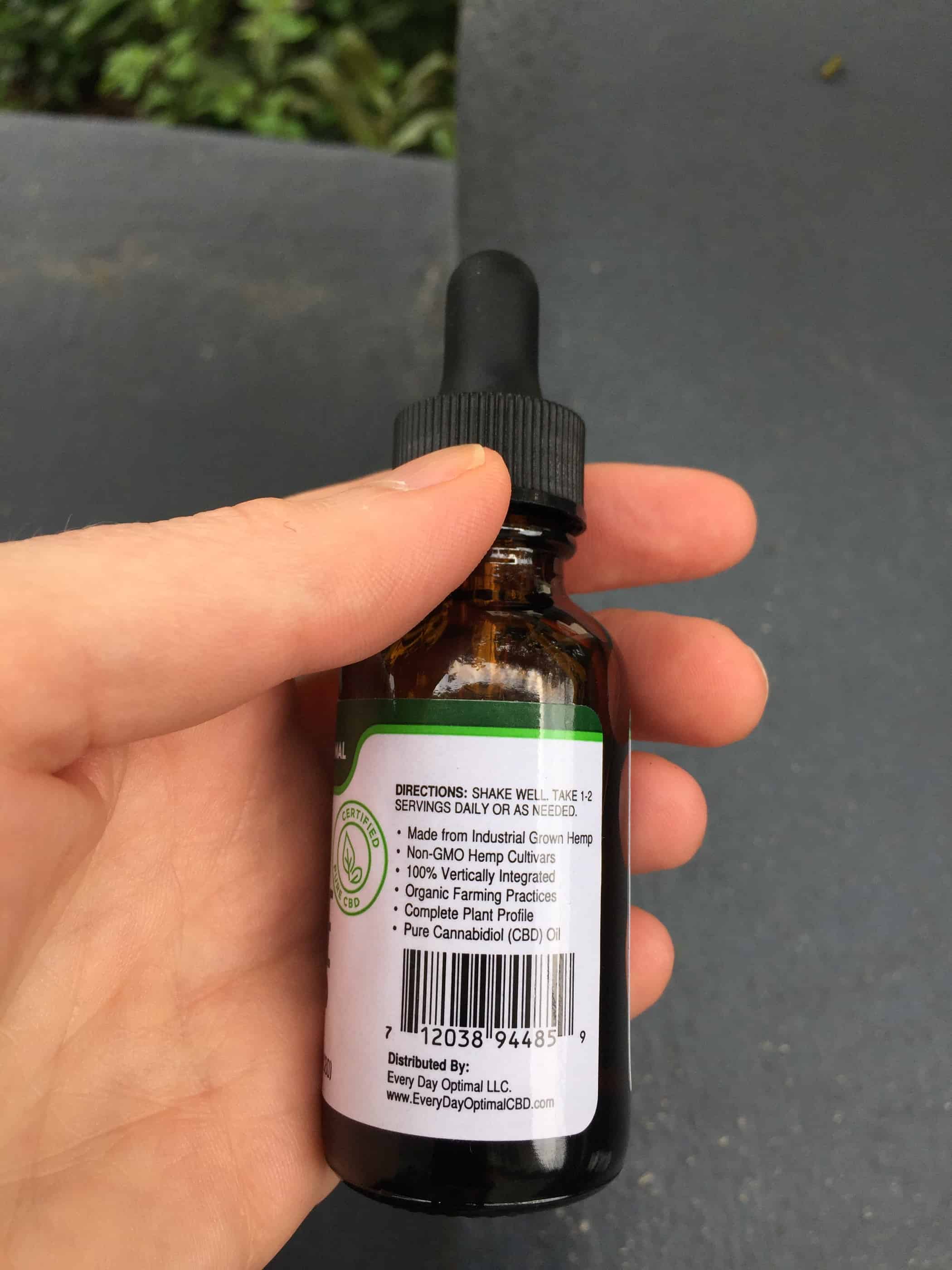 How the EVERY DAY OPTIMAL CBD OIL TINCTURE – 1,000 MG Worked for Me
About a half hour after taking this tincture, I felt the usual CBD body warmth come over me (which is a good sign it's working!) It was a similar feeling that I got from Every Day Optimal's gummies, which made me feel clear-headed and ready to take on the world. The Big Bear Discovery Center's .5 mile hike was lovely and took about fifteen minutes, the perfect length for my injured foot. We got a good view of the forest, mountains, and lake and spent some time searching the skies for Big Bear's famous eagles (although we didn't see any.) I felt like the tincture really helped with the inflammation, as a couple of hours later, I suggested we try another hike! We did the forty minutes Woodland Trail's walk, and I only needed to take a couple rests along the way. Every Day Optimal's products have been an effective way for me to get through the recovery process of being hit by a car in a big way. I'm a fan. (Oh, and we did end up seeing a juvenile eagle soaring above the North Shore. Best day ever!)
Useful and Unique Things to Know About EVERY DAY OPTIMAL CBD OIL TINCTURE – 1,000 MG
Every Day Optimal's website provides a great deal of helpful information about what goes into their products. I learned that their organic hemp oil has polyunsaturated fatty acids and grape seed oil which help lower cholesterol and fight heart disease. Even when I don't need this stuff to fight inflammation, I will use this every day as I have high cholesterol AND high blood pressure. Plus, my podiatrist approves of me using it, so it's always good to have a doctor's consent. This stuff truly can help whatever ails you.
---
EVERY DAY OPTIMAL CBD OIL TINCTURE – 1,000 MG Ratings
In the next sections gradings from 0-100 on our review, these grades add up to give the product's overall score.
PRESENTATION • 100
Informative.
RELIABILITY • 100
Works great to reduce pain and inflammation!
QUALITY • 100
All natural and high quality.
FLAVOR / SMELL / or EASE OF USE • 100
Nice mild peppermint flavor.
VALUE • 95
About the average price, but you can find cheaper.
---
How the EVERY DAY OPTIMAL CBD OIL TINCTURE – 1,000 MG Stacks Up Against the Competition
There are so many CBD tinctures on the market it gets hard to compare, but Every Day Optimal's by far stands apart as one of the most effective. I compared it to Steve's Goods and GoGreen Hemps oils to see if I noticed any difference. While they all worked, Every Day Optimal's tincture felt noticeably stronger. Even though it's slightly more expensive, in the future, I would choose this product over the others.
Saving Money With Every Day OptimalCoupons
Save money on all CBD Oil Reviews , CBD Tinctures Reviews here at Save On Cannabis the World's largest online cannabis coupon code directory.

---
Disclosure: I received these products gratis so that I could try them and then share my honest opinion with the SOC community. I am employed by Save on Cannabis to write honest reviews and provided a flat rate payment for the writing of the review. SOC may receive recurring affiliate payments for purchases made based on this content.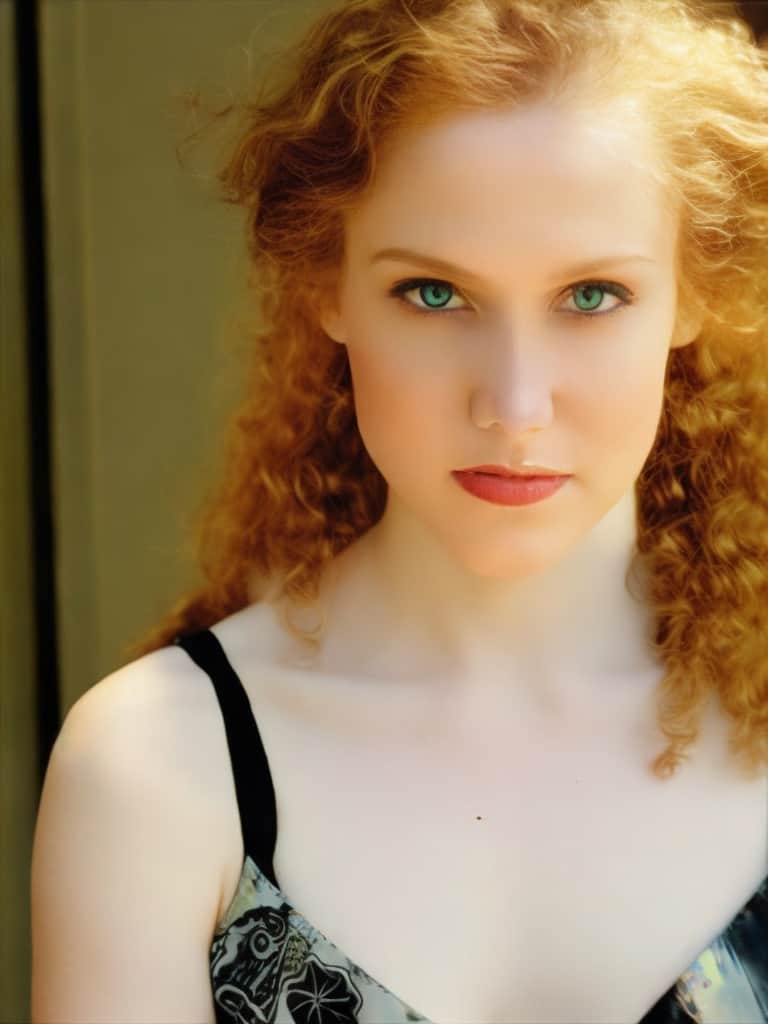 A medicinal cannabis user, utilizing the power of the plant to ease the pains and stresses from long standing conditions that other over the counter or prescriptions could not fix or weren't a natural option like cannabis.  Also, has a background in working directly in the cannabis industry in California within various dispensaries.
Sorry, no coupons were found.
Not only did we test the new Infnite CBD Nano Freezing Point Topical, but we even compared it to the regular version to see which is better. Find out now!
In this TryTheCBD review our expert puts their 3000mg tincture to the test for her pains and troubles sleeping. See how it worked, in this CBD review.
In this Joy Organics review of their 900mg Mint Flavor CBD Tincture we see if it should be in your wellness routine.