Social CBD Review: CBD Muscle Rub 250mg
Oct 3, 2020 | SOC
Social CBD Muscle Rub 250mg
34.99
Social CBD
Product Review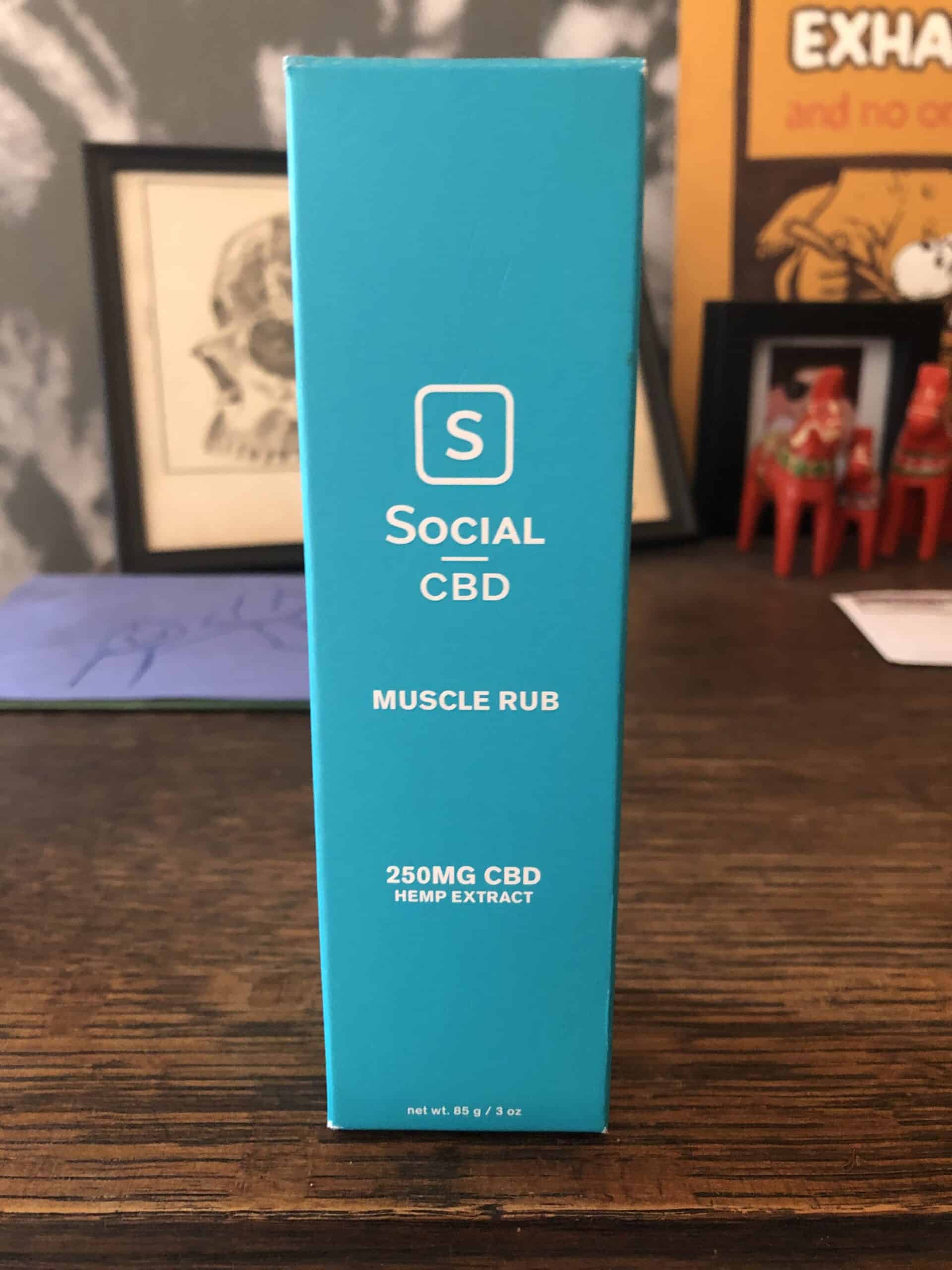 Brand Overview: Prima
Social CBD has created a line of CBD products that provide "natural solutions for modern life." Everything they make is 100% plant-based and rich in phytonutrients. Social CBD has a wide variety of drops, vape pens, capsules, and gummies to choose from.Their line of topicals includes products from Volcom, to help with recovery after a workout or time in the sun.
They also have a line of self-care topicals for women called Zooey CBD. Social CBD also makes products just for your pet! Sign up for their mailing list and save 20% off your first order.
Products: Skincare, Bath Products, Capsules, Powders for Morning, Noon, and Night, Bundles.
Price Range ($-$$$$): $$$
---
About SOCIAL CBD MUSCLE RUB
Social CBD Muscle Rub is an icy topical that contains 250 mg of cannabidiol, or CBD. The 3-ounce container is made to be travel-ready and TSA-compliant so you can just toss it into your carry-on and go. This muscle rub is infused with natural healing ingredients like aloe, Vitamin E, tea tree oil, menthol, and arnica to provide relief. Aloe and Vitamin E, both famous for their ability to help with sunburns, have a soothing effect on the skin.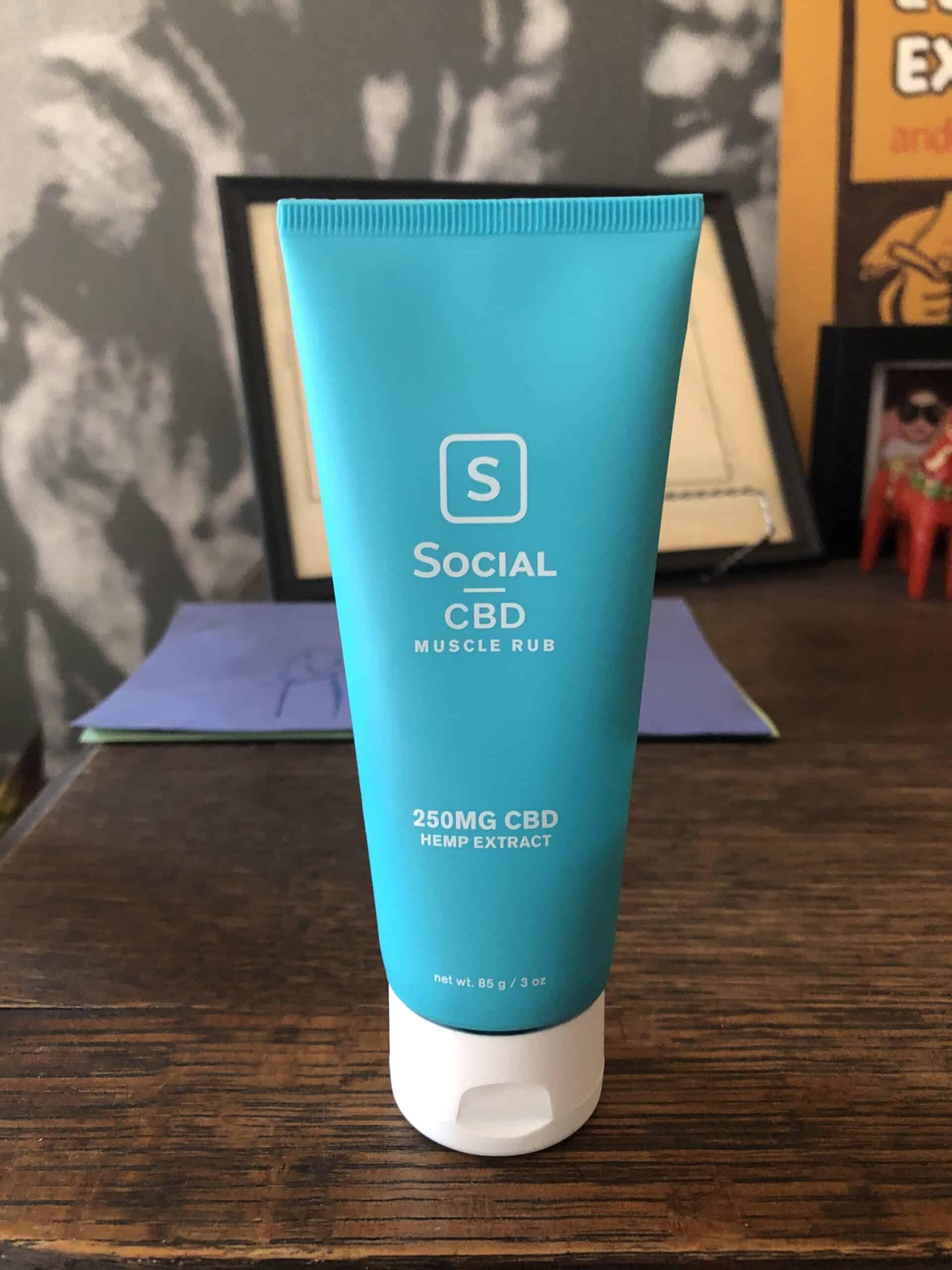 Tea tree oil has a calming effect and arnica is used by both regular doctors and naturopaths to help your skin heal. The menthol provides the icy sensation which helps fight post-workout inflammation. You can use this product no more than four times a day by massaging it into your target areas.
---
SOCIAL CBD MUSCLE RUB Specifications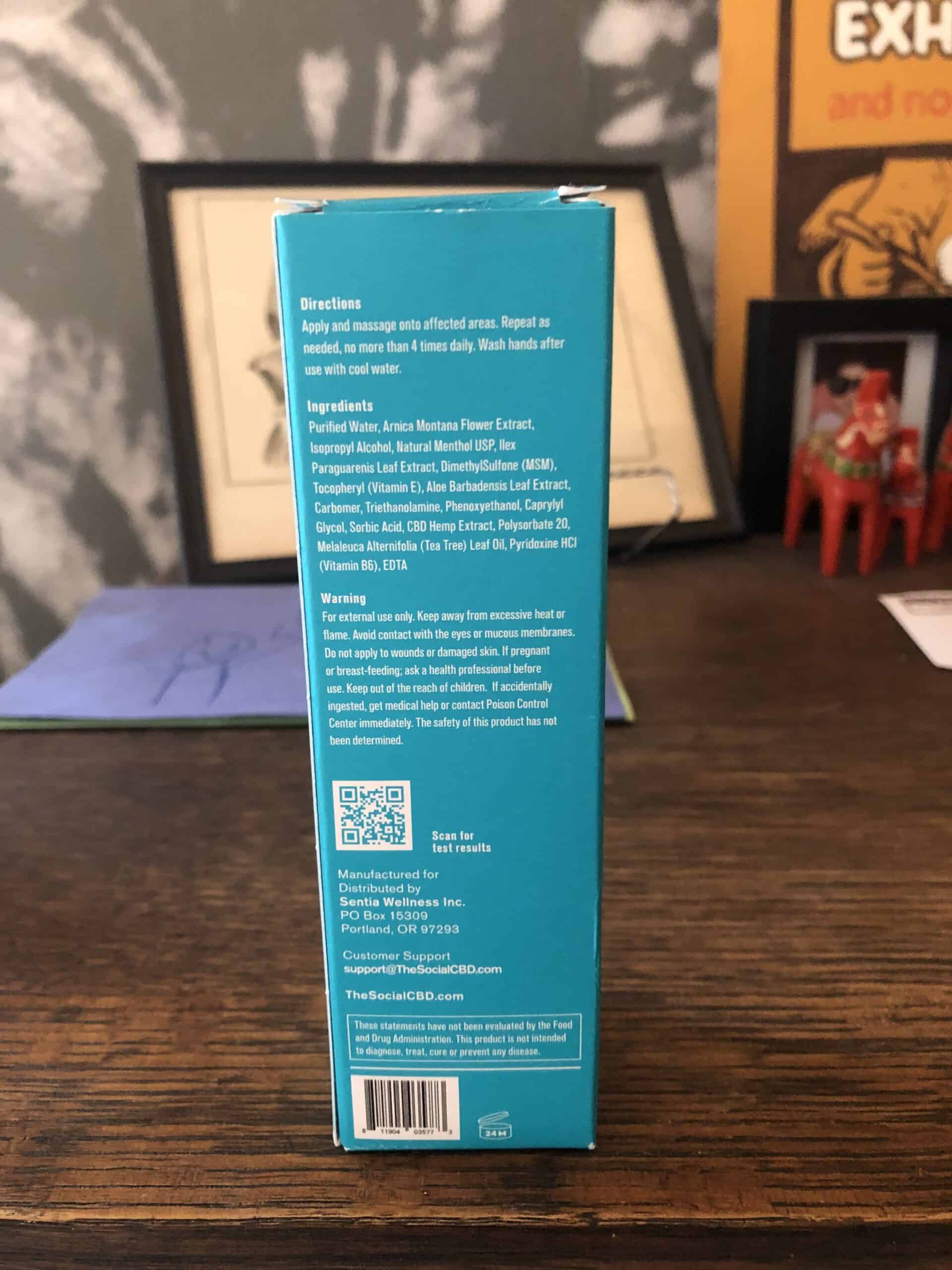 250 mg CBD
85 g / 3 oz
0% THC
Ingredients: Purified Water, Arnica Montana Flower Extract, Isopropyl Alcohol, Natural Menthol USP, Ilex Paraguarenis Leaf Extract, DimethylSulfone (MSM), Tocopheryl (Vitamin E), Aloe Barbadensis Leaf Extract, Carbomer, Triethanolamine, Phenoxyethanol, Caprylyl Glycol, Sorbic Acid, CBD Hemp Extract, Polysorbate 20, Melaleuca Alternifolia (Tea Tree) Leaf Oil, Pyridoxine HCl (Vitamin B6), EDTA

---
How We Tested the SOCIAL CBD MUSCLE RUB
I'm in physical therapy for various injuries and find my joints and muscles need more relief after my workouts. It's gotten to the point where physical therapy has made it harder for me to sleep when it should be helping. I've tried several of Social CBD's topicals and found their Volcolm Truly Cool CBD Muscle Rub to be the most effective, so I thought their icy Social CBD Muscle Rub would also do the trick. They both contain menthol, which I've found provides immediate relief.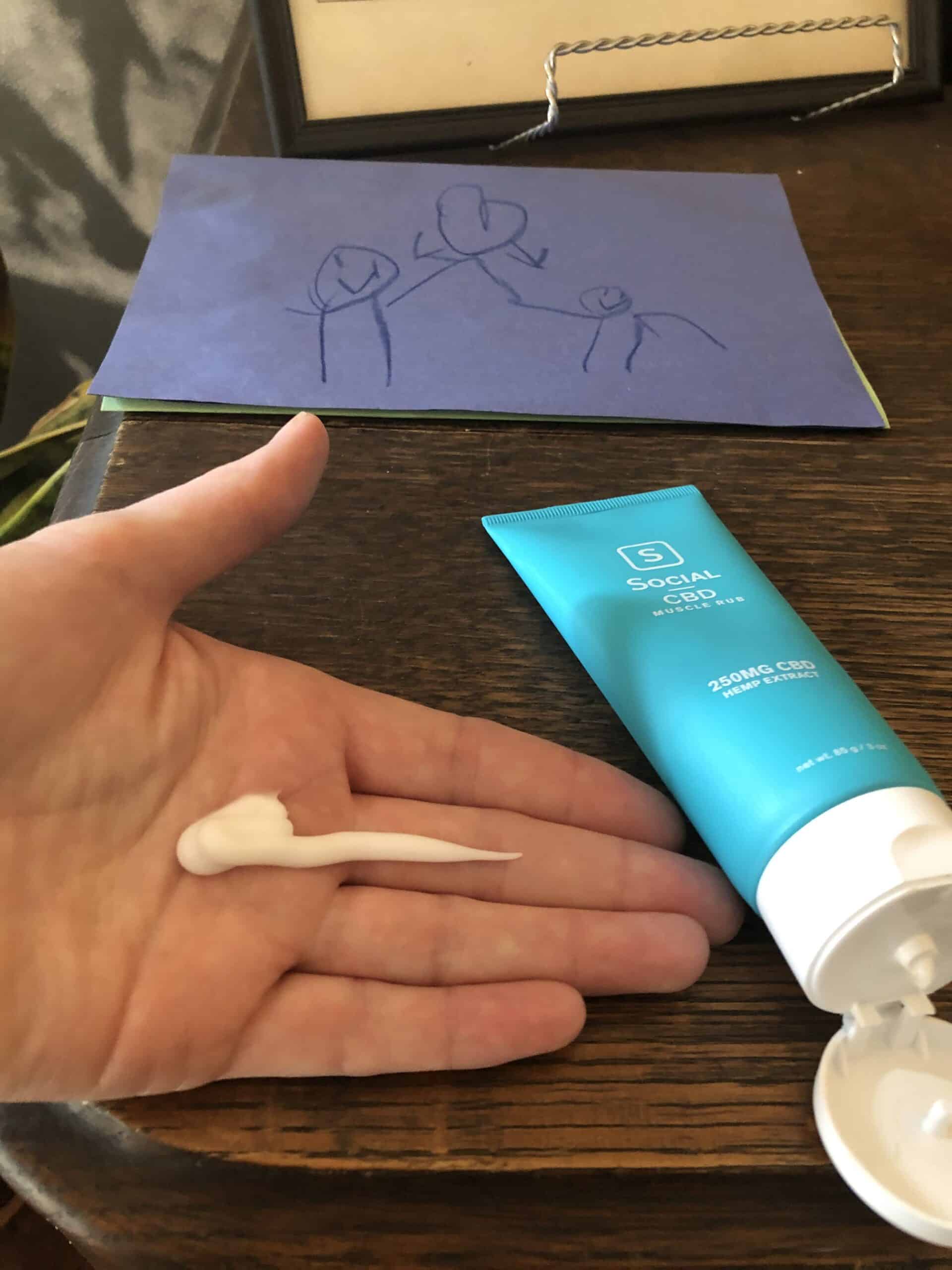 I massaged the muscle rub into my knees, low back, and hips immediately after physical therapy, then again right before bed. I hoped the muscle rub would provide relief so I could push through physical therapy, as well as get a good night of sleep. I ended up combining this topical with the Social CBD Body Lotion to give my dry skin more moisturizing.
---
How the SOCIAL CBD MUSCLE RUB Worked for Me
This CBD topical works immediately to cool down my muscles and joints. I found the sensation incredibly soothing and it helped me push through my post-workout inflammation so I could get all my physical therapy done. The lotion smells lovely, like menthol and tea tree oil. The muscle rub blends easily, but after massaging it into my skin it started to feel sticky and flake. I solved this issue by combining it with the moisturizing Social CBD Body Lotion. This allowed me to massage the lotion into my hips and low back longer and helped me relax and have a great night of sleep.
When I woke up in the middle of the night, I again used this combination of Social CBD topicals to give my hips and low back a massage that soothed me into sleep. I will be using this combination of products again as they make the perfect topical to provide post-workout relief.
---
Useful and Unique Things to Know About SOCIAL CBD MUSCLE RUB
Social CBD Muscle Rub contains arnica, which is a healing component found in the sunflower plant and is often used in homeopathy. Although not scientifically proven, arnica has been used since at least the 12th century C.E. to help with bruises and wounds. My doctor even recommended using an arnica topical to boost the healing process after I had surgery. (I can't say if it helped, though, because my surgical wound refused to heal and I bled from it for six weeks.) Arnica is often used by athletes for post-workout inflammation relief.
---
SOCIAL CBD MUSCLE RUB Ratings
In the next sections gradings from 0-100 on our review, these grades add up to give the product's overall score.
PRESENTATION • 100
Informative packaging.
RELIABILITY • 100
Soothing and effective iciness.
QUALITY • 90
Massages into the skin easily, but ends up a little sticky and flaky.
FLAVOR / SMELL / or EASE OF USE • 100
Lovely menthol smell.
VALUE • 100
Good price!
---
How SOCIAL CBD MUSCLE RELIEF Stacks Up Against the Competition
I'm such a huge fan of Social CBD because they have an amazing variety of topicals. Too often CBD topicals will cost you an arm and a leg, but Social CBD keeps their prices relatively low. My only complaint is that this product is sticky and starts to flake after massaging it into the skin. I solved this problem by mixing the Social CBD Muscle Relief with the Social CBD Body Lotion. By combining the icy relief of their muscle rub with their moisturizing body lotion, I created the perfect topical to massage onto my hips and low back without any flakiness. To be more competitive, perhaps Social CBD can add some more moisturizing ingredients to their muscle rub.
---
Saving Money with Our Verified SOCIAL CBD Coupons
Save money by using our verified CBD Topicals here at Save On Cannabis the World's largest online cannabis coupon code directory.
---
Disclosure: I received these products gratis so that I could try them and then share my honest opinion with the SOC community. I am employed by Save on Cannabis to write honest reviews and provided a flat rate payment for the writing of the review. SOC may receive recurring affiliate payments for purchases made based on this content.
How nourishing is the Aspen Green CBD body oil for your dry skin? Find out in our hands-on Aspen Green review.
Watch Our In-Depth Video Review of LEVO C - The Ultimate Cannabis Infusion Device. Unleash Deliciously Potent Edibles with Ease!
Discover the pros and cons of Green Road's CBD Relax Gummy Bears. Our honest review includes exclusive coupons. Check it out now!