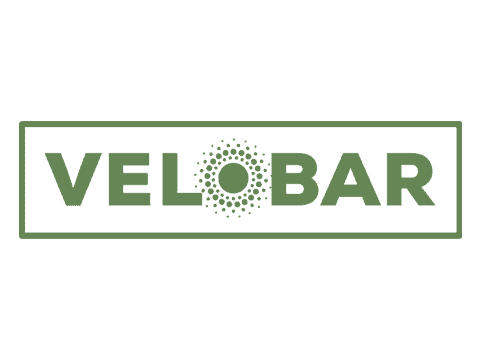 VELOBAR Coupons

Shipped to You
Can you really get protein and the benefits of CBD at the same time? See in our Velobar review of the CBD protein bar if it worked for us.
CBD protein bars are a new kind of edible that our reviewer tested, see how the Velobar tasted & if it helped calm our reviewer and assist with sleep.
VELOBAR Coupon Codes
If you're looking for Velobar Hemp Extract protein bar discounts, our site is for you. We verify our coupons and promo codes daily to ensure that you hit no snags when it's time to make your purchase. Use our Velobar coupon codes to save on the best CBD protein bars in the industry.
Created by a cannabis lover and child of the '70s, Velobar produces high-quality CBD protein bars that were crafted to taste great and make you feel fantastic. Made by combining high-quality CBD extract and super-nutritious, high-protein superfoods, Velobar Hemp Extract protein bars are the ideal pre or post-workout snack and the ultimate in-between meal nibble.
Velobar concocted their protein bars alongside a nutritionist to ensure that they not only taste delicious but are also a healthy treat. To complete the mixture, they selected high-quality CBD extract from sustainably grown American hemp. The result is a protein bar that can satiate your hunger, fuel your workout, support your muscle repair after exercising, and bring a sense of calmness and balance that can only come from the power of CBD. And by choosing our verified Velobar coupons, you save with every purchase you make.
---
Popular Velobar Products
Velobar Hemp Extract protein bars give you all the benefits of cannabis without any psychotropic effects. They're made to taste great and give you an extra boost of energy to replenish your tired mind and body. You can choose between two flavors: Roasted Nuts Dark Chocolate & Sea Salt, or Peanut Butter. Both flavors are equally delightful, soft, filling, and fast-acting. It's the perfect on-the-go snack that you can have all to yourself or share with a friend. And with our Velobar verified promo codes, they're always on sale.
---
Featured Velobar Product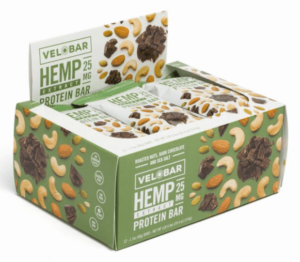 12 Pack Velobar Roasted Nuts, Dark Chocolate, and Sea Salt Hemp Extract CBD – 25 mg – With 25 mg of CBD in each protein bar, this 12-pack contains 300 mg of CBD. Each mouth-watering bar works to refuel your body and significantly calm your mind. You can choose to eat an entire bar before exercising, share it with friends during a coffee break, or take small bites to benefit from a steady dose of CBD throughout the day. Each bar contains 8 g of protein and is gluten and soy-free, non-GMO, and vegan-friendly. Don't forget to use our Velobar coupons to get them at the best price.
---
Save money now with Velobar coupon codes!
---
More
Velobar Hemp Extract protein bars are also available in a 4-pack if you don't want to commit to a 12-pack. You can even order a mixed pack that includes two of each flavor, which is a great way to mix and match. Our verified Velobar promo coupons offer site-wide discounts, so you can be sure to save on any order you place.
People who shop VELOBAR also like these stores