Sunday Scaries Review: Yolo Shot
Dec 3, 2020 | SOC
CBDCBD Bath BombsCBD CandyCBD DrinksCBD EdiblesCBD GummiesCBD TincturesSave On Cannabis Verified
Sunday Scaries Yolo Shot
69.00
SUNDAY SCARIES
Product Review
Brand Overview: SUNDAY SCARIES
Sunday Scaries was founded by two former stressed-out bar owners who think CBD is an effective way to deal with worry. Their mission is to transform an anxious and freaked out nation into a "chill one." The name comes from the expression, "Sunday Scaries," which describes the fear that comes about on a Sunday night before you have to return to work or school. The founders of the company know only too well how stress begets negativity, and they want to help make the Sunday Scaries a little more manageable.
They want to help take the pressure off that looming deadline, those midterms, or the stressors brought on by peers and social media. One of the owners says that he wants "people to get out of their heads and live their lives Scarefree." Sounds good to me.
Products: Gummies, Vegan Gummies, Candy, Oil, Bundles.
Price Range ($-$$$$): $$
---
About SUNDAY SCARIES YOLO SHOT – SOUR FRUIT PUNCH
The Sunday Scaries' line of CBD and caffeine-infused shots are a great way to get a boost of energy without the jitters that come from drinking coffee. I tried the sour fruit punch flavor, but you can also get it in coconut lime and tropical pineapple. According to some articles I found online, you can get a 12-pack of shots for the suggested retail price of $69. That said, I couldn't find the product on the Sunday Scaries website, so am not sure if that's the cost or even where to buy them.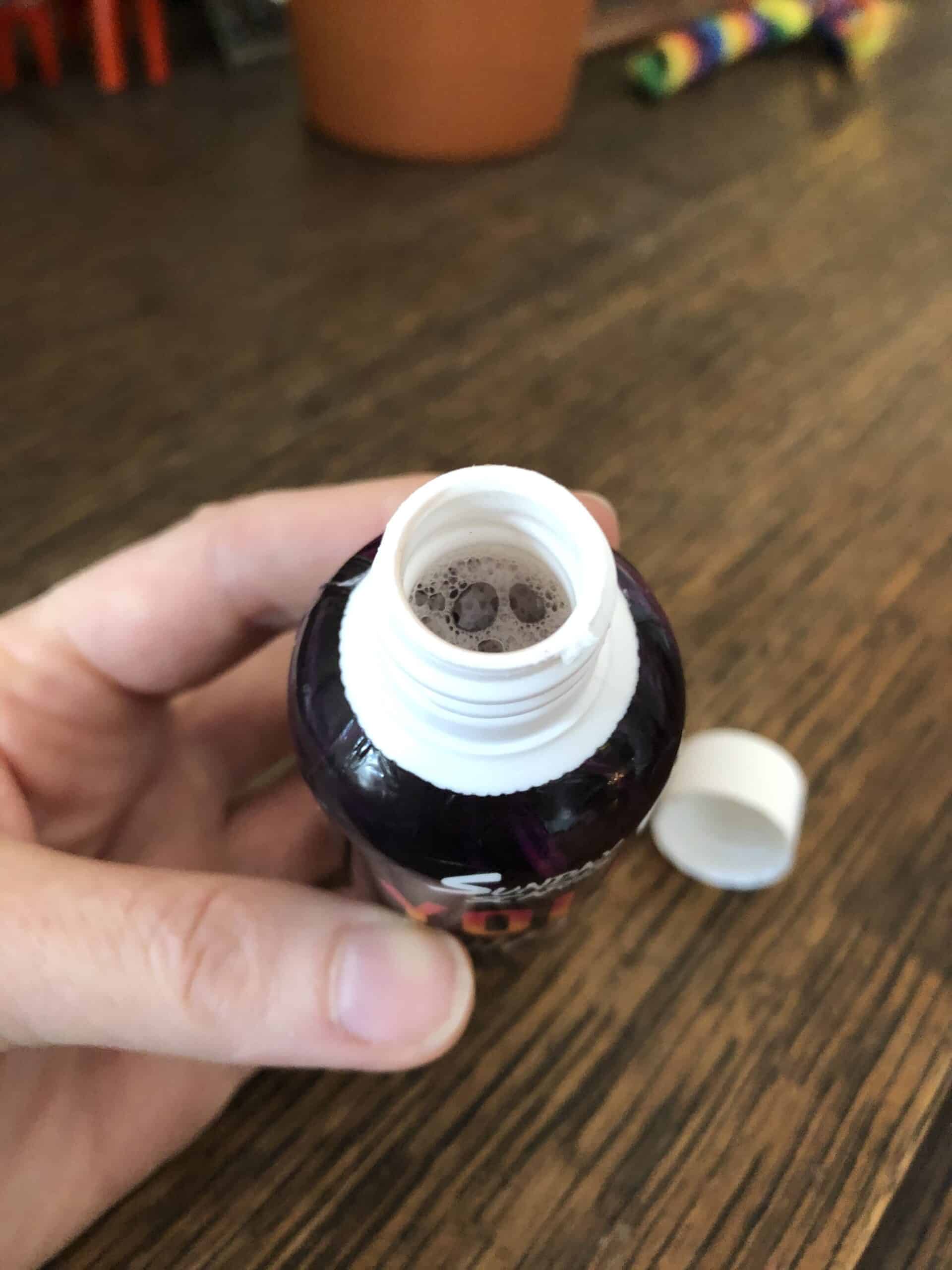 Each 2-ounce shot contains 50 mg of CBD, 200 mg of caffeine from organic green coffee beans, ginseng, taurine, guarana, and 5-hydroxytryptophan (also known as 5-HTP). If you're sensitive to caffeine, please be aware that 200 mg is equal to about 2 cups of coffee.
---
SUNDAY SCARIES YOLO SHOT – SOUR FRUIT PUNCH Specifications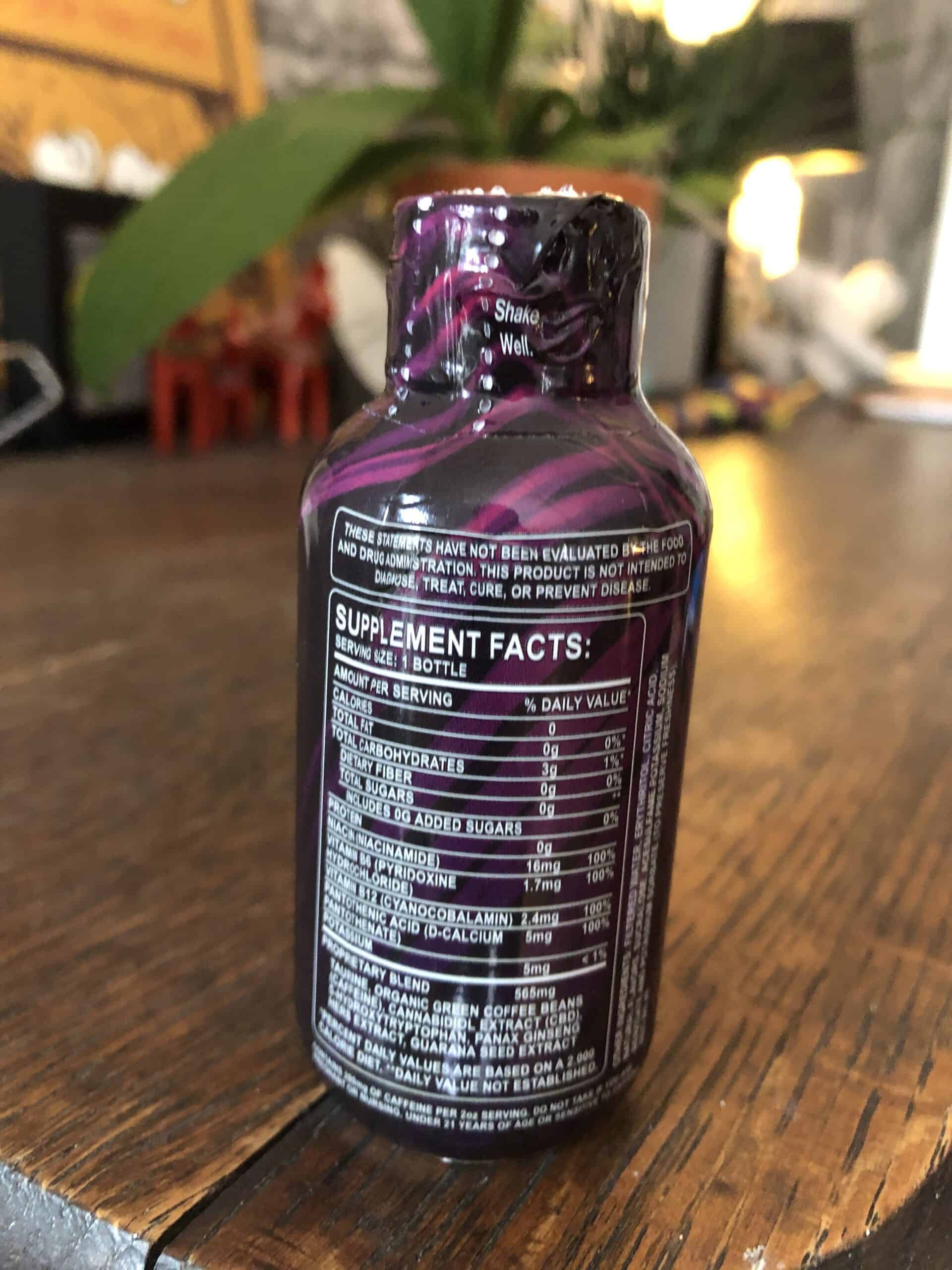 200 mg caffeine per shot
50 mg CBD per shot
0 calories
585 mg of Proprietary Blend: Taurine, Organic Green Coffee Beans, Cannabidiol Extract (CBD), 5-Hydroxytryptophan, Panax Ginseng Herb Extract, Guarana Seed Extract
1 oz (30 ml)
Other Ingredients:Filtered Water, Erythritol, Citric Acid, Natural Flavors, Sucralose, Acesulfame Potassium, Sodium Benzoate, Potassium Sorbate, and Red No. 40

---
How We Tested the SUNDAY SCARIES YOLO SHOT – SOUR FRUIT PUNCH
I have low energy due to a couple of medical conditions where some of the symptoms include "extreme fatigue" and "brain fog." On average days, I struggle. On bad days, it's debilitating. I used to be the person who worked one full-time job, one part-time job and had time for my friends and interests. Now, on a good day, I can be productive for five hours or so (and that includes my medical appointments) before I start feeling like I have mononucleosis.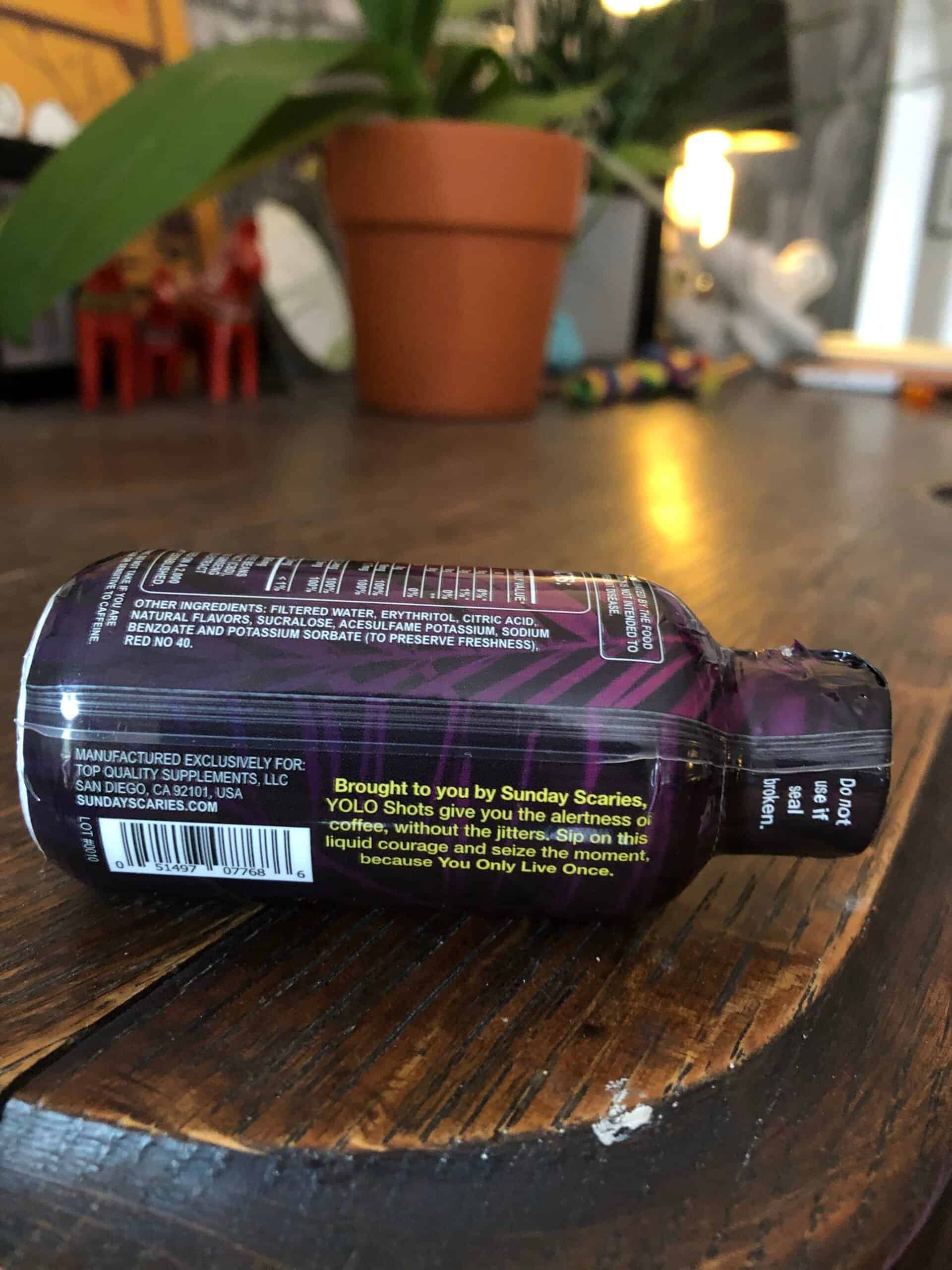 I was excited to try Sunday Scaries Sour Fruit Punch Yolo Shot because it combines a big dose of CBD and caffeine in a tiny bottle. I was hoping this shot would help boost my energy without making me feel cracked out. Since I'm sensitive to caffeine, I opted to take half a shot first thing in the morning, for a total of 25 mg of CBD, and 100 mg of caffeine.
---
How the SUNDAY SCARIES YOLO SHOT – SOUR FRUIT PUNCH Worked for Me
This sour fruit punch CBD energy shot really packs a punch! I felt alert and energized for hours after taking it. It made work and school much more productive because I was able to focus. It tastes exactly how it sounds — like sour fruit punch mixed with hemp. The hemp taste was potent and unpleasant, but the fruit punch flavor made it a little easier to go down. I didn't like the aftertaste so I had to brush my teeth afterward. I'd be curious to see if I like the tropical pineapple and coconut lime better.
---
Useful and Unique Things to Know About SUNDAY SCARIES YOLO SHOT – SOUR FRUIT PUNCH

This product contains a proprietary blend with taurine, organic green coffee beans, 5-hydroxytryptophan, Panax ginseng herb extract, guarana seed extract, and of course, CBD. Taurine is an amino acid that can boost your energy. Organic green coffee beans are the main source of caffeine in the shot. 5-hydroxytryptophan helps with your body's serotonin levels, which means it can elevate your mood and help with sleep. Panax ginseng herb extract is often used in herbology for its ability to ease inflammation and boost your overall health. Finally, guarana seed extract can also boost your energy.
---
SUNDAY SCARIES YOLO SHOT – SOUR FRUIT PUNCH Ratings
In the next sections gradings from 0-100 on our review, these grades add up to give the product's overall score.
PRESENTATION • 85
The bottle doesn't say how much CBD is in it.
RELIABILITY • 100
Focusing and energizing.
QUALITY • 100
Unique and effective.
FLAVOR / SMELL / or EASE OF USE • 85
Tastes like sour fruit punch and hemp.
VALUE • 95
I think they are fairly priced with a pack of 12 for $69, but it's hard to be certain because I couldn't find these on the website. I found the price in an article from Allure from 2019.

---
How SUNDAY SCARIES YOLO SHOT – SOUR FRUIT PUNCH Stacks Up Against the Competition

There aren't a lot of CBD shots on the market to compare this to, and if these are $69 for a 12-pack, then that's a fair price for an effective product. To be competitive, I'd first want to make these shots available to purchase from the Sunday Scaries website. Maybe I'm missing something, but I can't find them anywhere on the website. I'm just not sure how people are supposed to buy them!
---
Saving Money with Our Verified SUNDAY SCARIES Coupons
Save money by using our verified CBD Edibles,CBD Drinks here at Save On Cannabis the World's largest online cannabis coupon code directory.
---
Disclosure: I received these products gratis so that I could try them and then share my honest opinion with the SOC community. I am employed by Save on Cannabis to write honest reviews and provided a flat rate payment for the writing of the review. SOC may receive recurring affiliate payments for purchases made based on this content.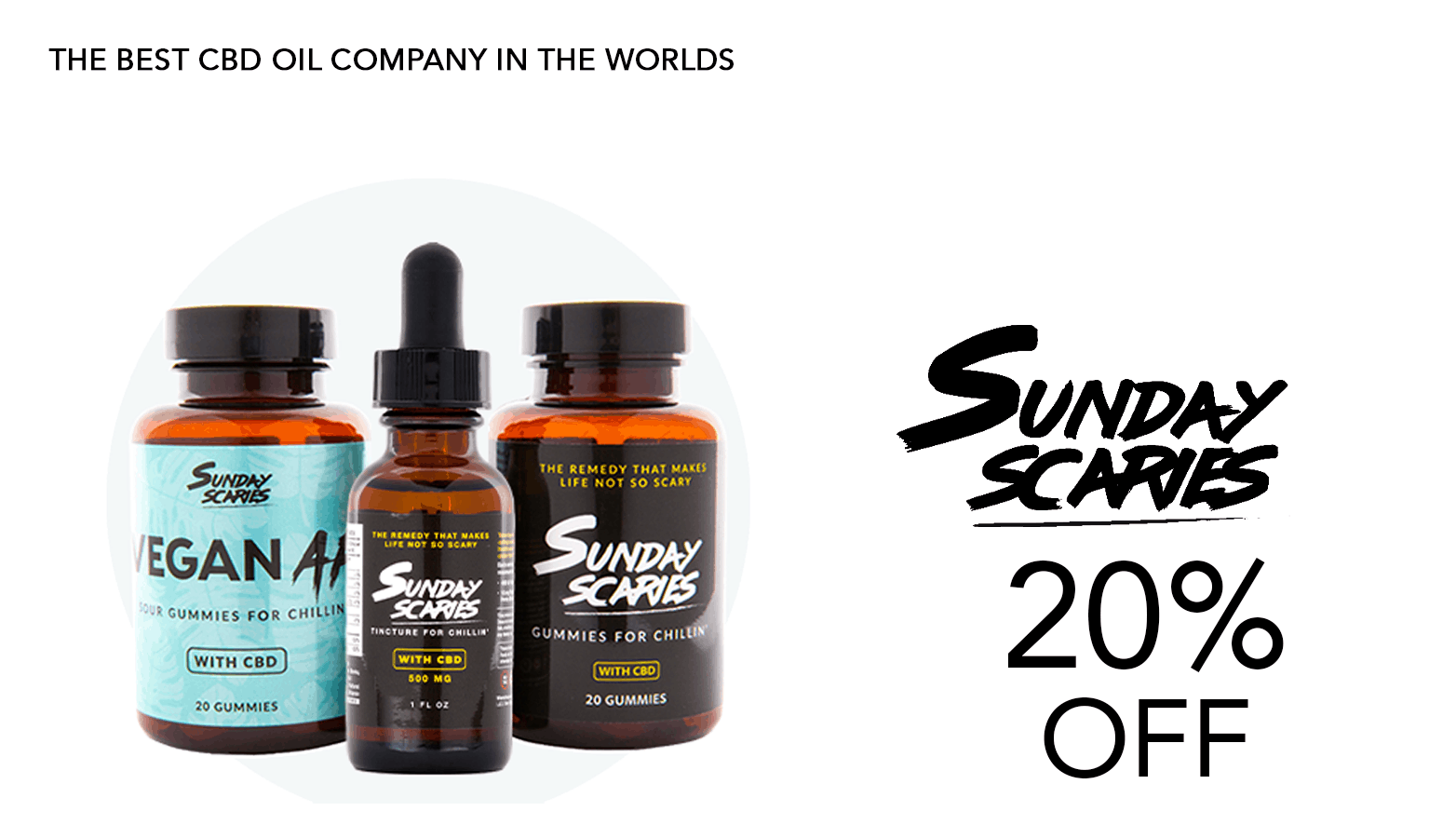 20% OFF Sunday Scaries amazing CBD and THC Gummies! (Also Candy, Oil and Pet Treats and more.)
Can CBD soothe your stresses & ease anxiety? In this Reef CBD review our expert tests the orange tincture to avoid road rage & lower stress.
Our expert tries out the Real Scientific Hemp Oil (RSHO) Gold Label CBD Oil orally for pain and sleep in this review. See if it is worth your money.
Struggling with muscle spasms and a sleep disorder our experienced CBD reviewer tests the CBDistillery CBDol Relief Stick.