Sunday Scaries Gummies Review
Dec 11, 2020 | SOC
CBDCBD EdiblesCBD Gummies
Sunday Scaries Gummies
Pros
Relaxing
Focusing
Contains vitamins D3 and B12
Zero THC
GMP Certified
Gluten-free
No GMO's
Cons
Slightly expensive
Bitter aftertaste
Not vegetarian or vegan
SUNDAY SCARIES
Product Review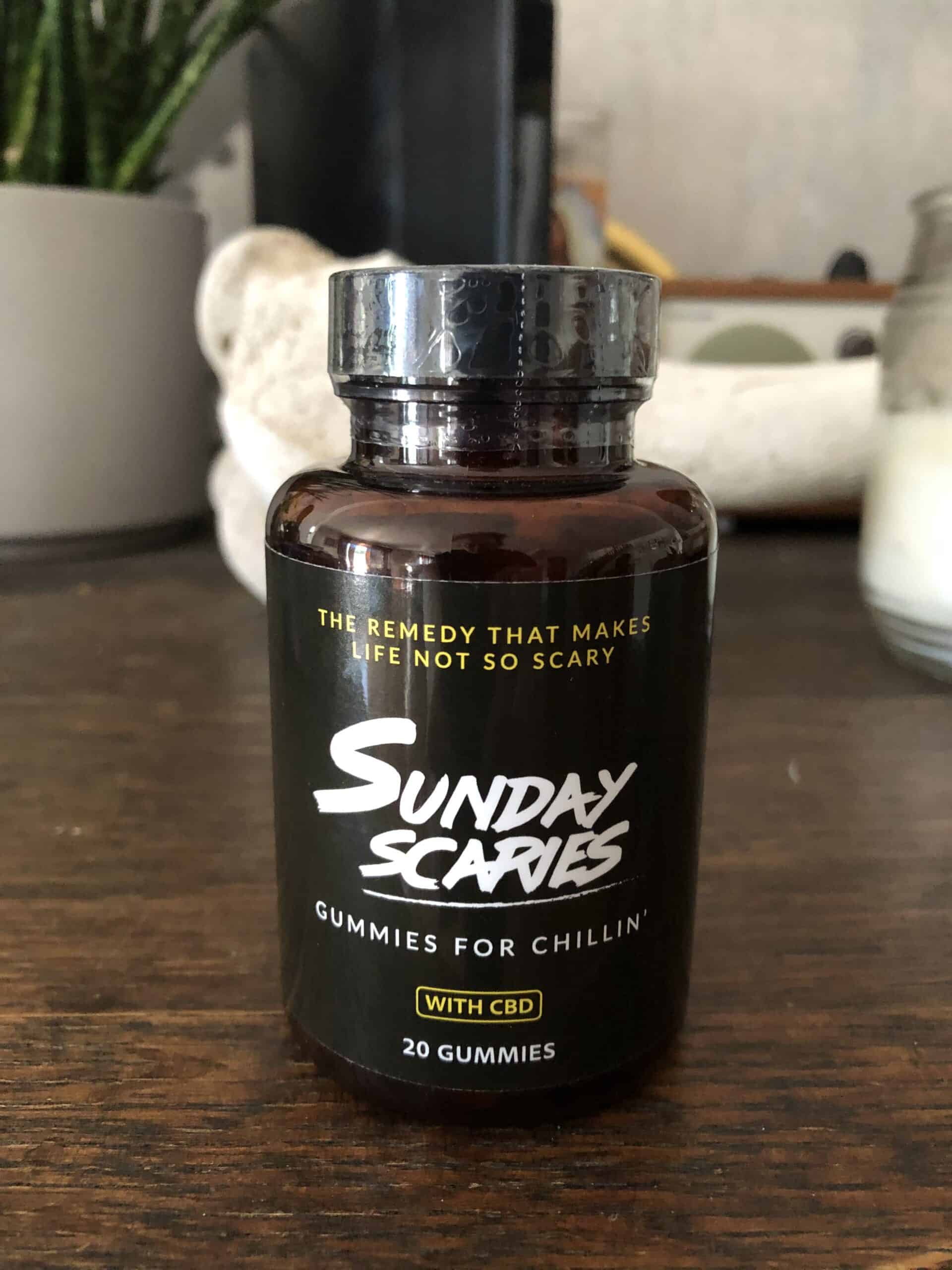 Brand Overview: SUNDAY SCARIES
Sunday Scaries was founded by two former stressed-out bar owners who think CBD is an effective way to deal with worry. Their mission is to transform an anxious and freaked out nation into a "chill one." The name comes from the expression, "Sunday Scaries," which describes the fear that comes about on a Sunday night before you have to return to work or school. The founders of the company know only too well how stress begets negativity, and they want to help make the Sunday Scaries a little more manageable.
They want to help take the pressure off that looming deadline, those midterms, or the stressors brought on by peers and social media. One of the owners says that he wants "people to get out of their heads and live their lives Scarefree." Sounds good to me.
Products: Gummies, Vegan Gummies, Candy, Oil, Bundles.
Price Range ($-$$$$): $$$
---
About SUNDAY SCARIES GUMMIES
Sunday Scaries Gummies are the perfect solution to stress with its proprietary blend of high-quality CBD, Vitamin B12, and Vitamin D3. If you tend to worry needlessly and toss and turn all night with racing thoughts, these gummies might be just the thing for you. Containing zero THC and 10 mg of CBD in each gummy, Sunday Scaries claims these tiny edibles will help you be more relaxed and focused. The gummies look just like your average gummy bear and are flavored with orange, cherry, pineapple, lemon, and apple.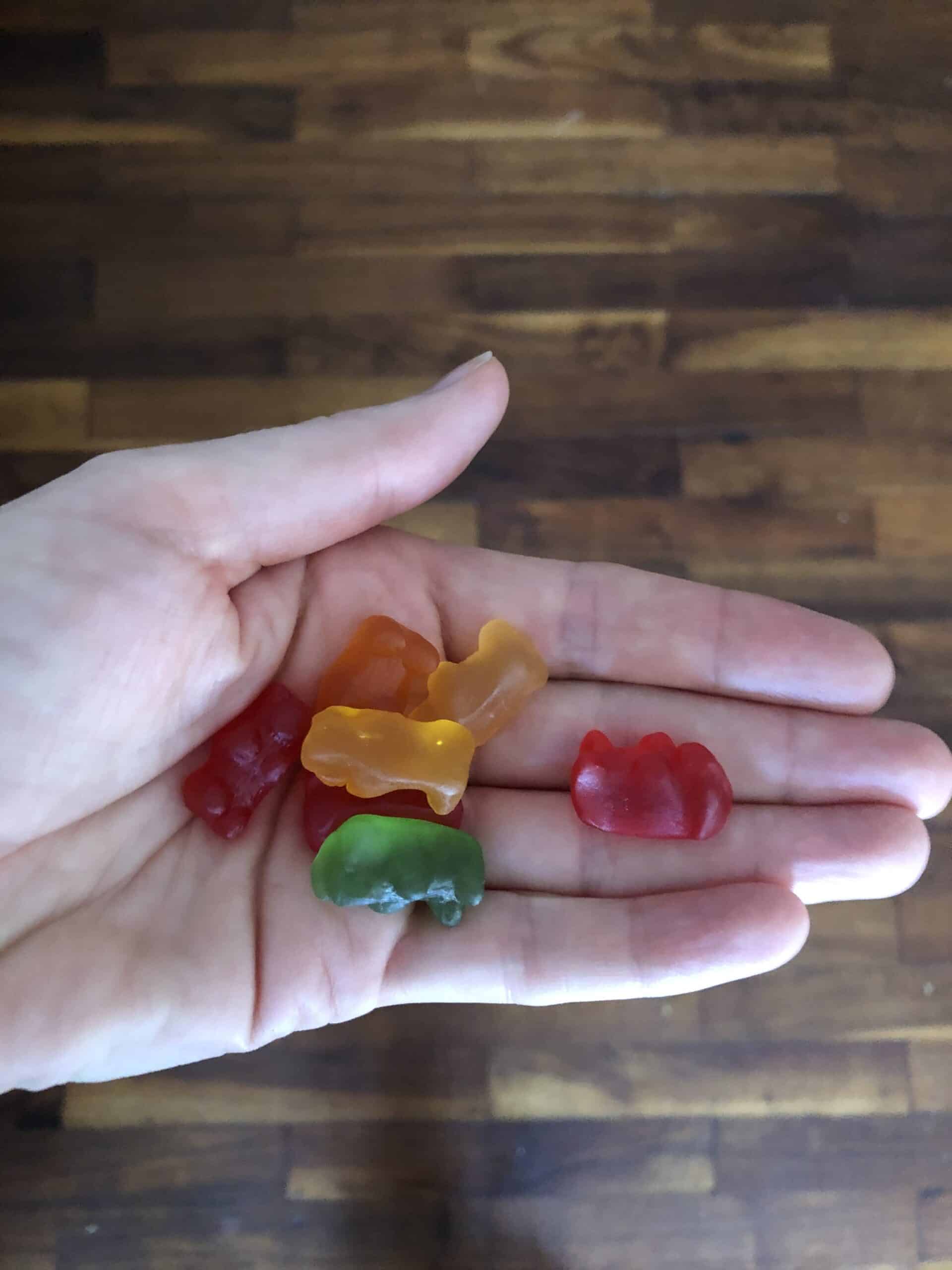 Whether you're dealing with a stressful work situation, or are fretting about that upcoming French exam, Sunday Scaries Gummies can help you move past the anxiety into a more zen and productive state.
---
SUNDAY SCARIES GUMMIES Specifications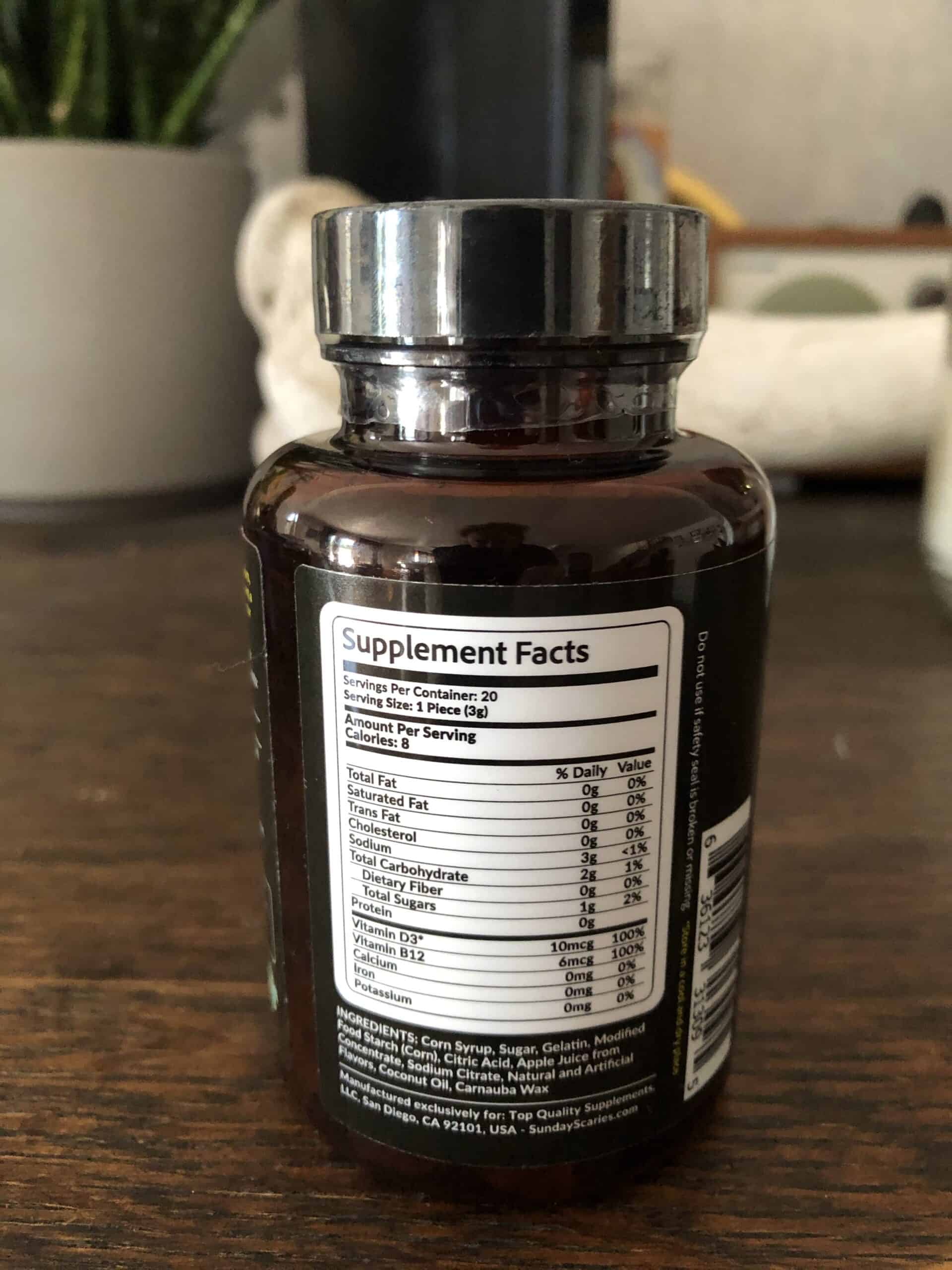 200 mg CBD
20 servings (1 gummy per serving)
10 mg CBD per gummy
8 calories per gummy
10 mcg of Vitamin D3 per gummy
6 mcg of Vitamin B12 per gummy
Ingredients: Corn Syrup, Sugar, Gelatin, Modified Food Starch (Corn), Citric Acid, Apple Juice from Concentrate, Sodium Citrate, Natural and Artificial Flavors, Coconut Oil, Carnauba Wax
---
How We Tested the SUNDAY SCARIES GUMMIES
I was freaking out this weekend because I'm juggling work, school, and a chronic illness that leaves me in a state of intense brain fog and exhaustion. When I get stressed out, it becomes harder to be productive especially when I don't know what to do first. Should I study for my French exam or should I put work first? Should I rest when my body is telling me I'm doing too much or should I push through and risk getting sicker?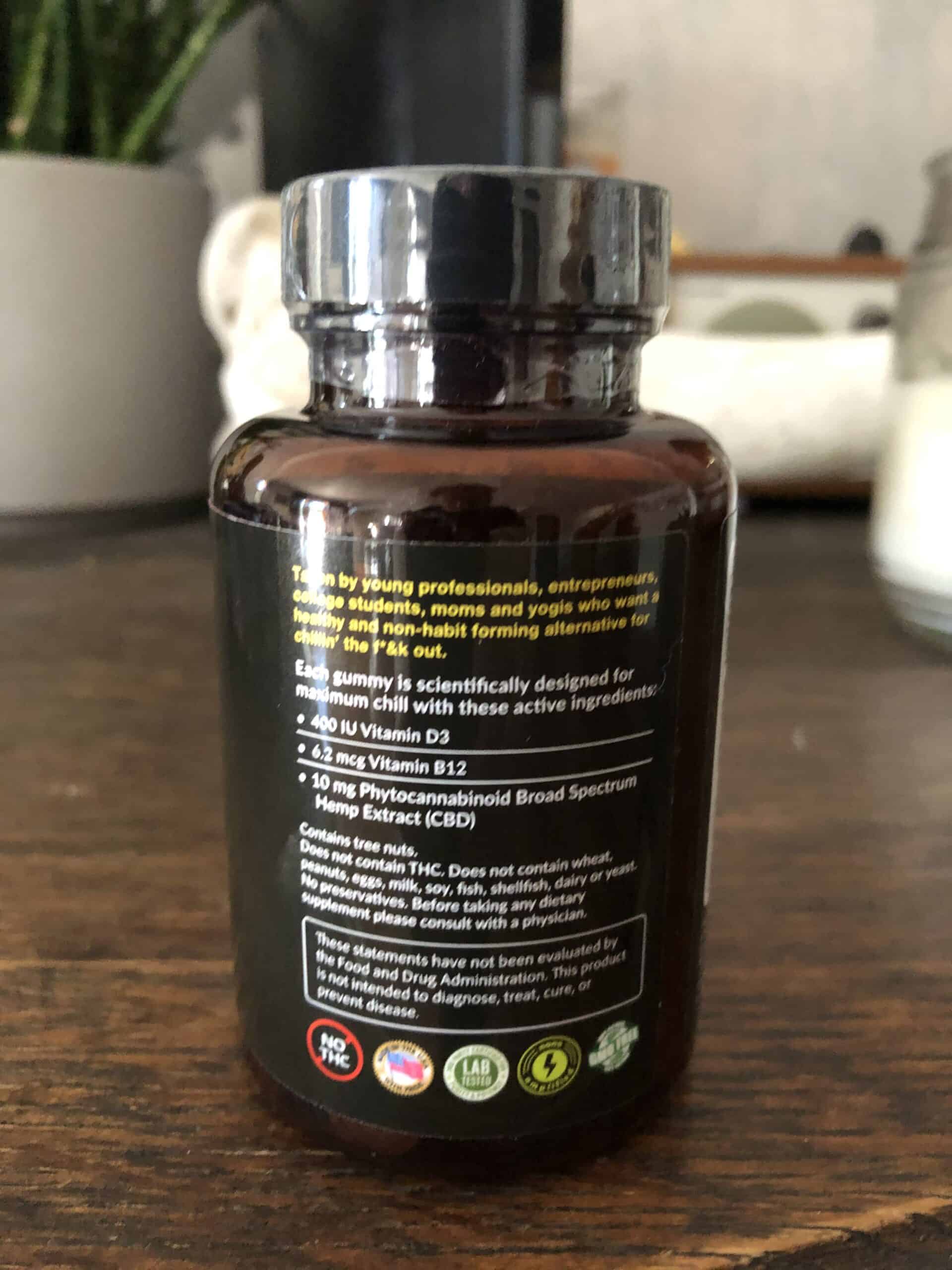 I was excited to try these CBD-infused gummies because I had a good experience with Sunday Scaries caffeinated CBD shot. I was hoping a serving or two of these gummies would help assuage some of my stress and help me focus on whatever was in front of me. I took two gummies in the morning for a total of 20 mg of CBD. Then I took another two gummies at night before bed.
---
How the SUNDAY SCARIES GUMMIES Worked for Me
I could feel the calming and warming effects of the gummies less than an hour after taking them. They helped me focus despite my anxiety and exhaustion. The best part about these gummies was how they seemed to help me stay in the moment, which in turn allowed me to use my time more productively. I didn't like the flavors as the gummies left a bitter weedy aftertaste that was unpleasant. Despite my dislike of the flavors, I will be using these gummies on stressful days because they were so effective in helping me just deal.
---
Useful and Unique Things to Know About SUNDAY SCARIES GUMMIES
One important thing to know about Sunday Scaries Gummies is they contain gelatin. Gelatin is often found in gummies and gel capsules and is derived from the body parts of cows or pigs. If you're a vegetarian or a vegan, these gummies aren't for you.
Another important thing to know about these gummies is they contain your daily dosage of Vitamin B12 and Vitamin D3. Vitamin B12 is great for blood and nerve health. It can also help prevent anemia and the weakness that goes along with it. Vitamin D3 helps your body absorb calcium, which is especially important for someone like me who has osteoarthritis.
---
SUNDAY SCARIES GUMMIES Ratings
In the next sections gradings from 0-100 on our review, these grades add up to give the product's overall score.
PRESENTATION • 100
Informative packaging.
RELIABILITY • 100
Calming.
QUALITY • 90
Effective but not vegetarian.
FLAVOR / SMELL / or EASE OF USE • 75
Bitter hempy aftertaste.
VALUE • 95
Somewhat expensive.
---
How SUNDAY SCARIES GUMMIES Stacks Up Against the Competition

Although calming and stress-relieving, there are ways to make these gummies more competitive. Even though I'm not a vegetarian, I would opt for a gummy that doesn't contain gelatin over one that does. I would also find a way to flavor the gummies in such a way that they hide the taste of hemp.
---
Saving Money with Our Verified SUNDAY SCARIES Coupons
Save money by using our verified CBD Edibles,CBD Gummies here at Save On Cannabis the World's largest online cannabis coupon code directory.
---
Disclosure: I received these products gratis so that I could try them and then share my honest opinion with the SOC community. I am employed by Save on Cannabis to write honest reviews and provided a flat rate payment for the writing of the review. SOC may receive recurring affiliate payments for purchases made based on this content.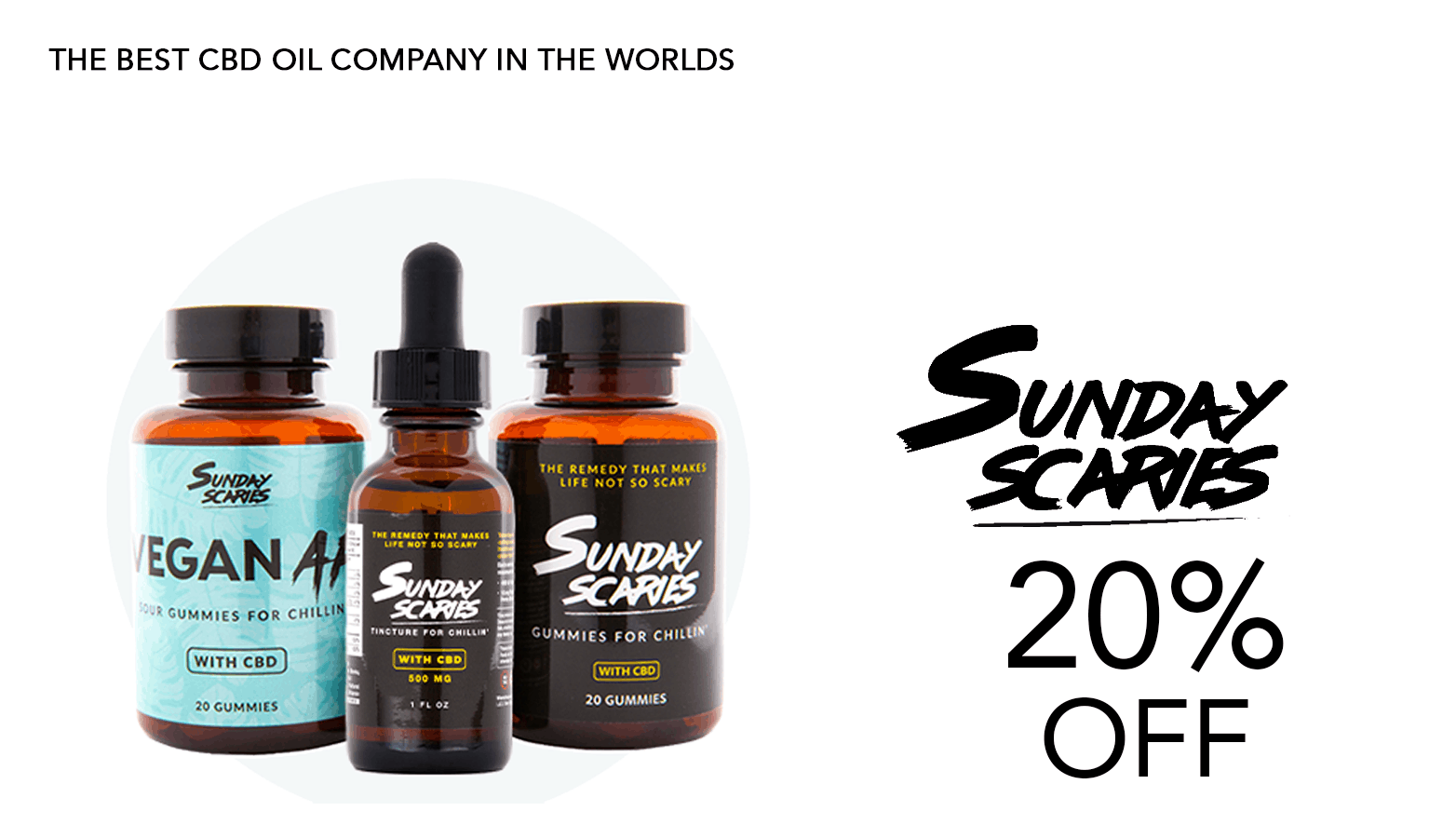 20% OFF Sunday Scaries amazing CBD and THC Gummies! (Also Candy, Oil and Pet Treats and more.)
We have Dr. Dabber reviews for all their CBD cartridges, see how the Fresh Blend stacks up. In this Dr. Dabber fresh blend review.
Struggling with muscle spasms and a sleep disorder our experienced CBD reviewer tests the CBDistillery CBDol Relief Stick.
Looking to try CBD? We tested out the Everyday Optimal CBD Capsules for our anxiety, see how it worked for our reviewer in this Everyday Optimal CBD review.