Keefer Scraper & Luxury Dabber Tools Review
Mar 1, 2021 | Save On Cannabis
Dab ToolsSmoking Accessories
Keefer Scraper & Luxury Dabber Tools
$15.99
Pros
The Keefer scraping tools are a huge step up compared to typical plastic scrapers
The scrapers do not get covered in kief after use like traditional plastic scrapers
The Keefer dabbing tool is a evolution of traditional dabbing tools
All of the products are easy to use and clean
The products sit well in dishes without sliding
The tools will last a long time because of their quality design and build
Cons
The metal is easily covered by fingerprints
You will need to find a good storage space for them as they can not be stored within your grinder due to their size
Keefer Luxury Dabber and Kief Scraper Tool
Product Review
Keefer is a niche brand which is focusing on producing high quality metal tools for handling both shatter and kief. They seek to appeal to the true cannabis enthusiast with their offering. Currently, they have three products available. They have two kief scraping tools; the original with a one inch wide scoop and their newer mini scoop edition, which has a half inch wide scoop. As well, they offer a dabbing tool different from traditionally available tools. We had a chance to try all three, and you can read our experience below.
---
---
Keefer Scraper
The Keefer Scraper is made with what Keefer calls premium stainless steel. The tool is 2.5 inches long and weighs approximately 8.5 grams. The one inch scoop is versatile and has a beveled edge which allows it to effectively scrape kief off any surface. We used it for a variety of different tasks with great success. Compared to the standard small plastic scrapers that typically come with grinders, the Keefer Scraper is a huge step up. One task that plastic scrapers typically fall flat on is scraping kief off the metal mesh of the grinder, which eventually leads to a clogged pollen collector. We were able to use the tool to clean our mesh very effectively, meaning that this tool can bring your old grinders back to life. We also found the tool great for adding kief to a joint or blunt before rolling. The back of the tool ends in a point, which is great for tamping, and can also be used with shatter.
---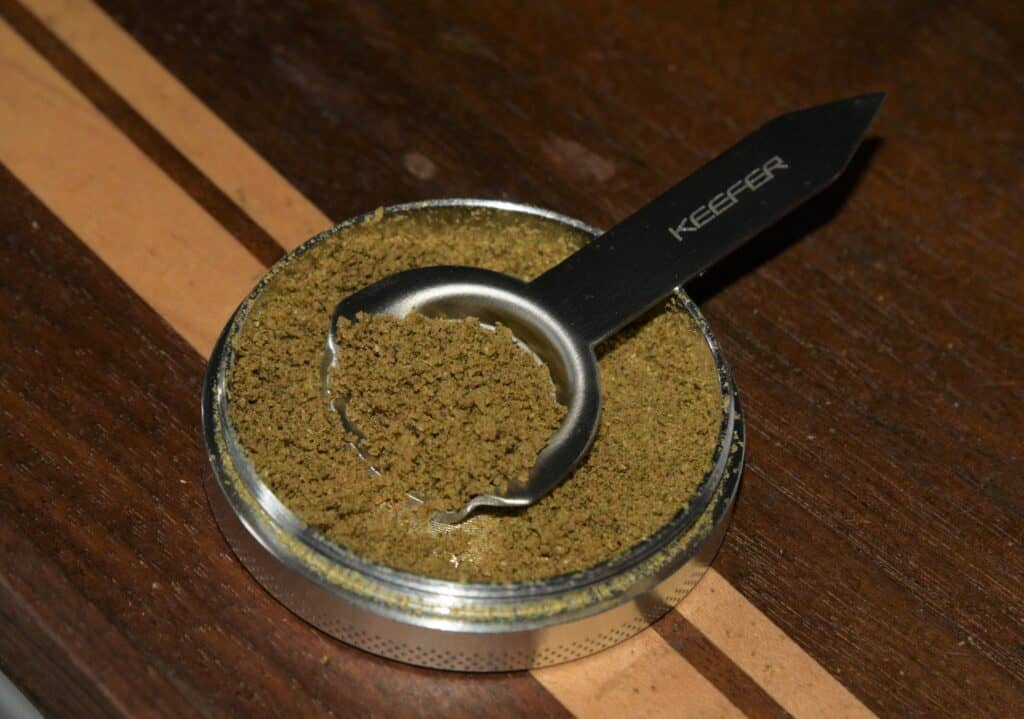 ---
Keefer Scraper Mini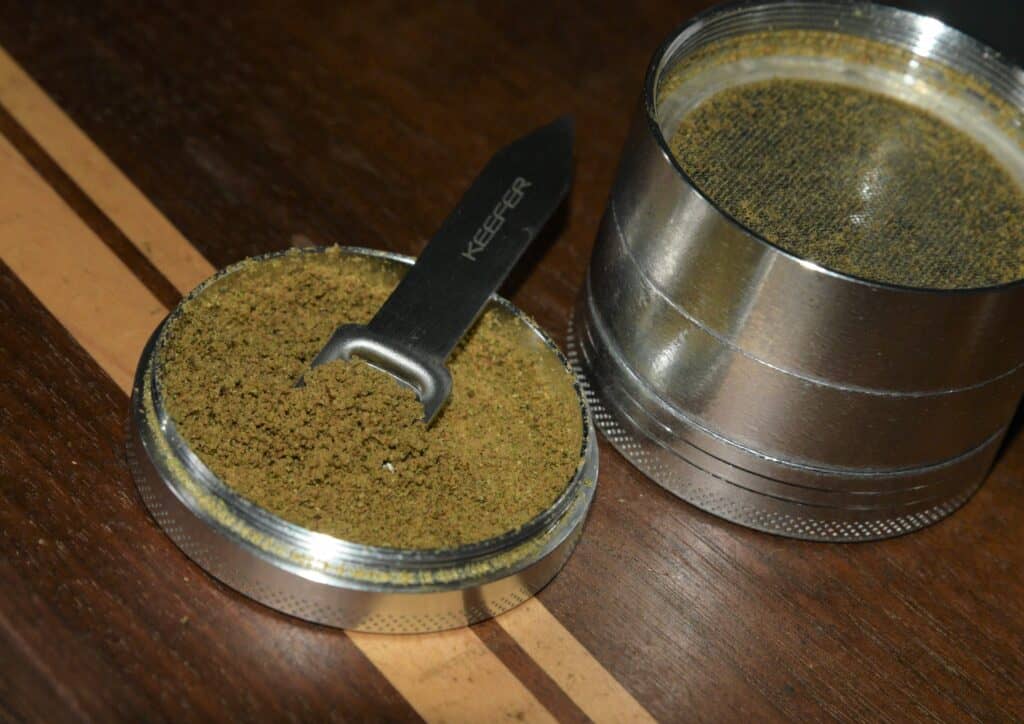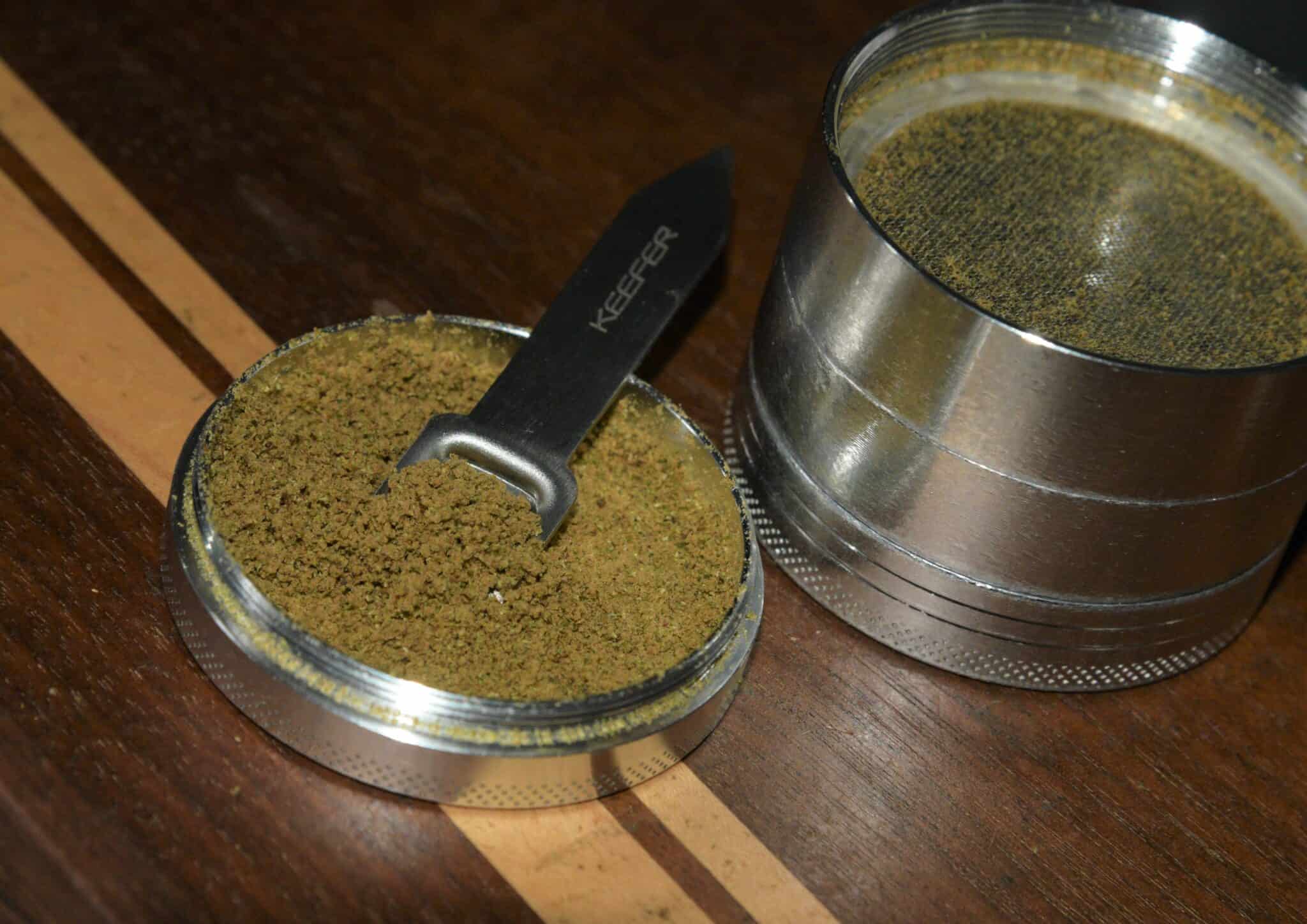 The Keefer Scraper Mini is made from identical materials as the original tool and has the same length. It weighs approximately 5.5 grams but has a half inch wide beveled edge scoop. We actually found this tool to be easier to work with than its bigger brother, and found that it had even more practical uses. It can do anything that the original can, but we also used it effectively to move kief from our grinder's pollen catcher to a small plastic container for storage. It was also a great tool to use to load both dried flower and kief into our Pax vaporizer bowl. In general, this tool is really great at loading pipes, bongs, and other pre-rolled wraps and papers. Like the original, the back of the tool also ends in a point for tamping or handling shatter. It is also easier to store given it has a similar width across its whole length.
---
---
Keefer Dabber Tool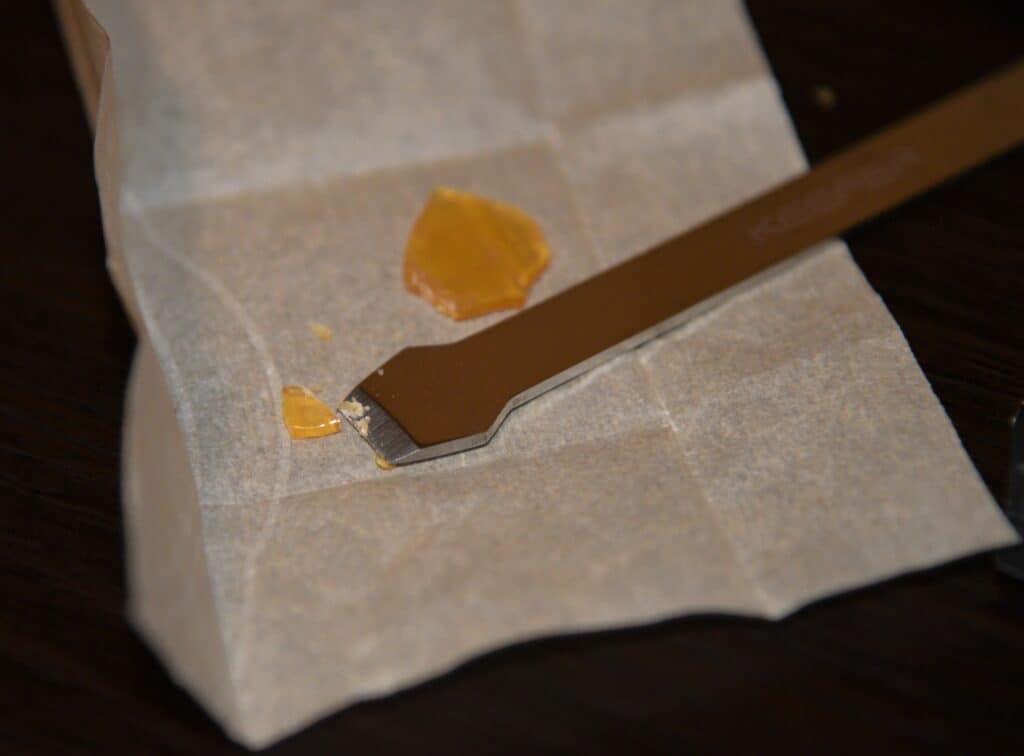 The Keefer Luxury Dabber Tool is a new evolution in dabbing tools. Compared to traditional pencil-like dabbing tools, this tool is much easier to handle and provides a better experience when working with shatter. It is approximately 4.5 inches in length and is made from what Keefer calls high performance stainless steel. This tool is thicker than the two scrapers and weighs 15 grams. The scoop end is flat and pentagon shaped. It narrows in towards the front leaving a ⅜ inch wide beveled edge which we found very effective for separating shatter before using it. The back edge comes to a sharp point which is great for loading vape pens and dab rigs. The tool can also be used effectively with terp sauce and other more liquid concentrates. It is easy to clean after use and should last you a long time.
---
---
Overall User Experience
The tools are all very well made and straightforward to use. As they are made with stainless steel, they are very easy to clean with rubbing alcohol. Compared to small plastic scrapers, these tools will last much longer and will not be as easily displaced. They are a perfect example of simple design creating a luxury experience.
---
Should You Buy It?
Out of the three products, we most strongly recommend the Mini Scraper. We found it to be the most versatile product as it can be used for both kief and shatter. However, all three of the products are priced almost identically and Keefer offers free shipping across the U.S. for all orders so choose the product you are most likely to find use from.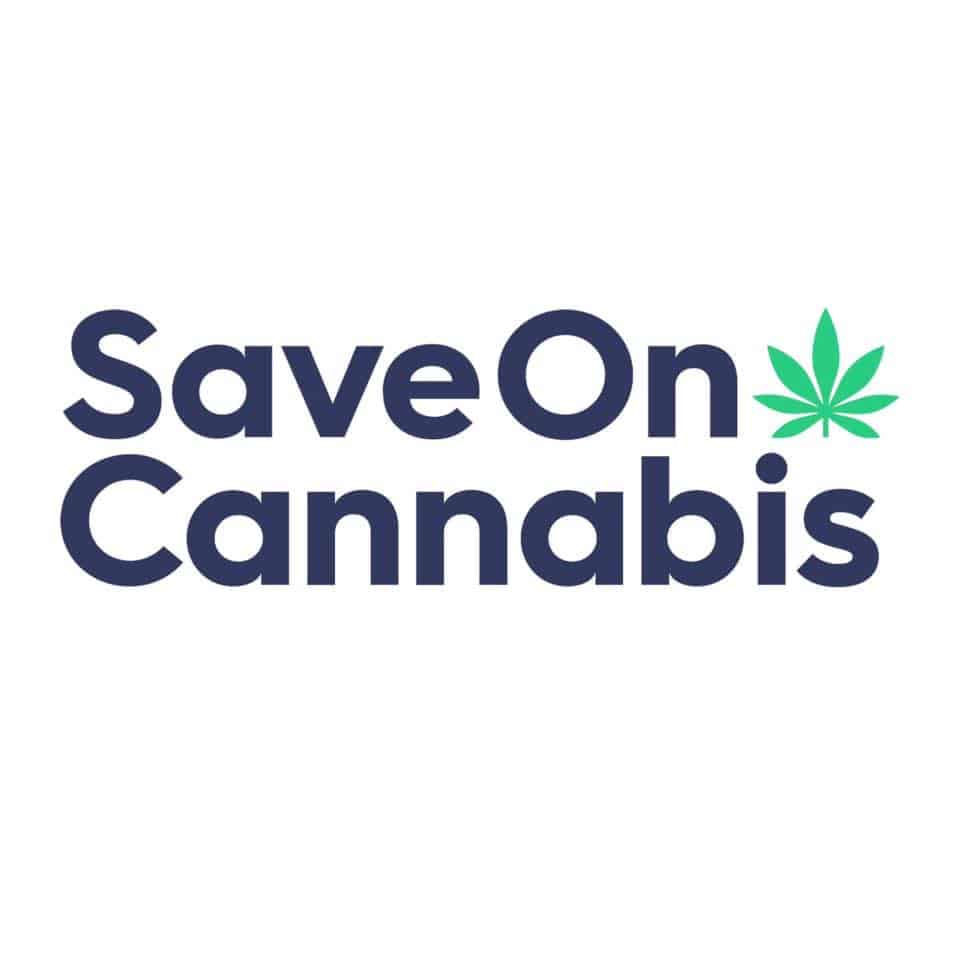 Save On Cannabis is the most trusted source for cannabis discounts and education information.  Vetted deals and clearly written articles to help you become a wiser consumer whether focused on the medical or recreational value of cannabis products.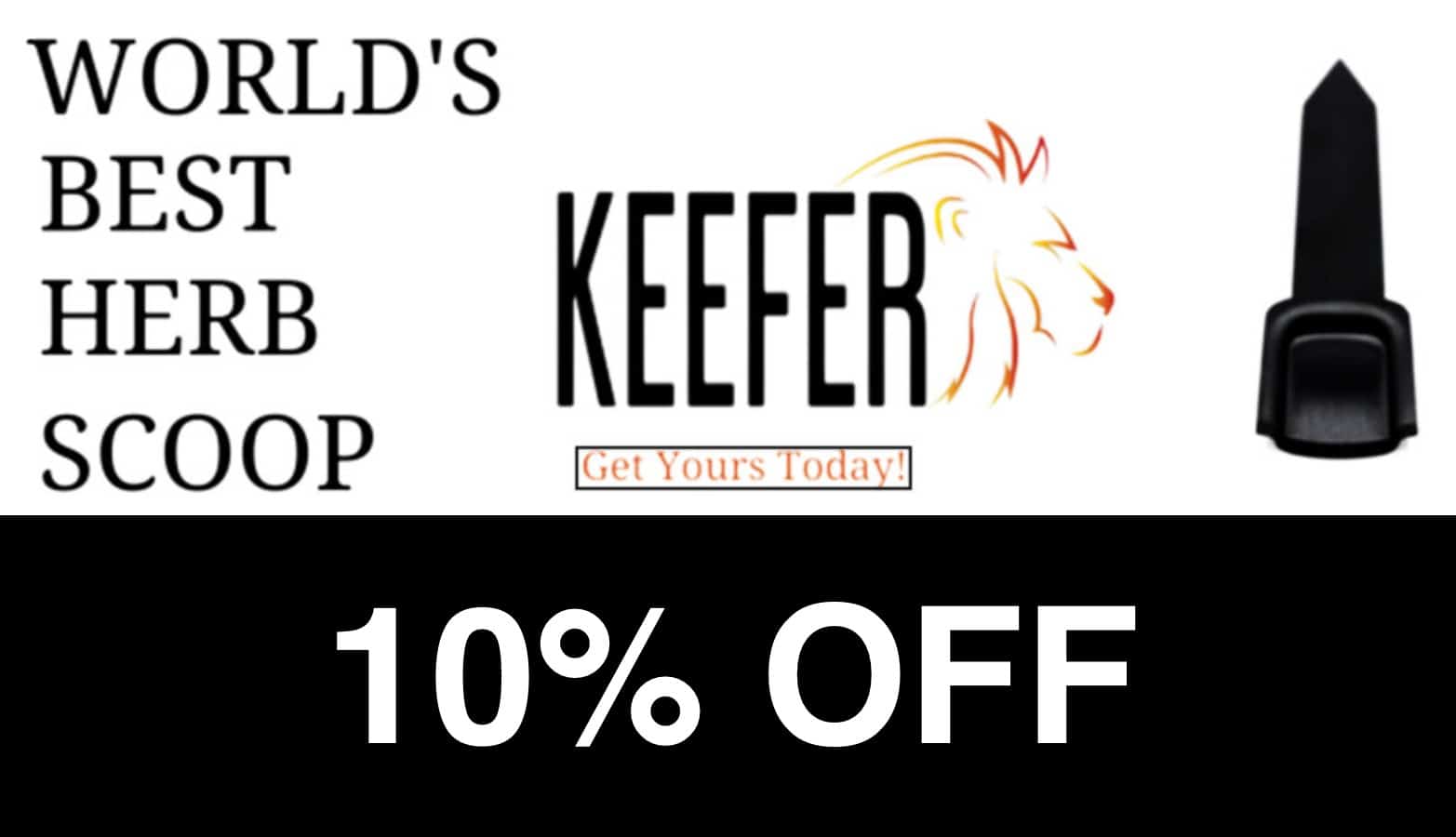 10% OFF the Keefer Scraper!! The best herb kief scoop packing multi-tool.
Check out our reviewer's selection of best CBD products for 2020, including CBD oil tinctures, vape juices, pet products, and topical creams.
Our CBD expert tries out the Eir Health Low Potency CBD tincture on a daily anxiety regimen. See if this helped take the edge off of her days.
Our expert Dr. Dabber Switch Review with flower & dab, see how it performed vaping each. Actual experience will tell if worth your money.