Magical CBD Cinnamon 3000 mg Tincture Review
Nov 11, 2020 | SOC
MAGICAL
Product Review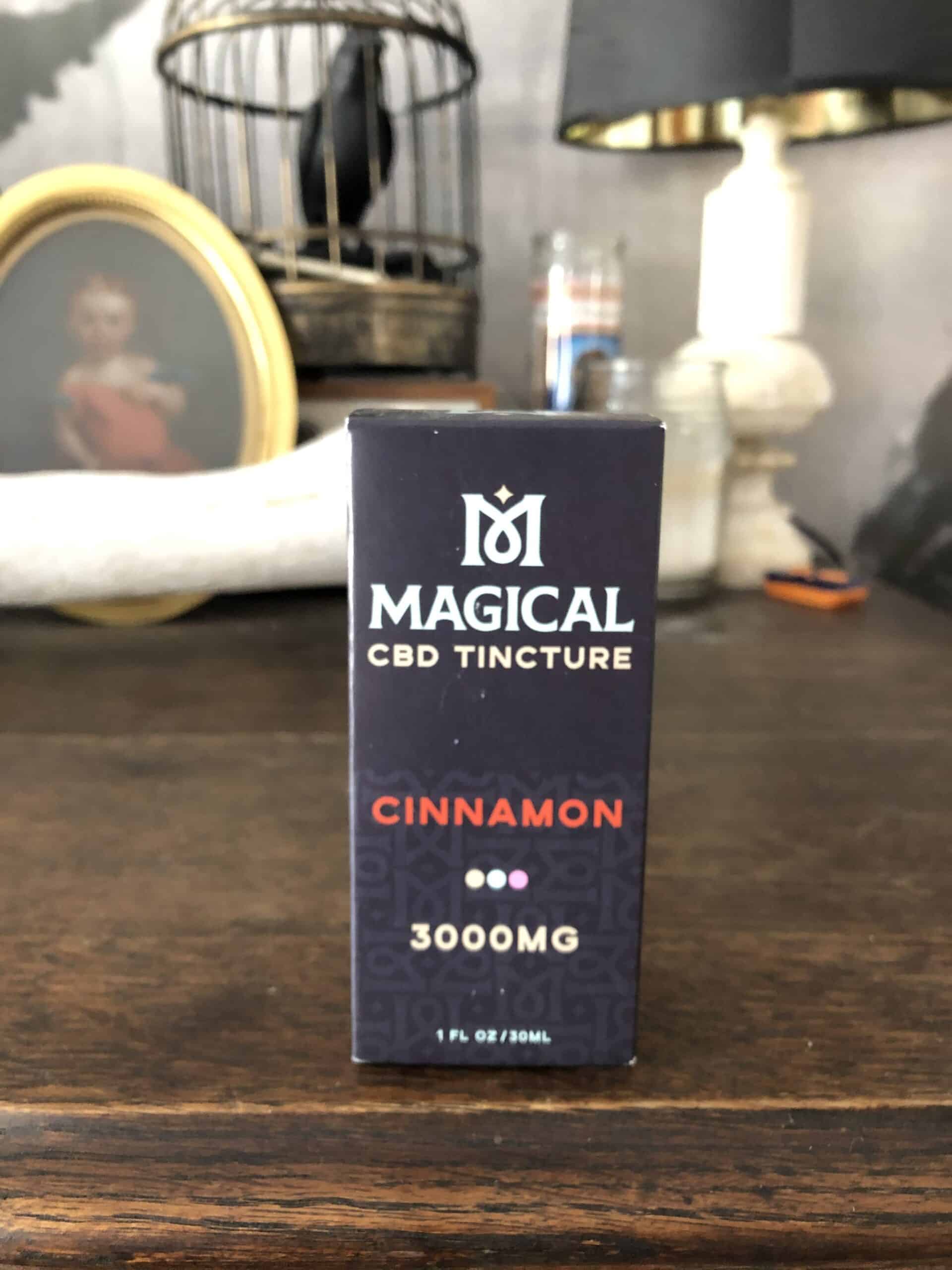 Brand Overview: MAGICAL
Magical has created a line of hemp-derived CBD-infused products that are pesticide-free, cruelty-free, and follow the standards dictated by Good Manufacturing Practices to ensure quality. The founders of the company also created Magical Butter, which sells the MagicalButter MB2e, a botanical extractor you can keep in your home that helps you turn hemp into butter, oil, tinctures, lotions, and more. They use American grown hemp extract and all their products are THC-free.
Magical uses a third-party lab to test their products for purity and potency. You can find a detailed Certificate of Analysis for their products on the company's website. All of their products are vegan.
Products: Edibles, Tinctures, Softgels, Topicals, Bundles.
Price Range ($-$$$$): $
---
About MAGICAL CBD TINCTURE – CINNAMON – 3,000 MG
Magical's cinnamon-flavored tincture contains 3,000 mg of CBD with 100 mg per serving. You can also get this tincture in 1,500 mg and they also make a bunch of different flavors like orange, mixed berry, and crème de menthe. This product provides fast-acting relief and is easy to dose with its labelled dropper. Magical's tinctures are vegan as well as THC and pesticide-free. The company combines CBD isolate with broad-spectrum CBD in a base of pure coconut MCT oil and natural cinnamon flavoring.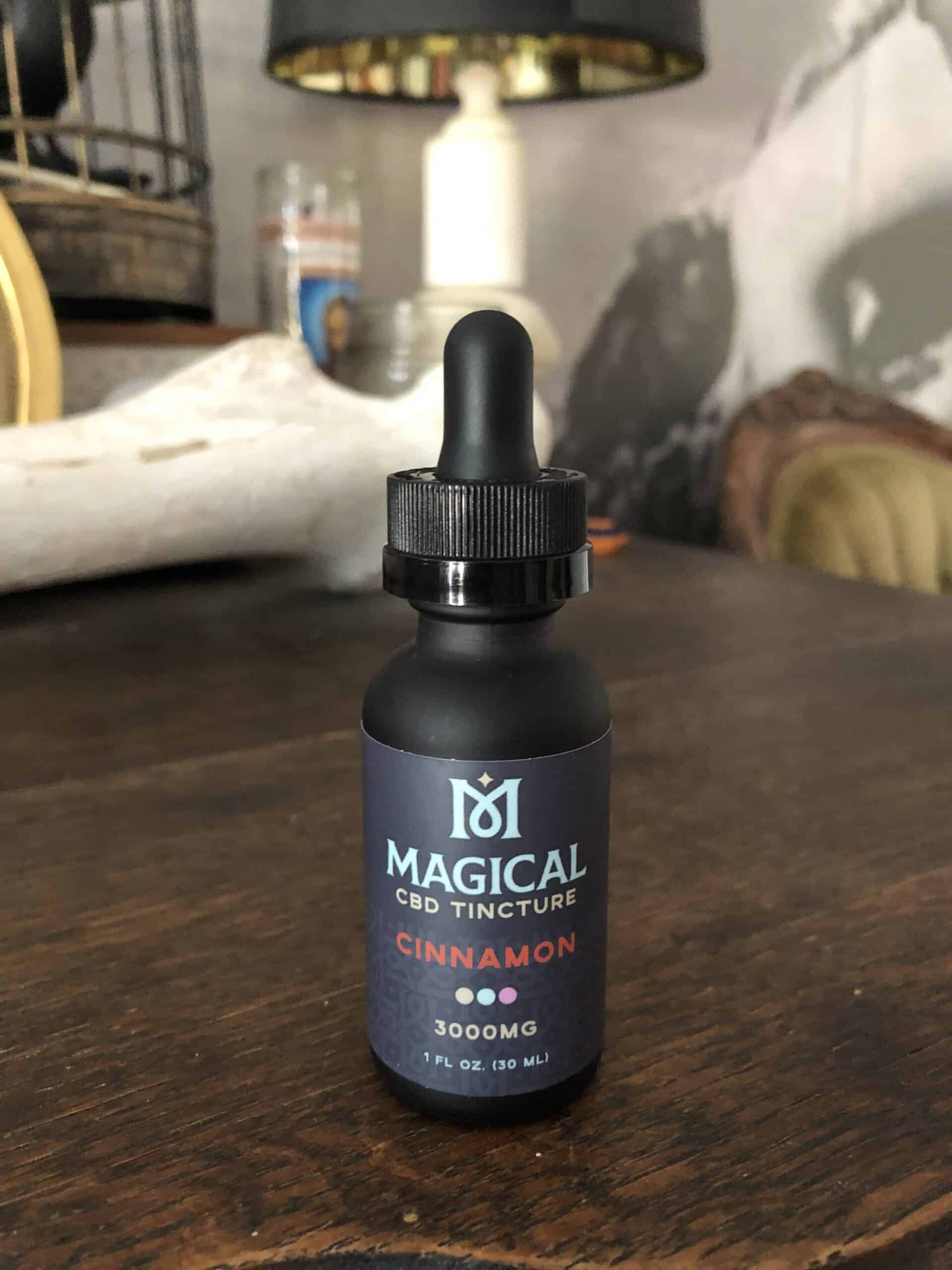 The tincture is free from fat, sugar, and gluten. You can take 1-full dropper per day, or as needed. Experts recommend starting at 10 – 15 mg if you're new to CBD and working your way up.
---
MAGICAL CBD TINCTURE – CINNAMON – 3,000 MG Specifications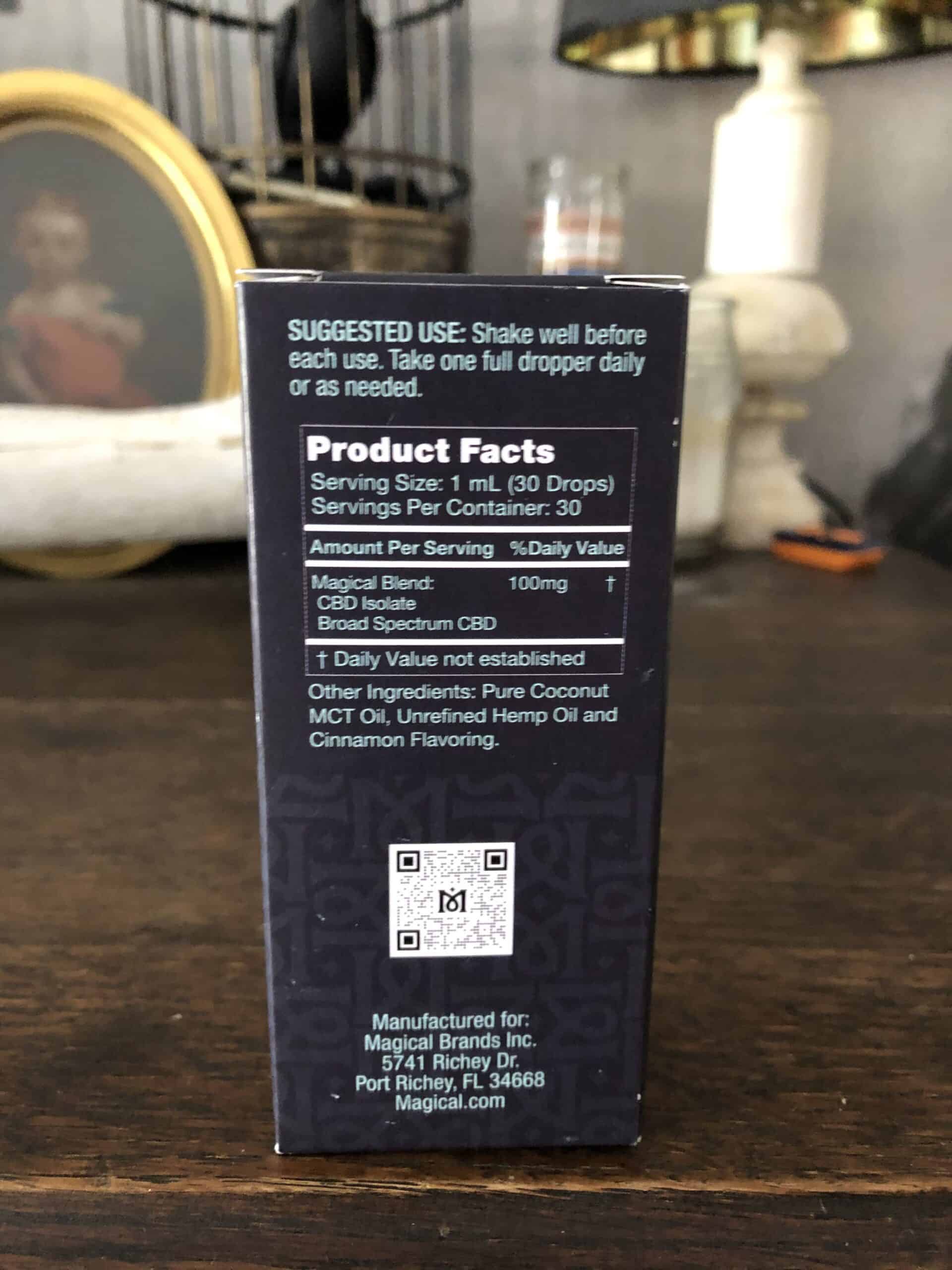 3,000 mg CBD
30 servings
100 mg CBD per serving
THC-free
Fat-free
Sugar-free
Gluten-free
Non-GMO
Vegan
Ingredients:CBD Isolate, Broad-Spectrum CBD, Pure Coconut MCT Oil, Unrefined Hemp Oil, Cinnamon Flavoring
1 fl oz / 30 ml
---
How We Tested the MAGICAL CBD TINCTURE – CINNAMON – 3,000 MG
I absolutely loved Magical's crème de menthe-flavored tincture. It tasted delicious and was effective in helping me deal with life. I had high hopes for their cinnamon-flavored tincture because it contains the same ingredients, so I knew it would be just as effective. Plus, I love anything cinnamon-flavored, and based on how yummy the crème de menthe was, it was pretty much guaranteed that this product would be just as good. Sometimes I need a little help dealing with stress because stress makes it hard for me to focus, and when I can't focus, I don't get as much done.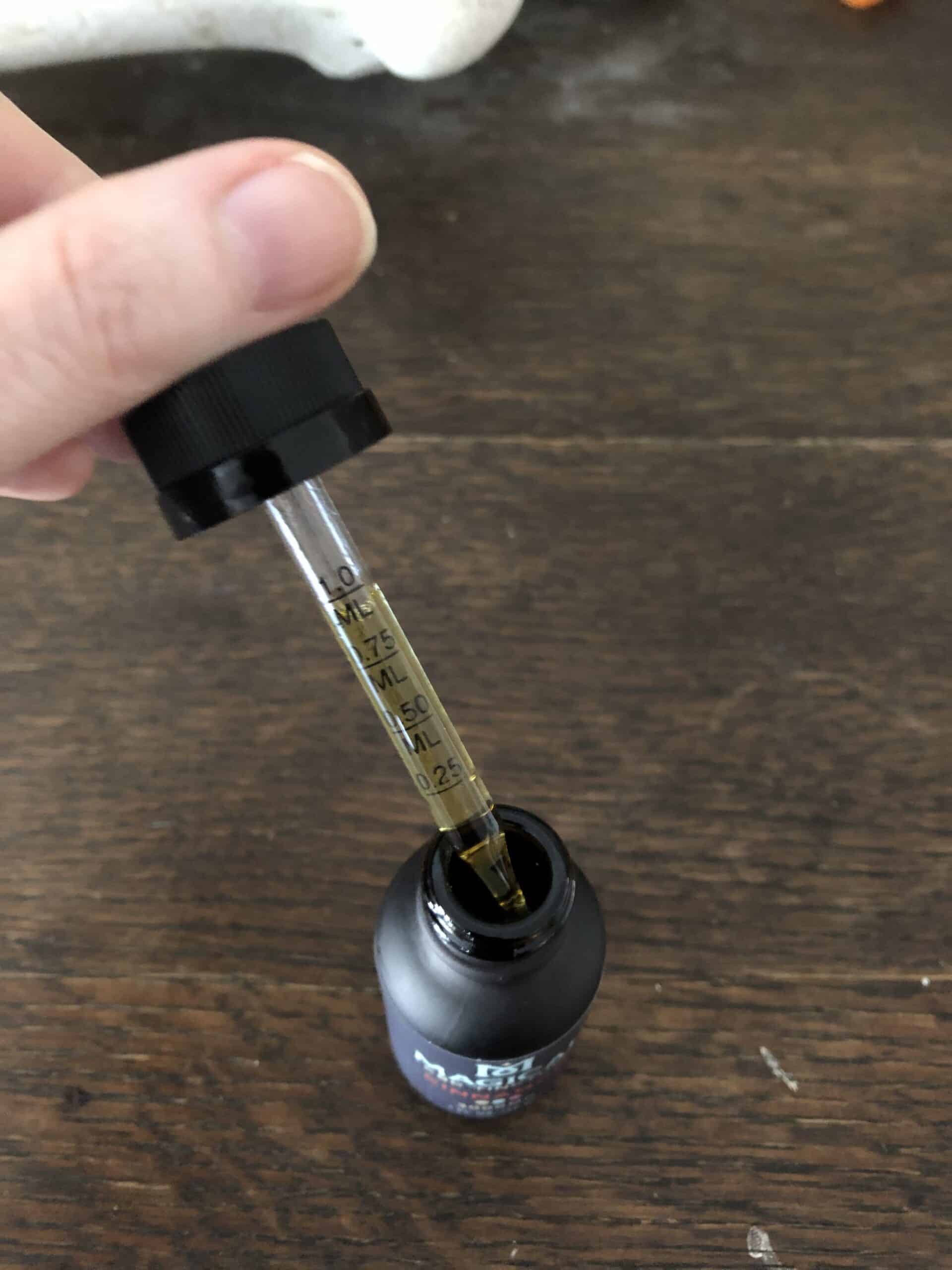 Since I'm an experienced CBD user, I opted to take ½ a serving in the morning, for a total of 50 mg. This is a fairly high dose, so like I said, start lower if you're new to CBD. I was hoping the tincture would help bring some calm and focus to my life.
---
How the MAGICAL CBD TINCTURE – CINNAMON – 3,000 MG Worked for Me
The cinnamon flavor is amazing! I couldn't taste any hemp and it left a delicious, spicy aftertaste. It tasted like those round, red cinnamon candies I used to steal from my dad as a kid. If you're a fan of cinnamon bears or hot tamales, you'll love this tincture. I could feel the effects of the CBD in under an hour. It made me feel warm and calm, helping me focus through the stress so I could have a more productive day. Because I don't need the full 100 mg dose, this tincture will last me a while, making the $70 price-tag worth it. I can't wait to try Magical's mixed berry and orange-flavored tinctures, although I don't know how they can beat cinnamon in flavor.
---
Useful and Unique Things to Know About MAGICAL CBD TINCTURE – CINNAMON – 3,000 MG

One cool thing about Magical is they have performance bundles based on flavor. So if you're into the cinnamon, like I am, you can purchase a cinnamon performance bundle that includes this tincture, 600 mg softgels, and a 500 mg soothing gel for your skin. By purchasing a bundle, you end up saving $55 on what is already a great deal. You can also get a performance bundle with orange, crème de menthe, or mixed berry.
---
MAGICAL CBD TINCTURE – CINNAMON – 3,000 MG Ratings
In the next sections gradings from 0-100 on our review, these grades add up to give the product's overall score.
PRESENTATION • 100
Informative packaging.
RELIABILITY • 100
Potent and effective.
QUALITY • 100
All-natural ingredients.
FLAVOR / SMELL / or EASE OF USE• 100
Delicious cinnamon flavor.
VALUE • 100
Great deal.
---
How MAGICAL CBD TINCTURE – CINNAMON – 3,000 MG Stacks Up Against the Competition

I don't have a bad thing to say about this product. It tastes great, provides relief, and is one of the best deals around. For only $70 you get 3,000 mg of CBD, which, if you don't take full 100 mg servings, will last you a while. I can't think of another company that can compete with magical's magic. It's just a great company all around.
---
Saving Money with Our Verified MAGICAL Coupons
Save money by using our verified CBD Tinctures Coupons here at Save On Cannabis the World's largest online cannabis coupon code directory.
---
Disclosure: I received these products gratis so that I could try them and then share my honest opinion with the SOC community. I am employed by Save on Cannabis to write honest reviews and provided a flat rate payment for the writing of the review. SOC may receive recurring affiliate payments for purchases made based on this content.
Read our Real Scientific Hemp Oil review of the RSHO Green Label 3G CBD syringe. See how it worked to ease our reviewer's pains and stress.
Hands-on review of the 710Life eNail from our expert reviewers. See if you should spend your money on this dabbing eNail.
Our reviewer tests flowers and vape oil from BC Bud Supply read their detailed breakdown of the products received & overall quality of service.