Magical CBD Creme De Menthe 3000mg Tincture Review
Nov 3, 2020 | SOC
Magical CBD Creme De Menthe 3000mg Tincture
Pros
Top-notch flavor
Great price
Non-GMO
Vegan
THC-free
Fat-free
Sugar-free
Gluten-free
MAGICAL
Product Review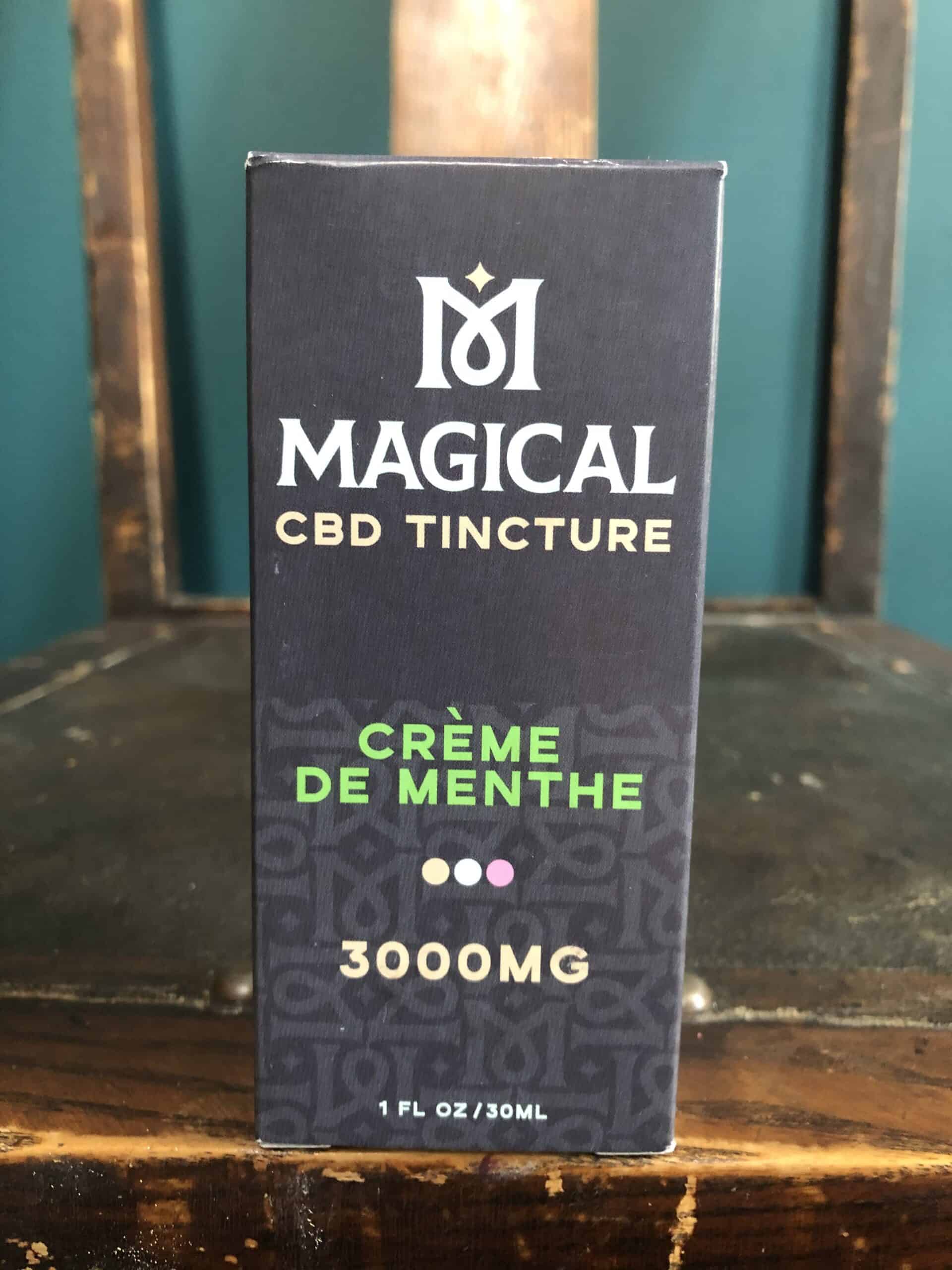 Brand Overview: MAGICAL
Magical has created a line of hemp-derived CBD-infused products that are pesticide-free, cruelty-free, and follow the standards dictated by Good Manufacturing Practices to ensure quality. The founders of the company also created Magical Butter, which sells the MagicalButter MB2e, a botanical extractor you can keep in your home that helps you turn hemp into butter, oil, tinctures, lotions, and more. They use American grown hemp extract and all their products are THC-free.
Magical uses a third-party lab to test their products for purity and potency. You can find a detailed Certificate of Analysis for their products on the company's website. All of their products are vegan.
Products: Edibles, Tinctures, Softgels, Topicals, Bundles.
Price Range ($-$$$$): $
---
About MAGICAL CBD TINCTURE – CRÈME DE MENTHE – 3,000 MG
This crème de menthe-flavored tincture from Magical contains 3,000 mg of CBD. Each serving contains a high dose of 100 mg of a combination of CBD isolate and Broad-Spectrum CBD. The company claims this potent tincture is fast-acting and is lab tested for purity so you can rest assured this stuff is vegan and free from THC, GMOs, and pesticides. Magical has also created this tincture in a 1,500 mg bottle and you can also get it in orange, mixed berry, and cinnamon.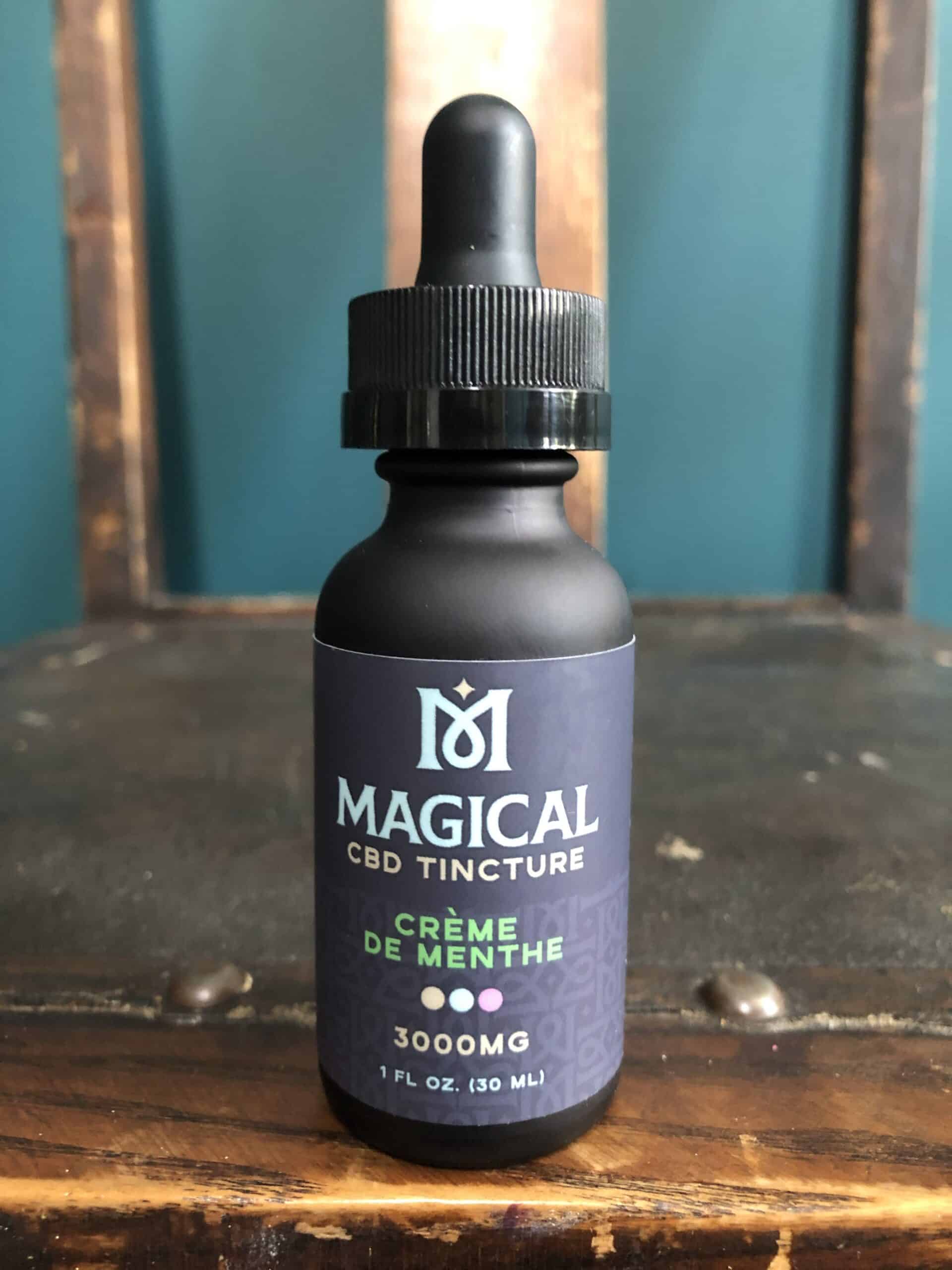 You can take one dropper daily as needed, but if you're new to CBD, experts recommend starting with 10 – 15 mg. Luckily, the bottle comes with a labeled dropper making it easy to measure the correct dose. The tincture is fat-free, sugar-free, and gluten-free.
---
MAGICAL CBD TINCTURE – CRÈME DE MENTHE – 3,000 MG Specifications
3,000 mg CBD
30 servings
100 mg CBD per serving
THC-free
Fat-free
Sugar-free
Non-GMO
Vegan
Ingredients:CBD Isolate, Broad-Spectrum CBD, Pure Coconut MCT Oil, Unrefined Hemp Oil, Peppermint Flavoring
1 fl oz / 30 ml
---
How We Tested the MAGICAL CBD TINCTURE – CRÈME DE MENTHE – 3,000 MG
I've been looking for a highly-dosed tincture to help bring some balance to my day. It's easy to get overwhelmed managing pandemic-life, school, and work. Sometimes, it's hard to remember to stay in the moment and I've found that CBD can help give me that mindfulness boost I'm looking for. I got all of Magical's differently flavored tinctures and was excited to try the crème de menthe because it reminds me of Grasshopper Pie at Thanksgiving.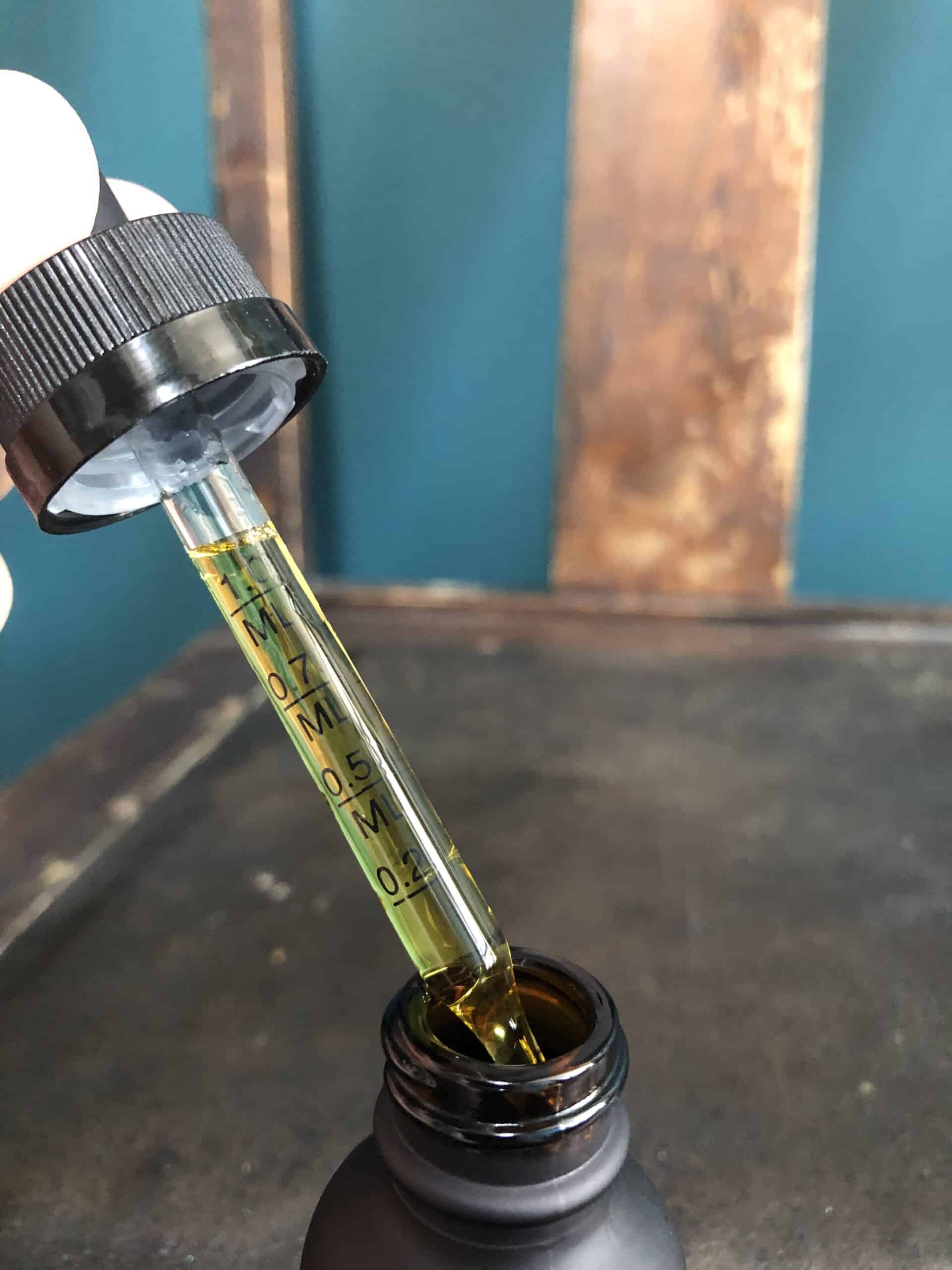 I took half a serving first thing in the morning, measuring the 50 mg serving with the labeled dropper. I took a full 100 mg serving at night, needing that extra bit of self-care as the day progresses.
---
How the MAGICAL CBD TINCTURE – CRÈME DE MENTHE – 3,000 MG Worked for Me
I could feel the effects of Magical's CBD tincture in less than an hour. I felt warm, relaxed, and focused at the same time. CBD tinctures are great because you get all the positive side effects of THC, without feeling high. I find I experience a similar feeling of calm when I meditate. The crème de menthe flavoring was delicious! I couldn't taste the bitter taste of hemp at all. I would argue that this is one of my all-time favorite CBD tinctures in terms of flavor and I can't wait to try Magical's cinnamon and orange tinctures. I look forward to using this effective and tasty tincture again and again.
---
Useful and Unique Things to Know About MAGICAL CBD TINCTURE – CRÈME DE MENTHE – 3,000 MG
This tincture is made with CBD isolate and broad-spectrum CBD. CBD isolate is the crystalline or powdered form of CBD that undergoes a process to strip it of any THC. It's pure CBD. CBD isolate is easier to dose and won't show up on drug tests. Broad-Spectrum CBD contains all the other phytocannabinoids in the cannabis plant except for THC. This type of CBD can be more potent than CBD isolate because the different types of cannabinoids work together to boost their positive effects in what's known as the "entourage effects."
---
MAGICAL CBD TINCTURE – CRÈME DE MENTHE – 3,000 MG Ratings
In the next sections gradings from 0-100 on our review, these grades add up to give the product's overall score.
PRESENTATION • 100
Informative.
RELIABILITY • 100
Potent.
QUALITY • 100
All-natural ingredients.
FLAVOR / SMELL / or EASE OF USE • 100
Delicious peppermint flavor.
VALUE • 100
Good deal.
---
How MAGICAL CBD TINCTURE – CRÈME DE MENTHE – 3,000 MG Stacks Up Against the Competition
I would have to look hard to find a tincture that can compete with this one. It tastes amazing. It's effective and all-natural. And it only costs $70 for 3,000 mg of CBD. That's a great deal especially if you're not taking full 100 mg servings. I suppose the only way this product could be better is if Magical's mixed berry, cinnamon, or orange have a superior flavor. I look forward to testing them all.
---
Saving Money with Our Verified MAGICAL Coupons
Save money by using our verified CBD Tinctures here at Save On Cannabis the World's largest online cannabis coupon code directory.
---
Disclosure: I received these products gratis so that I could try them and then share my honest opinion with the SOC community. I am employed by Save on Cannabis to write honest reviews and provided a flat rate payment for the writing of the review. SOC may receive recurring affiliate payments for purchases made based on this content.

Sorry, no coupons were found.
In this Magical CBD review, we get to see if this affordable CBD is reliable and tastes good compared to the competing brands.
Having trouble sleeping on a regular basis our reviewer, in this CBDistillery review they try out the Sleep Gummies with CBD & Melatonin.
See how the LEVO C infuser makes cannabis oil easy. Watch the Lēvo C batch herb oil infusion machine review video & get verified discounts!