Meridian Life Balance Review: Relieve Active Botanical Roller
Feb 18, 2020 | Romy
CBDCBD Pills & CapsulesCBD TincturesCBD Topicals
MERIDIAN LIFE BALANCE ACTIVE BOTANICAL CBD ROLLER GEL
Pros
Eases mild to moderate pain
Natural smell that doesn't overwhelm
Cooling
Easy-to-use
Cons
Expensive, but what topical isn't?
MERIDIAN LIFE BALANCE ACTIVE BOTANICAL CBD ROLLER GEL
Product Review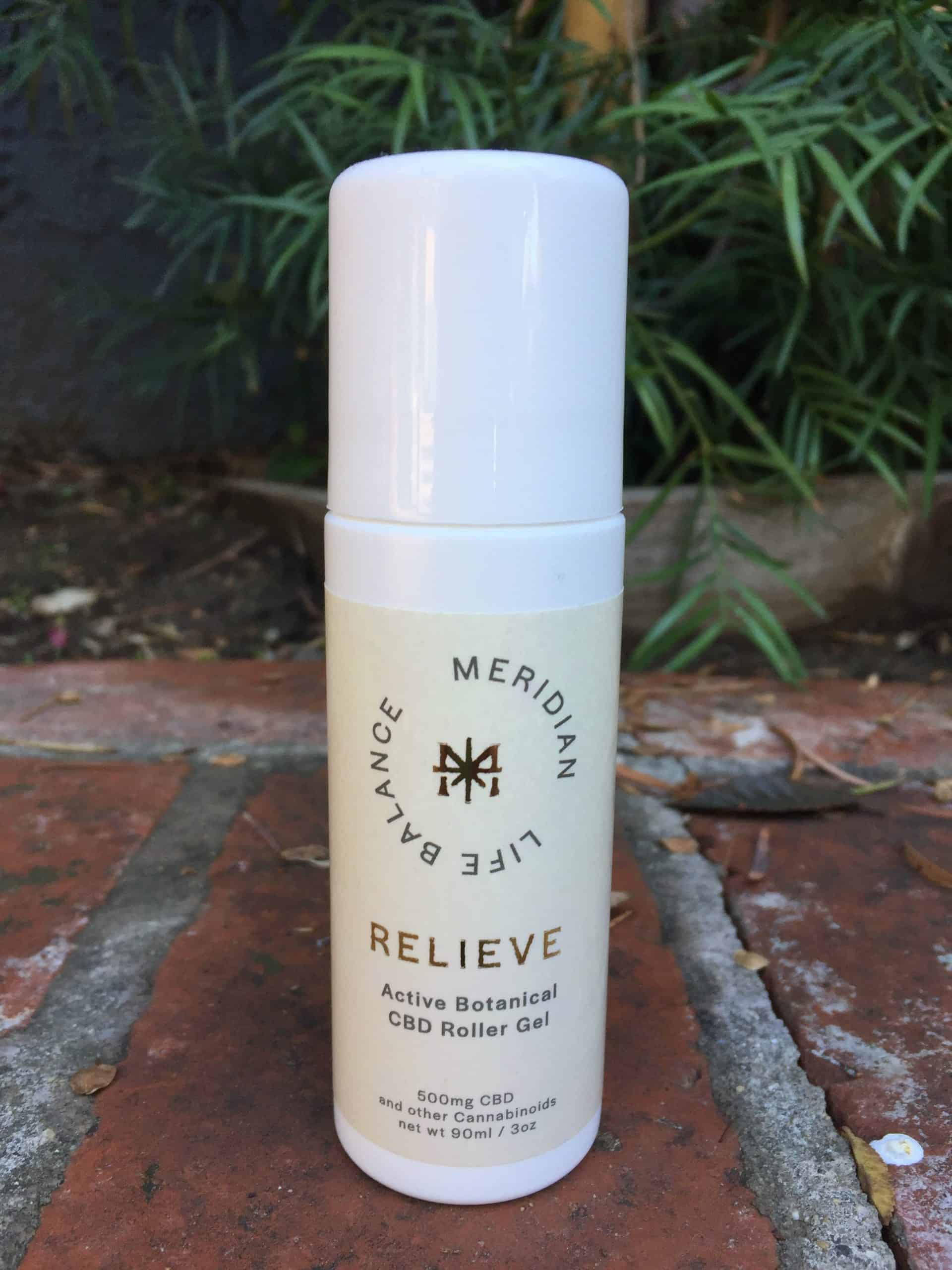 Brand Overview:MERIDIAN LIFE BALANCE
Meridian Life Balance has created a line of CBD-infused products that provide a non-addictive alternative to prescription and over-the-counter medications. Offering tinctures, capsules, and topicals to help relieve pain and stress, Meridian Life Balance's CBD-infused products will help balance your endocannabinoid system for a healthier and more mindful existence. The company also wants to educate you about CBD, and you can find helpful articles on their website, including "CBD 101" where you can get a crash course in all things cannabidiol.
Products: Tinctures, Topicals, Capsules, Bundles.
Price Range ($-$$$$): $$$
---
About MERIDIAN LIFE BALANCE ACTIVE BOTANICAL CBD ROLLER GEL

The Active Botanical CBD Roller Gel from Meridian Life Balance contains 500 mg of CBD to help relieve your painful muscles and joints. The gel has been ultra-concentrated for maximum effect and its fast-absorbing. Perfect for the person-on-the-go, this stuff rolls on easily and you won't get it all over your hands. Meridian combines CBD with menthol, natural botanicals, and other cannabinoids that work in combination to bring you relief. Whether you need something for soreness after a hard workout, or you're in chronic pain from an injury, this roller gel cools down the discomfort to alleviate the symptoms. Simply roll the product onto the painful muscles and joints in a circular fashion. You can use it up to four times a day as needed. Don't forget to shake well before using it!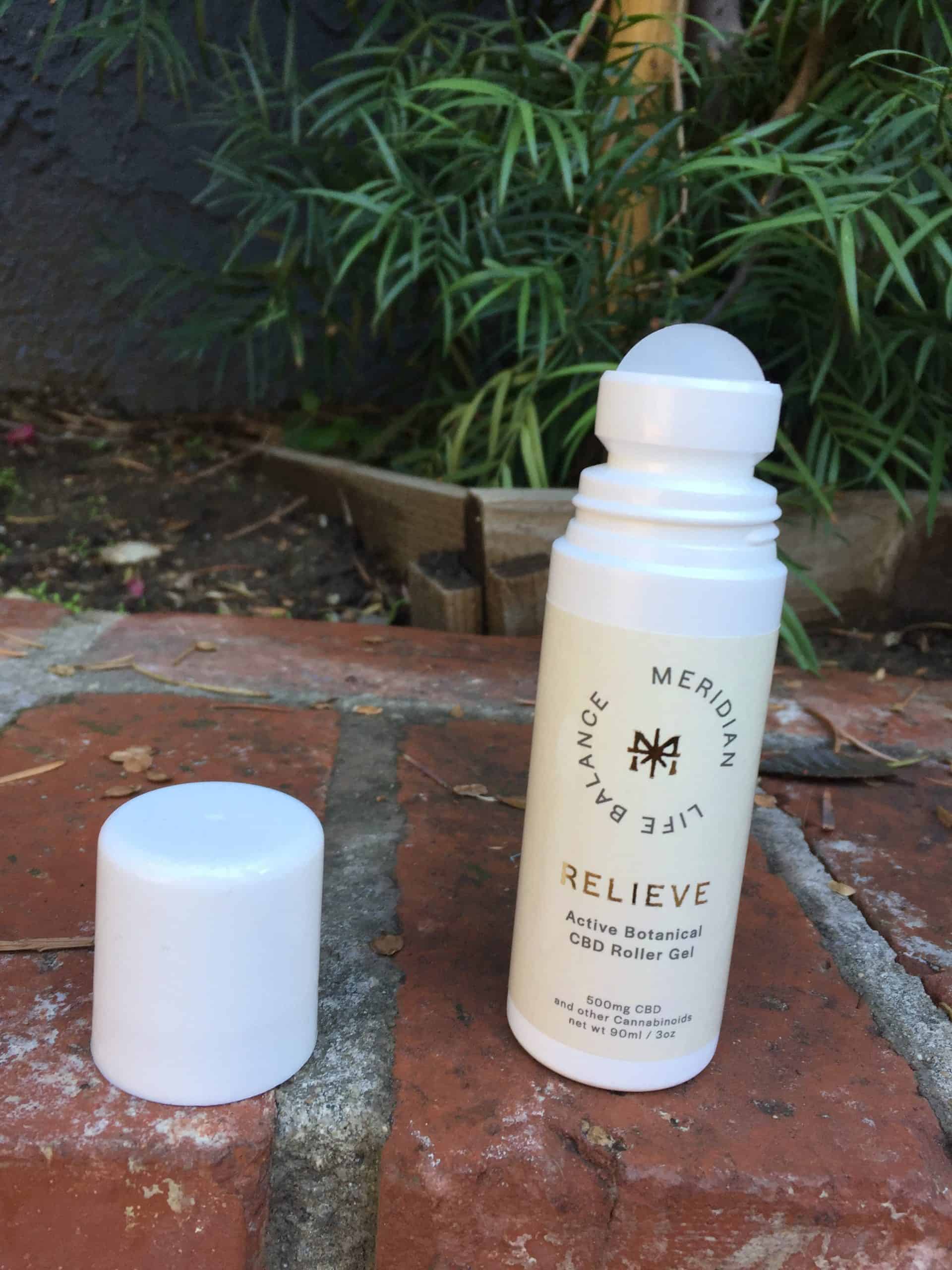 ---
MERIDIAN LIFE BALANCE ACTIVE BOTANICAL CBD ROLLER GEL Specifications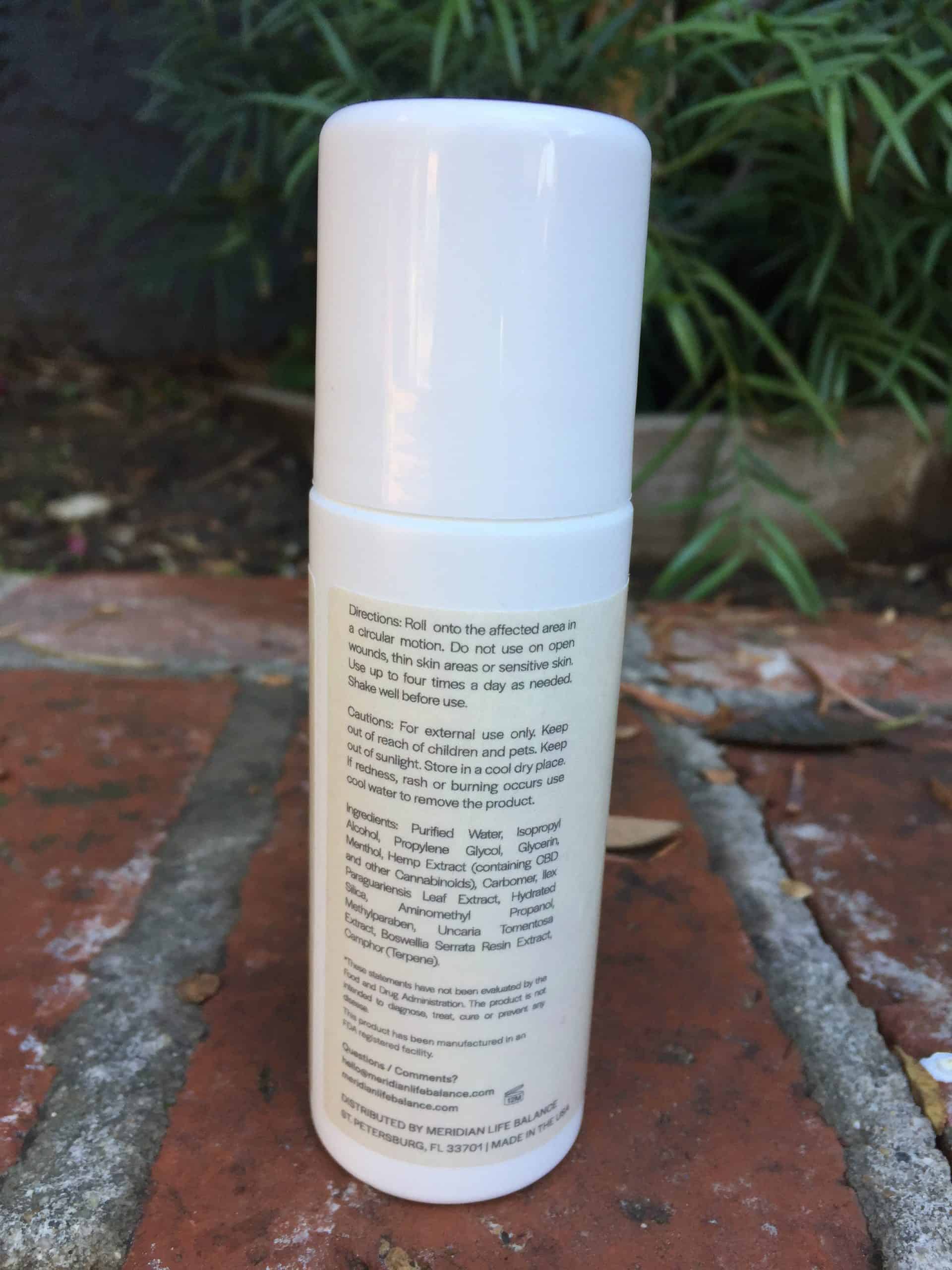 500 mg CBD and other cannabidiols
90 ml
Ingredients: Natural Menthol, Ilex Para (Yerba Mate Leaf Extract), Uncaria (Cat's Claw Extract), Boswellia Extract, Camphor
---
How We Tested the MERIDIAN LIFE BALANCE ACTIVE BOTANICAL CBD ROLLER GEL

I live in constant chronic pain due to a few different injuries. The worst pain (right now) is in my low back due to SI joint dysfunction. It feels like there's a metal rod jammed into my back that comes out the other side through my groin. It's horrible. I can't sit. I often cry, feeling despair that I will never have a pain-free life. I'm a topical junkie so was excited to see a CBD gel that comes in a roller. One of the things I hate about topicals is that it gets on my hands and sometimes it's inconvenient to go wash them. It's no fun having menthol on my hand, forget, and then rub my eyes. This CBD-infused roller gel from Meridian Life Balance looks like a fancier version of the Aspercreme roller gel. I rolled this stuff onto my low back and hips first thing in the morning, then tossed it into my backpack to use later at school. At night, I used this in combination with gabapentin, my prescribed medication.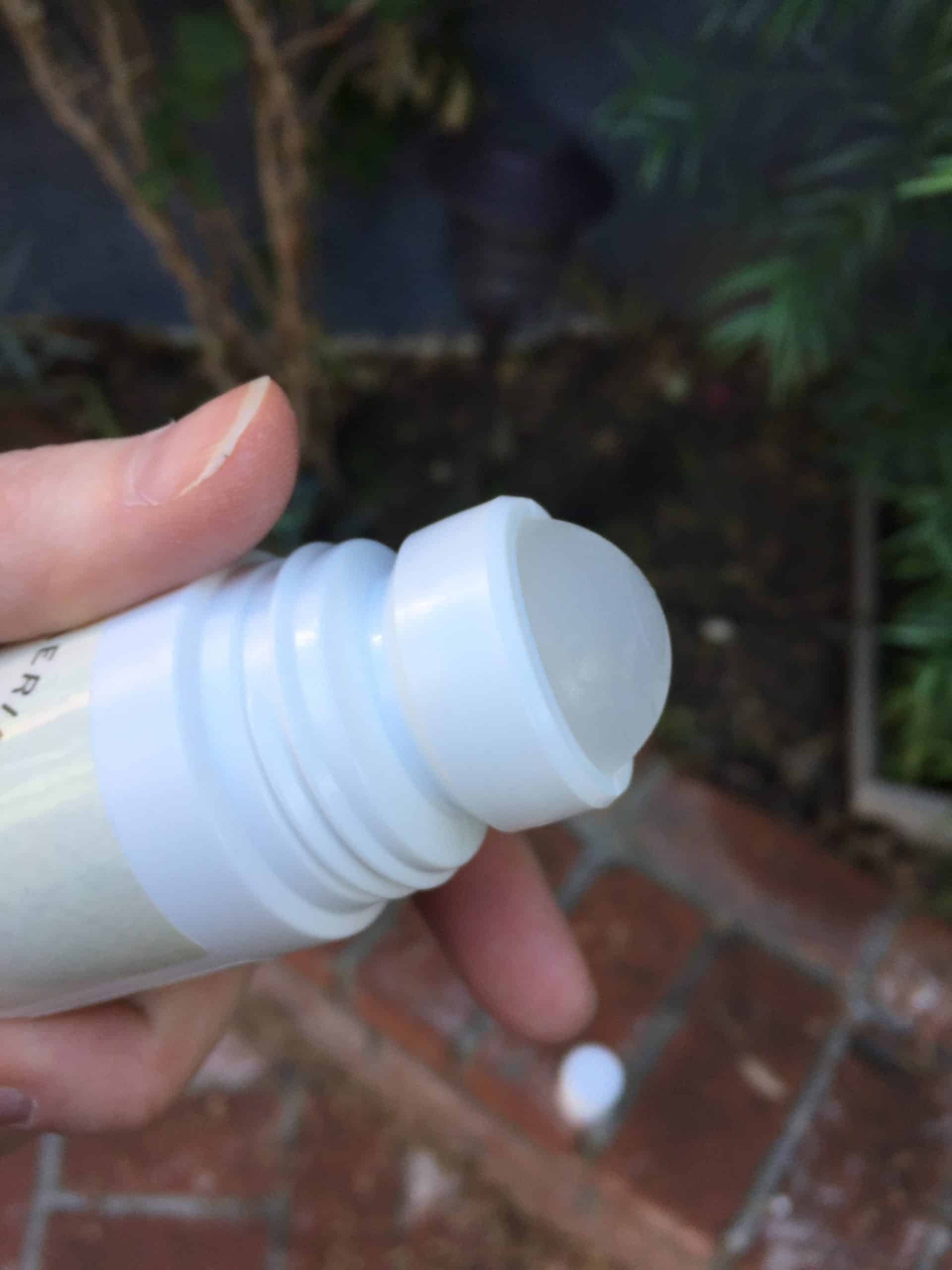 ---
How the MERIDIAN LIFE BALANCE ACTIVE BOTANICAL CBD ROLLER GEL Worked for Me

I felt the gel cool off the painful areas immediately. It was a subtle sensation, but the gel provided a little bit of respite from the pain in the short-term. I didn't feel long term relief, but I also know I need something stronger for the amount of pain I was in. I tried the roller gel on my front thighs, where the pain is less intense, and found that much more effective. I'll be using this CBD roller for the more moderately pained places. It now lives in my school bag and its the perfect thing for a long day away from home.
---
Useful and Unique Things to Know About MERIDIAN LIFE BALANCE ACTIVE BOTANICAL CBD ROLLER GEL
Meridian Life's CBD roller gel contains ilex para, also known as yerba mate extract, which is filled with antioxidants, can boost energy and fights to protect your immune system. This topical also contains Uncaria, or cat's claw extract. Cat's claw is used to help treat the symptoms of cancer, Alzheimer's, arthritis, and many other illnesses. It also helps with digestion. Another unique ingredient in this gel is Boswellia extract. This stuff can reduce inflammation from arthritis, bursitis, and other painful conditions.
---
FRONTIER JACKSON MIXED BERRY CBD TINCTURE Ratings
In the next sections gradings from 0-100 on our review, these grades add up to give the product's overall score.
PRESENTATION • 100
Professional and informative.
RELIABILITY • 100
Eases pain.
QUALITY • 100
Superior ingredients.
FLAVOR / SMELL / or EASE OF USE • 100
Easy to use and smells amazing.
VALUE • 95
I wish topicals weren't so expensive.
---
How MERIDIAN LIFE BALANCE ACTIVE BOTANICAL CBD ROLLER GEL Stacks Up Against the Competition
I thought Meridian's roller gel worked similar to Aspercreme roller gel. They both eased my more mild pain found on my front thighs but did little for the more severe pain on my low back and hips. For a natural but more expensive alternative, try this product. If money is an issue, the Aspercreme will do, although you're not getting the same great ingredients.
---
Saving Money With Our Verified MERIDIAN LIFE BALANCE Coupons
Save money by using our verified Cbd Topicals Coupons here at Save On Cannabis the World's largest online cannabis coupon code directory.
---
Disclosure: I received these products gratis so that I could try them and then share my honest opinion with the SOC community. I am employed by Save on Cannabis to write honest reviews and provided a flat rate payment for the writing of the review. SOC may receive recurring affiliate payments for purchases made based on this content.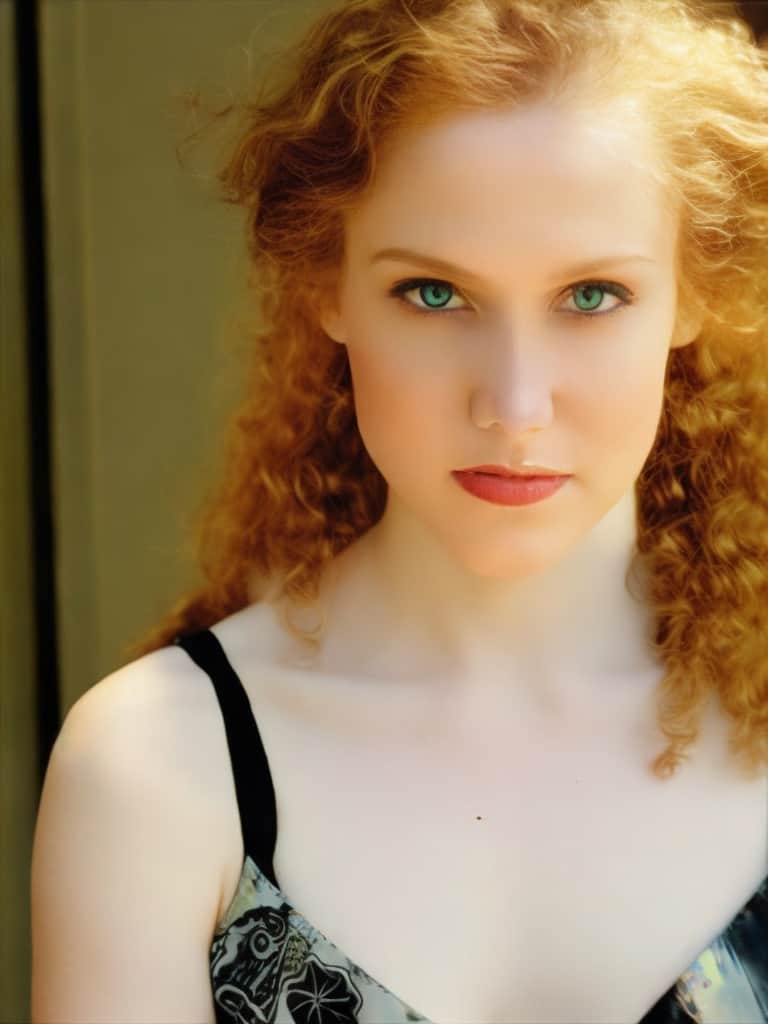 A medicinal cannabis user, utilizing the power of the plant to ease the pains and stresses from long standing conditions that other over the counter or prescriptions could not fix or weren't a natural option like cannabis.  Also, has a background in working directly in the cannabis industry in California within various dispensaries.
Save on Meridian Life Balance
Sorry, no coupons were found.
Can you use CBD instead of Advil? Our reviewer put this idea to the test in this CBD•TRU review of their Pure Full Spectrum CBD Oil.
Ctirus is the last flavor we tried in our Dr. Dabber reviews of their CBD vape oils, see how it ranks. Our expert sees if it helps with sleep
In our PhenoPen review learn about this GMP certified vape pen made of Full Spectrum CBD oils. Find out if it is worth your time and money.