Canada Mail Order Cannabis: Green Society Review
Sep 3, 2018 | NugAndStem
Canada Mail Order CannabisCannabis Dispensary
Green Society: Mail Order Cannabis
Green Society Cannabis Mail Order
We love the idea of a green society, and we were so happy to be welcomed into this Green Society when we received a tasty sampling of Green Society's many offerings. Green Society is a Canadian "grey area" online mail-order cannabis and cannabis products dispensary – available to all Canadian residents of the age of majority. As a business, they are very proud and vocal about their mission to help people experience the medical benefits of cannabis, which we definitely appreciate. We were also immediately impressed with Green Society's clear and modern branding, which is maintained in everything from their web design to their product packaging. Just because a product is being used medicinally doesn't mean it shouldn't also be stylish – in this regard, Green Society does not disappoint. They also have a very competitive mail-order offering, which we'll touch more on later.
Green Society Cannabis Flower Reviews
In terms of cannabis flower offerings, Green society delivers a good quantity of different strains, as well as a strong selection of unique strains. Green Society maintains 3.5g as the minimum quantity you can buy of any given strain, which might deter some people who want to sample by ordering 1g. However, this minimum shouldn't be a deterrent, since the prices are very reasonable. For people wanting to sample in larger quantities, Green Society also offers a great option to build your own ounces at a discount by combining multiple strains in 7g increments.
For our own sampling, we ordered a variety of strains including 2 sativas, 2 hybrids, and 2 indicas. All strains were ordered in 3.5g quantities, and our weight tests found that all of the orders received were accurate or even a bit over 3.5g. The flowers were all trimmed well and looked like high-quality strains. We were able to sample some unique strains that we hadn't seen before, and they were all enjoyable to consume.
Featured Hybrid – OG Diesel Kush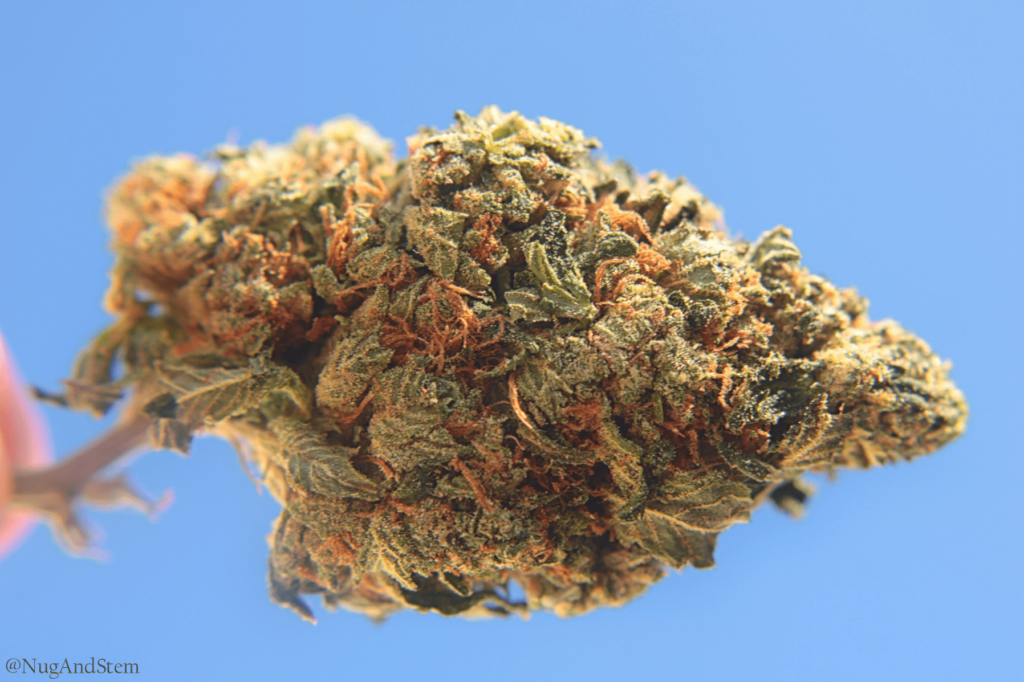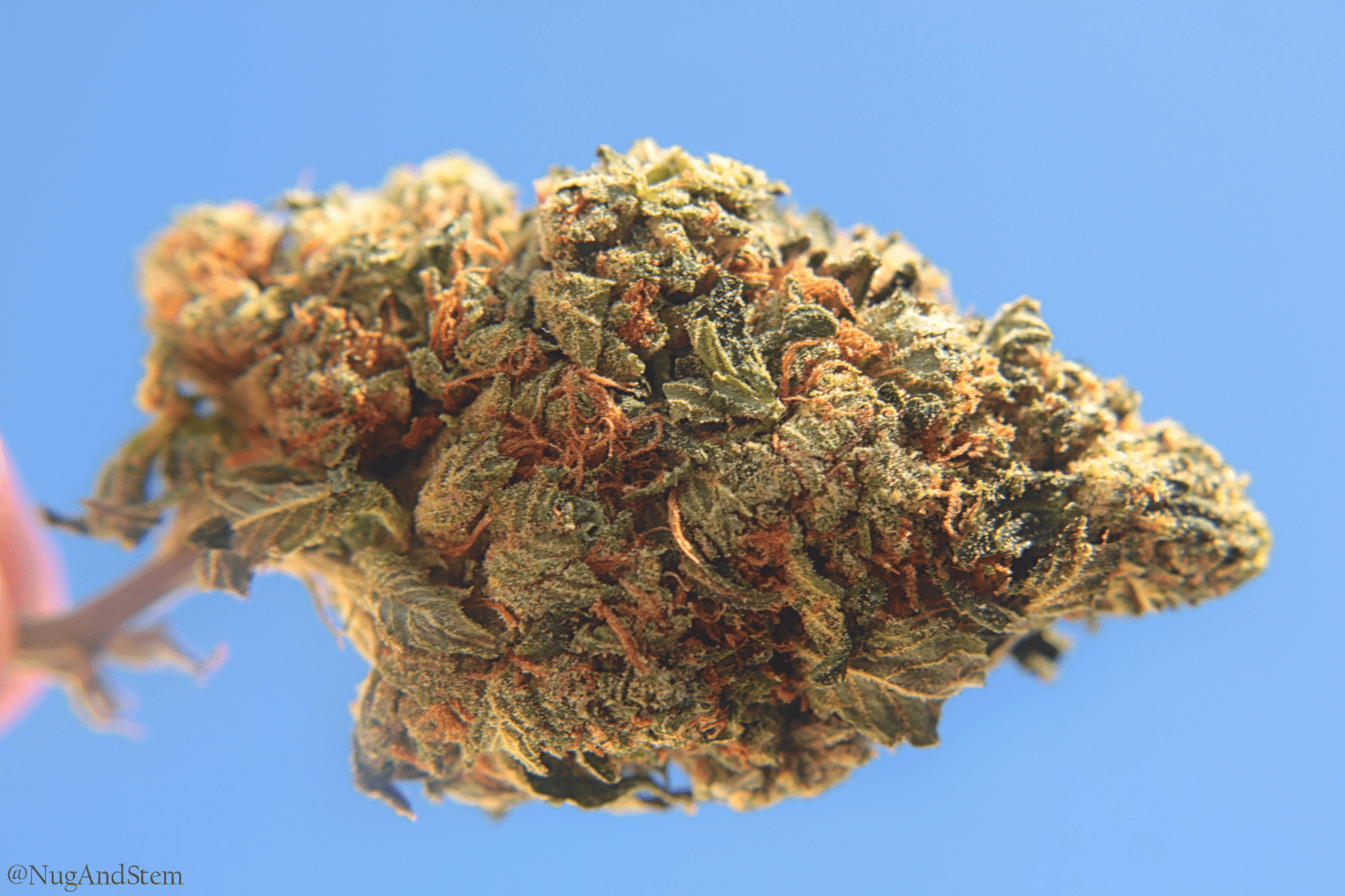 Our favourite hybrid is OG Diesel Kush, with its luscious deep green nugs and plenty of dark brown pistils. This strain has a rich scent like caramel or burnt sugar combined with diesel – a bit like an expensive garage. This strain feels very spongy, which allows the nugs to pull apart easily. When ground, the flowers release a nice diesel and grassy scent.
After smoking the OG Diesel Kush, we had enough energy to cook some veggie pasta and had big appetites, but we were only able to eat a standard portion before feeling full. This effect was unexpected but great, as it allowed us to enjoy our food without overeating – which is a habit we're trying to kick. Although this hybrid didn't provide the longest lasting high, during the high, we both had a lot of positive energy.
Nug's Highlights: This strain provided the energy to be productive, while also providing enough relaxation to be able to go out in public without anxiety.
Stem's Highlights: This strain provided energy to do chores without being hindered by back pain; overall, this is now one of his favourite strains that he has smoked.
OG Kush Rating
Aroma • 95
Taste • 85
Visual Aesthetics • 95
Stone/High • 100
Burnability/ Flush • 90
Featured Indica – Icewreck Kush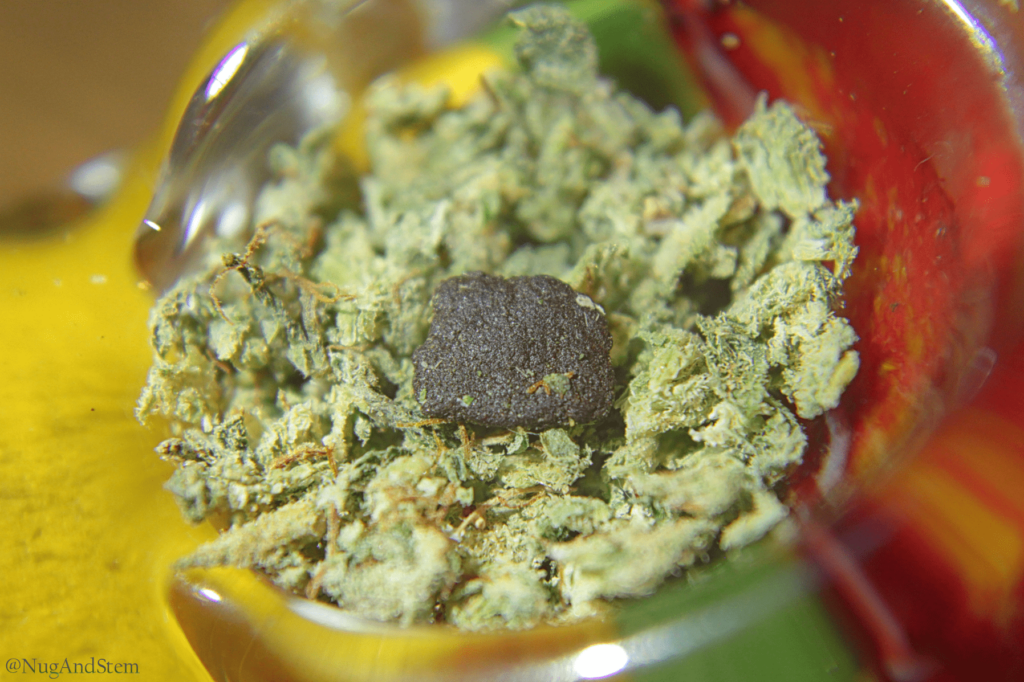 Our favourite Green Society indica is Icewreck Kush, which we smoked in a joint alone and in a pipe with Afghani Temple Hash. This is a stunning looking strain with a light green and white colour in contrast to dark brown pistils. This indica, whether consumed with a joint or pipe, provides a smooth smoke with a light woody or nutty flavour.
After smoking Icewreck Kush, we were both extremely relaxed and experienced general feelings of blissfulness. The effects of this strain last a long time, so we would recommend that you consume Icewreck Kush when you need to unwind but don't have anything important to do or anywhere to be.
Nug's Highlights: I was very irritable and anxious before consuming this strain the first time, and after smoking, I felt so much relief; this strain helped me let go of negative feelings and gain a more zen perspective on life. My favourite of Green Society's strains.
Stem's Highlights: This strain allowed my muscles to relax and would be great for helping me fall asleep when I am struggling with pain-related restlessness.
Icewreck Kush Rating
Aroma • 80
Taste • 90
Visual Aesthetics • 95
Stone/High • 90
Burnability/ Flush • 85
Featured Sativa – Green Crack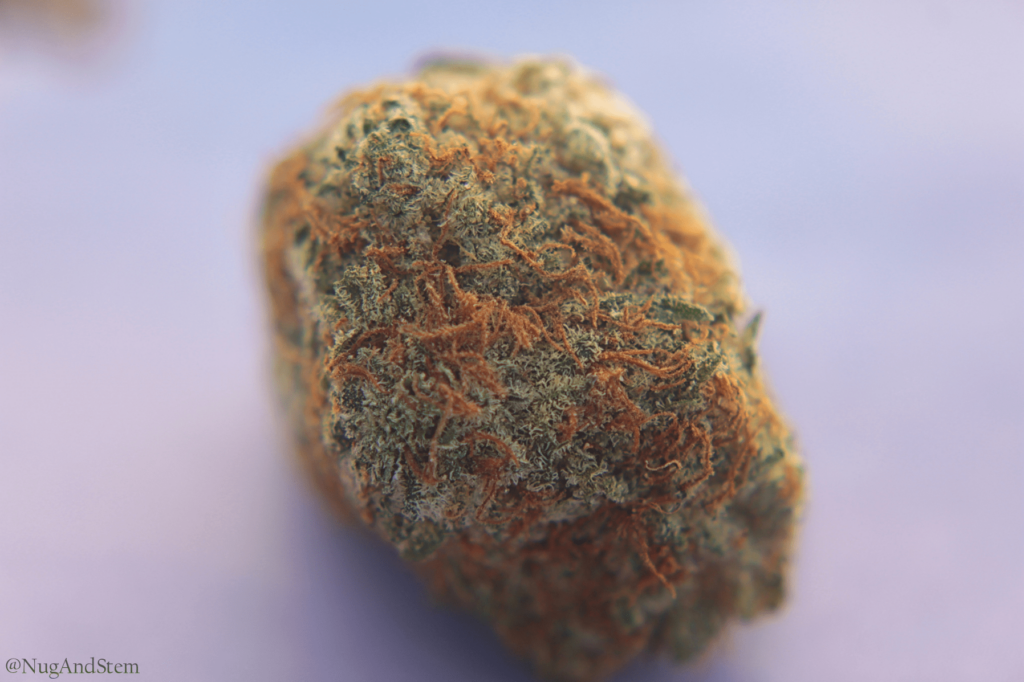 Green Crack is our favourite sativa from Green Society. This sativa is Incredibly dense but crips; it snaps when pulled apart. The flower has tiny white trichomes and short dark orange pistils. Untouched, this strain doesn't give off a strong scent, but when ground, it has a nice pine sap scent. When ground, we could also see the trichomes separate like fine sand, which was definitely unique and interesting.
Green Crack provides a smooth smoke without coughing, but it does burn hot because of the heavy trichomes, so it can hurt the throat slightly. This strain hits hard and heavy but quickly turns cerebral and mind driving. Green Crack is a great strain for stimulating creativity or interesting conversations with friends while enjoying food together.
Nug's Highlights: Although I enjoyed how talkative and creative this strain allowed me to be in a comfortable setting at home with my partner, I realized that the high potency of the THC in this strain would mean that I should NOT consume this in a high dosage or in situations that already create anxiety for me.
Stem's Highlights: I would enjoy Green Crack in social settings, as it allowed me to forget about my pain while being very chatty and aware of everything around me in an inspiring way.
Green Crack
Aroma • 85
Taste • 85
Visual Aesthetics • 95
Stone/High • 95
Burnability/ Flush • 90
Non-Featured Strains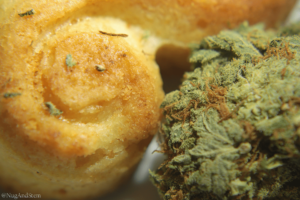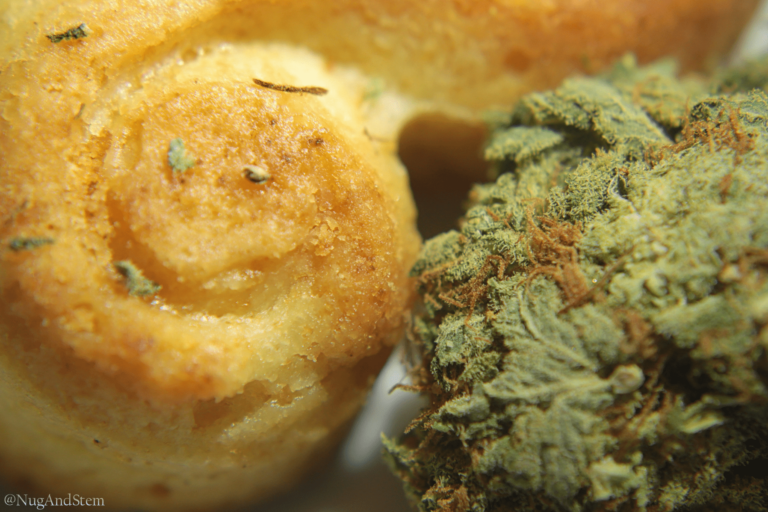 Nebula (Sativa)
Slow setting in

Positive and uplifting

Stimulates appetite in a healthy way

Not a long lasting high
Mataro Blue (Hybrid)
Smells like minty and fruity bubblegum when grinded

Crisp nugs that easily pull apart

Uplifting and had us laughing

A slightly harsh comedown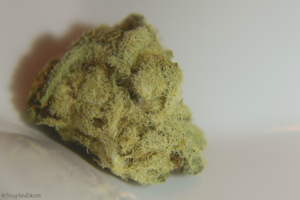 Violator Kush (Indica)
Strong tea tree oil scent

A strong strain for less experienced users

Can create a "stoned" feeling

Good for consuming before bed
Overall, we had good experiences with Green Society's strains and didn't notice any real negative effects. Although there are cheaper options, in our experience, the cheaper alternatives have been cheaper for a reason. The prices for these strains do not seem overpriced and are definitely no the most expensive on the market.
Room for Improvement
It would be beneficial if the packaging came labeled with THC/CBD%

For users who are interested, it would be nice if the strains had lab results posted on the website
Green Society Cannabis Concentrates and Edibles Review
Green Society boasts one of the biggest selections of concentrates that we have ever seen. The pricing for concentrates is, again, very reasonable. Green Society also has a large selection of reasonably priced edibles. We ordered 2 shatters, 1 kief, 1 hash, and 2 similar edibles.
Faded and High Heat Extracts Shatter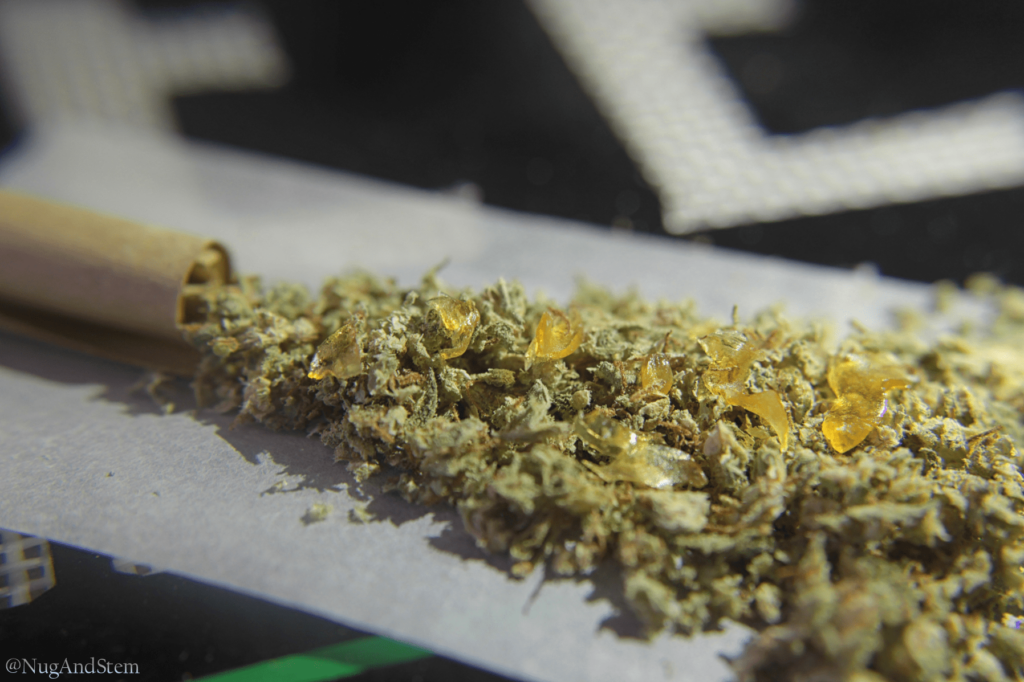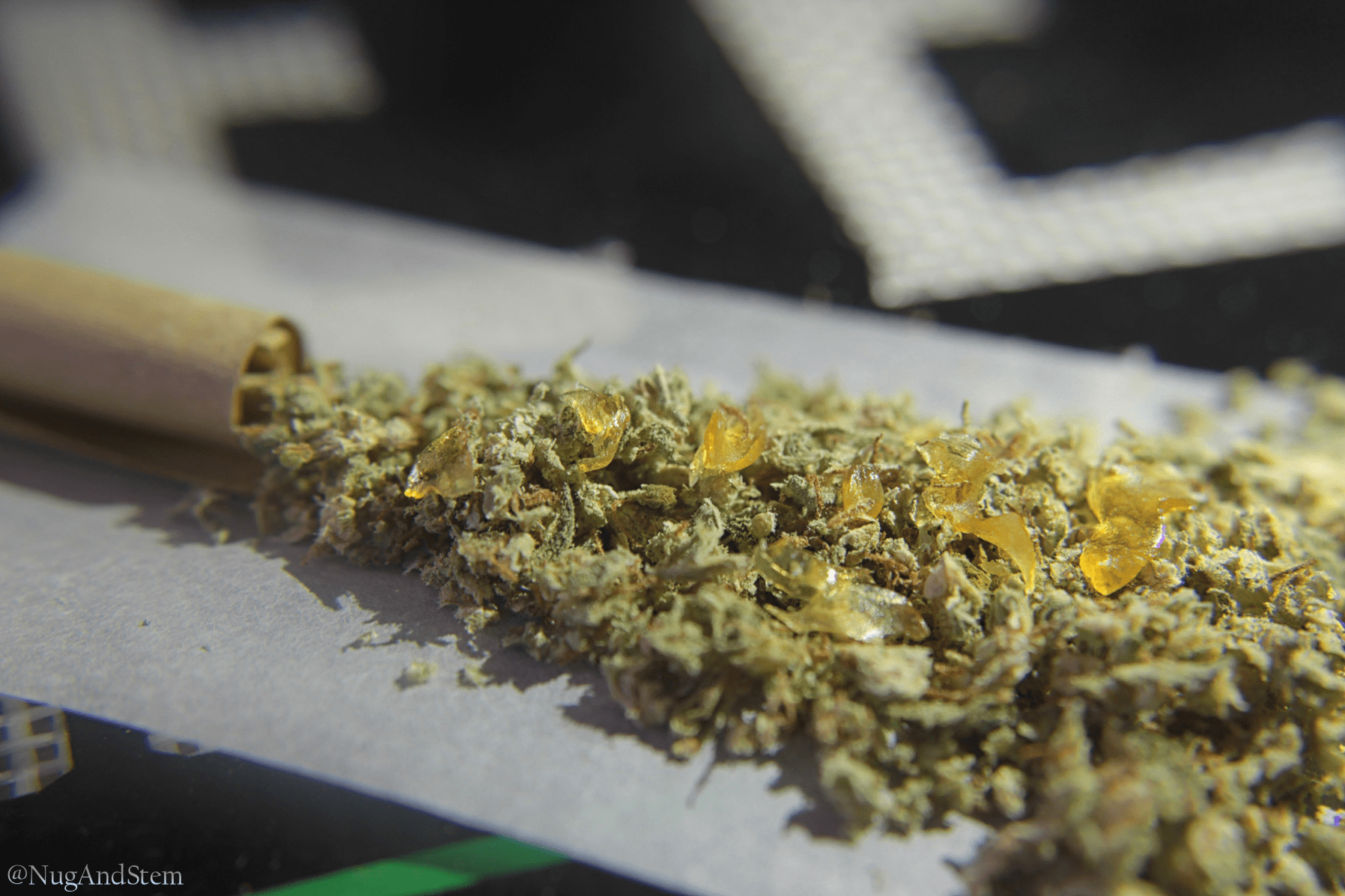 We sadly do not yet have the proper equipment to dab the shatter, but we wanted to look at the products anyway. We decided to use them in combination with our favourite strains of the bunch to see if they would improve the experience.
Faded Lemon Haze Shatter
Stem smoked the Faded Lemon Haze Shatter with OG Diesel Kush. The shatter was waxy and stuck to the parchment paper, but provided a smooth smoke even on big hits. Stem expected the same uplifting body high from OG Diesel with some added energy from the shatter, and the combination did not disappoint. This combination created a lot of positive energy and productivity to get work done late at night.
High Heat Extracts Green Crack Shatter
Stem combined this shatter with Nebula in a hand-rolled joint using Green Society filters and papers. The Green Crack Shatter added a bit of heat to the burn and provided a delicious fruity taste. This combination created an uplifting and happy high but did not over stimulate appetite, which is great if you're looking to consume cannabis while maintaining any sort of diet. This combination was also great for an afternoon nap.
Faded Edibles Review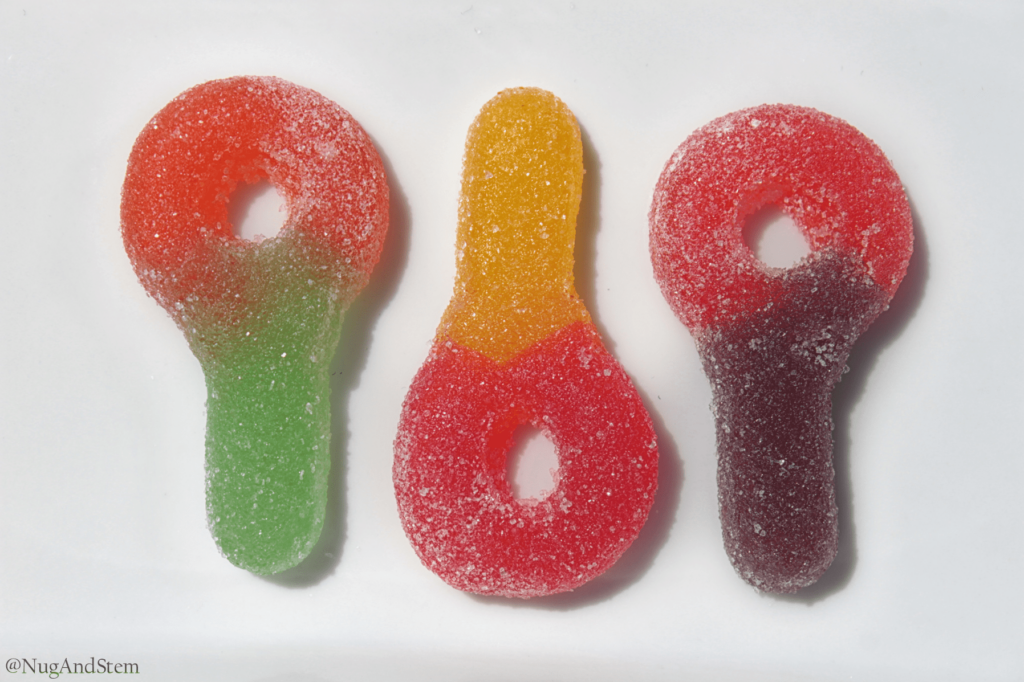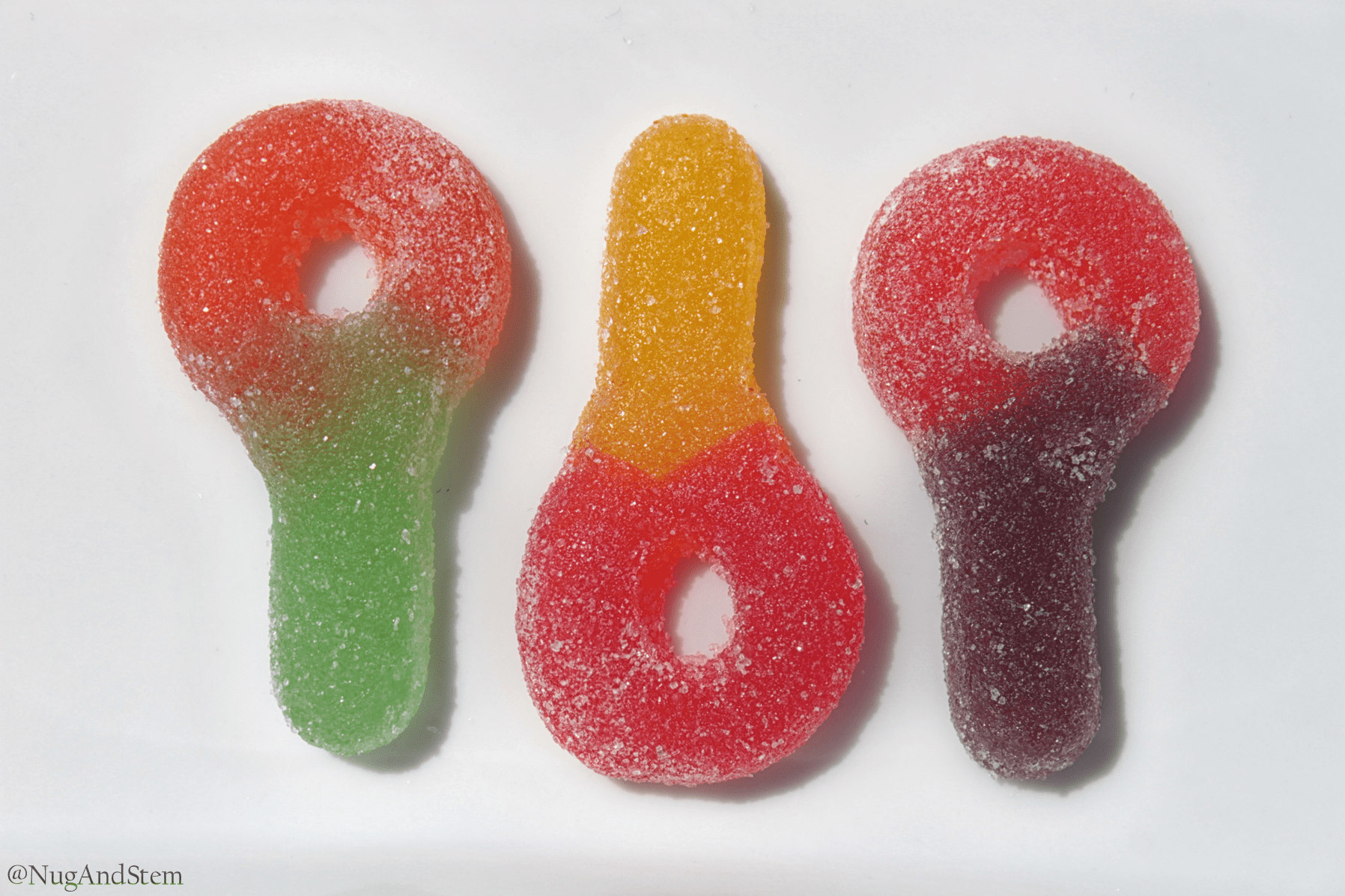 We tried Green Society's Sour Sucker and Cherry Bomb edibles from Faded Cannabis Co. They contain 18.5mg per piece, which is great potency. While they are on the pricier side of edibles, the gummies are amazing. They look better than the real candy, have a great texture, and don't melt, so they can be easily split to take a smaller dose. What's amazing about these Faded edibles (but also potentially dangerous) is that they do not smell or taste like cannabis – expect for a mild bitter aftertaste. These are great for being discrete and for enjoying the experience of a regular gummy, but do be careful about where you leave these bad boys.
The effects from these Faded Edibles hit quite quickly for an edible. Faded advertises that the full effects will not hit until an hour after consumption, but we definitely felt the full effects within twenty minutes. While the edibles did provide positive feelings and helped us to fall asleep, these edibles did not produce any major psychoactive effects. The effects also did not last as long as we had expected.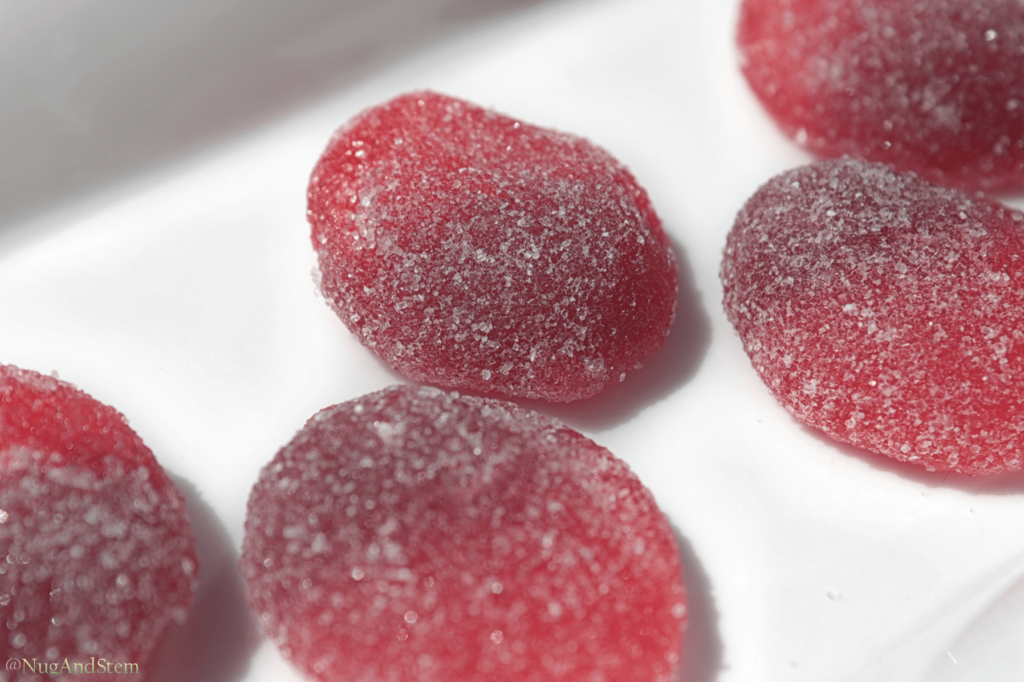 Nug's highs and lows: I tend to have more negative, paranoid reactions to edibles, but I have had nothing but positive experiences with the Faded gummy edibles, so they are quickly becoming my favourite go-to edibles. The one fault I can find with these is that the bitter aftertaste does bother me, but this can be easily fixed by eating or drinking something after.
Stem's highs and lows: The Faded gummy edibles look and taste better than most edibles I've tried, but I was frustrated that they do not list whether they are a sativa or indica. Based on how easily they allowed us to sleep though, I assume they are an indica.
Summary of Concentrates and Edibles
We did order some BC Rockstar Kief and Afghani Temple Hash, which we added to pipe bowls. We found the experiences enjoyable, and the kief and hash complimented the strains well – Nebula with BC Rockstar Kief and Icewreck Kush with Afghani Temple Hash.
To take issue with Green Society's packaging, the kief was packaged in a very small container that was not labeled and could be easily lost

The Faded edibles are high-quality gummies but could improve on the potency

The shatters are top notch, but we will have to get a dab ring to try them properly

Green Society has a huge selection of concentrates but not a lot of vape pens
Green Society Accessories Review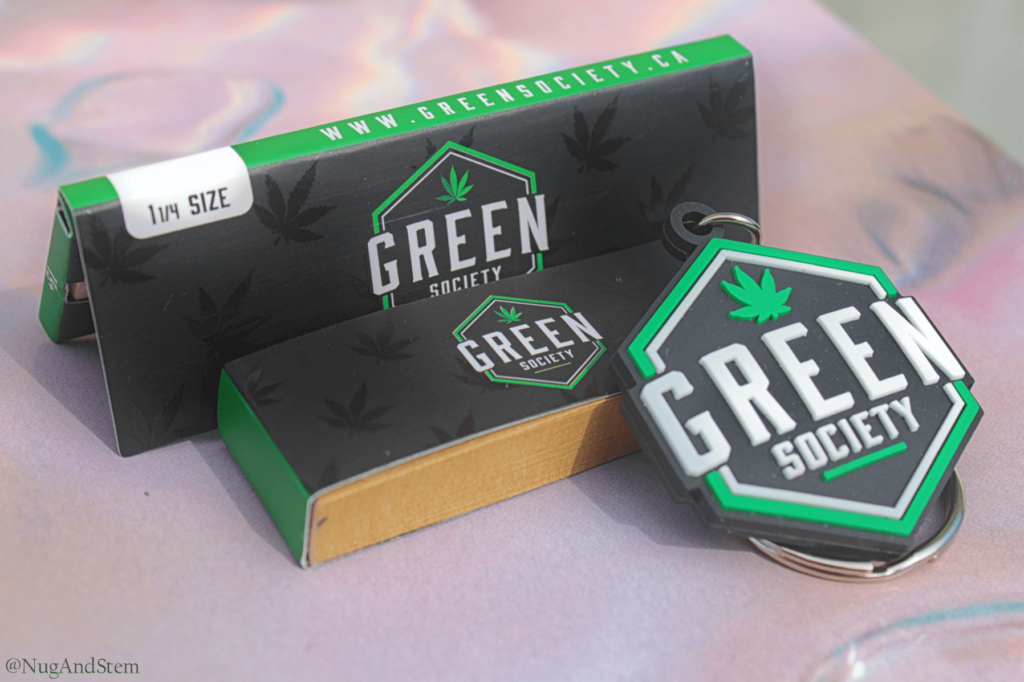 Green Society is a strong and proud brand, and they have clearly invested well into promoting their brand with their accessories. The accessories are reasonably priced and are not only good quality but in the case of the filters, are some of the best in their class. We ordered Green Society's filters, papers, dab mat, and key chains.
Featured Accessory: Green Society Filters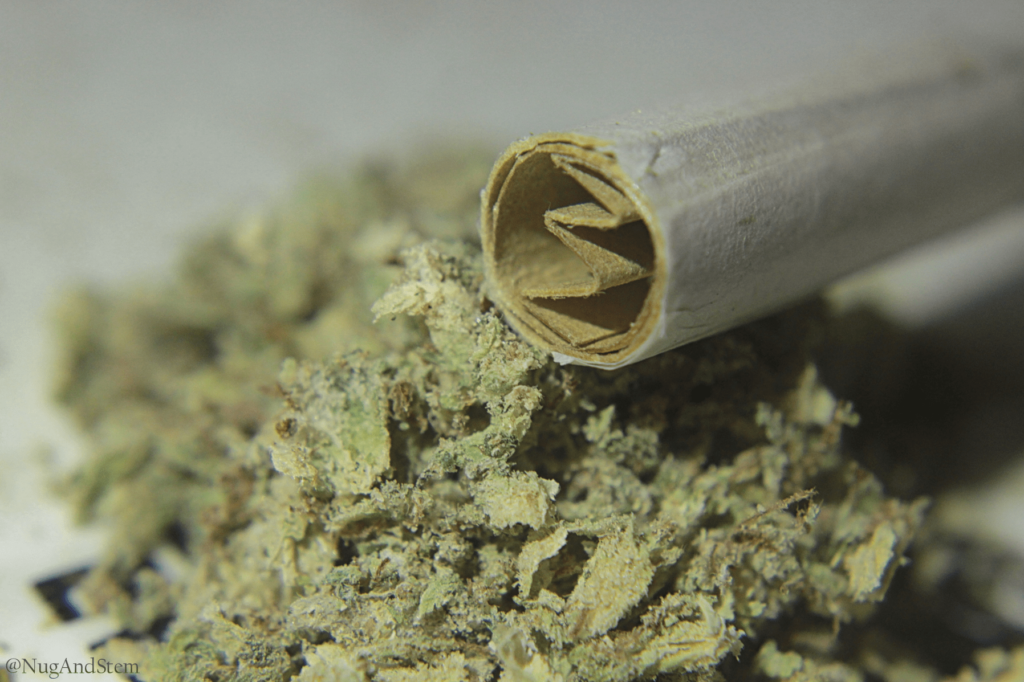 Green Society's filters are definitely our favourite accessory. It was love at first site. They are made from quality cardstock with the perfect width; the smaller first perforation is excellent. However, not all of the filters are perfectly perforated, so we would recommend that Green Society improve their tooling because the design is amazing. The filters don't ever collapse when smoked, even on longer sessions. We will definitely be re-ordering these filters for the foreseeable future.
Non-Featured Green Society Accessories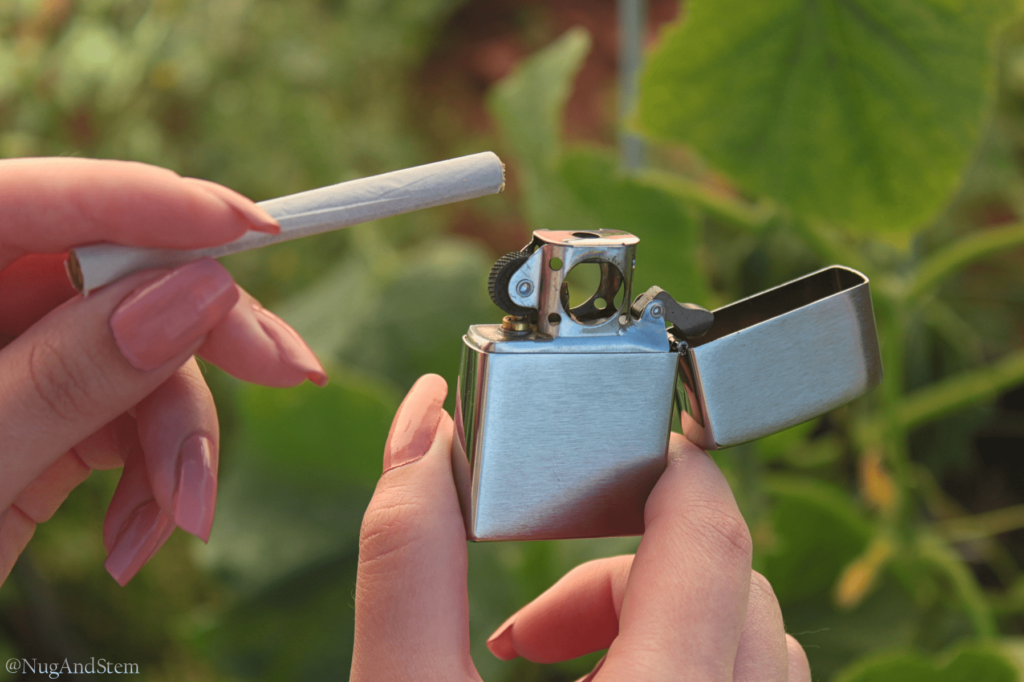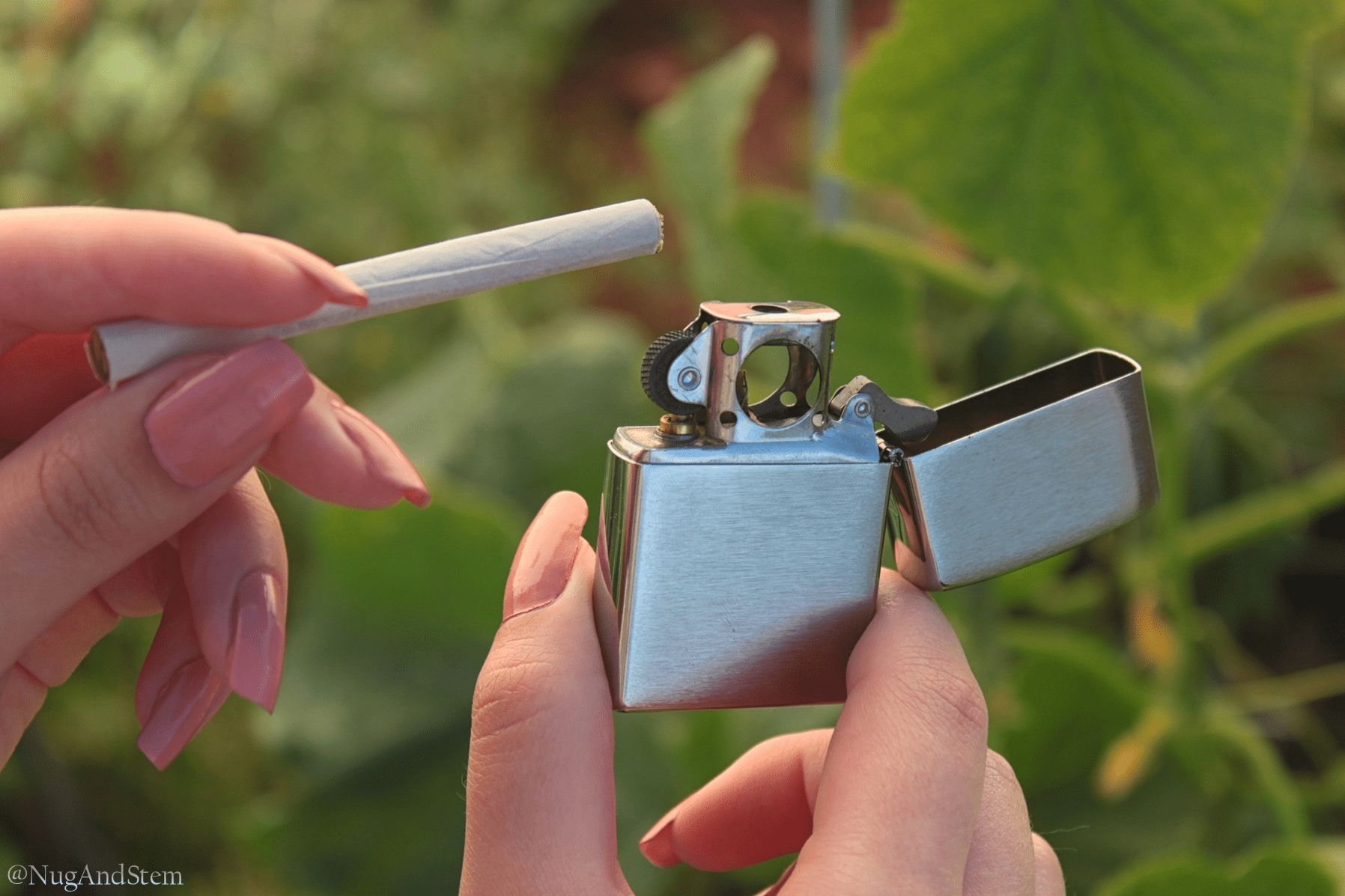 Papers
Extra wide with good texture for control when rolling

Better for joints with a wide diameter

Smaller joints can canoe with this paper if they are not well lit
Dab Mat
Stylish, stands out, and feels high quality

Easy to wash off with water

Warning: Don't roll flowers on this – Loose trichomes will stick easily
Key Chain
Clearly a quality mold, as the detail is very high quality

Plastic of the logo has a nice feel

A stylish piece that we have been proud to use every day
Green Society Service Review
Website Experience
Green Society's website is consistent with their brand and logo, which is very stylish. The site offers some great promotions, like a $10 Sign Up in points and a great loyalty program that equates to 1 point per $1 spent. 25 points saves you $1! We recommend checking out their FAQ page if you're a beginner user since it is clear and very informative. The weakest feature of Green Society's site is that they don't have a lot of reviews, but this makes sense since they are a newer company. We love that the site has a section dedicated to CBD, but we would love this even more if there were more CBD products – including some topical products!
A Tip from Stem: If you are searching the site from Google, you may get rerouted to ad pages if you try to click on their website link. Instead, click on the "Shop" link on the Google results.
Shipping and Packaging Quality
Our package was shipped by Canada Post Xpresspost – from the West Coast to East Coast and arrived in 4 business days. That is not the fastest we have received packages from similar locations, but they shipped by Xpresspost, so it could mean Canada Post was slow. We put no blame on Green Society, as they prepared the package fast. The order did include a tracking number, which is always helpful.
The packaging quality was excellent; they used Canada Post's standard Xpresspost packaging as the outer layer. This is ideal because it is very discrete; nosy neighbours and curious mail handlers will have no clue that your goodies are inside. The second layer was a rigid cardboard box. This was perfect as it meant the products inside would be well protected.
The products inside the cardboard box were contained within a vacuum sealed plastic bag. The products themselves were very tightly contained within the bag, but the bag had a little bit of wiggle room in the box, and that did not seem to cause any issues on its journey across Canada. The early August head did not negatively affect the edibles, but it did affect the faded shatter which turned a bit waxy. Unfortunately, there was no real thermal insulation to prevent this.
How Green Society Compares to Other Mail-Order Cannabis Services
Great intuitive website

Products are good quality

Signup Bonus of $10 in points (250 points)

Best self-branded accessories we have seen

Reasonable prices and a bigger variety than many – especially for concentrates

Comparable signup process with just ID and no wait time like some other services

Comparable loyalty program and small coupon points reward for submitting product reviews

The company has a clear purpose and is proud to help people with Cannabis; they seem to care – something not every service shows
Summary    
Green Society is definitely a quality service. Any small issues are fixable, and as long as the company continues to be passionate about helping their customers, they will only get better. It is worth trying, especially if you are new to mail-order service. With their wide catalogue of products, you are likely to find something that will meet your specific needs. No matter what; their custom branded accessories awesome!
Final Notes:
For the First Time Buyer
Here are a few key reasons you should check out Green Society:
Discreet and secure shipping

Quality products at a reasonable price

Easy signup and no wait list

Free shipping over $200  

A company passionate about their patients

Can't go wrong if you're thinking of trying mail order
However:
As they are a newer company, there are not as many reviews to guide you

Be careful when there are no THC/CBD% values – do your own research
For the Experienced Buyer
Here are a few key reasons you should check out Green Society:
Lots of unique strains and products

Fantastic concentrates selection, truly some of the best in the market

Quality accessories – including some of the best filters we have ever tried

If you're looking for something new to try, Green Society will have something for you

Great loyalty program
However:
They don't have lab analyses which are pretty well a standard with other services we have recently been using
The Nug and Stem Score
To generalize the entire Green Society experience, we will judge the service from 0-100 below.
Customer Experience • 95
Shipping & Packaging • 80
Product Value • 85
Product Quality • 90
---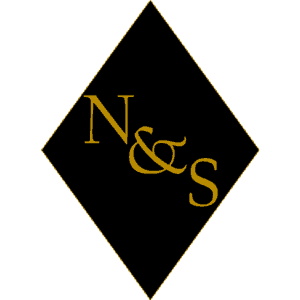 Nug & Stem Review
We are a couple that enjoys regular cannabis consumption and has a passion for sharing that enjoyment. I, Nug, am a petite woman who consumes cannabis more sparingly than Stem – who is a man and a more experienced user. Medically, I use cannabis most often to help treat anxiety, so I tend to reach for strains and products with higher levels of CBD. Stem uses cannabis to relieve chronic back pain caused by sports injuries, so he relies on a wide array of products depending on whether he needs help being active, falling asleep or needs instant topical relief. Medical uses aside, we do also enjoy using cannabis recreationally with friends and would like to contribute to normalizing this amazing plant. Visit us on Instagram @NugAndStem
Disclosure: I received these products gratis so that I could try them and then share my honest opinion with the SOC community. I am employed by Save on Cannabis to write honest reviews and provided a flat rate payment for the writing of the review.  SOC may receive recurring affiliate payments for purchases made based on this content.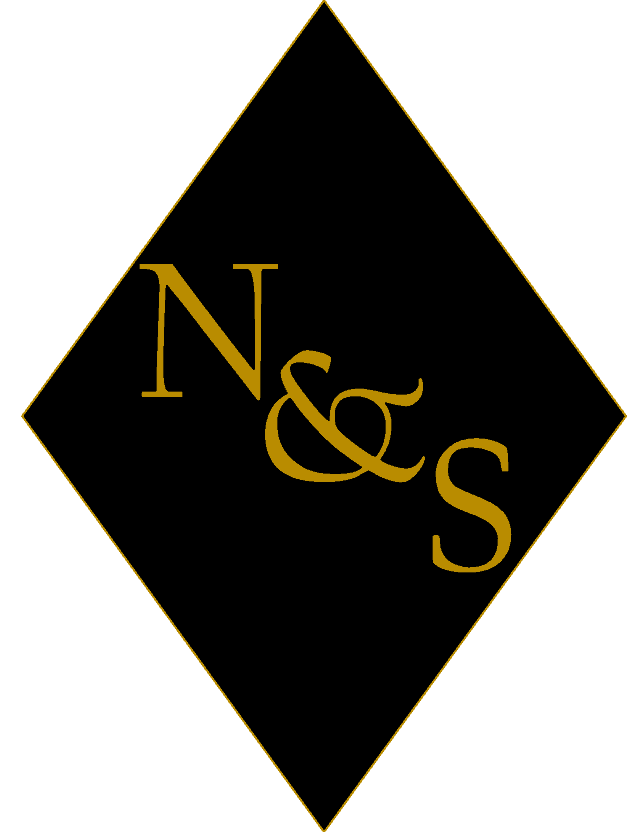 We are a couple that enjoys regular cannabis consumption and has a passion for sharing that enjoyment. I, Nug, am a petite woman who consumes cannabis more sparingly than Stem – who is a man and a more experienced user. Medically, I use cannabis most often to help treat anxiety, so I tend to reach for strains and products with higher levels of CBD. Stem uses cannabis to relieve chronic back pain caused by sports injuries, so he relies on a wide array of products depending on whether he needs help being active, falling asleep or needs instant topical relief. Medical uses aside, we do also enjoy using cannabis recreationally with friends and would like to contribute to normalizing this amazing plant
Save on Canada Mail Order Cannabis: Green Society Review
Sorry, no coupons were found.
Looking for more or better sleep? See in this cbdMD review of their CBD & Delta 9 THC Gummies, if their herbal blend works for our reviewer.
These Pure Relief Immune Support Gummies have come at the perfect time, when we all have some extra stress & want to avoid sickness.
In these crazy days, how many of us could use a boost of energy with a sense of mental calm? Let's see if the Sunday Scaries Yolo Shot works.