Green Roads' Review – Muscle & Joint Relief Cream
Oct 25, 2018 | Romy
Brand Overview: GREEN ROADS
Green Roads has grown into one of the leading manufacturers of CBD in the industry. The company's focus is the medicinal side of cannabis and they're the first company in the US to use licensed pharmacists to formulate their CBD products. They want to offer patients an all-natural way to health and healing. Green Roads has a huge product line to meets a variety of their patient's needs. From their edibles, concentrates, oils, and animals tinctures, they use the purest form of CBD on the market. What sets them apart from many other companies is their commitment to excellence. Every three months, Green Roads has every product tested for purity and potency by a third party lab, so you get quality and consistency every time.
Products: CBD Oil, Candies (Gummy Bears, Fruit Bites, Relief Toads, Froggies, Night Time Gummies, Strawberry Chews, Grape Chews), Capsules, Terpenes Oil Drops, Pain Cream, Skin Relief Cream, On-The-Go Edibles (Froggies and Fruit Bites), Daily Dose Droppers, Syrups, Oil for Pets, Concentrates, Tea, Coffee, and Bundles
Price Range: $$$
About the GREEN ROADS MUSCLE & JOINT RELIEF CREAM
The Green Roads Muscle & Joint Relief Cream was made in a lab by a bona fide compound pharmacist. Infused with CBD and menthol, this topical will alleviate muscle and nerve pain. The CBD is extracted from the hemp plant using a scientific CO2 extraction method followed by a purification process that takes out all the undesirable cannabinoids. With the addition of chamomile and lavender oil, this soothing cream will not only assuage your physical pain but offers a lovely aroma that will help you relax.
GREEN ROADS MUSCLE & JOINT RELIEF CREAM Specifications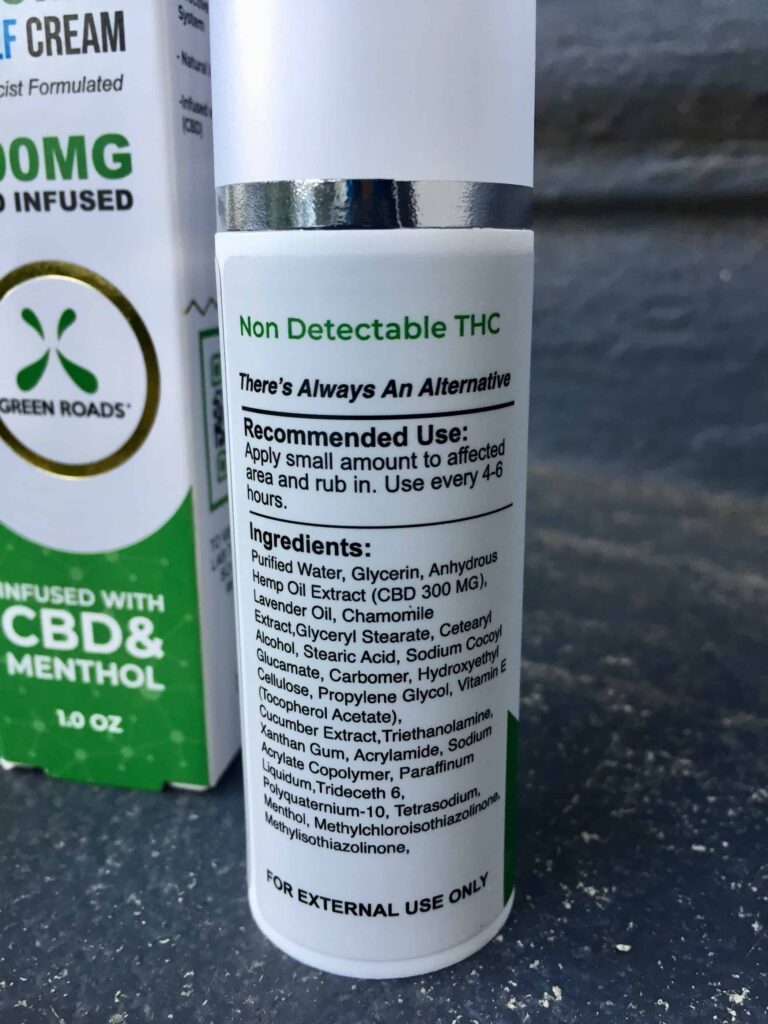 300 mg CBD

Pharmacist Formulated

1.0 oz

Infused with CBD & Menthol

Non Detectable THC

Apply a small amount to affected area and rub in. Use every 4-6 hours.

Ingredients: Purified Water, Glycerin, Anhydrous Hemp Oil Extract (CBD 300 mg), Lavender Oil, Chamomile Extract, Glyceryl Stearate, Cetearyl Alcohol, Stearic Acid, Sodium Cocoyl Glucamate, Carbomer, Hydroxyethyl Cellulose, Propylene Glycol, Vitamin E (Tocopherol Acetate), Cucumber Extract, Triethanolamine, Xanthan Gum, Acrylamide, Sodium Acrylate Copolymer, Paraffinum Liquidum, Trideceth 6, Polyquaternium-10, Tetrasodium, Menthol, Methylchloroisothiazolinone, Methylisothiazolinone

How We Tested the GREEN ROADS MUSCLE & JOINT RELIEF CREAM
As someone with chronic pain, I spend a great deal of time avoiding activities that will increase my suffering, which basically leaves me mostly at home, and mostly in bed. On days where I am compelled to leave my comfort zone, I like to slather my pain areas with some kind of relieving topical. At my last job, I was famous for always smelling like sunscreen and Aspercreme, or sunscreen and Tiger Balm, or sunscreen and Icy Hot. Why yes, I do wear a lot of sunscreens. Thank you for noticing. Yesterday, I had a lunch meeting that would require me to sit in a car for thirty minutes, then sit in a restaurant for another hour and a half. After about thirty minutes of sitting, I start to feel discomfort in my right hip and low back. After an hour, nerve pain begins shooting down the side of my leg and walking becomes increasingly difficult. At an hour and a half, I'm basically forced to hold myself up with my arms pressing into the chair. I think I do a good job of pretending that I'm not in agony when having to be a professional out in the world. So on the day of the meeting, I put Green Roads Muscle & Joint Relief Cream on my low right back, right hip, and leg.
How the GREEN ROADS MUSCLE & JOINT RELIEF CREAM Worked for Me
The Green Roads Muscle & Joint Relief Cream combines two of my favorite pain-assuaging ingredients: CBD and menthol. I'm a big fan of menthols cooling qualities and smell. The Green Roads cream has an Icy Hot feel that makes me think this would be great for athletes and dancers. It immediately reduced the pain, allowing me some comfort. as I did my best to pretending like I'm an able-bodied person in my meeting. At one point during the meeting, I even snuck off to the bathroom to reapply. It doesn't leave a greasy residue so I was able to wear it underneath my clothes without needing to do laundry. It even helped me sleep better. Normally, I can't sleep on my right side because of the pain. After using this topical, I was able to rest on my right side for the first time in six months, at least for a little while.
Useful and Unique Things to Know About GREEN ROADS MUSCLE & JOINT RELIEF CREAM
After reading some of the reviews, I can tell that elderly folk benefit from Green Roads Muscle & Joint Relief Cream when dealing with arthritic pain. I tried some of it on my carpal tunnel, and it worked like gangbusters! The relief is immediate. I love finding products that work, but I also bristle when I look at the cost. It's almost $70 for a 1 oz container. Green Roads is involved with Mission Zero, a non-profit dedicated to ending suicide and mental anguish amongst veterans. I'm not sure if part of this mission is reducing the costs of their products to help with veterans, but I hope so.
GREEN ROADS MUSCLE & JOINT RELIEF CREAM Rating Breakdown
Please note that these grades add up to give the product's overall score.
PRESENTATION • 
100
Clear and professional
RELIABILITY • 
100
Works immediately for pain relief
QUALITY • 
100
Natural ingredients. Love the menthol!
SMELL •
 100
Easy to use. Lovely smell of essential oils.
VALUE • 
80
I'd give it 100 if it weren't so darn expensive. This will offer pain relief for those not on a disability paycheck.
How the GREEN ROADS MUSCLE & JOINT RELIEF CREAM Stacks Up Against the Competition
I've tried a dozen different types of topicals for pain relief, some with CBD, some without. Green Roads Muscle & Joint Relief Cream is the most effective one I've tried to date. The addition of the menthol sets this product apart from other CBD topicals, offering the instantaneous cooling effect you would find in Icy Hot. To truly abide by the Green Roads mission of "improving the lives of its users and their families" they should offer some kind of financial aid, otherwise, I'm afraid they should change their mission to improving the lives of "rich users and their families."
Saving Money With GREEN ROADS Coupons
Save money CBD Topicals coupons here at Save On Cannabis the World's largest online cannabis coupon code directory.
Disclosure: I received these products gratis so that I could try them and then share my honest opinion with the SOC community. I am employed by Save on Cannabis to write honest reviews and provided a flat rate payment for the writing of the review.  SOC may receive recurring affiliate payments for purchases made based on this content.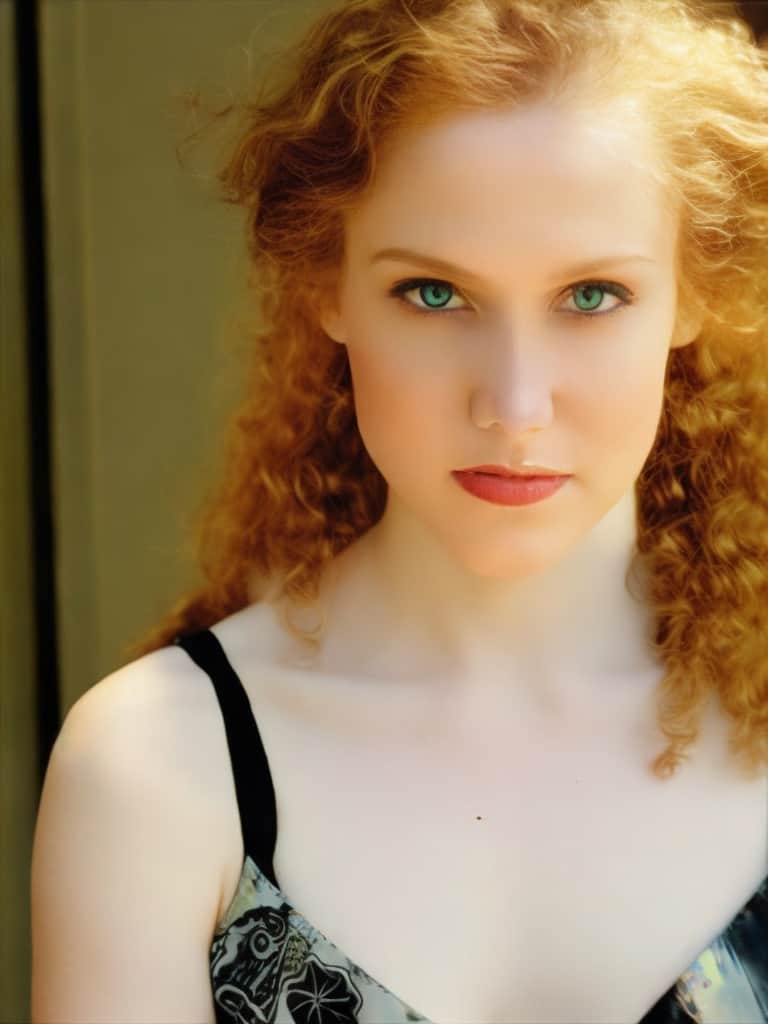 A medicinal cannabis user, utilizing the power of the plant to ease the pains and stresses from long standing conditions that other over the counter or prescriptions could not fix or weren't a natural option like cannabis.  Also, has a background in working directly in the cannabis industry in California within various dispensaries.
Check out our reviewer's selection of best CBD products for 2020, including CBD oil tinctures, vape juices, pet products, and topical creams.
Pure CBD Vapors sent us the CBD For Life Bath Bombs, see how the Lemongrass Kiwi worked for our reviewer. Hands-on comparison of flavors and effects.
In our Vital Plan Select review of their CBD Joint Muscle Rub, see if it helped mild pain from arthritis & radiculopathy.