CBD Review: Zenworks CBD Gummies (20mg)
Sep 30, 2019 | Romy
CBDCBD CandyCBD EdiblesCBD Gummies
ZenWorks CBD Gummies
Pros
The price can't be beat!
Small, low calories candies
Lessens pain
Helps with sleep
THC-free
Non-addictive
Cons
Not vegetarian (made with gelatin)
Tastes mildly weedy
ZENWORKS CBD GUMMIES
Product Review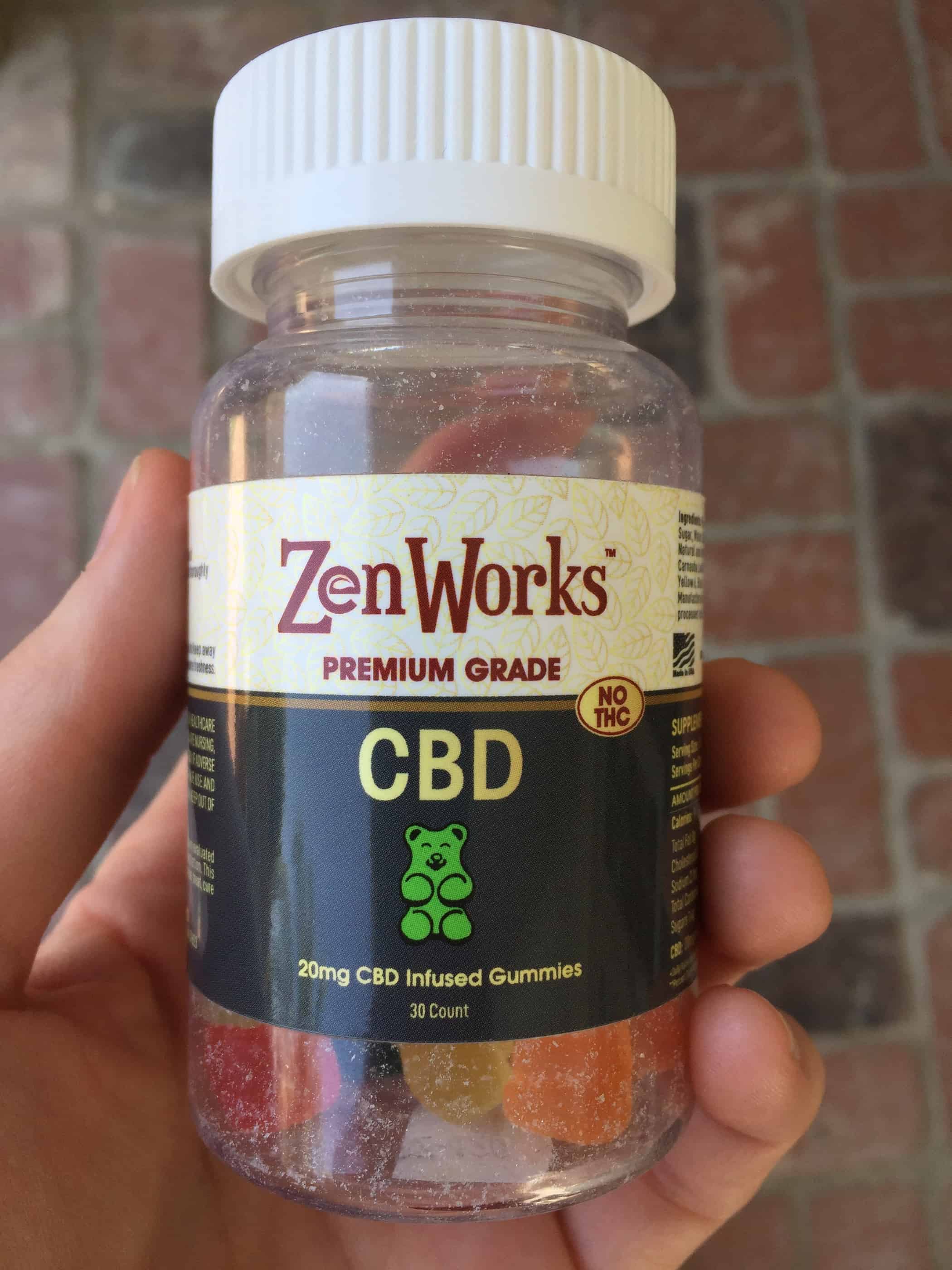 Brand Overview:ZENWORKS
ZenWorks makes a plethora of CBD products for people and pets to help calm inflammation after a difficult workout or calm your anxious pup for when she freaks out after you leave for work. The company's mint-flavored tinctures range from 250 mg of CBD to one thousand. ZenWorks started when the founder discovered he had stage 4 cancer. This led to a strenuous year of medical procedures. Al, the founder, discovered CBD during his recovery process and found that it helped with his sleep, appetite, pain, and mood. Al and his wife Sharon created ZenWorks with a mission to help suffering people with their high-quality CBD products. Everything they make is THC-free, meaning you won't get high. A small portion of every sale goes to a charity like the American Cancer Society, the Cancer Research Institute, and the Make-a-Wish Foundation.
Products: Tinctures, Vape E-Liquid, Edibles, Capsules, Pets.
Price Range ($-$$$$): $$-$$$$
---
About ZENWORKS CBD GUMMIES
These premium grade gummies from ZenWorks contain 20 mg of CBD to offer you a daily dose of health and wellness in the guise of tiny, yummy candy bear. Completely natural and non-addictive, every bottle has 30 gummies infused with the best CBD around. Edibles are an easy and tasty way to take CBD and these gummies are small enough and low enough in calories not to ruin your appetite or ruin your diet. These are perfect for those wanting to try CBD but don't want to smoke or vape. When you eat your CBD, it takes longer to work than when you smoke or vape, so give yourself forty-five minutes to an hour to feel the effects. Reminiscent of a gummy vitamin, ZenWork's edibles all use hemp from the same strain grown in the U.S.A. to ensure consistency. The company recommends taking one to two gummies as needed throughout the day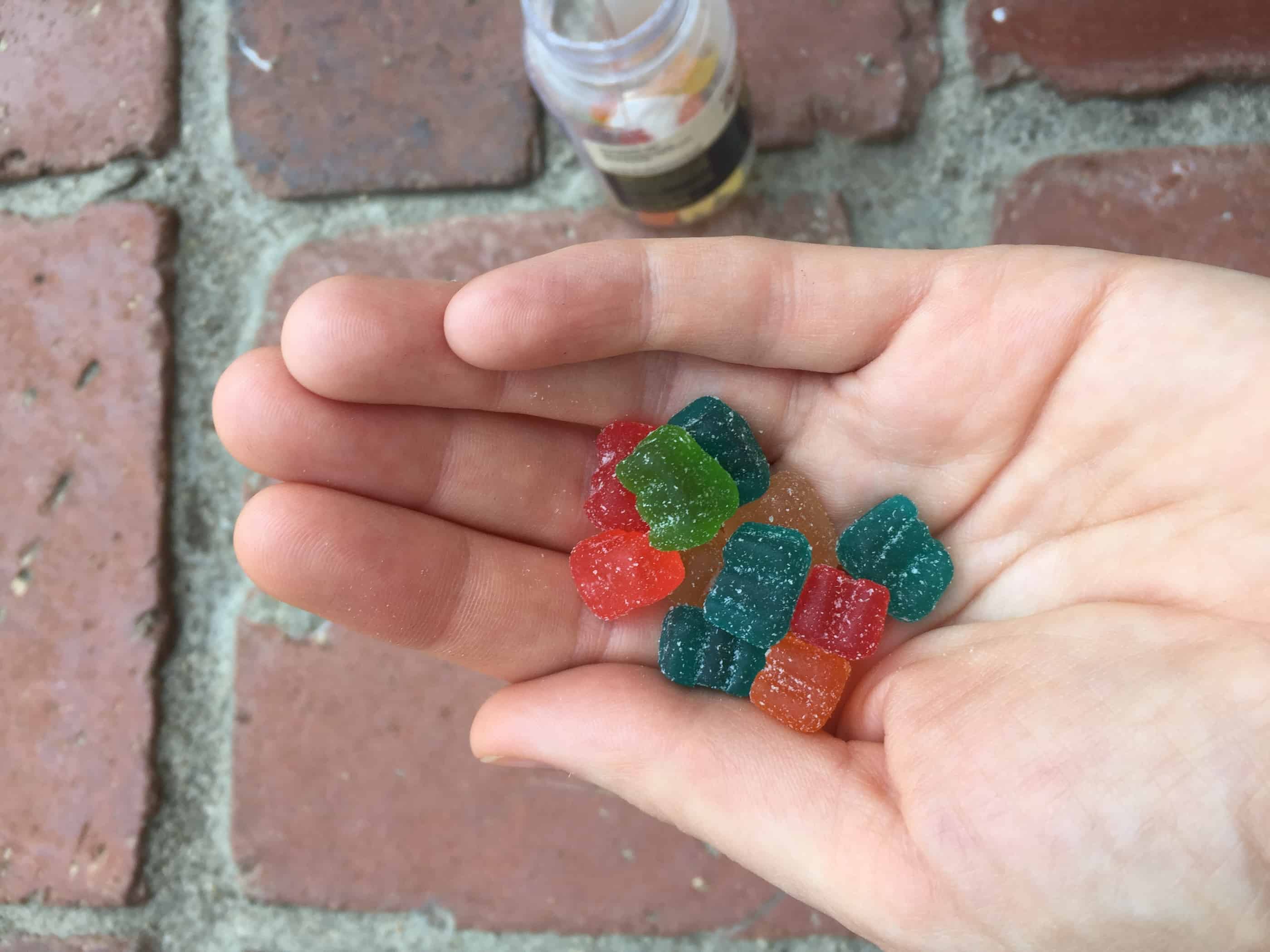 ---
ZENWORKS CBD GUMMIES Specifications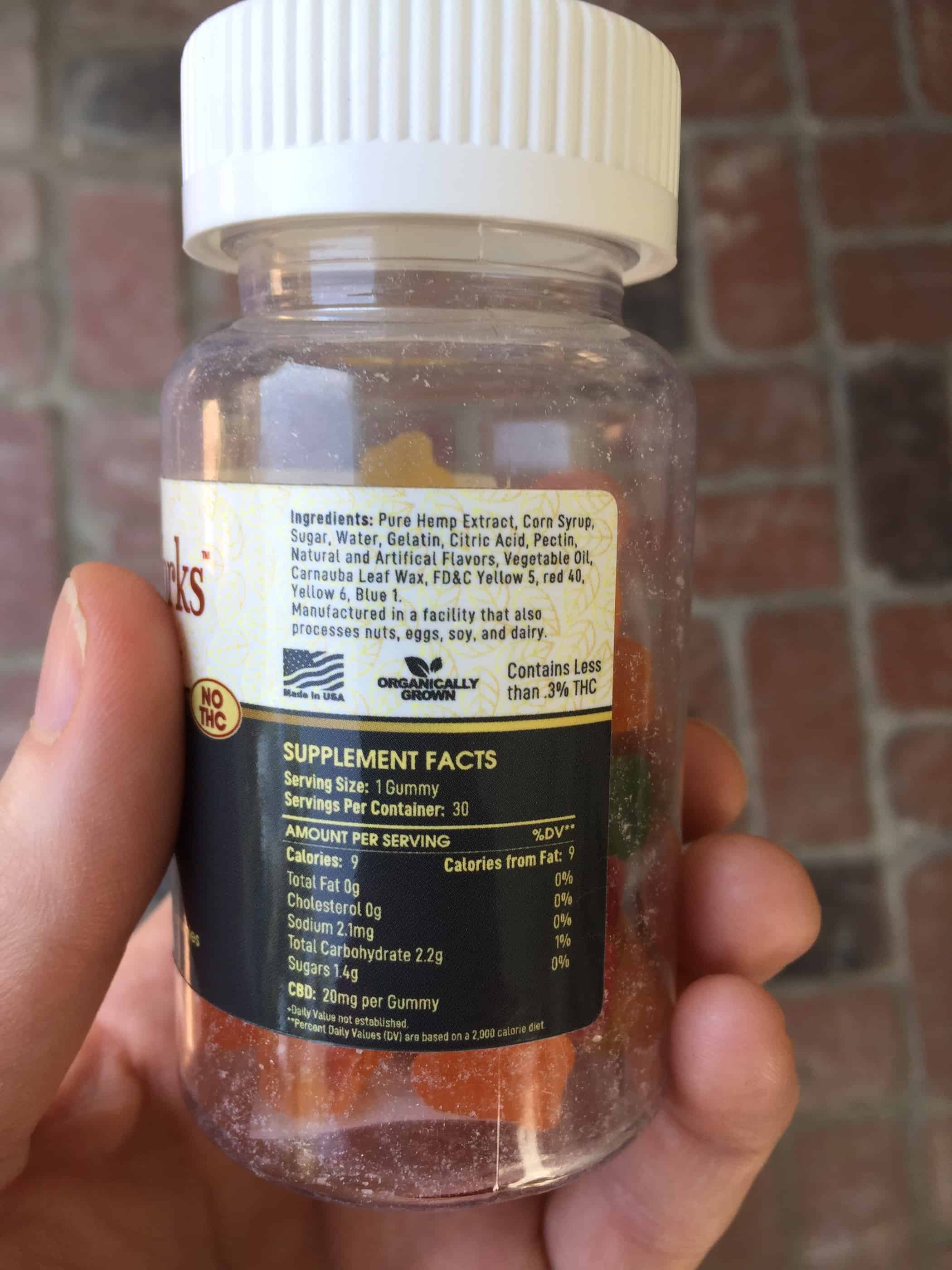 30 gummies per bottle
20 mg CBD per gummy
Ingredients: Pure Hemp Extract, Corn Syrup, Sugar, Water, Gelatin, Citric Acid, Pectin, Natural and Artificial Flavors, Vegetable Oil, Carnauba Leaf Wax, FD&C Yellow 5, Red 40, Yellow 6, and Blue 1
---
How We Tested the ZENWORKS CBD GUMMIES
Edibles are my favorite way to take CBD, but I require a higher dosage than the average person because I have severe chronic pain which has led to sleep issues. This means that if I'm taking my CBD with edibles, I often have to eat a lot, and when they come in candy form, it threatens to ruin my teeth and my waistline. When I saw how small the ZenWorks gummy bears were, I was relieved and excited to try them. This past week my sleep has been especially bad from my chronic pain. And it's made my days miserable as I struggle to focus in class or while working. I have started to feel self-conscious about the dark shadows that someone once commented made me look like I have two black eyes. I needed pain relief and I needed sleep. I broke out the bottle of multi-colored gummies and marveled once again at how tiny these little bears are. It's a shame I had to eat such cute things, but like the Hannibal Lecter of the gummy bear world, I popped two into my mouth, for a total of 40 mg of CBD, and chewed them thoroughly, per the instructions on the bottle. I ate a red gummy and a green gummy. They both had a fruity sweet and sour flavor with a hint of hemp.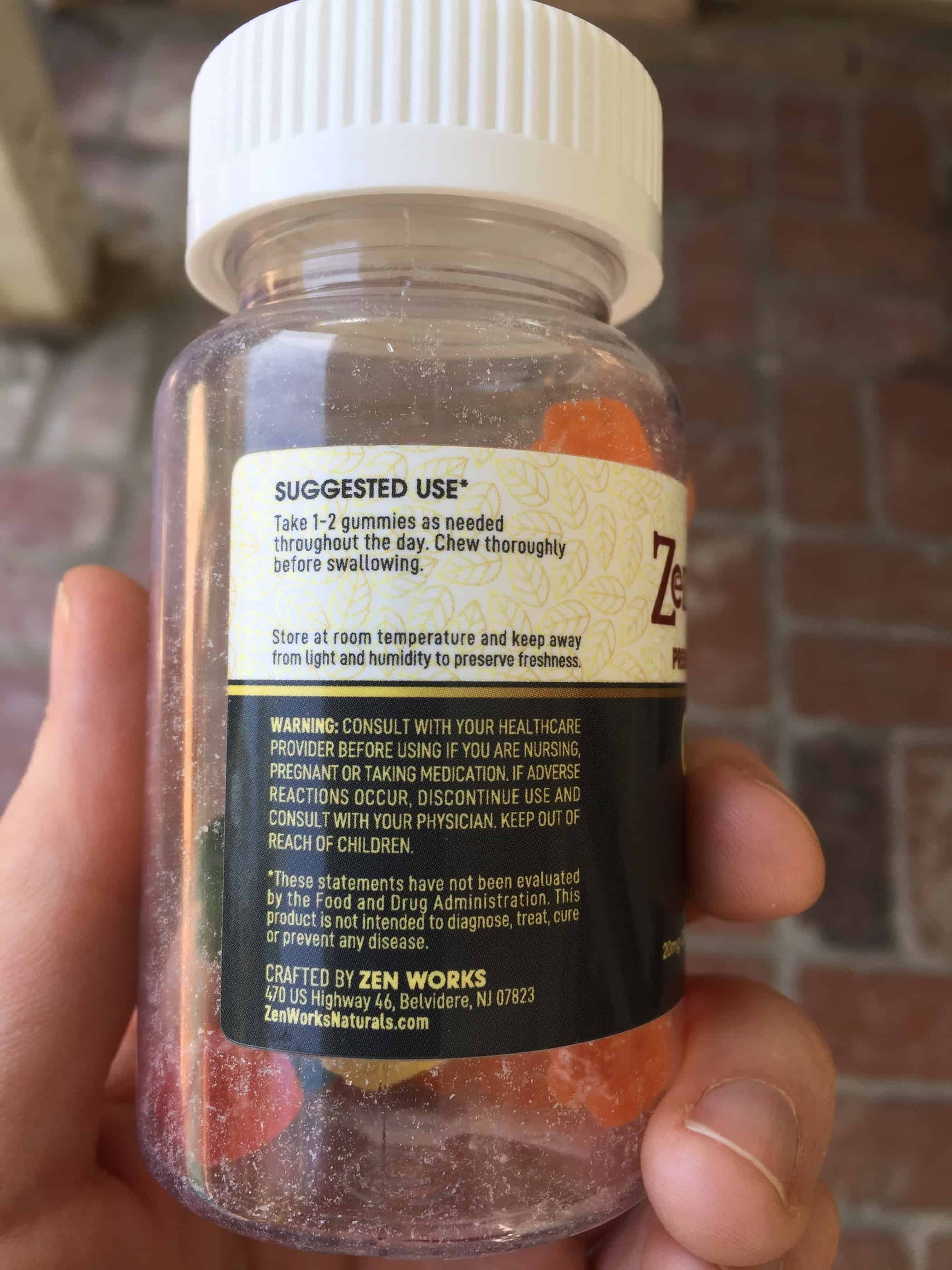 ---
How the ZENWORKS CBD GUMMIES Worked for Me

It took almost an hour for me to feel the warming and relaxing effects of the ZenWorks CBD Gummies. The CBD worked to undermine the pain by reducing the inflammation in my injured foot which helped me enjoy my walk to school more than usual. I could still feel the pain, but the warming effect of the CBD helped relieve it enough to be more functional. The muscle spasms in my low back have been brutal of late. I can't even lie on my back or stomach without immense pain. I could tell the CBD was helping my muscles relax some. This made sitting in class for two and a half hours bearable when it's usually excruciating when my pain levels are higher than normal. The CBD gummies also helped to relieve some of the nerve pain in my lateral hip from surgery last year. I was able to walk, sit, drive, and even sleep with a lot more ease and comfort.
---
Useful and Unique Things to Know About ZENWORKS CBD GUMMIES
I'm big on reading ingredients and when I see something I want to know more about, Google is my best friend. I had heard that gelatin was made from animal products and I wanted to know if that was true, especially because it's an ingredient in gummies, which is one of my favorite food groups. Gelatin is, in fact, made from animal parts. "What parts?" I wondered as I waded into my internet search. I discovered it's primarily made from the skin, bones, and cartilage of cows and pigs. Who knew?
Another ingredient I wanted to know more about was carnauba leaf wax, which is known as the "queen of waxes" and is found in surfboard wax, make-up, skincare products, and of course, it's used in the coating or glazing of candy
---
ZENWORKS CBD GUMMIES Ratings
In the next sections gradings from 0-100 on our review, these grades add up to give the product's overall score.
PRESENTATION • 100
Informative and cute packaging.
RELIABILITY • 100
It helps to reduce pain.
QUALITY • 100
Great product that's effective and convenient.
FLAVOR / SMELL / or EASE OF USE • 95
Tastes great but mildly weedy.
VALUE • 100
Great deal!

---
How ZENWORKS CBD GUMMIES Stacks Up Against the Competition

These ZenWorks CBD Gummies are such a great deal, they've become one of my new favorite edibles. For only $59.95 you get 600 mg worth of CBD gummies. GreenRoads CBD Gummies cost almost twice as much, and both work just as effectively. Plus, the fact that the ZenWorks CBD Gummies are so small is a huge positive in my book and will have me coming back to them for more. Frontier Jackson's CBD gummy drops also cost twice as much as the ZenWorks CBD Gummies. I think this might be the best deal in town. If ZenWorks CBD Gummies created a vegetarian version of these gummies for the same great price, they'd be at the head of the pack.
---
---
Disclosure: I received these products gratis so that I could try them and then share my honest opinion with the SOC community. I am employed by Save on Cannabis to write honest reviews and provided a flat rate payment for the writing of the review. SOC may receive recurring affiliate payments for purchases made based on this content.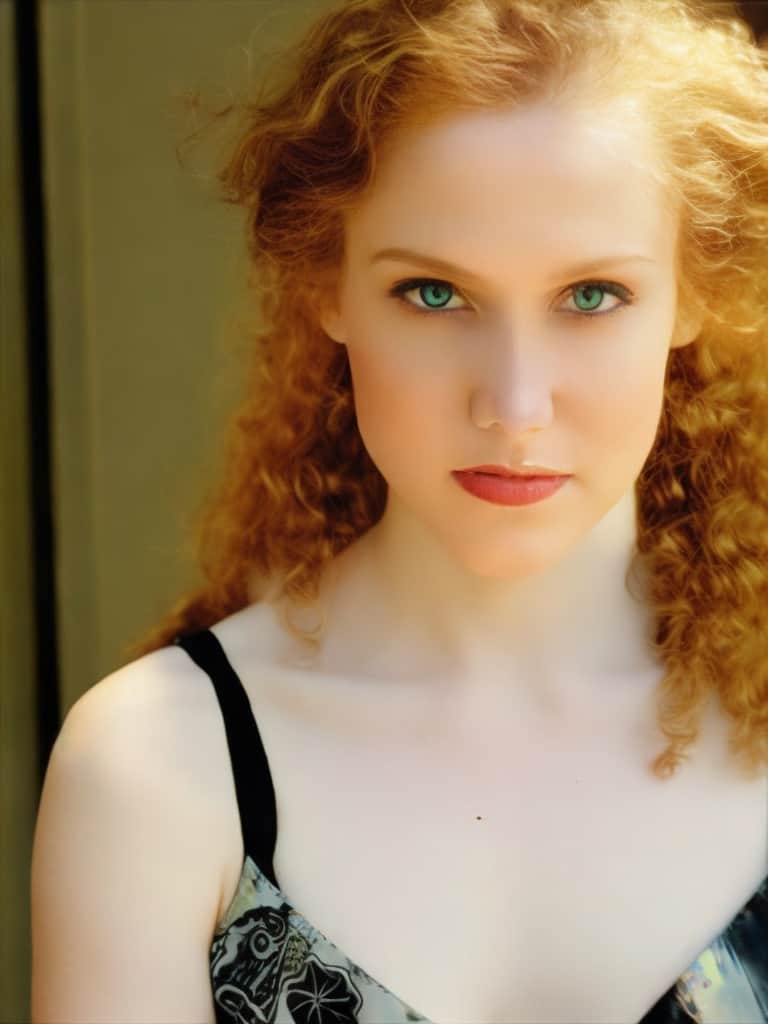 A medicinal cannabis user, utilizing the power of the plant to ease the pains and stresses from long standing conditions that other over the counter or prescriptions could not fix or weren't a natural option like cannabis.  Also, has a background in working directly in the cannabis industry in California within various dispensaries.
Sorry, no coupons were found.
Looking for something to help you get more sleep? See in our NutraCanna review if the CBD Sleep dissolvable tablets worked for us.
Is the Calm By Wellness Strawberry Lemon-aid CBD tincture as delicious & useful as it sounds? Our reviewer puts it to the test.
Our reviewer loves CBD topicals, so can the Social CBD Cooling Roll-On Gel make it onto her must have products list? Find out now in our new review.