A Guide to the Best CBD Products for 2020
Feb 4, 2020 | Save On Cannabis
CBDCBD DrinksCBD EdiblesCBD TincturesCBD TopicalsCBD Vape Oils
Table of Contents

Top 5 Best CBD Tinctures and Oils
Top 5 Vape Cartridges and Vape Juices (E-Liquids)
Top 5 CBD Edibles and Drinks
Top 5 CBD Capsules and Tablets
Top 5 CBD Topicals and Skincare
Top 5 CBD Pet Products
FAVORITE CBD PRODUCT OVERALL
For the past year, I've been using CBD products to help me deal with chronic pain and anxiety. I discovered cannabidiol when I was looking for something natural and non-addictive to relieve symptoms from a spine, hip, and foot injury, as well as symptoms from post-traumatic stress disorder. By using CBD alone or in combination with over-the-counter and prescribed medications, I've found some effective alternatives.
CBD is short for cannabidiol, which is a compound found in the cannabis plant that, unlike THC, does not get you high, while still providing some of the relief you would get with its psychoactive counterpart. Despite the hubbub surrounding CBD, not all products are alike, and many aren't effective at all. I've spent the past year trying dozens of different types of CBD products, from tinctures to topicals, to see what worked best in providing respite from my symptoms.
Each person has a naturally occurring endocannabinoid system and some scientists believe that CBD works with its receptors to relieve symptoms of cancer, fibromyalgia, neuropathy, muscle spasms, and many other ailments. My podiatrist and pain management doctor both recommended it to me but with that said, I would check with your own doctor. If you're new to CBD, start at a low dose and try a few different types and brands to see what works for you.
With hundreds of CBD companies competing for your business, I have broken down my top 5 favorites by category: Tinctures and Oils, Vape Cartridges and Juices, Edibles and Drinks, Capsules and Tablets, Topicals and Skincare, and Pet Products.
Now, I'm not a doctor, nor am I an expert in cannabis. I'm just a long-time chronic pain patient looking for relief. These are my thoughts and opinions, and like my daddy used to point out, opinions aren't facts. What worked for me, might not work for you. Luckily, most of these companies have generous return policies, so go on, give it a shot.  
Top 5 Best CBD Tinctures and Oils
One of the most popular ways to take CBD is with tinctures and oils. CBD tinctures often combine extract from the cannabis plant with medium-chain triglycerides, also known as MCT oil. Most bottles come with measured droppers used to take the tincture orally or you can add it to food or beverages.
Many of the oils I tried were effective, so to narrow down my favorites, I looked at flavor and price. If a tincture worked great, but was expensive and tasted too bitter, it didn't make it on this list. Tinctures are an easy, low-calorie, and smoke-free way to take CBD.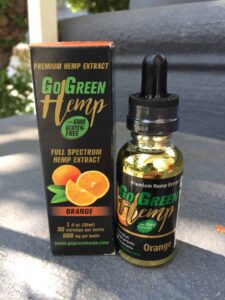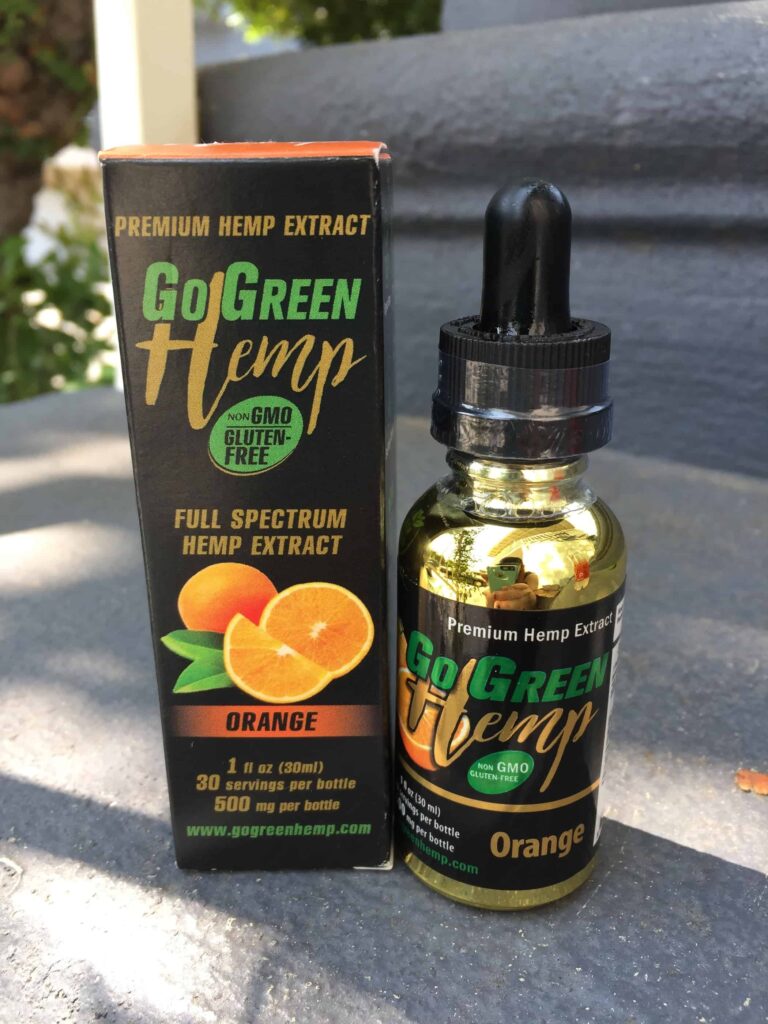 GoGreen Hemp makes superior CBD products at some of the lowest prices. Their orange-flavored tincture is one of the best CBD oils because of its delicious taste, effectiveness in relieving anxiety, and low price.
If you're taking this tincture with you to work, consider removing the label. It says, "hemp," in large-lettering and there still exists a stigma in the world about cannabis. (If you're looking for a CBD product with more subtly, check out the section on capsules. They look just like vitamins.)
The flavor, as well as the price, was the reason this tincture got the number one spot. If you like orange-flavored candy or creamsicles, you'll be a fan of GoGreen Hemp's orange tincture.
As a workaholic, I've found being in chronic pain stressful because I don't know how to relax. I find peace-of-mind through work. But when my injuries were flaring up, and I needed to forgo work in favor of lying on my side, this tincture from GoGreen Hemp gave me relief. An hour after taking a serving, I felt the warming and relaxing effects of the CBD. It helped distract me from the pain so I could focus on rest.
250 mg – 2,000 mg CBD

$26.99 – $149.99

0% THC

Ingredients: Organic Orange Oil, Broad-Spectrum Hemp Oil (CBD), MCT Oil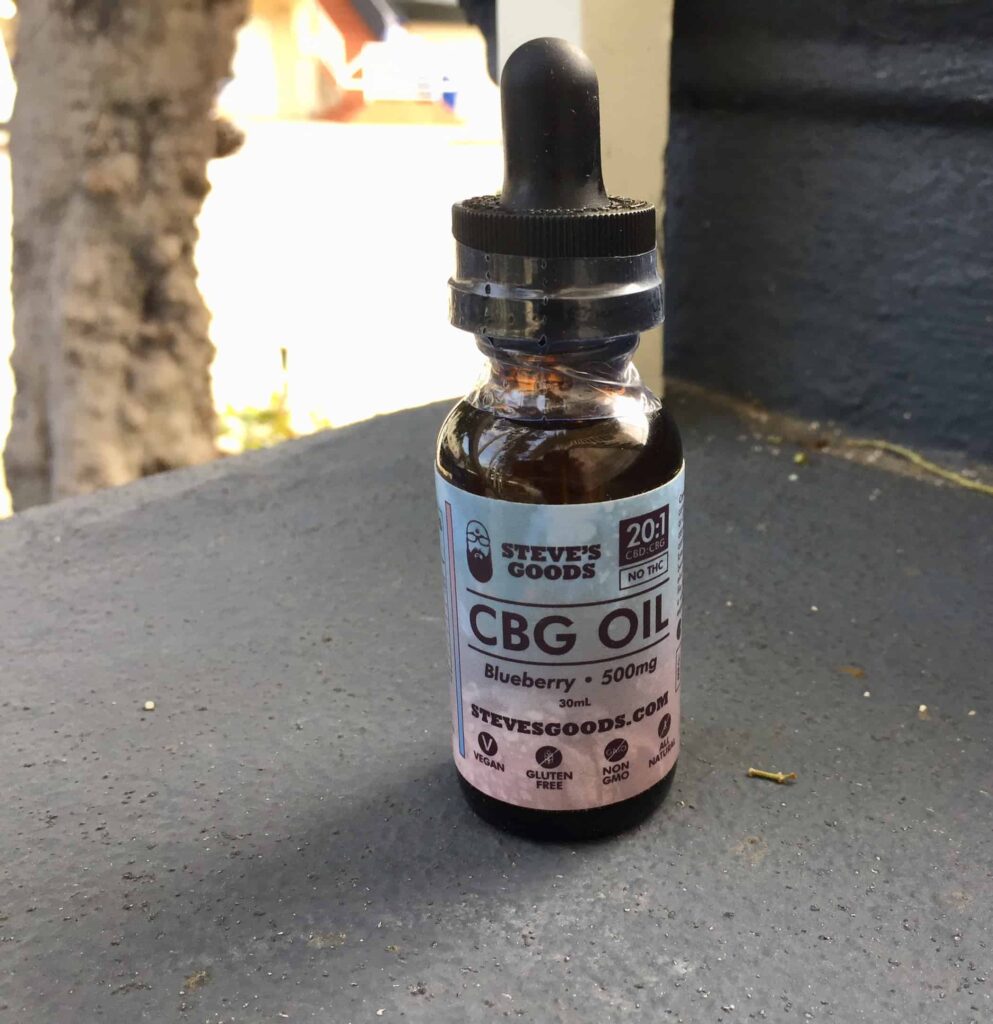 Going to the doctor's gives me anxiety because the most physical pain I've felt in my life has been at the hands of doctors poking me with sharp things, which says a lot because I live in severe chronic pain. I started taking CBD before each appointment, and Steve's Goods' tincture helped relieve my stress.
The packaging for Steve's Goods' blueberry tincture is fun and informative, containing all the information you need to take the proper dosage. In case you were wondering, CBG is a non-psychoactive compound from the cannabis plant similar to CBD.
The blueberry flavoring is all-natural and delicious. I couldn't taste the hemp at all. Steve also has a watermelon-flavored tincture that's just as good.
After taking a serving of Steve's Goods tincture, I felt my body warm-up, my mind calm, and I was a stress-ball no more.
500 mg – 2,500 mg CBD

$60 – $200

Less than .3% THC

Ingredients: CBD/CBG wax, Blueberry OG Terpenes, Natural Flavoring, Monk Fruit (GMO-free)
CBDistillery makes high-quality CBD products at affordable prices. They have created one of the best unflavored CBD tinctures on the market, and it's also one of the least expensive too.
CBDistillery has tinctures that are as low as 8 mg per serving to as high as 167 mg per serving.
Despite being unflavored, the coconut oil hides any taste of hemp. 
I took this oil in combination with Benadryl to help me sleep during a particularly bad pain flare-up. It calmed my mind and helped me sleep better. Along with GoGreen Hemp, this company has the lowest prices around.
250 mg – 5,000 mg CBD

$30 – $260

Less than .3% THC

Ingredients: Fractionated Coconut Oil (MCT) and Full-Spectrum CBD Hemp Extract (Aerial Parts)
Pure Relief has developed a diverse line of pharmacist-formulated products to suit whatever ails you.
The bottle is simple and professional-looking and contains all the necessary information to take the correct dosage. Pure Relief even offers an extra-strength tincture that contains 166 mg of CBD per serving.
Even though this tincture is on the more expensive side, it is one of the best unflavored CBD oils because Pure Relief manages to hide any of the bitter weedy taste that plagues so many other products.
For the first week after I had surgery to remove a large tumor, it was hard to relax and get comfortable. I had a tube with a drainage bag coming out of my front thigh, and the incision ran from my lateral thigh to the back. Sitting was impossible. Sleep difficult. Pure Relief's hemp oil made me feel warm and calm. Using this oil in combination with Benadryl and melatonin helped me get the sleep I needed to heal.  
500 mg – 1,000 mg CBD

$39.99 – $69.99

Less than .3% THC

Ingredients: Hemp Cannabinoids including CBD, CBDA, CBG, CBC, and CBD, Fractionated MCT (Medium-Chain Triglycerides) from Coconut Oil
The founder of Vapen CBD created the company in response to the opioid epidemic in North Carolina as an effort to make non-addictive, all-natural products to relieve pain, inflammation, and anxiety.
Vapen CBD's peppermint tincture contains 500 mg of CBD for pain, anxiety, circulation, focus, and headaches. Other flavors treat different symptoms, so check out their website for the entire line of products.
The peppermint flavoring perfectly hid the taste of hemp. If peppermint isn't your thing, Vapen CBD also makes clove, cinnamon, and citrus-flavored oils.
I was hit by a car last year and sustained a painful foot injury. At the emergency room, I was given Norco but found it didn't relieve the pain in the slightest. This tincture helped take the edge off the pain so I could work. At night, I combined this CBD tincture with melatonin and was able to fall and stay asleep despite my injuries.
500 mg CBD

$45

0% THC

Ingredients: CBD Isolate, MCT Oil, Peppermint Oil
Top 5 Vape Cartridges and Vape Juices (E-Liquids)
Vaping is one of the most effective and fast-acting ways to take CBD. Edibles, capsules, and tinctures can take up to an hour to start working. When I vape, I feel the effects almost instantly. I try to avoid smoking and vaping to secure the future health of my lungs, but when I need a quick fix, a puff or two off the vape pen is the way to go.
That said, you may have heard of the controversy surrounding vaping. According to the American Medical Association, around 2,000 people have hurt their lungs, mostly from products containing Vitamin E Acetate. I've included a couple of articles but if you're interested in vaping, I recommend speaking with your doctor and check with the AMA's website for any updated announcements about safety recalls and potential long-term risks.
https://www.ama-assn.org/press-center/press-releases/ama-calls-total-ban-all-vaping-products-not-approved-fda
https://www.cdc.gov/tobacco/basic_information/e-cigarettes/severe-lung-disease.html
Vapen CBD is in this guide more than once because they have effective and inexpensive products. The Paris OG vape cartridge is no exception.
With an aesthetically pleasing crystal-like mouthpiece, this product isn't just a pretty face. It offers around 530 puffs (or servings) and works with most vaporizers. 
The Vapen CBD Paris OG cartridge tastes and smells hempy, so avoid using it in inappropriate places like work or the car with your children.
This potent vape cartridge helped me during my recovery after getting hit by a car. I was having a hard time falling and staying asleep because of my injuries. I was in pain and exhausted when I got my hands on this Indica-dominant CBD cartridge. I only needed one hit to feel a calming buzz that, in combination with my prescribed gabapentin, helped me relax into sleep.
300 mg CBD

$30

0% THC

Ingredients: Broad-Spectrum CBD Distillate, Terpenes
TrytheCBD wants to make products more accessible with a 20% discount for veterans, firefighters, senior citizens, students, government employees, and those on a low-income. As a disabled student who can't work full-time, I thank you!
The company has popular strains besides OG Kush like Girl Scout Cookies, Gorilla Glue #4, Green Crack, and Super Lemon Haze. All of them are non-psychoactive, so you'll get the full benefits of the cannabis plant, without the high. 
The CBD vape cartridge had a bitter, weedy taste, but you're not going to find a hemp juice that doesn't (even the flavored variety).
I tried TrytheCBD's OG Kush CBD vape cartridge to help relieve my chronic pain during a bad flare-up. I recently went back to school, and my injuries make it difficult (sometimes impossible) to sit in class. Often the pain is so bad I have to stand in the back. This potent CBD vape cartridge has a focusing quality that allowed me to pay attention to the lesson, instead of the pain.
300 mg – 500 mg CBD

$34.99 – $49.99

0% THC

Ingredients: CBD, TEC Temper Oil, Botanical Terpenes 
Bio CBD+ has created a unique line of water-soluble products infused with a blend of Ayurvedic herbs. They offer 25% off for veterans and 15% off for customers who join their VIP program.
The company's "I AM PEACE" vape cartridge comes with a battery in a convenient case, although you can certainly get it without the battery if you already have one.
This vape cartridge had a pleasant herbal citrus flavor. As far as taste goes, this is the best one I've tried.
BioCBD's vape cartridge was the perfect antidote to stress when I found myself juggling work, class, and health issues. One puff helped me be more "in-the-moment" and take any challenges as they come with calm and focus.
500 mg CBD

$65 – $85

0% THC

Ingredients: 200 mg of Organically Grown, Full-Spectrum Hemp CBD, and 300 mg of All-Natural Plant Terpenes, & an Essential Oil Blend of Lemongrass, Lavender, Clary Sage & Bergamot
Driven Vape Juice by Savage CBD can be used with your vaporizer or as a tincture.
Don't be confused by the name. "Driven" doesn't mean it's Sativa-dominant and will help you focus. Nor will Savage CBD's "Serene" vape juice help you relax. The only difference between the vape juices is flavor. 
This particular vape juice was blue raspberry. The flavor was strong and unpleasant when I tried it as a tincture.
The worse my pain, the less I sleep, leading to increased anxiety and depression. When I used Savage CBD's Driven Vape Juice, I found I was able to be more present, to focus less on the pain, and more on what's important. 
250 mg – 1,000 mg CBD

$32.99 – $59.99

0% THC

Ingredients: Propylene Glycol, Vegetable Glycerine, Cannabidiol (CBD) Isolate, Natural, and Artificial Flavor Concentrate
ZenWorks CBD is one of the more pricey vape juices, but they give 20% of their sales to charity, so think of it as giving back (without the tax write-off).
The vape e-liquid comes in a fun bottle that will bring you back to the hippy era while giving you all the necessary information needed to take the proper dosage.
The berry flavoring was a little medicinal, but I've never been a fan of the way vaping tastes. They also make a Crazy Citrus flavor.
When my chronic pain made it difficult to relax and get some sleep, a couple of hits of this vape juice put me in the right mindset for rest.
500 mg CBD

$59.99

0% THC

Ingredients: Propylene Glycol, Vegetable Glycerine, Terpenes, PCR Hemp, and Natural Flavors
Top 5 CBD Edibles and Drinks
Edibles and drinks are a great way to take CBD, especially if you want to avoid smoking. When choosing the best CBD edibles and the best CBD drinks on the market, I looked at effectiveness, taste, ease-of-use, and price.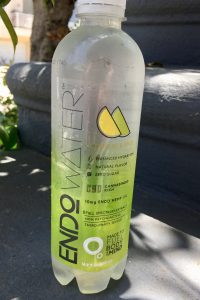 EndoBrands claims that CBD is the new kale, and I think they might be right. Kale is so passé. CBD is what all the cool kids are doing these days. And CBD just got a whole lot cooler with my favorite CBD-infused beverage. 
This water bottle looks like any other fancy water you'd buy at Whole Foods. You can bring a bottle to work with you, or to the gym.
The crisp, clean flavor tasted like something you would drink at a spa. Each bottle contains 10 mg of CBD in an easy-to-dose and refreshing single serving with zero calories.
After I had surgery last summer, I was in a lot of pain. I only had to drink one bottle to feel the positive effects of the CBD. Soon, I felt warm, relaxed, and like I could push through the pain without a problem.
120 mg CBD (10 mg CBD per bottle)

$50 (12-pack)

Less than .3% THC

Ingredients: Purified Water, ENDO Hemp Extract (Full-Spectrum – 10 mg Active Cannabinoids), Essential Phospholipids, Phosphatidylchlorine, Potassium Bicarbonate, Natural Cucumber Flavor
Hands down the best tasting edible I've tried are Reef CBD's sour gummy soft chews.
Reef CBD's gummies contain 25 mg of CBD each. They can easily be cut into halves and quarters if you're looking for a smaller dose.
These chews are sweet and sour and taste similar to Sour Patch Kids. It was a challenge not to eat them all at once. Reef CBD's sour gummy flavor are options are raspberry, watermelon, strawberry, and tropical.
After I had surgery, I couldn't sit for more than five minutes. With these soft chews, I was able to focus through the pain and be more productive. 
200 mg CBD

$29.99

Less than .3% THC

Ingredients: Corn Syrup, Sugar, Water, Modified Corn Starch, Gelatin, Fortifiber, Less Than 2% Citric Acid, Natural Flavor, Canola and/or Palm Oil, Natural Colors, and Confectioners Glaze
Even though I'm not a vegetarian, I don't want animals to die for my CBD products, so I appreciate the companies that don't use animal ingredients. Often gummies and capsules contain ingredients that aren't vegetarian (like gelatin), but not CBDistillery.
The no-fuss packaging is informative, and the small gummies are perfect for those who don't want to ingest too many calories. 
CBDistillery's vegan gummies are made with natural ingredients and sweeteners like apples, carrots, and pumpkin. Without any added sugar, you will find yourself amazed that these gummies taste so sweet and delicious.
I often avoid noisy places because I'm sensitive to sounds, and these gummies helped assuage some of my anxiety when I had to go to a restaurant. CBD can help calm the receptors in your brain that make noisy places difficult for hyper-vigilant people like me. I'm not saying these gummies make me a social butterfly, but they take the edge off just enough for me to manage.
750 mg CBD

$55

Less than .1% THC

Ingredients: Organic Glucose Syrup (Wheat), Organic Cane Sugar, Pectin, Citric Acid, Ascorbic Acid, Natural Flavors, Organic Concentrated Apple, Organic Carrot, Organic Pumpkin, Organic Black Currant, Wheat Starch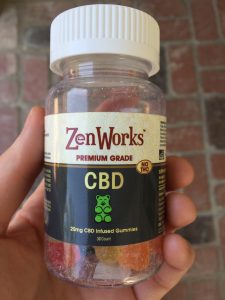 ZenWorks CBD donates a portion of profits to various cancer charities like the American Cancer Society and the Make-a-Wish Foundation. I like a company that gives back. And I also like ZenWorks' CBD-infused gummies for pain and anxiety relief. 
The smaller the edible, the better. Nobody wants to eat an entire cookie to get the correct dosage. Each ZenWorks gummy contains 20 mg of CBD in a teeny tiny gummy bear that makes dosing easy. 
I loved the fruity flavors, but these gummies did taste a bit weedy. The other edibles on this list didn't.
Because of my injuries, it's impossible to sleep without medication. For the past ten years, I've been taking melatonin and Benadryl per my doctors' instructions. Now, doctors tell me that long-term use of these medications can cause dementia! CBD has become an effective alternative. I took these at night and was able to fall asleep faster and stay asleep longer. Here's hoping my impending dementia will help me forget about the pain! 
600 mg CBD

$59.95

0% THC

Ingredients: Pure Hemp Extract, Corn Syrup, Sugar, Water, Gelatin, Citric Acid, Pectin, Natural and Artificial Flavors, Vegetable Oil, Carnauba Leaf Wax, FD&C Yellow 5, Red 40, Yellow 6, and Blue 1
Every Day Optimal makes CBD products for everyone. Athletes to older adults can benefit from their tinctures, topicals, and edibles.
These small gummies make dosing easy, and you can get Every Day Optimal's infused bears with 10, 15, and 25 mg of CBD.
With the perfect blend of sweet and sour, these gummies tasted just like regular candy, hiding any taste of hemp. 
An hour after eating a 25 mg gummy, I felt myself become warm and relaxed. My anxiety dissipated just enough for me to focus on the work in front of me.
300 mg – 750 mg CBD

$59.95 – $149.99

Less than .3% THC

Ingredients: Pure Cannabidiol Oil (CBD), Sugar, Corn Syrup, Gelatin, Citric Acid, Calcium Lactate, Silicon Dioxide, Natural and Artificial Flavors
Top 5 CBD Capsules and Tablets
Capsules and tablets are great because they're an easy-to-use, smoke-free, and calorie-free way to take CBD. I love them because they're discreet, often resembling vitamins. It's hard to tell the differences between the most effective of the bunch, so my rankings all broke down to price. In a world where all things are created equal, the cheapest product wins.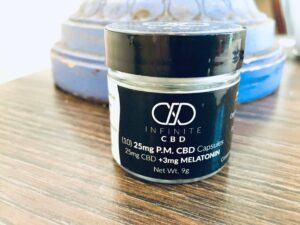 Infinite CBD has one the best CBD product lines, with unique options like non-dairy creamer and energy shots. They even have apple pie-flavored gummies!
Infinite CBD's PM capsules come in a sleek black and white bottle. The packaging looks professional, so you can keep this on your bedside table without needing to explain why you keep a "hemp" product out. 
Each pill contains a small dose of melatonin along with the CBD, for an easy-to-use insomnia solution. As someone who was once described by my therapist as "sleep-disordered," I'll take any pill or potion if it promises shut-eye. 
While you can find other companies that combine CBD with melatonin, Infinite CBD's PM capsules won't break the bank. When I used these caps in combination with an extra dose of 10 mg of melatonin, I fell asleep faster and stayed asleep longer. 
750 mg – 10,000 mg CBD

$38.76 – $385.29

Less than .3% THC

Ingredients: Powdered Coconut Oil, Melatonin
TrytheCBD has more than one product in this guide because of its inexpensive products that work just as good as the expensive kinds.
TrytheCBD offers their capsules in full-spectrum (meaning it contains a minute amount of THC) or with 0% THC. They cleverly label their full-spectrum bottles with a rainbow-colored plant, while the THC-free bottle is in green. 
Like all capsules, these are easy to use. Just take with water and go! I threw the bottle of CBD capsules into my rolling backpack and took them to school with me. 
TrytheCBD's capsules gave me a calming feeling, which helped me push through my social anxiety and physical pain so I can succeed in school, work, or just going to the grocery store.
125 mg – 1,500 mg CBD

$15.99 – $94.99

0% or less than .3 % THC (this company offers both options)

Ingredients: CBD Oil, MCT Coconut Oil 
These CBD and caffeine-infused capsules will have you singing "good morning" like Judy Garland, or maybe that's just me. MedTerra CBD has come out with one of the best CBD capsules for those who need a little extra kick in the pants.
Resembling a typical supplement, the CBD capsules contain caffeine, B6, B12, L-Tyrosine, and L-Theanine to boost your focus and energy.
Easier to use than a Keurig machine, could MedTerra have found the solution to toppling the Starbucks empire?
I take one of these whenever I've had a sleepless night. It gives me a boost without all the jitteriness of a cup of coffee. 
750 mg CBD

$59.99

0% THC

Ingredients: Cannabidiol (CBD), L-Tyrosine, L-Theanine, Caffeine, B6, B12, Medium-Chain Triglycerides MCT Oil (Coconut derived), Bovine Gelatin
American Hemp Oil makes one of my favorite CBD gel caps, but they're also one of the more expensive. 
The packaging is red, white, and blue (for America) and green (for hemp). You can get these capsules with 25 mg of CBD, or 50 mg.
These gel caps are easy-to-use. Take one or two a day as needed for pain, inflammation, anxiety, and stress. Be aware that these capsules aren't vegetarian. 
I relied on these puppies after my lipoma removal surgery when I was feeling depressed and useless lying in bed. These gel caps made me feel warmer and fuzzier about the whole experience. CBD isn't a cure for depression, but it can take the edge off a bit.
750 mg – 1,500 mg CBD

$60 – $100

0% THC

Ingredients: Cannabidiol Hemp Extract, MCT Oil (Medium-Chain Triglycerides) from Coconut Oil,

Full Terpene Blend
Using award-winning CBD oil, Dixie Botanicals' gel caps are a tiny solution to sleep, anxiety, and pain issues.
These gel caps come in a professional and informative bottle you can bring with you to the gym, to work, or school. 
CBD capsules are so easy to use. The hardest part is choosing what beverage to drink to help swallow the pill. I took mine with a cup of coffee and my prescribed medication gabapentin.
I used these in combination with melatonin to help me sleep post-surgery. These little guys helped me relax enough to forget I'm in pain. And even when the pain would wake me up, I was able to fall back to sleep again.
750 mg CBD

$81.75 – $109

Less than .3% THC

Ingredients: MCT Oil – 350 mg, Hemp Oil (Stem and Stalk) – 150 mg, Cannabidiol (CBD) – 25 mg, Sugar, Kosher Beef Gelatin, Kosher Vegetable Glycerin, Purified Water
Top 5 CBD Topicals and Skincare
Topicals are my all-time favorite way to use CBD to treat the pain from my injuries, especially my hips, thighs, and low-back. When choosing my favorite ones, I looked at effectiveness over price. Probably my biggest complaint about the CBD industry is the high cost of topicals.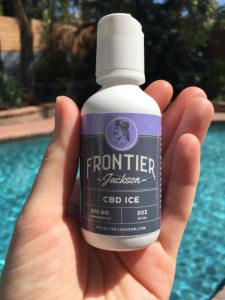 Frontier Jackson CBD Ice is an extra-strength cooling cream infused with cannabidiol and menthol that relieved the pain from my neuropathy and arthritis just as good as the stuff they use in the physical therapy office.
The company's informative packaging is a good reminder that the best products don't need a fancy presentation. This cream contains raw CBD, or CBDa, that fights inflammation like ibuprofen.
The icy feeling works to distract from the pain, and frankly, this stuff worked better than Icy Hot, Aspercreme, and Biofreeze combined.
My chronic pain is so bad I can't sleep. This topical brought such effective relief to my low-back and hips that I ran out in a week.
300 mg – 600 mg

$49.99 – $89.99

Less than .3% THC

Ingredients: Cannabidiol (CBD), Cannabidiolic Acid (CBDa) and Menthol (3.7%) in a base of Purified Water, Isopropyl Alcohol, Carbomer, Aloe Vera Powder, Camphor, Organic Ilex, Phenoxyethanol, Methylparaben, Butylparaben, Ethylparaben, Propylparaben, Isobutylparaben, Tea Tree Oil, Tocopherol Acetate (Vitamin E), and Triethanolamine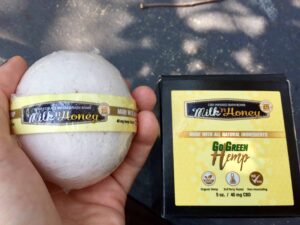 It was incredibly hard not to give this product the number one spot because I love them both equally. While the CBD Ice was the best in pain-relief, this bath bomb was the best in relaxation, stress, and pain relief overall.
GoGreen Hemp's bath bombs are a great deal. They each last for two baths, while most bath bombs dissolve quickly in one.
The milk and honey smell was heavenly. GoGreen Hemp uses hawthorn, almond, and French vanilla to achieve its potent scent.
I used this bath bomb during a particularly bad pain flare-up. For an hour after my bath, amazingly, I almost felt like I didn't have any pain at all.  
40 mg

$10.99

0% THC

Ingredients: Sodium Bicarbonate, Citric Acid, Epsom Salt, Olive Oil, Fragrance, Aqua, Polysorbate 80, FD&C Colorant, Water Soluble CBD
All Natural Way's pain relief cream is another one of the best CBD topicals, which works by freezing the injured area to distract the mind from the pain. 
The topical is infused with 500 mg of CBD to reduce pain and inflammation in your muscles and joints. You will only need a little bit to experience the cooling and pain-relieving benefits.
The cream smells like Icy Hot had a baby with Aspercreme. If you're going to be in public, keep that mind. People might smell you.
Long car rides are the bane of my existence. The sitting, twisting, turning, and stopping contribute to increasing my already bad chronic pain. I used this balm when I was compelled to spend three hours in a car. The cream cooled off the pain and provided a temporary respite, just enough to get me there and back again. 
500 mg CBD

$49.99

0% THC

Ingredients: Hemp-Derived CBD, Hemp Seed Oil, Isopropyl Alcohol, Ice T LB T, Menthol Crystals, Sepigel 305, Jeecide Cap5, Capsicum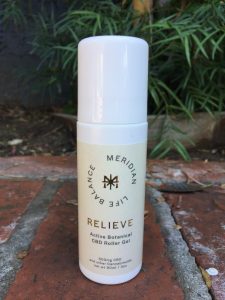 After decades of suffering through knee pain, the founder of Meridian Life Balance, along with her daughter, created a line of CBD-infused topicals for muscle and joint relief.
This method to apply topical ointments isn't new, but it's the first time I've seen it used by a CBD company. The roller method is convenient because I don't have to wash my hands after I apply it.
The gel has a pleasant herbal smell that won't overpower. You can wear this stuff to the gym or work and won't bother anyone.
Infused with CBD, menthol, and camphor, this icy gel cooled off the pain in my low back and hips. I use this topical before I go to school because the odor won't bother any of the other students. 
500 mg CBD

$62

Less than .1% THC

Ingredients: Natural Menthol, Ilex Para (Yerba Mate Leaf Extract), Uncaria (Cat's Claw Extract), Boswellia Extract, Camphor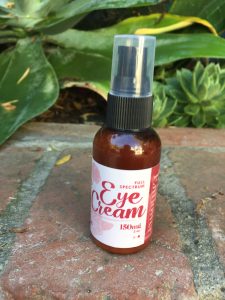 I love a multi-purpose product like this eye cream from Enflower, a company that makes CBD-infused skincare and bath products.
Don't let the "eye" of the cream fool you. You can use it on your whole face.
The cream felt smooth and moisturizing. The only thing I would improve (besides the price) is the smell. It's not bad, but neither is it pleasant. For eye cream, I would want something that my nose likes just as much as my skin.
The natural antioxidants in the CBD helped reduce the inflammation and darkness under my eyes. This topical also helped with the flaky, dry skin on my forehead and chin.
150 mg CBD

$37.50

Less than .1% THC

Ingredients: Water-Based, Carrot Seed Essential Oil, Rose Essential Oil, Preservative of Optiphen, Vitamin E, Sweet Almond Oil, Emulsifying Wax, Green Tea, Rosehip Oil, Lavender Essential Oil, Tinted with a Natural Mica
Top 5 CBD Pet Products
I know of many domesticated animals that suffer the aches and pains of old age, and the anxiety from being separated from their person. Below are the best CBD pet products to bring all-natural relief into the lives of your furry friends.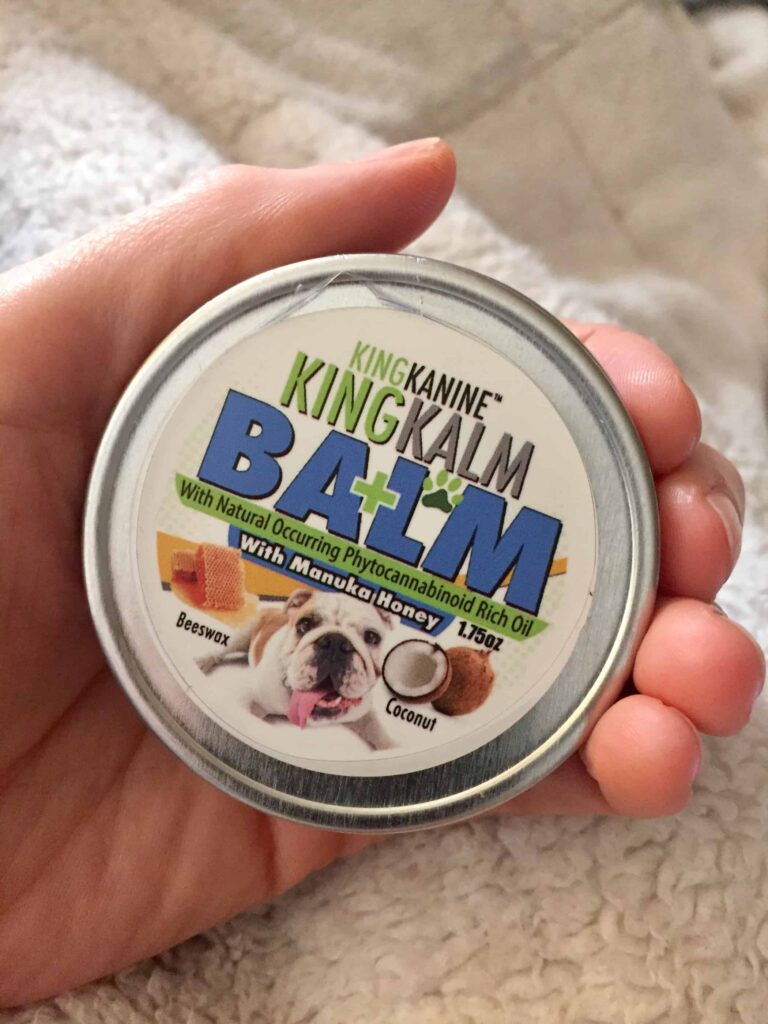 King Kanine rules supreme above other CBD pet product companies. This healing paw balm is my favorite because it's made for dogs, but humans can use it too.
The balm has ingredients you would find in human skincare products such as manuka honey, coconut oil, and beeswax. Each tin contains 392 mg of CBD to reduce inflammation and heal the skin on your dog's paws.
This topical smells herbal and waxy but doesn't overwhelm. The balm was hard which made it difficult to blend. You really need to dig in there. 
However, the difficulty is worth it as King Kanine's balm worked wonders on my friend's dog Grady's bug bites, providing him relief from inflammation and itchiness. This stuff also completely healed the dry skin on my foot after I had a skin graft.
392 mg CBD

$18.99

Less than .3% THC

Ingredients: Full-Spectrum Cannabidiol, CBD Isolate, Natural Beeswax, Coconut Oil and Manuka Honey
ZenWorks understands that CBD can ease the anxiety of your pets just as much as your own. 
The company's CBD-infused dog treats come in an informative bag with the dosing information and list of ingredients. (If your pet is vegetarian, please be aware these bite-sized snacks contain beef and pork.) 
The easy-to-cut treats make it convenient to get the correct dosage for your beloved animal friend. And they must taste great, as the dogs I gave them to gobbled them right up.
A friend with three teenage hyper-active chihuahuas asked me if CBD would help calm down her pups. They were always jumping on me, which isn't pleasant since my injuries make this painful. By just giving her little guys slivers of a treat, we noticed they pulled on their leashes less and didn't have as much of a manic freak-out when I left for home.  
60 mg CBD (2 mg per treat)

$29.95

0% THC

Ingredients:

2 mg Phytocannabinoid-Rich Hemp Oil (Per Treat), Water, Dried Brewer's Yeast, Glycerin, Gum Arabic, Sodium Alginate, Beef Liver Powder, Natural Bacon Flavor, Flaxseed Oil, Microcrystalline Cellulose, Organic Sweet Potato Powder, Sunflower Lecithin (Non-GMO), Citrus Pectin, Vitamin E, Sodium Propionate, Calcium Sulfate Dihydrate, Natural Mixed Tocopherols (Natural Preservative), Dextrin

 
This pet tincture from CBDistillery is one of the most cost-effective ways to treat your pet's anxiety and pain.
CBDistillery's bottle of pet tincture has two ingredients that have been lab-tested to ensure your animal isn't ingesting anything toxic. 
With an easy-to-dose dropper, you can get this pet tincture in 150 mg for your small pet, or 600 mg for the larger animal. 
My friend moved across states and wanted to use CBD to help relieve her dog's anxiety during the voyage. She needed something more convenient and portable than food, so I gave her this pet tincture from CBDistillery. It helped reduce her dog's travel anxiety, and they were both able to enjoy the trip. 
150 mg – 600 mg CBD

$20 – $44

Less than .3% THC

Ingredients: Hemp Seed Oil, Full-Spectrum Hemp Extract (Aerial Parts)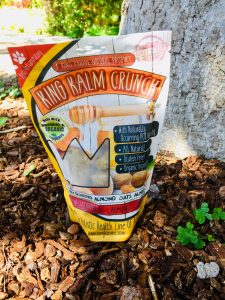 With its second product on this "best of" list, King Kanine is one of my favorites for its high-quality and cost-effective CBD products for pets.
The treats look like regular dog food, so your furry friend won't even know he or she is getting medicine.
These honey oat treats must taste amazing because the dog I gave them to wanted to devour the entire bag. 
I gave these treats to my friend, whose dog would have anxiety every time she left for work. He would look at her with those sad eyes pleading for her to stay. She gave her dog two treats before leaving the house and it helped put the wag back in his tail.
3 – 5 mg CBD per treat (about 30 treats per bag)

$34.99

Less than .3% THC

Ingredients: Gluten-Free Stone Ground Oat Flour, Rolled Oats, Eggs, Almonds, Honey, Turmeric, Black Peppercorn
Pure Relief makes some of the highest quality (and more expensive) CBD pet products on the market.
The bottle is professional-looking, like something your vet would give you. The instructions let you know how much to give your pet based on their weight.
This stuff didn't smell like anything, so I knew it was the right product for my finicky cat who wouldn't touch anything that smelled like hemp.
In the last few months of her life, my cat had a hard time, and I wanted to see if CBD would bring her relief. Unfortunately, the smell would make her walk in the other direction, and I can't get her to try any CBD product. When I gave her Pure Relief's nearly odorless pet oil, she lapped it right up. It helped her aching body so she could get up and down from high places. She felt like the young, spry kitten she once was.
600 mg CBD

$44.99

Less than .3% THC

Ingredients: CBD (cannabidiol), CBG (cannabigerol), CBDV (cannabidivarin), CBC (cannabichromene), CBDA (cannabidiolic acid), Fractionated MCT (Medium-Chain Triglycerides) from coconut oil

 
FAVORITE CBD PRODUCT OVERALL
I'd like to conclude this "Best of CBD" guide with my favorite CBD product from this list. And the winner goes to…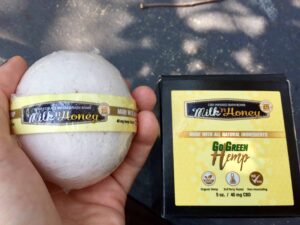 After using this bath bomb, I felt like a human again. As someone in chronic pain, I never relax. When I used this product, I was able to shut off my mind, at least temporarily, which was a welcome respite. GoGreen Hemp has created a truly superior product with their bath bomb that's frankly, well, the bomb.
Disclosure: I received these products gratis so that I could try them and then share my honest opinion with the SOC community. I am employed by Save on Cannabis to write honest reviews and provided a flat rate payment for the writing of the review.  SOC may receive recurring affiliate payments for purchases made based on this content.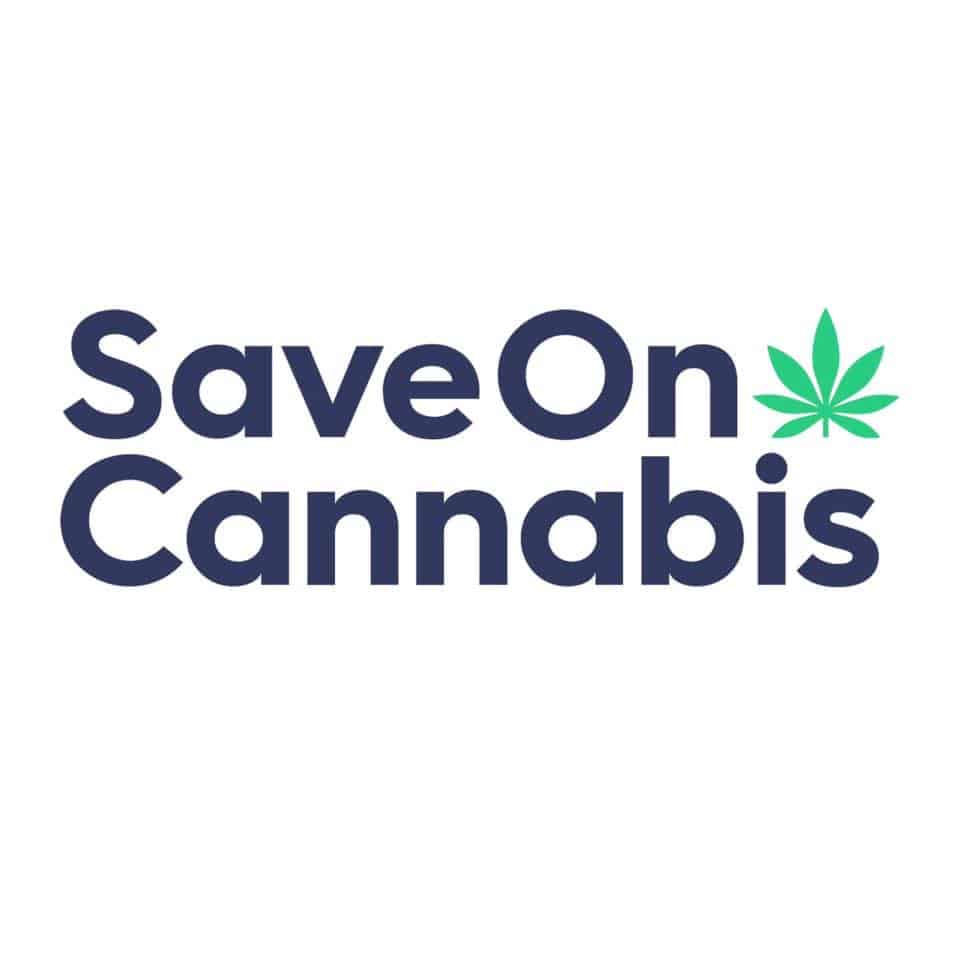 Save On Cannabis is the most trusted source for cannabis discounts and education information.  Vetted deals and clearly written articles to help you become a wiser consumer whether focused on the medical or recreational value of cannabis products.
Save on A Guide to the Best CBD Products for 2020
Sorry, no coupons were found.
The Charlotte's Web Balm Stick with CBD is a very pretty product, but does it help our reviewer with her daily needs? Is it worth your money?
In this CBDistillery review we need more sleep, with pain and insomnia, we are hoping this CBN & CBD Sleep Tincture does the trick.
See how Vapen CBD lotion worked for our reviewer on her muscle pains. If you have muscle pains & looking for relief, see if this lotion is what you want.