CBD Prima Review – Botanical Brain Fuel Elixir – 10mg
Sep 30, 2020 | SOC
Prima's Botanical Brain Fuel Elixir
55.00
Pros
Sustainably sourced hemp from Oregon
Doctor & scientist formulated
No wheat, soy, dairy, artificial colors or flavors
Non-GMO ingredients
Contains adaptogenic and nootrophic herbs
Product is made with recyclable materials
Batch tested by a third-party lab
Zero sweeteners
Water-soluble broad-spectrum CBD hemp extract
Cons
Non-detectable levels of terpenes and other cannabinoids
Missing lab tests on contaminants and pesticides
Prima Botanical Brain Fuel Elixir — 10mg CBD
Product Review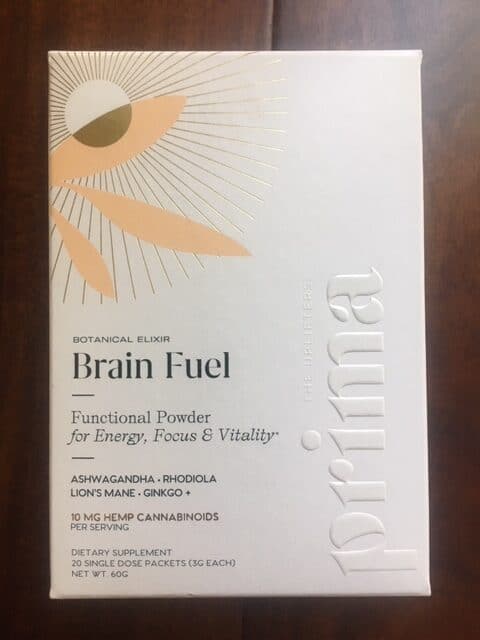 Brand Overview: Prima
Prima is a Santa Monica, California based company c0-founded in 2019. It's dedicated to bringing health, balance, and joy back into people's lives through the power of botanicals. The company's core belief is that "access to nature is a human right — and a vital part of our individual and collective wellbeing." Prima's co-founders and team members believe when we're supported physically and mentally through the wisdom and healing abilities of nature — we can do better, be better, and serve better.
And that's the ultimate goal with Prima's products. Although hemp-derived CBD is a big component of its wellness products, the company also harnesses the benefits of other medicinal herbs and includes them in formulas.
In addition, Prima sets the standard in the industry for transparency, accountability, and its environmental and social contributions. This level of dedication earned the company a major honor — being a Certified B Corp.
Other important principles the company upholds include a focus on sustainability, toxic-free ingredients, using recyclable materials, giving 1% of revenues to non-profit partners, and more.
Besides selling herbal supplements, Prima also has a line of skincare and bodycare topicals.
Products: Supplements, Skincare, Bodycare.
Price Range ($-$$$$): $$$
---
About Prima Botanical Brain Fuel Elixir — 10mg CBD
One box of Prima's Brain Fuel Elixir contains 20 individual-use packets. Each one contains 10mg of water-soluble broad-spectrum CBD. It also includes 300mg of Ashwagandha (adaptogen), 200mg of Rhodiola (adaptogen), 200mg of Lion's Mane (nootropic), and 100mg of Ginkgo (nootropic). You add one packet of the powder to a cup of hot or cold water, juice, coffee, or tea. The company describes the taste as "earthy and herbaceous, with notes of cacao.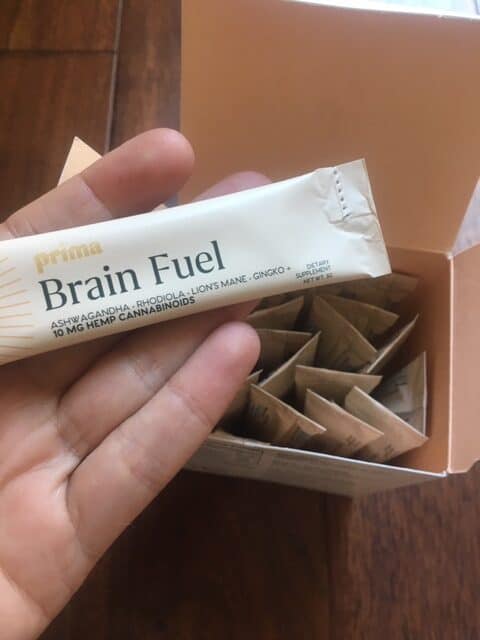 ---
Prima Botanical Brain Fuel Elixir Specifications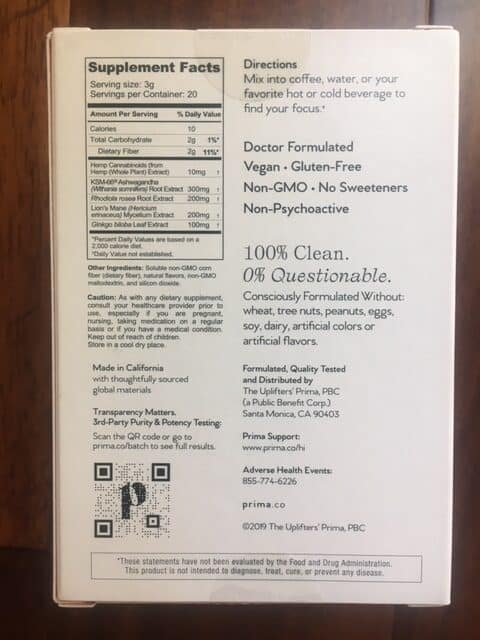 Water-soluble broad-spectrum CBD hemp extract — 10mg per packet
Sustainably sourced hemp from family farms in Oregon
20 individual-use packets
100% recyclable materials
Doctor and scientist formulated
Free of wheat, soy, dairy, artificial colors/flavors, eggs, peanuts, and tree nuts
Cruelty-free (not tested on animals)
Gluten-free & vegan
Non-psychotropic
Non-GMO
Batch tested by a third-party lab
Zero sweeteners
Ingredients: Cannabidiol, Ashwagandha, Rhodiola, Lion's Mane, Ginkgo, soluble non-GMO corn fiber, natural flavors, non-GMO maltodextrin, and silicon dioxide

How We Tested Prima's Botanical Brain Fuel Elixir — 10mg CBD
About one week before testing out this product, I made a commitment to stop drinking coffee. I've had a love/hate relationship with it for about 10 years. I mention this because Prima's Elixir came into my hands at the most ideal time.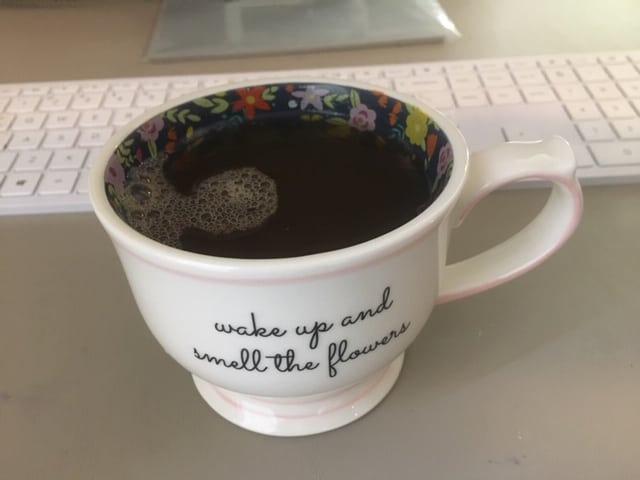 Quitting caffeine cold turkey in the past didn't quite work out for me. My body and mind rebelled. And the side effects were terrible. This time was going to be different. I had mother nature on my side (thank you Prima) and adaptogens to support and boost my adrenals, which were surely feeling the pains of not getting a hit of caffeine to help them function.
So, every morning for about 7 days, I emptied a packet of the Brain Fuel Elixir into my mug then poured hot water over it. I stirred it around without effort because the contents easily assimilated into the water. Sometimes I drank my cup before, with, or after breakfast. I didn't add any milk or a sweetener because I wanted to experience the product in its raw, natural form.
---
How Prima's Botanical Brain Fuel Elixir Worked for Me
As the company said, this elixir has a herbaceous and earthy flavor, which is 100% accurate. I've been an herbal medicine fan for years and have never shied away from a product because of its taste. I'm most concerned with its effects. After all, that's the point of using supplements, right?
Anyhow, I loved my morning routine of drinking a cup of this elixir. I felt calm, relaxed, focused and intuitively knew that my adrenals, my endocrine system, my brain, and other parts of me were whispering "thank you".
It was a satisfying and empowering feeling to know I was fueling my body with herbs that support me in times of stress, rather than coffee that only provided me false energy. This is the real deal. The formula was expertly designed to provide balance and that's precisely how I felt.
---
Useful and Unique Things to Know About Prima Botanical Brain Fuel Elixir — 10mg CBD
All of the ingredients are non-GMO, sourced sustainably, non-toxic, and purposeful. Also, the packaging is recyclable and has a QR code you can scan to get access to the third-party lab testing results.
In addition, the company uses innovative patent-pending technology to make the CBD hemp extract bioavailable and dissolvable in liquid.
---
Prima Botanical Brain Fuel Elixir Ratings
In the next sections gradings from 0-100 on our review, these grades add up to give the product's overall score.
PRESENTATION • 100
Gorgeous branding, labeling, and presentation of facts.
RELIABILITY • 100
A natural boost of alertness and focus, with a dash of peace and calm.
QUALITY • 100
Sustainably sourced ingredients without GMOs, chemicals, or additives.
FLAVOR • 90
Strong herbaceous and earthy flavor, but expected given the formula.
VALUE • 100
About the price of a cup of coffee, but insanely beneficial for health and well-being.
---
PROS of Prima's Botanical Brain Fuel Elixir — 10mg CBD
There are a ton of great qualities about Prima's Brain Fuel Elixir. The fact that it has CBD, adaptogens, and nootropics is brilliant. The combination of botanicals couldn't be any better. Plus, the hemp-derived CBD comes from family farms in Oregon
Also, the company elects to stay away from over 2,800 different "unnecessary" and potentially harmful ingredients even though the U.S. only bans 12 ingredients. They take measures into their own hands and with their expertise and scientific prowess, they can discern what's not okay to include in a health supplement.
Finally, the other pros about the brain fuel powder include the following, it has a good dose of CBD, uplifting and focused properties, no caffeine, no crash, herbs that work together with your body to relieve stress, promote harmony, and create balance.
---
CONS of Prima's Botanical Brain Fuel Elixir — 10mg CBD

The only cons I identified related to the third-party lab testing. I understand every batch test can vary a bit, so this may get corrected in the next cycle of batch testing. But this time around, the cannabinoid profile showed CBD, but no other cannabinoids. Also, the terpene profile shows non-detectable levels of terpenes. In other words, it doesn't seem like a broad-spectrum product, more like a CBD isolate.
Secondly, I couldn't find the lab testing results for the pesticides, heavy metals, solvents, mycotoxins, etc.
---
How Prima's Botanical Brain Fuel Elixir Stacks Up Against the Competition
It's hard to compete with a product like this. Prima's Brain Fuel Elixir has so many incredible characteristics. Plus, there's not a lot of CBD brands making dissolvable drink powders. When you do compare, Prima's products stand out over the rest because of the smart, consciously crafted formula.
---
Saving Money with Our Verified Prima Coupons
Save money by using our verified CBD Drinks coupons here at Save On Cannabis the World's largest online cannabis coupon code directory.
---
Disclosure: I received these products gratis so that I could try them and then share my honest opinion with the SOC community. I am employed by Save on Cannabis to write honest reviews and provided a flat rate payment for the writing of the review. SOC may receive recurring affiliate payments for purchases made based on this content.
Read our hands on review of the King Kanine King Kalm Balm CBD pet salve. We tested it and give you a rundown if it is worth buying, also get coupons.
Our reviewer tries out the Aspen Green CBD Muscle Relief Cooling Cream to ease away some of her aches, see how it worked in this hands on review.
Can you use CBD instead of Advil? Our reviewer put this idea to the test in this CBD•TRU review of their Pure Full Spectrum CBD Oil.