Berkeley Gold Review: 900MG CBD Dissolvable Tablets
Oct 21, 2020 | SOC
CBDCBD Dissolvable Tablets
Berkeley Gold Mango CBD Dissolvable Tablets — 900mg
Pros
100% American grown hemp
Non-GMO hemp
Pharmacist-formulated
Gluten-free
CBD Isolate
Medium-high 30mg dose of CBD
Cons
Doesn't dissolve easily
Contains artificial colors and sweeteners
Bad flavor
Berkeley Gold Mango CBD Dissolvable Tablets — 900mg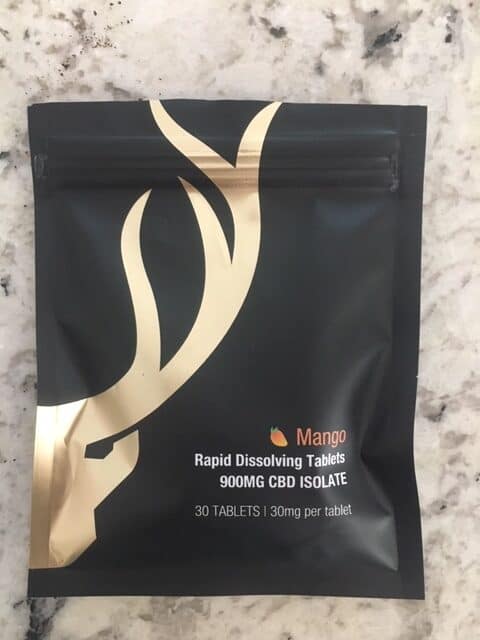 Brand Overview: Berkeley Gold
Berkeley Gold is headquartered in Dallas, Texas, and run by a team of customer-focused individuals. They have a background in healthcare and understand the importance of creating pure, reliable products that their customers can count on.
As a CBD business, their "passion and attention to detail is rooted in the mission to help achieve wellness for all."
The company sources organically raised hemp from USA farms. It also posts copies of third-party lab testing reports on its website. These tests include a cannabinoid analysis of each product to prove its potency and to verify the THC percentage is under the legal limit of 0.3%.
Also, Berkeley Gold offers a range of other hemp-based products and offers free shipping to customers in the U.S.
Products: Tinctures, gummies, topicals, and pet products
Price Range ($-$$$$): $$
---
About Berkeley Gold Mango CBD Dissolvable Tablets
Berkeley Gold's CBD tablets have a mango flavor and are dissolvable when put under the tongue. There are 30 total tablets in the bag and they have a medium-high strength potency of 30mg CBD Isolate.
They contain 0% THC, which you can confirm on the copy of the lab report. To quickly see the lab testing report for this product, hover your camera (on your smartphone) over the QR code and click on the link that pops up.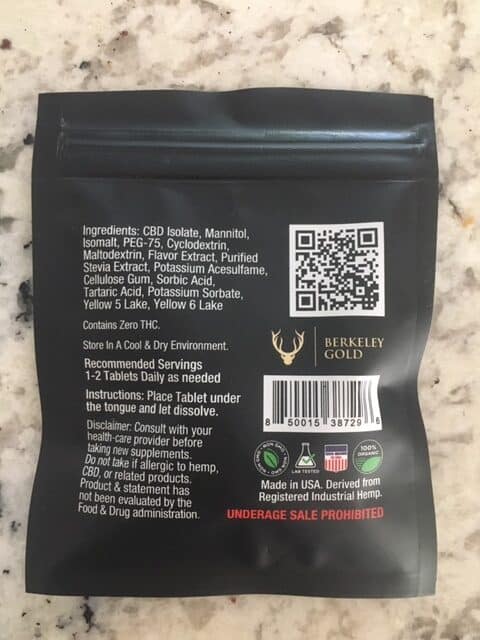 ---
Berkeley Gold Mango CBD Dissolvable Tablets Specifications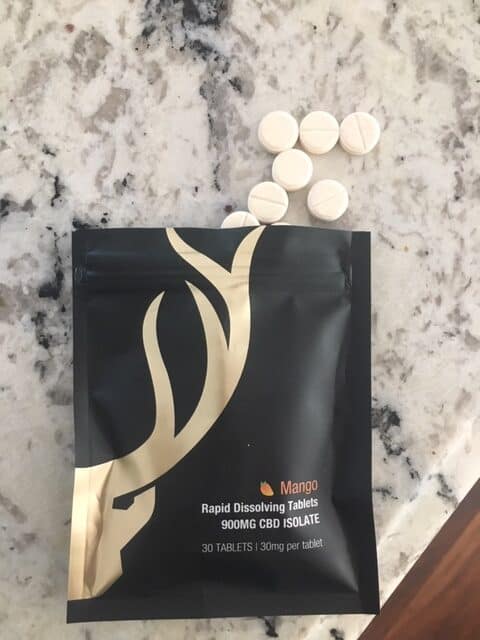 CBD Isolate with 0% THC
900mg CBD per bag
30mg CBD per tablet
Organically grown hemp from U.S. farms
Pharmacist formulated
Gluten-free and dissolvable
QR Code on back of bag – takes you to lab testing
---
How We Tested Berkeley Gold Mango CBD Dissolvable Tablets
Before completing this review, I had one tablet once a day for a little over a week. Most days, I consumed a tablet in the late morning or mid-afternoon. I didn't have any at night, because I like to take CBD + Melatonin gummies before bed and didn't want an extra dose of CBD.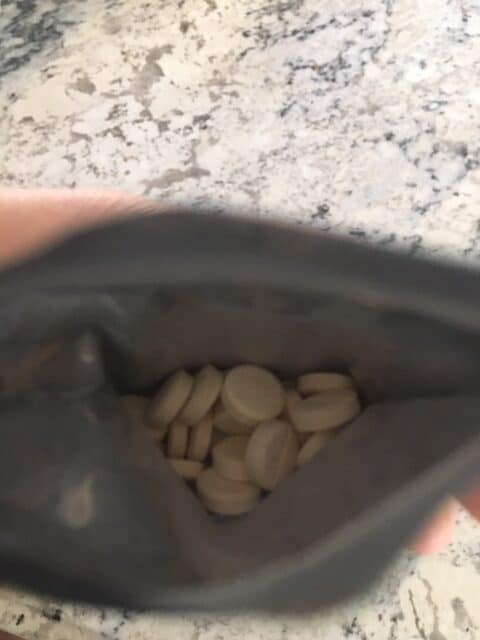 ---
How the Berkeley Gold Mango CBD Dissolvable Tablets Worked for Me
The very first day I had a CBD tablet, I placed it under my tongue and waited for it to dissolve. But, it didn't dissolve right away. In fact, it took over a minute to start disintegrating. The taste wasn't the best either. I bit the tablet in half to see if that would help the process of dissolving.
It did help a bit and finally, I was able to completely ingest the product. After 30 minutes or so, I felt some effects that are true to cannabidiol, which for me is relaxation and calm. After using the product for another week, I was able to assess the effects better. And was happy that they were consistent and reliable. It was nice to feel relaxed and chilled out when I had several writing deadlines to meet.
---
Useful and Unique Things to Know About Berkeley Gold CBD Dissolvable Tablets
These tables include a gluten-free and CBD isolate formula. So, they're okay to try even if you have a gluten or grain allergy. And if you don't want any THC in your CBD products, these tablets have none.
---
Berkeley Gold Mango CBD Dissolvable Tablets Ratings
In the next sections gradings from 0-100 on our review, these grades add up to give the product's overall score.
PRESENTATION • 100
Beautiful packing, and clear, precise labeling.
RELIABILITY • 100
The experience and effects were consistent with every tablet.
QUALITY • 90
Lab-tested, non-GMO hemp, but included some artificial ingredients.
FLAVOR • 70
Had a chemical-like, tart flavor that wasn't appetizing.
VALUE • 90
Great price for the total CBD potency, but they didn't dissolve easily.
---
PROS of the Berkeley Gold Mango CBD Dissolvable Tablets
Firstly, this product contains non-GMO hemp grown by U.S. licensed farmers. It's lab tested for potency by an independent, unbiased laboratory. Also, it's gluten-free and pharmacist-formulated.
Each tablet has a medium-high dose of CBD Isolate of 30mg. They're designed to be a slow-release, yet long-lasting form of cannabidiol.
---
CONS of the Berkeley Gold Mango CBD Dissolvable Tablets
There are a few cons with this product based on my personal experience of testing them out. The first issue I had was with the dissolvability or lack thereof. It took a really long time, more than a few minutes to totally dissolve. This wouldn't have been a bad thing if the flavor wasn't awful.
Another con relates to the ingredient list. There are a few artificial sweeteners and colors along with some other unhealthy chemicals.
---
How Berkeley Gold CBD Dissolvable Tablets Stack Up Against the Competition
There's not a lot of competition with CBD dissolvable tablets, unlike CBD tinctures and gummies. But, based on the brands that do offer this unique type of product, Berkeley Gold's have similar qualities. Others offer a similar potency, the same type of hemp extract, and also source hemp from the U.S. But, where there are differences is in the ingredient list, and possibly a better flavor.
---
---
Disclosure: I received these products gratis so that I could try them and then share my honest opinion with the SOC community. I am employed by Save on Cannabis to write honest reviews and provided a flat rate payment for the writing of the review. SOC may receive recurring affiliate payments for purchases made based on this content.

Save on Berkeley Gold CBD
Sorry, no coupons were found.
At great prices is CBDistillery worthwhile or only as good as the cheap price tag? Find out if we think the CBDistillery tincture is quality.
We got our hands on the Endo CBD water and put it to the test. See how it worked for our expert reviewer and if it is worth your hard earned money.
In our first 43 CBD Solutions review, we try out the CBD salve to see if it eases pains and is worth your money. Find out now.