CBD Review: Holiday – CBD Gummies
Oct 3, 2019 | kati
CBDCBD CandyCBD EdiblesCBD Gummies
Holiday - CBD Gummies
Pros
Fast acting
Easy to use
Product packaging
Cons
Overpriced
Boring flavor
Low dosage
HOLIDAY CBD GUMMIES
Product Review
Brand Overview: Holiday
This San Diego based company makes high quality cbd gummies. They believe in a vacation state of mind with no high and all chill. Quality is their top priority so that you can sit back, relax and enjoy everyday like it's a Holiday. Their product is 3rd party lab tested to ensure the highest quality and potency. They source their hemp from family farms in Colorado where it is sustainably grown utilizing fully organic practices in order to provide the highest quality product possible. Make everyday a holiday with these tasty gummies!
Products: CBD Gummies
Price Range ($-$$$$): $$$$
---
About the CBD Gummies
Each gummy contains 10mg of CBD to help ease you into a vacation state of mind. Every day should feel like a holiday, right?! Well with these CBD gummies, it can. There's a vacation in every bottle, where will yours take you? This product comes in three flavors, cherry, lime, and orange. All made with natural ingredients to keep you at ease. The gummies come beautifully packaged on a bed of ocean blue, recycled paper packing grass to help keep our oceans clean from plastics.
---
CBD Gummies Specifications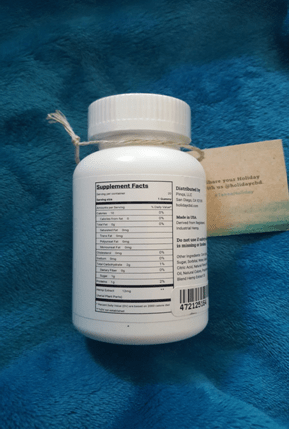 20 Gummies per bottle
10mg CBD per gummie ( 200mg per bottle)
89.71% CBD Lab results
Ingredients: Corn Syrup, Sugar, Sorbitol, Water, Gelatin, Citric Acid, Natural Flavor, MCT Oil, Natural Colors, Proprietary Blend Hemp Extract Oil
---
How We Tested the CBD Gummies
Living with endometriosis, I suffer with some pretty extreme pain every month in my lower abdomen, thighs and back. I'd call it a level 9 pain (1-10.) I typically take 800mg of Ibuprofen to deal with it but often times I can still feel the pain. I really dislike having to resort to pharmaceuticals and am always on the lookout for a natural product. THC works great for my pain but I can't go to work under the influence. Lucky for me, The day my cycle started is the day these gummies came in the mail. I immediately popped them open and slowly chewed two cherry flavored gummies, 20mg total.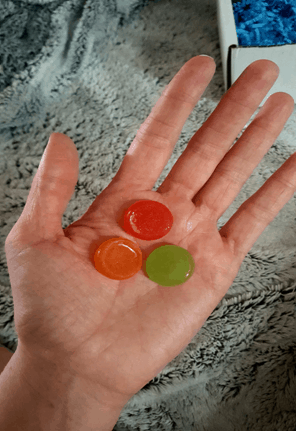 ---
How the CBD Gummies Worked for Me
I chewed the gummies slowly and allowed them to stay in my mouth longer to help aid the absorption time. I needed these to hit quick. In about 30 minutes I began to feel the edge wearing off on my pain. I'd say it took it down about 2 notches putting it at a 7. After about an hour and a half I felt the pain creeping back up on me. I had to leave for work soon and I needed something stronger so I resorted back to my Ibuprofen. The combination of Ibuprofen and the CBD gummies definitely kept my pain level down at a 1 and I was able to complete my shift pain free. All in all these worked great but I prefer a higher dose of CBD for my pain levels so I will be trying other products.
---
Useful and Unique Things to Know About Holiday CBD Gummies
These gummies are made with MCT Oil so they will melt pretty easily. I'd suggest keeping them in the refrigerator.
Holiday CBD Gummies Ratings
In the next sections gradings from 0-100 on our review, these grades add up to give the product's overall score.
PRESENTATION • 100
The packaging is clean and simple. I liked that it didn't come in styrofoam or plastic bubbles.
RELIABILITY • 100
They work well if you take enough of them
QUALITY • 90
Low dosage
FLAVOR / SMELL / or EASE OF USE • 80
Not very tasty, felt like the flavors could be better
VALUE • 75
Product seems overpriced compared to the market
---
How the Holiday CBD Gummies Stacks Up Against the Competition
This product is pretty overpriced compared to other, more enticing, gummies. A bottle of twenty 25mg gummies from Pure Kana goes for the same price, offering more than double the dose. The flavor is just ok and they seem to be more concerned with image than anything. There are links to their Instagram all over the website and the bottle of gummies itself. I'm happy that they are using organically and sustainably grown hemp though. That is important to me as a consumer, as is the recycled paper packaging.
---
Saving Money With Holiday CBD Coupons
Save money on all Cbd Edibles , Cbd Gummies here at Save On Cannabis the World's largest online cannabis coupon code directory.
---
Disclosure: I received these products gratis so that I could try them and then share my honest opinion with the SOC community. I am employed by Save on Cannabis to write honest reviews and provided a flat rate payment for the writing of the review. SOC may receive recurring affiliate payments for purchases made based on this content.

Save on CBD Review: Holiday – CBD Gummies
Sorry, no coupons were found.
See in this Life Balance Meridian review of the CBD capsules if they helped our reviewer's stress. Vegetarian pills made to restore balance.
Read our hands on Get Kush review and unboxing of all the products sent to us. Comprehensive break down scores for products & service.
Can a CBD oil help withsymptoms from chronic pain due to radiculopathy and arthritis, as well as symptoms from Complex Post Traumatic Stress Disorder?