Steve's Goods Terpin Gorilla CBD Shatter Review
Mar 8, 2019 | Romy
CBDCBD ConcentratesCBD Shatter
STEVE'S GOODS TERPIN GORILLA CBD SHATTER (1 G)
Pros
Inexpensive
Inexpensive
Calming
STEVE'S GOODS TERPIN GORILLA CBD SHATTER (1 G)
Product Review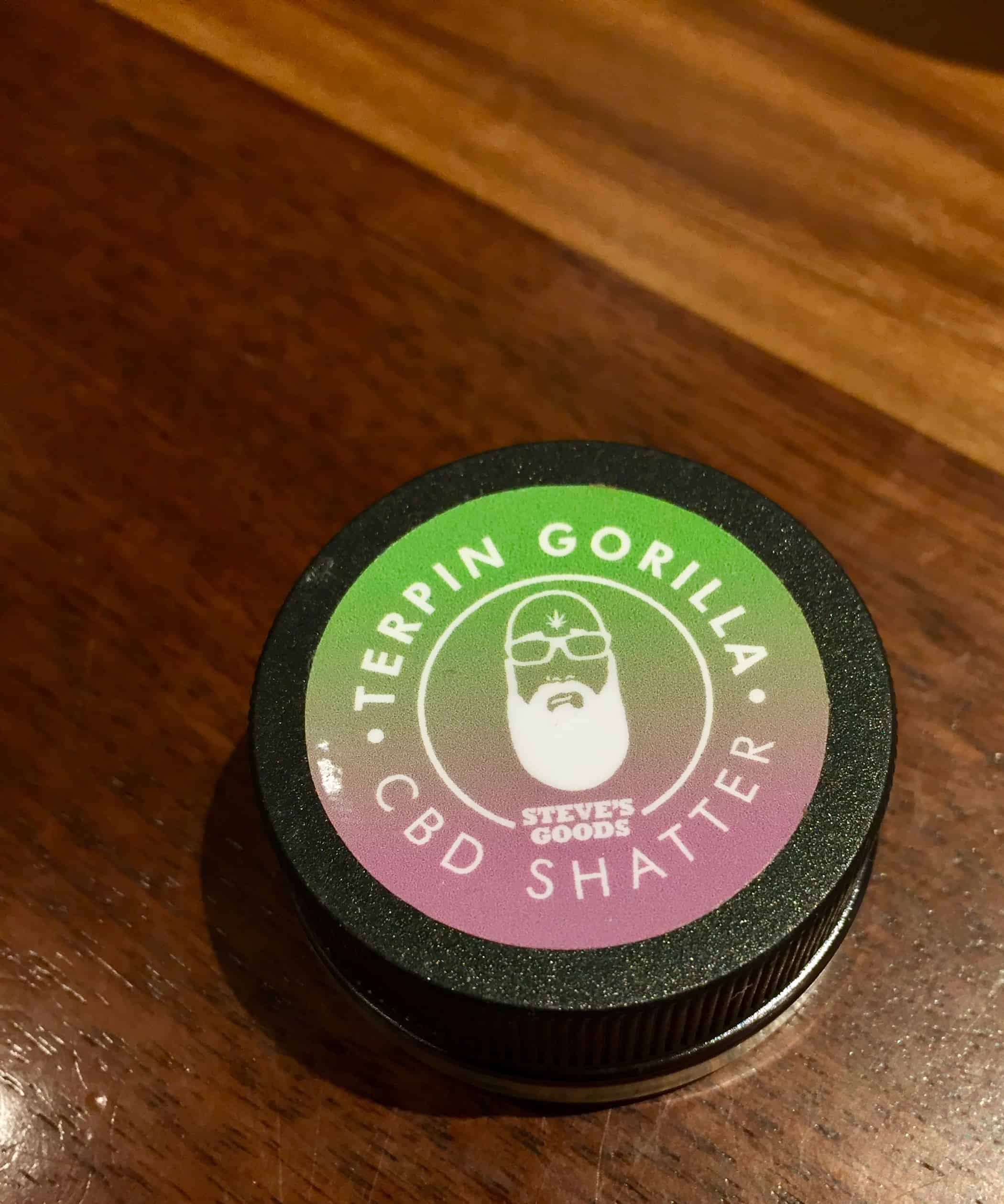 Brand Overview: STEVE'S GOODS
Steve's Goods makes high-quality CBD products grown, extracted, and packaged in Colorado by trusted farmers. This company is one of the only CBD sellers using the lesser-known components of the hemp plant, CBG. Adding the combination of CBD and CBG to your daily routine is a non-psychoactive and natural alternative to opioids. Steve has done a ton of research into the world of CBD and wants to bring a fair cost to superior hemp products.
Products: CBD Tinctures, CBD Concentrates, CBD Vape Oil, Edibles, Bundle Deals, CBD Pet Tinctures, CBD Topicals
Price Range ($-$$$$): $$-$$$
---
About the STEVE'S GOODS TERPIN GORILLA CBD SHATTER (1 G)
The Steve's Goods CBD Shatter with Terpin Gorilla terpenes is a potent cannabis concentrate for those seeking relief from pain, anxiety, and depression. This shatter will also boost your energy levels and increase your appetite. Adding this shatter to your THC products will increase its effectiveness. Or, you can take it alone to ease your symptoms without the psychoactivity of THC (and pass a drug test!).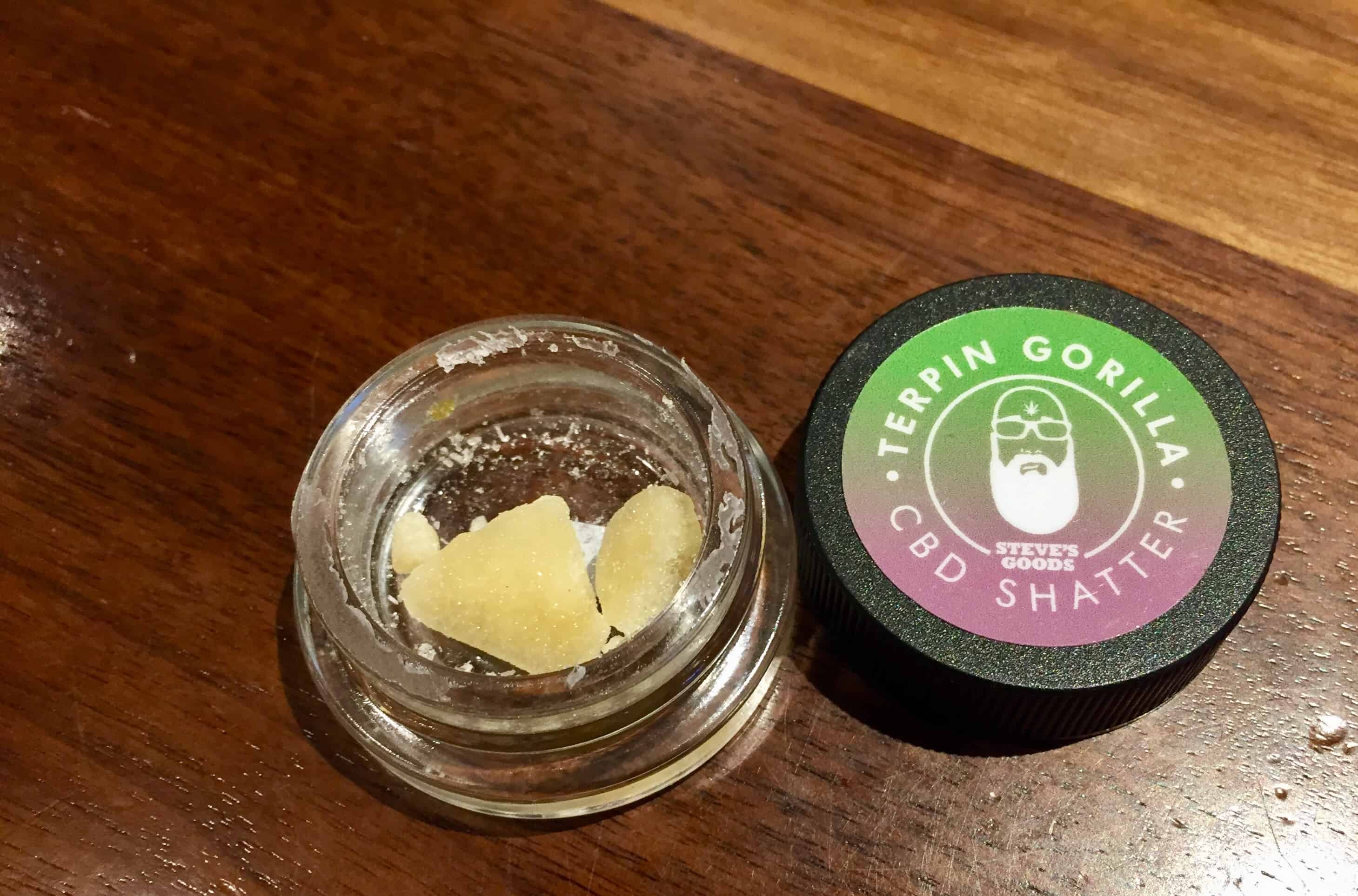 Shatter is perfect for "dabbers" on oil rigs or for those who use electronic dab pens. If you're not into these methods, you can cook with the shatter (brownies anyone?) or smoke it in a pipe or bowl. The best thing about smoking CBD is that the effects are immediate.
---
STEVE'S GOODS TERPIN GORILLA CBD SHATTER Technical Specifications
Directions: Break off a small piece of shatter and add it directly onto your THC extract or smoke it by itself. Use a dabbing rig for an added flavor profile.

Ingredients: CO2 hemp extract high in cannabinoids (1000+ mg), 950 mg CBD isolate, 3% plant-based terpenes

100% THC free
All-natural
Third-party lab tested
Made in Colorado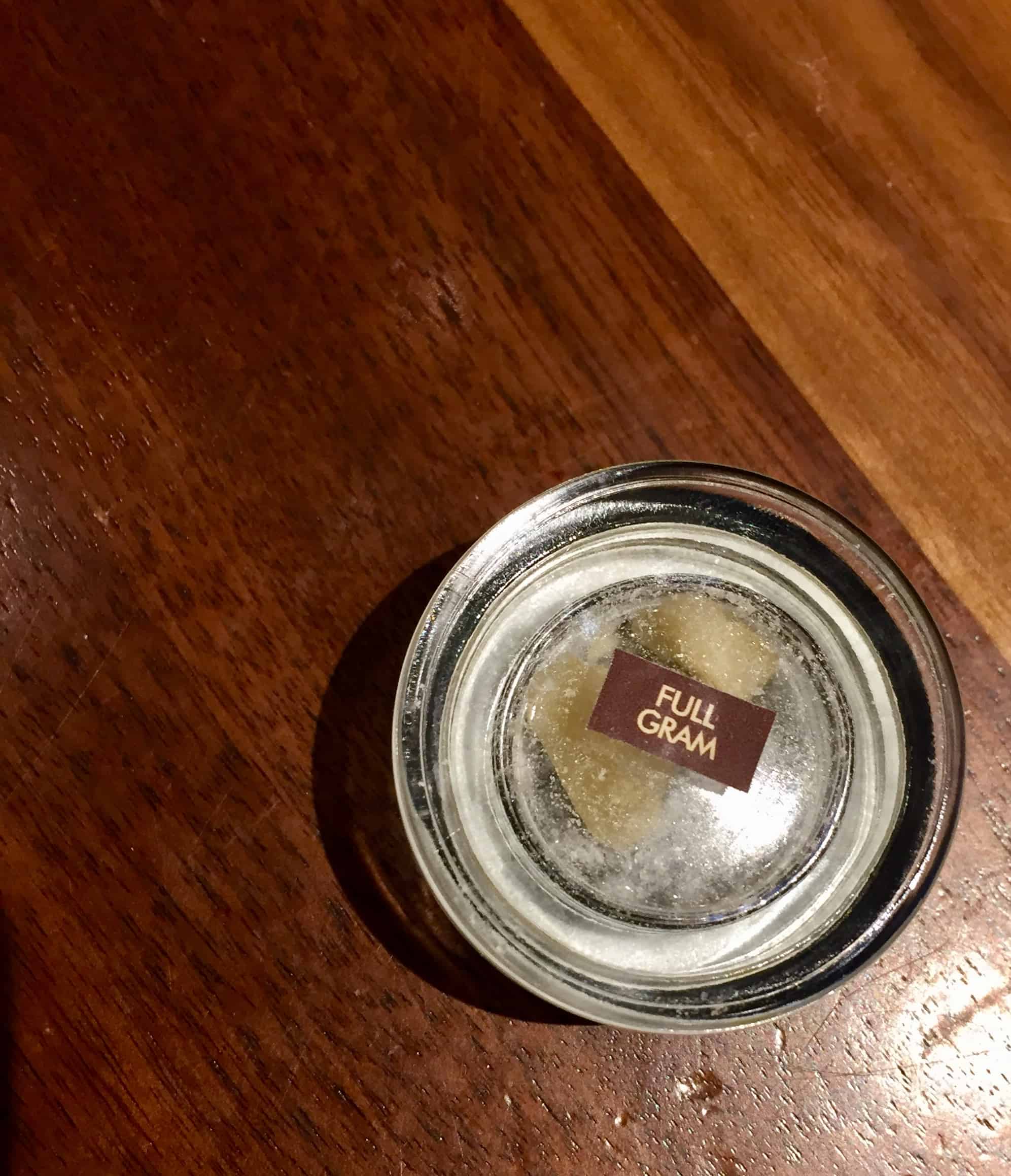 ---
How We Tested the STEVE'S GOODS TERPIN GORILLA CBD SHATTER (1 G)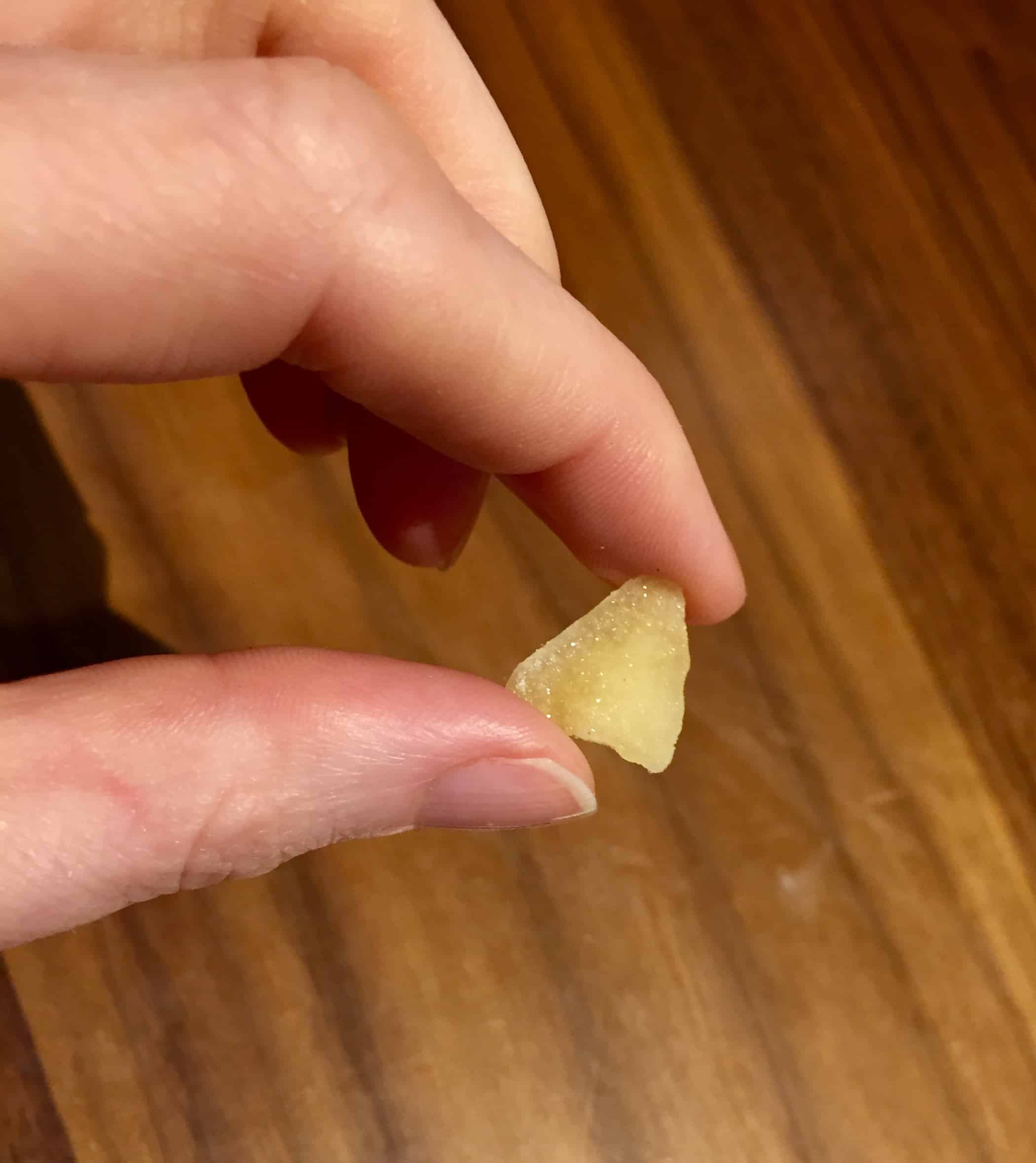 I am not a fan of small, confined spaces. I get panicky. After getting hit by a car, I needed two MRIs for my back and one for my brain. Naturally, I was really nervous about the MRI machine. To top that off, I've been having increased anxiety due to some Post-Traumatic-Getting-Hit-By-A-Car-Disorder.
I've been saving my Terpin Gorilla CBD Shatter for a special occasion, like having my body inside the small confines of a weird machine that blasts strange, crazy-making noises, which sound like bad electronica "music." I had already tried Steve's Goods Pineapple Express CBD Shatter, and it was incredibly potent. It helped my anxiety wash away.
My plan for this new shatter was to break it out for my MRIs, hoping for a similar experience.
I don't have a dabbing rig, so I broke out my old bong. I placed a tiny piece of tinfoil (with some holes poked in it) into the bowl. Then I added a lovely little crystal of the CBD shatter.
---
How the STEVE'S GOODS PINEAPPLE EXPRESS CBD SHATTER Worked for Me
Smoking CBD is the way to go if you are looking for immediate relief of anxiety. After hitting my bong, I felt a wave of calm wash through me. Driving to the MRI, I did not have my usual "please don't hit me with your car" freakout. I was able to do all three MRIs in a row because I didn't need to stop and have a panic attack during the process (of course, I kept my eyes closed the entire time).
Useful and Unique Things to Know About STEVE'S GOODS TERPIN GORILLA CBD (1 G) SHATTER
Steve's Goods infuses their CBD with terpenes from the Gorilla cannabis plant. Terpenes are oils from plants that give off the smells. Have you ever walk in the home of a smoker and get the whiff of some nice marijuana? That aroma comes from the terpenes. Adding terpenes to concentrates, like shatter, will give it a nice flavor profile. Steve's Goods recommends "dabbing" because you get a better taste and smell of the terpenes. Terpenes also interact with your brain and can increase dopamine activity, which is a "happy" hormone. All plants have terpenes, not just cannabis. A lot of flavors in food and drinks are added fruit terpenes.
---
STEVE'S GOODS TERPIN GORILLA CBD SHATTER (1 G) Rating Breakdown
we validate our ratings that show as gradings from 0-100
PRESENTATION – 100
Beautiful crystals inside a cute, small glass container.
RELIABILITY – 100
Works every time!
QUALITY – 100
All-natural and effective ingredients.
FLAVOR / SMELL / or EASE OF USE – 100
Earthy.
VALUE – 100
Reasonably priced for such high-quality shatter.
---
How the STEVE'S GOODS TERPIN GORILLA CBD SHATTER (1 G) Stacks Up Against the Competition
Steve's Goods makes some of the purest and potent CBD products that I've tried. You can't beat the taste, and they are never overpriced like a lot of other CBD products on the market, which can taste terrible and cost an arm and a leg. The Terpin Gorilla CBD Shatter is no different. I looked online for other CBD shatter and found out that Steve's Goods is always priced below average. I prefer other types of smoking products, like the simplicity of a vape pen or an inhaler, versus shatter because I don't normally dab or smoke flower. But if you're a concentrate person, this is the product for you. For me, it's great for a special occasion, like getting three MRIs in one day.
Saving Money With Steves Goods Coupons
Save money on all CBD Concentrates, CBD Shatter here at Save On Cannabis the World's largest online cannabis coupon code directory.
---
Disclosure: I received these products gratis so that I could try them and then share my honest opinion with the SOC community. I am employed by Save on Cannabis to write honest reviews and provided a flat rate payment for the writing of the review. SOC may receive recurring affiliate payments for purchases made based on this content.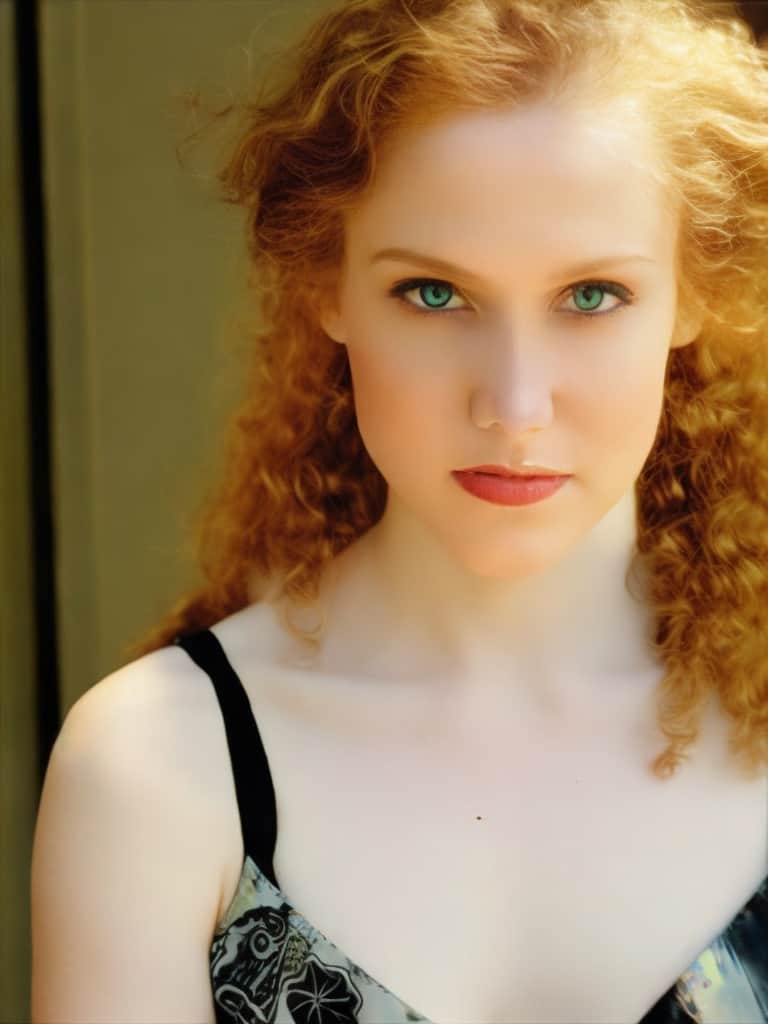 A medicinal cannabis user, utilizing the power of the plant to ease the pains and stresses from long standing conditions that other over the counter or prescriptions could not fix or weren't a natural option like cannabis.  Also, has a background in working directly in the cannabis industry in California within various dispensaries.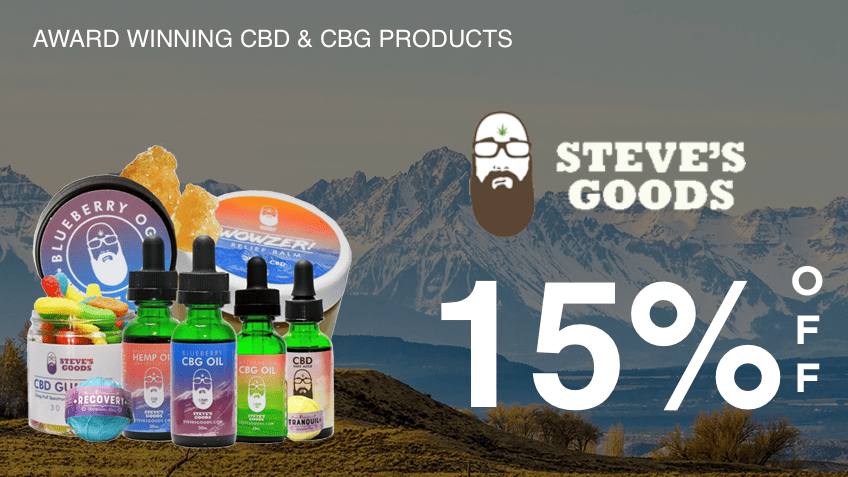 15% OFF CBD shatter with terpenes and more at Steve's Goods! Also get Delta 8 products now. USA Shipping.
Read in our Joy Organics review of the 500mg if this CBD Salve brings joy to our reviewers aching body and more sleep.
Can CBD not only be helpful but also a delicious treat? Our reviewer tests out the Soul CBD Gummies in their raspberry flavor.
Our reviewer is very experienced with CBD topicals & desperately can use a great moisturizer. See if the Aspen Green Moisturizing CBD butter works.