CBD Review: Alive & Kicking CBD Hemp Pre-Rolls
Jul 2, 2020 | SOC
CBDCBD Cigarettes & Pre Rolled JointsCBD Flowers
Alive & Kicking CBD Hemp Pre-Rolls
Pros
Freshly ground whole flower
Medium level CBD potency
Cotton filter for smooth smoke
Great packaging
Clear and helpful labeling
Nice smell when opening up the pack
Cons
No lab tests on terpene content or chemicals
Can't choose CBD strain of choice when ordering
Not the best tasting
Alive & Kicking CBD Hemp Pre-Rolls
Product Review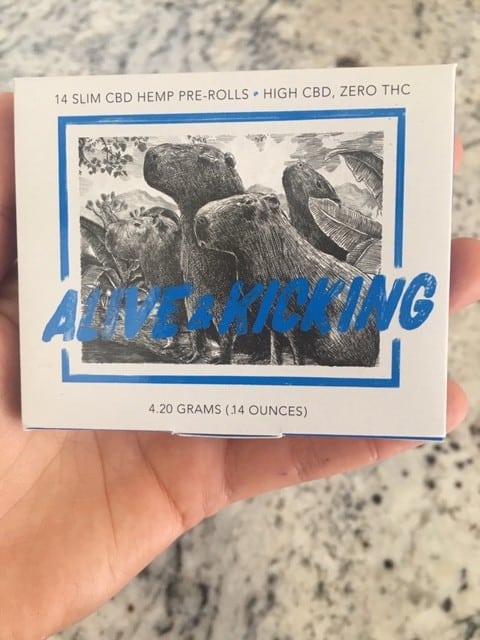 Brand Overview: Alive & Kicking
Alive & Kicking is a fairly new company that creates CBD hemp pre-rolls. They're based in Long Beach, California, and ship their products to all 50 states in the U.S. At this time, they don't offer international shipping.There's not much information about the company online (website or IG page), so we're not sure who the founders are or what the mission statement is. Also, it was hard to tell where the company sources its hemp, but it appears they source it within the United States.
Furthermore, Alive & Kicking says it partners with farms that use Korean Natural Farming feeds. This is a holistic approach to farming that uses indigenous biology to regenerate the soil where the plants grow. It also improves the ecosystem. As of the date of this writing, Alive & Kicking only carries hemp pre-rolls in a single pack with 14 slim pre-rolls or a 5-pack that provides 70 slim CBD pre-rolls in total.
Products: Pre-rolls
Price Range ($-$$$$): $$
---
About Alive & Kicking CBD Hemp Pre-Rolls
These slim hemp pre-rolls are made with one of three types of CBD strains — Kush Hemp, Super Lemon Haze, or Frosted Kush. The company uses the whole flower in these pre-rolls, never trim or shake. The flower is ground up and added to the ultra-slim, cigarette-style tubes that include a cotton filter. Third-party lab tests confirm the CBD percentage on the package, which in my single pack was 15.9%.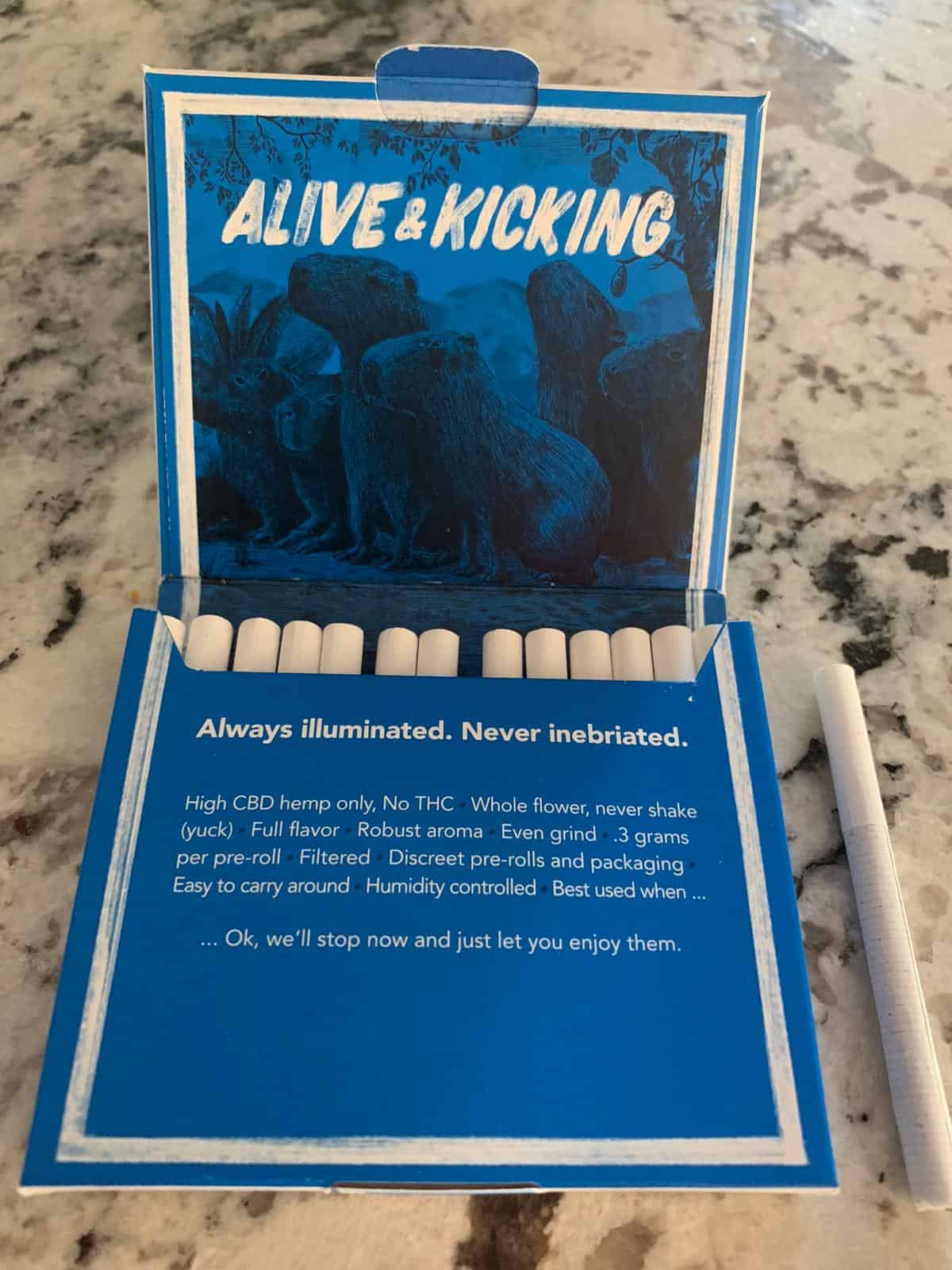 The purpose of these pre-rolls is to get a fast-acting dose of CBD via inhalation. Given the portability of the pack, you can take them wherever you go. And with only 0.3 grams of flower per pre-roll, it's the perfect amount to smoke in a single session or over two sessions.
Alive & Kicking CBD Hemp Pre-Rolls Specifications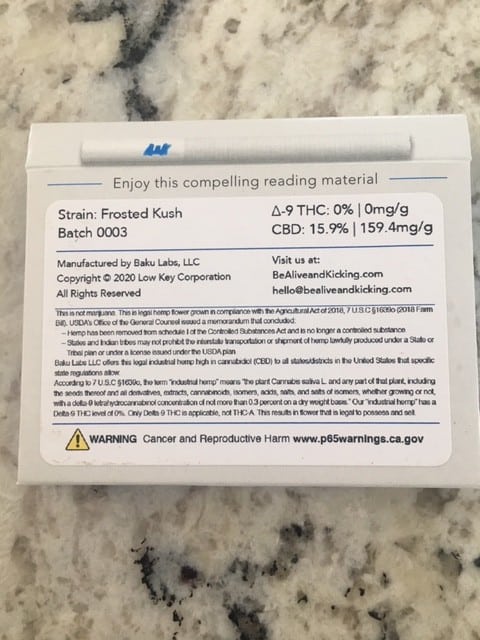 High CBD: 15.9%
Frosted Kush hemp strain
14 slim pre-rolls
Whole flower, never shake
Robust aroma
Even grind
Filtered
No tobacco/nicotine/Delta-9 THC
Easy to carry around
Humidity controlled
---
How We Tested the Alive & Kicking CBD Hemp Pre-Rolls
Before writing this review, I smoked three of these hemp pre-rolls over a three day period. The strain I sampled was Frosted Kush at 15.9% CBD. I smoked them at different points during the day, taking a few hits in the morning, and in the afternoon. At night when I was ready to wind down, I smoked about half the joint.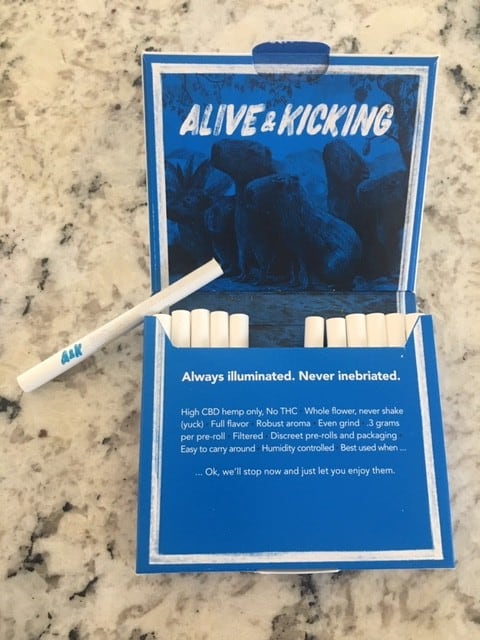 ---
How the Alive & Kicking CBD Hemp Pre-Rolls Worked for Me
The reasons I love CBD include the relaxation factor, quieting of my mind, helping me focus while I work (from home), and getting a great night's sleep. So, before smoking these pre-rolls I was hoping for one of or all of the above. Also, I wanted them to taste and smell good. After all, that's a huge perk of smoking hemp flower.
My first pre-roll smelled and tasted great. And I felt relaxed and happy. The second pre-roll didn't taste as good, but the effects were still on par with the first joint. With the third joint, the taste was almost ashy, even though the smell was wonderful and strong. This strain has fruity and sweet notes with undertones of citrus. So, I guess I was disappointed that the taste wasn't as lovely as the smell. Maybe it has to do with the type of paper used. I'm not totally sure.
In any case, each smoking session brought on nice effects. It's a relaxing strain that made me feel at ease and peaceful.
---
Useful and Unique Things to Know About The Alive & Kicking CBD Hemp Pre-Rolls
Alive & Kicking CBD Hemp Pre-Rolls are wrapped in a slim cigarette-like paper with a cotton filter. It holds 0.3 grams of hemp flower that comes directly from the buds, not the trim or shake. The style and size make it simple to smoke and is very smooth thanks to the filter. You don't get the same throat hit or burn that you might get from other pre-rolls, so that's a big advantage.
Also, many other pre-rolls contain 0.5 to 1.5 grams of flower which might be too much for some people to smoke at once. So, instead of making big pre-rolls, the company went down the single-use route.
Lastly, the fact that Alive & Kicking sources its hemp flower from farmers that utilize Korean Natural Farming practices is a very unique feature.
---
Alive & Kicking CBD Hemp Pre-Rolls Ratings
In the next sections gradings from 0-100 on our review, these grades add up to give the product's overall score.
PRESENTATION • 100
Awesome packaging along with detailed and helpful labeling.
RELIABILITY • 100
Every pre-roll is the exact same size.
QUALITY • 100
Amazing flower quality, fresh and finely ground.
FLAVOR / SMELL / or EASE OF USE • 80
The smell was incredible, but the taste didn't match up.
VALUE • 90
Good price to value ratio.
---
PROS of the Alive & Kicking CBD Hemp Pre-Rolls
These hemp pre-rolls have many pros. The main ones include the use of fresh, whole ground flower, medium levels of CBD, a cotton filter for a smoother smoke, the great packaging, and ease of use.
---
CONS of the Alive & Kicking CBD Hemp Pre-Rolls
The company advertises these pre-rolls as terpene-rich products. Based on the aroma, we can tell there are terpenes. But, it would be nice to see a terpene analysis by a third-party lab so we'd know which terpenes are present and at what concentrations.
Also, the other con is that you can't choose the specific strain you want while adding the product to your shopping cart. Alive & Kicking is a small company, so maybe they can only provide what's fresh and on hand, which we understand.
---
How Alive & Kicking CBD Hemp Pre-Rolls Stack Up Against the Competition
The CBD hemp pre-roll competition isn't quite as strong as the competition amongst CBD oils. But, it's growing.
Since Alive & Kicking focuses on hemp pre-rolls and nothing else, we think they've done a good job overall. It appears they've carefully calculated each decision to produce a great product. Compared to the competition, these slim hemp CBD pre-rolls are priced fairly, have an excellent filter, great container, and good-quality flower.
---
Saving Money with Our Verified Alive & Kicking Coupons
Save money by using our verified CBD Pre-Rolled Joints here at Save On Cannabis the World's largest online cannabis coupon code directory.
---
Disclosure: I received these products gratis so that I could try them and then share my honest opinion with the SOC community. I am employed by Save on Cannabis to write honest reviews and provided a flat rate payment for the writing of the review. SOC may receive recurring affiliate payments for purchases made based on this content.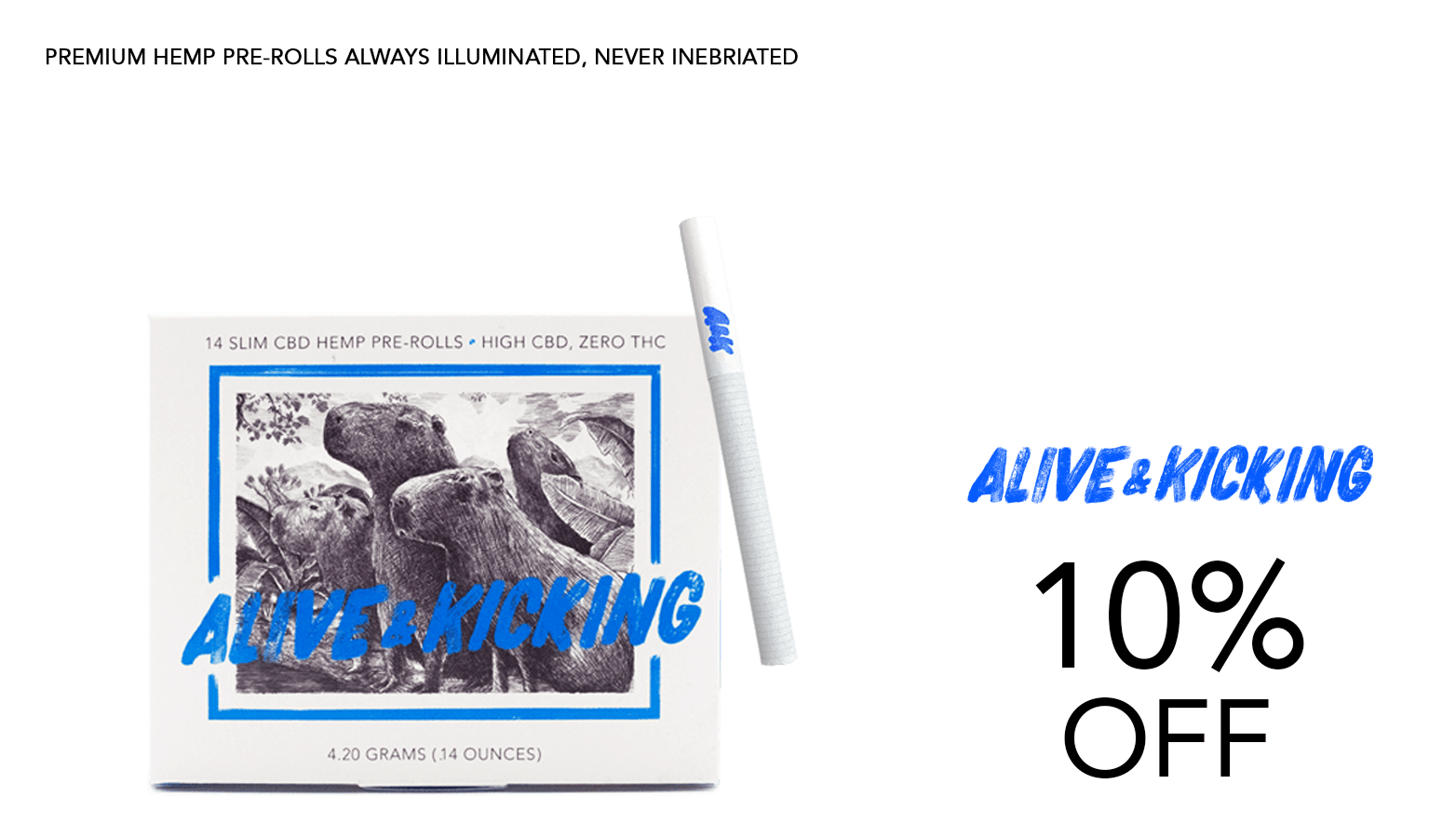 10% OFF site wide at Alive & Kicking coupon! Premium pre-rolls always illuminated, never inebriated.
Veritas Farms review of their unflavored 500mg CBD tincture, see how it fit into our reviewer's daily wellness routine.
In this Reef CBD review we test their CBD sour gummies. See how they deliver results for our expert's pain from surgery. Hands on review with photos.
In this Hemp Bombs review of their CBD Gummies, we see if the taste and results are worth your money. We hope it calms us.