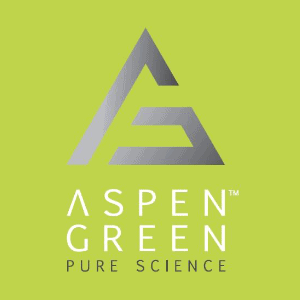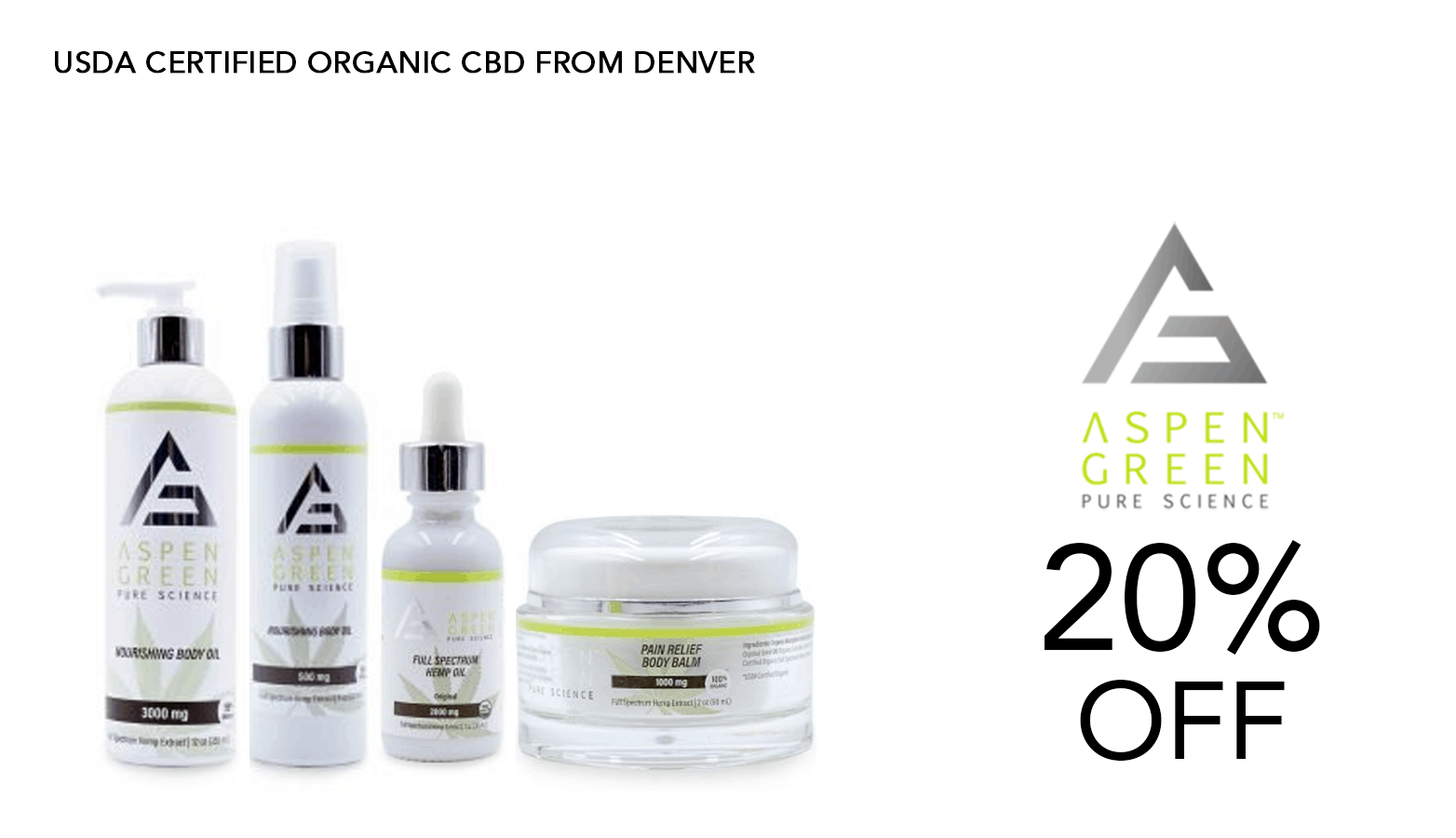 20% OFF site-wide Aspen Green coupon! All users. (Not valid on bulk products or bundles)
Aspen Green Coupon Codes

---
PURITY MATTERS
DOES YOUR HEMP CONTAINING CBD COME WITH A PEDIGREE?
Do you know what to look for when you're ready to choose a Hemp and CBD product to put in or on your body or sell in your store?
Other Hemp and CBD providers cut corners and deliver Hemp and CBD marred by contaminants and subpar processing. Check out the pure facts about Aspen Green and see why other Hemp and CBD products can't compare.
---
OUR HEMP & CBD ARE CERTIFIED USDA ORGANIC
All Hemp in Aspen Green's entire product line is 100% Certified USDA Organic
We use only Full Spectrum Hemp Extract (FSHE) from whole Hemp plants grown, harvested, and processed at our farms in Colorado, with strict federal guidelines that govern soil quality, pest and weed control, and additives
All Full Spectrum Hemp Oil tinctures are Certified USDA Organic
All topicals are 98%-100% Organic
---
OUR HEMP IS GROWN IN THE UNITED STATES, FREE OF TOXINS/PESTICIDES
About 70% of U.S. Hemp is from China. "Overseas they use Hemp as cover crops. They use it to purposely suck out the pesticides and heavy metals on soil there so they can plant food crops next." This is what is in most of the Hemp and CBD products sold in the U.S.! Hemp plants from China are inferior and full of contaminants.
---
OUR HEMP IS GROWN IN THE OPTIMAL CLIMATE AND TOPOGRAPHY OF COLORADO
They say Colorado is to Hemp what Napa Valley is to wine. It has the perfect topography and semi-arid climate Hemp loves. Hemp from Oregon, Kentucky, and other states has issues with mold due to dampness and humidity. All of our Hemp is harvested on Certified USDA Organic farmsin Colorado, USA, where the sun is bright and the growing season humidity hovers in the ideal 50%-55% range.
---
OUR HEMP IS MADE WITH FULL SPECTRUM HEMP EXTRACT, NOT FILTERED DOWN TO DISTILLATE OR CBD ISOLATE
Numerous studies have shown an increase in health benefits when Hemp and CBD are administered in a "full spectrum" or "whole plant" extract. There is a "symphonic" relationship between CBD and the other active compounds in Hemp (often referred to as the "Entourage Effect"). Hemp distillates and CBD isolates are cheaper, focused on the bottom line as opposed the best product. They losethe "Entourage Effect" because they've been stripped of beneficial phytocannabinoids and terpenes. For example, think about what happens to the nutritional content of vegetables when you throw them in your microwave oven—they lose nutrients.
---
OUR HEMP IS FREE FROM TOXINS, FORMALDEHYDES, PHTHALATES, PARABENS, AND SULFATES
According to tests conducted by Ellipse Analytics that examined 240 top-selling Hemp and CBD products for 300 contaminants—and for truth in labeling—70% of products tested were "highly contaminated" with matter such as heavy metals like lead and arsenic, herbicides, and a host of pesticides, BPA, and toxic mold.
---
OUR PRODUCTS HAVE QR CODES ON THE LABELS AND BOXES TO LINK YOU DIRECTLY TO THE CERTIFICATES OF ANALYSIS
You can use your smart device to scan our QR Code on the box or label of any Aspen Green product to find the link to its applicable third-party lab test. There you can verify how much CBD is in the product. Plus, safety results are available on our website's "Product Info" page, and quality testing certificates by batch are always available at aspengreen.com/COA.
---
Save money now with Aspen Green coupon codes!
---
OUR HEMP HAS EIGHT DIFFERENT LAB TESTS (CANNABINOIDS, TERPENES, PESTICIDES, HEAVY METALS, BACTERIA-YEAST-MOLD, AND E COLI AND SALMONELLA, VOC RESIDUAL SOLVENTS, AND MYCOTOXIN (AFLATOXIN))
Your confidence matters, so we go to great lengths to verify the contents and purity of products. Our third-party Certificates of Analysis (COAs) confirm:
Each product is correctly labeled.
The amount of CBD listed on each package matches the amount of CBD inside the package.
Aspen Green Hemp & CBD are made to the highest standards of purity. The phytocannabinoid counts and terpenes are retained in each batch, and we test for pesticides, heavy metals, bacteria, yeast, mold, and E coli and salmonella.
If your Hemp and CBD products are less than well tested, now is a good time to find out why.
---
---
---
OUR STORY
MISSION STATEMENT
ASPEN GREEN is deeply committed to the science of providing only the purest, full-spectrum hemp and CBD products for the best results and most beneficial experience.
Our mission is to bring the medicinal value of pure, organic, full-spectrum hemp and CBD to good people who seek supplemental relief from ailments, discomfort, and unease through the use of healthy, natural products.
We hold in high regard 3 foundational principles that guide every aspect of our business, actions, and interactions with our customers, partners, and the community: QUALITY, INTEGRITY, and TRANSPARENCY. These will always remain at the heart of our efforts to bring our beneficial products to you.
---
WHY ARE WE ADAMANT ABOUT QUALITY?
We care about the products we create because we care about the people who put their trust in our products to help improve their health and wellness.
We see many companies that sell CBD and hemp products who won't tell you where or how their hemp is grown. Origin, harvesting, extraction methods, purity, quality, strength, spectrum, and certifications are not treated by all companies as important. Some even import their hemp from China as a cheap way to jump on the CBD bandwagon. Some cut corners. Some play loose with the truth.
The ASPEN GREEN partners are fully involved in the creation and delivery of every product we offer, from seed to soil to harvest, extraction, formulations, and packaging. We've taken care to build strong partnerships with the best farms in Colorado, because the Colorado Rocky Mountains are a premier region with the perfect topography and climate for growing the finest quality, phytonutrient-rich hemp and cannabis.
Our hemp plants are grown organically under strict, clean farming conditions
Our purity experts extract, filter, and process our hemp to meet stringent standards of purity
Full-spectrum extraction ensures that beneficial vitamins, minerals, alkaloids, terpenes, and flavonoids are captured in every bottle and jar
Every product we make is free of toxins, which means it is free of ingredients suspected to have short- or long-term negative effects on the health and safety of users or on the environment
Our products are tested by third-party laboratories to ensure the phytocannabinoid counts are accurate so you know the product IN the package is the product ON the package
We do these things because we truly wish to eliminate the stigma from this awesome medicinal plant, and separate our carefully crafted, high-performing wellness products from those that go untested, lack certification, or deliver less than full-spectrum goodness.
---
Get the best Aspen Green coupon codes and more at the world's largest online cannabis coupon code directory.
Visit Aspen Greenfor more!
People who shop Aspen Green also like these stores