CBD Review: Aspen Green Full Spectrum CBD Oil 500 mg
Jul 14, 2020 | SOC
Aspen Green Full Spectrum CBD Oil - 500 MG
Pros
All-natural
Organic
Effective
Potent
Cons
Hempy flavor
Slightly expensive
ASPEN GREEN FULL SPECTRUM HEMP OIL – 500 MG
Product Review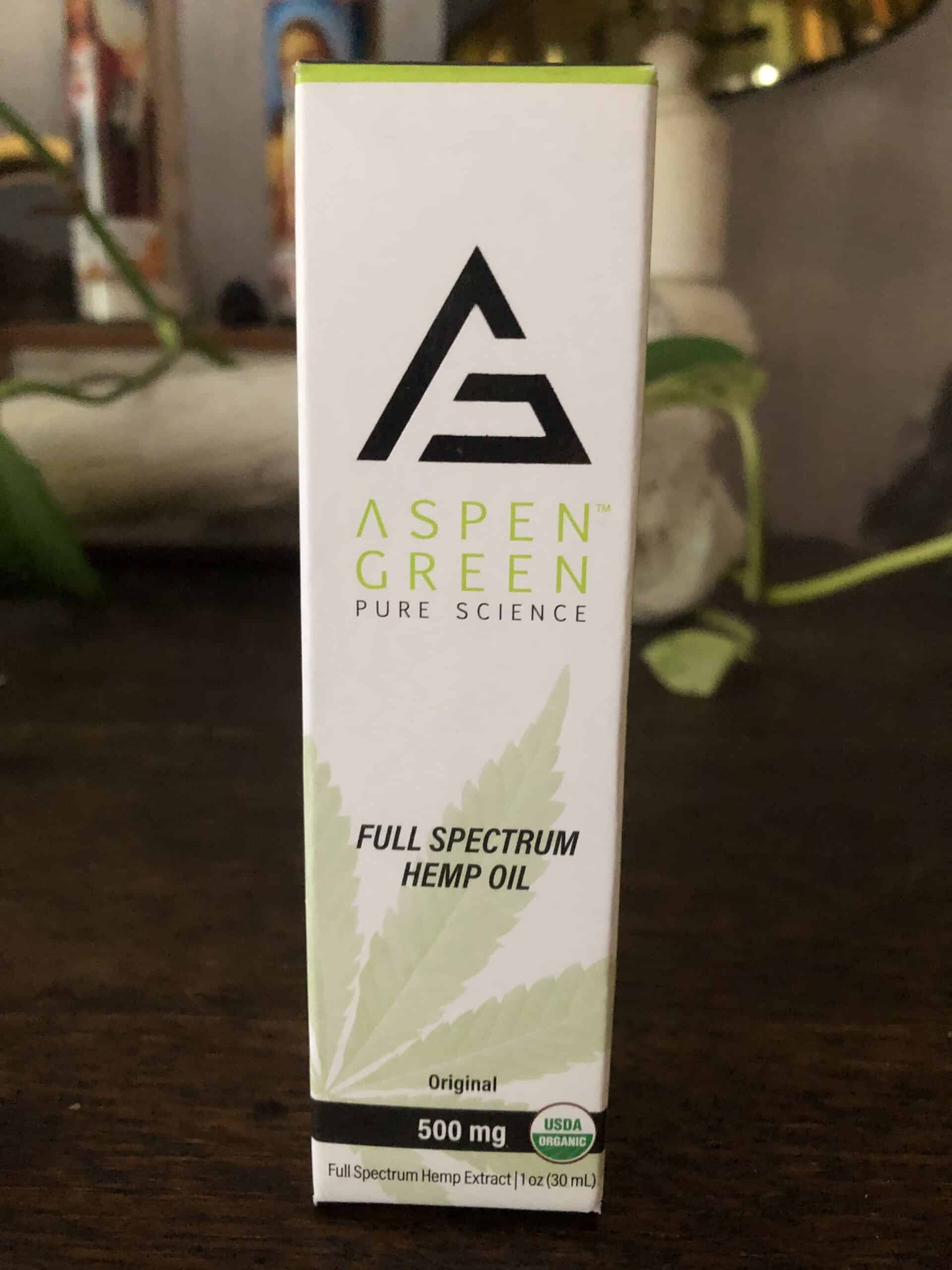 Brand Overview: ASPEN GREEN
Aspen Green uses full-spectrum hemp to create the purest and most potent CBD products on the market. Their products are great for people looking for extra relief from various ailments through natural and non-addictive supplements. Aspen Green was founded on the principles of quality, integrity, and transparency.The company uses organic hemp from the most trustworthy farms in Colorado to ensure that the stuff they put in their products is high-quality from the seeding process to delivery.
Because they use full-spectrum hemp, their products still maintain all the naturally occurring vitamins, minerals, alkaloids, terpenes, and flavanoids for a complete CBD experience.
Products: Full-Spectrum Hemp Oils, Topicals.
Price Range ($-$$$$): $$$
---
About ASPEN GREEN FULL SPECTRUM HEMP OIL – 500 MG
Aspen Green makes their full-spectrum hemp oil in a variety of strengths, from 500 mg to 3,000 mg. Today, I will be reviewing their lowest potency oil which contains 500 mg of phytonutrient-rich whole hemp plant extracts, including 300 mg of cannabidiol, or CBD. Each bottle contains 30 servings, and each serving contains 16.7 mg of hemp extract, of which 10 mg is CBD.This tincture contains less than 0.3% THC, the psychoactive component of the cannabis plant, meaning it won't get you high.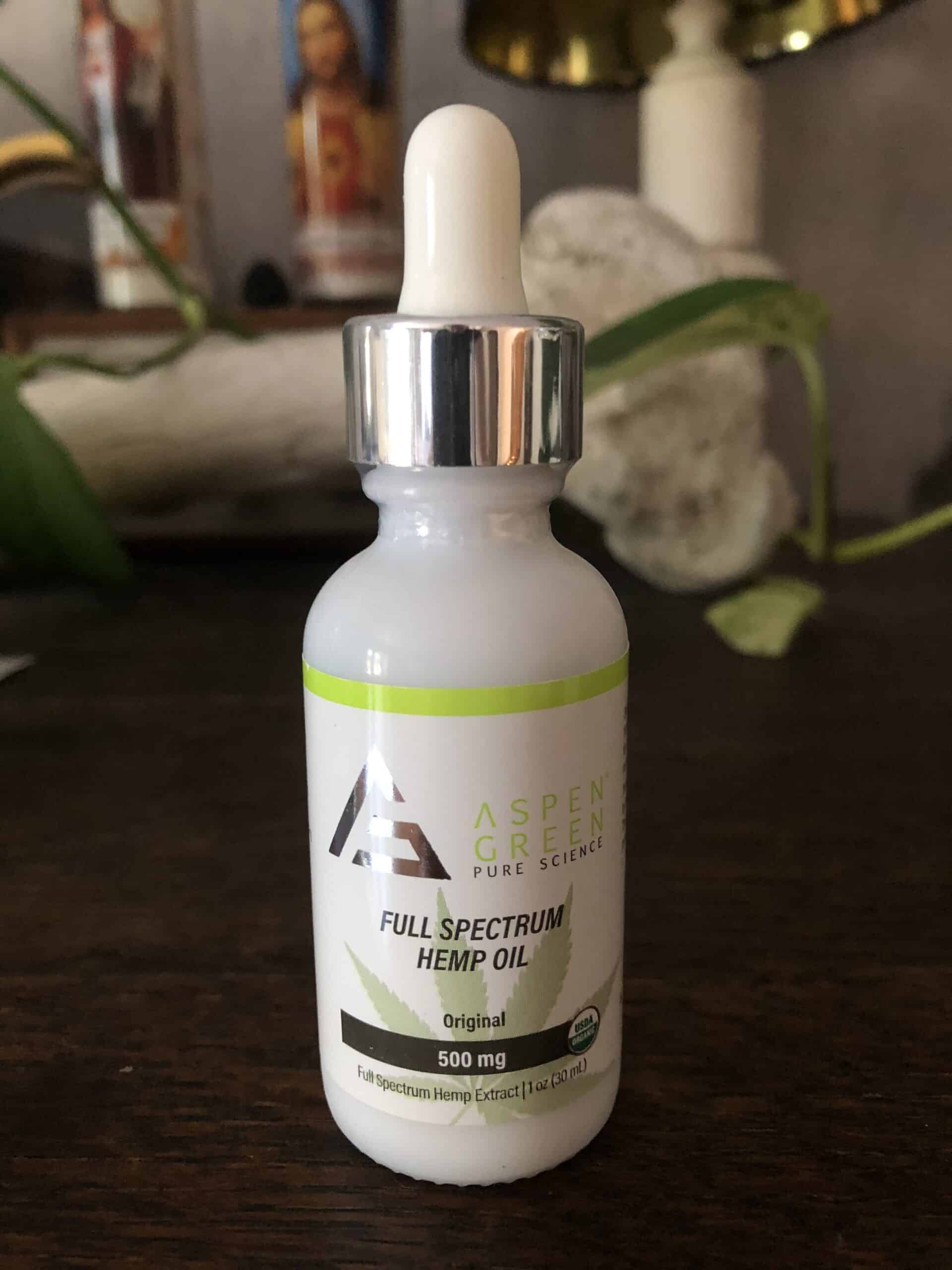 Aspen Green recommends taking 1 – 3 droppers of this hemp oil no more than 3 times daily. For best results, hold the liquid under your tongue for thirty seconds, then swallow.
---
ASPEN GREEN FULL SPECTRUM HEMP OIL – 500 MG Specifications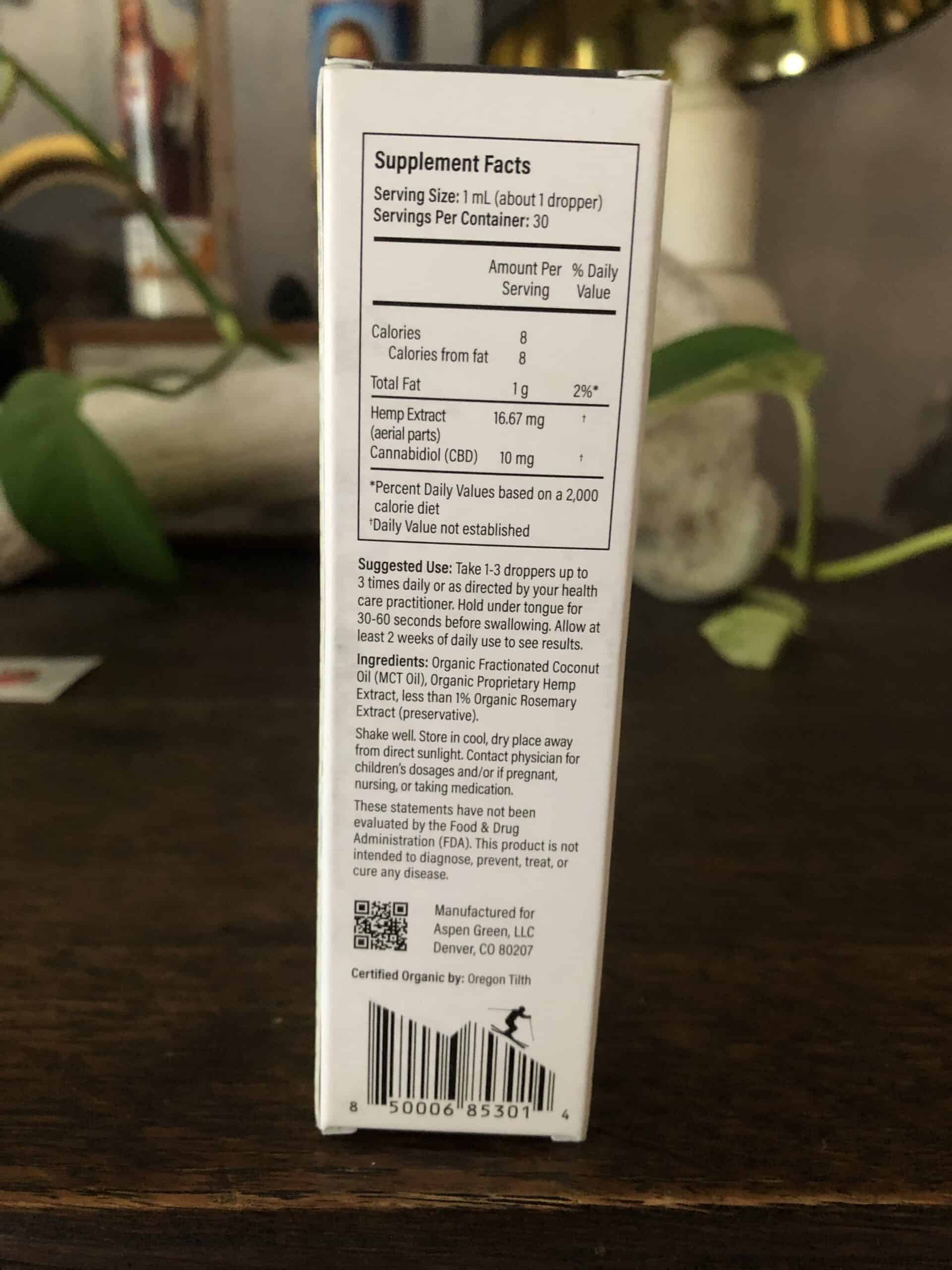 500 mg full-spectrum hemp oil per bottle
16.67 mg cannabidiol (CBD) per serving
30 servings per bottle
1 dropper per serving
1 oz (30 ml)
Ingredients:Organic Fractionated Coconut Oil (MCT Oil), Organic Proprietary Hemp Extract, less than 1% Organic Rosemary Extract (preservative).
---
How We Tested the ASPEN GREEN FULL SPECTRUM HEMP OIL – 500 MG
There are so many things to be anxious out about right now, from paying my bills to COVID-19 to missing my sister. Sometimes, it can feel like a lot. The more stress I feel, the more my brain gets foggy, and the less productive I am throughout the day. CBD can help alleviate stress, anxiety, and help with focus, so I was eager to try Aspen Green's hemp oil tincture. For a few days, I took 1 serving in the morning for a total of 16.7 mg of full-spectrum hemp oil, then another serving at lunch, and again before bed. My hope was the CBD would help take the edge off my stress so I could focus and get more done.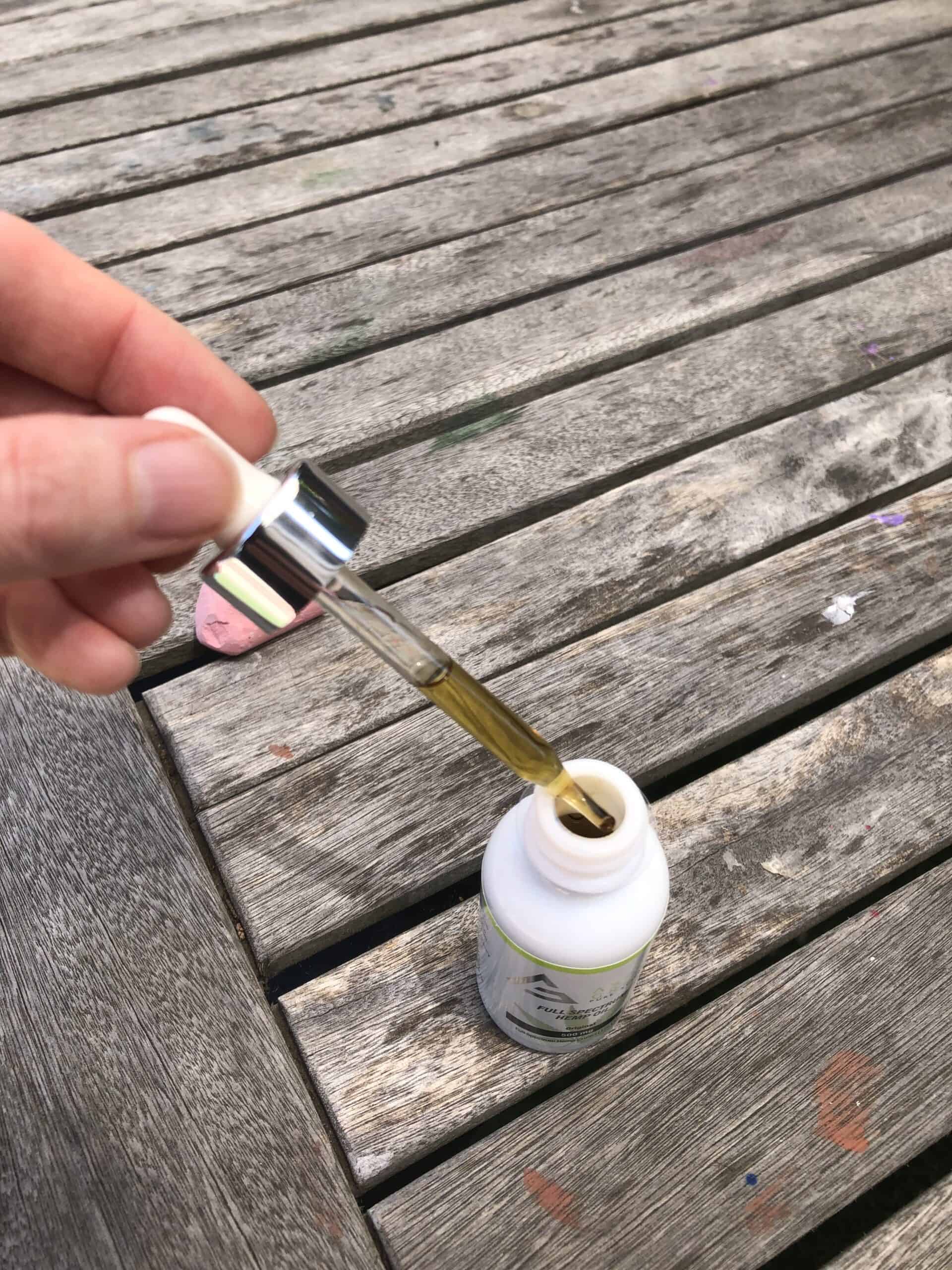 ---
How the ASPEN GREEN FULL SPECTRUM HEMP OIL – 500 MG Worked for Me
While I wasn't a huge fan of the flavor of this hemp oil, I found it effective in helping me deal with stress. The oil tasted strongly of hemp, and the bitterness was too much for my tastebuds. I prefer a hemp oil that somehow manages to hide any of the bitter, weedy flavor. That said, about an hour after taking this hemp oil, I felt warmth throughout my body. I didn't feel sleepy, just calm enough to focus through the stress. I had a productive week thanks in part to using this stuff and even slept a little better. Because of the flavor, I don't think I'll be using this tincture again. However, if you don't care about that kind of thing, it's a truly effective and high-quality hemp oil.
---
Useful and Unique Things to Know About ASPEN GREEN FULL SPECTRUM HEMP OIL – 500 MG
Aspen Green Full Spectrum Hemp Oil contains a plethora of terpenes that work in combination with cannabinoids to make you feel better. Bisabolol is great for inflammation. Caryophyllene fights anxiety and depression. Eucalyptol is an anti-inflammatory and contains a bunch of antioxidants. Guaiol is great for arthritis. Humulene supports weight loss and can fight pain. Limonene works against anxiety and depression. Myrcene has anti-inflammatory and sedative qualities. Ocimene helps to improve your breathing. P-Cymene fights inflammation and contains antioxidants. Pinene helps you focus and Terpinolene is great for anxiety and sleep.
---
ASPEN GREEN FULL SPECTRUM HEMP OIL – 500 MG Ratings
In the next sections gradings from 0-100 on our review, these grades add up to give the product's overall score.
PRESENTATION • 100
Informative.
RELIABILITY • 100
Potent and effective.
QUALITY • 100
Organic and natural.
FLAVOR / SMELL / or EASE OF USE • 70
Tastes hempy.
VALUE • 95
Slightly expensive.
---
How ASPEN GREEN FULL SPECTRUM HEMP OIL – 500 MG Stacks Up Against the Competition
This hemp-infused oil from Aspen Green is high-quality and effective. It's the perfect small dose for those new to CBD. Though it's a little more expensive than I'd like to pay, the cost isn't the highest of seen. If Aspen Green wanted to make this tincture more competitive, I recommend lowering the price a bit and finding a way to hide the bitter, hempy flavor.
---
Saving Money with Our Verified ASPEN GREEN Coupons
Save money by using our verified CBD Tinctures here at Save On Cannabis the World's largest online cannabis coupon code directory.
---
Disclosure: I received these products gratis so that I could try them and then share my honest opinion with the SOC community. I am employed by Save on Cannabis to write honest reviews and provided a flat rate payment for the writing of the review. SOC may receive recurring affiliate payments for purchases made based on this content.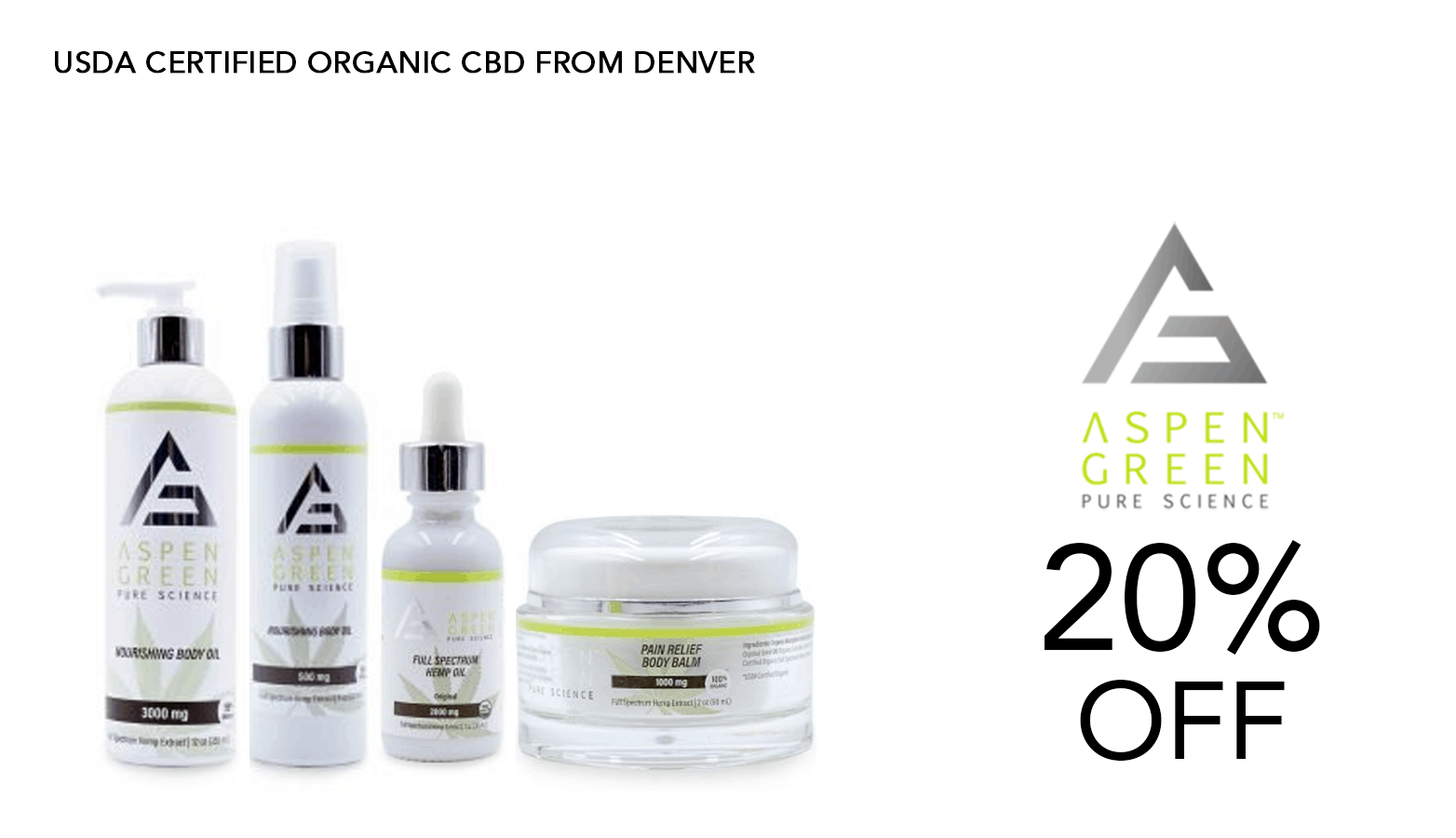 20% OFF site-wide Aspen Green coupon! All users. (Not valid on bulk products or bundles)
We previously tested the Magical CBD tinctures, see now how the pills worked for us. Read our new Magical CBD review of the 600mg CBD pills.
Can a CBD cream help a foot that was run over by a car? See how the Social CBD Foot Renewal Cream worked for our reviewer. She will tell us.
We test another REAKIRO CBD product to see how it worked for our reviewer. See how this vegan CBD product helped anxiety and offer calm.