Steve's Goods Review: CBD/CBG 20:1 OIL 1000MG
Feb 11, 2019 | Romy
CBDCBD TincturesCBGCBG Tinctures
STEVE'S GOODS CBD/CBG 20:1 OIL 1000 MG (BLUEBERRY OG BLAST)
Pros
Calming
Easy to use
Tastes great
High dose per serving
Eases pain
STEVE'S GOODS CBD/CBG 20:1 OIL 1000 MG (BLUEBERRY OG BLAST)
Product Review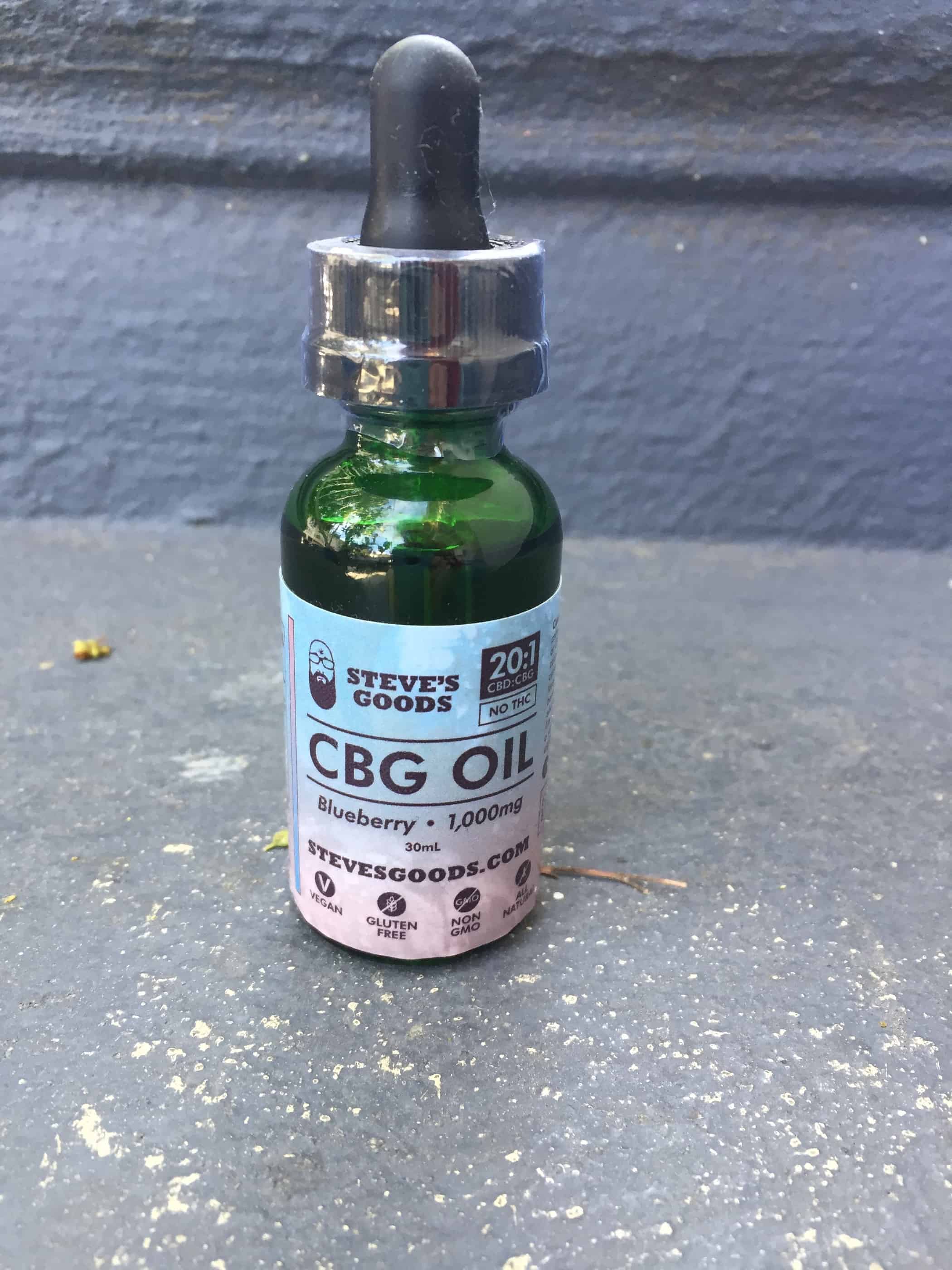 Brand Overview: STEVE'S GOODS
Steve's Goods makes high-quality CBD products grown, extracted, and packaged in Colorado by trusted farmers. This company is one of the only CBD sellers using one of the lesser-known components of the hemp plant, CBG. After years of research, they have found that adding CBD and CBG to your daily routine is a non-psychoactive, natural alternative to opioids. The company also strives to bring superior hemp products to the market at a fair cost.
Products: CBD Tinctures, CBD Concentrates, CBD Vape Oil, Edibles, Bundle Deals, CBD Pet Tinctures, CBD Topicals
Price Range ($-$$$$): $$-$$$$
---
About the STEVE'S GOODS CBD/CBG 20:1 OIL 1000 MG (BLUEBERRY OG BLAST)

Steve's Goods CBD/CBG 20:1 oil combines their Blueberry OG terpene profile with monk fruit to create a legitimately delicious tincture for pain and anxiety relief. This oil contains a high dose of CBG, CBD, CBN, and CBC, making it one of the strongest tinctures in the burgeoning market. Steve always uses the purest of ingredients, including an all-natural blueberry flavoring with no added sugar. This company promises their products are 100% THC free, giving you a non-psychoactive but effective healing experience that won't make you fail any of those pesky drugs tests.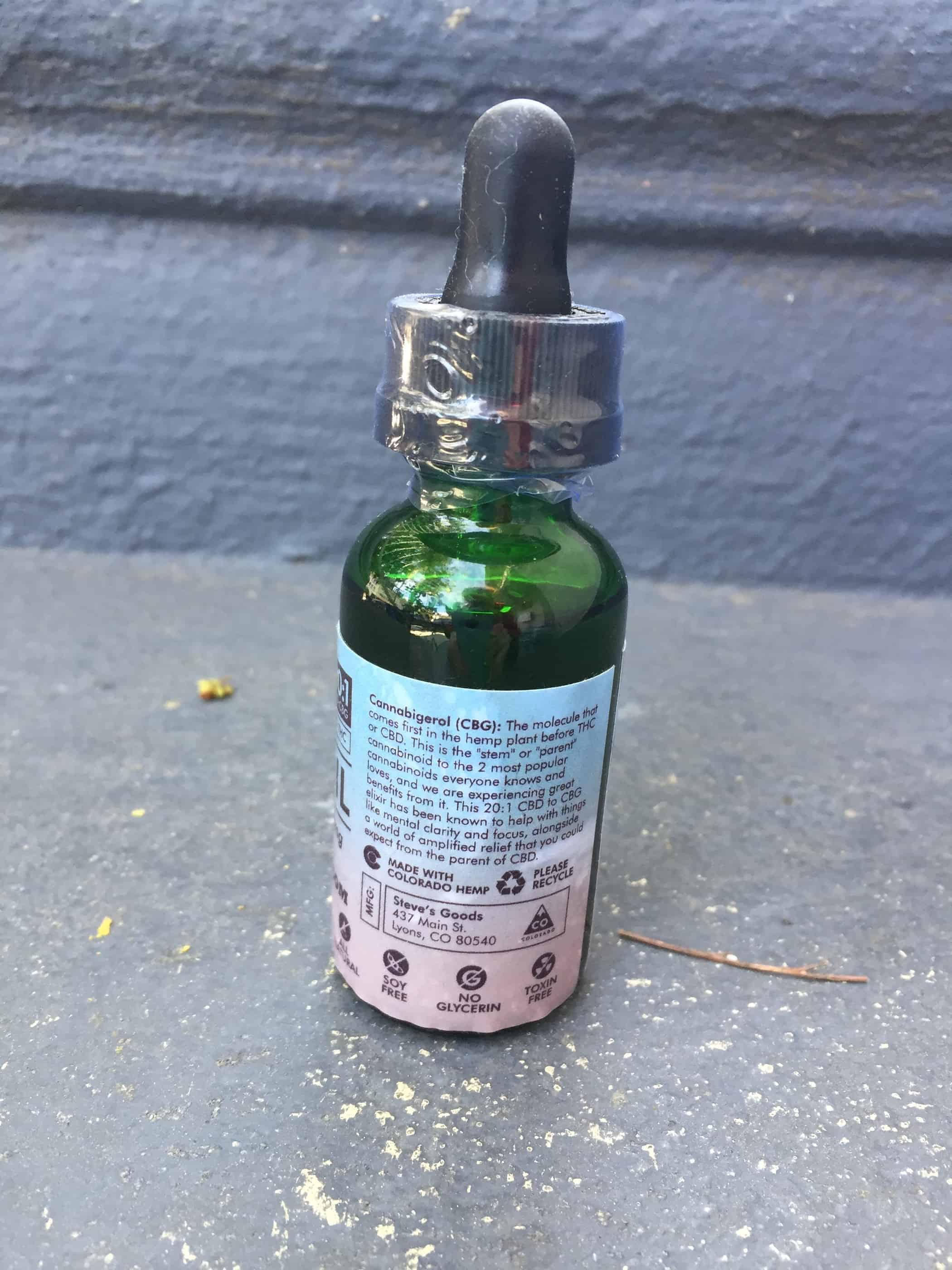 ---
STEVE'S GOODS CBD/CBG 20:1 OIL 1000 MG (BLUEBERRY OG BLAST) Technical Specifications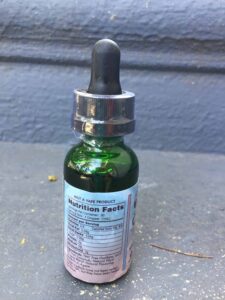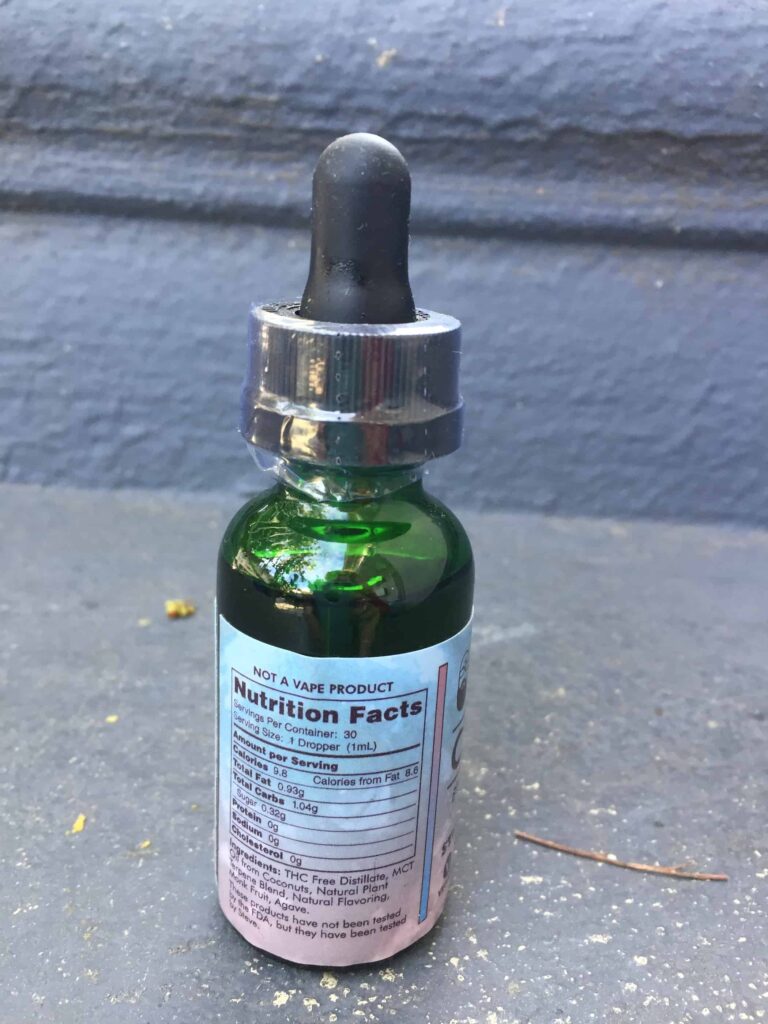 Ingredients: Blueberry OG Terpenes, or Real Hemp Terpenes, MCT Oil, Natural Flavoring, Monk Fruit Agave
1 gram CBD/CBG wax
30 servings/1 ml bottle
1 dropper = 1 serving for about 33.3 mg of the CBD/CBG
---
How We Tested the STEVE'S GOODS CBD/CBG 20:1 OIL 1000 MG (BLUEBERRY OG BLAST)
In the last couple of months, I've discovered through my team of medical specialists that my chronic pain and limited mobility isn't going to get better, but with physical therapy and the proper pain plan, I might not get worse. It's been, to say the very least, kind of a bummer. When I went on medical leave from my job, I hoped I'd be going back. Nope. I'll be working from home, probably for the rest of my life. It's been stressful looking for work I can do from home. But what's more stressful has been the nightmare of dealing with getting on disability. In particular, it's stressful dealing with the woman at my surgeon's office who is in charge of doing my paperwork because, well, she doesn't do it. And when she does do the paperwork, it's either six weeks late or she's made an error. I've spent months not receiving payments I legitimately need all because one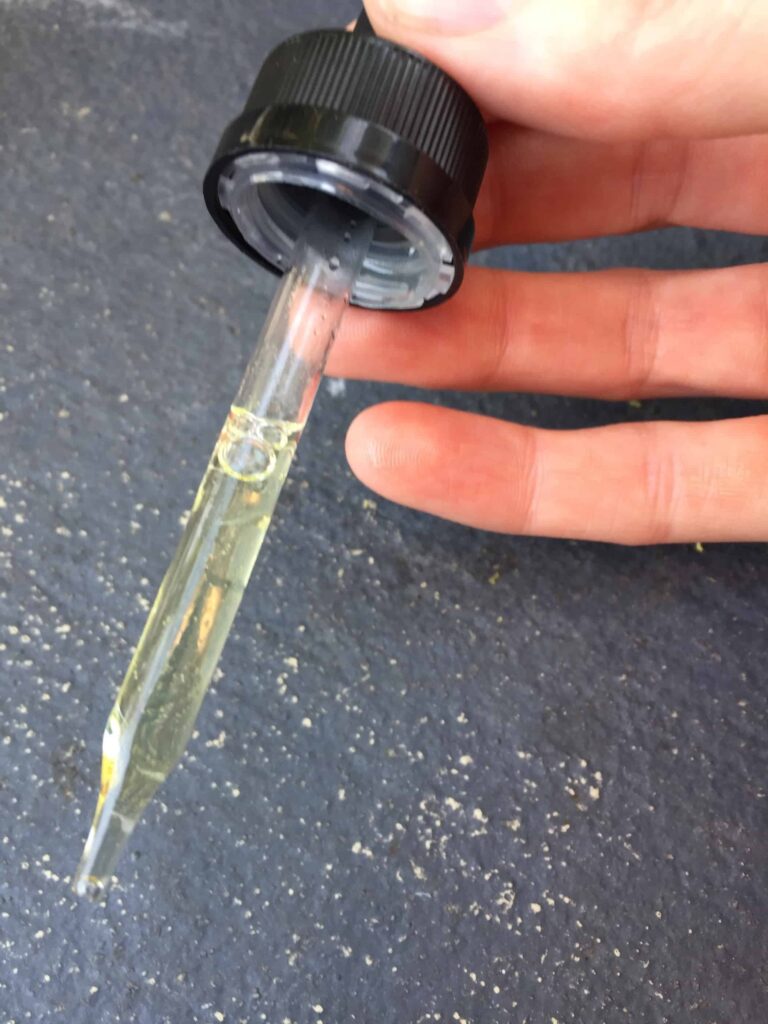 person has a terrible work ethic. After emailing and calling to remind her to turn in the paperwork and getting no response, I felt like I was going to tear my hair out. I'm getting a stress headache just writing about it. CBD products have been a godsend in offering me stress relief when I'm about to lose it. I tested out Steve's Goods CBD/CBG blueberry tincture for a week to help me, well, just deal. The directions are easy. Put a dropper-full under or over your tongue, or in a fruit smoothie, and let the healing begin.
How the STEVE'S GOODS CBD/CBG 20:1 OIL 1000 MG (BLUEBERRY OG BLAST) Worked for Me
I enjoyed Steve's Goods watermelon flavored tincture, so I had high hopes for the blueberry variety. It did not disappoint. Each serving contains over 30 mg of the CBD/CBG combo which is a good strong dose for someone who deals with high pain and stress. Pain and stress make it difficult to think straight when faced with a situation that needs problem-solving. I knew I needed to get my disability payment, but all my methods to communicate with this woman had gone unanswered. The Monday came where I knew I had to deal with this lady once and for all. With the aid of this tincture, I felt calm enough to sit down and take some time to think about the easiest and most efficient way to get a woman who had been ignoring me for weeks to do something for me I knew she didn't want to do. I waited for the warm, calming effect of the tincture to take over and with a head clear of stress, I thought of a reasonable solution to getting my disability paperwork done quickly and correctly. I emailed her boss. Within hours, the lady who had ignored me for weeks had turned in the paperwork for my disability payments. I'm grateful for this tincture for helping me get to a calm enough place to find an effective solution to my problem.
Useful and Unique Things to Know About STEVE'S GOODS CBD/CBG 20:1 OIL 1000 MG (BLUEBERRY OG BLAST)
What are Blueberry OG terpenes, you might be wondering? Terpenes are the organic compounds that help create the smell in plants, including cannabis. These compounds are what make the "flavors" in marijuana. The Blueberry OG flower contains more CBD than your average bud. My 80-year-old uncle swears by Blueberry OG for his osteoarthritis. And now I swear by Steve's Goods Blueberry OG Blast CBD tincture for some yummy tasting stress relief.
STEVE'S GOODS CBD/CBG 20:1 OIL 1000 MG Rating Breakdown
Gradings from 0-100 on our review.
PRESENTATION – 100
Fun and informative.
RELIABILITY – 100
Works as needed to calm the mind.
QUALITY – 100
All-natural ingredients.
FLAVOR / SMELL / or EASE OF USE – 100
This is one of the yummiest tinctures I've tried.
VALUE – 90
Not as expensive as others, but also not as cheap
---
How the STEVE'S GOODS CBD/CBG 20:1 OIL 1000 MG (BLUEBERRY BLAST) Stacks Up Against the Competition

If the taste of your CBD tincture is important to you, nobody does flavor better than Steve. A lot of tinctures come with an unpleasant herbal or medicine-y taste that ruins any juice or smoothie you put it in. Steve's Goods oils are delightful because they're almost tasteless with just a hint of fruit. Steve's Goods Blueberry OG Blast tincture ranks as one of my all-time favorites when it comes to taste.
Saving Money With
Steve's Goods
Coupons
Save money on all CBD Tincture,CBG Tincture here at Save On Cannabis the World's largest online cannabis coupon code directory.
---
Disclosure: I received these products gratis so that I could try them and then share my honest opinion with the SOC community. I am employed by Save on Cannabis to write honest reviews and provided a flat rate payment for the writing of the review. SOC may receive recurring affiliate payments for purchases made based on this content.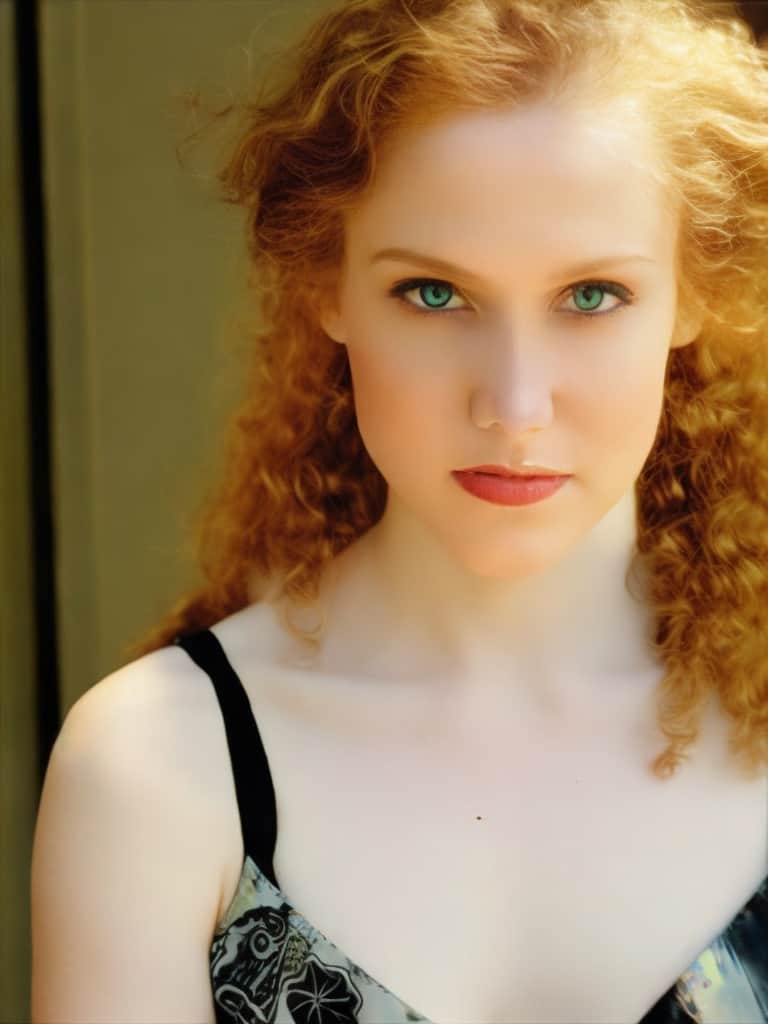 A medicinal cannabis user, utilizing the power of the plant to ease the pains and stresses from long standing conditions that other over the counter or prescriptions could not fix or weren't a natural option like cannabis.  Also, has a background in working directly in the cannabis industry in California within various dispensaries.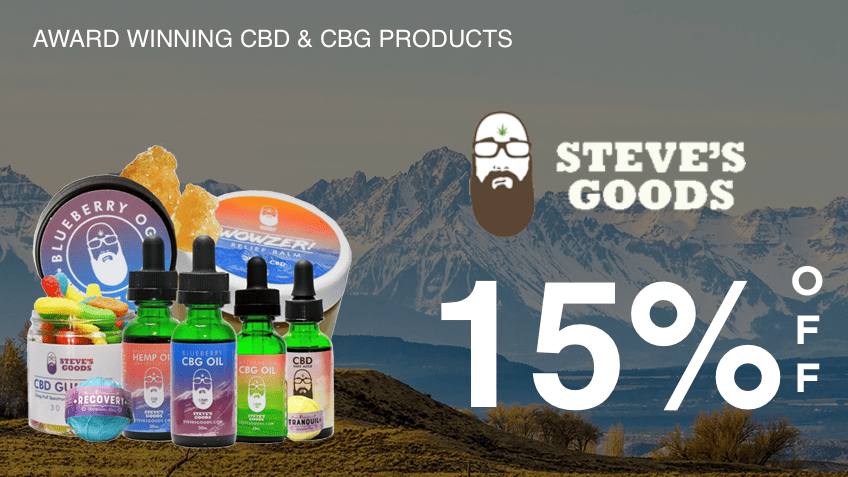 15% OFF CBD shatter with terpenes and more at Steve's Goods! Also get Delta 8 products now. USA Shipping.
We vaped the Blue Moon CBD Shatter as provided by Pure CBD Vapors to see how it worked. Read our experience with this CBD concentrate.
Keefer is dead set on upping your dabbing and smoking game with their luxury dabbing and scraping tools, read our Keefer Scraper review.
This Davinci IQ2 Carbon Limited Edition review is one of the first to hit the internet, we got early delivery to test. We go deep with photos.