Calm by Wellness Review: Peppermint CBD 1,000mg Hemp Oil
Aug 17, 2019 | Romy
Peppermint CBD Hemp Extract
Pros
Tastes great!
Helps sleep
Relaxing
Eases anxiety
Vegan and organic
Cons
Slightly more expensive than other tinctures
CALM BY WELLNESS HEMP CBD OIL TINCTURE – PEPPERMINT – 1,000 MG
Product Review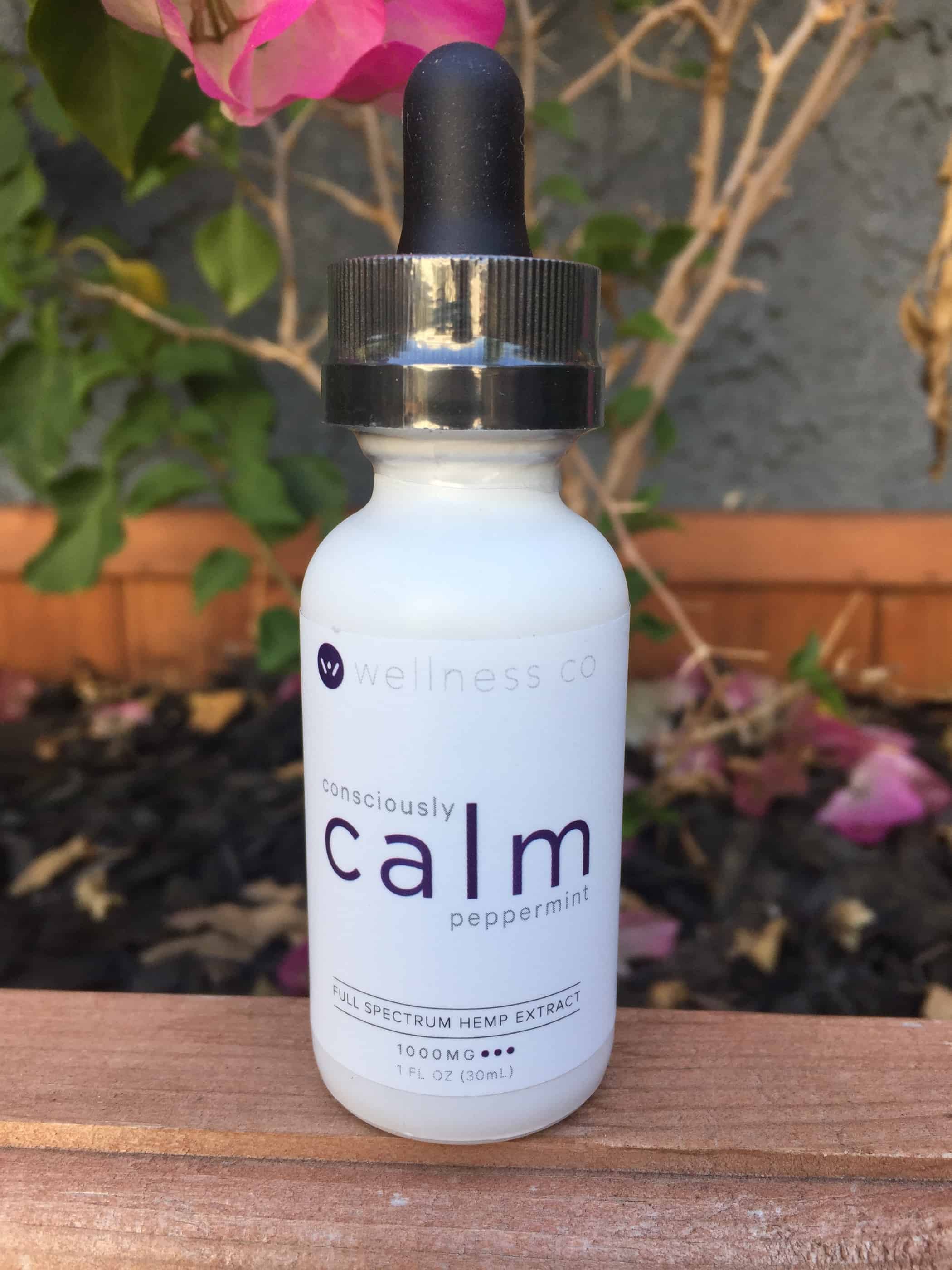 Brand Overview: CALM BY WELLNESS
Calm by Wellness brings award-winning CBD products right to your door. Boasting one of the largest facilities in the world for growing hemp and extracting CBD, Calm by Wellness prides itself on its top-notch team of scientists, researchers, and pharmacists who have put their minds together to create the best flavors and science-backed solutions to ease pain and anxiety. The company uses only the highest quality and organically sourced CBD, which undergoes a CO2 extraction process that retains over eighty cannabinoids and terpenes while removing any toxins. Calm by Wellness' mission is to help you live your happiest and healthiest life with a daily dose of their THC-free CBD products.
Products: Tinctures, Edibles, Topicals, Pet Treats, T-Shirts, Stickers.
Price Range ($-$$$$): $$-$$$$
---
About the CALM BY WELLNESS HEMP CBD OIL TINCTURE – PEPPERMINT – 1,000 MG
Calm by Wellness' peppermint tincture is made with organic broad-spectrum CBD to help relieve pain, anxiety, and can help you get a restful night of sleep. The company has created a deliciously-flavored tincture using organic peppermint essential oils. Infused with 1,000 mg of CBD, this extra-strength formula offers 20 mg per serving, perfect those dealing with higher levels of pain and anxiety. Take half a dropper for a single serving once in the morning and once at night, or more if you're a more experienced user. Calm by Wellness Hemp CBD Oil Tincture is made without THC so it won't get you high. It's made from entirely organic and vegan ingredients and is gluten-free, perfect for the health-conscious.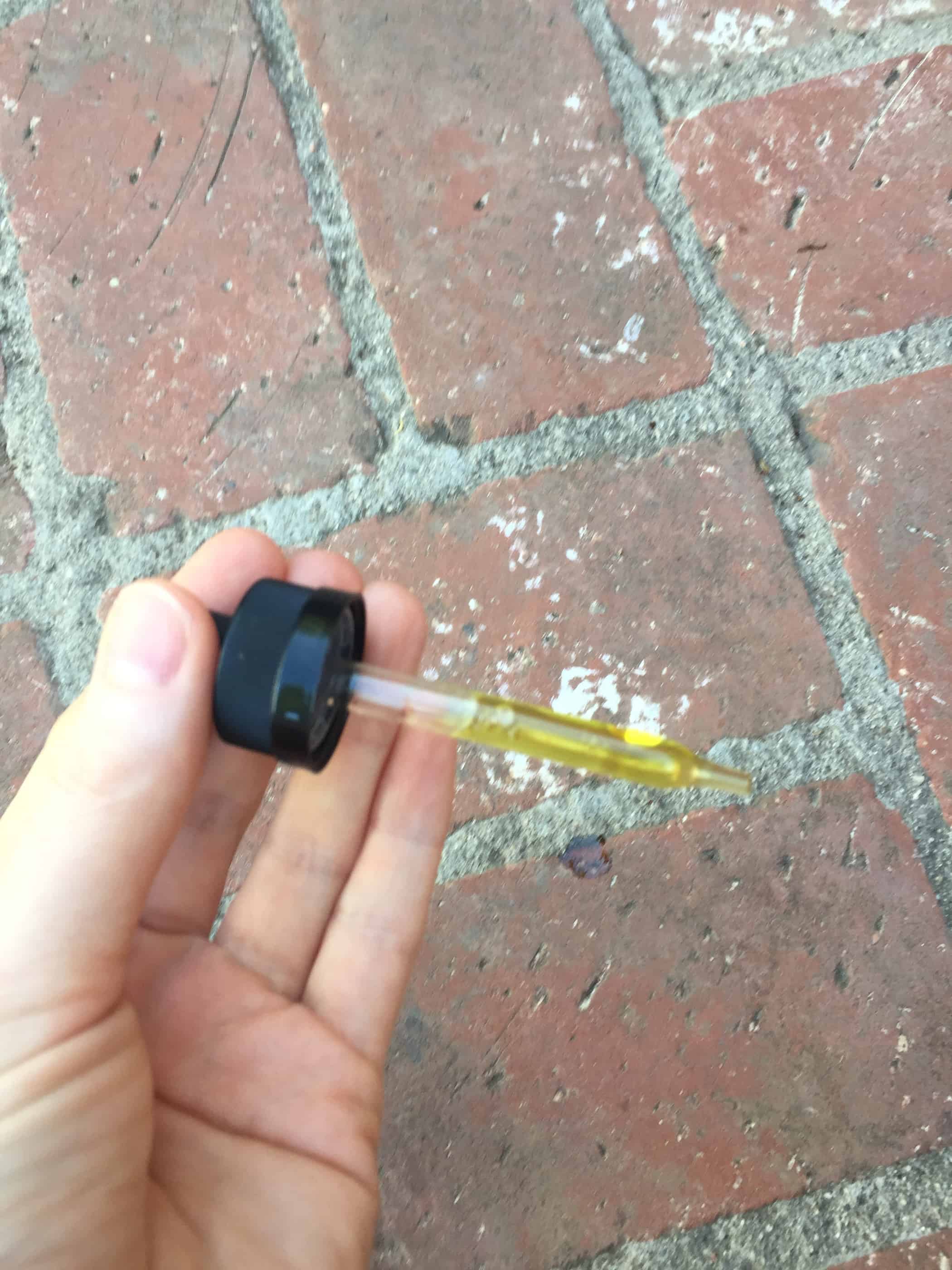 ---
CALM BY WELLNESS HEMP CBD OIL TINCTURE – PEPPERMINT – 1,000 MG Specifications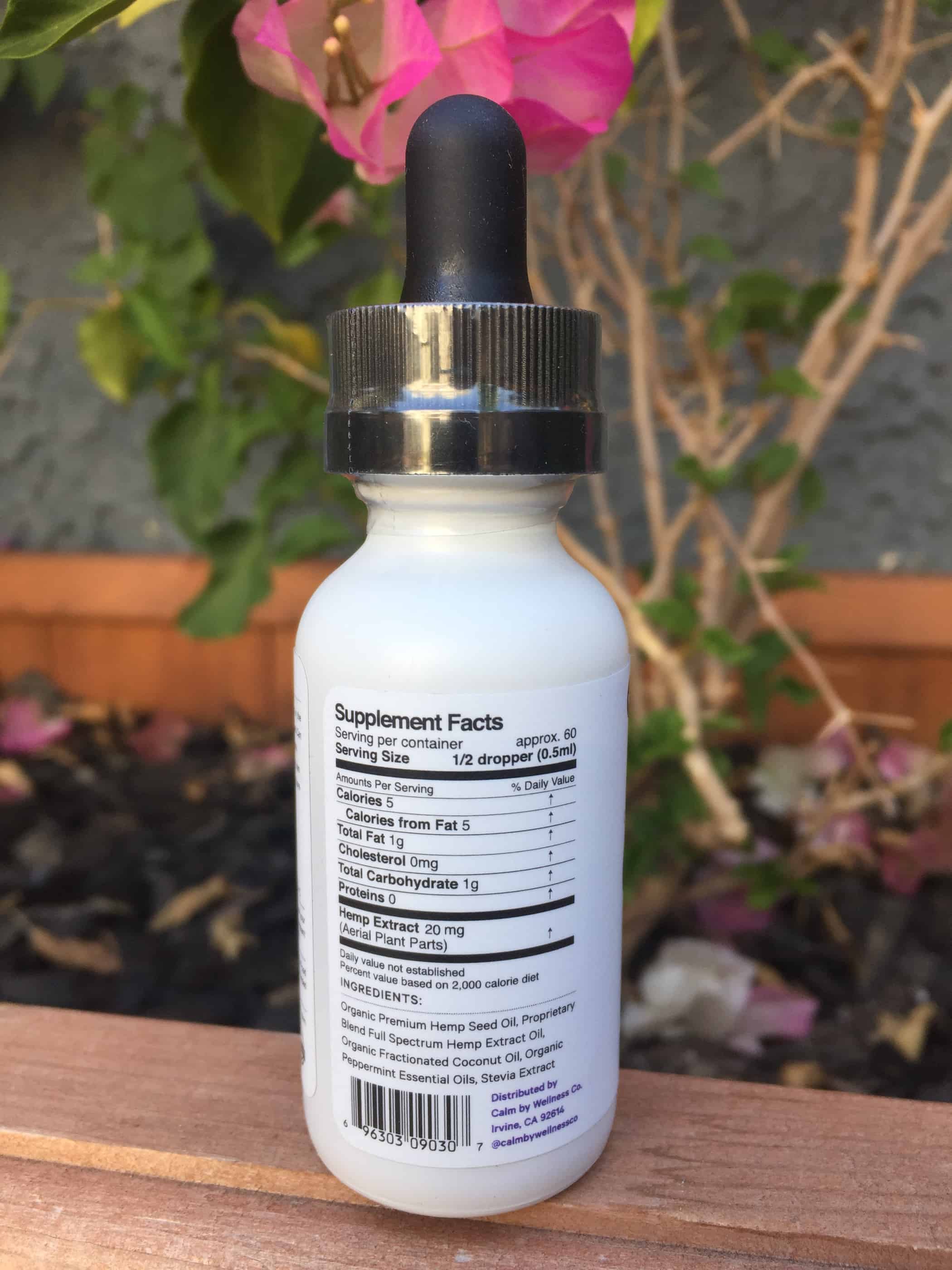 1 fl. Oz. (30 ml)
1,000 mg CBD (20 mg per serving)
60 servings per bottle
Ingredients: Premium Hemp Seed Oil, Proprietary Blend Full Spectrum Hemp Extract Oil, Organic Fractionated Coconut Oil, Organic Peppermint Essential Oils, Stevia Extract
Calories: 5 per serving
Serving Size: ½ dropper
No THC
Organic
Gluten-Free
Vegan
---
How We Tested the CALM BY WELLNESS HEMP CBD OIL TINCTURE – PEPPERMINT – 1,000 MG
My doctor just informed me I have a sleep disorder. I guess that's what you call it when you've been in an insomniac since childhood. When I was around ten-years-old I began to have a constant burning pain through my front thighs that led to many a sleepless night. I'm an adult now, and I still have the same front thigh pain, only now I have low back, hip, pelvis, and foot pain due to a few different injuries that's led to chronic and severe peripheral neuropathy (nerve pain). Needless to say, my sleep has only gotten worse. I've tried many different medications to help, from over-the-counter sleep aids to prescription medications, to THC, and of course, CBD. I recently tried Calm by Wellness' 500 mg strawberry lemonade flavored tincture and loved its effectiveness and taste. So I was excited to try this one because it's twice as much CBD in a serving. I was hoping that by taking this tincture at night, I'd be able to fall asleep faster, and stay asleep longer. At night, I took a full dropper for 40 mg of CBD with 36 mg of melatonin and settled down to sleep.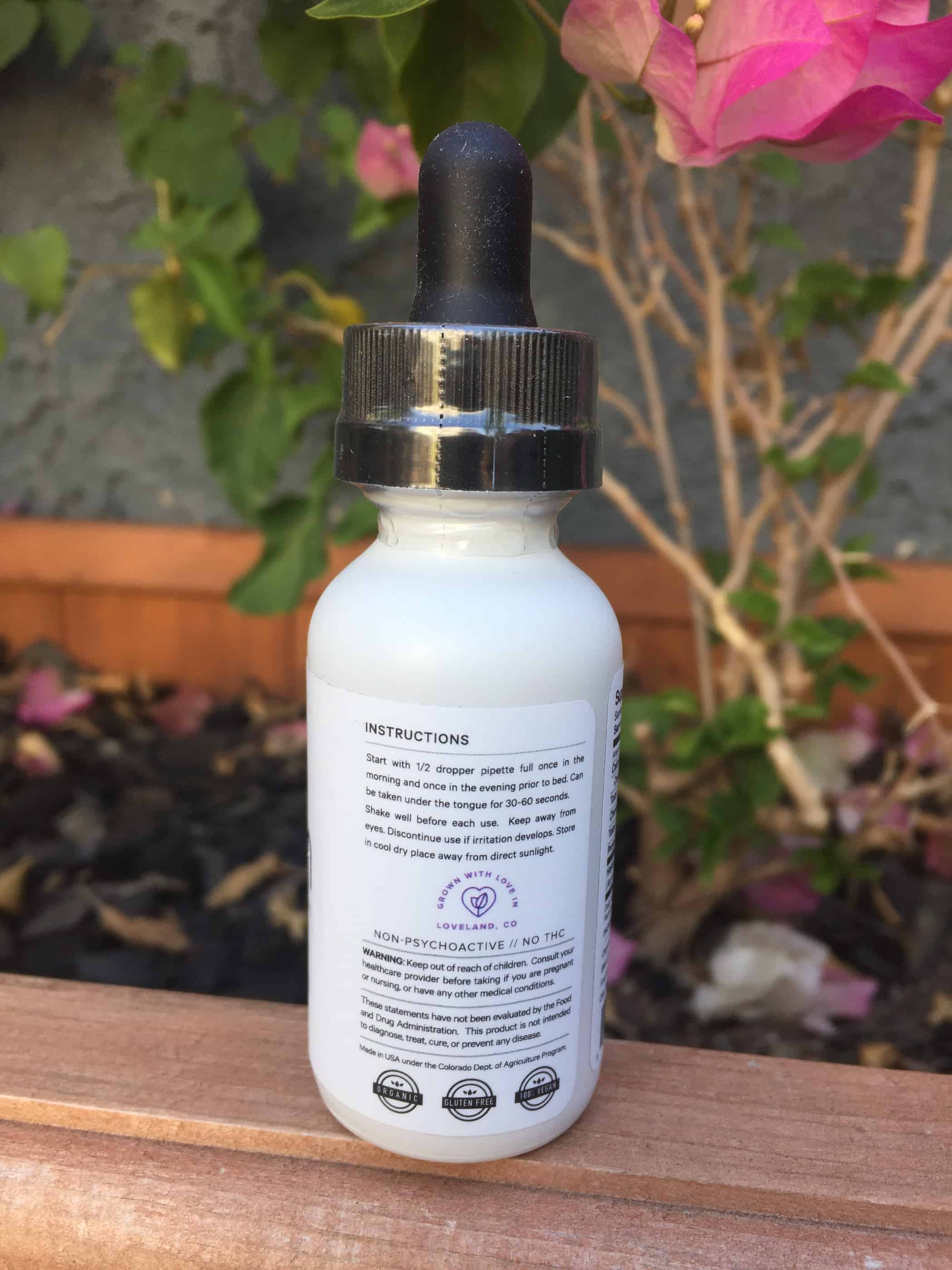 ---
How the CALM BY WELLNESS HEMP CBD OIL TINCTURE – PEPPERMINT – 1,000 MG Worked for Me
Less than an hour after taking Calm by Wellness Hemp CBD Oil Tincture and melatonin, I felt relaxed and drowsy. It was hard to keep my eyes open and I fell asleep before I could see the end of the Bachelorette's thrilling "Men Tell All" episode. I was able to stay asleep for a full four hours before the pain woke me up. Usually, when this happens, I can't get back to sleep, and miserably toss and turn until dawn. That night, however, I was able to fall back to sleep easily. It's amazing what a good night's sleep will do. It helps my mood and eases my pain. One of the great things about CBD is there's no hangover or feelings of grogginess throughout the day. I woke up refreshed and energized. This tincture now sits on my bedside table next to my melatonin and I look forward to many more restful nights.
---
Useful and Unique Things to Know About CALM BY WELLNESS HEMP CBD OIL TINCTURE – PEPPERMINT – 1,000 MG
Calm by Wellness doesn't add any sugar to this tincture, yet it still tastes great and you can't taste any weediness. They sweeten it with stevia, which is a natural sweetener derived from a plant that's a part of the chrysanthemum family. You might know it as the sugar alternative in the green packet at Starbucks. Stevia contains almost zero calories and is often used by diabetics or those with high cholesterol in lieu of Sweet n' Low, Equal, or Splenda. There are numerous benefits to using stevia including keeping your blood sugar in check and lowering blood pressure. From its use of stevia to being organic and vegan, Calm by Wellness makes one of the healthiest tinctures around.
---
CALM BY WELLNESS HEMP CBD OIL TINCTURE – PEPPERMINT – 1,000 MG Ratings
In the next sections gradings from 0-100 on our review, these grades add up to give the product's overall score.
PRESENTATION • 100
Classy design and very informative bottle.
RELIABILITY • 100
Works great to reduce pain, anxiety, and helps with sleep.
QUALITY • 100
Organic and natural.
FLAVOR / SMELL / or EASE OF USE • 100
Tastes good with a subtle peppermint flavor.
VALUE • 95
Slightly more expensive than other tinctures.
---
How the CALM BY WELLNESS HEMP CBD OIL TINCTURE – PEPPERMINT – 1,000 MG Stacks Up Against the Competition

Calm by Wellness' peppermint tincture costs a little more than your average CBD oil, but it's certainly worth shelling out the extra bucks if you're looking for a high-quality, organic, and vegan option. Also, a lot of tinctures have a weedy aftertaste. Not Calm by Wellness! The balance of peppermint essential oils and stevia hides any of the bitterness. You won't even know there's hemp in it. If you're looking for a less expensive option, that still has a great flavor, check out Vapen CBD's Cooling Peppermint tincture.
---
Saving Money With Calm By Wellness Coupons
Save money on all CBD Tinctures here at Save On Cannabis the World's largest online cannabis coupon code directory.
---
Disclosure: I received these products gratis so that I could try them and then share my honest opinion with the SOC community. I am employed by Save on Cannabis to write honest reviews and provided a flat rate payment for the writing of the review. SOC may receive recurring affiliate payments for purchases made based on this content.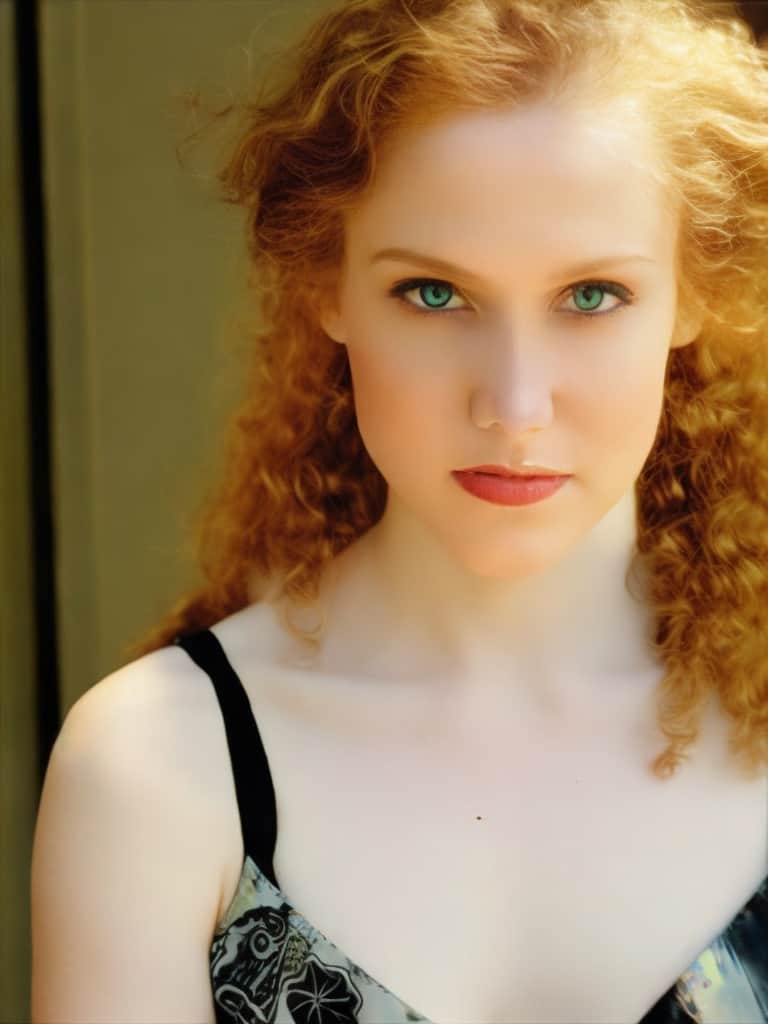 A medicinal cannabis user, utilizing the power of the plant to ease the pains and stresses from long standing conditions that other over the counter or prescriptions could not fix or weren't a natural option like cannabis.  Also, has a background in working directly in the cannabis industry in California within various dispensaries.
In this Treeline Organics review of the Epic Sleep we test the CBD/CBN tincture on insomnia. See if this product worked as we expected.
We've tested many CBD tinctures, our reviewers are truly some of the most knowledgeable. Read our insights in this 43 CBD Solutions review.
Read our hands on review and see photos of the BioCBD+ vape CBD oil and pen combo pack. See what we liked & disliked. Also, get BioCBD Plus coupons here.