CBD Review: Life Balance Meridian Relieve Cooling CBD Cream
Feb 20, 2020 | Romy
Life Balance Meridian Relieve Active Botanical Cooling CBD Cream
Pros
Mild to moderate pain relief
All-natural
Mild smell
Easy to use
Cons
Expensive
No ingredients on packaging
Life Balance Meridian Relieve Active Botanical Cooling CBD Cream
Product Review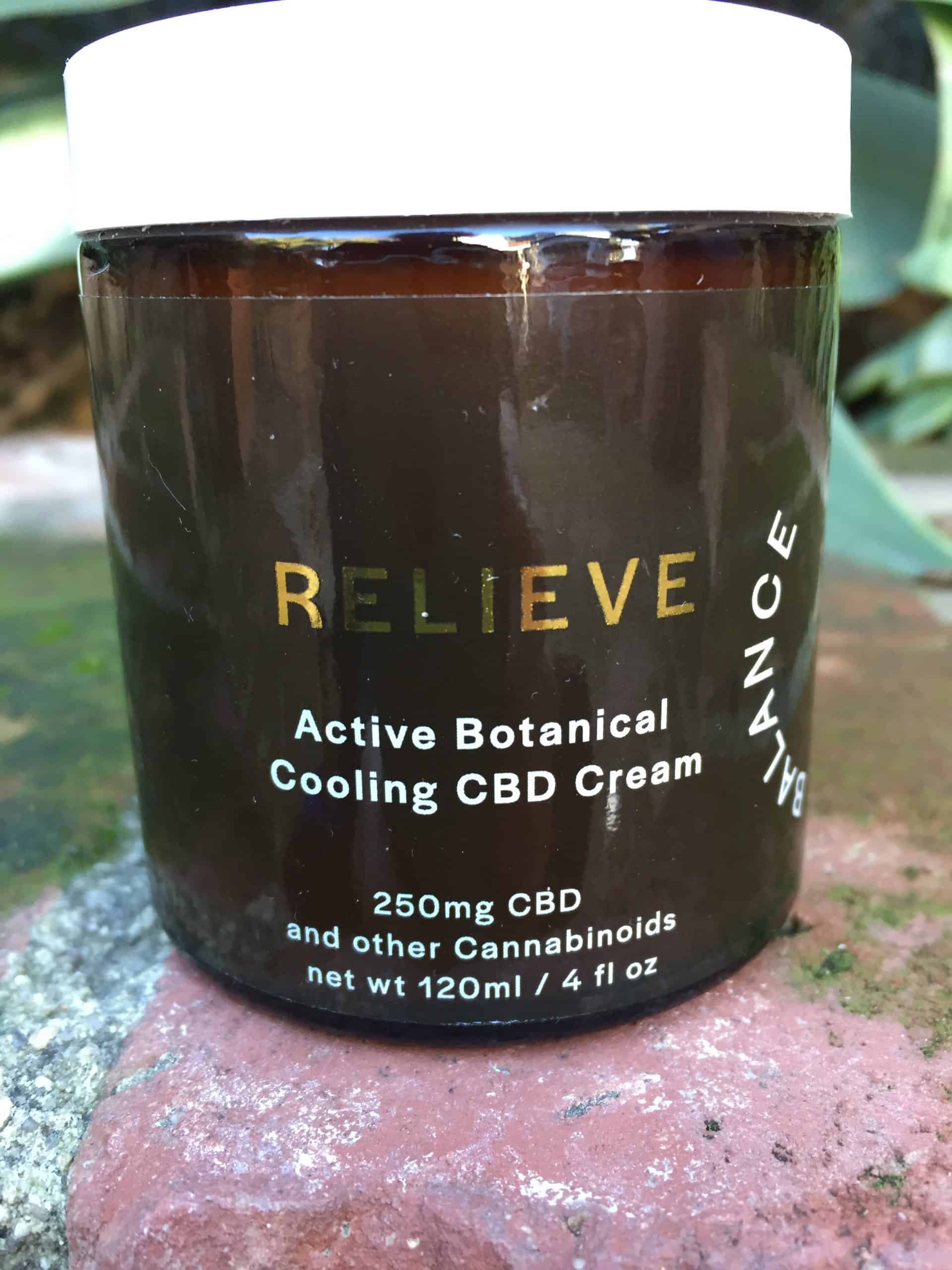 Brand Overview:MERIDIAN LIFE BALANCE
Meridian Life Balance has created a line of CBD-infused products that provide a non-addictive alternative to prescription and over-the-counter medications. Offering tinctures, capsules, and topicals to help relieve pain and stress, Meridian Life Balance's CBD-infused products will help balance your endocannabinoid system for a healthier and more mindful existence. The company also wants to educate you about CBD, and you can find helpful articles on their website, including "CBD 101" where you can get a crash course in all things cannabidiol.
Products: Tinctures, Topicals, Capsules, Bundles.
Price Range ($-$$$$): $$$
---
About MERIDIAN LIFE BALANCE ACTIVE BOTANICAL COOLING CBD CREAM

Cooling topicals have long been used to relieve muscle and joint pain. Simply put, the cooling distracts the brain from the pain, providing short-term respite. Meridian Life Balance's icy CBD cream contains 250 mg of CBD and works with a healthy dose of menthol to quickly cool down aches and pains. This product is filled with all-natural oils, aloe vera, and vitamins to moisturize and heal the skin. You can use this stuff up to five times a day as needed by massaging the cream into the painful areas. Be sure to wash your hands afterward, as the product contains menthol and shouldn't get on your face or in your eyes.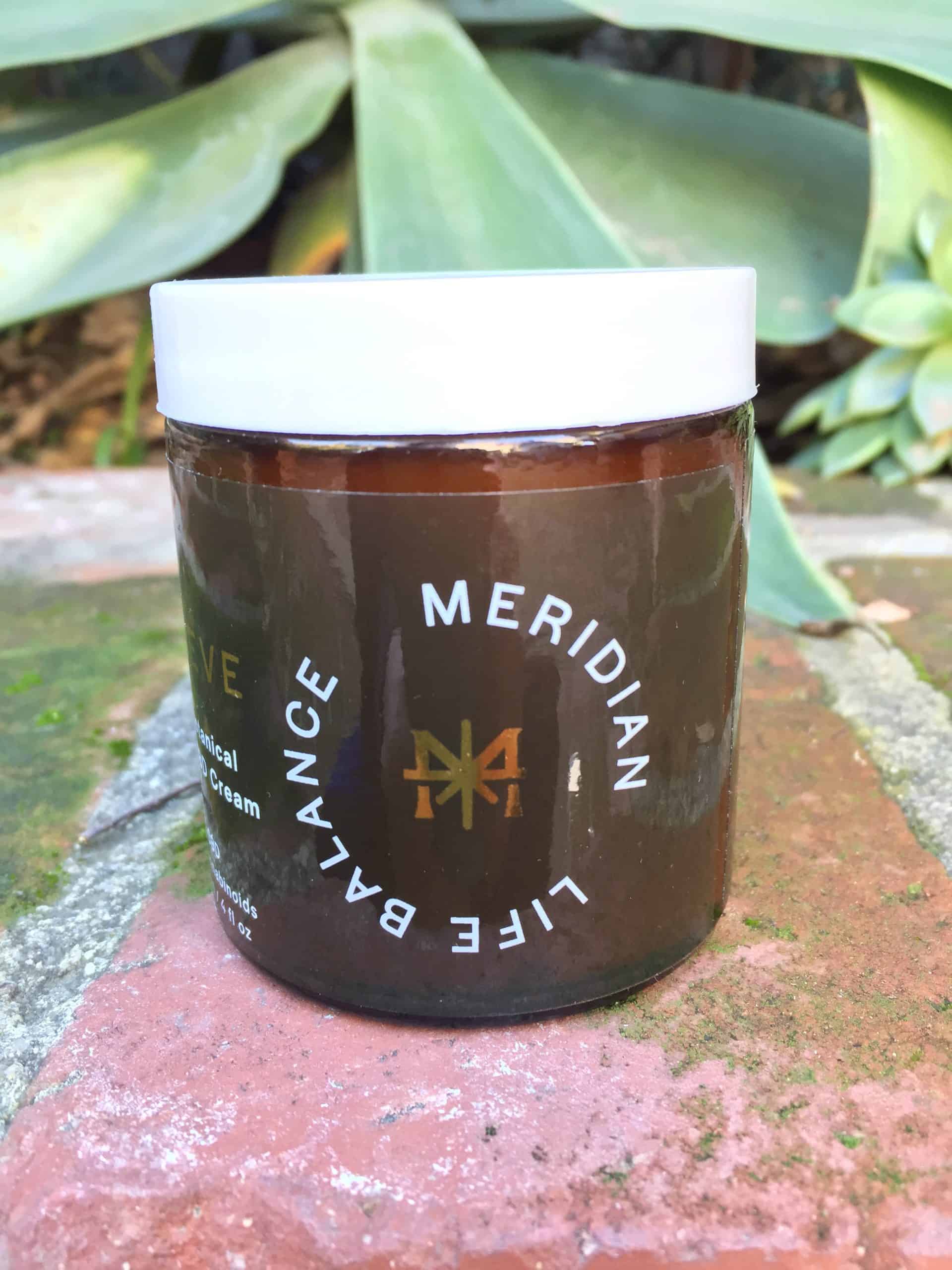 ---
MERIDIAN LIFE BALANCE ACTIVE BOTANICAL COOLING CBD CREAM Specifications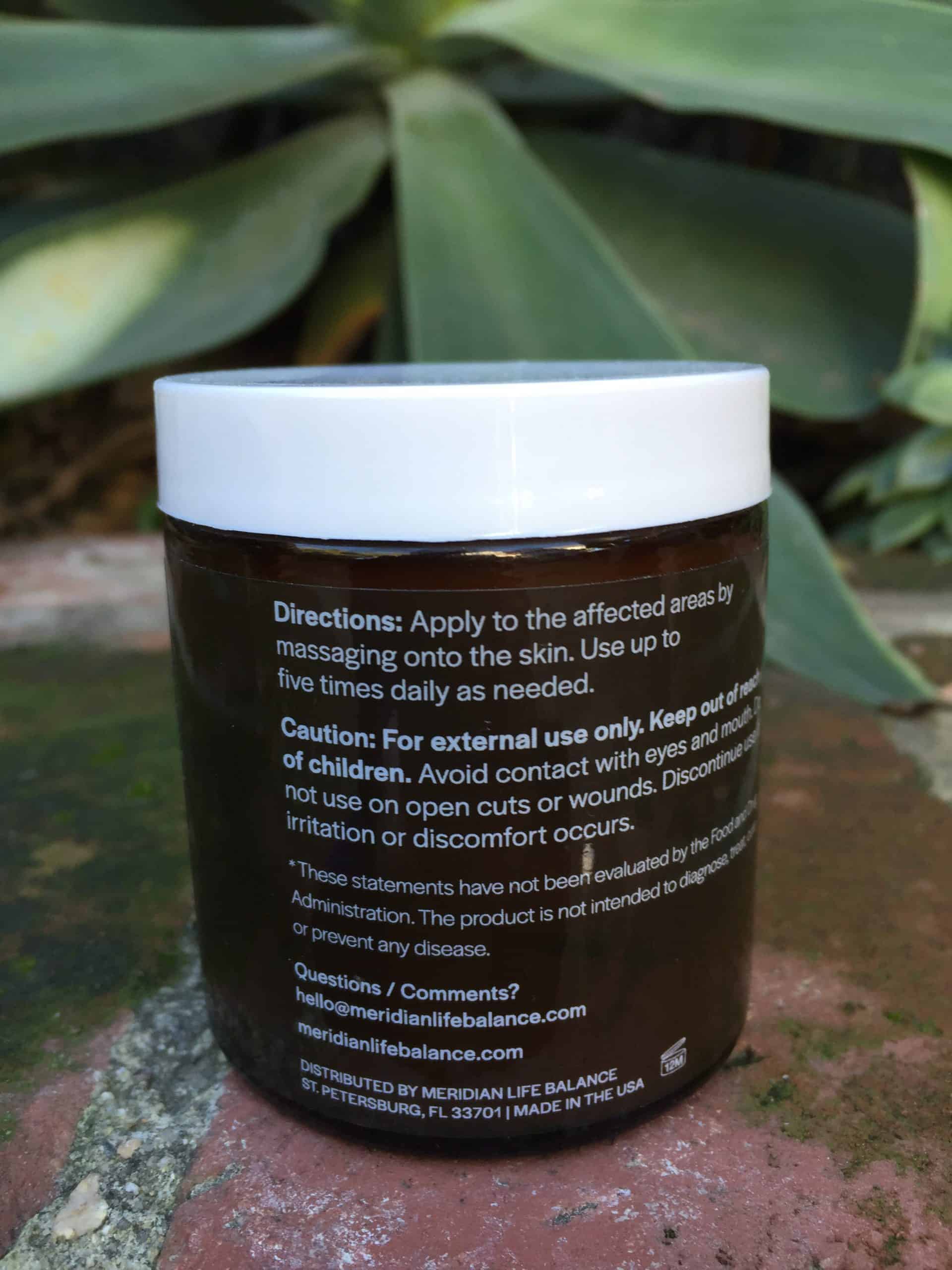 250 mg CBD and other cannabinoids

56 ml / 1.89 oz

120 ml / 4 fl oz

Other Ingredients: Menthol, Aloe Vera, Palm Oil, Vitamins A, D, & E
---
How We Tested the MERIDIAN LIFE BALANCE ACTIVE BOTANICAL COOLING CBD CREAM

My low back has been killing me lately because I've been moving. I have a herniated disc and an unbalanced pelvis which means I have constant pain from arthritis and pressure against my sciatica and femoral nerves. I'm not supposed to be lifting anything over thirty pounds, bend over, or drive. Needless to say, with the move, I've been disobeying my doctors' orders daily and paying for it. The pain has gotten so bad, I can't sleep. I have enjoyed using Meridian Life Balance's other topicals for pain relieve and thought this cooling product was just what I needed. Before bed, I applied a healthy dose of this CBD-infused topical to my low back and hips. I hoped that some pain relief would make it easier to fall and stay asleep.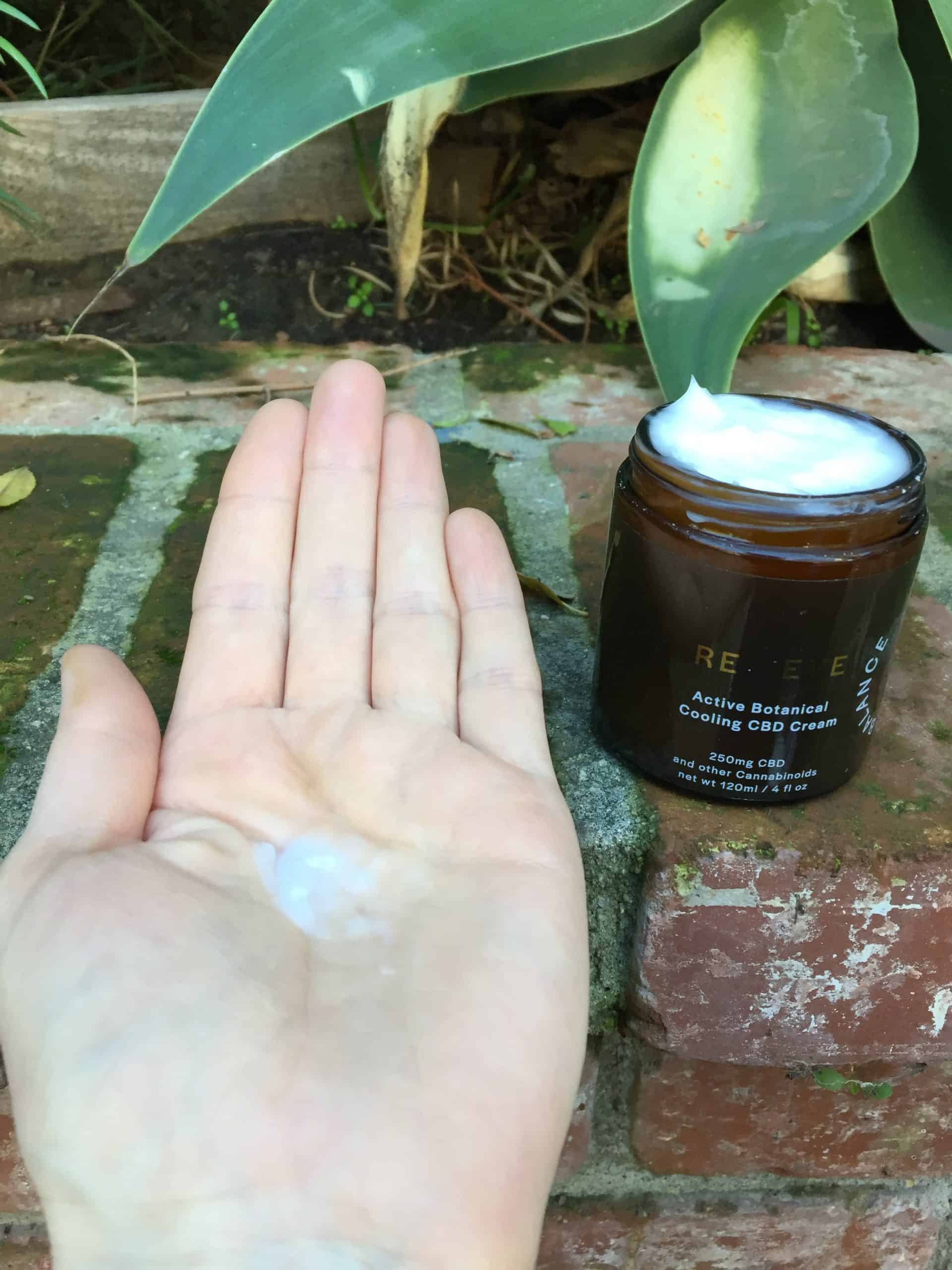 ---
How the MERIDIAN LIFE BALANCE ACTIVE BOTANICAL COOLING CBD CREAM Worked for Me
As promised, this cream cooled down the areas on my low back and hips and I experienced mild pain relief. The CBD lotion, in combination with my prescribed medication gabapentin, helped me ignore the pain long enough for me to fall asleep. I woke up from pain a couple of hours later and applied more. I noticed it helped my hip pain more than my more severe back pain. In the future, I will be using this product for the milder to moderate pain, and find something stronger for the severe pain.
---
Useful and Unique Things to Know About MERIDIAN LIFE BALANCE ACTIVE BOTANICAL COOLING CBD CREAM
Meridian Life Balance Active Botanical Cooling CBD Cream contains other beneficial ingredients. Menthol creates its cooling sensation by blocking the calcium current along the nerves that detect heat and cold. Aloe Vera soothes and heals the skin. Palm Oil has antimicrobial properties. Vitamin A is great for the skin, Vitamin D has antiaging properties, and Vitamin E is rich in antioxidants.
---
MERIDIAN LIFE BALANCE ACTIVE BOTANICAL COOLING CBD CREAM Ratings
In the next sections gradings from 0-100 on our review, these grades add up to give the product's overall score.
PRESENTATION • 80
No ingredients listed.
RELIABILITY • 100
Mild to moderate pain relief.
QUALITY • 100
All-natural ingredients.
FLAVOR / SMELL / or EASE OF USE • 100
Easy to use. Mild smell.
VALUE • 70
Expensive.
---
How MERIDIAN LIFE BALANCE ACTIVE BOTANICAL COOLING CBD CREAM Stacks Up Against the Competition
I've also tried Meridian Life Balance's active botanical CBD roller gel and their CBD balm. When comparing the three, I prefer the roller gel over the others. It provided a stronger cooling sensation than the cooling gel, which helped relieve the pain more. Also, because I just roll it on and don't have to touch any messy cream, it's more convenient since I don't have to wash my hands afterward. With similar ingredients, a smaller price tag, and more effective cooling, I would choose Meridian Life Balance's roller gel over their cream.
---
Saving Money With Our Verified MERIDIAN LIFE BALANCE Coupons
Save money by using our verified Cbd Topicals Coupons here at Save On Cannabis the World's largest online cannabis coupon code directory.
---
Disclosure: I received these products gratis so that I could try them and then share my honest opinion with the SOC community. I am employed by Save on Cannabis to write honest reviews and provided a flat rate payment for the writing of the review. SOC may receive recurring affiliate payments for purchases made based on this content.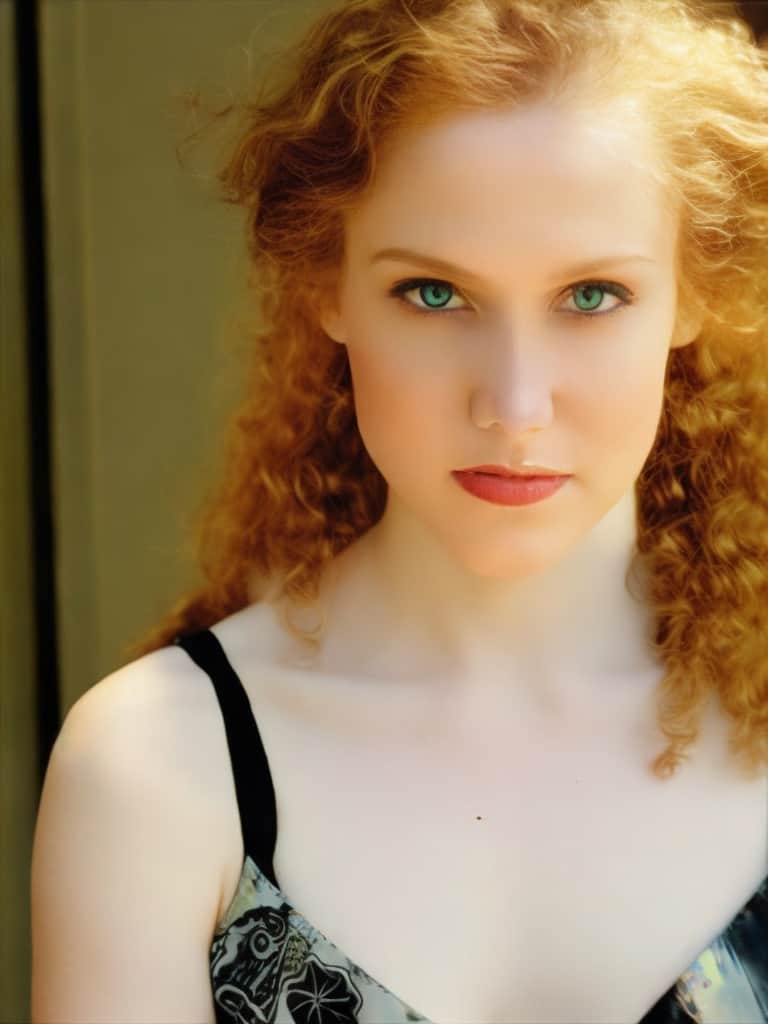 A medicinal cannabis user, utilizing the power of the plant to ease the pains and stresses from long standing conditions that other over the counter or prescriptions could not fix or weren't a natural option like cannabis.  Also, has a background in working directly in the cannabis industry in California within various dispensaries.
Save on Meridian Life Balance
Sorry, no coupons were found.
Our UK reviewer tests out the Reakiro CBD Spray to see if it's a good addition to their daily routine. See if this helps ease daily stresses.
O Real Scientific Hemp Oil review of the Gold Label 500mg. We tested this RSHO product so you could find out if it is worth your money.
Can you really get protein and the benefits of CBD at the same time? See in our Velobar review of the CBD protein bar if it worked for us.