Velobar Review: CBD Protein Bar (Nuts/Dark Chocolate/Salt)
Jul 6, 2020 | SOC
Velobar Dark Chocolate CBD Protein Bar — 25mg
Pros
 Superfood ingredients
Hemp sources from USA
Full-panel of third-party lab tests
Non-GMO
Soy-free
Soy-free
Calming and relaxing effects
Medium-high dose of CBD
Moist and soft texture
Right amount of each ingredient
Cons
A bit pricey
No full-spectrum option
Velobar CBD Protein Bar — Dark Chocolate 25mg
Product Review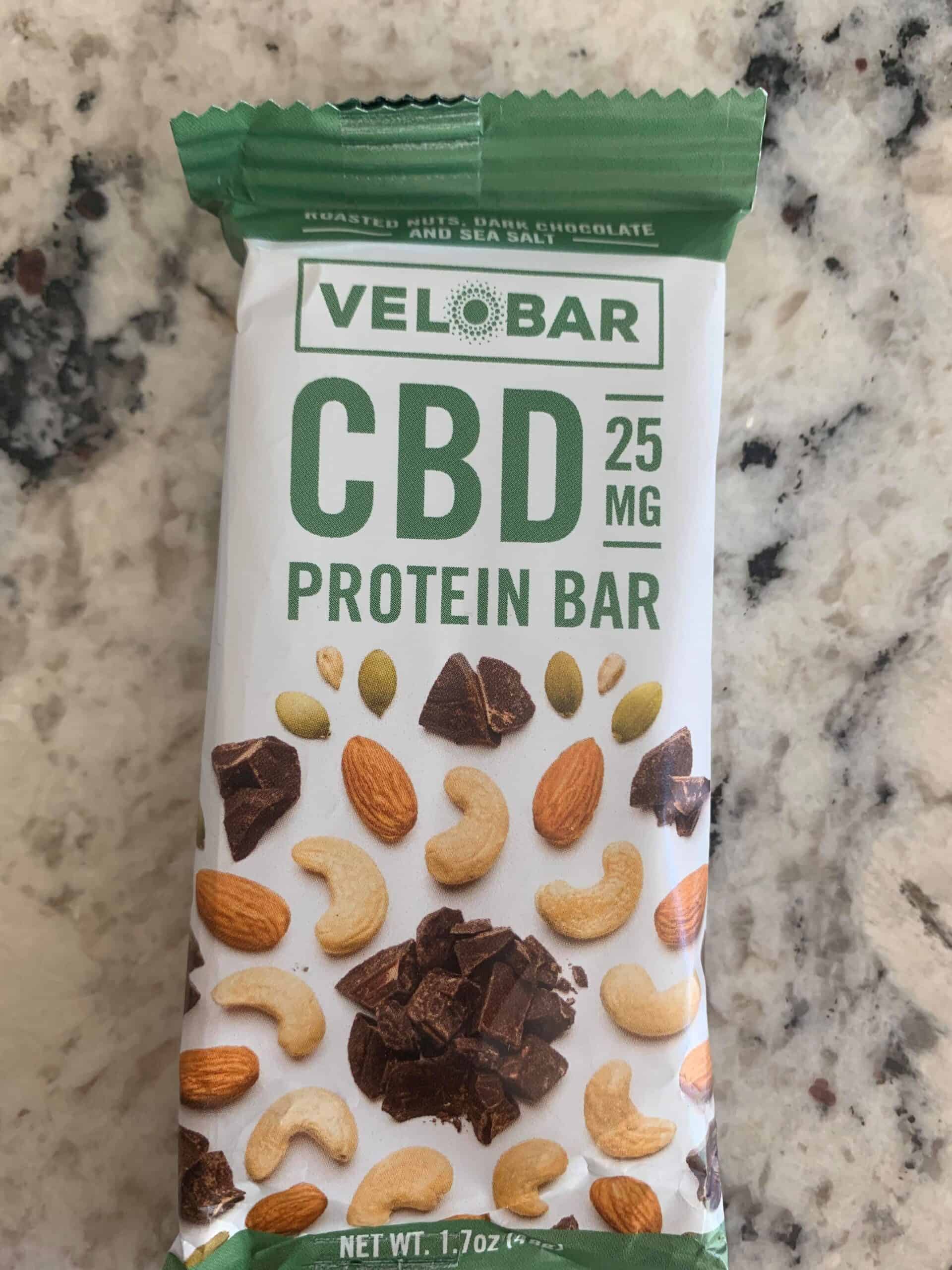 Brand Overview: Velobar
Brant Reiter, CEO and co-founder of Velobar CBD, has been an advocate of cannabis for decades. He made videos about the cannabis industry many years ago. During one interview, he spoke with a caretaker who made cannabis edibles for her clients. She only infused cannabis into real food ingredients.
A lightbulb went off during this conversation. Brant thought about all the cannabis edibles he'd seen at dispensaries and realized none of them were healthy. In fact, most of them were downright junk food. And that didn't make any logical sense to him.
So, off he went to create the best tasting and healthiest cannabis snack bar using real, superfood ingredients. He worked with a local nutritionist in Oregon to arrive at the best possible outcome. Their careful and loving effort resulted in two flavors of CBD protein bars — dark chocolate and peanut butter.
Each bar is infused with 25mg of hemp-derived CBD isolate (THC-free). The company sources its hemp from farms in the United States and has the CBD isolate tested for potency and safety. All results are posted on Velobar's website for full disclosure.
As of the date of this review, CBD protein bars are the only products Velobar carries.
Products:Edibles
Price Range ($-$$$$): $$$
---
About Velobar's Dark Chocolate CBD Protein Bar — 25mg
This protein bar is made with superfood ingredients, including almonds, cashews, pumpkin seeds, sunflower seeds, and dark chocolate. Also, it's organic, vegan-friendly, soy-free, gluten-free, and non-GMO. It has 8 grams of plant-based protein and contains 25 mg of pure CBD isolate (0% THC).
The purpose of this CBD product is to be eaten as a snack, after a tough workout, a long walk, to replace a second cup of coffee, or eaten as a bedtime snack.
---
Velobar Dark Chocolate CBD Protein Bar — 25mg Specifications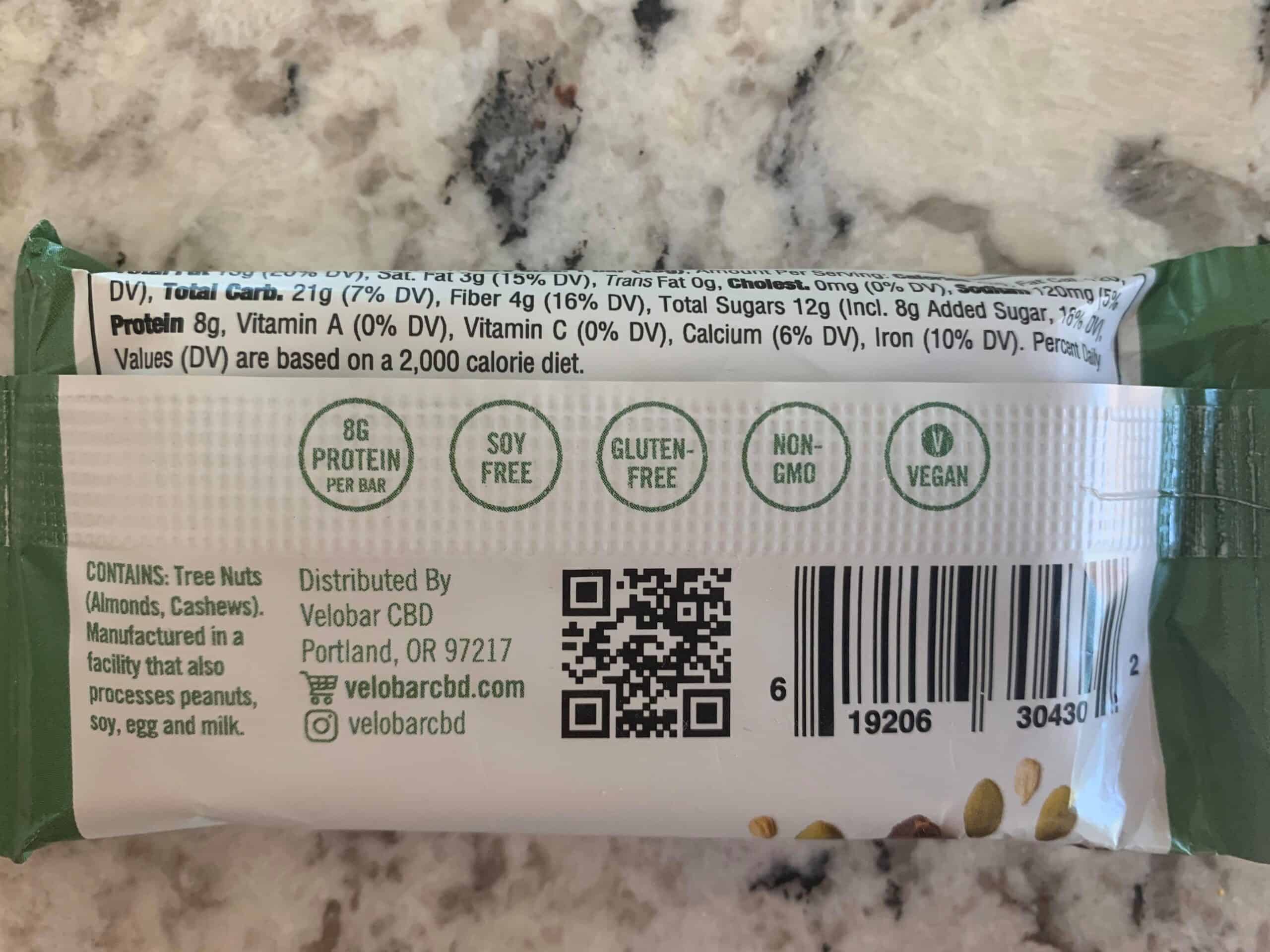 25 mg CBD isolate per bar
Net weight: 1.7oz.
1 bar per wrapper
0% THC
Soy-free, gluten-free, non-GMO, vegan
8 grams of protein
Ingredients: organic almonds, organic tapioca syrup, organic dates, organic semi-sweet dark chocolate, (cane sugar, chocolate liquor, cocoa butter, vanilla), organic pumpkin seeds, organic sunflower seed butter, organic alkalized cocoa powder, organic vanilla extract, organic chia seeds, organic flaxseeds, organic hemp hearts, organic cashews, sea salt, hemp-derived crystalline CBD.
---
How We Tested the Velobar Dark Chocolate CBD Protein Bar — 25mg

In total, I tried two of the dark chocolate CBD protein bars. The first time I ate one it was after my morning yoga session. This was my first snack/meal of the day, and it was a perfect treat. It felt like I was eating dessert for breakfast. Luckily, there's no guilt from this product, because of the healthy, superfood ingredients.
The second time I ate one of these bars, was during the mid-afternoon, around 3 pm. I had an early lunch this day, so I was feeling a little low on energy and wanted a yummy snack to give me a natural boost.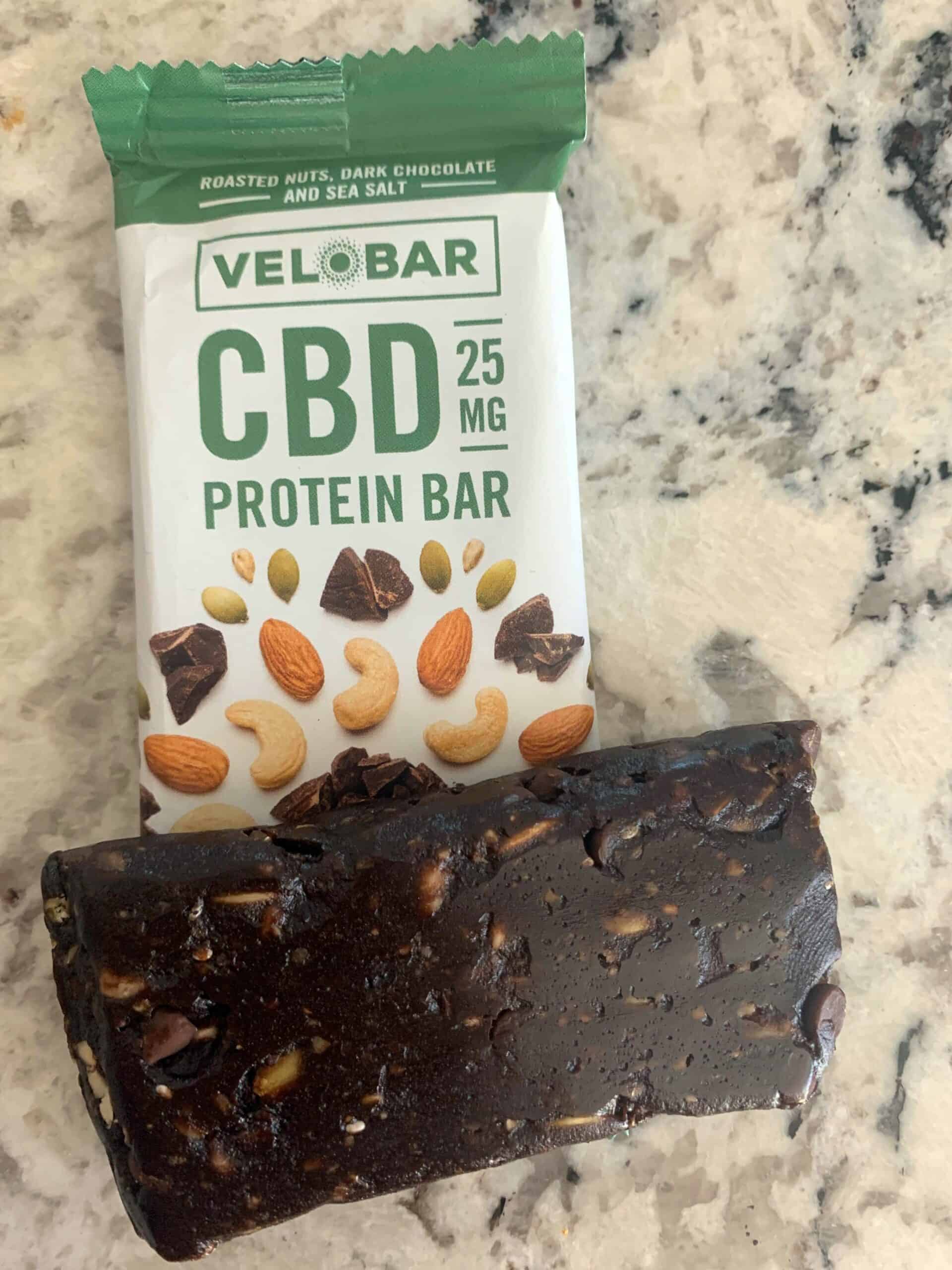 ---
How the Velobar Dark Chocolate CBD Protein Bar — 25mg Worked for Me
I ate the bar following my yoga session as a way to break my fast from the night before. Yoga helped me feel restored and calm, but I noticed that this CBD protein bar did a little something extra for me. My body was relaxed, yet my mind was full of blissful energy. The perfect amount to get the day started on the best possible footing.
The second experience I had eating this bar was also great. As a mid-afternoon snack, this chocolatey protein bar gave me excellent energy. It helped get me through the rest of my workday, which ended around 7 pm.
Overall, I loved these bars and would definitely eat them when I need a daytime pick-me-up, or a snack in the evening to help ease my body to sleep.
---
Useful and Unique Things to Know About Velobar Dark Chocolate CBD Protein Bar — 25mg
Velobar's CBD Protein Bar has nearly 100% organic ingredients. This is not something you see from the competition. Also, there's zero preservatives, artificial colors, and flavoring, which a health nut like myself and so many others, really appreciates. In addition, some of the CBD protein bars on the market use whey or soy protein, followed by unhealthy ingredients, like canola oil or corn syrup.
Also, the company sends its CBD isolate to an independent third-party lab to test for heavy metals, bacteria, mold, yeast, mycotoxins, and volatile organic compounds. This is a huge display of transparency and a genuine concern for using a clean and high-quality source of CBD. Lastly, you won't find many CBD companies who pay for this level of testing.
---
Velobar Dark Chocolate CBD Protein Bar — 25mg Ratings
In the next sections gradings from 0-100 on our review, these grades add up to give the product's overall score.
PRESENTATION • 100
Beautiful packaging and clear, precise labeling.
RELIABILITY • 100
The perfect dose of CBD for a single serving snack.
QUALITY • 100
Organic and natural food-grade ingredients.
FLAVOR / SMELL / or EASE OF USE • 100
Moist, chocolaty, & perfectly sweet.
VALUE • 100
A bit expensive, but offers tremendous value.
---
PROS of the Velobar Dark Chocolate CBD Protein Bar — 25mg
The pros of this product can fill up an entire sheet of paper. But, for the sake of this review, we just listed our top 10. The main pros are the inclusion of superfoods, a high-quality source of hemp, and rigorous safety testing by a third-party lab.
---
CONS of the Velobar Dark Chocolate CBD Protein Bar — 25mg
It's hard to point out any cons with this product. If I had to come up with one, I would suggest there be a full-spectrum or broad-spectrum option, but I understand why there isn't one. The taste of hemp would likely overpower the other delicious ingredients and could turn potential customers away.
---
How Velobar Dark Chocolate CBD Protein Bar — 25mg Stacks Up Against the Competition
It's pretty hard to compete with this protein bar. Other companies have tried, and only a few come close. But in the end, Velobar's Dark Chocolate CBD Protein Bar far exceeds the others.
Some of the competition might include a high dose of CBD, or use real-food ingredients. Yet, Velobar is one of the only brands in this niche that does a full-panel of lab tests on its protein bars. Whereas, most companies only pay for a cannabinoid profile. Also, Velobar uses all organic ingredients — another feature that puts them in the top spot.
There's only one critique, but it's small. The price sounds like a lot ($5/per bar), yet it's a fairly standard price for any snack or protein bar you'll find. At least with Velobar's products, you know you're getting supreme quality and a nice dose of lab-tested CBD.
---
Saving Money with Our Verified Velobar Coupons
Save money by using our verified CBD Edibles here at Save On Cannabis the World's largest online cannabis coupon code directory.
---
Disclosure: I received these products gratis so that I could try them and then share my honest opinion with the SOC community. I am employed by Save on Cannabis to write honest reviews and provided a flat rate payment for the writing of the review. SOC may receive recurring affiliate payments for purchases made based on this content.

FInd out in this 43 CBD Solutions review if their 150mg Extra Strength CBD Salve helped soothe our reviewer's fibromyalgia & arthritis pains.
Read this Joy Organics review to see if this CBD energy drink take the place of a morning coffee and give some added bonus.
Berkeley Gold review of the precise CBD doses in dissolvable tablets. Find out if the tablets (900mg package) do the trick to ease our days.