CBD Review: Frontier Jackson CBD Gummy Drops
Jan 26, 2020 | Romy
CBDCBD CandyCBD EdiblesCBD Gummies
Frontier Jackson CBD Gummy Drops
Pros
Eases anxiety
Reduces stress
Yummy sour fruit-flavor
Focusing
Calming
Cons
Expensive
Contains gelatin (non-vegetarian)
Frontier Jackson CBD Gummy Drops
Product Review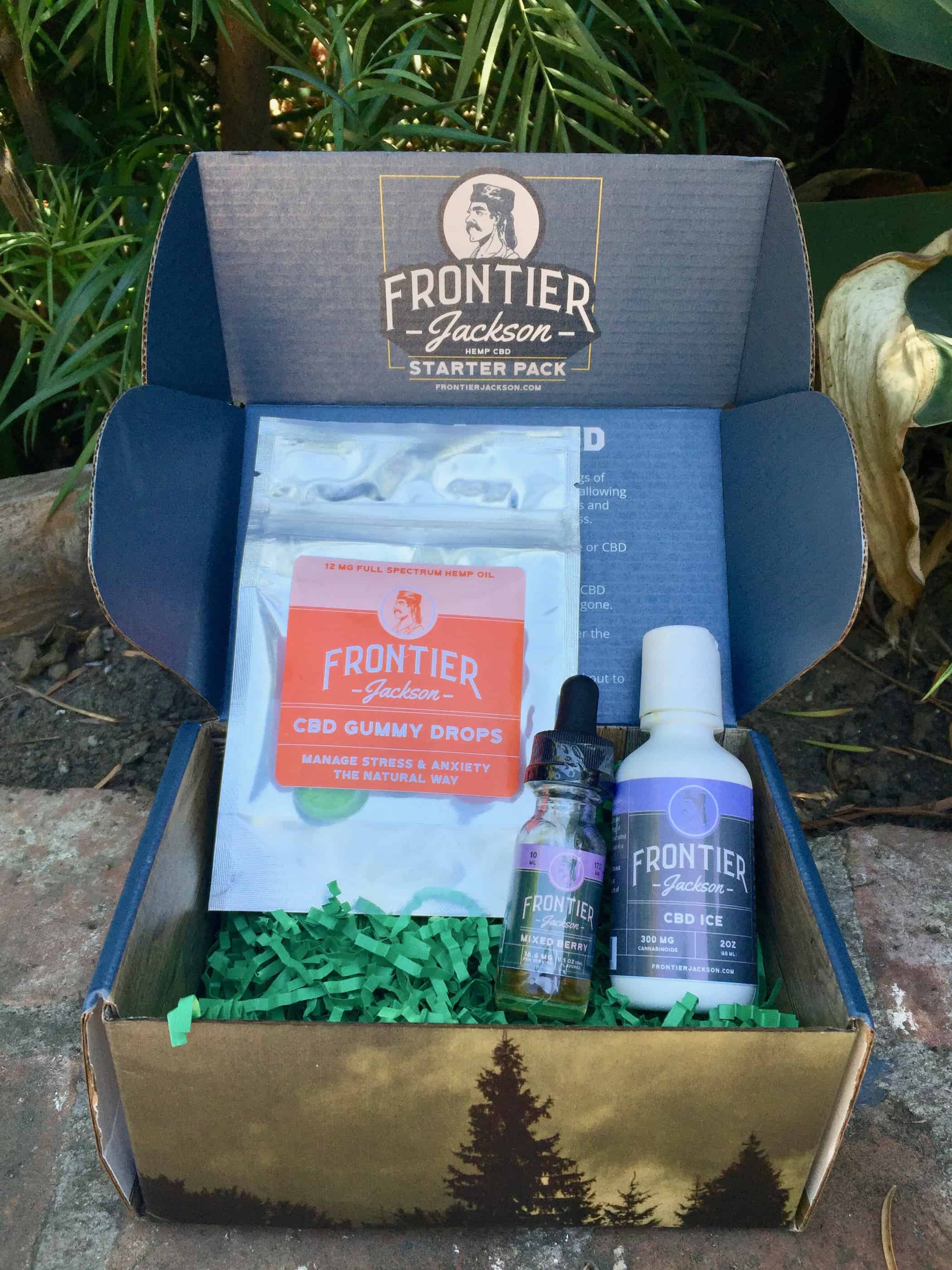 Brand Overview: FRONTIER JACKSON CBD GUMMY DROPS
Frontier Jackson has created a line of premium CBD products for general wellness, athletes, seniors, even your pets! If you're seeking a daily CBD supplement to boost overall health, this company has the right tincture, gummy, and capsule for you. Or if you're one of the many athletes turning to CBD to improve performance and recover quicker, Frontier Jackson has you in mind with their pain-relieving topicals and relief capsules. As for senior citizens? Frontier Jackson has a topical, a tincture, and a soft gel to help older people with chronic aches and pains lead a more active life. Finally, the CBD line for pets includes chews, tinctures, and treats. Animals can suffer anxiety, pain, and depression just as much as humans. If you've been looking for a natural alternative to keep your pets happy and healthy, look no further.
Products: Capsules, Edibles, Oils, Topicals, CBD for Pets, CBD for Golfers.
Price Range ($-$$$$): $$$
---
About the FRONTIER JACKSON CBD GUMMY DROPS

The Frontier Jackson CBD Gummy Drops provide an all-natural way to relieve anxiety and reduce stress. Every gummy contains 12 mg of lab-tested CBD derived from high-quality, full-spectrum hemp that contains zero THC, so it won't get you high. Made with non-GMO ingredients and pesticide-free, Frontier Jackson's gummies are made with purity and potency in mind. The full bottle contains 360 mg CBD infused in 30 individual gummies for a medium-potency dose. The gummies contain hundreds of cannabinoids, terpenes, flavonoids and are rich with Vitamin A, C, E, Omega 3, Omega 6, amino acids, and essential oils. Every gummy is made with MCT Oil which allows for quicker and more effective absorption of the CBD into your body. Frontier Jackson recommends taking one to two gummies per day. They are so certain of the quality of their product they offer a 30-day money-back guarantee. Try their sample packet today with no risk!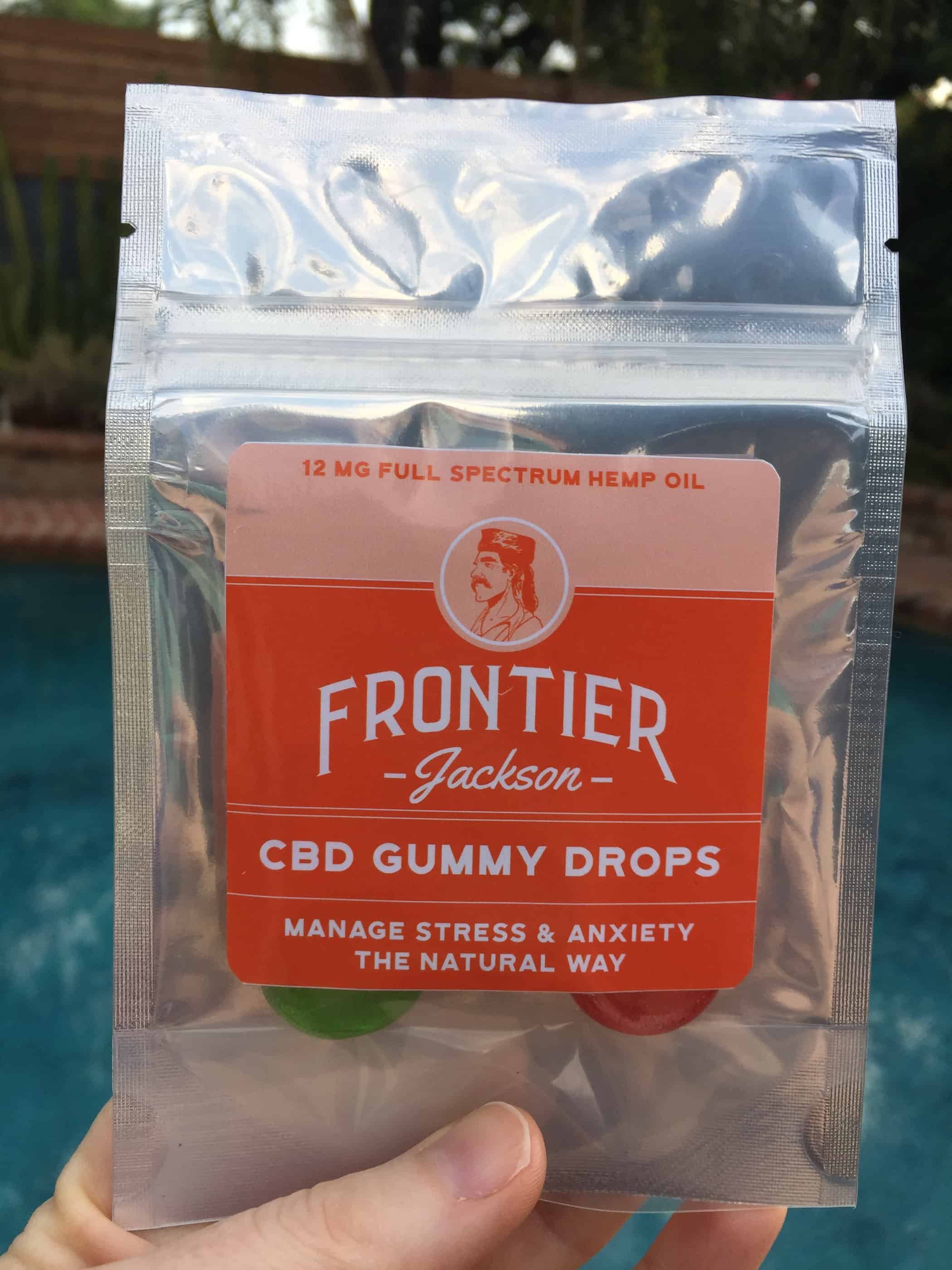 ---
FRONTIER JACKSON CBD GUMMY DROPS Specifications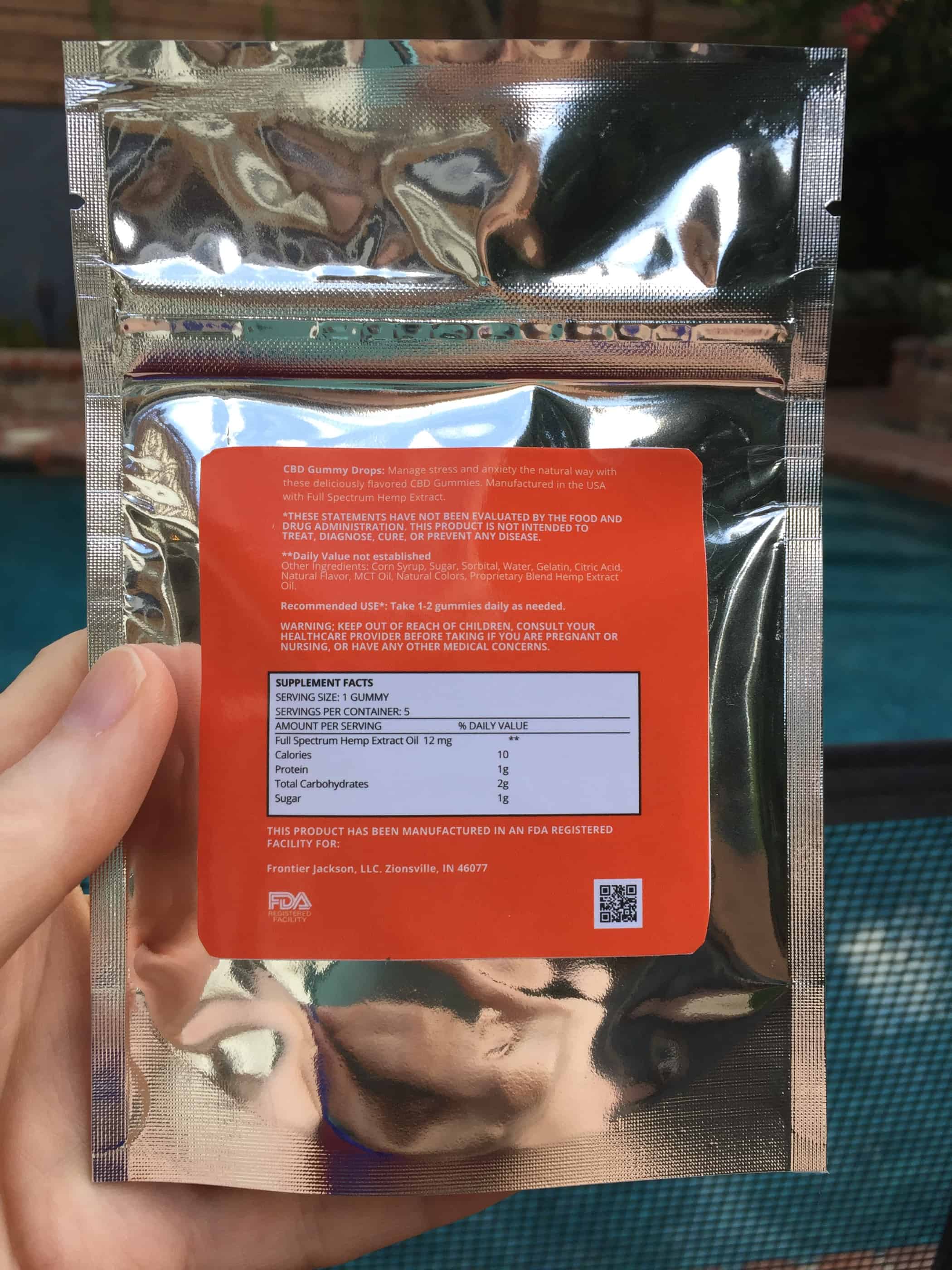 5 fruit-flavored gummies per container
60 mg CBD per container
12 mg CBD per gummy
Serving Size = 1 gummy
Ingredients: Corn Syrup, Sugar, Sorbital, Water, Gelatin, Citric Acid, Natural Flavor, MCT Oil, Natural Colors, Proprietary Blend Hemp Extract Oil.
Calories: 10 per gummy
Protein:1 g per gummy
Total Carbohydrates:2 g per gummy
Sugar:1 g per gummy
---
How We Tested the FRONTIER JACKSON CBD GUMMY DROPS

There's a motto printed on the packet of the Frontier Jackson CBD Gummy Drops that reads, "Manages Stress & Anxiety The Natural Way." Sounds good to me! I have bad social anxiety. Really bad. The list of social situations I avoid to prevent sensory overload and a potential meltdown includes restaurants, parties, theaters, and basically any place where more than two people are speaking at once. Finding ways to manage my anxiety is key to my success not only on the social front but in work situations too. There's nothing worse than being on a three-way conference call and needing to ask for a moment to collect my thoughts because it's taking me longer to process what's being said. Anxiety is the worst. And CBD has been beneficial in managing my anxiety so I was excited to try these little gummies. The perfect opportunity arose to test out these CBD-infused candies when I had a conference call with two of my colleagues. While I was stressing and over-preparing, I ate two gummies for a total of 24 mg of CBD a couple of hours before my call.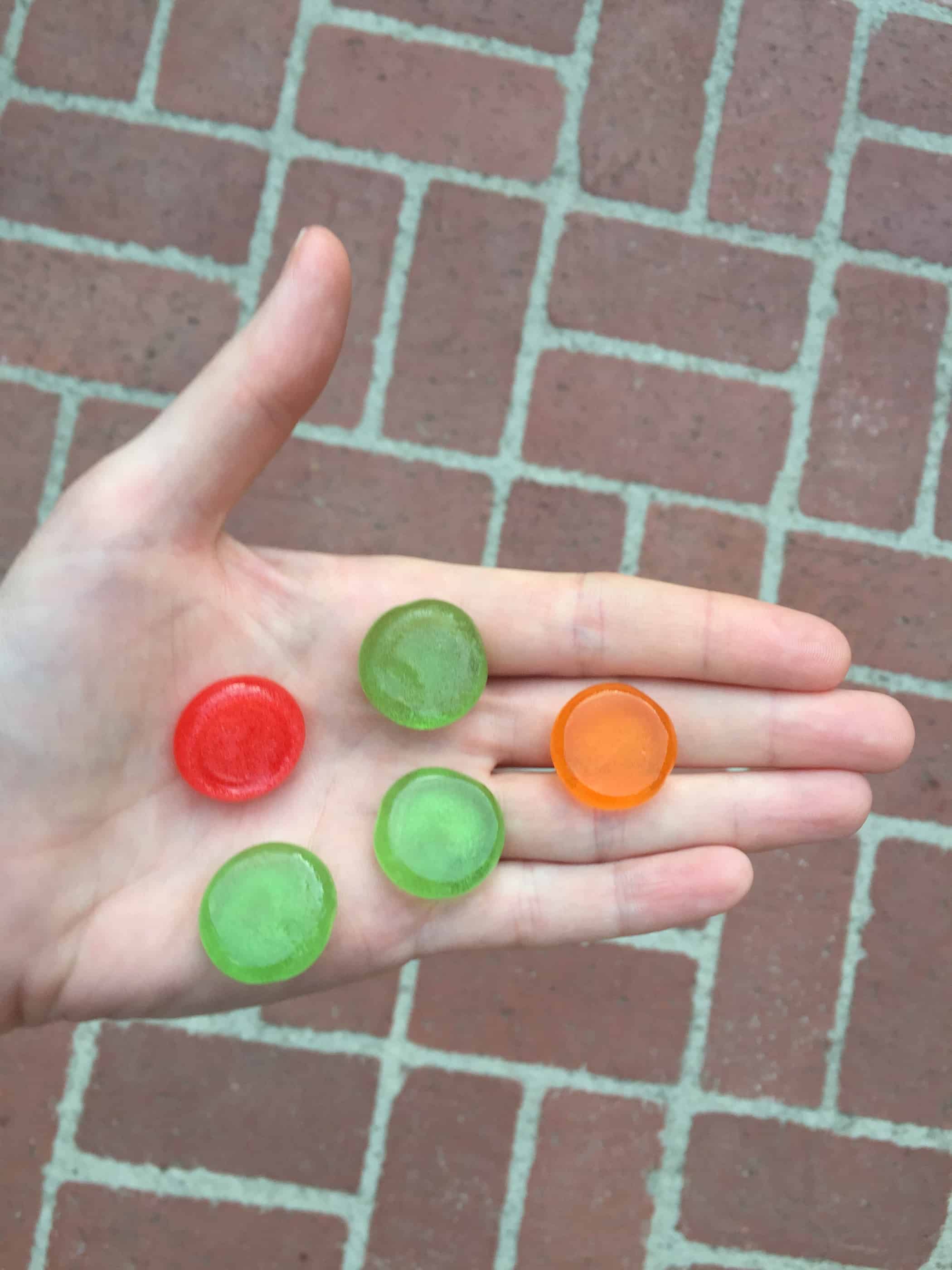 ---
How the FRONTIER JACKSON CBD GUMMY DROPS Worked for Me

These gummies tasted great! They were mouth-puckeringly sour like a Sour Patch Kid. The red was my favorite flavor. I think it was watermelon. An hour after eating two gummies I started to feel more relaxed and focused. I felt a calming warmth from the CBD throughout my body and head. My anxiety seemed to fade away. I was able to be more present and that helped me concentrate on the tasks at hand. Ten minutes before the conference call, I put on a relaxing yoga video from Youtube to help me get in a good headspace. When my phone rang, I took a deep breath in and out before answering to try and settle the nerves. The CBD-infused gummies don't eliminate the anxiety entirely, but they work effectively to take the edge off. During the call, I was able to listen better and speak more eloquently and thoughtfully than I normally do. I still felt my heart racing in anxiety, but it didn't overwhelm me to the point of ineffectiveness. These CBD gummies will become a great pre-meeting go-to to calm my jitters and help me be more present and mindful. Maybe I'll even dare a restaurant or a party next!
---
Useful and Unique Things to Know About FRONTIER JACKSON CBD GUMMY DROPS

I received the sampler packet of Frontier Jackson's CBD Gummy Drops which contains five candies for a total of 60 mg of CBD. These gummies are great for all types of active people like athletes but are also beneficial to people like me who do a lot of physical therapy, yoga, and pilates. These gummies can help people be more focused during their workouts and can reduce inflammation. And don't forget about the pet population! Frontier Jackson's dog treats and chews can help your pup feel less separation anxiety during your next business trip.
---
FRONTIER JACKSON CBD GUMMY DROPS Ratings

In the next sections gradings from 0-100 on our review, these grades add up to give the product's overall score.
PRESENTATION • 100
Informative packaging.
RELIABILITY • 100
Eases anxiety.
QUALITY • 100
Potent and pure.
FLAVOR / SMELL / or EASE OF USE • 100
Tastes great! Really sour.
VALUE • 70
Expensive.
---
How the FRONTIER JACKSON CBD GUMMY DROPS Stacks Up Against the Competition

These gummy drops from Frontier Jackson cost $69.99 for a bottle of 30 candies and a total of 360 of CBD. When compared to similar CBD-infused edible candies, this company is more expensive than average. For $39.99, you can get a bottle of Not Pot's CBD Gummies for a total of 300 mg of CBD infused into 30 sweet and sour candies. Not Pot's gummies are made from 100% vegetarian and vegan ingredients while Frontier Jackson's gummies contain gelatin. Since a lot of CBD-users are also health-conscious, it would be great if Frontier Jackson could make a more affordable and vegetarian option in the future.
---
Saving Money With FRONTIER JACKSON Coupons
Save money on all Cbd Edibles , Cbd Gummies here at Save On Cannabis the World's largest online cannabis coupon code directory.
---
Disclosure: I received these products gratis so that I could try them and then share my honest opinion with the SOC community. I am employed by Save on Cannabis to write honest reviews and provided a flat rate payment for the writing of the review. SOC may receive recurring affiliate payments for purchases made based on this content.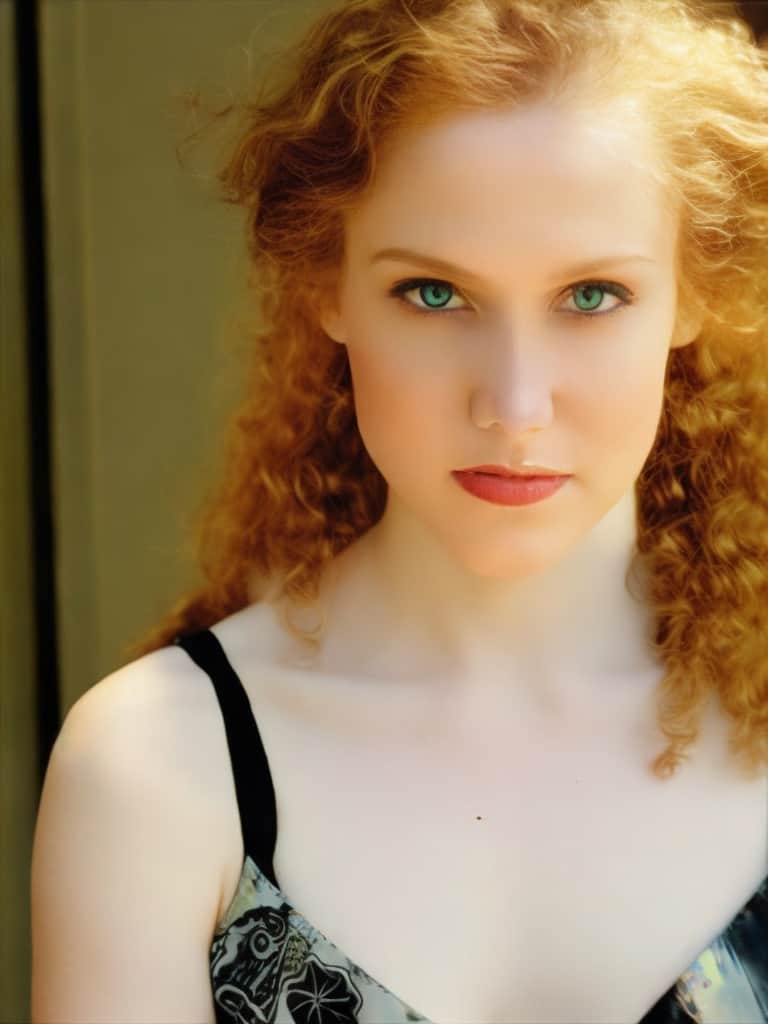 A medicinal cannabis user, utilizing the power of the plant to ease the pains and stresses from long standing conditions that other over the counter or prescriptions could not fix or weren't a natural option like cannabis.  Also, has a background in working directly in the cannabis industry in California within various dispensaries.
Our reviewer tests the CannaFlower Bubba Kush, see how well it met expectations. We give it a smoke to see if it is worth your money.
Our reviewer got her hands on the Real Scientific Hemp Oil (RSHO) CBD Salve & tested it for pains & skin care. See if it worked for her & if she recommends.
In this Americana CBD Flower review, we roll up the Hawaiian Haze and breakdown our experience for you. We smoke and tell, see how it scored.