Steve's Goods CBD Pain Cream Review
Feb 21, 2019 | Romy
STEVE'S GOODS CBD PAIN CREAM
Pros
Mild pain relief
Pleasant smell that won't make you smell like a medicine cabinet
Relatively inexpensive
Moisturizing
Natural ingredients
Cons
Mild pain relief (I put this as a pro and con because while it does provide pain relief, I've tried others that are stronger because they contain stronger doses of camphor and/or menthol.)

Price Range ($-$$$$): $$-$$$$
Brand Overview: STEVE'S GOODS
Steve's Goods makes high-quality CBD products grown, extracted, and packaged in Colorado by trusted farmers. This company is one of the only CBD sellers using one of the lesser-known components of the hemp plant, CBG. After years of research, they have found that adding CBD and CBG to your daily routine is a non-psychoactive, natural alternative to opioids. The company also strives to bring superior hemp products to the market at a fair cost.
Products: CBD Tinctures, CBD Concentrates, CBD Vape Oil, Edibles, Bundle Deals, CBD Pet Tinctures, CBD Topicals
---
About the STEVE'S GOODS CBD PAIN CREAM
Steve's Goods CBD Pain Cream provides immediate relief from inflammation and muscle aches. Containing 300 mg of full-spectrum CBD, this cream connects to your brain's cannabinoid receptors to take the edge off sore muscles after a hard workout. The subtle smell won't overpower the room, making this pain cream perfect for work, social gatherings, and the gym.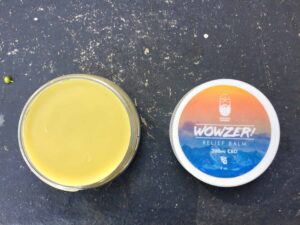 ---
STEVE'S GOODS CBD PAIN CREAM Specifications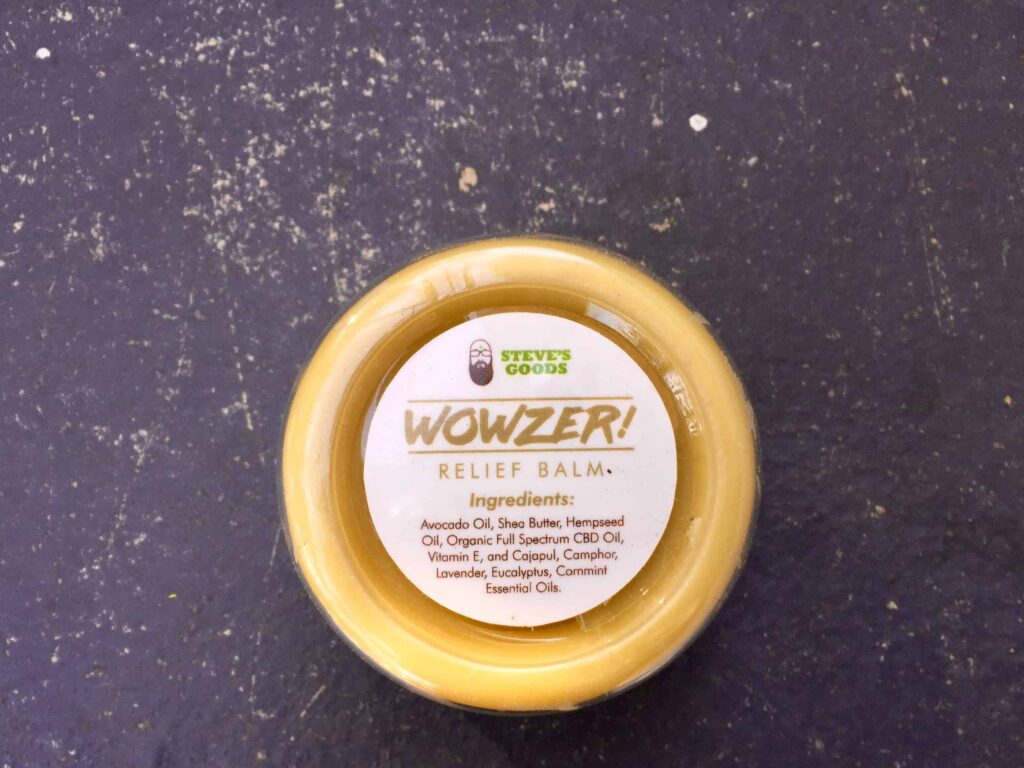 Ingredients: Natural Avocado Oil, Shea Butter, Beeswax, Hemp Seed Oil, Organic Full Spectrum Hemp Flower Extract, Vitamin E, Cajeput Oil, Camphor Oil, Lavender Oil, Eucalyptus Oil, Cornmint Essential Oils
Vegan
Gluten Free
No GMO's
No Sugar
100% All Natural
2 oz
---
How We Tested the STEVE'S GOODS CBD PAIN CREAM
I got hit by a car! Like, as a pedestrian! Don't worry, readers, I'm fine-ish. I mean, I'll live. My back is messed up, I have some bruises, and the worst of it came in the form of having a couple broken toes and a foot so swollen, blue, purple, and bereft of chunks of skin that my sister likens it to a zombie from The Walking Dead. (Although, in the world of The Walking Dead we'd be cutting off my foot and cauterizing the wound to prevent the infection from spreading, thus saving my future from zombiehood. Thank goodness that's not the case here.)
I've been using Tiger Balm and Icy Hot on my sore back, and have been dying to get home to try Steve's Goods CBD Pain Cream. (This all went down out-of-town.) Now that I've returned, I've enlisted my sister to massage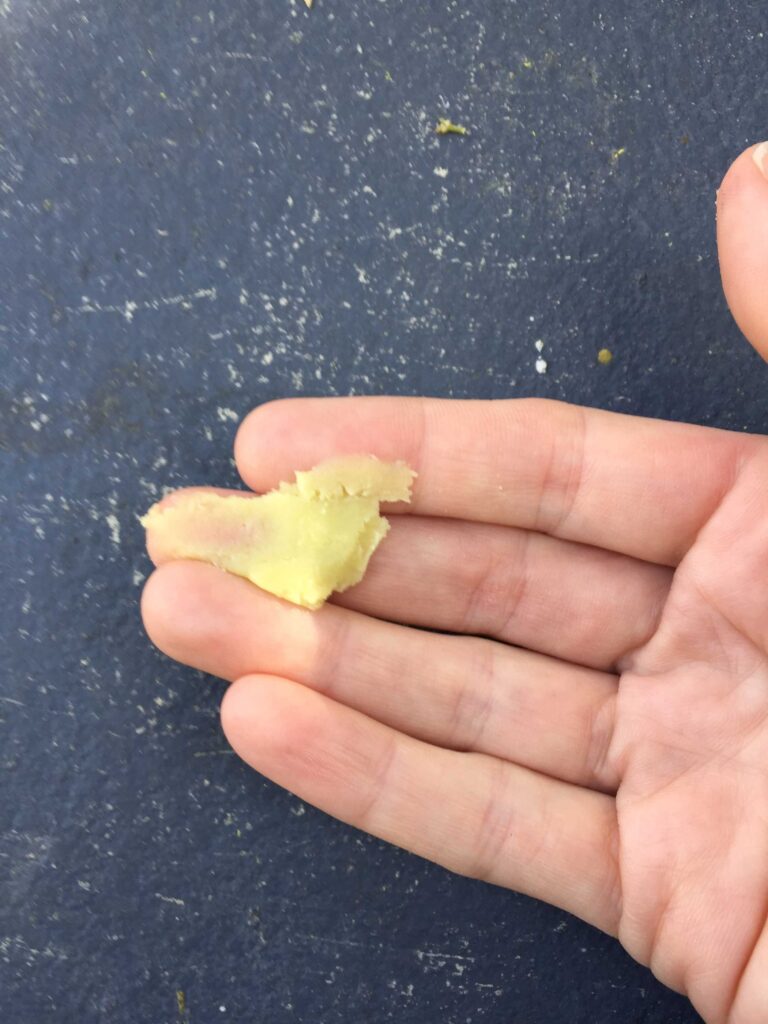 this stuff on my back for the pain. My hope was that it would work just as good as the Icy Hot but with the added benefits of the CBD. My sister rubbed it into my poor back and I waited for relief.
---
How the STEVE'S GOODS CBD PAIN CREAM Worked for Me
Steve's Goods CBD Pain Cream contains camphor and, of course, CBD, that worked deep into my sore muscles to provide relief. The topical blends easily and even provided much needed moisturizing. The essential oils give it a mild and lovely scent that won't overpower if you're sensitive to smell. My sister, who'd also been hit by the Jeep of Doom (because we do everything together), also used some on her aching muscles and found it so moisturizing she used it on her face. Both my sister and I would definitely use this product again, for post-getting-hit-by-a-car needs, but also for skin care and everyday aches and pains.
Useful and Unique Things to Know About STEVE'S GOODS CBD PAIN CREAM

Steve's Goods CBD Pain Cream contains multiple essential oils that are good for the body and mind. Cajeput Oil comes from the Melaleuca Leucadendron Tree and smells a little like camphor and mint. It's found in make-up and skin creams which is probably why my sister's face looks so young and fresh after using this topical on it. The air gets dry up in the mountains where the accident occurred, and this cream made our skin very happy.
---
STEVE'S GOODS CBD PAIN CREAM Rating Breakdown
we validate our ratings that show as gradings from 0-100
PRESENTATION – 100
Fun and informative.
RELIABILITY – 90
Mild pain relief.
QUALITY – 100
Natural ingredients.
FLAVOR / SMELL / or EASE OF USE – 100
Mild pleasant smell.
VALUE – 100
Moderately priced (for CBD topicals).
---
How the STEVE'S GOODS CBD PAIN CREAM Stacks Up Against the Competition
This topical is one of the superior CBD pain creams I've tried and is my new preference to use when I'm leaving the house for the doctor's or physical therapists because the smell isn't overwhelming like Icy Hot or Tiger Balm. That being said, I do prefer a topical that contains a higher amount of menthol and camphor for at-home, because, despite the strong odor, it seems to have more pain-relief benefits. Still, I recommend this product for anyone looking for muscle pain-relief when going to the gym or work when you don't want to smell like you just got out of the hospital.
Saving Money With
Steve's Goods
Coupons
Save money on all CBD Topicals here at Save On Cannabis the World's largest online cannabis coupon code directory.
---
Disclosure: I received these products gratis so that I could try them and then share my honest opinion with the SOC community. I am employed by Save on Cannabis to write honest reviews and provided a flat rate payment for the writing of the review. SOC may receive recurring affiliate payments for purchases made based on this content.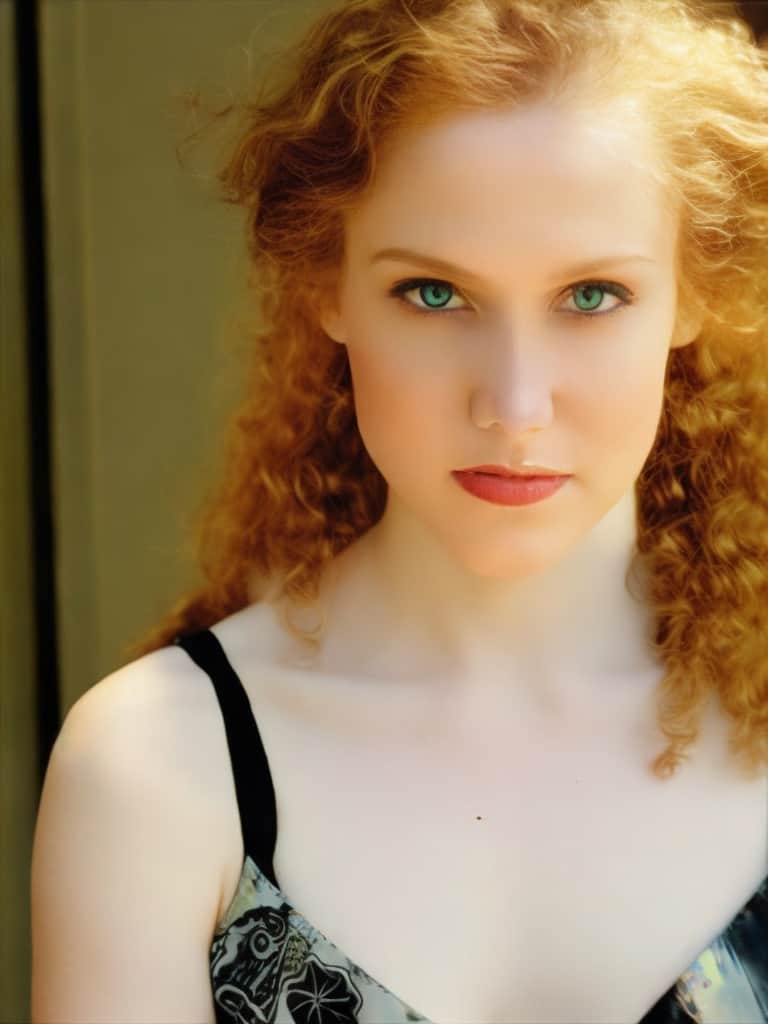 A medicinal cannabis user, utilizing the power of the plant to ease the pains and stresses from long standing conditions that other over the counter or prescriptions could not fix or weren't a natural option like cannabis.  Also, has a background in working directly in the cannabis industry in California within various dispensaries.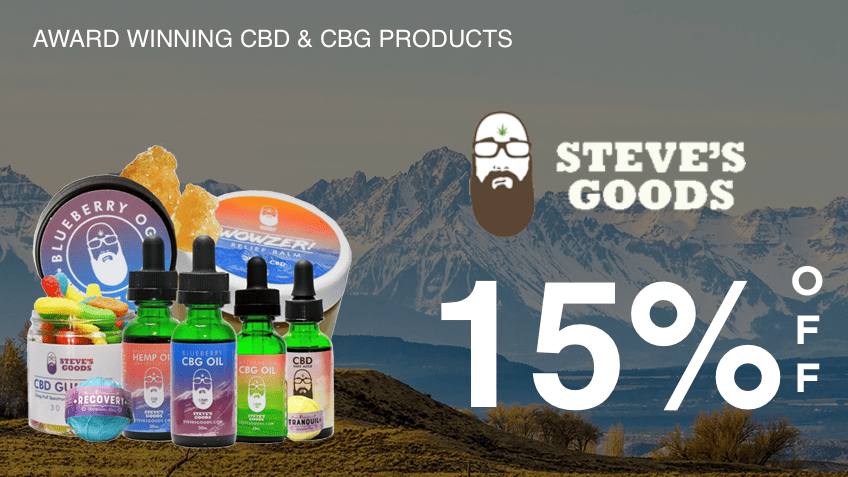 15% OFF CBD shatter with terpenes and more at Steve's Goods! Also get Delta 8 products now. USA Shipping.
Can CBD not only be helpful but also a delicious treat? Our reviewer tests out the Soul CBD Gummies in their raspberry flavor.
Looking for trusted CBD products? We always are, so we tested the CBD Choice marketplace to see if they had what we wanted & were worth shopping from.
Our expert tested the Rokin Vapes Nitro2 and Mini Tank, see first hand photos and read real world experience with these vape pens. Also get Rokin coupons.