Sunday Scaries CBD Tincture – 500 mg Review
Dec 9, 2020 | SOC
Sunday Scaries CBD Tincture - 500 mg
Pros
Calming
Easy to use
All-natural
Stress-relieving
Contains vitamins D3 and B12
Cons
Somewhat expensive
Slightly hempy and too sweet
Sunday Scaries
Product Review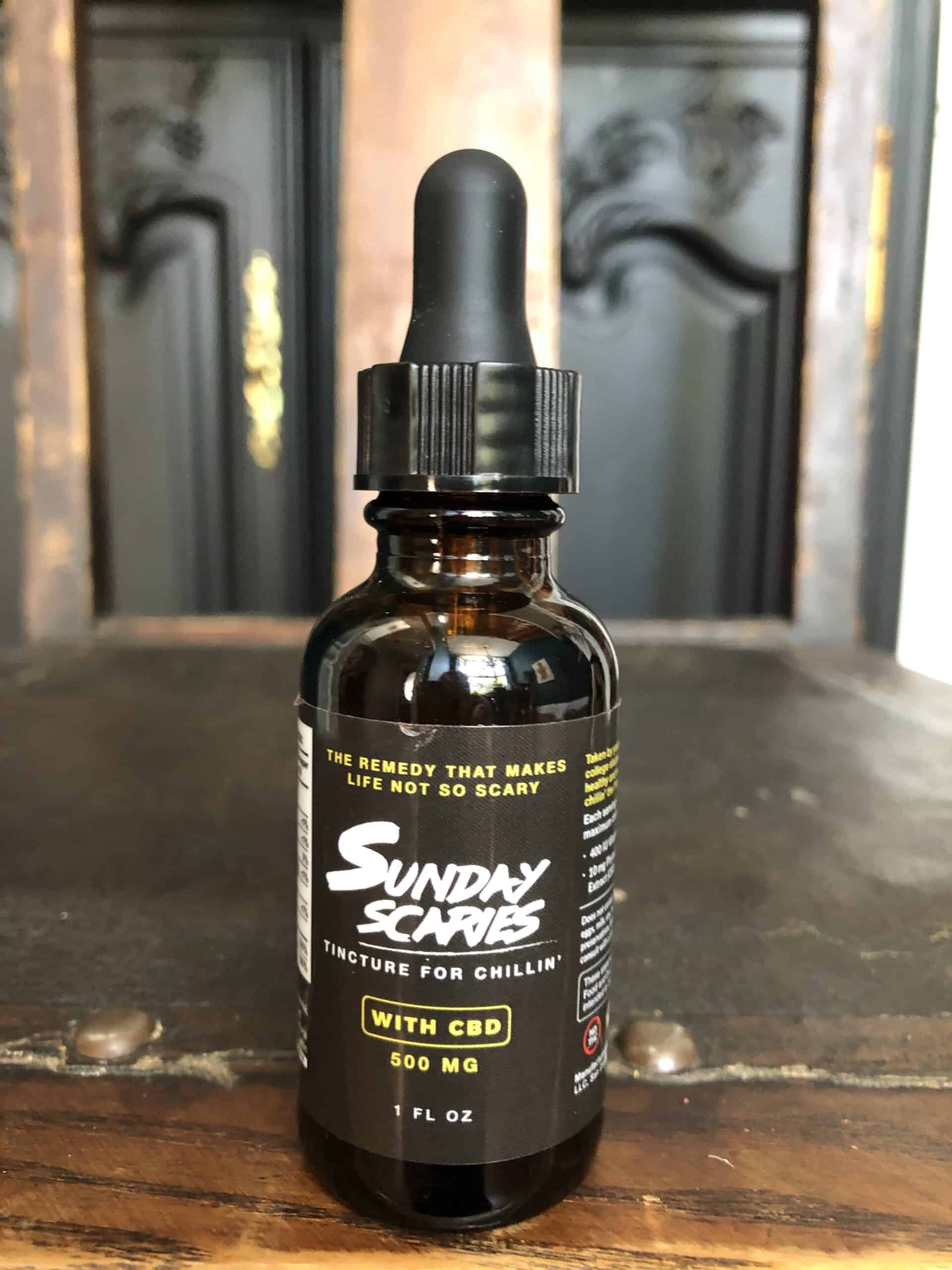 Brand Overview: Berkeley Gold
Sunday Scaries was founded by two former stressed-out bar owners who think CBD is an effective way to deal with worry. Their mission is to transform an anxious and freaked out nation into a "chill one." The name comes from the expression, "Sunday Scaries," which describes the fear that comes about on a Sunday night before you have to return to work or school.
The founders of the company know only too well how stress begets negativity, and they want to help make the Sunday Scaries a little more manageable. They want to help take the pressure off that looming deadline, those midterms, or the stressors brought on by peers and social media. One of the owners says that he wants "people to get out of their heads and live their lives Scarefree." Sounds good to me.
Products: Gummies, Vegan Gummies, Candy, Oil, Energy Shot, Bundles
Price Range ($-$$$$): $$$
---
About SUNDAY SCARIES CBD OIL TINCTURE
Sunday Scaries CBD Oil Tincture is filled with 500 mg of broad-spectrum CBD, Vitamin B12, and Vitamin D3, natural ingredients that can help bring you relief. Each dropper contains 30 mg of calming CBD. The company combines its ingredients with organic coconut oil, a natural fruit punch flavor, and organic stevia for sweetness. Sunday Scaries created this CBD oil tincture to help alleviate stress and sleepless nights, boost your wellness, and to bring you a "cool, calm, sense of relief." You can take this tincture by mouth, or add it to water, tea, or fruit smoothies.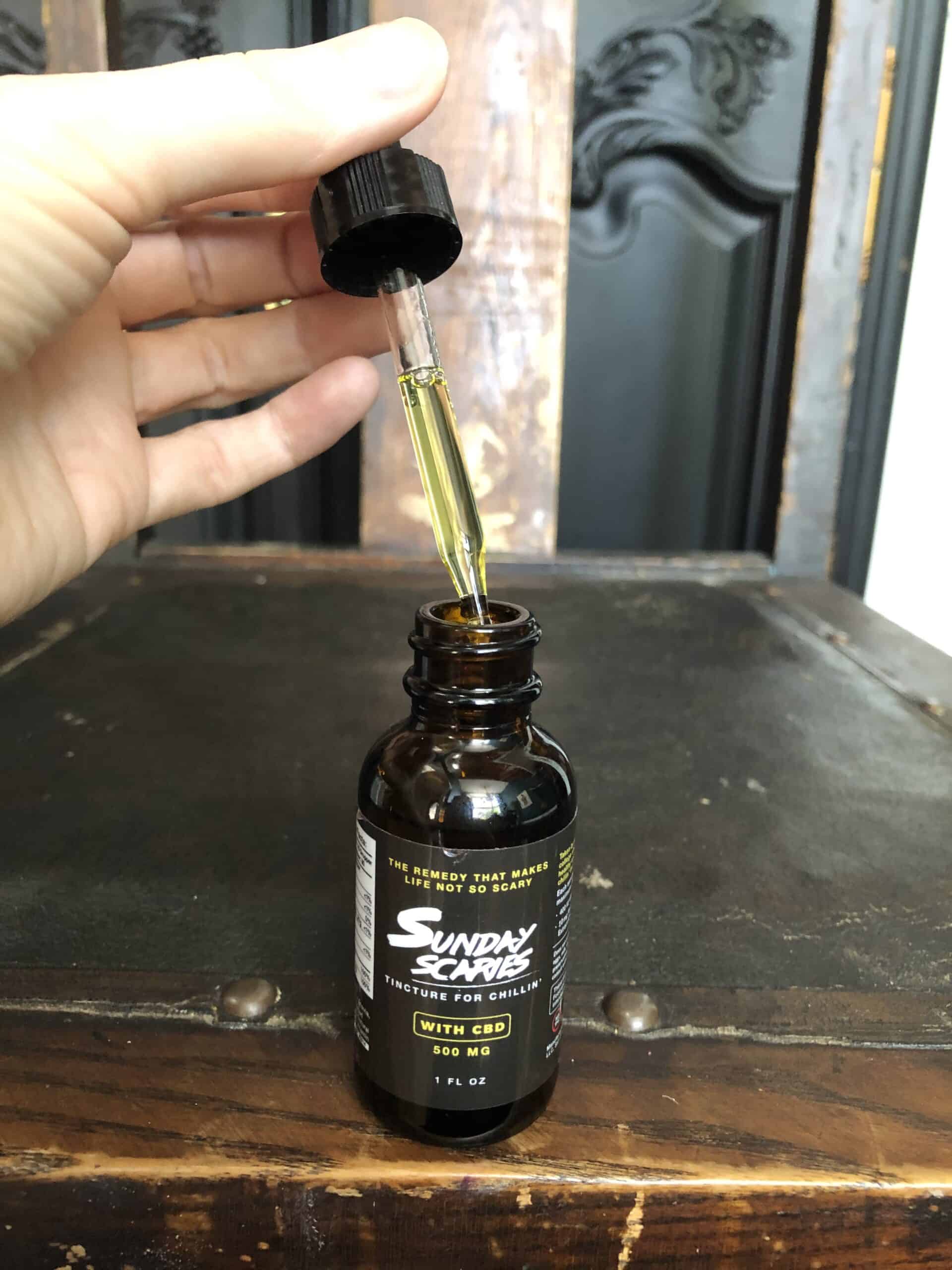 ---
SUNDAY SCARIES CBD OIL TINCTURE Specifications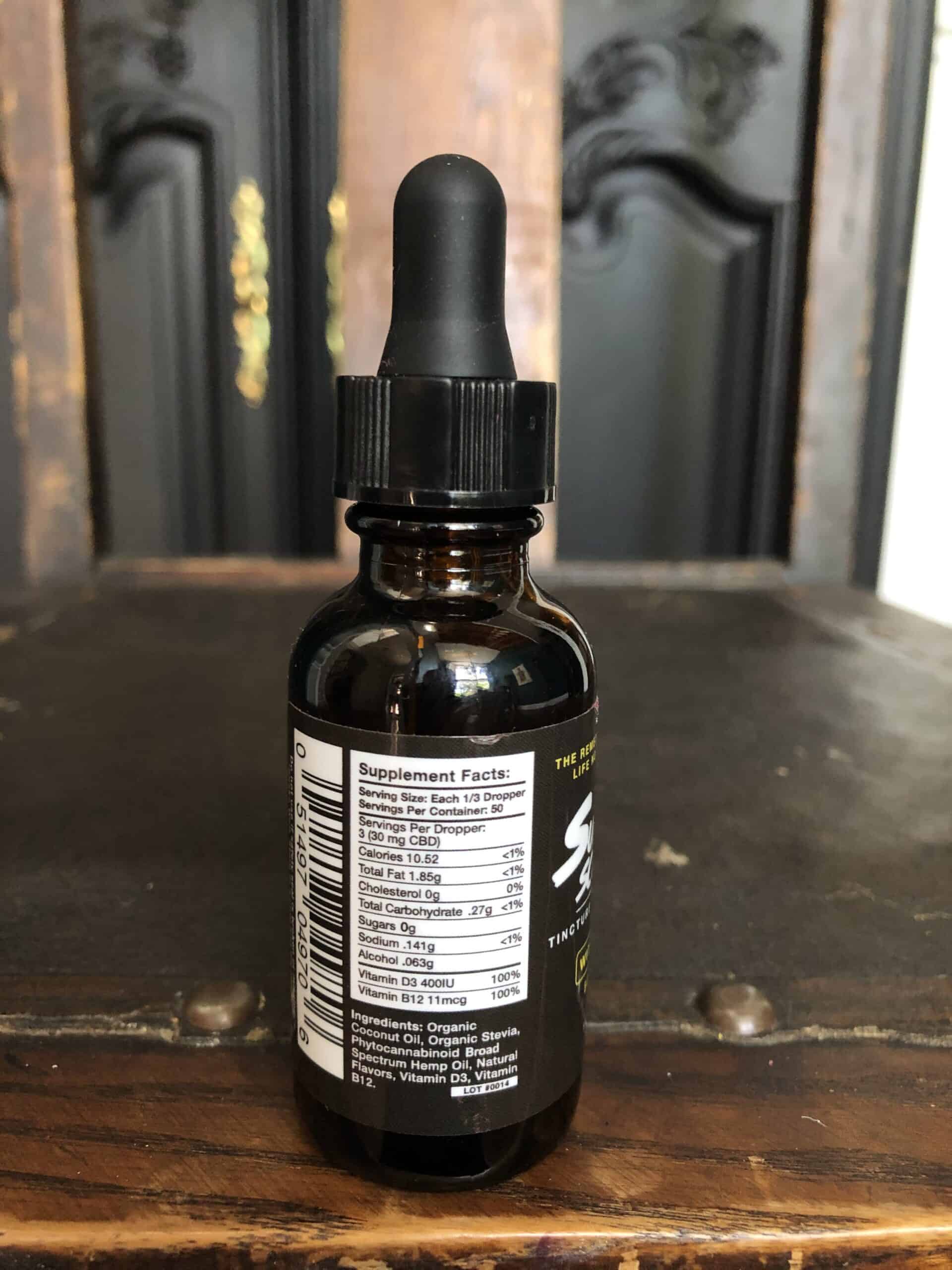 500 mg CBD per bottle
50 servings per bottle
10 mg CBD per serving
1 serving = ⅓ dropper
1 fl oz
Ingredients:Organic Coconut Oil, Organic Stevia, Phytocannabinoid Broad Spectrum Hemp Oil, Natural Flavors, Vitamin D3 (100%), Vitamin B12 (100%)
---
How We Tested the SUNDAY SCARIES CBD OIL TINCTURE
I tried Sunday Scaries CBD Oil Tincture because I wanted something to help me handle stress better. I have an autoimmune disease that is triggered by stress, amongst other things, so I'm always looking for natural and non-addictive ways to find relief. I was interested in trying this tincture from Sunday Scaries because it's naturally sweetened with stevia and while I like my tinctures flavored to hide the taste of hemp, I don't want any added sugar.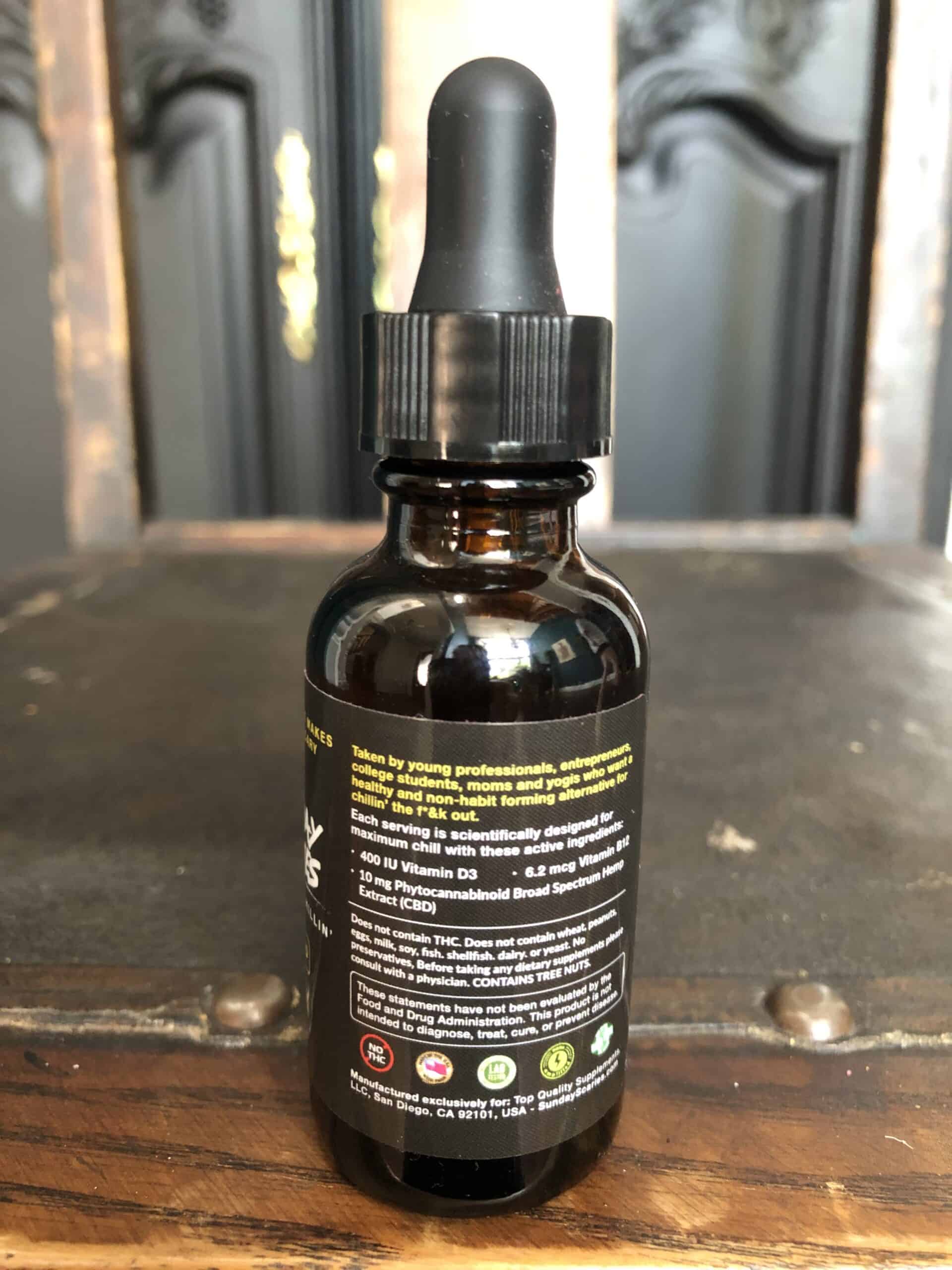 I was also excited to try this tincture because it contains Vitamin D3 and Vitamin B12. I always forget to take my vitamins and I know these two, in particular, are great for stress-relief. I tried this tincture over a week, taking 30 mg in the morning, then another full dropper at night before bed.
---
How the SUNDAY SCARIES CBD OIL TINCTURE Worked for Me
Within an hour of taking this tincture, I could feel the positive effects of the CBD. This stuff made me feel cool, calm, and collected, without feeling high, unfocused, or sleepy. In fact, I felt very focused as I went about my day with more mindfulness. I was able to not sweat the small things as much, and this made it easy to be more productive. At night, I found the extra boost of calm helped quell my racing thoughts and I was able to fall asleep faster and stay asleep longer. The tincture tasted good, but it wasn't my favorite. The natural fruit punch flavor hides a lot of the hemp taste, but not all of it. And I thought they used too much stevia. It was overpoweringly sweet. I would use this product again for its effectiveness, but I have other tinctures that taste better and work just as well.
---
Useful and Unique Things to Know About SUNDAY SCARIES CBD OIL TINCTURE
This tincture contains stevia, a natural low-calorie sweetener that's often used as a healthier alternative to sugar. Stevia's distinctive sweetness is known to be 30 to 150 times sweeter than sugar, so a little goes a long way. It comes from the chrysanthemum family and is often used by diabetics as a safe option. While the FDA approves of stevia used in small doses, too much can have harmful effects on your organs or can interact with certain medications. If you're not sure if stevia is safe for you, ask your doctor.
---
SUNDAY SCARIES CBD OIL TINCTURE Ratings
In the next sections gradings from 0-100 on our review, these grades add up to give the product's overall score.
PRESENTATION • 100
Informative packaging.
RELIABILITY • 100
Effective and calming.
QUALITY • 100
All-natural ingredients.
FLAVOR/SMELL/or EASE OF USE • 80
Slightly hempy and too sweet.
VALUE • 90
Somewhat expensive.
---
How SUNDAY SCARIES CBD OIL TINCTURE Stacks Up Against the Competition
Sunday Scaries CBD Oil Tincture is a great product to help you deal with the scary parts about life, like Mondays, or pandemics, or whatever is freaking you out. While I found the tincture effective, there are CBD oils on the market that are equally so, but cost less and taste better. To be more competitive, I think Sunday Scaries should lower their price. For a tincture that contains 500 mg of CBD, I want to pay less than $50.
---
Saving Money with Our Verified SUNDAY SCARIES CBD OIL TINCTURE Coupons
Save money by using our verified CBD Tinctures Coupons here at Save On Cannabis the World's largest online cannabis coupon code directory.
---
Disclosure: I received these products gratis so that I could try them and then share my honest opinion with the SOC community. I am employed by Save on Cannabis to write honest reviews and provided a flat rate payment for the writing of the review. SOC may receive recurring affiliate payments for purchases made based on this content.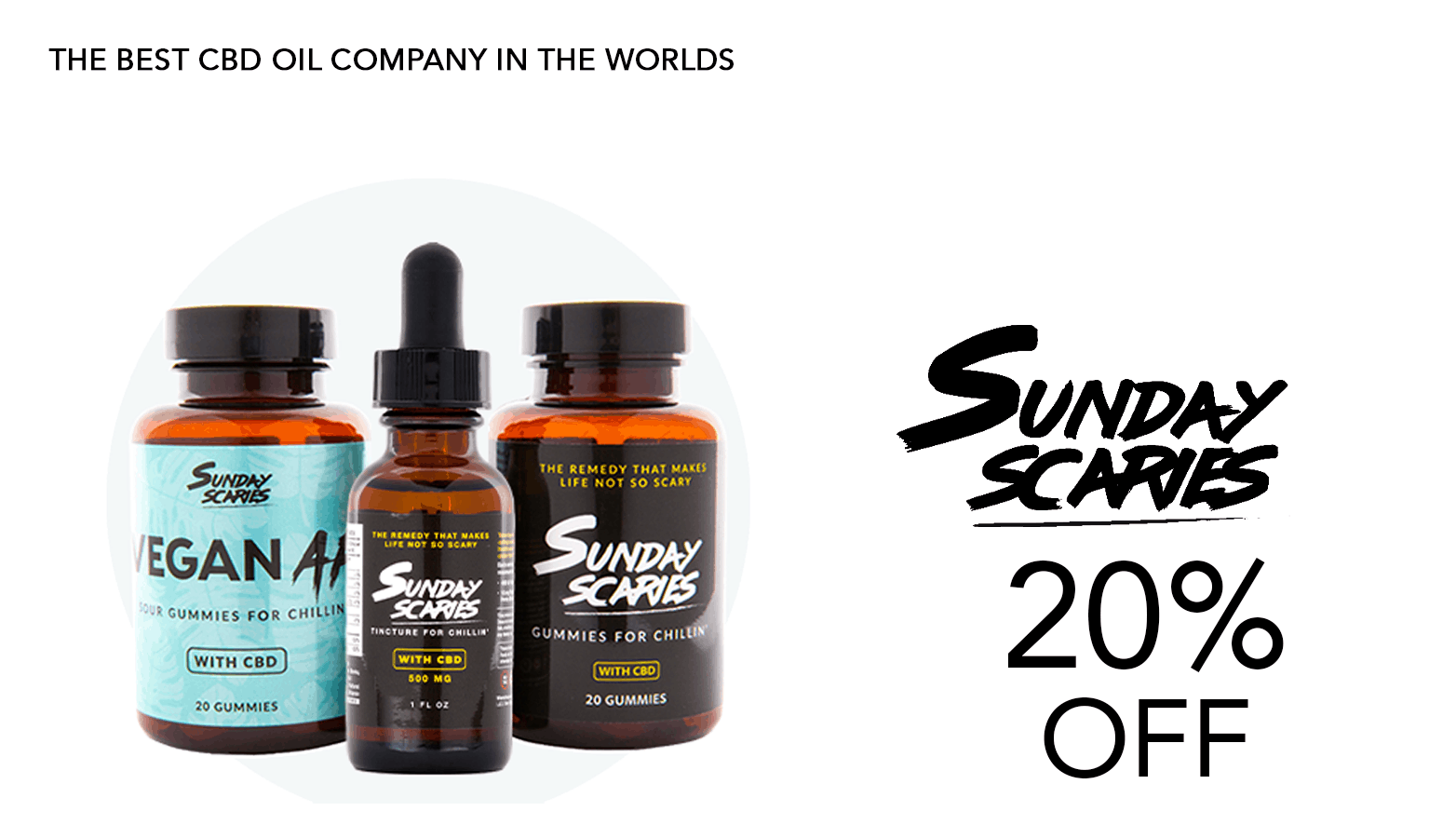 20% OFF Sunday Scaries amazing CBD and THC Gummies! (Also Candy, Oil and Pet Treats and more.)
We've tested many CBD tinctures, our reviewers are truly some of the most knowledgeable. Read our insights in this 43 CBD Solutions review.
Hands on Infinite CBD review of the Nano Rest Shot. See if it helped our reviewer get some sleep and if we think you should buy it.
Our body has pains, we want help. Let's see if the 43 CBD Solutions CBD Salve 300mg does the trick. Our reviewer puts it to the test.