IHL CBD Hash Sativa Black Hash Review (Blueberry)
Feb 23, 2021 | Save On Cannabis
CBDCBD ConcentratesCBD Hash
IHL CBD Hash Sativa Black Hash – Blueberry – 1g 20% CBD (Pipe Included)
$25.00
Pros
Full-spectrum cannabinoid profile
CO2 extraction
Super high concentration
Includes CBD, CBG, CBC and CBN
Non-GMO
Made using old word Moroccan techniques
Strain-specific Blueberry terpenes
Multiple ways to consume
Cons
Included pipe is hard to use
3rd party lab tests are not available online
Don't know exact cannabinoid concentration
IHL
Product Review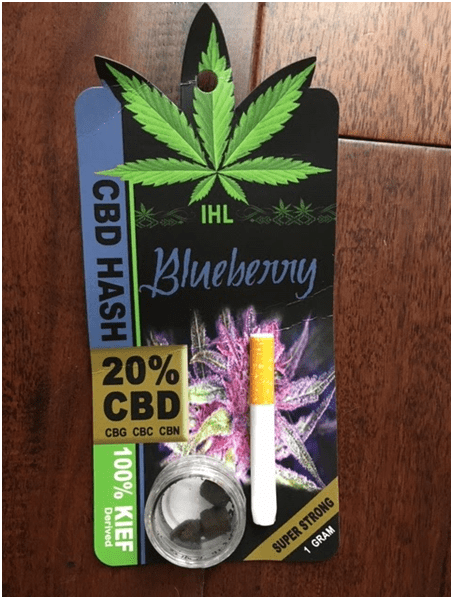 Brand Overview: IHL
IHL CBD (sold by PureCBDVapors.com) specializes in making terpene-infused CBD Hash and vape oils with different flavors and effect-specific formulas. The terpenes in the Hash products mirror the terpene profiles of popular cannabis strains, like OG Kush, Sour Diesel, and Blueberry (the product we're reviewing).
Also, the company has a third-party lab test the potency of each product to ensure accurate dosing information for its customers.
Even more, it uses a safe and heat-free extraction process called CO2, to preserve the full-spectrum profiles of the hemp extracts. Finally, its products get made in the United States.
Products: Vape oil and CBD hash (other flavors).
Price Range ($-$$$$): $$
---
About IHL CBD Black Hash
This 1 gram of Black Hash (100% kief) comes in a small container with a twist-off lid and a little pipe. With 20% CBD along with other hemp cannabinoids, CBG, CBC, and CBN, it packs a strong potency.
It also includes botanical terpenes similar to those in the Blueberry cannabis strain.
The purpose of this product is to get the benefits of CBD using inhalation. This is one of the fastest delivery methods, whereby effects can be felt within minutes.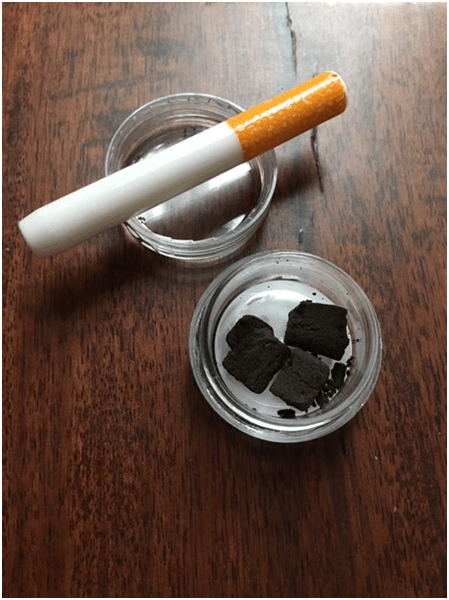 ---
IHL CBD Black Hash Specifications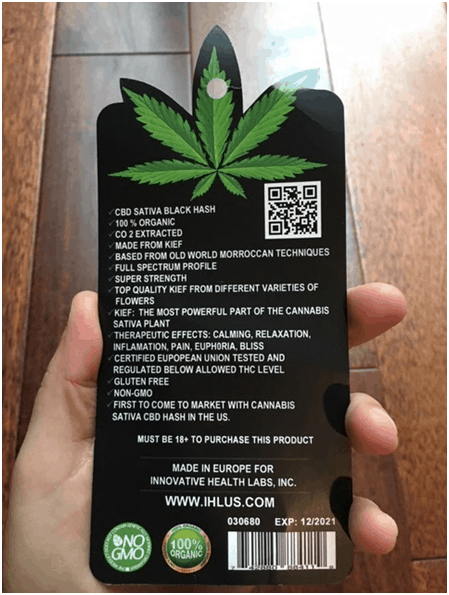 ---
How We Tested IHL CBD Black Hash
This was my first time ever smoking hash, which was a little intimidating. I smoke flower and vape oil, but again this form of inhalation was new to me. I used the pipe that's included, but I would have preferred a water bong, maybe next time, since I don't own one yet.
I smoked the hash a few times before writing this review. Mostly at night before bed to see how it would help me sleep.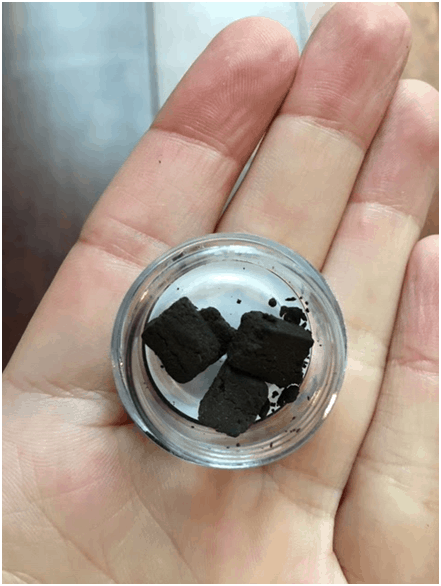 ---
How the IHL CBD Black Hash Worked for Me
Overall I really enjoyed the effects. Like most of the CBD I smoke, this Blueberry Black Hash was fast-acting, but due to its concentrated nature, it was heavy hitting. Much stronger than hemp flower or vape oil for me.
Mostly, I felt very relaxed and because I consumed it at night, it helped me feel more tired and ready for bed. I felt the effects mostly in the body, where any tension I might have had, disappeared.
The taste of the kief was ok, nothing special. But, I'm willing to bet the flavor is a whole lot better with a water bong or vaporizer.
Using the small pipe was a bit awkward for me, especially loading the hash at the end of the pipe and making sure it was packed tight enough. While also ensuring the inhale would be easy and natural.
---
Useful and Unique Things to Know About IHL CBD Black Hash
You don't have to use the included pipe to smoke the CBD Black Hash, you can use your own vape device, such as a pen or dab rig, or sprinkle some on your flower before rolling up a joint. It has multi-uses, which is a really great quality of this product.
---
IHL CBD Black Hash — Blueberry Ratings
In the next sections gradings from 0-100 on our review, these grades add up to give the product's overall score.
PRESENTATION • 100
The labeling was detailed, helpful, and well laid out.
RELIABILITY • 100
Consistent effects of feeling relaxed, calm, with relief of physical tension.
QUALITY • 90
CO2 extraction and 3rd-party lab-tested, but test results not available online.
FLAVOR / SMELL / or EASE OF USE• 90
The flavor was subtle but could be better with a vaporizer.
VALUE • 85
A little pricey when not on sale, but still offers good value.
---
PROS of the IHL CBD Black Hash — Blueberry
This product derives from non-GMO full-spectrum hemp that undergoes CO2 extraction to preserve the plant's beneficial properties. Also, the product is lab-tested and contains CBD, CBG, CBC, and CBN, all primary and therapeutic cannabinoids.
Also, it includes botanical terpenes to mimic those in the Blueberry (Sativa dominant) cannabis strain. Finally, the hash gets created using old world Moroccan techniques.
---
CONS of the IHL CBD Black Hash — Blueberry
The lab reports aren't available online, so we couldn't verify the potency or see if it was tested for any contaminants or chemicals. In addition, the included pipe is not the best.
---
How IHL CBD Black Hash Stacks Up Against the Competition
IHL CBD Black Hash is priced higher than the competition even though it has the same or less CBD potency (per 1 gram) than other brands. And unlike other brands, it doesn't provide copies of the COAs (lab test results) online. So, these are a few downfalls.
Save money by using our verified
CBD Hash Coupons
here at Save On Cannabis the World's largest online cannabis coupon code directory.
---
Disclosure: I received these products gratis so that I could try them and then share my honest opinion with the SOC community. I am employed by Save on Cannabis to write honest reviews and provided a flat rate payment for the writing of the review. SOC may receive recurring affiliate payments for purchases made based on this content.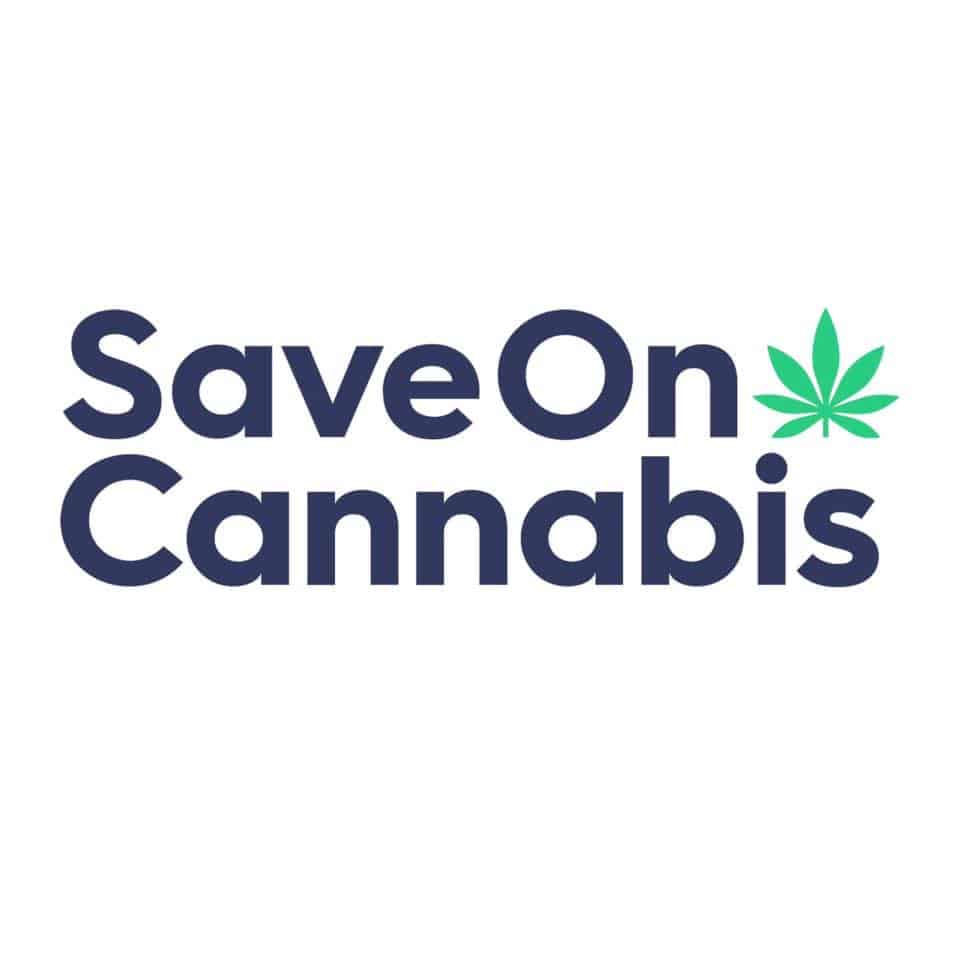 Save On Cannabis is the most trusted source for cannabis discounts and education information.  Vetted deals and clearly written articles to help you become a wiser consumer whether focused on the medical or recreational value of cannabis products.
Looking for a CBD topical for pain? Our reviewer tested the Vapen CBD Deep Muscle Relief CBD Balm. See how it worked and if we recommend, also get coupons.
Find out how CBD capsules worked for our reviewer & her chronic pain. In this ZenWorks review we see if their CBD capsules help our reviewer get some sleep.
Our reviewer tries out the Savage CBD Driven vape oil to see if it helps her with her anxiety and daily stresses. See if this vape juice takes the edge off.