CBD Review: Medterra – Good Morning Capsules
Apr 10, 2019 | Romy
Medterra - Good Morning Capsules
Pros
Elevates energy
Creates mental clarity and focus
Easy to use
Great combo of natural ingredients
Affordable
Cons
No real downside except if you're a vegetarian. It's made with bovine gelatin.
MEDTERRA CBD GOOD MORNING CAPSULES
Product Review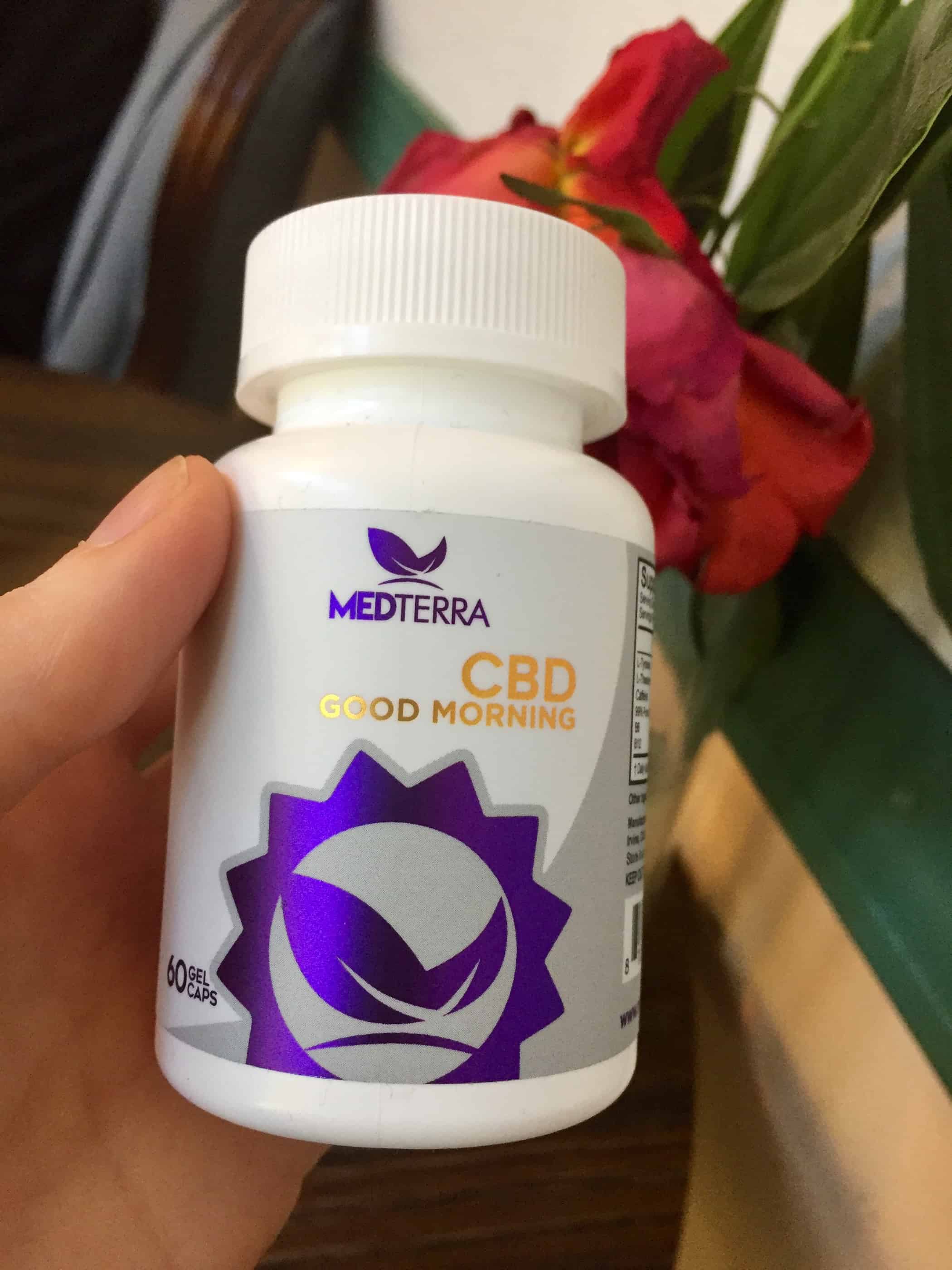 Brand Overview: MEDTERRA
Medterra uses the highest quality industrial hemp to provide customers with a variety of CBD products at an affordable price. Grown and cultivated in Kentucky, Medterra has a mission to educate consumers, and are in partnership with the Hemp Pilot Research Program to create the best CBD products in the country. All their products are GMO-free and frequently tested for purity. Medterra CBD offers a rewards program for frequent users, and their customer care team is always on hand to answer any questions you might have.
Products: Capsules, Tinctures, Wellness Capsules, Pet Tinctures, Pain Cream, Bundles
Price Range ($-$$$$): $-$$$
---
About the MEDTERRA CBD GOOD MORNING CAPSULES
The Medterra CBD Good Morning Capsules are a part of the company's Wellness line of products, infused not only with CBD, but other supplements to benefit your health. The Good Morning gel caps contain a small dose of caffeine, as well as L-Tyrosine, L-Theanine, B6, and B12 to boost your energy levels, ease pain, and is touted as being beneficial to women when they get cramps. It's like the all-natural version of Midol! The focusing ingredients provide mental clarity to get your day started off right.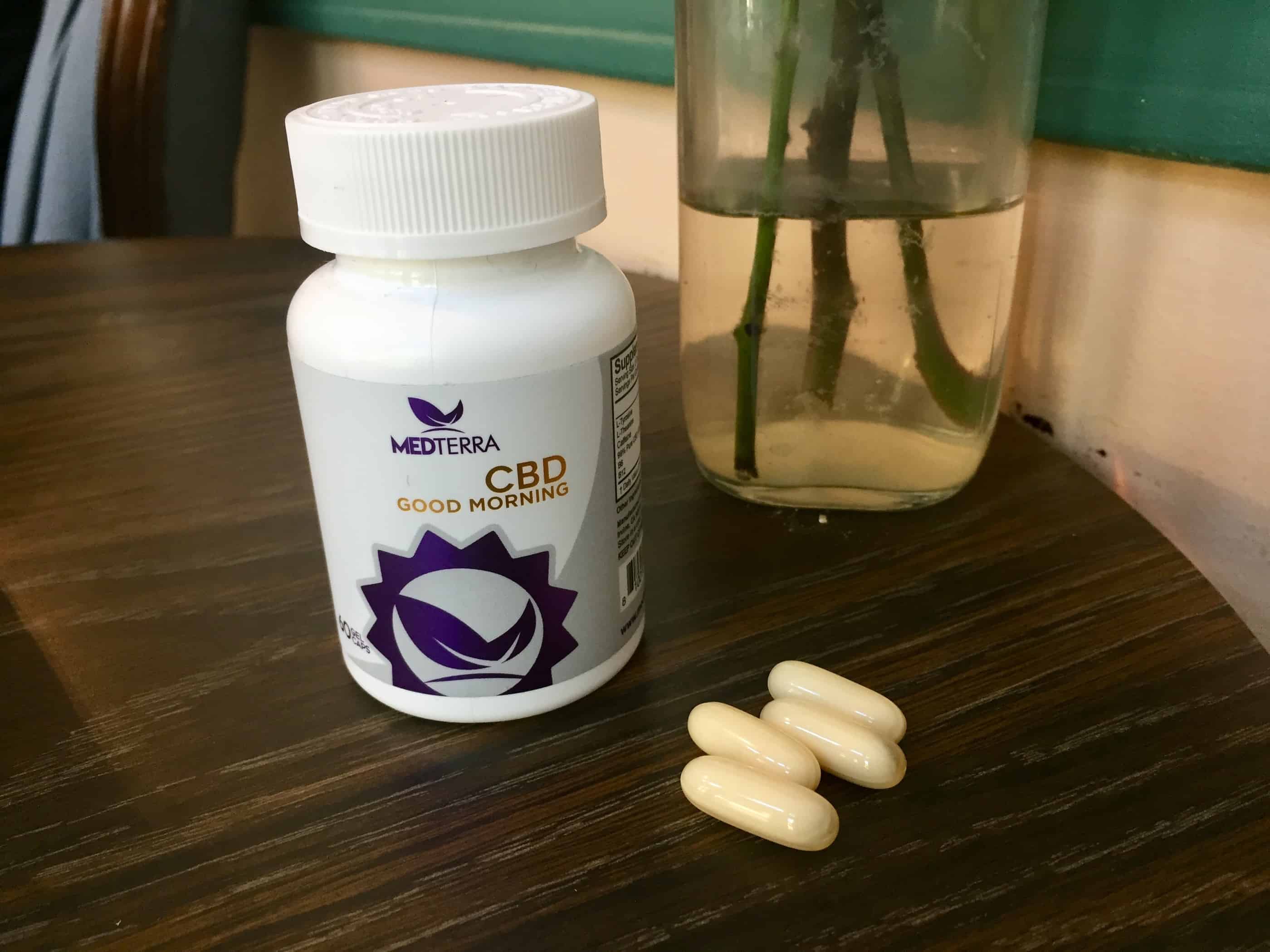 ---
MEDTERRA CBD GOOD MORNING CAPSULES Specifications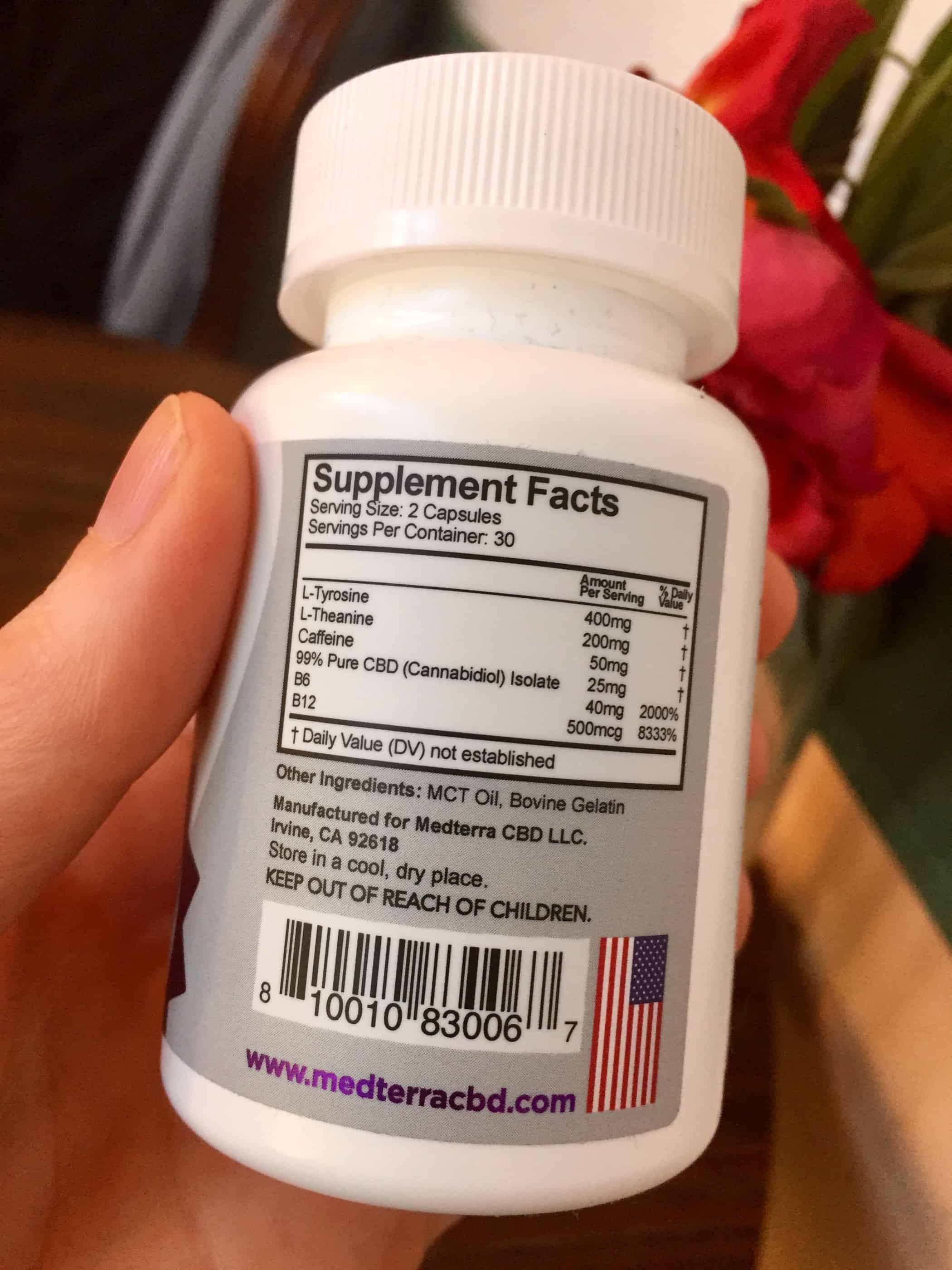 60 gel caps/container (30 servings total)
Serving Size: 2 capsules
CBD – 25 mg/serving
L-Tyrosine – 400 mg/serving
L-Theanine – 200 mg/serving
B6 – 40 mg/serving
B12 – 500mcg/serving
Other Ingredients: MCT Oil, Bovine Gelatin
Zero THC
Non-GMO
---
How We Tested the MEDTERRA CBD GOOD MORNING CAPSULES
As someone who experiences chronic pain, I'm a terrible sleeper. I wake up every day exhausted. It's often hard to focus, especially on those days where I've gotten zero sleep, and pushing through the pain and mind fog makes me want to get back in bed. The ingredients in Medterra CBD's Good Morning capsules sounded like just what I needed after a night of tossing and turning, especially because I knew my double shot latte was only going to make me feel cracked out, not energized. I was hoping the dose of caffeine would get my energy going, but the CBD and other ingredients would give me enough mental clarity to push through my discomfort and get through my day. I took two capsules (1 serving) with a glass of water when I woke up.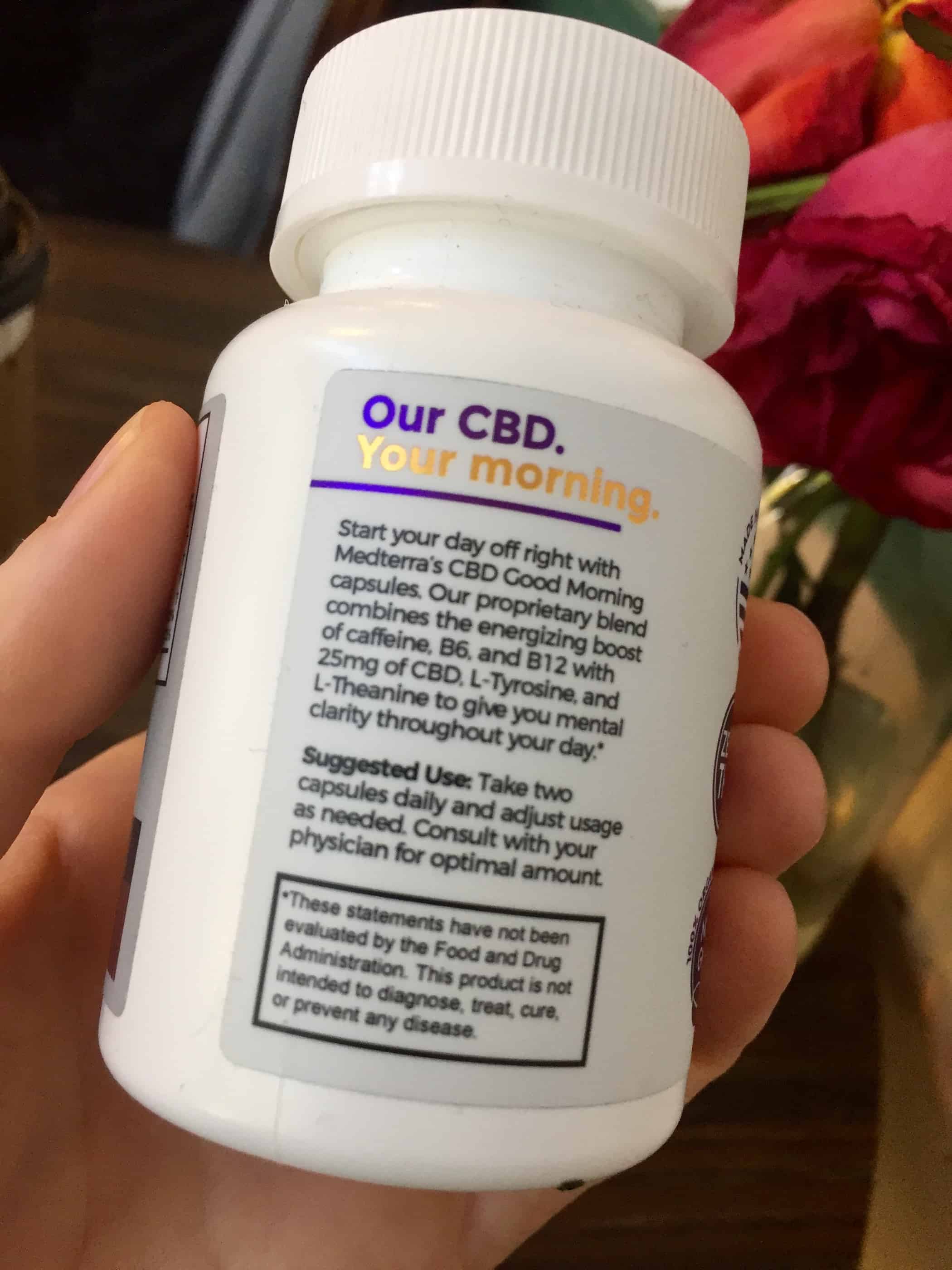 ---
How the MEDTERRA CBD GOOD MORNING CAPSULES Worked for Me
With the amount of caffeine you'd get in only 4 ounces of coffee, these capsules didn't make me jittery or wired. Instead, I found myself focused and clear-headed. The CBD made me feel warm, and despite the caffeine, I was relaxed, but not tired. It was the perfect mindset to do forty-five minutes of physical therapy followed by a few hours of work. Normally when I don't sleep, I cancel any social outings because I can't focus enough on the other person to be my normal engaging self. Today, however, I kept my lunch get-together with an old colleague. I was able to listen and respond like a human being, not a zombie, and even told them about these amazing (and all-natural) gel caps as they slugged down their third cup of joe.
---
Useful and Unique Things to Know About MEDTERRA CBD GOOD MORNING CAPSULES
The ingredients besides CBD and caffeine in the Medterra CBD Good Morning capsules are the perfect blend to get you through the day. L-Tyrosine helps relieve stress. L-Theanine, which is often found in tea, is known to relax the mind without causing drowsiness. Vitamin B6 can help you deal with stress and B12 aids in fighting anemia, which can make you weak or tired. It's clear Medterra CBD has come up with a thoughtful combination of ingredients to put the pep back in your step.
---
MEDTERRA CBD GOOD MORNING CAPSULES Ratings
In the next sections gradings from 0-100 on our review, these grades add up to give the product's overall score.
PRESENTATION • 100
Looks like a vitamin bottle.
RELIABILITY • 100
Effective energy boost without the jitters.
QUALITY • 100
Natural ingredients.
FLAVOR / SMELL / or EASE OF USE • 100
Easy to use
VALUE • 95
Affordable but there are similar products that cost less.
---
How the MEDTERRA CBD GOOD MORNING CAPSULES Stacks Up Against the Competition
I compared the Medterra CBD Good Morning capsules with Infinite CBD's A.M. capsules. Both contain CBD and caffeine. The A.M. capsules contain 100 mg of caffeine and 25 mg per serving while the Good Morning capsules contain 50 mg of caffeine and 25 mg per serving. The A.M. capsules don't include any of the wellness components like the B6 and B12. For the same amount of CBD, the A.M. capsules are much cheaper. However, if you're sensitive to caffeine like me, the Good Morning gel caps are the way to go.
---
Saving Money With Medterra CBD Coupons
Save money on all CBD Capsules here at Save On Cannabis the World's largest online cannabis coupon code directory.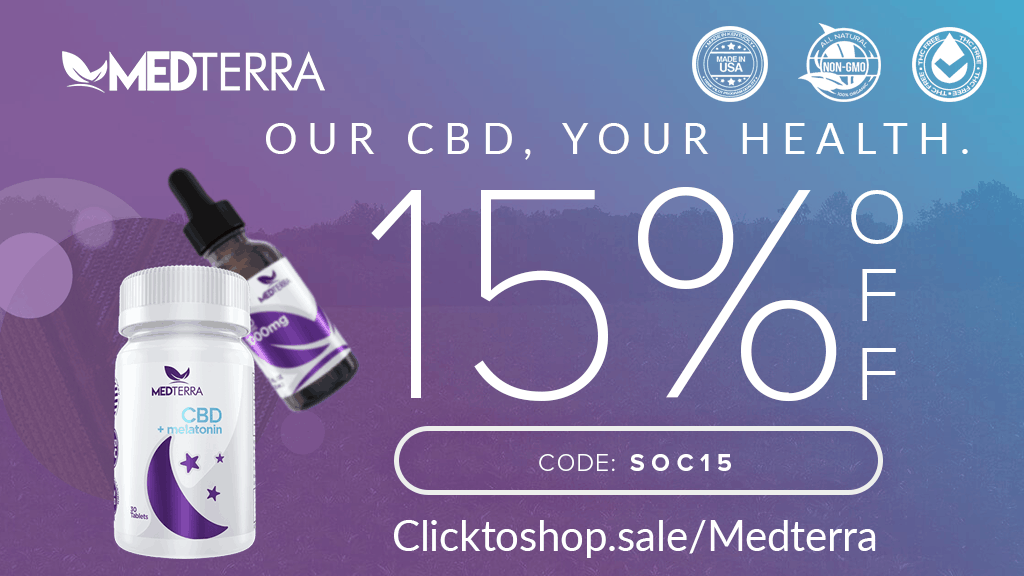 ---
Disclosure: I received these products gratis so that I could try them and then share my honest opinion with the SOC community. I am employed by Save on Cannabis to write honest reviews and provided a flat rate payment for the writing of the review. SOC may receive recurring affiliate payments for purchases made based on this content.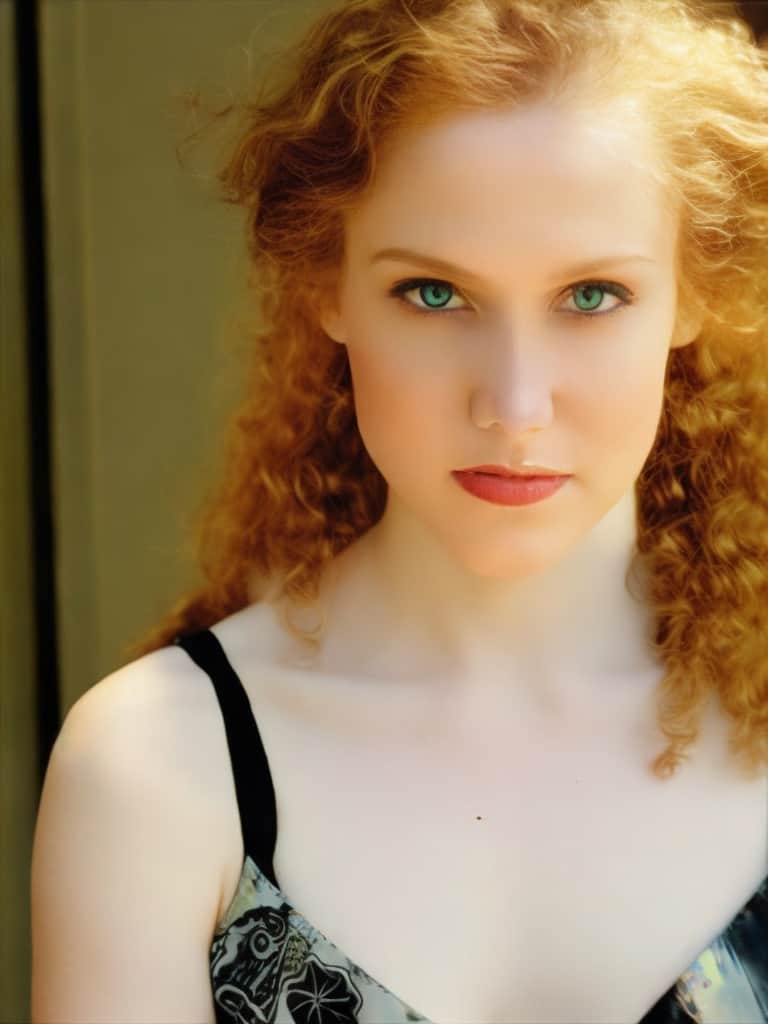 A medicinal cannabis user, utilizing the power of the plant to ease the pains and stresses from long standing conditions that other over the counter or prescriptions could not fix or weren't a natural option like cannabis.  Also, has a background in working directly in the cannabis industry in California within various dispensaries.
Looking for an extremely high dose CBD tincture? In this Lock & Key Remedies review of their 400mg Extreme Tincture we put it to the test.
Read how this ultra high potency 3,000mg CBD tincture worked for our reviewer. In this review you'll see if it helped our reviewer sleep.
Looking for more rest eye, in this Trokie Fast Melt Tabs with Melatonin review we test them out to help our insomnia filled nights.