Aspen Green Review – CBD Muscle Relief Cooling Cream
Jul 8, 2020 | SOC
ASPEN GREEN MUSCLE RELIEF COOLING CREAM
Product Review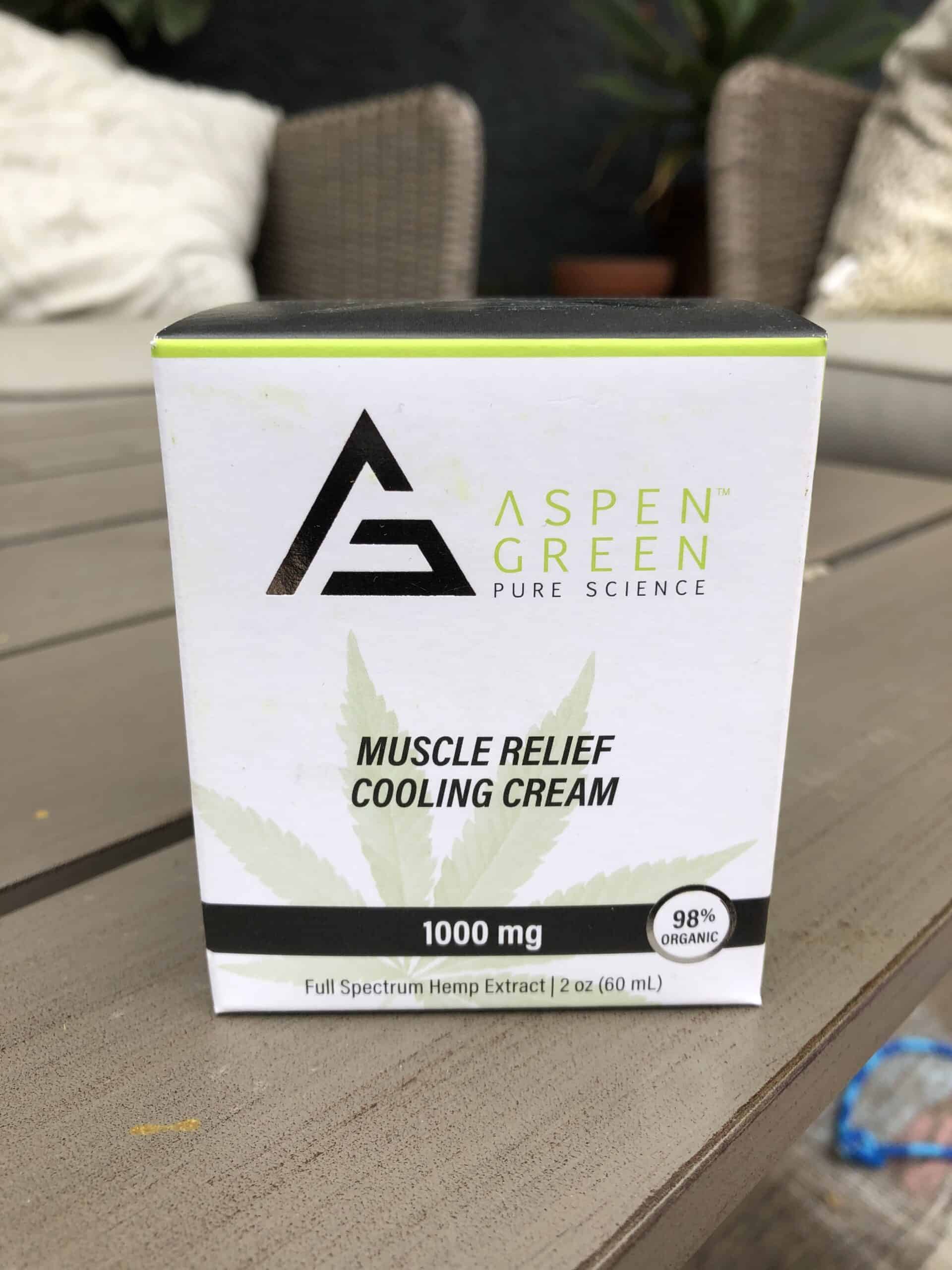 Brand Overview: ASPEN GREEN
Aspen Green uses full-spectrum hemp to create the purest and most potent CBD products on the market. Their products are great for people looking for extra relief from various ailments through natural and non-addictive supplements. Aspen Green was founded on the principles of quality, integrity, and transparency. The company uses organic hemp from the most trustworthy farms in Colorado to ensure that the stuff they put in their products is high-quality from the seeding process to delivery.
Because they use full-spectrum hemp, their products still maintain all the naturally occurring vitamins, minerals, alkaloids, terpenes, and flavanoids for a complete CBD experience.
Products: Full-Spectrum Hemp Oils, Topicals.
Price Range ($-$$$$): $$$
---
About ASPEN GREEN MUSCLE RELIEF COOLING CREAM
This muscle relief cooling cream from Aspen Green contains 1,000 mg of USDA Certified Organic Full Spectrum Hemp Extract, of which 600 mg is cannabidiol (CBD), to help with muscle spasms, inflammation, and tension. You'll also find other phytocannabinoids in this cream like CBN, CBG, CBC, and CBDA. The cream is made with 98% organic ingredients and contains less than .3% THC. Aspen Green jam packs this cooling cream with other soothing ingredients like organic menthol, organic tea tree oil, and organic arnica extract to help bring relief to pain and accelerate healing. The company recommends massaging this cream onto your back, neck, and shoulders as needed.
---
ASPEN GREEN MUSCLE RELIEF COOLING CREAM Specifications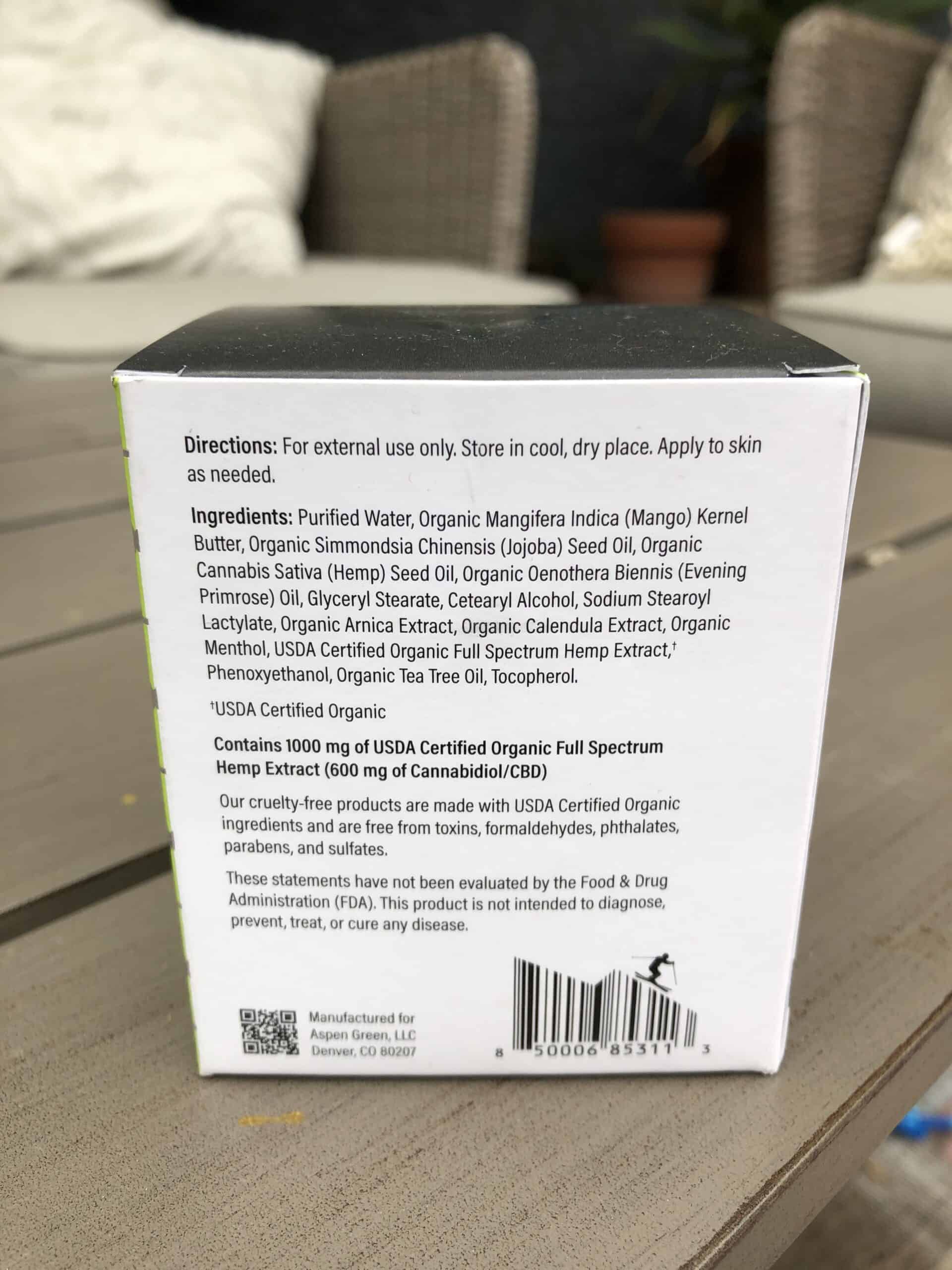 1,000 mg of USDA Certified Organic Full Spectrum Hemp Extract (600 mg of cannabidiol/CBD)
2 oz (60 ml)
Contains less than .3% THC
98% organic
Ingredients:Purified Water, Organic Mangifera Indica (Mango), Kernel Butter, Organic Simmondsia Chinensis (Jojoba Seed Oil), Organic Cannabis Sativa (Hemp) Seed Oil, Organic Oenothera Biennis (Evening Primrose) Oil, Glyceryl Stearate, Cetearyl Alcohol, Sodium Stearoyl Lactylate, Organic Arnica Extract, Organic Calendula Extract, Organic Menthol, USDA Certified Organic Full Spectrum Hemp Extract, Phenoxyethanol, Organic Tea Tree Oil, Tocopherol

---
How We Tested the ASPEN GREEN MUSCLE RELIEF COOLING CREAM
I have chronic pain from some injuries and arthritis so I'm always on the lookout for a topical that's effective in relieving pain, but also feels great on my skin. Aspen Green Muscle Relief Cooling Cream appealed to me the most because I love any topical that provides that cooling sensation you often get with menthol and tea tree oil. After my shower in the morning, I massaged some of this cream onto my low back, hips, and quads. Then I added some to my feet and the tops of my hands. I was hoping it would provide relief from pain, but also hydrate my dry skin.
---
How the ASPEN GREEN MUSCLE RELIEF COOLING CREAM Worked for Me
Aspen Green Muscle Relief Cooling Cream felt amazing on my skin. It's a great cream to use for massage because it blends easily, doesn't leave a sticky residue, and acts as a moisturizer. It felt so buttery and luxurious. I didn't feel any of the cooling sensation that was promised so maybe they need to add more menthol to the mix. My biggest complaint though is I didn't care for the smell. It wasn't overwhelming, but it left a mild hemp odor on my skin. Even though it did provide mild pain relief, and was an amazing moisturizer, I don't think I'd get this cream again. It wasn't cooling, and it smelled too hempy.
---
Useful and Unique Things to Know About ASPEN GREEN MUSCLE RELIEF COOLING CREAM
Aspen Green Muscle Relief Cooling Cream contains a variety of terpenes that give the topical its natural smell and work together with CBD and the other ingredients to give you more therapeutic benefits. This topical contains bisabolol and linalool which gives it its floral scent. For a spicier aroma, Aspen Green includes caryophyllene. Eucalyptol makes the ointment minty fresh while Guaiol and Pinene provide a pine smell. Humulene creates an earthy smell while Ocimene and Terpinolene give it that woodsy feel. Finally, Limonene, Myrcene, and p-Cymene contribute to the variety of citrus scents.
---
ASPEN GREEN MUSCLE RELIEF COOLING CREAM Ratings
In the next sections gradings from 0-100 on our review, these grades add up to give the product's overall score.
PRESENTATION • 100
Gorgeous container.
RELIABILITY • 90
It relieves pain but it's not very cooling.
QUALITY • 100
Top-notch ingredients.
FLAVOR / SMELL / or EASE OF USE • 80
Natural scent. A little to hempy for me.
VALUE • 85
Expensive
---
How ASPEN GREEN MUSCLE RELIEF COOLING CREAM Stacks Up Against the Competition
I was disappointed that Aspen Green's cooling cream wasn't very cooling. If they want to compete against other icy products they might want to pump up their menthol quotient and add some camphor too. That might help hide some of the hemp smell and would make the high price tag worth it. I look forward to trying more of Aspen Green's products as I'm a big fan of their natural ingredients and high-quality hemp.
---
Saving Money with Our Verified ASPEN GREEN Coupons
Save money by using our verified CBD Topicals here at Save On Cannabis the World's largest online cannabis coupon code directory.
---
Disclosure: I received these products gratis so that I could try them and then share my honest opinion with the SOC community. I am employed by Save on Cannabis to write honest reviews and provided a flat rate payment for the writing of the review. SOC may receive recurring affiliate payments for purchases made based on this content.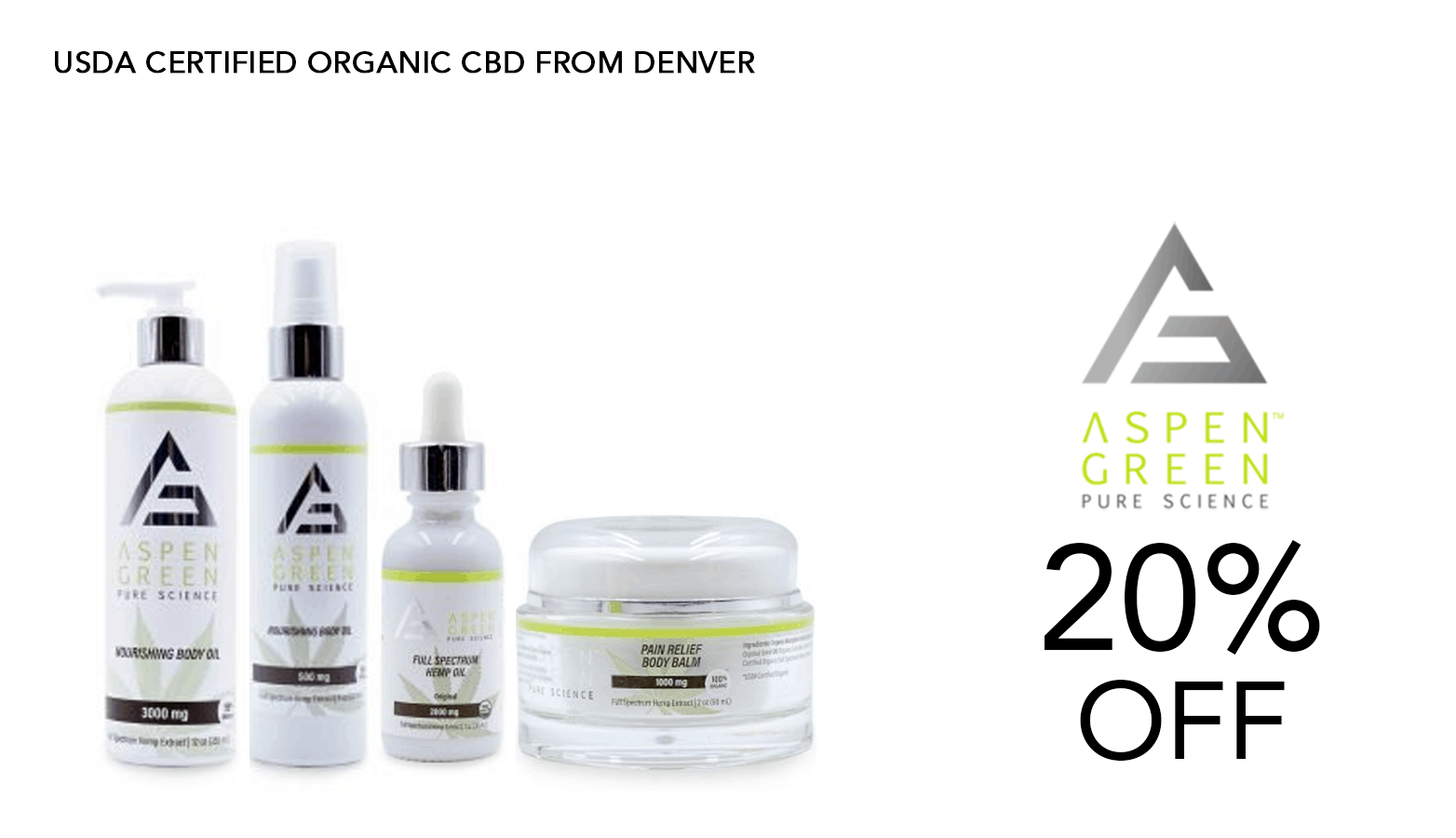 20% OFF site-wide Aspen Green coupon! All users. (Not valid on bulk products or bundles)
See how CBD dog treats worked for three hyper-active teenage chihuahuas. Find out in this hands on ZenWorks review if CBD dog treats will calm them down.
Interested in CBD for sleep? This Infinite CBD review is for their P.M. Capsules which contain CBD and a dose of melatonin. See how it worked for us!
Check out our expert CBD review of the Infinite CBD Nano Energy Shot. We got hold of it and tested it see how it worked along with pictures.