CBD Review: Joy Organics CBD Energy Drink with Caffeine (from AllPremiumCBD.com)
Jul 9, 2020 | SOC
Joy Organics CBD Eenergy Drink
Pros
Energizing
Focusing
Effective
Tastes great
Easy to use
JOY ORGANICS CBD ENERGY DRINK – ALLPREMIUMCBD.COM
Product Review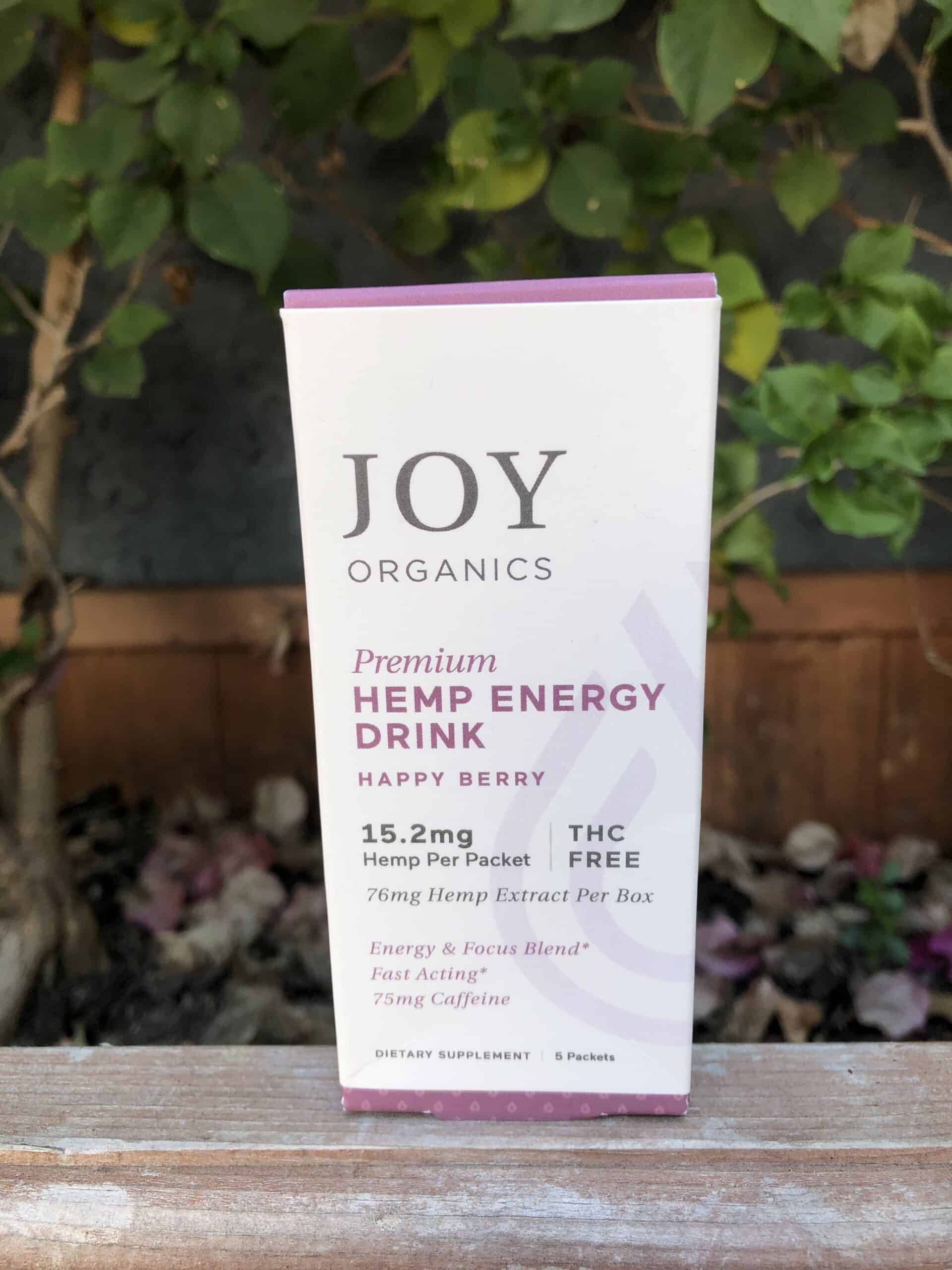 Brand Overview: JOY ORGANICS CBD ENERGY DRINK – ALLPREMIUMCBD.COM
Allpremiumcbd.com offers one-stop shopping for all your CBD needs. The online platform features a variety of trustworthy and thoroughly vetted brands, including Joy Organics, MedTerra, and Tru Organic. Because the CBD market is glutted with options, Allpremiumcbd.com takes the guesswork out of buying and does the research for you. These kinds of online platforms are the future of CBD shopping, serving as a kind of middleman between you and the product creator so if there are any issues, Allpremiumcbd.com has your back. Whether you need gel caps, topicals, or something for your pet, everything you purchase from this website is lab tested and free from THC, ensuring potency and quality no matter what the brand.
Products: Tinctures, Softgels, Topicals, Athletes, Pets.
Price Range ($-$$$$): $$$
---
About JOY ORGANICS CBD ENERGY DRINK – ALLPREMIUMCBD.COM
Joy Organics has combined the focusing effects of CBD with the energizing effects of caffeine to create this berry-flavored powder. All you have to do is mix one packet with water, and you have yourself a tasty energy drink that will soothe anxiety and pain. Each packet is a single serving containing 15.2 mg of CBD and 75 mg of caffeine. Rich in vitamins and nutrients, and flavored with stevia, this zero-calorie supplement is marketed towards athletes as a great way to get a natural boost before your next training session. This is also great for people like me, who aren't athletes but spend hours a week doing physical therapy to recover from various injuries.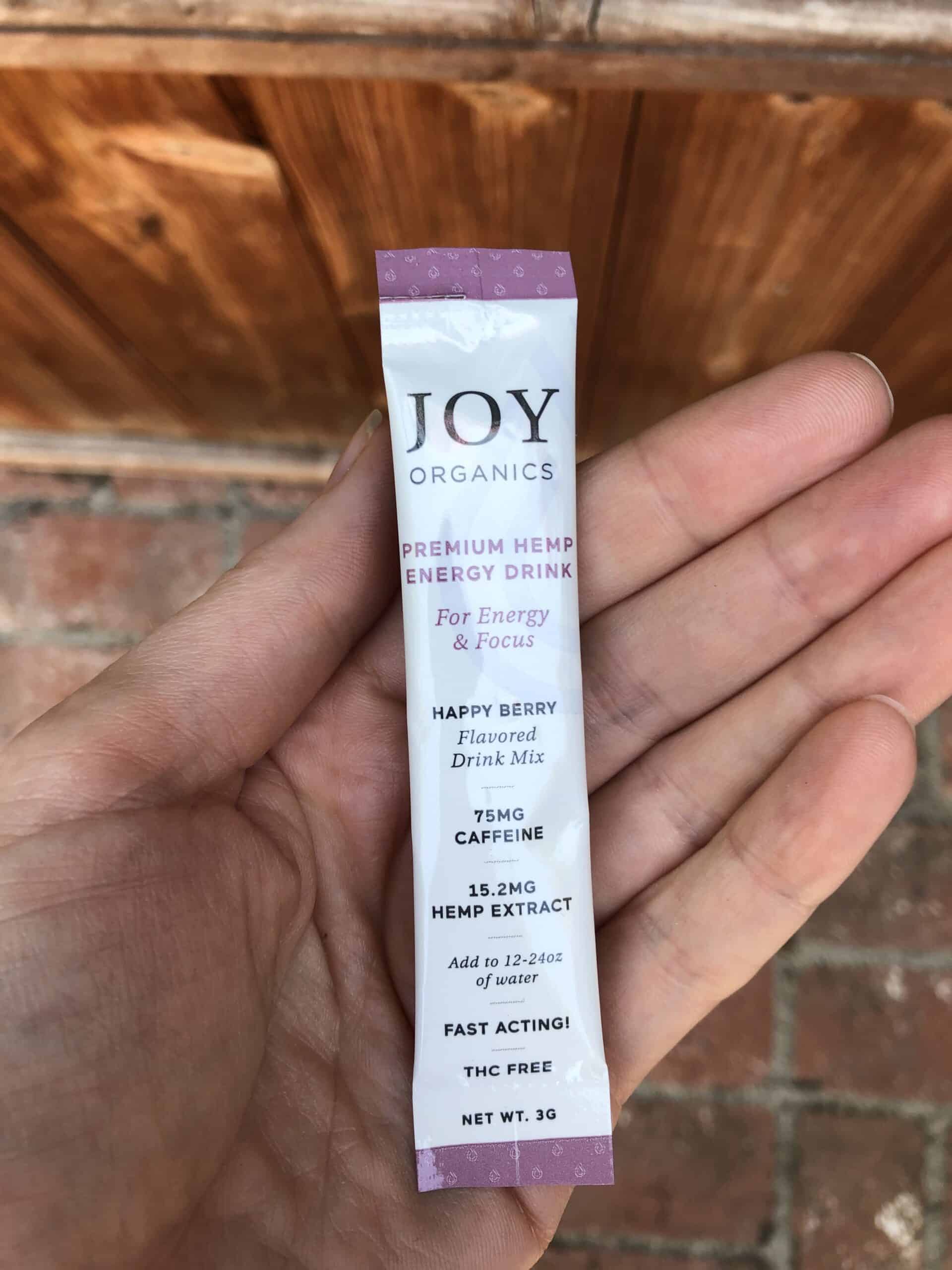 ---
JOY ORGANICS CBD ENERGY DRINK – ALLPREMIUMCBD.COM Specifications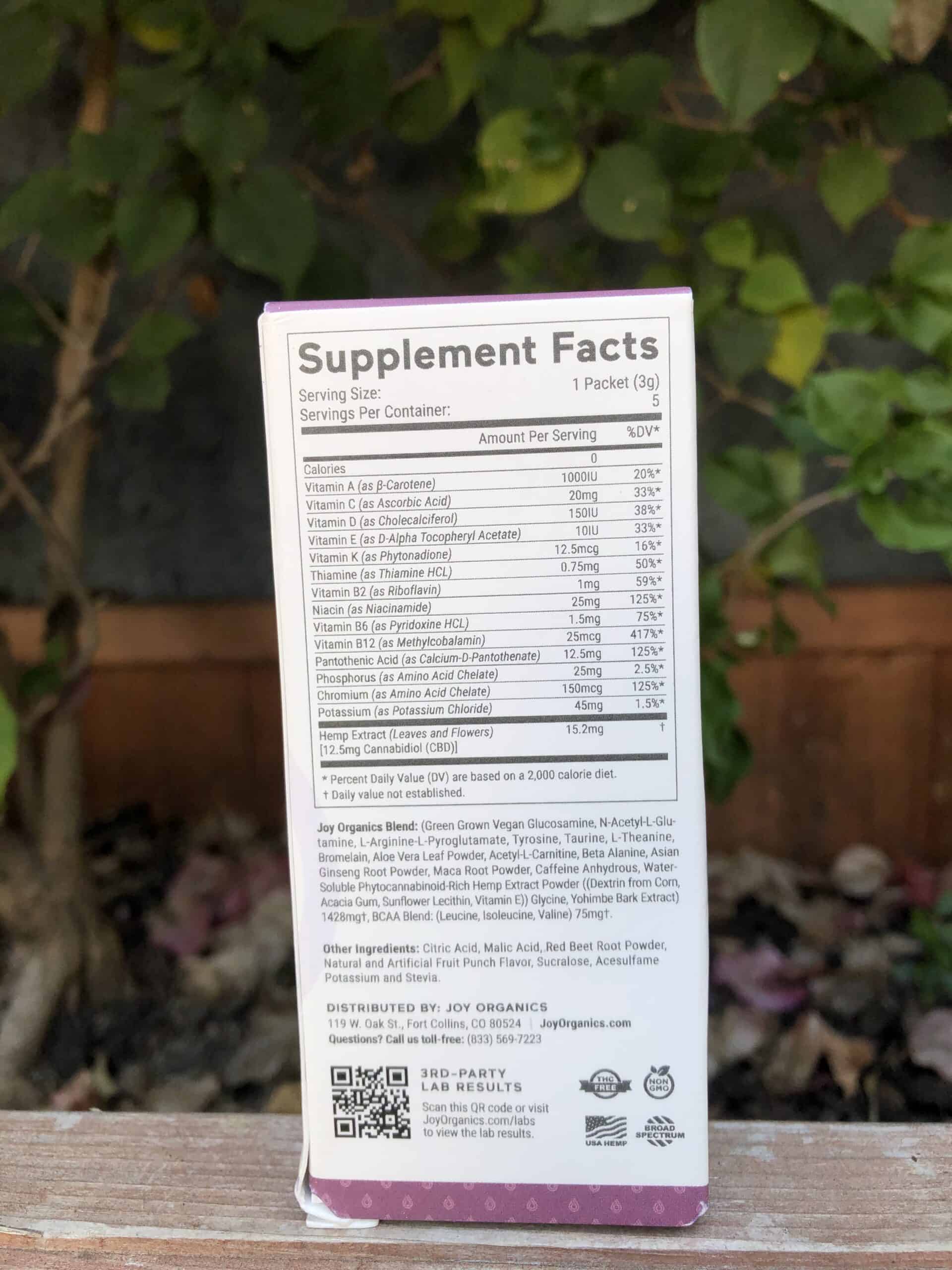 76 mg hemp extract per box (5 servings total)

15.2 mg hemp extract per serving
Serving size = 3 g
75 mg caffeine
Ingredients

: Green Grown Vegan Glucosamine, N-Acetyl-L-Glutamine, L-Arginine-L-Pyroglutamate, Tyrosine, Taurine, L-Theanine, Bromelain, Aloe Vera Leaf Powder, Acetyl-L-Carnitine, Beta Alanine, Asian Ginseng Root Powder , Maca Root Powder, Caffeine Anhydrous, Broad Spectrum Water-Soluble Hemp Extract Powder ((Dextrin from Corn, Acacia Gum, Sunflower Lecithin, Vitamin E)) Glycine, Yohimbe Bark Extract) 1428mg, BCAA Blend: (Leucine, Isoleucine, Valine) 75mg, Vitamin A (as Beta Carotene) 1000IU 20%DV, Vitamin C (as Ascorbic Acid) 20mg 33%DV, Vitamin D (as Cholecalciferol) 150 IU 38%DV, Vitamin E (as D-Alpha Tocopheryl Acetate) 10IU 33 %DV, Vitamin K (as Phytonadione) 12.5mcg 16%DV, Thiamine (as Thiamine HCL) 0.75mg 50%DV, Vitamin B2 (as Riboflavin)1mg 59%DV, Niacin (as Niacinamide) 25mg 125%DV, Vitamin B6 (as Pyridoxine HCL) 1.5mg 75%DV,Vitamin B12 (as Methylcobalamin) 25mcg 417%DV, Pantothenic Acid (as Calcium-D-Pantothenate) 12.5mg 125%DV, Phosphorus (as Amino Acid Chelate) 25mg 2.5%DV, Chromium (as Amino Acid Chelate) 150mcg 125%DV , Potassium (as Potassium Chloride) 45mg 1.5%DV, Citric Acid, Malic Acid, Red Beet Root Powder, Natural and Artificial Fruit Punch Flavor, Sucralose, Acesulfame Potassium and Stevia.
---
How We Tested the JOY ORGANICS CBD ENERGY DRINK – ALLPREMIUMCBD.COM
As I mentioned, I spend a good portion of my week doing physical therapy. I have multiple injuries and arthritis that has made taking care of my body a part-time job. Some mornings, it's hard to get motivated to go for a walk, or a swim, and do some Pilates because I'm in too much pain. But the less I do, the more pain I'm in, so I know the best thing to do is push through it. I was excited to try Joy Organic's CBD Energy Drink through Allpremiumcbd.com. The website was easy to navigate and I found what I was looking for immediately. The website is organized and clear, with all the information I needed like ingredients and lab results.
It only took a few days from the time I placed my order for me to receive the product on my doorstep. The Joy Organics energy drink arrived in a padded envelope for its protection and was easy open. The envelope also included a receipt, return label for UPS, and a free sample of MedTerra's CBD Rapid Cooling Cream. I love free samples! And I'm impressed with Allpremiumcbd.com's professionalism in shipping and customer service.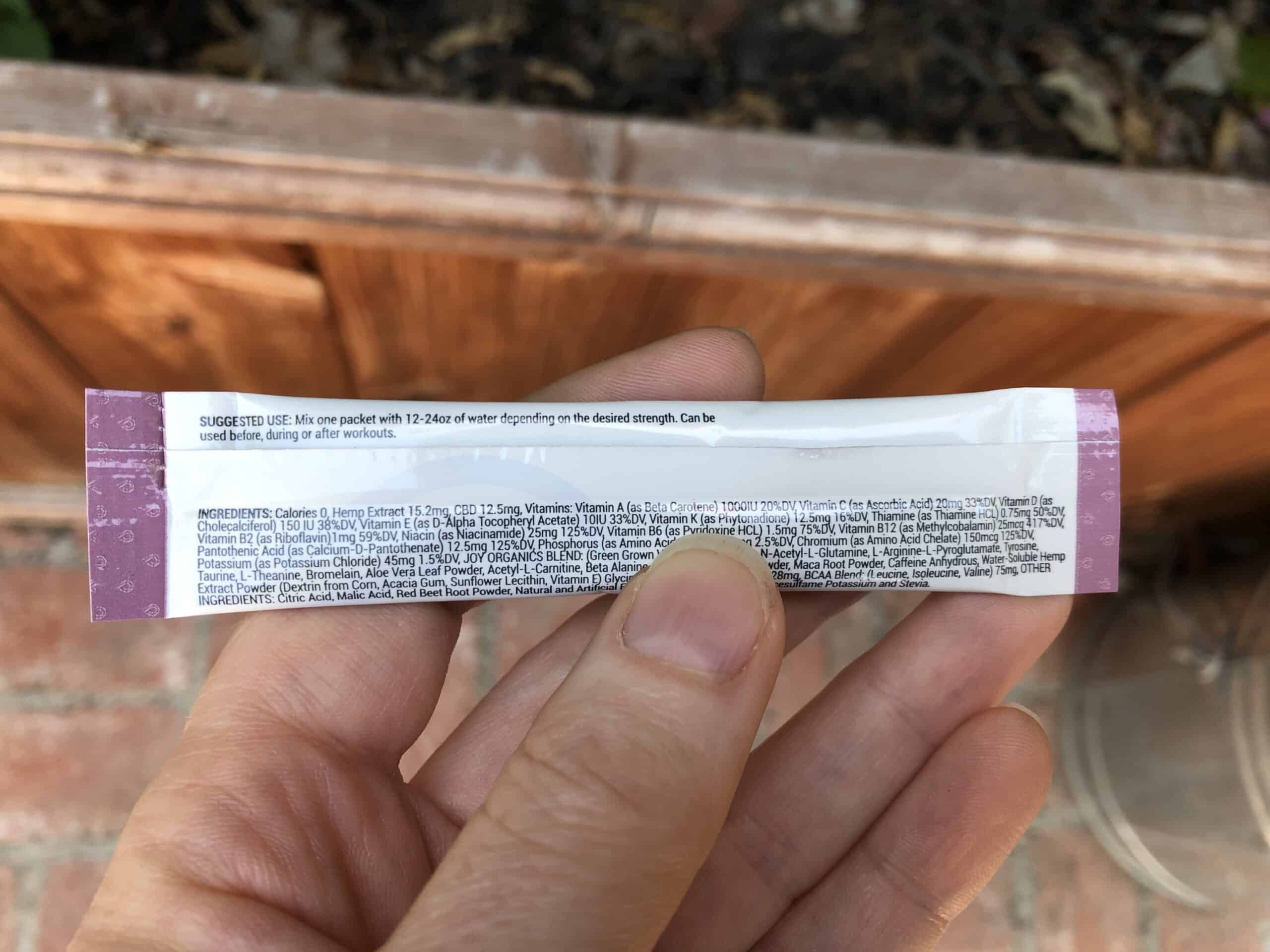 ---
How the JOY ORGANICS CBD ENERGY DRINK – ALLPREMIUMCBD.COM Worked for Me
In the morning, I mixed one serving of the energy powder with water and drank that instead of my usual cup of coffee. I enjoyed the berry flavor as it hid any taste of hemp. I could feel the effects of the CBD and caffeine right away. It helped give my energy levels a much-needed boost, and all without making me jittery. I found myself more focused, yet calm, and it even took the edge off some of my chronic pain. I will be using this stuff whenever I need an extra dose of energy with my CBD. And since I'm sensitive to caffeine, I'm going to try half a serving next time, supplemented with some non-caffeinated CBD drops.
---
Useful and Unique Things to Know About JOY ORGANICS ENERGY DRINK – ALLPREMIUMCBD.COM



Joy Organics understands that vitamins and minerals are an important part of your daily health routine and I've never seen a CBD product with more amazing ingredients. This stuff is filled with vitamins like A, C, D, E, K, B1, B2, B6, B12, and others. Chromium is an essential mineral that can help with metabolism. Potassium is an electrolyte that helps make your muscles work more effectively. Phosphorus helps with your bones and teeth, as well as how your body processes fats and carbs.
---
JOY ORGANICS ENERGY DRINK – ALLPREMIUMCBD.COM Ratings
In the next sections gradings from 0-100 on our review, these grades add up to give the product's overall score.
PRESENTATION • 100
Professional and informative.
RELIABILITY • 100
Energy boosting.
QUALITY • 100
Unique and natural ingredients.
FLAVOR / SMELL / gold EASE OF USE • 100
Fruity flavor.
VALUE • 80
Expensive
---
How JOY ORGANICS CBD ENERGY DRINK – ALLPREMIUMCBD.COM Stacks Up Against the Competition
Allpremiumcbd.com stacks up against the competition because of its thorough vetting process that takes the guesswork out of your CBD purchases. Without their rigorous research, consumers have to test products out for themselves, and often this leads to wasted money. I know that if I need an effective topical, I don't need to do a bunch of time-wasting research on the internet. Instead, I just need to type in allpremiumcbd.com, then find their topicals section. The platform is easy, trustworthy, and convenient.
---
Saving Money with Our Verified ALLPREMIUMCBD.COM Coupons
Save money by using our verifiedCBD Drinks here at Save On Cannabis the World's largest online cannabis coupon code directory.
---
Disclosure: I received these products gratis so that I could try them and then share my honest opinion with the SOC community. I am employed by Save on Cannabis to write honest reviews and provided a flat rate payment for the writing of the review. SOC may receive recurring affiliate payments for purchases made based on this content.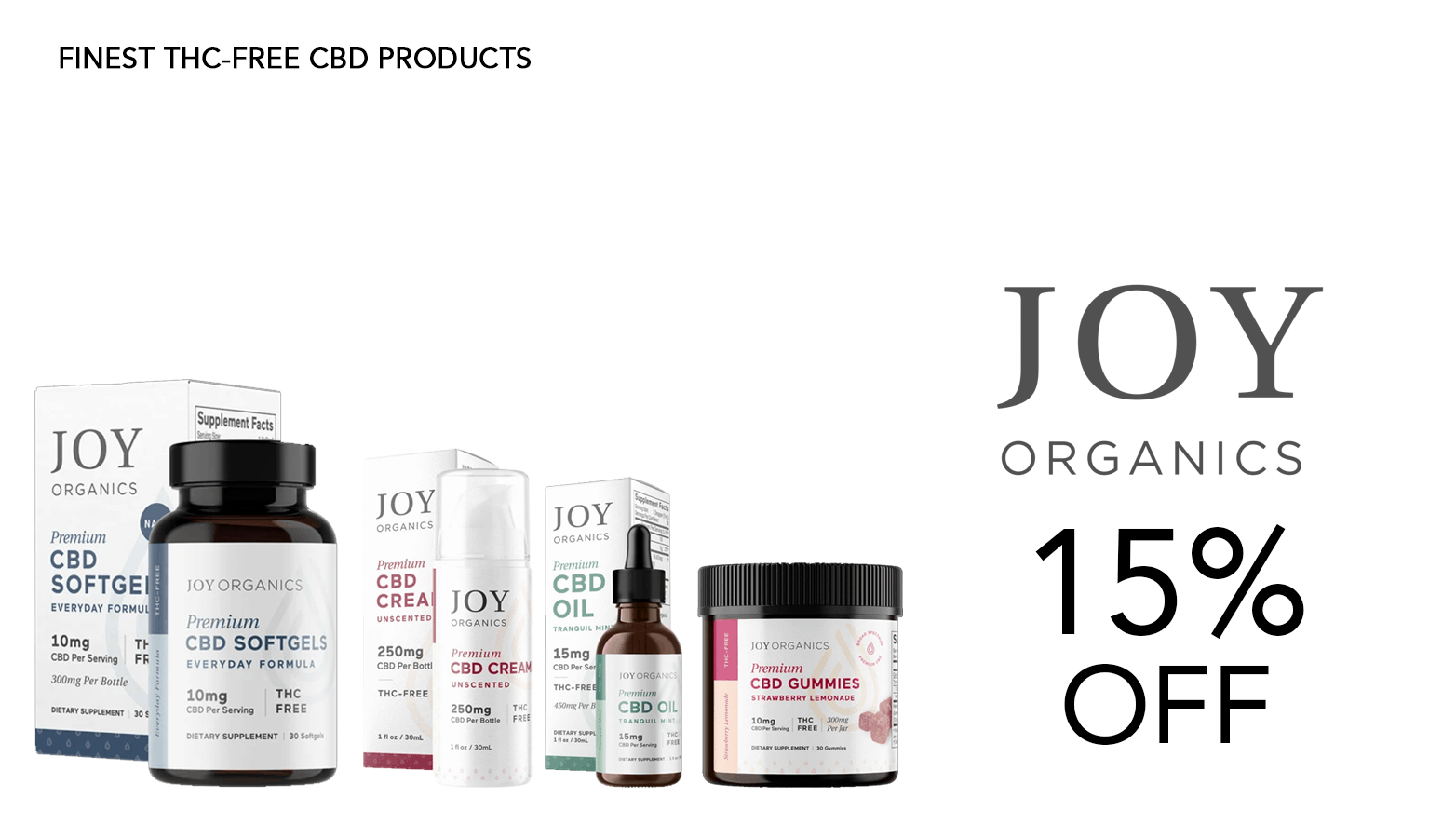 15% OFF site-wide Joy Organics coupon! Live Your Joy with The Finest THC-Free CBD Products.
Our reviewer tested the NotPot CBD Gummies and gives a thorough breakdown of her experience. See if these gummies are worth they hype and your money.
Prima offers 750 mg of broad-spectrum hemp as well as other natural ingredients to help bring relaxation, relief, and hydration to your body.
See if the Joy Organics CBD Softgels with 750mg of CBD gave our reviewer the feels in the good way and are worth your money.