cbdMD Review: Delta 9 THC Gummies (Cherry)
Nov 29, 2022 | Save On Cannabis
Hemp Delta 9 THCHemp Delta 9 THC EdiblesHemp Delta 9 THC Gummies
cbdMD Delta 9 THC Gummies - Cherry
20.00
We made a video version of this review, the text below is a summary of the review.  Click here to see the video version of this review if above does not work.
---
cbdMD Overview:
Save 10% now with the coupon code SOCSAVE by clicking here >
cbdMD is a publicly listed hemp retail company that was founded in 2015 and is located in Charlotte, North Carolina. Their focus is especially formulated high potency products at a very low price point. The cbdMD shopping catalog features the full range of products including Delta 9 THC gummies, CBD gummies, oil capsules, and topicals in a range of broad and full spectrum potencies and formulations, as well as CBD drink mix in a variety of flavors as well as CBD tinctures, topicals and treats formulated for cats and dogs.In terms of cbd, MD's overall price range for their products, I'd give them $2 signs out of $4 signs. I think considering how potent their products are and how many different options they have compared to the rest of the market, their products are really affordable. Also, cbdMD uses a hundred percent USA Grown hemp flower and provide third party lab results on all of their products and offer a 60 day money back guarantee.
They're affiliated with the US Hemp Round Table Natural Products Association and the Hemp Industries Association and are GMP certified, overall, I think that cbdMD is worth checking out. They're a seasoned and experienced CBD brand that's offering high quality hemp products at a great value. Now without further ado, let's go ahead and zoom into today's cbdMD product review.
---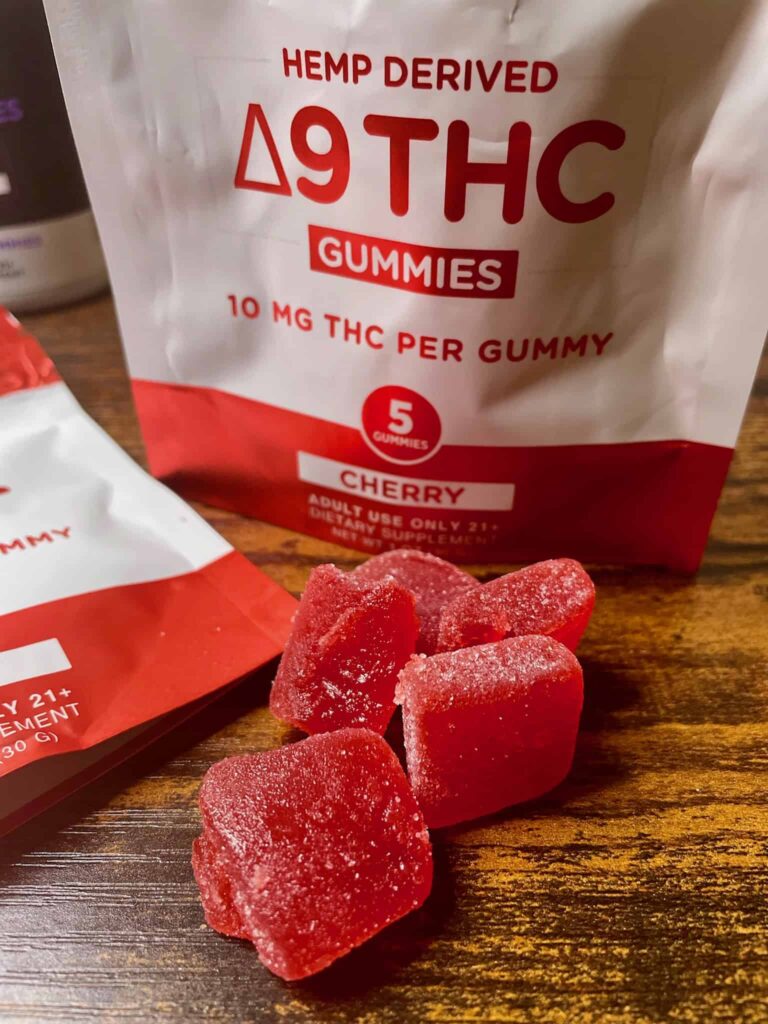 About cbdMD Delta 9 THC Cherry Gummies:
cbdMD's Delta 9 THC gummies contain 10 milligrams of Delta 9 THC per gummy, and each package contains five gummies.
So each package contains a total of 50 milligrams of Delta 9 THC. Each gummy also contains between 50 and 70 milligrams of CBD per gummy. I'll explain why it's a range of 50 to 70 milligrams of CBD per gummy if you read further into our scoring section of this review.
Generally people taking Delta 9 THC gummies enjoy them for relief and relaxation or recreation or both. The most common reasons people report for buying Delta 9 THC gummies is pain, stress, sleep, and comfort. In essence, people taking Delta 9 THC gummies just wanna feel better, whether it's physically or mentally, or they just wanna have a good time and relax and let loose.
---
cbdMD Delta 9 THC Gummies Ingredients & Instructions:
Ingredients
Corn syrup

Water 

Granulated Sugar

Natural Flavors

Pectin

Citric Acid

Natural Color

Trisodium Citrate 
Supplemental Facts
Per 1 Gummy Serving 
15 Calories

4 Grams of Carbs

3 Grams of Sugar (per one gummy, that's not too bad) 

5 milligrams of Sodium

75 milligrams of Full Spectrum Hemp Extract.
For the suggested use, it says to start with a quarter of a gummy to gauge individual sensitivity increased by a quarter of a gummy until the desired effect is achieved up to one full gummy. Do not consume more than one full gummy in a 24 hour period. 

---
Lab Results of the cbdMD Delta 9 THC Gummies:
The third party lab results tell you everything that's in your product and what the company tested for in their batches. Now, I know reading third party labs can be kind of difficult sometimes. That's why today we're gonna walk you through it. So looking at the third party labs together, first you can see the date that the lab was issued and where the report came from. In this case it came from SC Labs, and this is gonna give you all the general information about the lab test that you want, including at the top of the report, you get the total cannabinoid analysis for THC and CBD. Here we have over 10 milligrams per unit of total THC and over 70 milligrams per unit of total CBD, and that's per gummy.
Scrolling down to the second page of the report, you get the full analysis where it lists out all of the cannabinoids that it tested for, specifically our Delta 9 gummies include .864 milligrams per gummy of CBG, .330 milligrams of THCv, .180 milligrams of CBC, and 1.818 milligrams of CBDv per gummy. Now, it might not seem like much, but these secondary or trace cannabinoids contribute to the overall benefits and properties of Delta 9 THC. When taken together all combined, they activate the entourage effect, a synergistic amplification of the benefits of cannabinoids. 
And as we go through the rest of the report, it shows you all of the different safety analysis that the company checked for. This includes pesticides, mycotoxins, residual solvents, heavy metals, and foreign materials. Now these are the last things that you wanna find in your Delta 9 gummies, but since these are concentrated and extracted manufactured products, it's possible that you can get these kind of contaminations in products, which is why it's so important to check your third party lab tests.
Now, it seems that cbdMD has gone above and beyond to make sure that their products are safe for consumption and don't include any potential or unwanted contaminants. So if you'll keep scrolling down on the lab report, you'll see all of the different chemicals and compounds that SC Labs has tested the Delta 9 gummies for, and they've passed all of these safety analysis. That means that our gummies are free of any unwanted toxins. And that's really important when we're trying to take a health and wellness dietary supplement that's supposed to help us feel better and feel good, right? 
---
Unboxing Initial Thoughts of the cbdMD Delta 9 THC Gummies:
Smells really good. It smells like cherries and a Christmas tree just right off the bat, that's what it smells like. They are square shape gummies, so that makes it pretty easy to divide into quarters. It says to start with a quarter gummy, and I definitely recommend starting with a quarter gummy, or even less. If you're sensitive, you can use a little butter knife and chop it up. For my testing I just take a finger and take a little bit, just a little bit, not even a quarter (to start, read further for my experience with stronger doses) delicious cherry flavor. Sweet, yummy, perfect texture, gooey, little bit sticky. Breaking with my fingers, some got stuck on which begged me to lick them clean.
Overall really good. It's really yummy.
---
How We Tested the cbdMD Delta 9 THC Gummies:
And next up we're gonna talk about how I tested this product and how my experience went. 
So I just ate a small piece (under a ¼) gummy 20 minutes ago and I'm still waiting for those effects to kick in, but two nights ago I did take half of a gummy, and then the next night I took a quarter of a gummy. So I'll tell you how that went. 
The first night when I took half a gummy, I took it about 9:00 PM and it took about 45 minutes for the effects to start working, and then they peaked at about an hour and a half, and after about four hours they were done because I was asleep…but this is what happened before I fell asleep…about 9:00 PM I took the half of gummy, which would be about 5 milligrams of THC. And then I started doing yoga about 9:30 and the gummies started to kick in halfway through my yoga session and about 10:30 I was done with yoga and the effects of the gummies were at peak and I was feeling really good.
I was feeling really good about then and I had a great mood, I had a great appetite. In fact, I had the munchies and I was feeling really loose and giggly and the gummies had me really relaxed and comfortable, but not drowsy or sedated. Also, I had just got done doing yoga, so I was already kind of relaxed from that but I did have the munchies really bad. So I went to the kitchen in the pantry to look for a snack. But in opening the pantry, I noticed that my pantry could use some organizing. So I just ended up organizing my whole pantry while I was eating caramel popcorn. It was a good snack. And so I organized my pantry and I got a snack. I don't know, does anybody else like to clean when they're on THC gummies out there? 
So yeah, I finished yoga, organized the pantry, had a delicious popcorn snack and went and watched Game of Thrones and passed out. It was awesome. 
The next night, I took a quarter of a gummy because the half a gummy honestly was a bit much for me under my circumstances. And honestly, I have a good tolerance to cannabinoids. But for whatever reason, the half of a gummy was really strong for me. I imagine if I were to take a whole gummy I would probably have to cancel my plans for the whole day, maybe the next morning because these things are really strong and really potent. 
So overall I was really satisfied with the experience of taking the Delta 9 THC gummies from cbdMD. They gave me the giggles a lot. I was really happy with the total effects and experience that I had with Delta 9 THC gummies from cbdMD. My primary goals with taking Delta 9 gummies are stress relief and pain relief and mood boosting in which I achieved all of those goals. So I would definitely recommend these gummies to anybody who's trying to achieve the same goals.
---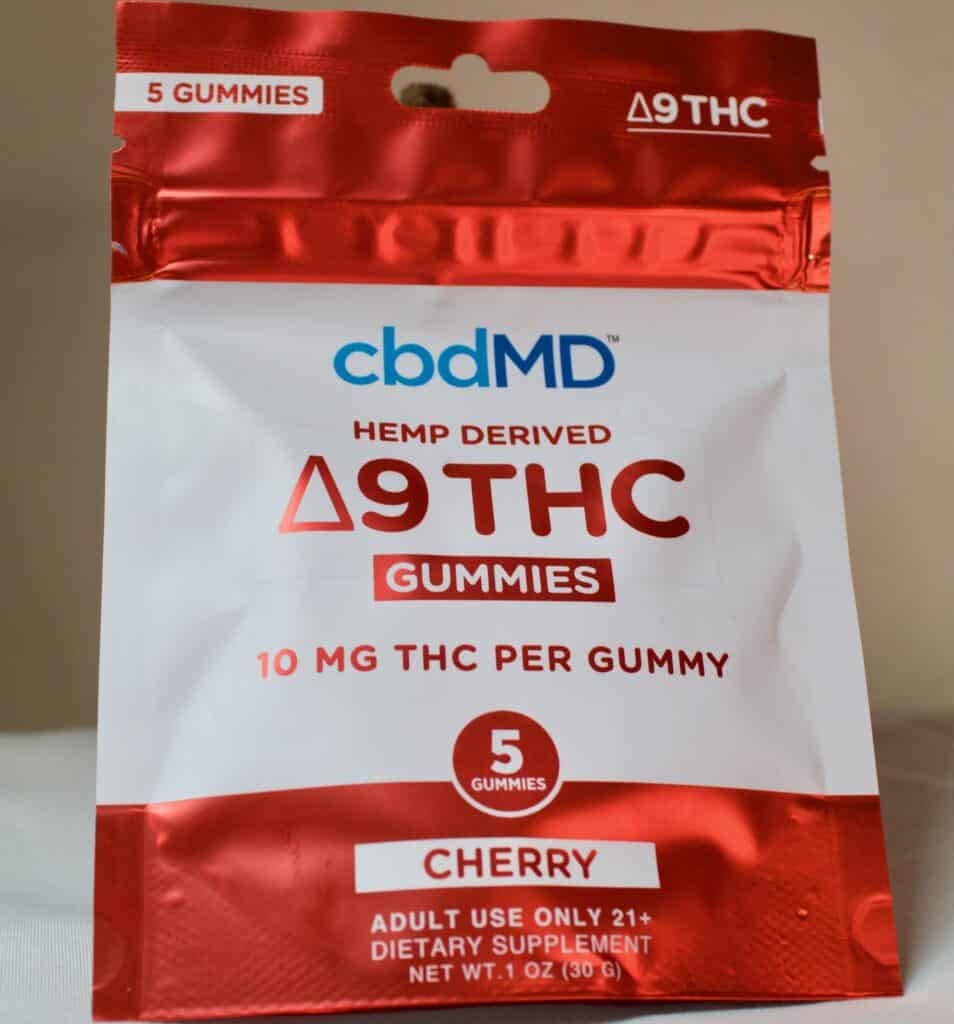 cbdMD Delta 9 THC Gummies Ratings:
So in this part of our review, I'm gonna give you my personal ratings from zero to a hundred.
Presentation • 100
Starting with presentation, I give the cbdMD Delta 9 gummies 100 out of 100. The packaging is beautiful and sleek and shiny and has a bold cherry red color and is perfectly designed and it draws your eye to it. And I want to know what's inside that package. It looks delicious. I know exactly what's inside the package cuz the branding is awesome and perfectly done.
I wanna try what's inside the package. As soon as you open the package, it smells amazing. It looks amazing. This cherry colored, gummy delicious, sugary sweet flavor and smell comes out of the package. So right off the bat, a hundred out of a hundred on presentation. These things look amazing. 
Reliability • 90
Next up is reliability. I gave the cbdMD Delta 9 gummies 90 out of a 10 for reliability because there's some inconsistency in the potency between the website, the package, and the labs. On the package, it says that it has 60 milligrams of CBD per gummy. On the website, it says that it has 50 milligrams of CBD per gummy, but if you check the labs, it actually has over 70 milligrams of CBD per gummy. So the real potency is 20 milligrams more than posted on the website product description and 10 milligrams more than that is posted on the actual product packaging.
This inconsistency with the CBD potency can be kind of confusing for some people, especially if they're trying to track their effects and how certain cannabinoids affect them and how certain ratios of cannabinoids affect them. Generally though, people taking Delta 9 THC gummies aren't concerned with how little or how much CBD is in their Delta 9 gummies, especially when it's already at 50, 60, 70 milligrams per gummy. 
Quality • 80
Next up is quality, and I gave these gummies 80 out of a 100. I mainly took off quality points for the cbdMD gummies because of the strange aftertaste and some of the strange ingredients. I do think that they're using really good natural cannabinoids and USA grown flower, but I think that their overall ingredients and flavors could be a little bit better.
Flavor • 70
Next up, we have flavor. I gave the Delta 9 gummies from cbdMD 70 out of a 100 for flavor simply because the aftertaste was too much for me.  If you have a quarter of a gummy, it's not so bad…but at half a gummy your mouth is coated with this aftertaste and I just didn't really enjoy it. Now on the front end, it has a really sweet, sugary cherry delicious flavor, but it turns into a cough drop flavor aftertaste. So I just had to take points off for flavor on this one. If they could get rid of that strange aftertaste, these gummies would be 100 out of 100 for me. 
Overall, I think that these gummies are a really great product at a great price point and I think they have a really good potential if they could just get rid of that harsh aftertaste.
Value • 100
These gummies are only 20 bucks for a pack of five and it's a really good deal. I think it's a high quality product from a high quality experienced, seasoned company. I just think that they could step up their flavor game and natural ingredients a little bit better. Maybe it is that this cherry flavor is the only one that has the particular aftertaste. Perhaps the blue raspberry or their other flavors and their other product collections have don't have the aftertaste. 
Pros
Extremely Potent

Enjoyable Effect

Very Affordable

Really Yummy Texture

Vegan and Gluten Free
Cons
Might be Too Strong For Some Users 

Inaccurate CBD Potency

Bad Aftertaste

Few Verified User Reviews on Website.
---
How the cbdMD Delta 9 THC Gummies Stack Up Against the Competition
And so in my experience, how do the Delta 9 gummies from cbdMD compare with other Delta 9 gummies on the market right now? Well, I think they're a really good price point for 10 milligram Delta 9 THC gummies, especially considering that it has between 50 and 70 milligrams of CBD in it as well. You're getting a really cannabinoid rich gummy at a really great price point, $20 for five gummies in one package. And that's only $4 a gummy and based on strength you may only need a quarter of a gummy.
I mean, you can make these things last if you're not taking a whole gummy at a time. For me and my experience comparing these Delta 9 gummies with other Delta 9 gummies that I've had from competing brands, I think these are a stiff competition and definitely worth a try. So overall, I think that these Delta 9 gummies from cbdMD are a really good option for anybody that wants to try out Delta 9 THC gummies, they have a really awesome effect and they have a really good flavor in the beginning. If they could just get rid of that little aftertaste I would definitely buy these again in the future.
These Delta 9 gummies from cbdMD are a really great product at a great price, and I would definitely recommend them to a friend or family member. Personally, I would like to see cbdMD step up the ingredients and flavors in their gummies a little bit more and I would also recommend that they fix the CBD potency and accuracy between the website, the package, and the labs since it's a 20 milligram difference so a bit confusing to know what level of CBD your actual gummy has at the time of consumption. 
In summary, I think that these gummies are definitely worth checking out. Also worth trying the flavor out since the cherry flavor in the beginning is amazing and the aftertaste in the end may not be so bad for you personally. Try it out. Let us know after you do try them out, since taste is a personal opinion and your palette may be different than mine.
---
Disclosure: I received these products gratis so that I could try them and then share my honest opinion with the SOC community. I am employed by Save on Cannabis to write honest reviews and provided a flat rate payment for the writing of the review. SOC may receive recurring affiliate payments for purchases made based on this content.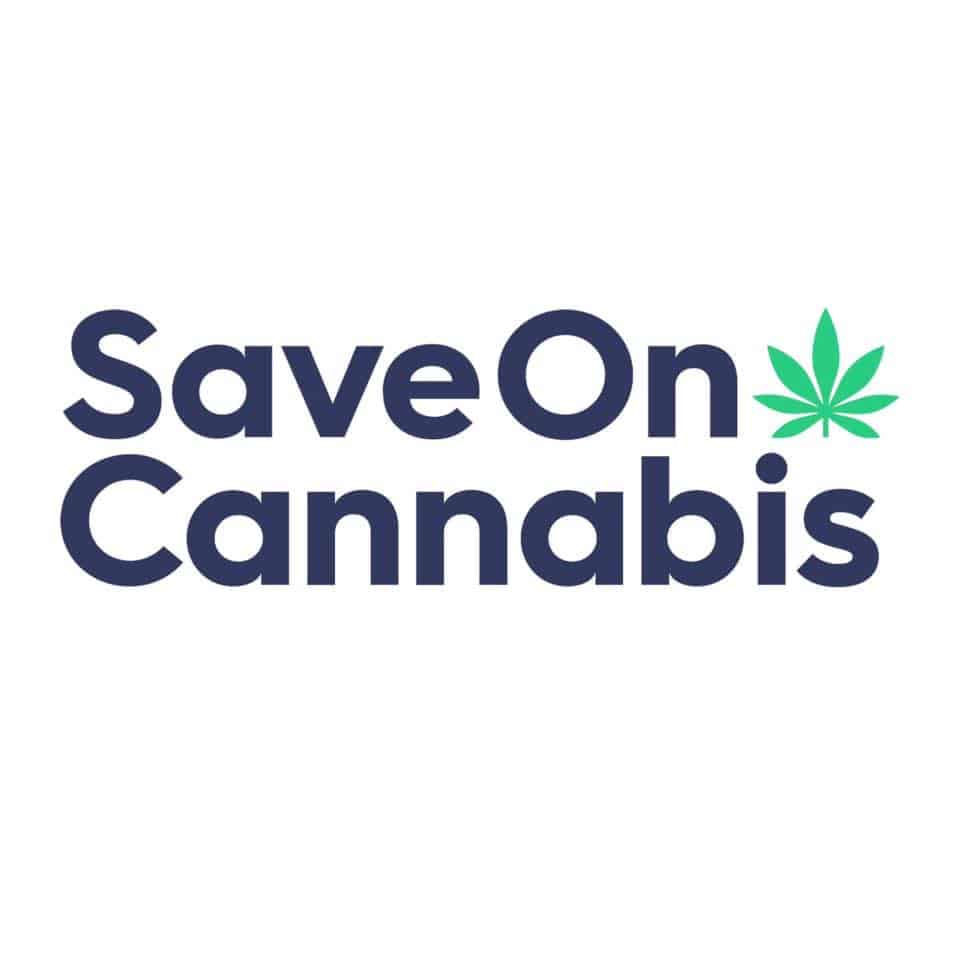 Save On Cannabis is the most trusted source for cannabis discounts and education information.  Vetted deals and clearly written articles to help you become a wiser consumer whether focused on the medical or recreational value of cannabis products.
Co Authors :
CBD is said to work for anxiety, see if our reviewer felt the effects of the Real Scientific Hemp CBD / CBDa tincture. Hands on photos & experience.
Read our hands on review and see photos of the BioCBD+ vape CBD oil and pen combo pack. See what we liked & disliked. Also, get BioCBD Plus coupons here.
In this Joy Organics review of their 900mg Mint Flavor CBD Tincture we see if it should be in your wellness routine.