CBD Review: BioCBD Plus Muscle & Joint Relief Topical Oil
Oct 11, 2018 | Romy
BioCBD Plus™ Muscle & Joint Relief Topical Oil
Pros
Smooth, Silky Feel
Great Massage Oil
Increased Bio-Availability
Works Faster & Stronger
Contains Anti-Aging Properties
Provides Mild Pain Relief
Money-Back Guarantee
Brand Overview: BioCBD Plus
BioCBD Plus has a mission to provide the highest quality Cannabidiol (CBD) with Ayurvedic herb supplements at affordable prices. With over 30 years of research and development behind their products, the company's trademarked water-soluble CBD allows for more bioavailability, which makes it work faster and stronger. BioCBD Plus is committed to delivering products to anyone, despite their financial circumstances, with a scholarship and donation program. This company claims that regular hemp oil is obsolete, and water-soluble the future of how we use the pain-relieving powers of CBD. Voted #1 for most for most effective all natural CBD, this company wants to prove their products are 5-10x more potent than anything out there.
Products: BioCBD Plus Total Body Care Capsules, BioCBD Plus Muscle & Joint Relief Topical Oil, Combo Pack: I AM PEACE CBD Vape Cartridge and Battery, I AM PEACE Vape (Cartridge Only), BioCBD Plus Vaporizer Battery, Charger & Case
Price Range: $$$
About the BioCBD Plus Muscle & Joint Relief Topical Oil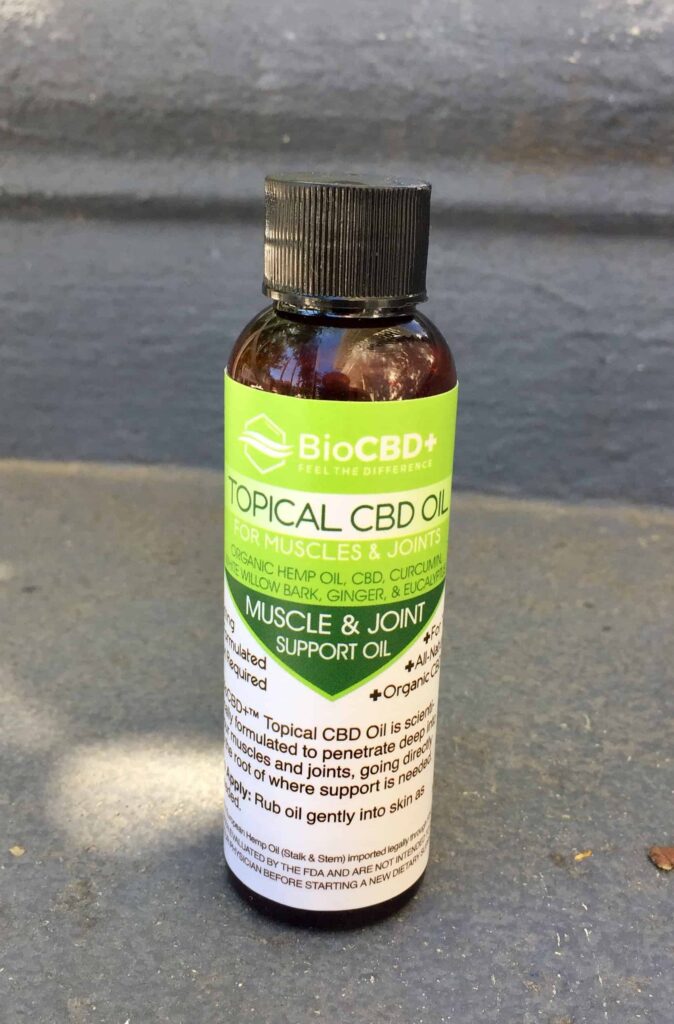 BioCBD Plus makes a topical oil that contains full-spectrum CBD, and all-natural ingredients that will ease muscle and joint pain. Using organic whole plant extracts from hemp grown in Europe, the oil's water solubility offers increased absorption. In other words, you'll be receiving more of that beneficial and pain-relieving CBD than you would with non-water-soluble products. With their endorsements from medical and physical health experts, a money-back guarantee, and the promise to work five times better than anything out there, I, a long-time chronic pain sufferer, was eager to give the BioCBD Plus Muscle & Joint Relief Topical Oil a try.
BioCBD Plus Muscle & Joint Relief Topical Oil Specifications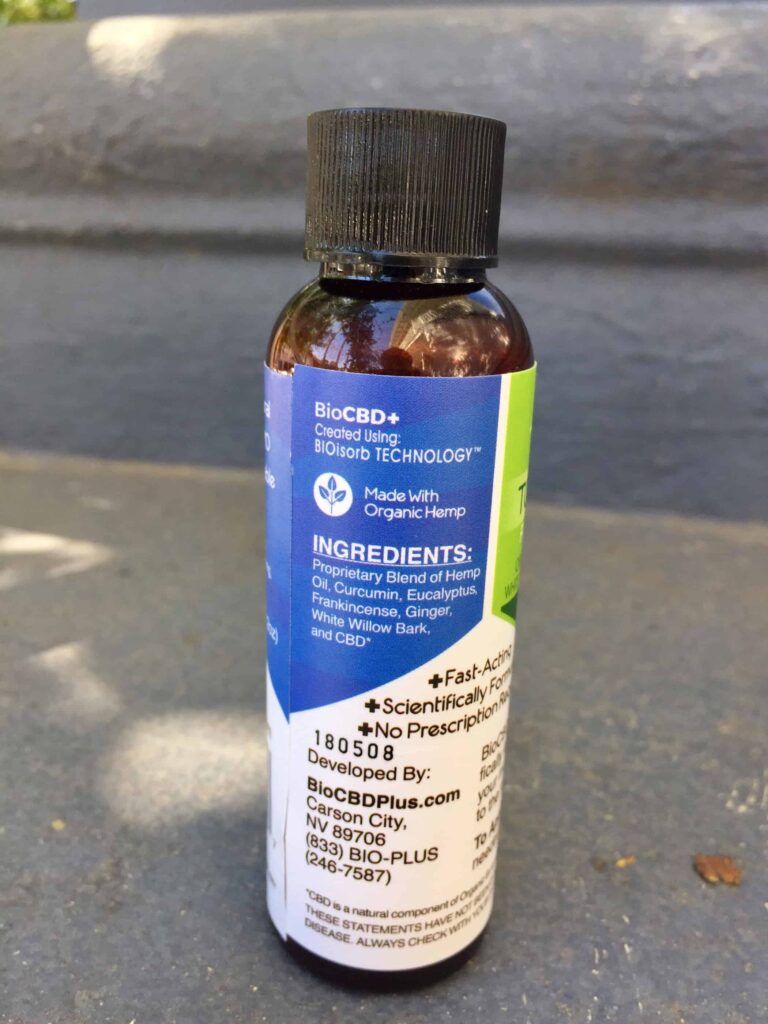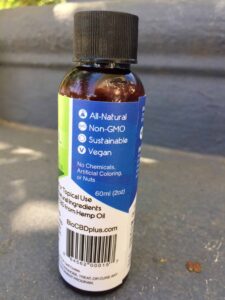 All-Natural Ingredients: Organic CBD from Hemp Oil, Curcumin, White Willow Bark, Ginger, Frankincense, & Eucalyptus

Fast-Acting

Scientifically Formulated

No Prescription Required

For Topical Use

Non-GMO

Vegan

Sustainable

No Chemicals, Artificial Coloring, or Nuts

64 mg BioCBD/bottle

60 ml (2oz.)

All natural ingredients.
How We Tested the BioCBD Plus Muscle & Joint Relief Topical Oil
"I don't want to complain but…" is something I've said many, many times. Yes, I have chronic pain. It mostly resides in my upper right leg, hip, and low back arena. Although the pain is widespread, the probable culprit and origin of the pain is due to a large tumor I recently had removed. Because the tumor was hiding next to my hip for years going undiagnosed, it created muscle and nerve damage. If I drive or sit too much, I really start to suffer and have a limp. Even if I avoid sitting, and am really taking caring of my body, I feel constant pain which causes insomnia, and all the health problems that come with that. I'm hoping that with time and continued treatment, these symptoms will go away now that the tumor is gone. In the meantime, managing my pain has been a daily struggle. After scouring through BioCBD Plus' informative website, I was curious if their topical oil lived up to the hype. I used it for a few days, continuously reapplying it to my bad areas and taking note of its effects. Then, for comparison, I tried it against Go Green Hemp's Eucalyptus & Lavender CBD Balm and my Primary Care Physician-recommended Aspercreme with Lidocaine. I had high hopes when I rubbed the BioCBD Plus Muscle & Joint Relief Topical Oil into my skin on my lower right back and right hip and thigh. I even rubbed some on my cool, new surgical scar, because Google said CBD was good for that kind of thing.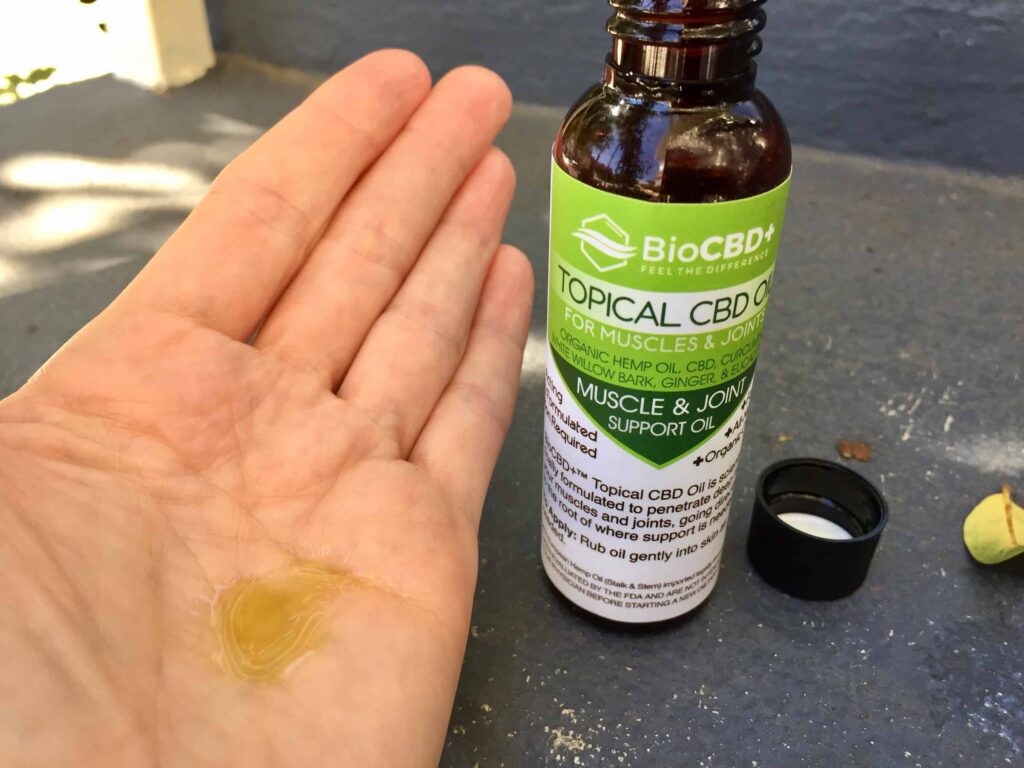 How the BioCBD Plus Muscle & Joint Relief Topical Oil Worked for Me
The BioCBD Plus Muscle & Joint Relief Topical Oil contains a top secret Ayurvedic blend which, according to a quick Google search, is often used in massage and anti-aging products. This stuff is smooth and feels great, comparable to the silky touch of spa-quality massage oil. It has a weedy and vinegary smell that reminded me of Kombucha. It wasn't my cup of tea. As far as its medical benefits, I found it difficult to tell whether it was the CBD providing relief, or just the act of massaging oil into my muscles. After use, I felt mild pain relief in my low back and right hip, although it wasn't any more beneficial than Aspercreme with Lidocaine or my other topical CBD product. Like with most topicals, I was left feeling like nothing's ever strong enough to really do me any good.
Useful and Unique Things to Know About BioCBD Plus Muscle & Joint Relief Topical Oil
BioCBD Plus offers a 30-day "Feel the Difference" money-back guarantee, which is nice because not everyone feels the benefits of CBD. (I have a friend who's allergic to anything from the marijuana plant, poor thing.) For me personally, sometimes I feel the benefits, and sometimes I don't, which is why this guarantee shows how much confidence BioCBD Plus has in their trademarked water-soluble products. I recommend giving it a shot with the comfort that even if it doesn't work for you, you can always send it back.
BioCBD Plus Muscle & Joint Relief Topical Oil Rating Breakdown
PRESENTATION • 100
Informative website and bottle.
RELIABILITY • 90
Mild pain relief. Will work differently for everyone.
QUALITY • 100
All-natural, high-quality ingredients.
SMELL • 60
Unpleasant weedy smell.
VALUE • 90
Money-back guarantee. You have nothing to lose.
How the BioCBD Plus Muscle & Joint Relief Topical Oil Stacks Up Against the Competition
I compared BioCBD Plus Muscle & Joint Relief Topical Oil with Go Green Hemp's Eucalyptus and Lavender CBD Balm and my PCP-recommended Aspercreme with Lidocaine. All in all, I have to say that each product worked just as well as the other in terms of providing only a mild amount of pain relief, if any at all. The Go Green Hemp's topical smells the best, while the Lidocaine with Aspercreme is the least expensive. If BioCBD wants to be competitive with other topicals, they might consider working on their smell and/or lowering their price.
Saving Money With BioCBD Plus Coupons
Save money on all CBD Topicals here at Save On Cannabis the World's largest online cannabis coupon code directory.
Disclosure: I received these products gratis so that I could try them and then share my honest opinion with the SOC community. I am employed by Save on Cannabis to write honest reviews and provided a flat rate payment for the writing of the review.  SOC may receive recurring affiliate payments for purchases made based on this content.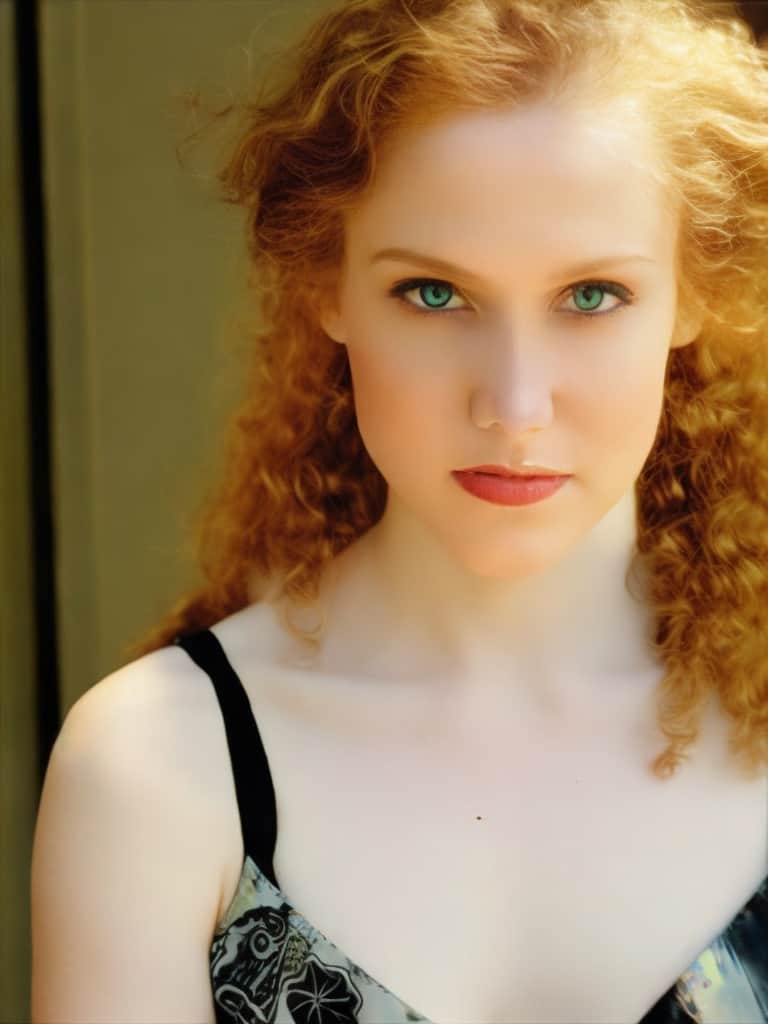 A medicinal cannabis user, utilizing the power of the plant to ease the pains and stresses from long standing conditions that other over the counter or prescriptions could not fix or weren't a natural option like cannabis.  Also, has a background in working directly in the cannabis industry in California within various dispensaries.
During the times of COVID, Quarantine, Stay At Home all the words that by themself bring stress, see if the CBDistillery 1,000mg helped ease anxiety.
Read our hands on Get Kush review and unboxing of all the products sent to us. Comprehensive break down scores for products & service.
Our reviewer got to test the Holiday CBD Gummies hands on and taste them for herself. See how these CBD gummies worked in her Holiday CBD review.