CBD Review: Savage CBD – Driven by Savage CBD
Aug 16, 2019 | Romy
Savage CBD - Driven by Savage CBD
Pros
Relieves anxiety
Calming
Pure and potent ingredients
Cons
Difficult to find instructions
Medicine-y flavor
SAVAGE CBD DRIVEN VAPE JUICE – 250 MG
Product Review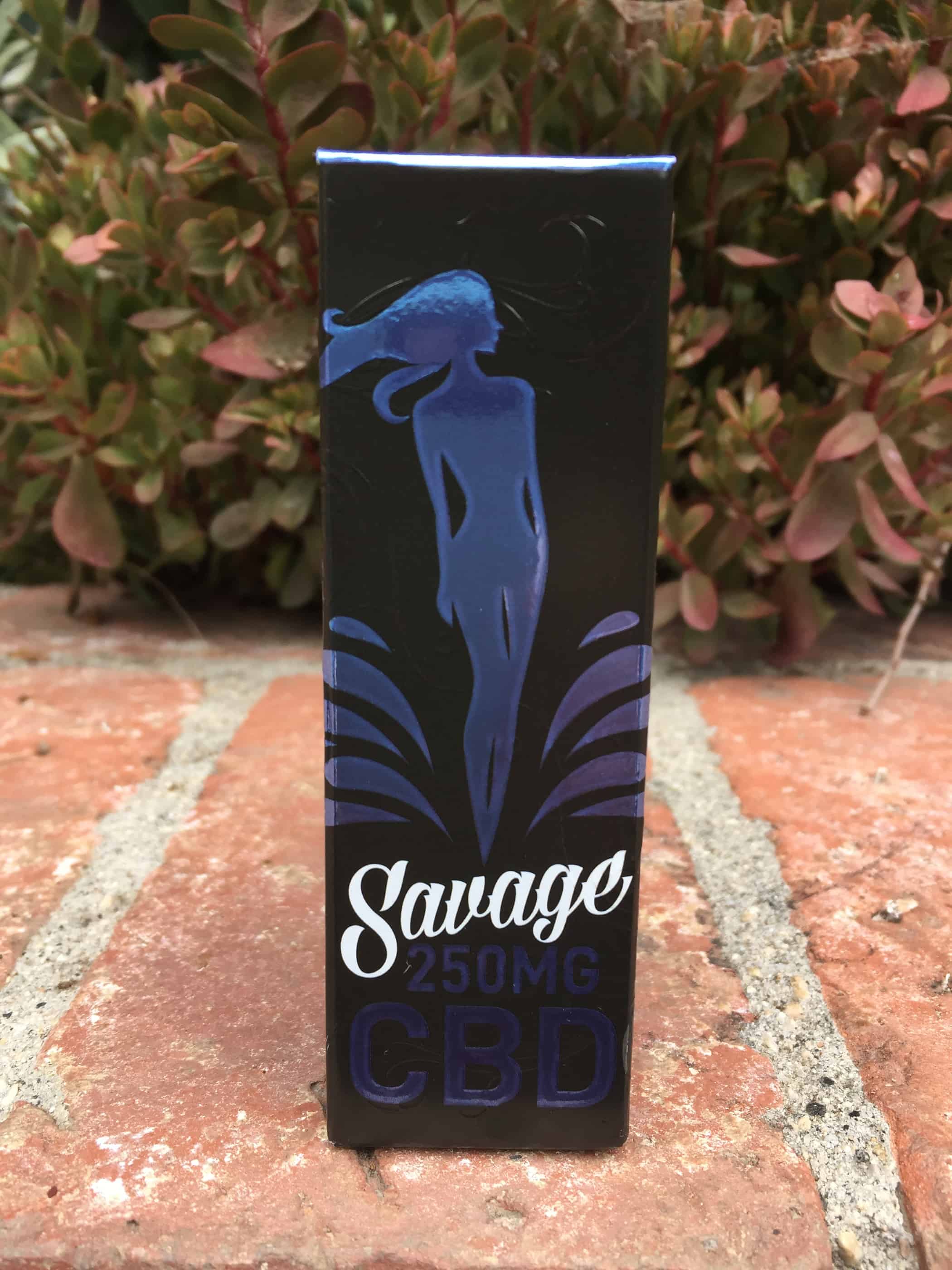 Brand Overview: SAVAGE CBD
Savage CBD is committed to improving people's lives with their CBD products. From edibles to tinctures to stuff for your pets, the company has created a diverse line for whatever ails you. Every product is free of THC, meaning you can safely use their products without getting "high." Their website is filled with useful information, including blog articles like, "Should you travel with CBD products?" and "Top 10 Things You Should Know Before Buying CBD." The founders of Savage CBD have seen the benefits themselves, and now they want to share it with the whole world.
Products: Tinctures, Topicals, Vape Oils, Vape Cartridges, Vape Pens, Pet, Capsules, Clothing, Bundles.
Price Range ($-$$$$): $-$$$
---
About the SAVAGE CBD DRIVEN VAPE JUICE – 250 MG
Savage CBD has created a flavored Ejuice you can vape for stress and pain relief. Savage CBD noticed that while there were a lot of vape juice options on the market, the flavors just weren't that great. The company hired a team of mixologists and chemists to create Driven's sour razzmatazz flavor made with blueberries and raspberries. If you're not one for smoking, you can also take this orally, or add it to your water or smoothie. Containing 250 mg of CBD, each dropper offers a mild dose and with absolutely zero THC. Rest assured, this stuff won't get you high. For those with more severe pain or sleep disorders, and in need of a higher dosage, the Driven vape juice also comes in 500 and 1,000 mg.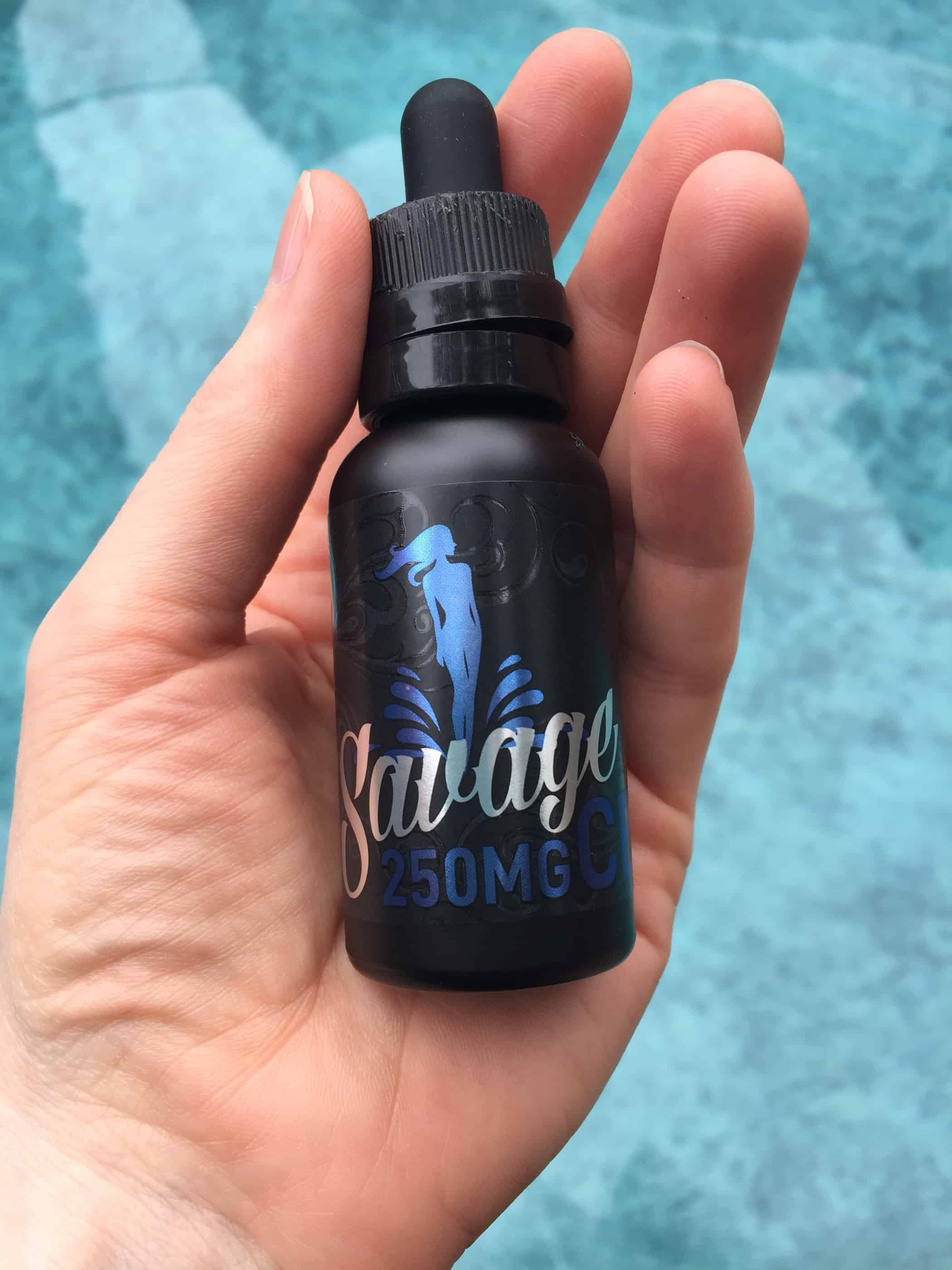 ---
SAVAGE CBD DRIVEN VAPE JUICE – 250 MG Specifications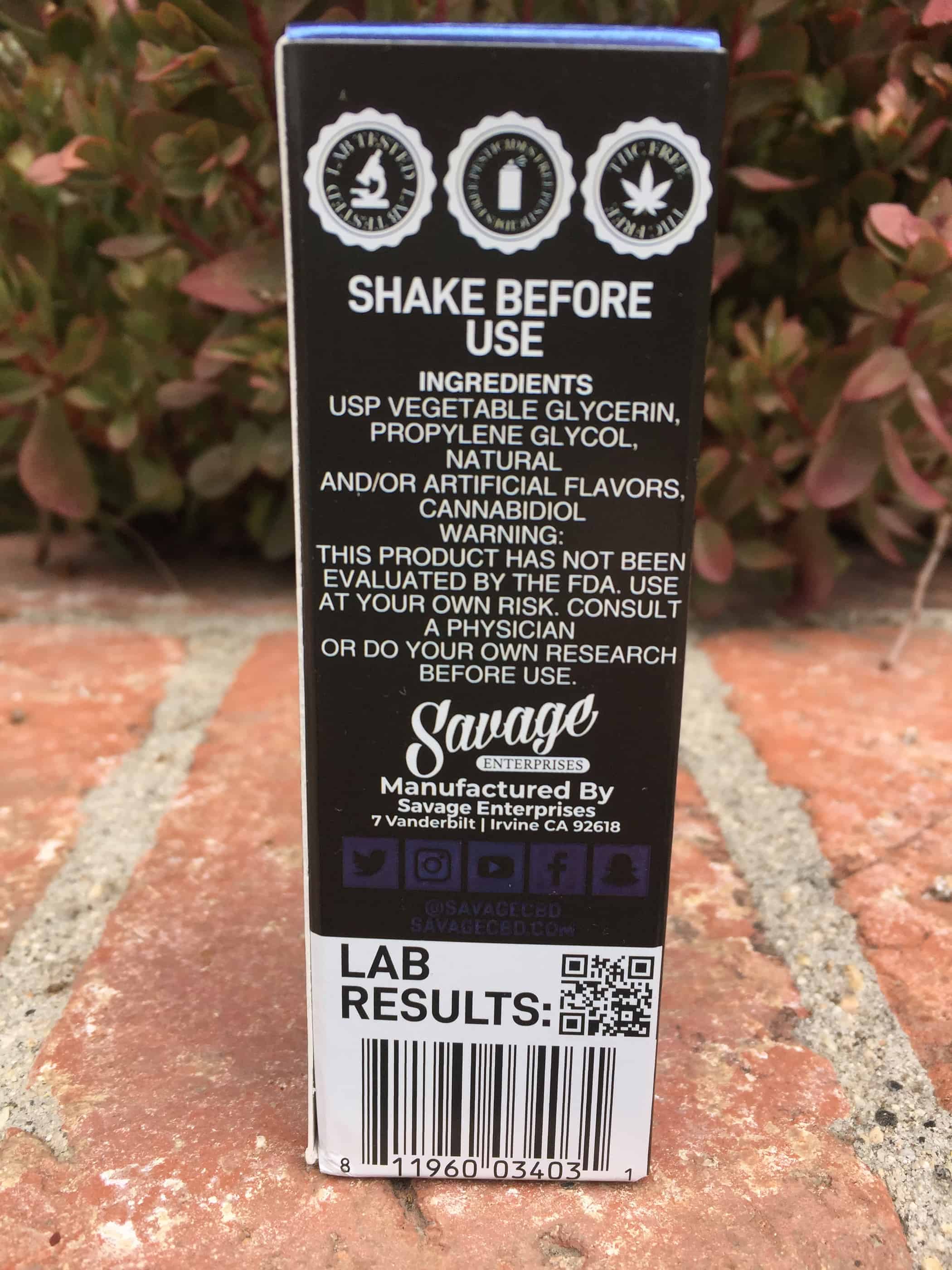 Ingredients: Propylene Glycol, Vegetable Glycerine, Cannabidiol (CBD) Isolate, Natural, and Artificial Flavor Concentrate
Lab tested
Pesticide-free
GMO-free
THC-free
30 mg
250 mg CBD
---
How We Tested the SAVAGE CBD DRIVEN VAPE JUICE – 250 MG
I don't have an e-vape, so I decided to take this under my tongue. (For those of you out there interested in vaping it, there's a video on the Savage CBD website that will show you how to do it. The effects of vaping CBD are much stronger and quicker than taking it sublingually.) I wanted to use Savage CBD's Driven to help assuage some of the anxiety I've been feeling of late. Maybe it was the earthquakes in Southern California or just the state of the world, but I've been on edge. I find it hard to stay still and harder yet to fall asleep. Because of this, I've been fatigued and lacking in concentration. The box doesn't have any instructions, so I didn't know how much CBD each dropped contained. But since most 30 ml bottles contain 30 servings, I deduced that each dropper contains 8.33 mg of CBD. Since my anxiety was high, (and I have pretty severe chronic pain), I took 6 droppers-full under my tongue for about 50 mg of CBD.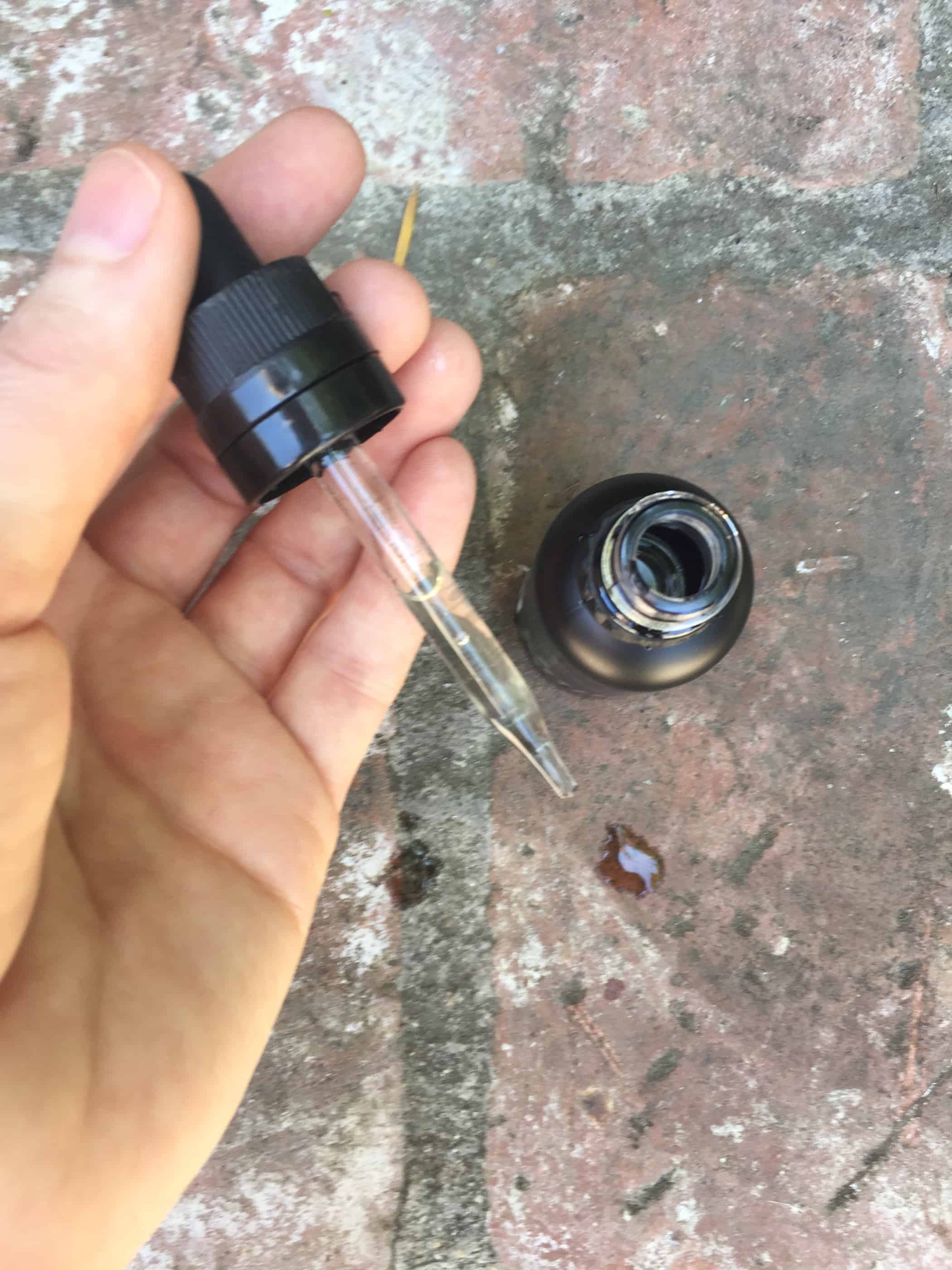 ---
How the SAVAGE CBD DRIVEN VAPE JUICE – 250 MG Worked for Me
---
An hour after taking it Savage CBD Driven Vape Juice, I started to feel a lot less anxious. When the CBD started to take effect, I felt a warmth throughout my body. It was like a cozy hug. My feelings of disquietude sometimes threaten to burst lately, leading panic attack and a total inability to think, make decisions, or do anything. While CBD doesn't take away these anxious feelings completely, it takes the edge off, making it easier to stay present and sit with those feelings. I took the same amount before bedtime, and crazily enough, there was a big earthquake. Calm and in-the-moment, I packed a go bag, filled up on gasoline, and bought six gallons of water. In case of emergency, I know I can rely on this vape juice to keep me cool, calm, and collected. I wasn't a big fan of the flavor. It was overwhelming and reminded me of cough syrup.
---
Useful and Unique Things to Know About SAVAGE CBD DRIVEN VAPE JUICE – 250 MG
I was curious as to why this vape juice is called "Driven." I assumed it was because it had an energetic or Sativa-like effect. After some research on the Savage CBD website, I discovered that it does not. In fact, all the vape juices have identical ingredients. The only difference is the flavoring. For instance, their vape juice called "Passion" won't make you amorous and "Tranquil" won't make you relaxed. The only difference is that the former is watermelon-flavored and the latter is flavored with mango, coconut, and blood orange. It's confusing marketing.
---
SAVAGE CBD DRIVEN VAPE JUICE – 250 MG Ratings
In the next sections gradings from 0-100 on our review, these grades add up to give the product's overall score.
PRESENTATION • 75
Lacks clarity and instructions.
RELIABILITY • 100
Works great!
QUALITY • 100
Great ingredients
FLAVOR / SMELL / or EASE OF USE • 100
Fruity flavor.
VALUE • 100
Fair price.
---
How the SAVAGE CBD DRIVEN VAPE JUICE – 250 MG Stacks Up Against the Competition
When compared with other vape juices and tinctures you would be hard-pressed to find a better deal than Savage CBD's Driven. If I had to make any changes, I would put servings size and dosing instructions on the packaging. I might also change the names of their vape juices to reflect their flavor. It's a superior product, don't get me wrong, but I think maybe they got the marketing wrong.
---
Saving Money With Savage CBD Coupons
Save money on all Cbd vape oils here at Save On Cannabis the World's largest online cannabis coupon code directory.
---
Disclosure: I received these products gratis so that I could try them and then share my honest opinion with the SOC community. I am employed by Save on Cannabis to write honest reviews and provided a flat rate payment for the writing of the review. SOC may receive recurring affiliate payments for purchases made based on this content.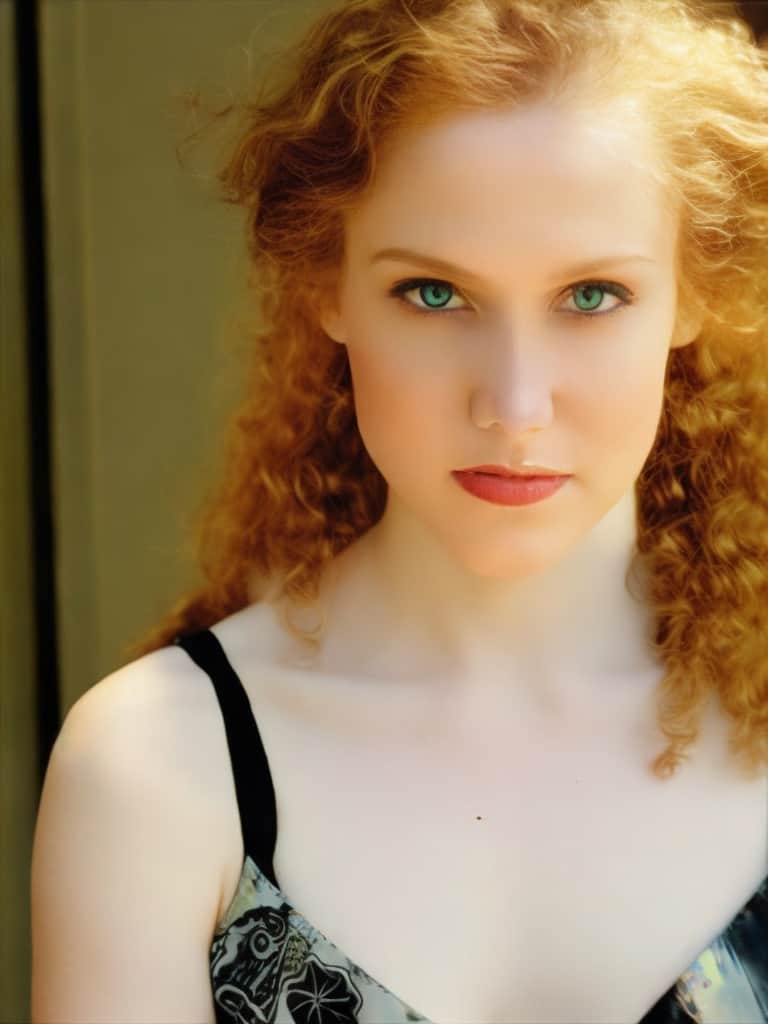 A medicinal cannabis user, utilizing the power of the plant to ease the pains and stresses from long standing conditions that other over the counter or prescriptions could not fix or weren't a natural option like cannabis.  Also, has a background in working directly in the cannabis industry in California within various dispensaries.
Sorry, no coupons were found.
In this Hippie Butler review of the Master's Club version of the subscription box. See if it's worth your money.
Read how this ultra high potency 3,000mg CBD tincture worked for our reviewer. In this review you'll see if it helped our reviewer sleep.
Looking for a CBD tincture? See if this tincture worked for our reviewer who's recovering from getting hit by a car.