Social CBD Review – Muscle Balm Stick Lavender 400mg
Oct 22, 2020 | SOC
Social CBD
Product Review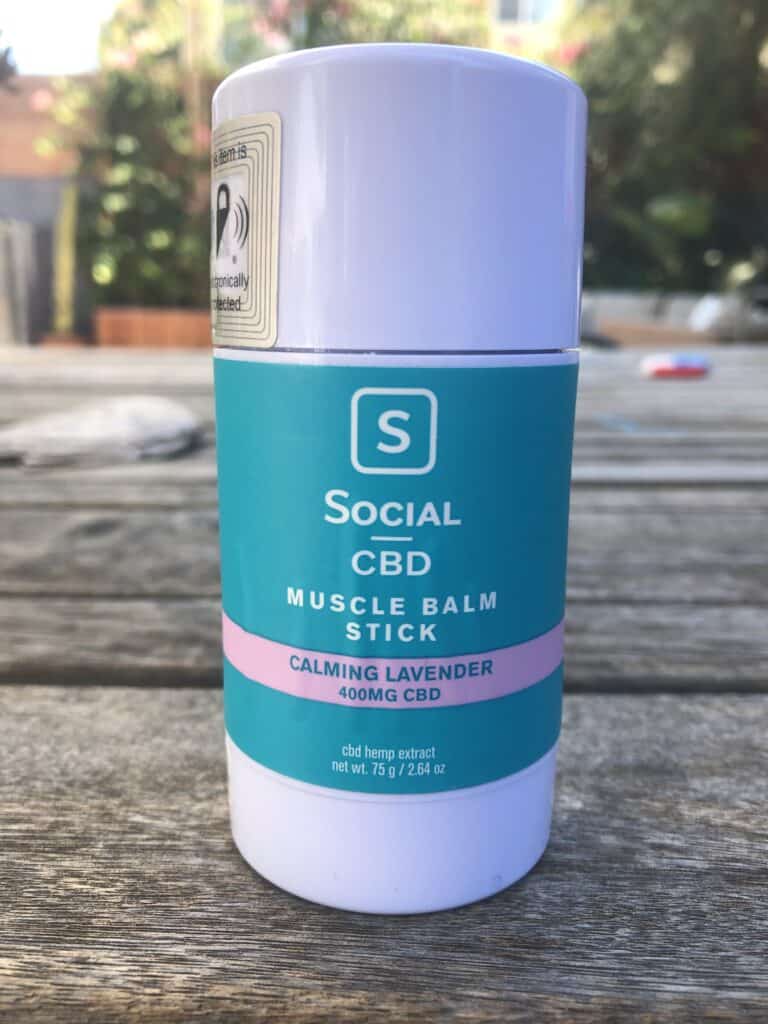 Brand Overview: Social CBD
Social CBD has created a line of CBD products that provide "natural solutions for modern life." Everything they make is 100% plant-based and rich in phytonutrients. Social CBD has a wide variety of drops, vape pens, capsules, and gummies to choose from.Their line of topicals includes products from Volcom, to help with recovery after a workout or time in the sun. They also have a line of self-care topicals for women called Zooey CBD.
Social CBD also makes products just for your pet! Sign up for their mailing list and save 20% off your first order.
Products: Drops, Vape Pens, Gel Capsules, Topicals, Gummies, Pets, Volcom CBD, Zooey CBD.
Price Range ($-$$$$): $
---
About SOCIAL CBD CALMING LAVENDER CBD BALM STICK
Social CBD Calming Lavender CBD Balm Stick contains 400 mg of CBD, arnica, menthol, camphor, and other healing ingredients to calm your mind and soothe your body. This balm stick is free from artificial fragrances, colors, and THC. It's also travel-ready and TSA-compliant so you can take it with you when you travel. One of Social CBD's most potent topicals, the balm stick is incredibly moisturizing, containing ingredients like shea butter, beeswax, and safflower seed oil.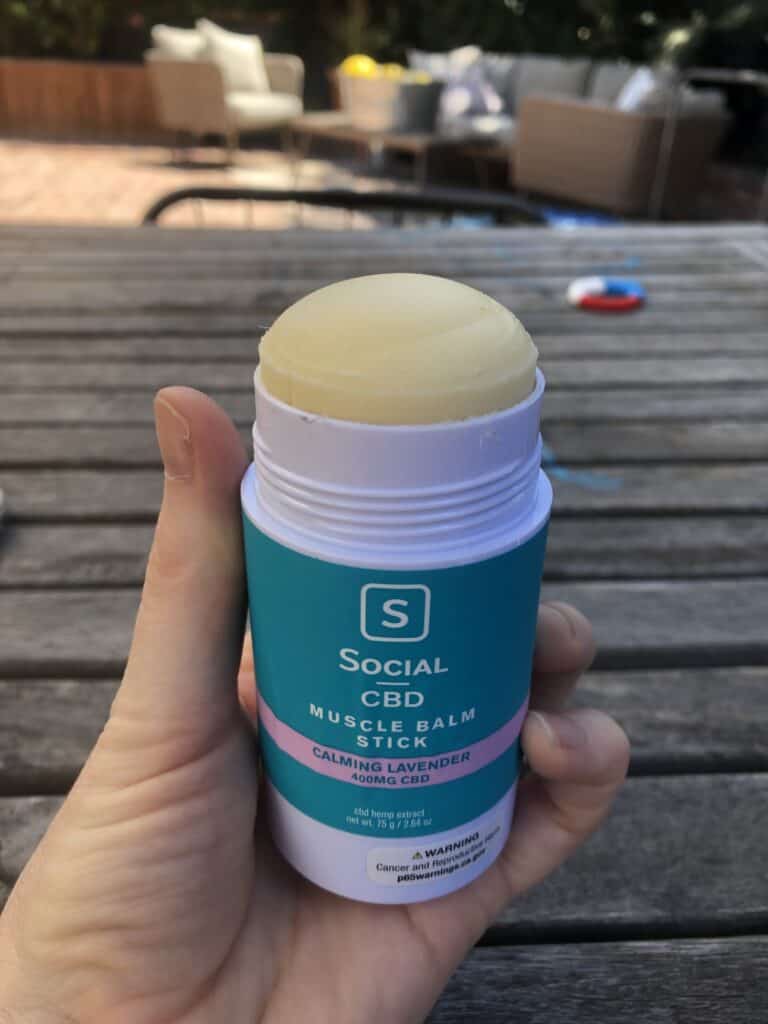 The perfect product to toss in your gym back to use after a workout, this lavender-scented balm can provide soothing relief to your muscles and joints. To use, apply to your targeted areas and massage into the skin. You can use this product up to four times a day.
---
SOCIAL CBD CALMING LAVENDER CBD BALM STICK Specifications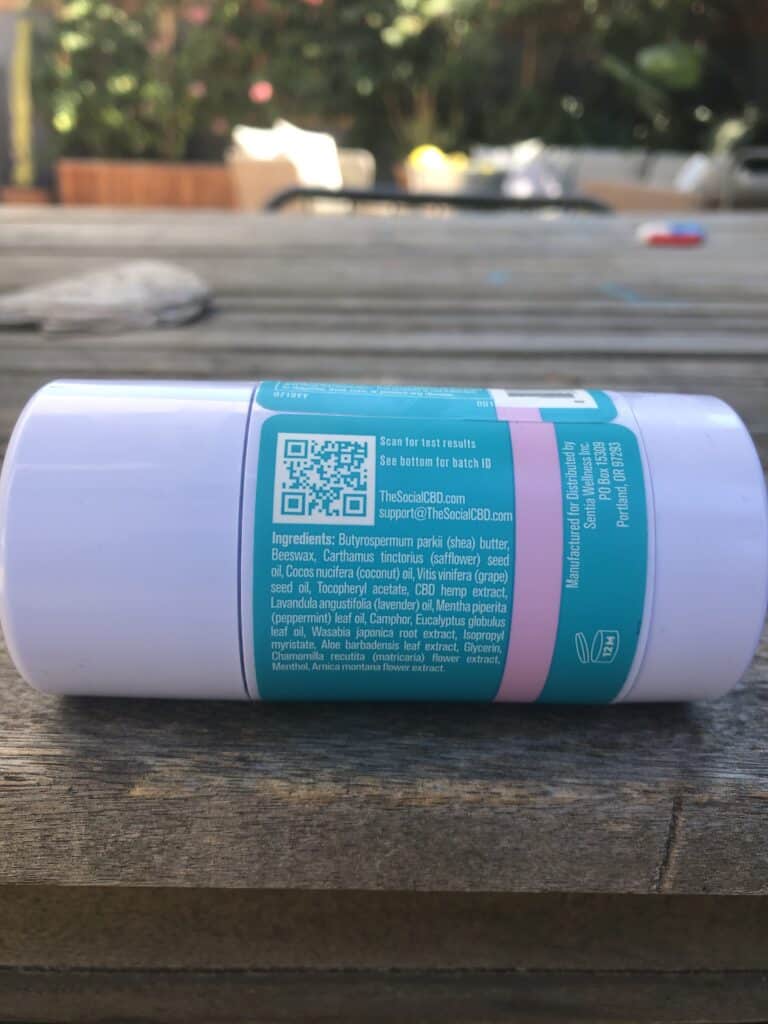 400 mg CBD
75 g / 2.64 oz
Ingredients: Butyrospermum Parkii (Shea) Butter, Beeswax, Carthamus Tinctorius (Safflower) Seed Oil, Cocos Nucifera (Coconut) Oil, Vitis Vinifera (Grape) Seed Oil, Lavandula Angustifolia (Lavender) Oil, Tocopheryl Acetate, CBD Hemp Extract, Mentha Piperita (Peppermint) Leaf Oil, Eucalyptus Globulus Leaf Oil, Camphor, SD Alcohol 40, Aloe Barbadensis Leaf Juice, Wasabia Japonica Root Extract, Glycerin, Anthemis Nobilis (Roman Chamomile) Flower Extract, Arnica Montana Flower Extract, Menthol

---
How We Tested the SOCIAL CBD CALMING LAVENDER CBD BALM STICK
I'm a fan of Social CBD's topicals and use them all the time for post-physical therapy inflammation. I keep my topicals next to my bed and massage some into my hip and legs before bed to help me relax and get relief. I was excited to try the Social CBD Calming Lavender CBD Balm Stick because I liked that it contained arnica, menthol, and camphor. Plus, I enjoyed the lavender scent in some of their other products, so I felt confident I was going to love this one.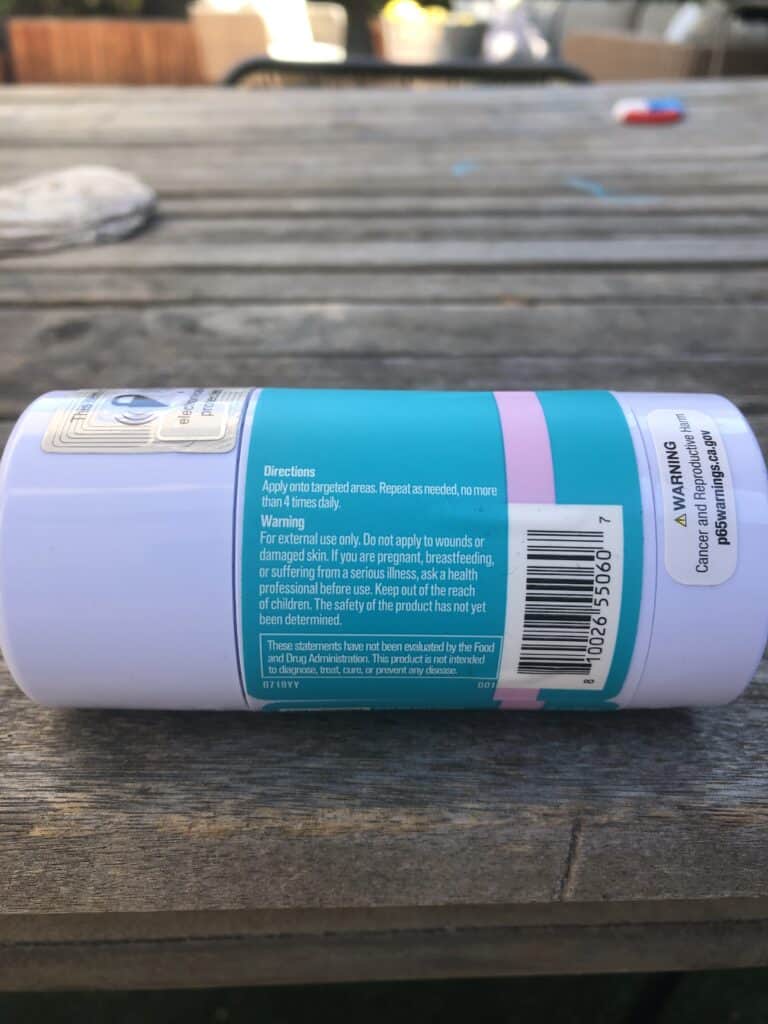 After physical therapy, I applied the balm to my low back and hips then massaged it into my skin. Before bed, I spent ten minutes massaging the balm into my low back, hips, thighs, and quads.
---
How the SOCIAL CBD CALMING LAVENDER CBD BALM STICK Worked for Me
When I was done massaging the balm into my skin, I washed it off my hands because it was greasy. I didn't mind that, however, because it was the oil that made it a great massage lotion. It didn't flake or dry up so I could massage my legs for ten minutes and I still didn't need to reapply. I loved the lavender scent. It was natural and soothing. The balm made my muscles and joints feel better which helped me sleep. I'll be using this balm stick every day. It's the perfect product to toss into my backpack to take with me to physical therapy. And the scent from the essential oils calms my nerves just as good as my diffuser.
---
Useful and Unique Things to Know About SOCIAL CBD CALMING LAVENDER CBD BALM STICK
This CBD balm stick contains a variety of ingredients that are great for your skin, muscles, and joints. Shea butter comes from the nut of the shea tree and is often found in moisturizers because of its natural ability to hydrate the skin. Beeswax also had hydrating qualities, and can even work as an exfoliator. Safflower seed oil helps keep your skin from being too oily, coconut oil provides moisture and can reduce redness, and grape seed oil is often used in products that fight acne. Lavender oil is added not just for the amazing smell but can also help clear up the skin.
I love this topical because it contains camphor, eucalyptus leaf oil, and menthol. These ingredients cool down the skin which feels amazing after rigorous physical therapy sessions. This balm stick also contains arnica, which was recommended to me by a surgeon and is often used in homeopathy to help bruises and wounds heal.
---
SOCIAL CBD CALMING LAVENDER CBD BALM STICK Ratings
In the next sections gradings from 0-100 on our review, these grades add up to give the product's overall score.
PRESENTATION • 100
Informative packaging.
RELIABILITY • 100
Moisturizing and comforting.
QUALITY • 95
Great ingredients. Massages into the skin easily but leaves skin oily.
FLAVOR / SMELL / or EASE OF USE • 100
Smells like lavender.
VALUE • 75
Expensive.
---
How SOCIAL CBD CALMING LAVENDER CBD BALM STICK Stacks Up Against the Competition
I've tried a lot of Social CBD's topicals and can say that this is hands down the best smelling. When I put it on, I feel like I'm sitting next to a lavender plant. I love the smell so much, I'd even use it as a perfume. The balm itself feels amazing I loved using it as a massage oil because it doesn't dry or flake. It leaves my hands oily, so hand-washing is a necessity with this topical, but I'm not complaining. Most topicals that make good massage lotions are like that. The only thing I'd change about this product to make it more competitive is to lower the price.
---
Saving Money with Our Verified SOCIAL CBD Coupons
Save money by using our verified CBD Topicals here at Save On Cannabis the World's largest online cannabis coupon code directory.
---
Disclosure: I received these products gratis so that I could try them and then share my honest opinion with the SOC community. I am employed by Save on Cannabis to write honest reviews and provided a flat rate payment for the writing of the review. SOC may receive recurring affiliate payments for purchases made based on this content.

Looking for something to help you get more sleep? See in our NutraCanna review if the CBD Sleep dissolvable tablets worked for us.
In this Papa & Barkley Releaf Softgels review we test out these respected CBD pills to see how they worked for our team.
Our expert tested the Rokin Vapes Nitro2 and Mini Tank, see first hand photos and read real world experience with these vape pens. Also get Rokin coupons.