CBD Review: Green Roads CBD Relax Gummy Bears
Nov 2, 2018 | Romy
CBDCBD CandyCBD ConcentratesCBD DrinksCBD EdiblesCBD GummiesCBD Pet ProductsCBD Pills & CapsulesCBD TincturesCBD TopicalsCoupons Valid For Returning UsersSave On Cannabis Verified
Green Roads CBD Relax Gummy Bears
Pros
Tastes Great
Portable
Good for Micro-Dosing
Relaxing
Brand Overview: GREEN ROADS
Green Roads has grown into one of the leading manufacturers of CBD in the industry. The company's focus is the medicinal side of cannabis, and they're the first company in the US to use licensed pharmacists to formulate their CBD products. Green Road's mission is to offer patients an all-natural way to health and healing. They have a huge product line to meets a variety of their patient's needs. From their edibles, concentrates, oils, and animals tinctures, they use the purest form of CBD on the market. What sets them apart from many other companies is their commitment to excellence. Every three months, Green Roads has a third-party lab test every product for purity and potency, so you get quality and consistency every time.
Products: CBD Oil, Candies (Gummy Bears, Night Time Gummies), Capsules, Pain Cream, On-The-Go Edibles, Daily Dose Droppers, Oil for Pets, Concentrates, Tea, Coffee, and Bundles
Price Range ($-$$$$): $$$
About the RELAX CBD GUMMY BEARS
Green Roads CBD Relax Gummy Bears are the perfect way to get your daily CBD dose for a convenient and all-natural way to relax. Each pharmacist-formulated gummy bear is infused with 10 mg of CBD. If you have any question about whether or not these gummy bears will help you relax, you can read the 600 five-star reviews on their website. People are using the bears for a range of issues like Complex PTSD, sleep disorders, anxiety, and nerve damage.
RELAX CBD GUMMY BEARS Technical Specifications

Ingredients: Corn Syrup, Sugar (from beets), Water, Gelatin, Citric Acid, Natural and Artificial Flavors, Lactic Acid, Pectin, FD&C Red 40, Yellow 5, Yellow 6, Blue 1, Broad-spectrum Hemp-Derived Cannabinoid Extract

300 mg of CBD

Dose/Serving Size – 10 mg

Size/Volume – 30 X 10 mg Gummies

All products are sourced from hemp grown in the USA

Legal in all 50 US states

Customer satisfaction guarantee

Third-party lab tested
How We Tested the RELAX CBD GUMMY BEARS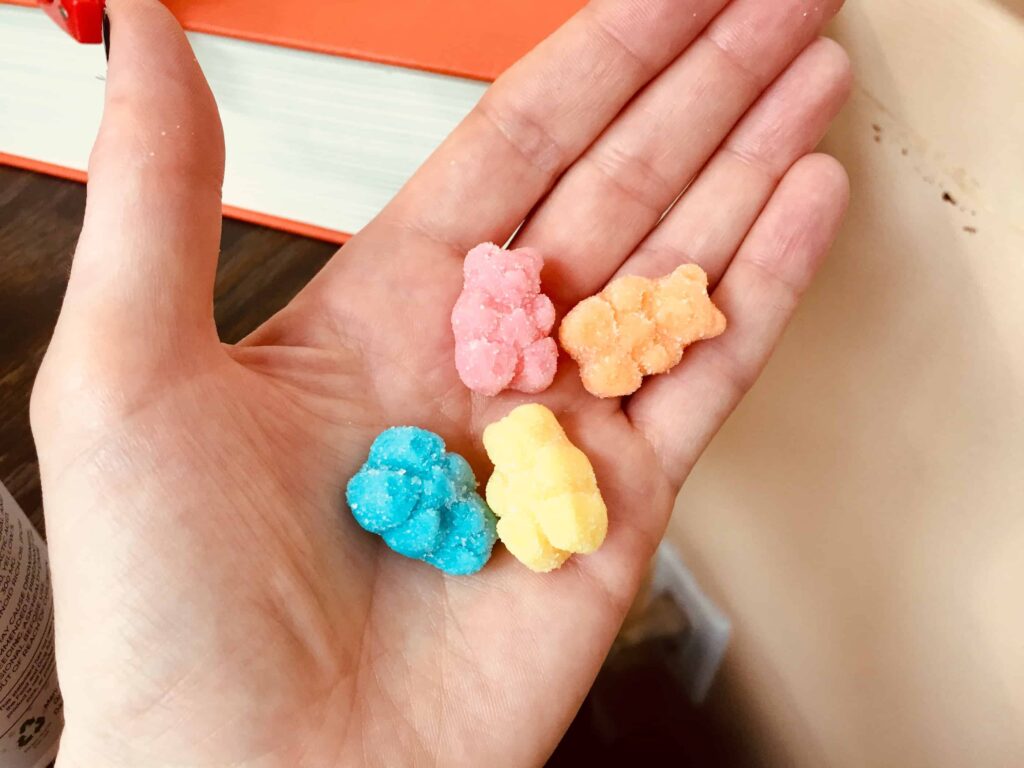 I love gummy supplements because, for me, making healthy choices does not come easily. I'm not someone who gets joy from eating salads. Vegetables are the worst. I eat healthy because I'm vain, and it's good for my skin. I've been trying tinctures lately for my daily CBD intake to help my anxiety and nerve pain in my right leg, so taking a daily dose of candy sounds way more awesome than the strong herbal taste of some hemp oils. Each bear contains 10 mg of CBD, so a couple hours before bed, I ate ten of those little guys, hoping it would help the nerve pain and intrusive thoughts that keep me up at night. The gummies smelled like skittles and tasted like gummy candy. I couldn't taste the hemp at all.  They were honestly so good it was hard not to eat the whole bottle.
How the RELAX CBD GUMMY BEARS
Worked for Me
While waiting for the Relax Bears to take effect, I put on my current favorite live cam: the brown bears at Brooks Falls. (Google it. They are seriously amazing.) After an hour or so, I felt the CBD creating a warmth in my muscles and bones. As someone who is terrible at relaxing, I truly appreciate how these delicious candies can give your body and mind a gentle nudge towards calmness. The combination of the CBD-infused gummies while watching bears catch fish in the river allowed me to shut off my mind and experience, at least for a short while, the feeling that all is right in the world.
Useful and Unique Things to Know About the
RELAX CBD GUMMY BEARS
I'm always interested in what other people have to say about CBD, so I looked at some of the reviews for this product on the Green Roads website. I noticed a lot of elderly people use this product for nerve pain or arthritis, and after eating the bears, I now understand why. Having 30 gummies per container, with each bear at 10 mg of CBD, this product is perfect for people who need to microdose throughout the day. It's also a wonderful product for people who are trying CBD for the first time. You have a perfectly proportioned 10 mg bear to pop in your mouth to test. You can easily experiment with how many doses work for you.
RELAX CBD GUMMY BEARS Rating Breakdown
PRESENTATION • 100
The bottle looks legit, like any herbal supplement you would buy at the store.
RELIABILITY • 100
Each bear contains the same amount of CBD every time.
QUALITY • 100
Perfect for micro-dosing.
FLAVOR • 99
Tasted great, like skittles with a hint of hemp.
VALUE • 90
CBD is expensive and these bears are no exception.
How the RELAX CBD GUMMY BEARS Stacks Up Against the Competition
I was a little put off by the price at $54.99, but the price has been lowered since publishing this review to $43.99 and when I did some research on how much other companies are selling 300 mg of CBD gummies, and they are selling them at a fairly normal price (though now Green Roads is cheaper). Some companies were WAY more expensive, some less at time of original publishing but new pricing is highly competitive.
Saving Money With Green Road's Coupons
Save money with CBD Gummies coupons here at Save On Cannabis the World's largest online cannabis coupon code directory.
Disclosure: I received these products gratis so that I could try them and then share my honest opinion with the SOC community. I am employed by Save on Cannabis to write honest reviews and provided a flat rate payment for the writing of the review.  SOC may receive recurring affiliate payments for purchases made based on this content.
See if the Joy Organics CBD Softgels with 750mg of CBD gave our reviewer the feels in the good way and are worth your money.
Our reviewer loves CBD topicals, so can the Social CBD Cooling Roll-On Gel make it onto her must have products list? Find out now in our new review.
The Charlotte's Web Balm Stick with CBD is a very pretty product, but does it help our reviewer with her daily needs? Is it worth your money?