Social CBD Body Lotion Review
Nov 5, 2020 | SOC
SOCIAL CBD BODY LOTION
Pros
Lovely lavender scent
Great deal
Moisturizing
Soothing
Easy to use
0% THC
Social CBD
Product Review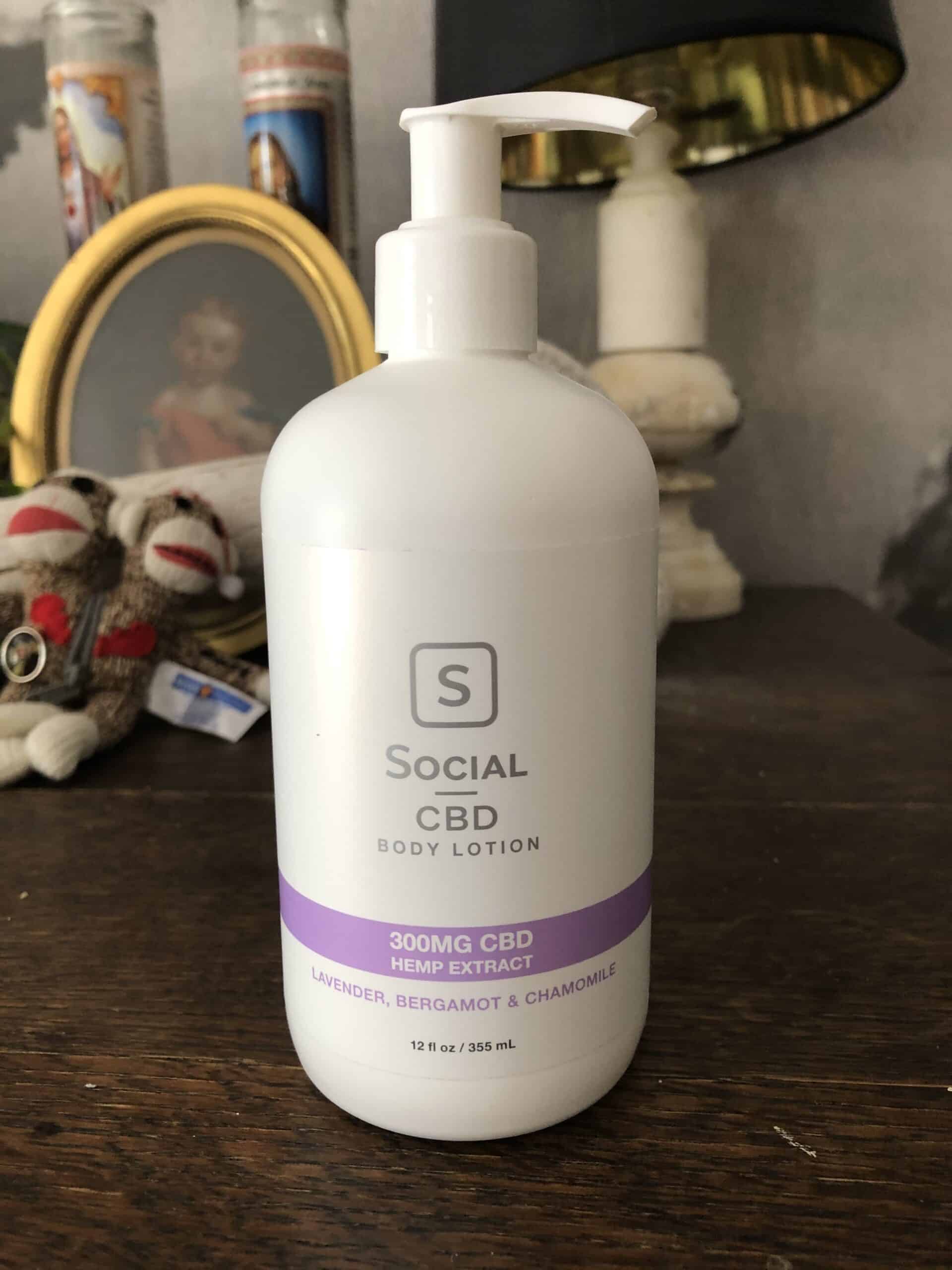 Brand Overview: Social CBD
Social CBD has created a line of CBD products that provide "natural solutions for modern life." Everything they make is 100% plant-based and rich in phytonutrients. Social CBD has a wide variety of drops, vape pens, capsules, and gummies to choose from. Their line of topicals includes products from Volcom, to help with recovery after a workout or time in the sun. They also have a line of self-care topicals for women called Zooey CBD.
Social CBD also makes products just for your pet! Sign up for their mailing list and save 20% off your first order.
Products: Drops, Vape Pens, Gel Capsules, Topicals, Gummies, Pets, Volcom CBD, Zooey CBD.
Price Range ($-$$$$): $
---
About SOCIAL CBD BODY LOTION
Social CBD Body Lotion contains 300 mg of cannabidiol, or CBD, in every bottle. It comes with an easy-to-use pump and is the perfect moisturizer to sit on your bedside table. The company has created a non-greasy and fast-absorbing formula that won't leave a sticky residue. Infused with essential oils like lavender, bergamot, and chamomile, this body lotion has a natural smell that will soothe your senses.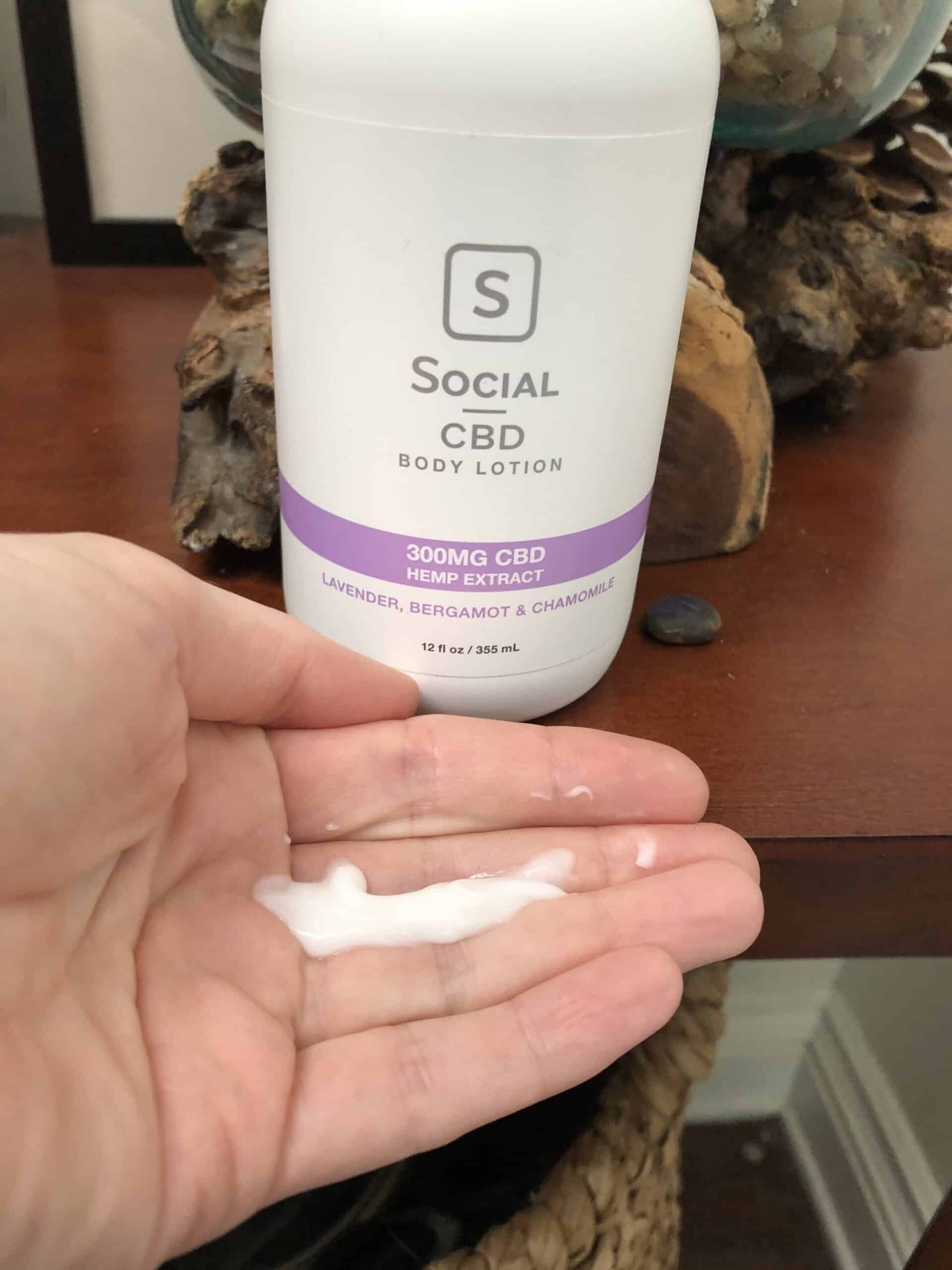 Social CBD has added arnica to this body lotion, a healing component of the sunflower plant that has been used for centuries by natural medicine practitioners. You can apply this lotion as needed to moisturize dry skin and help bring about relaxation at bedtime.
---
SOCIAL CBD BODY LOTION Specifications
300 mg CBD
12 fl oz / 355 ml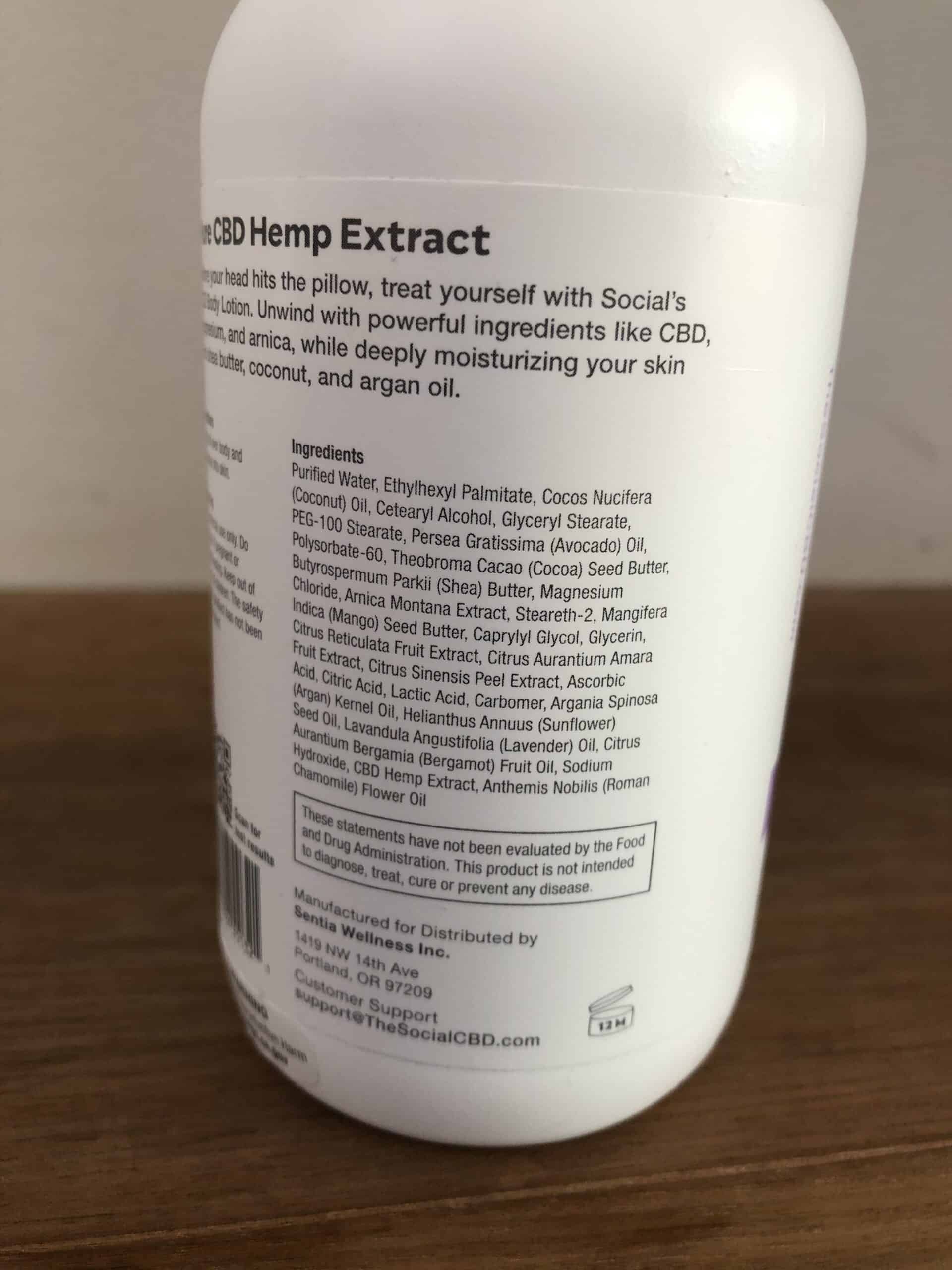 Ingredients: Purified Water, Arnica Montana Flower Extract, Isopropyl Alcohol, Natural Menthol USP, Ilex Paraguarenis Leaf Extract, DimethylSulfone (MSM), Tocopheryl (Vitamin E), Aloe Barbadensis Leaf Extract, Carbomer, Triethanolamine, Phenoxyethanol, Caprylyl Glycol, Sorbic Acid, CBD Hemp Extract, Polysorbate 20, Melaleuca Alternifolia (Tea Tree) Leaf Oil, Pyridoxine HCl (Vitamin B6), EDTA
---
How We Tested the SOCIAL CBD BODY LOTION
I was excited to try Social CBD Body Lotion because I've loved everything else I've tried from the company. I also wanted to see if it would help with my chronic dry skin on my hands and feet. I was curious to see how this body lotion would also help me relax, as essential oils have always helped calm my senses. In the morning, I massaged the lotion into my dry hands and feet, giving them a massage the way my physical therapist does.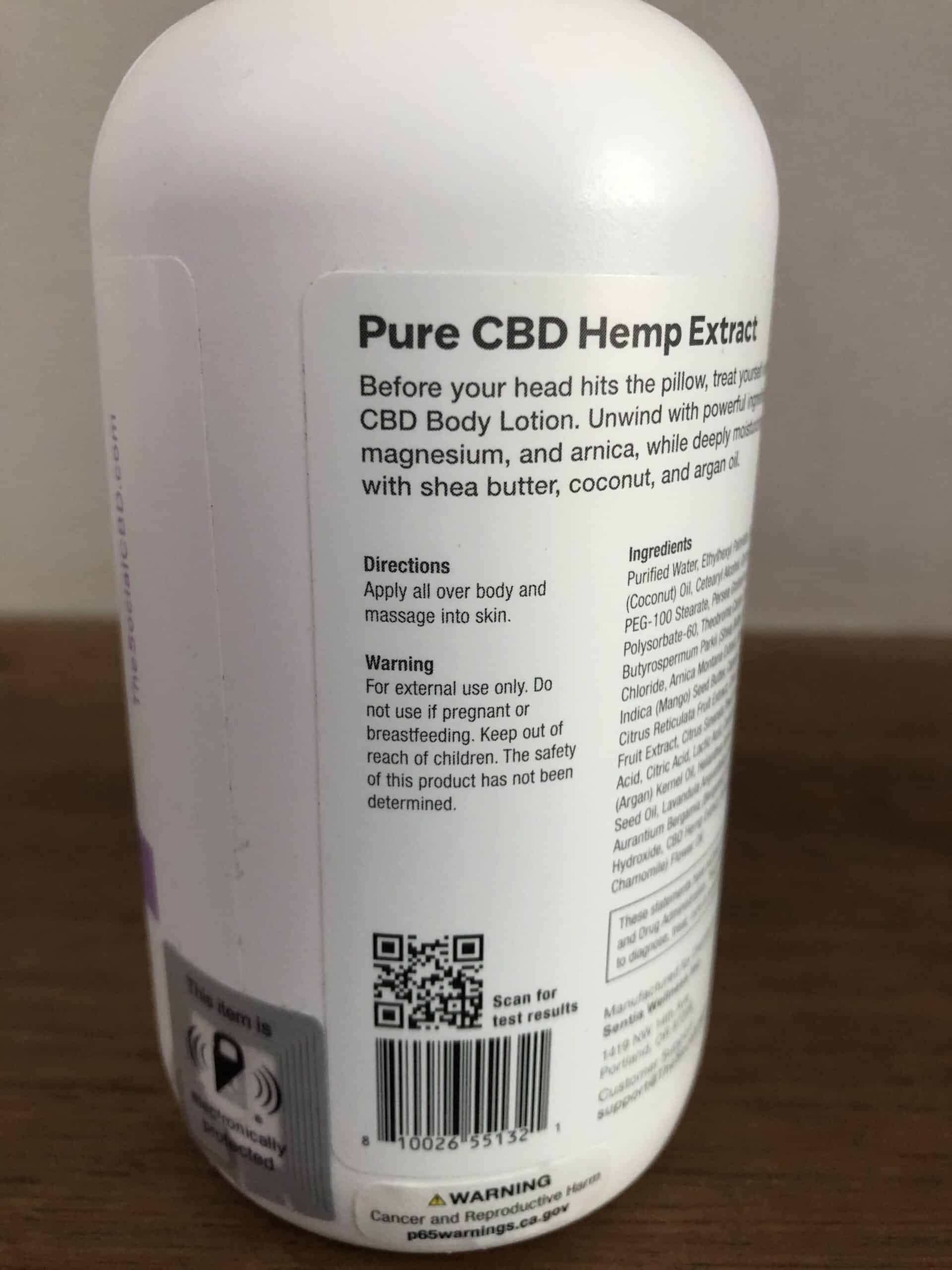 At night, I massaged the lotion into my hips and low back with the hope that a massage and the essential oils would help me relax and get better sleep. Also at night, I ended up combining the body lotion with Social CBD Muscle Rub to give it an extra cooling sensation.
---
How the SOCIAL CBD BODY LOTION Worked for Me
This body lotion was incredibly moisturizing. It penetrated deep into my hands and feet, assuaging the dryness, and lasting for hours before I needed to reapply. The lotion blends smoothly into the skin. It's not sticky or flaky at all. The lavender smell was heavenly and made me feel relaxed and like I'd spent an hour in a spa.
I spent a good ten minutes at night massaging the lotion into my low back and hips hoping it would help me sleep. I added some Social CBD Muscle Rub to add some iciness to the topical, which gave me an extra boost in relaxation. I found myself able to stay asleep longer and woke up refreshed and ready for the day.
---
Useful and Unique Things to Know About SOCIAL CBD BODY LOTION
There are so many ingredients in this body lotion that will make your body feel great. Magnesium and arnica are often added to topicals for their healing properties. Shea butter, coconut, and argan oil are natural moisturizers that will make your skin soft and smooth. Lavender, bergamot, and chamomile essential oils having calming qualities that will make you feel like a whole new person.
---
SOCIAL CBD BODY LOTION Ratings
In the next sections gradings from 0-100 on our review, these grades add up to give the product's overall score.
PRESENTATION • 100
Informative packaging.
RELIABILITY • 100
Soothing and moisturizing.
QUALITY • 100
Contains a plethora of awesome ingredients.
FLAVOR / SMELL / or EASE OF USE • 100
Smells like lavender.
VALUE • 100
Great deal!
---
How SOCIAL CBD BODY LOTION Stacks Up Against the Competition
Social CBD Body Lotion is one the best moisturizers I've tried, as it soothes my dry skin without leaving a greasy residue or flakiness. This product stands apart from the competition because you'll be hard-pressed to find an effective CBD lotion for $29.99 in such a large bottle. I don't think I've ever seen a CBD topical that is 12 whole ounces! In fact, the biggest CBD topical I've found was only 3 or 4 ounces and cost twice as much. For a great deal on a great product, look no further. I only wish they made this product with icy ingredients like menthol or camphor for extra relief.
---
Saving Money with Our Verified SOCIAL CBD BODY LOTION Coupons
Save money by using our verified CBD Topicals here at Save On Cannabis the World's largest online cannabis coupon code directory.
---
Disclosure: I received these products gratis so that I could try them and then share my honest opinion with the SOC community. I am employed by Save on Cannabis to write honest reviews and provided a flat rate payment for the writing of the review. SOC may receive recurring affiliate payments for purchases made based on this content.

We got our hands on the 4 Corners Cannabis CBD vape oil! Our expert 4 Corners Cannabis review has photos and coupons.
At great prices is CBDistillery worthwhile or only as good as the cheap price tag? Find out if we think the CBDistillery tincture is quality.
In this Meridian Life Balance review we tested their Relieve CBD Balm on our nagging pains. Did it provide relief? Find out.