Prima Review – R+R Cream, Advanced Recovery Soothing Rub
Aug 4, 2020 | Save On Cannabis
PRIMA R+R CREAM
Product Review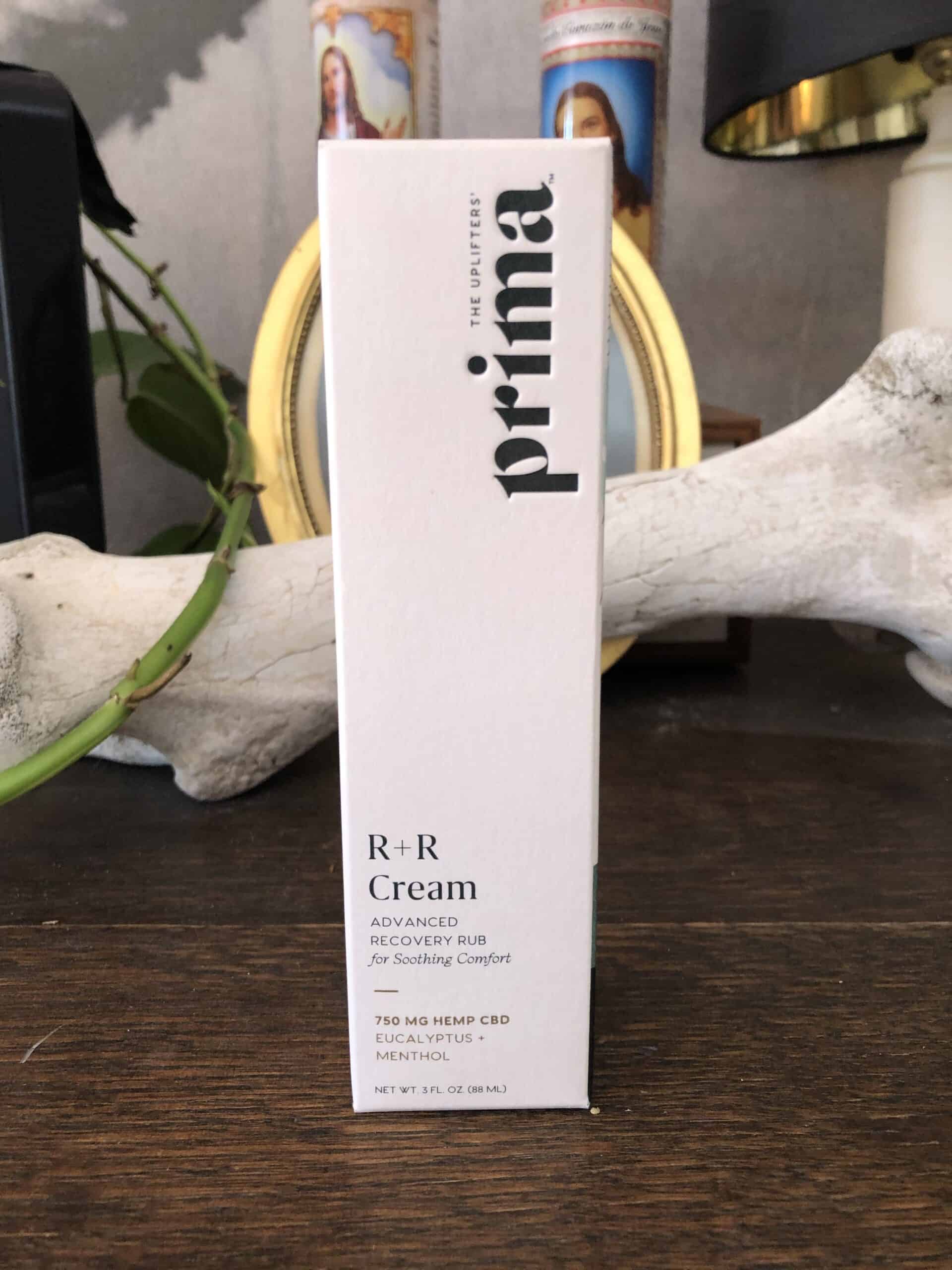 Brand Overview: Prima
Prima creates science-backed CBD products to help bring your self-care to a whole new level. The founders of the company emphasize their values, which mirror a kind of a disruptor philosophy prevalent in modern-day social movements that aim to shake up the status quo to make the world a better place. But instead of focusing on how to make the world a better place, the company focuses instead on making you, the individual, better.
Through its diverse line of CBD products for stress, sleep, recovery, and skin health, Prima wants to help you live the best life possible in a natural and non-addictive way.
The company proves its commitment to social and environmental change by donating 1% of their revenue, by remaining 100% carbon neutral and eco-friendly, and through its commitment to recycling. Prima also puts its employees first, with their excellent healthcare, equity leadership, and flexible working hours. Prima isn't just a company I'd be proud to buy from, but I'd love to get a job there too.
Products: Skincare, Bath Products, Capsules, Powders for Morning, Noon, and Night, Bundles.
Price Range ($-$$$$): $$$
---
About PRIMA R+R CREAM
Prima's R+R Cream is an "advanced recovery rub for soothing comfort" that contains 750 mg of broad-spectrum hemp as well as other natural ingredients to help bring relaxation, relief, and hydration to your body. The cream is infused with eucalyptus, menthol, tea tree, rosemary, lavender, and peppermint which work in combination with the CBD to make you feel better. To keep your skin moisturized, Prima uses marula oil and shea butter.
You can use this non-greasy cream as needed and can rest assured this stuff is free from toxins. The packaging itself is made with partially recycled materials and the ingredients are third-party tested for purity and potency. The lab results are available on the website, which includes a full breakdown of all the amazing terpenes and cannabinoids that makes this cream so effective.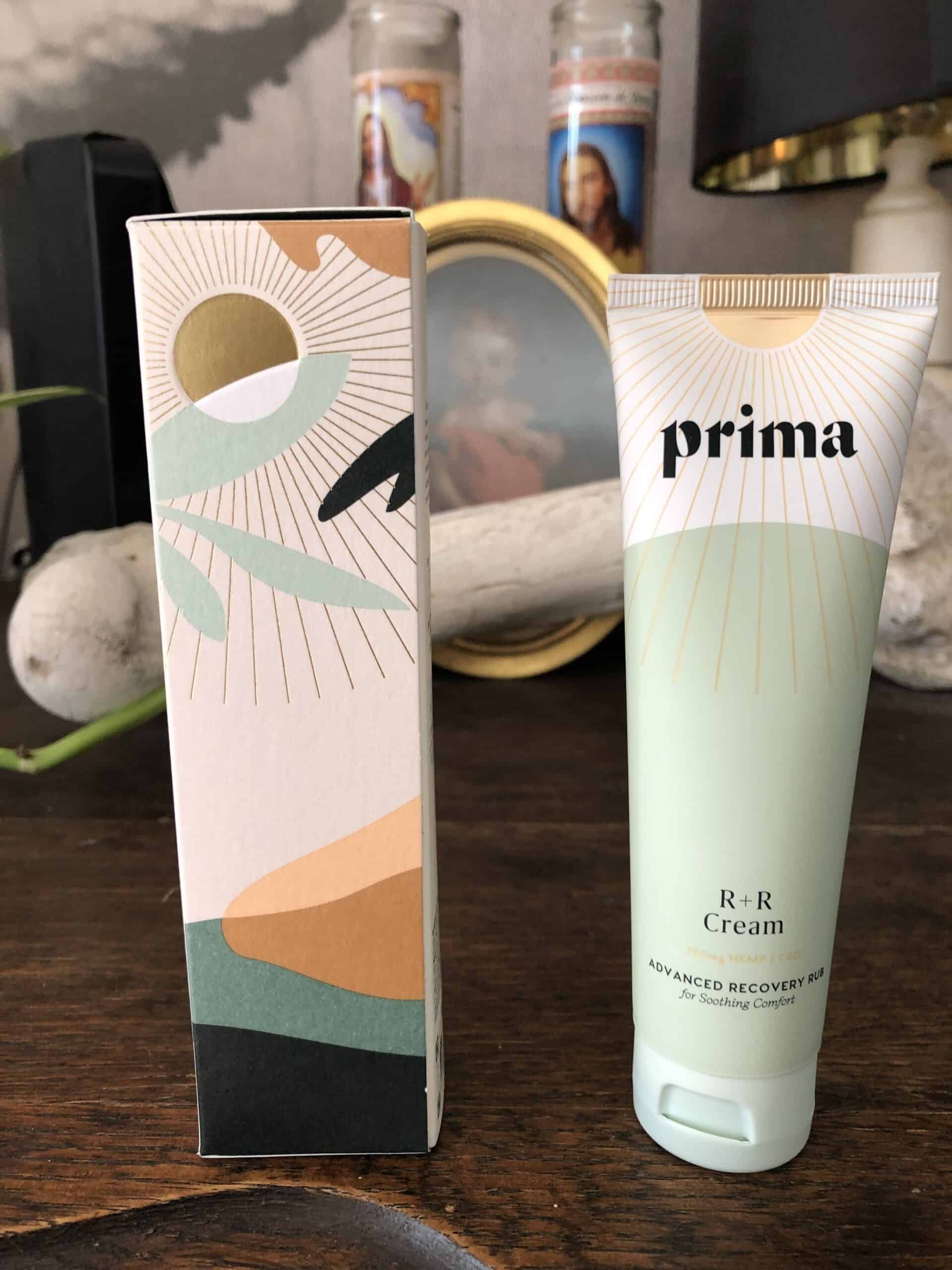 ---
PRIMA R+R CREAM Specifications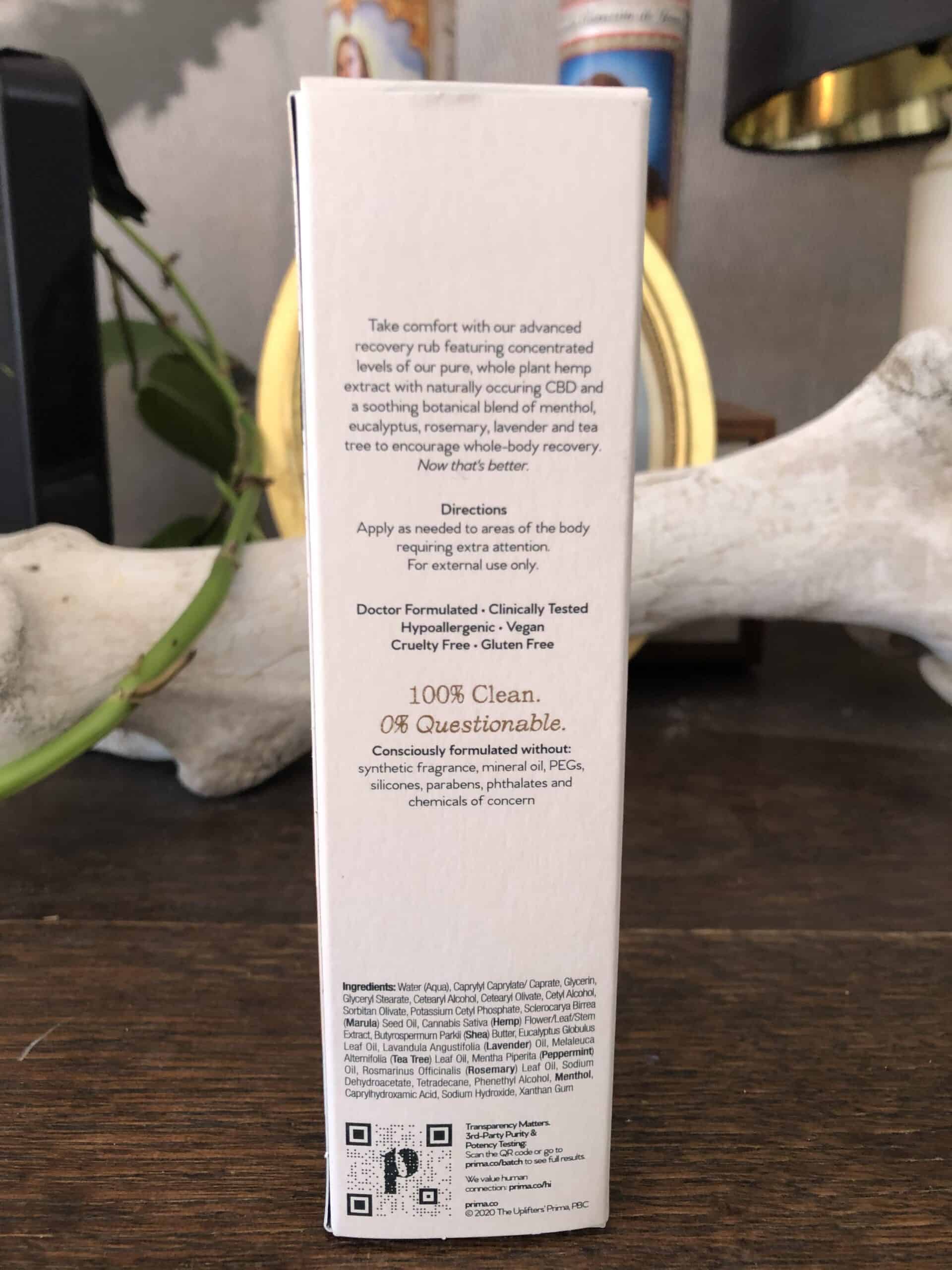 750 mg CBD
3 oz / 88 ml
Vegan
Less than 5.28 mg THC per serving
Gluten-free
Ingredients: Water (Aqua), Caprylyl Caprylate/ Caprate, Glycerin, Glyceryl Stearate, Cetearyl Alcohol, Cetearyl Olivate, Cetyl Alcohol, Sorbitan Olivate, Potassium Cetyl Phosphate, Sclerocarya Birrea (Marula) Seed Oil, Cannabis Sativa (Hemp) Flower/Leaf/Stem Extract, Butyrospermum Parkii (Shea) Butter, Eucalyptus Globulus Leaf Oil, Lavandula Angustifolia (Lavender) Oil, Melaleuca Altemifolia (Tea Tree) Leaf Oil, Mentha Piperita (Peppermint) Oil, Rosmarinus Officinalis (Rosemary) Leaf Oil, Sodium Dehydroacetate, Tetradecane, Phenethyl Alcohol, Potassium Stearate, Glyceryl Distearate, Stearic Acid, Menthol, Caprylhydroxamic Acid, Sodium Hydroxide, Xanthan Gum

---
How We Tested the PRIMA R+R CREAM
I'm a big fan of CBD topicals, so I was excited to try Prima R+R Cream because I've found products that contain menthol, eucalyptus, and tea tree oil effective. I was immediately impressed by the cream's packaging. It's not only one of the prettiest CBD topicals, but it's filled with useful information about the active ingredients. I was hoping this topical would help hydrate my skin and soothe the areas of my body that need extra attention like my hips, hands, low back, and feet.
After my morning shower, I massaged some of the cream into my low back, hips, feet, and hands. At night, I followed a similar routine right before bed with the hope that it would help me relax and get better rest. I used this product along with a prescribed medication Gabapentin, which I take for arthritis.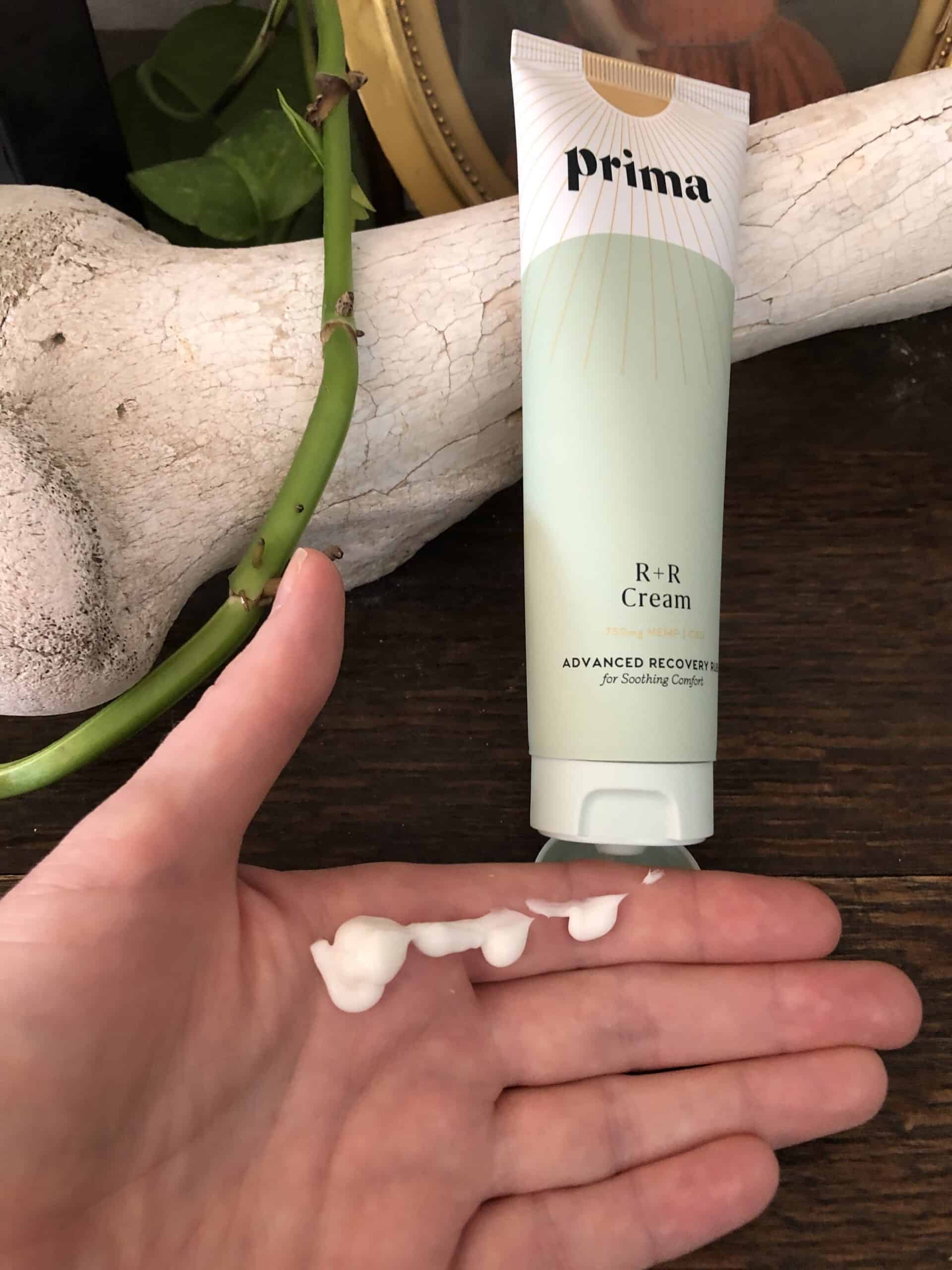 ---
How the PRIMA R+R CREAM Worked for Me
The Prima R+R Cream goes on smooth and blends easily making it wonderful for massage. I massaged it into my hips and low back for about fifteen minutes for extra relief and was pleased that it didn't clump or flake like so many other topicals. The cooling ingredients like menthol and eucalyptus provided relief and the essential oils made me feel like I was relaxing in a spa. One of the things I miss during the Coronavirus pandemic is getting a massage and using this stuff made me feel like I was living in pre-Covid times.
The peppermint, lavender, and other essential oils also gave the cream a natural scent that hides most of the smell of hemp. That said, the cream smells ever-so-slightly like cannabis. It's not overpowering to the point that I wouldn't wear this in public, but I wanted to let you know in case you're sensitive to smell. I prefer a topical that manages to hide all of the hemp smell, so while I'll be using this product again, I won't be using it as much as my better-smelling topicals.
---
Useful and Unique Things to Know About PRIMA R+R CREAM
There are so many natural and beneficial ingredients in Prima R+R Cream. The broad-spectrum hemp oil is filled with phytocannabinoids and terpenes that make your skin happier and healthier. The eucalyptus soothes the skin and the menthol cools it down to promote relaxation. Tea tree oil contains antioxidants, lavender has aromatherapeutic qualities, and rosemary helps to keep your skin moisturized. Prima uses marula seed oil as a non-greasy moisturizer. Shea butter is often used in moisturizers and cosmetics because it hydrates your skin.
---
PRIMA R+R CREAM Ratings
In the next sections gradings from 0-100 on our review, these grades add up to give the product's overall score.
PRESENTATION • 100
Pretty and informative packaging.
RELIABILITY • 100
Soothing.
QUALITY • 100
Natural and effective.
FLAVOR / SMELL / or EASE OF USE • 95
Smells great except for the slightest hemp odor.
VALUE • 90
Somewhat expensive.
---
How PRIMA R+R CREAM Stacks Up Against the Competition
There are a ton of other CBD topicals on the burgeoning market making it increasingly important for companies to stay competitive. Even a high-quality topical like Prima's R+R Cream could make some improvements if they want to get that competitive edge. For instance, I've tried several CBD topicals that are just as effective, but they manage to hide the smell of cannabis. If Prima wants to be more competitive, they could add more of the ingredients that smell great to hide the hemp. Also, at $55 for a 3-ounce bottle of cream, you'll be able to find CBD topicals for more. That said, you'll also find topicals that cost less.
---
Saving Money with Our Verified PRIMA Coupons
Save money by using our verified CBD Topicals here at Save On Cannabis the World's largest online cannabis coupon code directory.
---
Disclosure: I received these products gratis so that I could try them and then share my honest opinion with the SOC community. I am employed by Save on Cannabis to write honest reviews and provided a flat rate payment for the writing of the review. SOC may receive recurring affiliate payments for purchases made based on this content.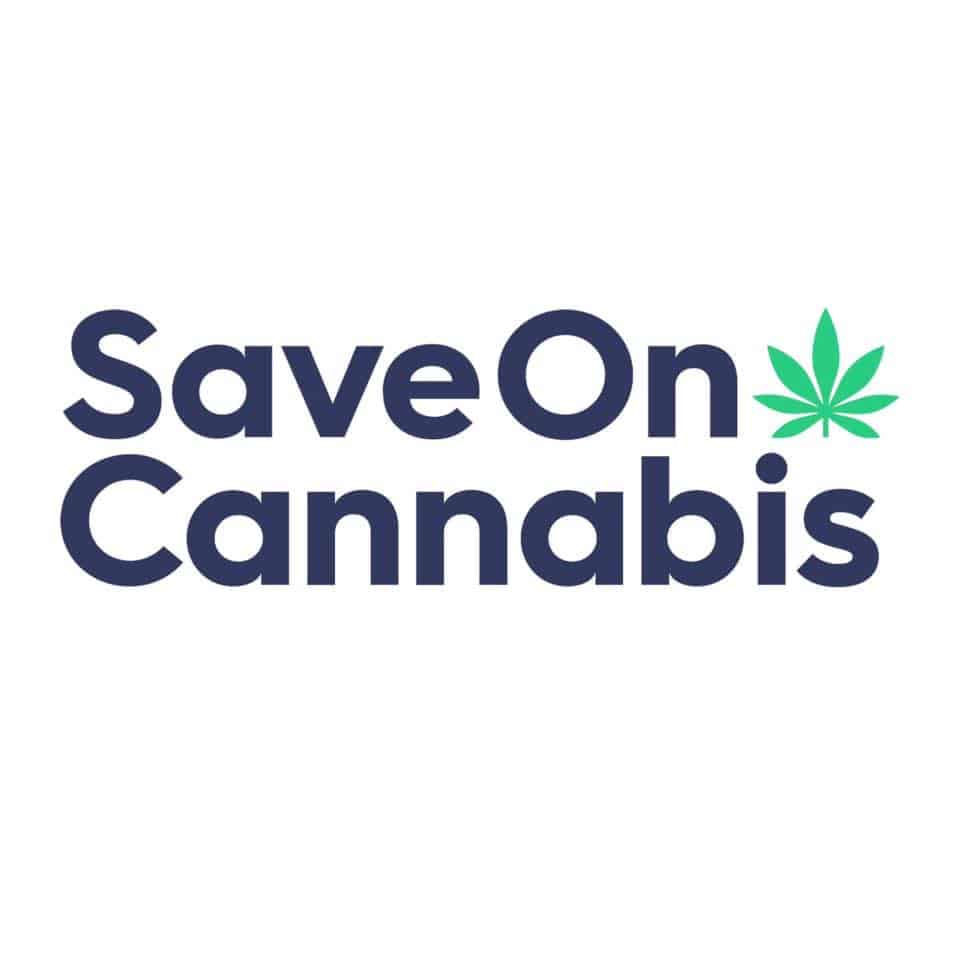 Save On Cannabis is the most trusted source for cannabis discounts and education information.  Vetted deals and clearly written articles to help you become a wiser consumer whether focused on the medical or recreational value of cannabis products.
Can a CBD cream help a foot that was run over by a car? See how the Social CBD Foot Renewal Cream worked for our reviewer. She will tell us.
Watch Our In-Depth Video Review of Davinci MIQRO C - The Compact and Powerful Vaporizer. Discover the Future of Vaping and Save with Coupons.
In our PhenoPen review learn about this GMP certified vape pen made of Full Spectrum CBD oils. Find out if it is worth your time and money.