CBD / CBG Review: Caliper CBD Swiftsticks
Oct 6, 2020 | SOC
CBDCBD Dissolvable PowderCBD EdiblesCBGCBG Dissolvable PowderCBG Edibles
Caliper Swiftsticks
Product Review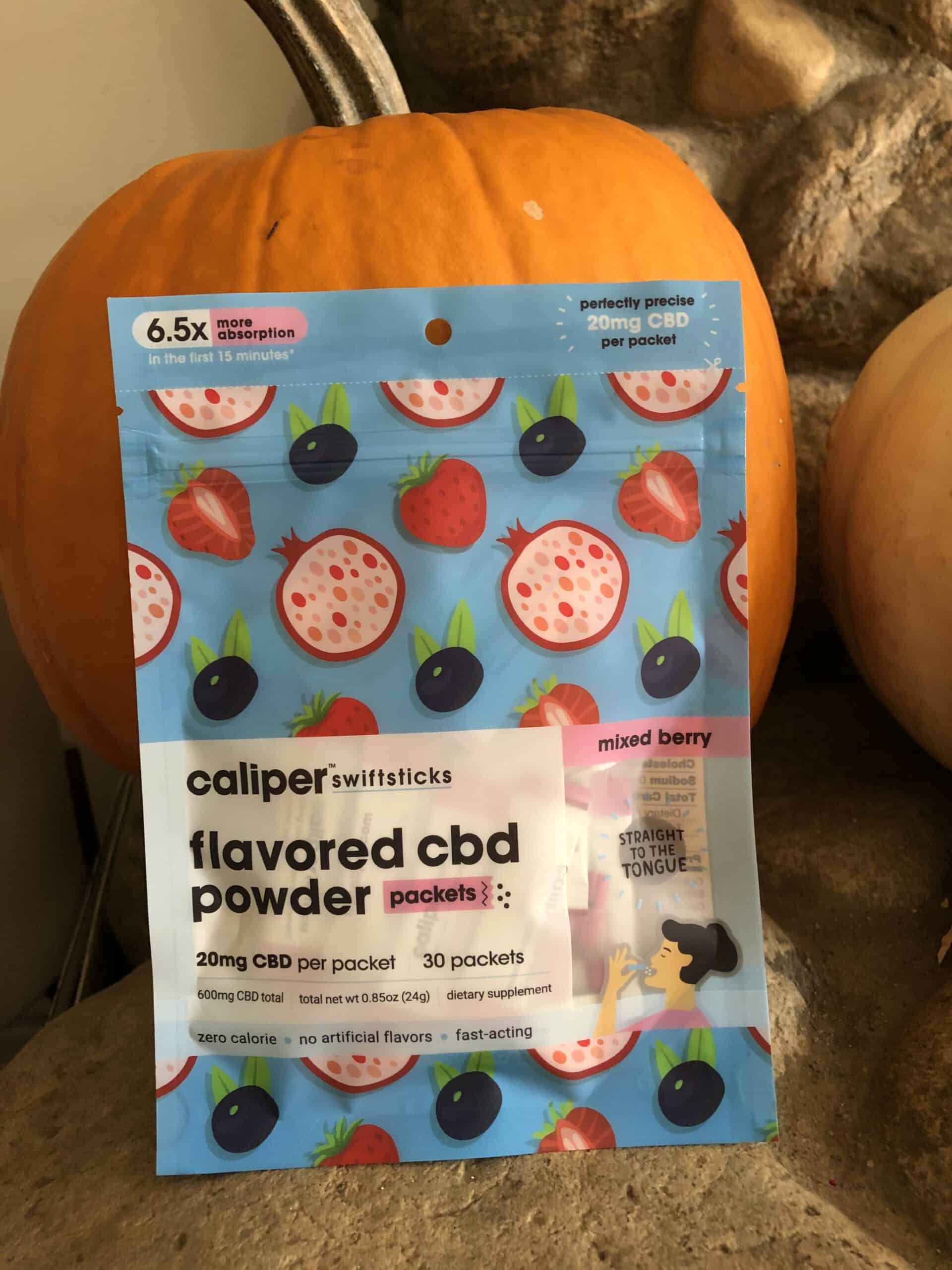 Brand Overview: Caliper Swiftsticks
Caliper CBD has created a line of easy-to-dose and consistent CBD powders you can mix in your drink, or just take by mouth. The company recently completed a study at Colorado State University which found its CBD to be 6.5x more bioavailable than oil-based CBD products. This means it works faster and more effectively. With a commitment to science-backed research, Caliper CBD ensures its consumers that their products will be of the highest quality so you can feel better.
Products: Dissolvable Powder, Swiftsticks.
Price Range ($-$$$$): $$
---
About CALIPER CBD SWIFTSTICKS
The swiftsticks made by Caliper CBD are fast-acting powders you can take by mouth. Each packet contains 20 mg of CBD, and you can purchase a box of 30 totaling 600 mg or 60 for 1,200 mg. The swiftsticks come in three flavors: Cool Mint, Mixed Berry, and Lemon Lime. These powder packets contain zero calories and dissolve on your tongue. The packets are perfect for the CBD-user on the go; just toss a couple into your bag and you're set. Flavored with botanicals, the Caliper CBD Swiftsticks are completely natural.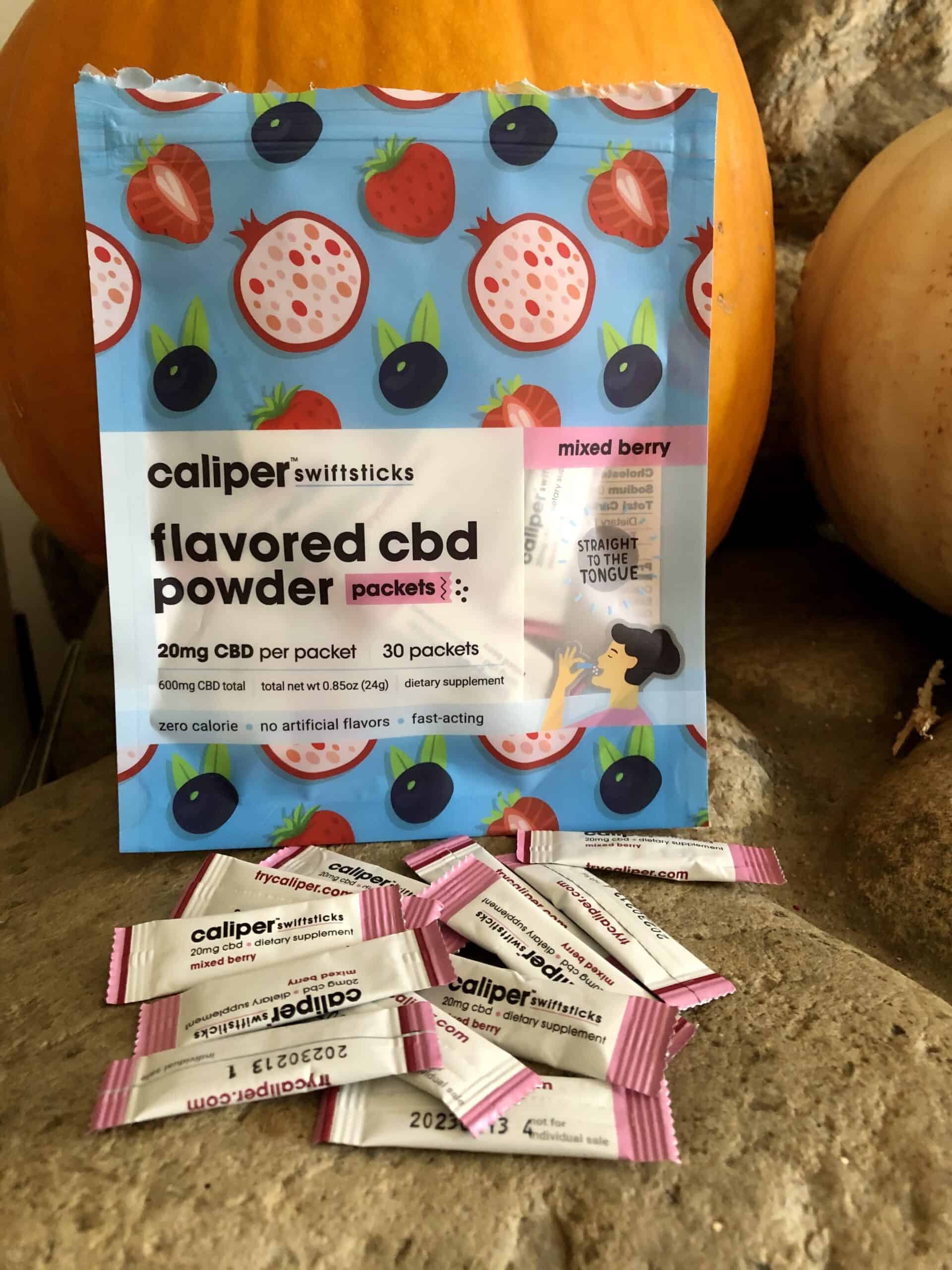 The swiftsticks are vegan, gluten-free, and contain no GMO's. Within 15 minutes of taking a swiftstick, you might find relief from everyday aches, pains, and stressors. The swiftsticks are vegan, gluten-free, and contain no GMO's. Within 15 minutes of taking a swiftstick, you might find relief from everyday aches, pains, and stressors.
---
CALIPER CBD SWIFTSTICKS Specifications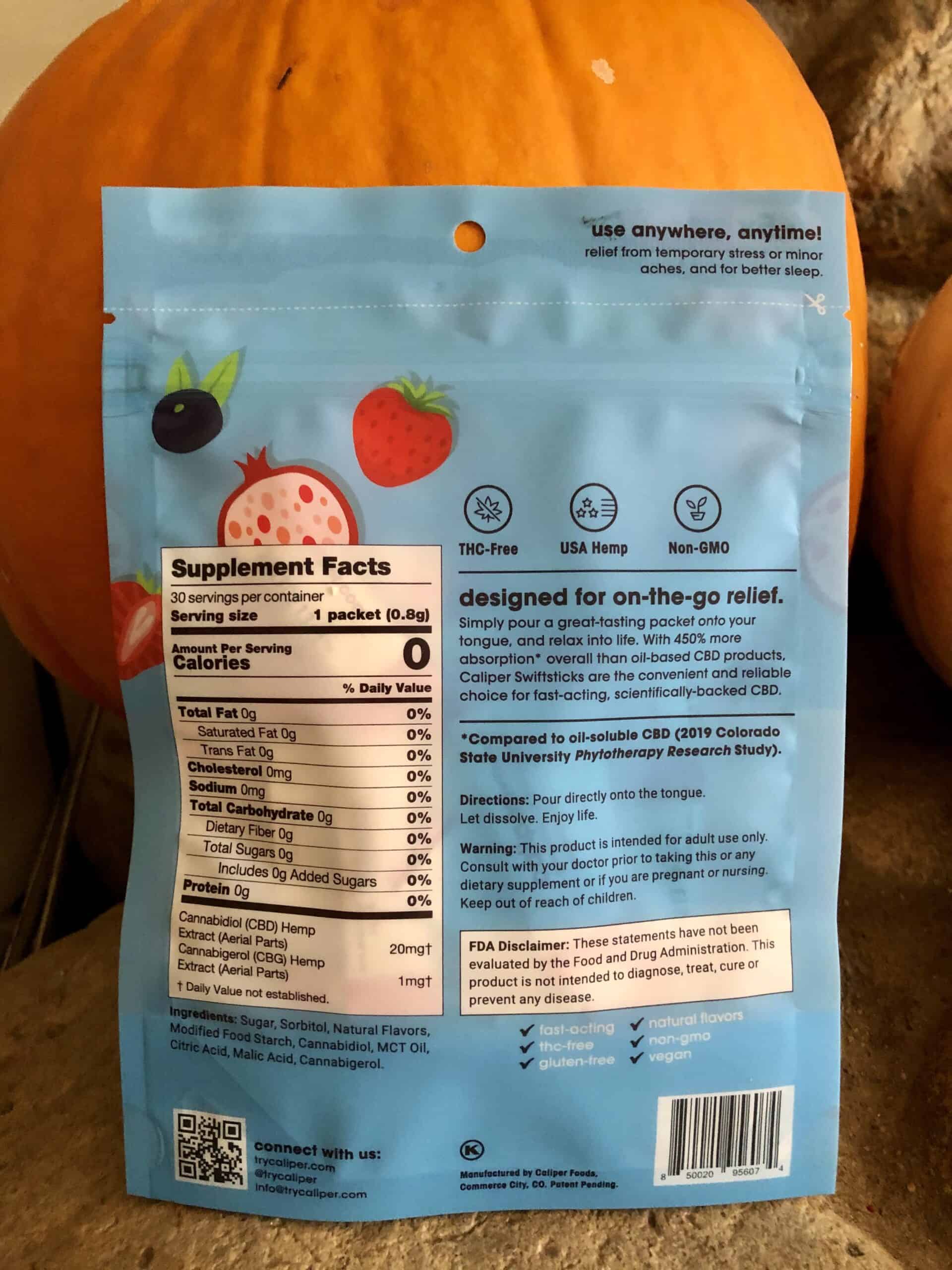 600 mg or 1,200 mg CBD per container
30 or 60 servings per container
20 mg CBD per serving
Zero calories
Vegan
Gluten-free
No GMOs
Flavors: Mixed Berry, Cool Mint, Lemon Lime
Ingredients:Cannabidiol (CBD) Hemp Extract (Aerial Parts), Cannabigerol (CBG) Hemp Extract (Aerial Parts), Botanically-Derived Flavors

---
How We Tested the CALIPER CBD SWIFTSTICKS
I've never tried a CBD product like this, so was excited to get Caliper CBD Swiftsticks in the mail. I was curious about a product that claims to be fast-acting and thought these might be the perfect anecdote to dealing with the stress I experience at work and school. I often get overwhelmed when I'm around a large group of people, and it can create a mental fog that prevents me from being fully being present in class or on conference calls.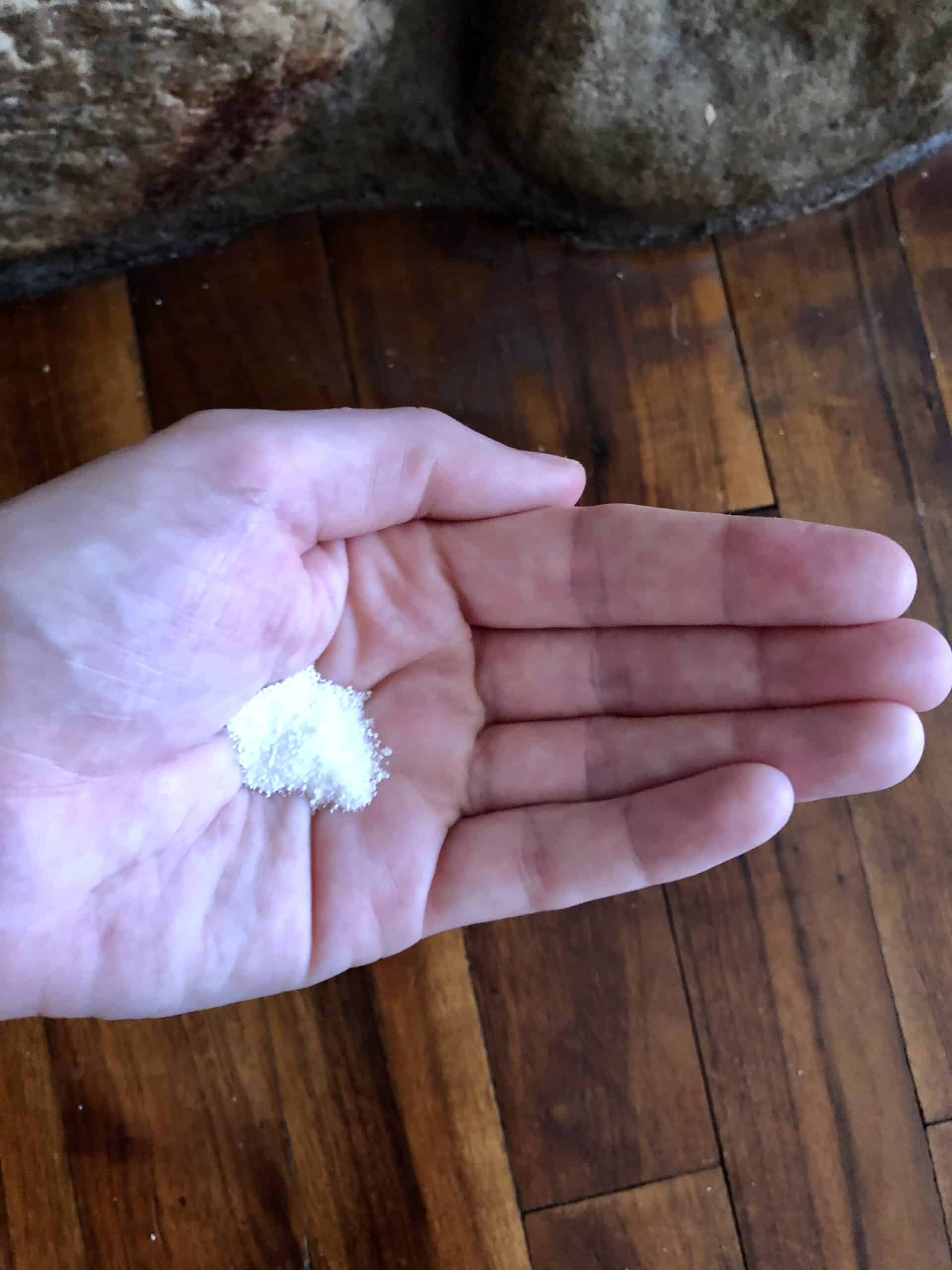 Fifteen minutes before class started, I tore open one of the Lemon Lime packets and placed the powder on my tongue, letting it dissolve.
---
How the CALIPER CBD SWIFTSTICKS Worked for Me
Caliper CBD isn't kidding when it says you'll feel the benefits of their swiftsticks within fifteen minutes. Right as class was starting, I began to feel the warming, calming, and focusing effects of the CBD. I noticed a subtle difference in my stress levels during class, and it helped me be able to participate more fully and listen more intently. I thought the lemon-lime flavour was good but very tart so it might not be everyone's cup of tea. It was my least favourite flavour of the three, though it's not bad at all. The cool mint was nice and refreshing. My favourite flavour was the mixed berry. The sweetness covered up the bitter taste of hemp perfectly. The packets are great for travelling, so I look forward to using these swiftsticks next time I get on a plane.
---
Useful and Unique Things to Know About CALIPER CBD SWIFTSTICKS
Caliper CBD Swiftsticks contains both CBD and CBG. CBG is also known as cannabigerol and is of the many compounds also found in the cannabis plant. It's been known to help people deal with symptoms from a variety of ailments, including inflammation, pain, and nausea. It might even help with symptoms of glaucoma and cancer. CBG doesn't cure you, but it might help you feel better.
---
CALIPER CBD SWIFTSTICKS Ratings
In the next sections gradings from 0-100 on our review, these grades add up to give the product's overall score.
PRESENTATION • 100
Informative.
RELIABILITY • 100
Effective and fast-acting.
QUALITY • 100
All-natural ingredients.
FLAVOR / SMELL / or EASE OF USE • 100
Tasty flavors. The mixed berry was the best.
VALUE • 100
Good deal.
---
How CALIPER CBD SWIFTSTICKS Stacks Up Against the Competition
Since this is the first fast-acting oral powder I've tried, there's not much I can compare it to. At $44.99 for 600 mg of carefully dosed CBD, you're getting a good deal. All three flavors were equally effective in taking the edge off my stress, but if I had to choose one to stick with, it's the mixed berry. What's also great about the swiftsticks is there's no risk of over or under-dosing. You're getting 20 mg each and every time.
---
---
Disclosure: I received these products gratis so that I could try them and then share my honest opinion with the SOC community. I am employed by Save on Cannabis to write honest reviews and provided a flat rate payment for the writing of the review. SOC may receive recurring affiliate payments for purchases made based on this content.
Sorry, no coupons were found.
We got our hands on the 4 Corners Cannabis CBD vape oil! Our expert 4 Corners Cannabis review has photos and coupons.
Our experts break down Herb Approach review of their products & services. Read if you are considering mail order cannabis in Canada.
Read our hands on review of the Davinci MIQRO cannabis dry herb vaporizer! See photos and see how it tested in our research. Also save money with coupons.