CBDistillery Review CBDol Relief Stick 500mg
Feb 5, 2020 | Romy
CBDCBD CandyCBD ConcentratesCBD EdiblesCBD GummiesCBD Isolate or Terpsolate Powder and CrystalsCBD Pet ProductsCBD Pills & CapsulesCBD SuppositoriesCBD TincturesCBD TopicalsCBD Vape OilsSave On Cannabis Verified
CBDISTILLERY CBDoL RELIEF STICK
Product Review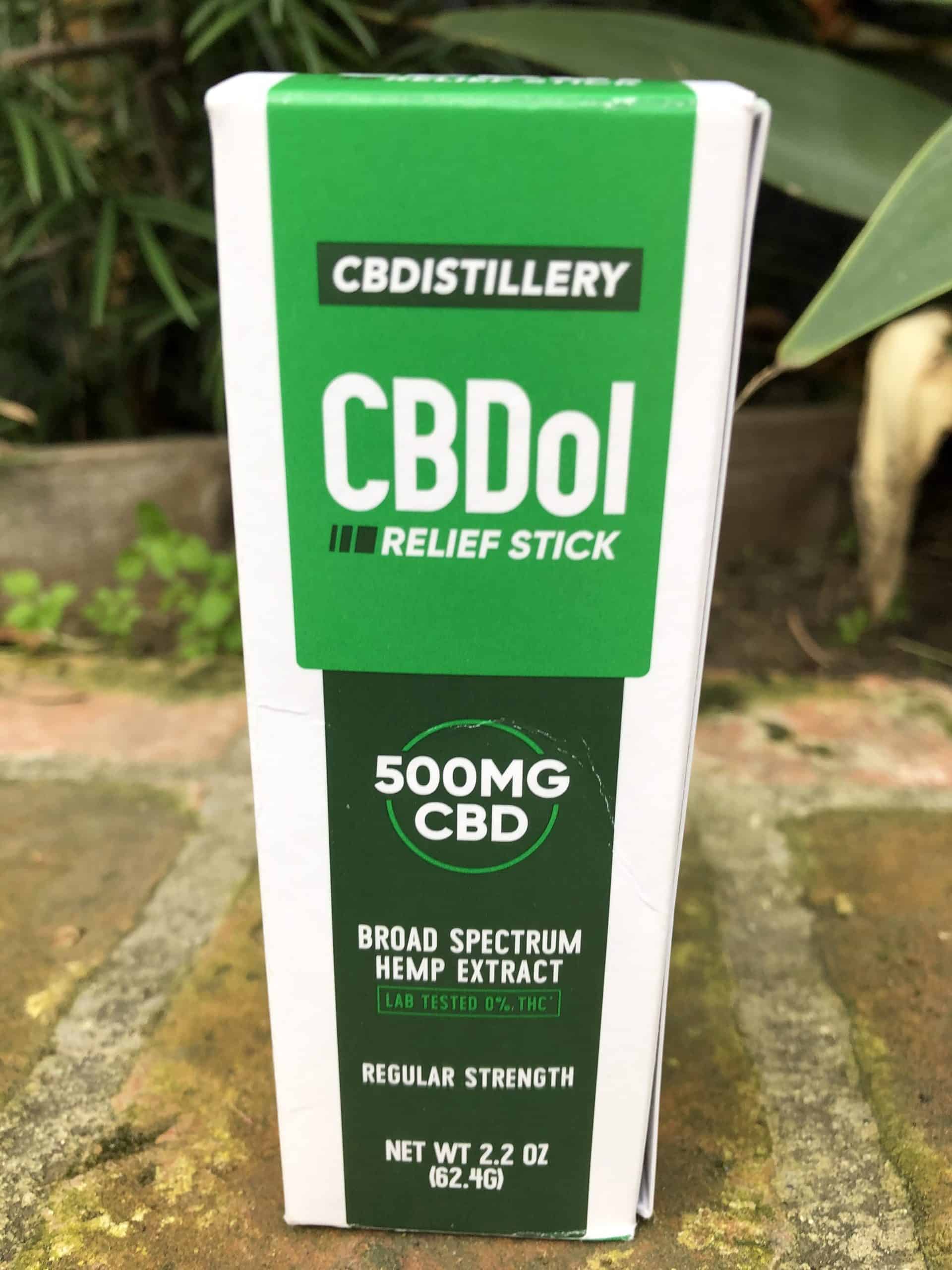 Brand Overview: CBDistillery
CBDistillery has created an effective and affordable line of CBD products to help ease anxiety, stress, and pain. The company's mission is to bring you superior quality at a lower price, making it easier for the everyday person to get CBD-infused tinctures, salves, edibles, isolates, and topicals. The CBDistillery Team is proud to have brought to the Twittersphere the #CBDMOVEMENT™, which aims to educate people about non-addictive and all-natural ways to feel better. Every product is clearly labeled and third-party tested for quality, following guidelines set forth by the FDA. Certified by the U.S. Hemp Authority, you can rest assured that every product you buy from CBDistillery is the real deal. Check out their website for recipes using CBD, like their mouth-watering Buffalo Chicken Dip. The website also contains articles about the benefits of CBD when playing sports or doing yoga.
Products:Oils, Isolates, Gummies, Capsules, Topicals, Vape Liquids, Pets, THC-Free CBD.
Price Range ($-$$$$): $$
---
About CBDISTILLERY CBDoL RELIEF STICK
CBDistillery has made a cost-effective roll-on stick for easy application and relief. This no-mess stick is perfect for the chronic pain sufferer who is on-the-go. Maybe you're out and about and need to apply this CBD-infused topical to your aching back before you can get another task accomplished. The only problem is you have nowhere to wash your hands and don't want to get a messy topical on your clothes or seat. Not to worry! CBDistillery's CBDol Relief Stick has come to the rescue. Just roll it on the affected areas and go. No need to get it on your hands. Infused with essential oils, use this relief stick for an all-natural pain solution.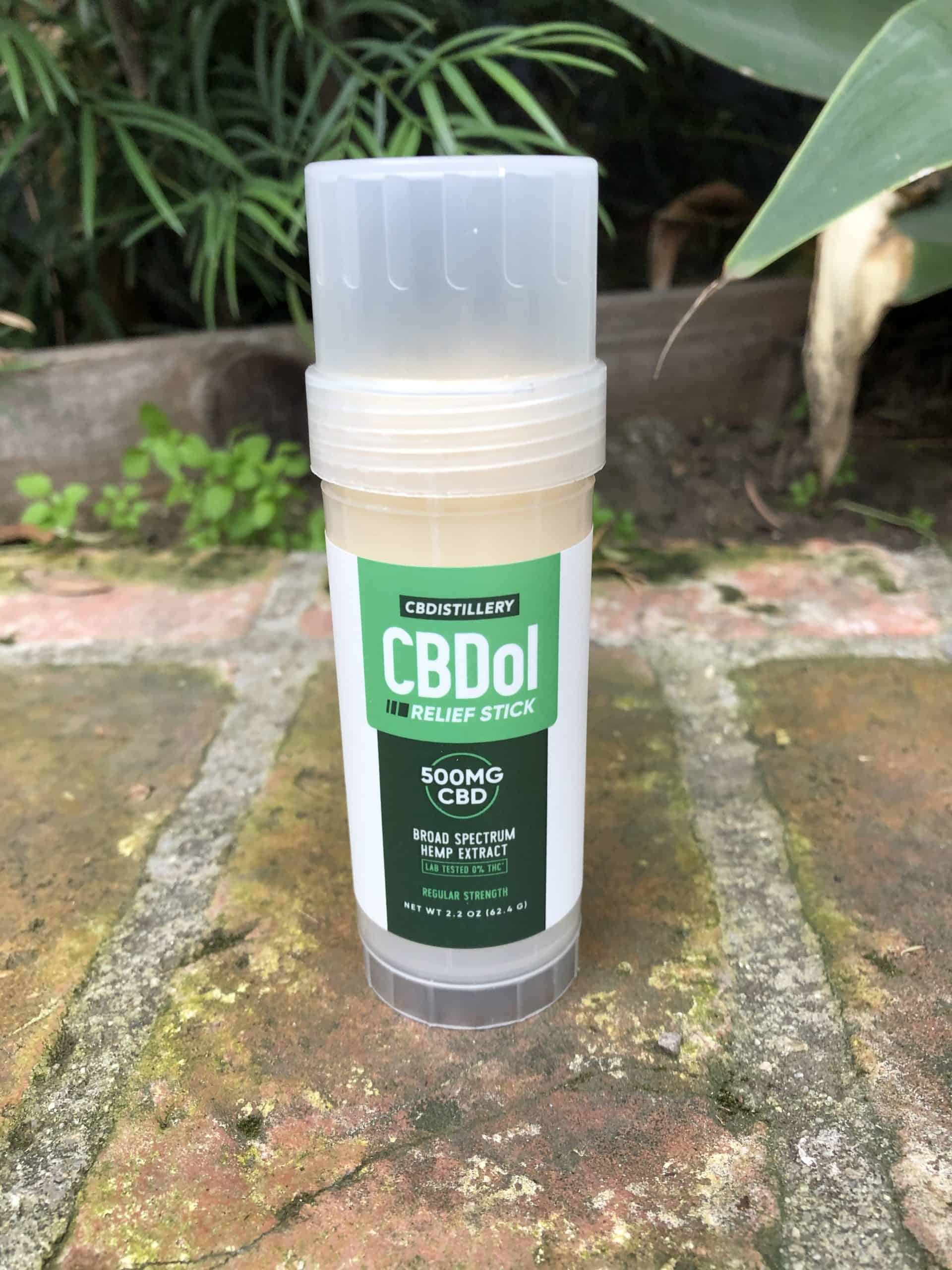 ---
CBDISTILLERY CBDoL RELIEF STICK Specifications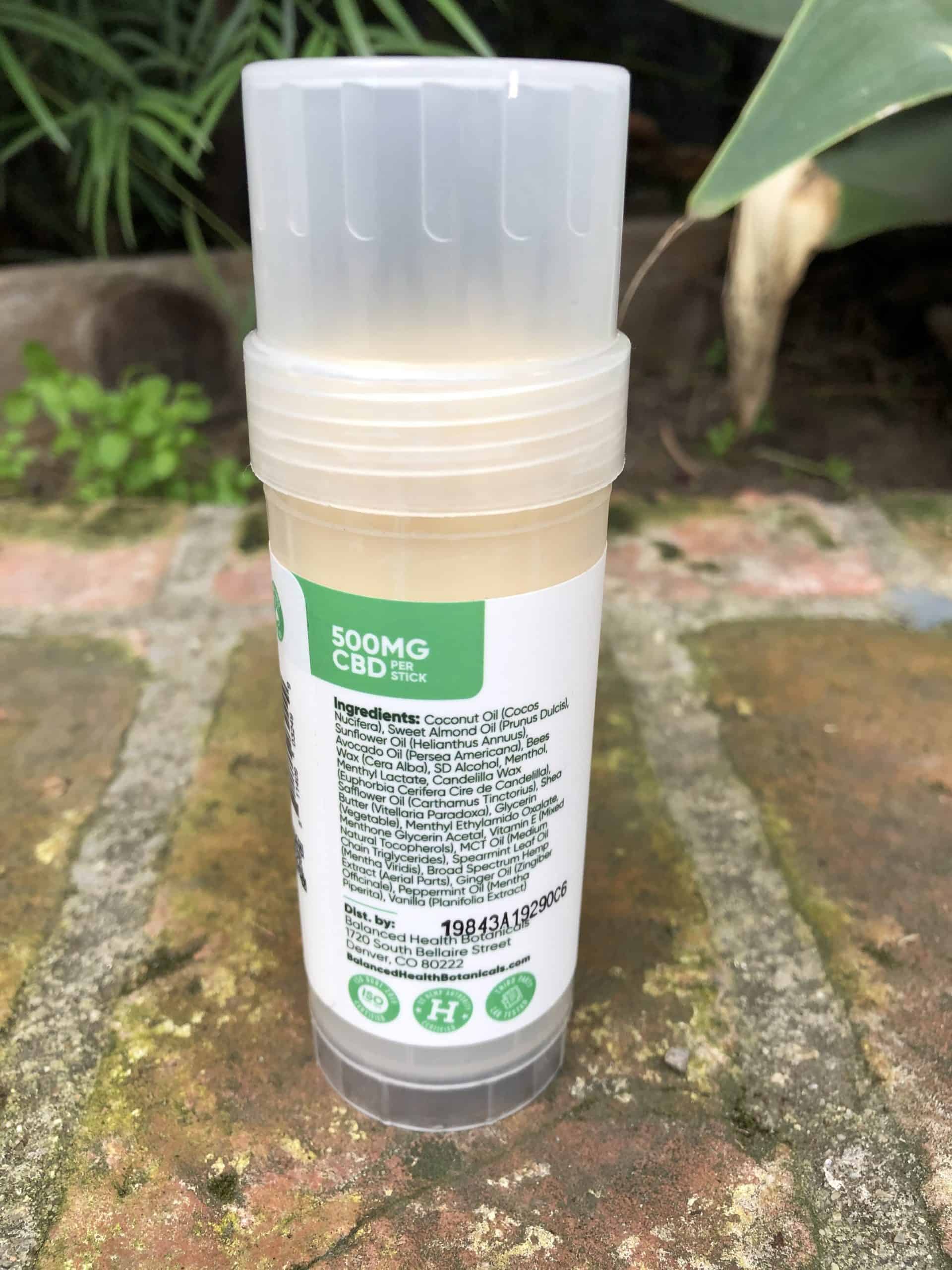 500 mg Broad-Spectrum CBD
2.2 oz (62.4 g)
Non-GMO Hemp Oil
ISO Certified
US Hemp Authority Certified
Ingredients: Coconut Oil (Cocos Nucifera), Sweet Almond Oil (Prunus Dulcis), Sunflower Oil (Helianthus Annuus), Avocado Oil (Persea Americana), Bees Wax (Cera Alba), SD Alcohol, Menthol, Menthyl Lactate, Candelilla Wax (Euphorbia Cerifera Cire de Candelilla), Safflower Oil (Carthamus Tinctorius), Shea Butter (Vitellaria Paradoxa), Glycerin (Vegetable), Menthyl Ethylamido Oxalate, Menthone Glycerin Acetal, Vitamin E (Mixed Natural Tocopherols), MCT Oil (Medium Chain Triglycerides), Spearmint Leaf Oil (Mentha Viridis), Broad Spectrum Hemp Extract (Aerial Parts), Ginger Oil (Zingiber Officinale), Peppermint Oil (Mentha Piperita), Vanilla (Planifolia Extract)

---
How We Tested the CBDISTILLERY CBDoL RELIEF STICK
I've had chronic pain since childhood running up and down my front thighs. It was misdiagnosed for years, but now doctors think it's caused by something pressing against my femoral nerve. This pain has led to muscle spasms and a sleep disorder. I also have low back and hip pain from different injuries caused by a surgery and being hit by a car. Needless to say, it's difficult to do the things I want to do because of pain and limited mobility. I love a good topical stick because it's difficult to get up and down to wash my hands if I'm using the other kinds. During a bad pain flare-up when it was hard to sit for more than ten minutes and sleep was alluding me, I decided to give this relief stick from CBDistillery a try. I applied it to my front thighs, low back, and lateral hips where I feel the most pain.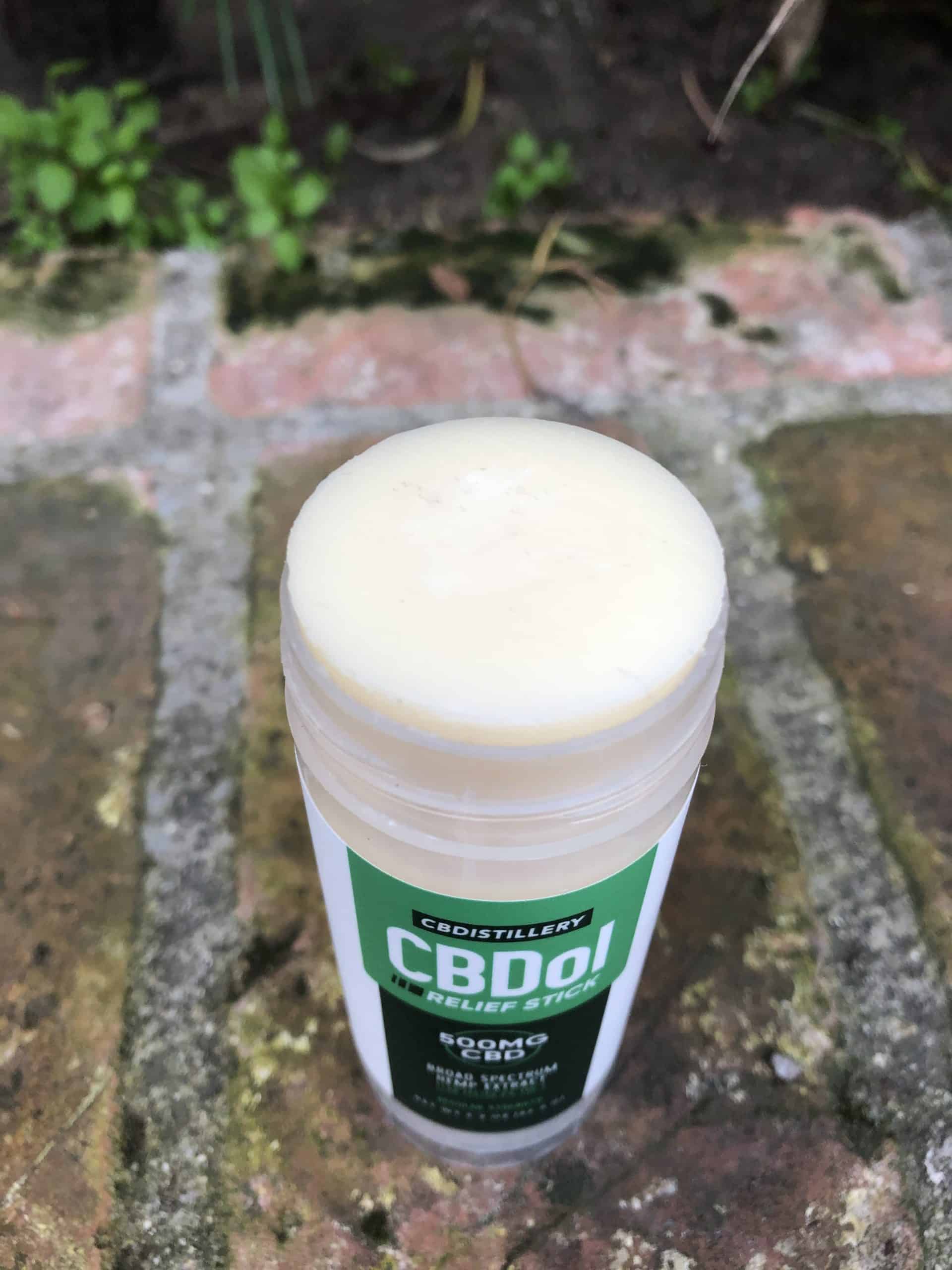 ---
How the CBDISTILLERY CBDol RELIEF STICK Worked for Me
The CBDistillery CBDol Relief Stick worked well with the more mild pain on my front thighs and left hip, but did little relief for the more severe pain in my low back and right hip. I loved the menthol and mint smell. It was pleasant and mild enough not to overpower. This topical sits on my bedside table and I use it every night on my front thighs and the pain relief helps me sleep better. For my low back and right hip, where my pain is worse, I look to a stronger, more cooling topical.
---
Useful and Unique Things to Know About CBDISTILLERY CBDoL RELIEF STICK
There are a ton of great ingredients in this relief stick. Sunflower oil does amazing things for the skin. Bee's Wax hydrates and exfoliates. Candelilla Wax makes sure the skin keeps all its moisture. I was curious about what the "ol" is in CBDol. It's nothing really. Just a cute way to say cannabidiol, which is the fancy way to say CBD.
---
CBDISTILLERY CBDoL RELIEF STICK Ratings
In the next sections gradings from 0-100 on our review, these grades add up to give the product's overall score.
PRESENTATION • 100
Informative.
RELIABILITY • 95
Great for mild pain but you'll need something stronger for severe pain.

QUALITY • 100
High-quality ingredients that are great for the skin.

FLAVOR / SMELL / or EASE OF USE • 100
Easy to use! Smells great!
VALUE • 80
Somewhat expensive.
---
How CBDISTILLERY CBDoL RELIEF STICK Stacks Up Against the Competition
CBDistillery's relief stick is similar to Meridian Life Balance's Active Botanical CBD Roller Gel. In my opinion, they both work just as well as the other one. They both have a nice cooling quality which relieved mild to moderate pain. I preferred CBDistillery's smell over Merdian Life Balance's. They both smell of menthol, but CBDistillery's smelled less medicinal. CBDistillery also has Meridan Life Balance beat in price. For the same amount, CBDistillery costs $22 less. Meridian Life Balance, however, goes on smoother. CBDistillery's relief stick was a little sticky.
---
Saving Money With our verified CBDISTILLERY Coupons
Save money by using our verified  Cbd Topicals here at Save On Cannabis the World's largest online cannabis coupon code directory.
---
Disclosure: I received these products gratis so that I could try them and then share my honest opinion with the SOC community. I am employed by Save on Cannabis to write honest reviews and provided a flat rate payment for the writing of the review. SOC may receive recurring affiliate payments for purchases made based on this content.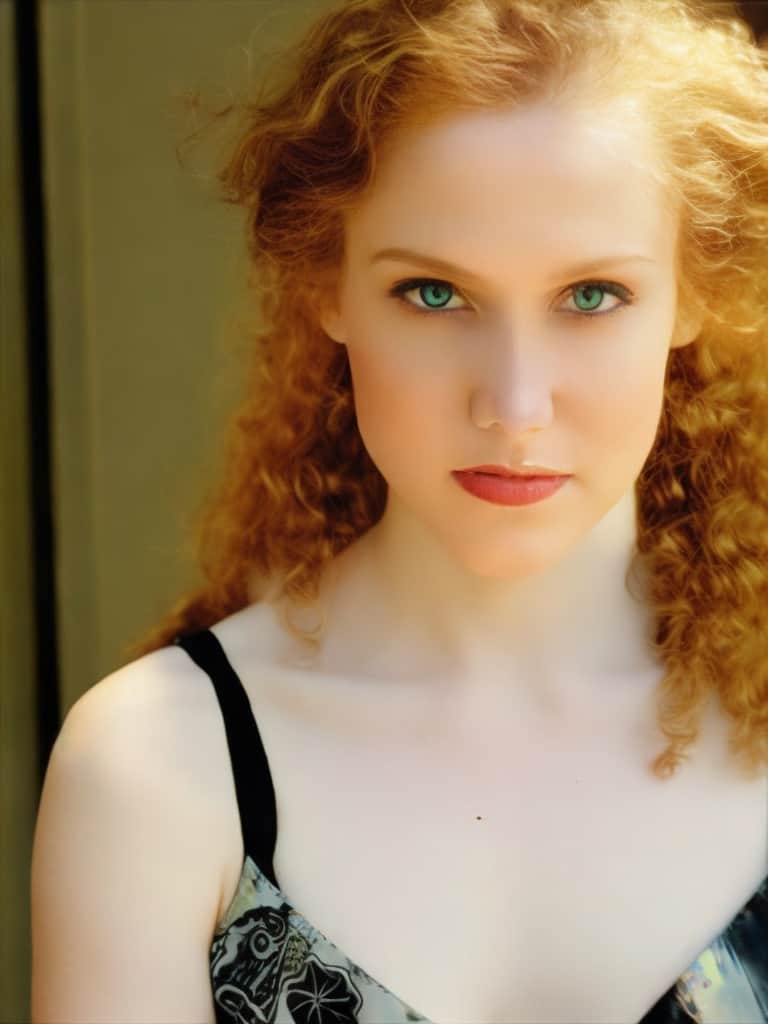 A medicinal cannabis user, utilizing the power of the plant to ease the pains and stresses from long standing conditions that other over the counter or prescriptions could not fix or weren't a natural option like cannabis.  Also, has a background in working directly in the cannabis industry in California within various dispensaries.
We all have the days we just feel like aren't chill, can the Sunday Scaries Gummies bring back the chill and make the days easier?
Exclusive review of Canada mail order site The Green Ace. We got our hands on a nice selection of cannabis flowers.
Read our hands on review of the Davinci MIQRO cannabis dry herb vaporizer! See photos and see how it tested in our research. Also save money with coupons.