CBD Reveiw: Vital Plan Select Full Spectrum Hemp Oil Tincture 600mg – Peppermint
Jun 26, 2020 | SOC
Vital Plan Select Full Spectrum Peppermint Hemp Oil Tincture — 600mg
Pros
 Certified organic hemp
organic carrier oil and falvoring
High concentration of hemp terpenes
Uses a thermal proprietary extraction process
USA grown hemp
Full spectrum hemp extract
Valuable information on product label
Cons
Low potency for the price
No COA for pesticides or heavy metal testing
Off-putting taste
Vital Plan Select Full Spectrum Hemp Oil Tincture 600mg — Peppermint



Product Review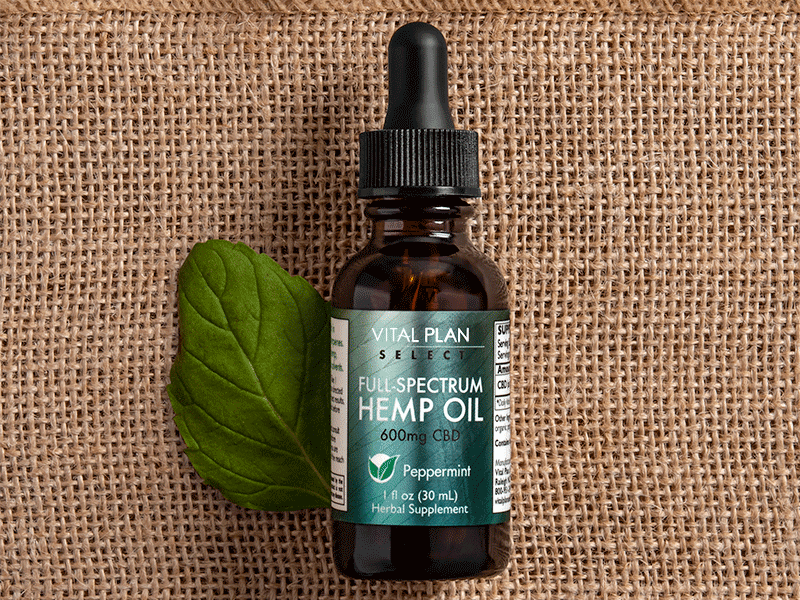 Brand Overview: Vital Plan Select
Vital Plan Select was founded in 2018 by the co-creators of Vital Plan, a herbal supplement company. Dr. Bill Rawls and daughter Braden Rawls decided to branch out by introducing a line of CBD based products under the name, Vital Plan Select.
They partnered with the first USDA certified organic farm in the US based in Colorado. This farm grows Green Cherry hemp in a greenhouse to help prevent cross-breeding from other strains.
Besides offering CBD oil, the company also sells a joint & muscle rub topical. These products are GMO-free, gluten-free, and contain zero pesticides and chemicals. Furthermore, Vital Plan Select claims that its CBD oil has six times more terpenes compared to other CBD oils. More than a decade of experience in the herbal supplement industry and its commitment to clean, organic products, makes Vital Plan Select a company many people rely and count on.
Products: Tinctures & Topicals
Price Range ($-$$$$): $$$
---
About Vital Plan Select Full Spectrum Peppermint Hemp Oil Tincture — 600mg
This hemp oil tincture contains 600mg of full-spectrum hemp extract with a serving of 20mg of CBD. At this potency, it appeals more to beginner CBD users, or those looking to maintain well-being. For more serious or chronic conditions, a higher dose such as 40 to 50mg per serving is a better fit.
Since the company uses a proprietary thermal extraction process, the terpene content in this oil is pretty high. A higher concentration in terpenes makes the full-spectrum formula more potent and beneficial. This product is flavored with organic peppermint extract, giving it a refreshing taste that minimizes the strong earthy taste of hemp extract. Finally, this hemp oil is organic, gluten-free, and GMO-free.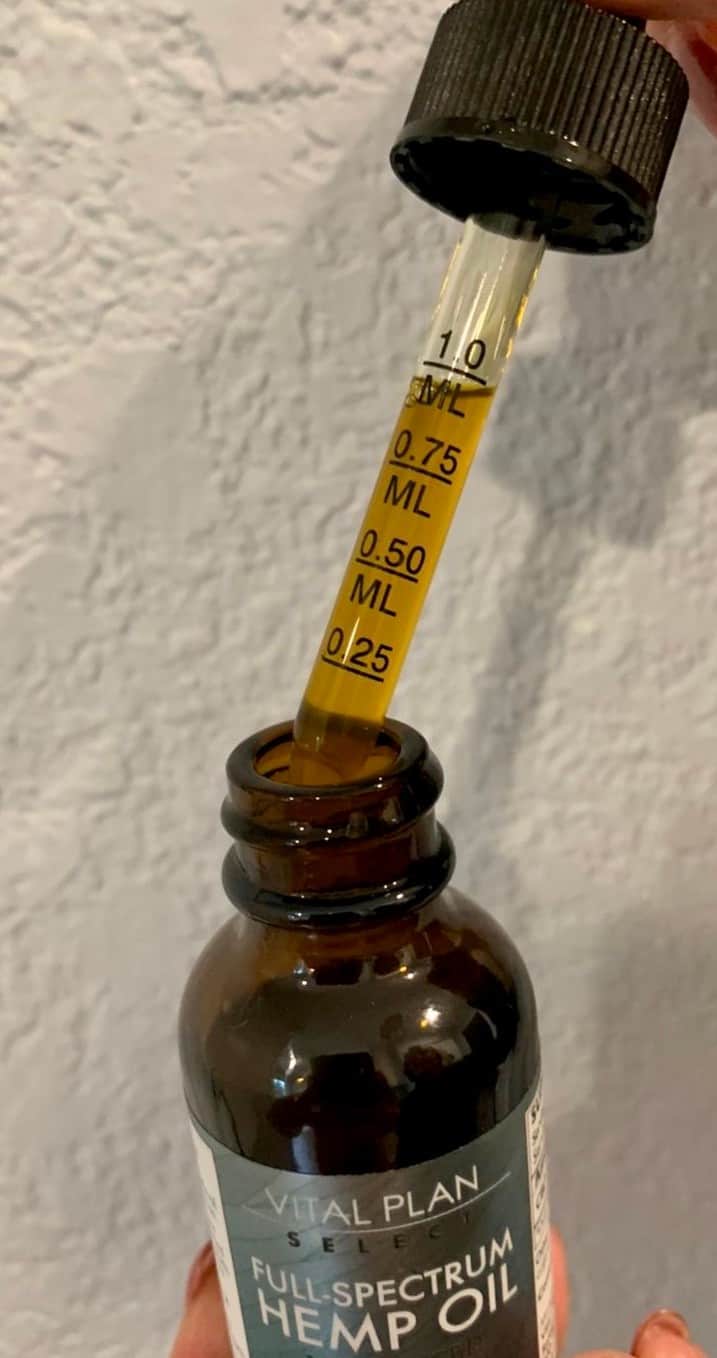 ---
Vital Plan Select Full Spectrum Peppermint Hemp Oil Tincture — 600mg Specifications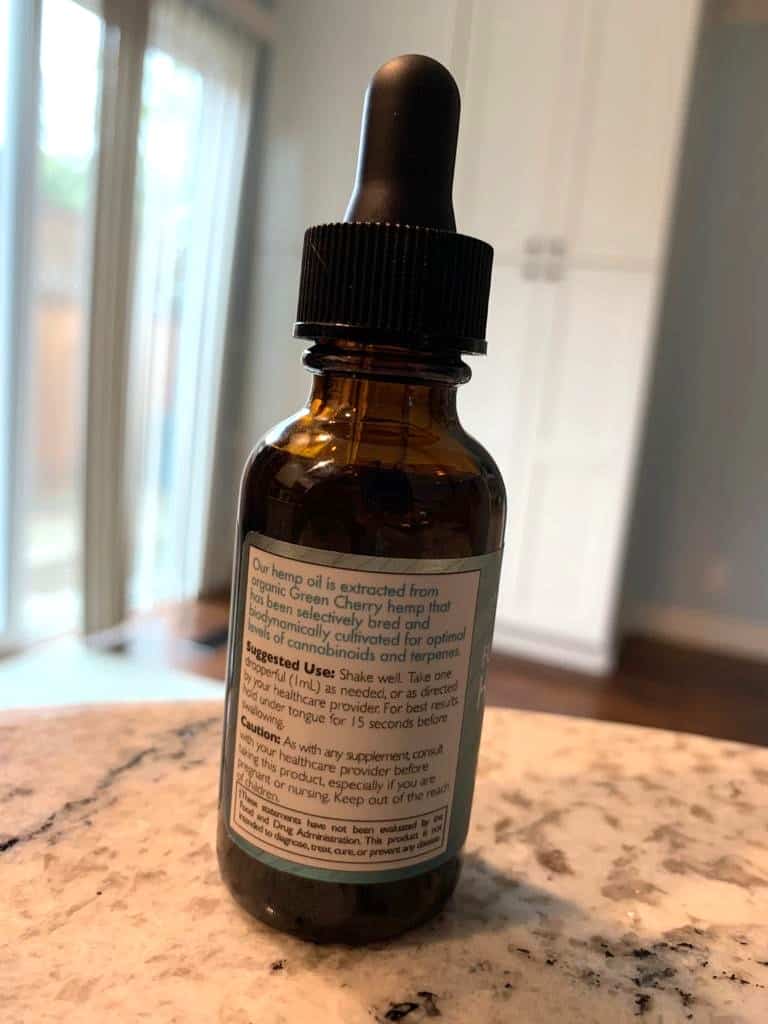 600mg full-spectrum CBD

20mg CBD per serving (1 full dropper)

20mg CBD per serving (1 full dropper)

30ml bottle

30 servings per bottle

Less than 0.3% THC

Most prominent terpenes: caryophyllene, eucalyptol, limonene, myrcene, and humulene

Ingredients

: CBD hemp extract, organic MCT coconut oil, and organic peppermint extract
---
How We Tested the Vital Plan Select Full Spectrum Peppermint Hemp Oil Tincture — 600mg
Before taking this hemp oil tincture I was dealing with acute anxiety that would appear off and on throughout the month. I hoped this product would help lower my anxiety and also improve my sleep. Normally I sleep fine, but lately, I've been stressed because of a family issue. Since CBD has helped many people sleep deeper throughout the night, I was optimistic it could help me too.
For the first week of using this tincture, I decided to take some every night before bed. Then, for the second and third weeks, I committed to morning and evening use. Each time I consumed this product, I dropped the oil under my tongue, in a sublingual fashion and held it for 60 seconds.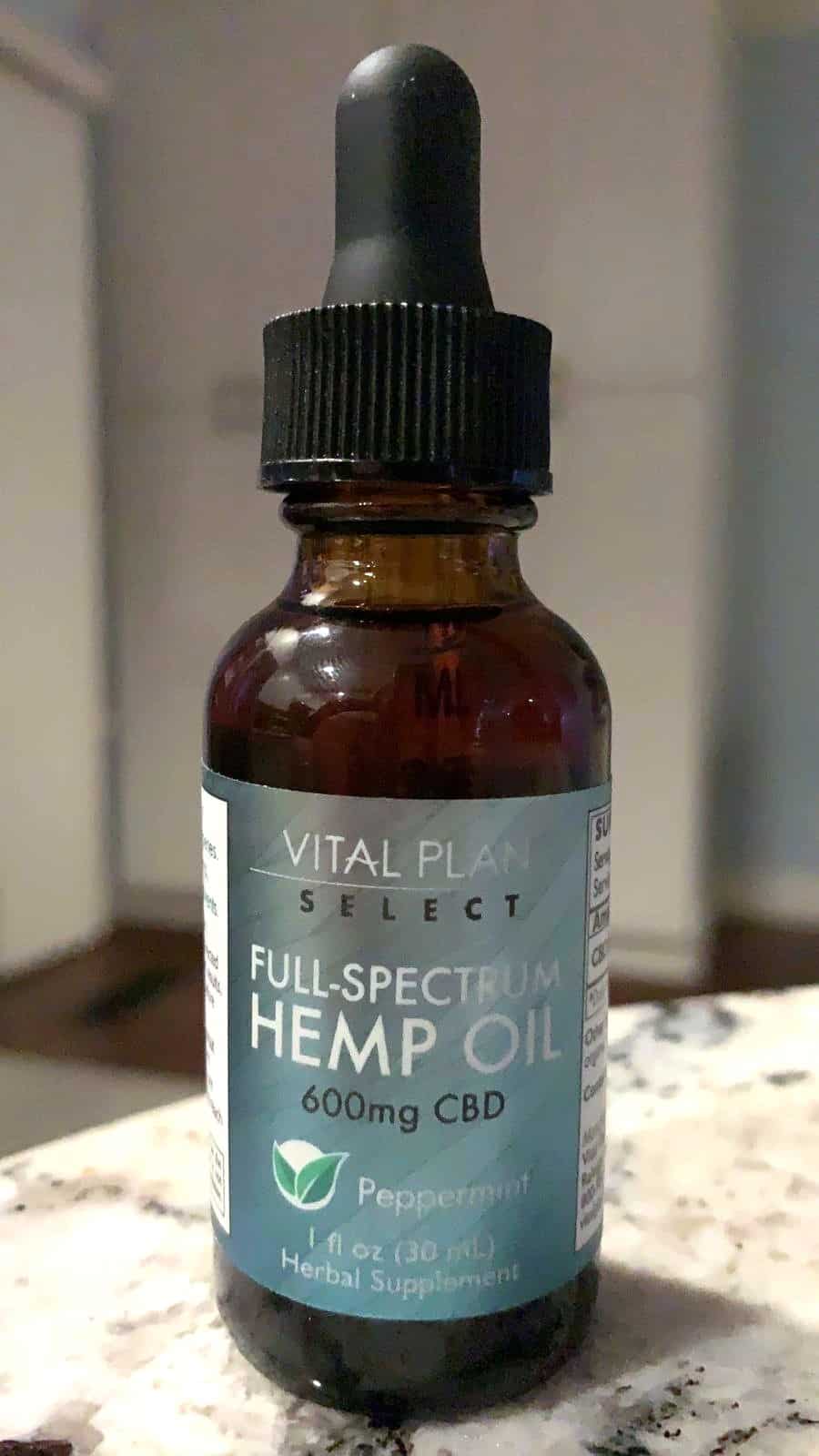 Holding this tincture under my tongue gave my mucosal membranes a chance to absorb the contents, so the effects and benefits of CBD could more quickly reach my bloodstream.
Besides CBD, I'm also a fan of THC cannabis strains. I don't smoke daily, just a few times a week. The one I smoke doesn't have super high levels of THC because that wouldn't help my anxiety much. So, for full disclosure, Vital Plan Select's Hemp oil Tincture was not the only product or supplement I consumed during the testing of this product.
---
How the Vital Plan Select Full Spectrum Peppermint Hemp Oil Tincture — 600mg Worked for Me



After taking Vital Plan Select's tincture I noticed how it mellowed out the THC effects of the cannabis strain I smoke. Overall, I was happy with this product. From what I could tell it also improved my sleep and I didn't feel quite as anxious. It's perfect for day time, mid-day, or nighttime use. If given the chance, I would use this product again.
---
Useful and Unique Things to Know About Vital Plan Select Full Spectrum Peppermint Hemp Oil Tincture — 600mg
It's rare to find a CBD product that uses certified organic hemp in its products. Mainly because the USDA certification process is long, full of delays, and costly. So, this feature definitely makes this hemp oil tincture stand out over the competition. Other than organic hemp extract, the other ingredients are fairly common.
Another stand-out feature is the terpene content. Terpenes are molecules that give plants a unique aroma and flavor. Additionally, they also have calming, anti-inflammatory, and uplifting effects. The company pays a third-party lab to evaluate terpene concentration. Based on the lab reports, this product has high levels of caryophyllene, eucalyptus, and limonene.
---
Vital Plan Select Full Spectrum Peppermint Hemp Oil Tincture — 600mg Ratings



In the next sections gradings from 0-100 on our review, these grades add up to give the product's overall score.
PRESENTATION • 100
Nice labeling and ease of use.
RELIABILITY • 90
Good for acute issues or general well-being.
QUALITY • 100
Certified organic hemp and other organic ingredients.
FLAVOR / SMELL / gold EASE OF USE • 70
Strong and intense taste.
VALUE • 90
Bit expensive, but still offers good value.
---
PROS of the Vital Plan Select Full Spectrum Peppermint Hemp Oil Tincture — 600mg
The pros listed are the best defining features of this CBD tincture. These qualities are the reason this CBD oil is worth buying.
---
CONS of the Vital Plan Select Full Spectrum Peppermint Hemp Oil Tincture — 600mg
There's only a handful of cons. One being the offputting taste. And it's not just me who says this. Several people who tried this product said the taste made it hard to consume. It could be too earthy or too minty, depending on your taste buds. But, then again some users didn't mind the taste at all. We don't think this con is a 'make or break it' decision.
---
How Vital Plan Select Full Spectrum Peppermint Hemp Oil Tincture — 600mg Stacks Up Against the Competition



In total, this is a great product on paper and in daily use. It has what many other CBD tinctures do not have — certified organic hemp. Also, the gentle, heat-free extraction process preserves many of the hemp terpenes. Whereas, some companies use terpenes from other plants, or even fruits and herbs. But, the effects aren't as strong this way.
The one downside compared to the competition on this CBD hemp tincture is the price. It does have great specs, yet it's a bit higher than comparable products at this quality.
---
Saving Money With our Verified

Vital Plan Select

Coupons
Save money by using our verified CBD Tinctures Coupons here at Save On Cannabis the World's largest online cannabis cannabis coupon directory.
---
Disclosure: I received these products gratis so that I could try them and then share my honest opinion with the SOC community. I am employed by Save on Cannabis to write honest reviews and provided a flat rate payment for the writing of the review. SOC may receive recurring affiliate payments for purchases made based on this content.
Save on Vital Plan Select
Our reviewer got some Joy Organics CBD Tincture from All Premium CBD to test. She has regular trouble sleeping from pain, see if she got more rest.
See how the Frontier Jackson CBD Gummies worked for our reviewer, get first hand insights about this product. Find out if these treats helped ease her anxiety for an important conference call.
The Charlotte's Web Balm Stick with CBD is a very pretty product, but does it help our reviewer with her daily needs? Is it worth your money?