Social CBD Review: Zooey Light Lavender All-Purpose Balm
Oct 13, 2020 | SOC
Social CBD Zooey Light Lavender All-Purpose CBD Balm
Pros
Great scent
Natural ingredients
Soothing
Moisturizing
Good deal
SOCIAL CBD ZOOEY LAVENDER CBD ALL-PURPOSE BALM
Product Review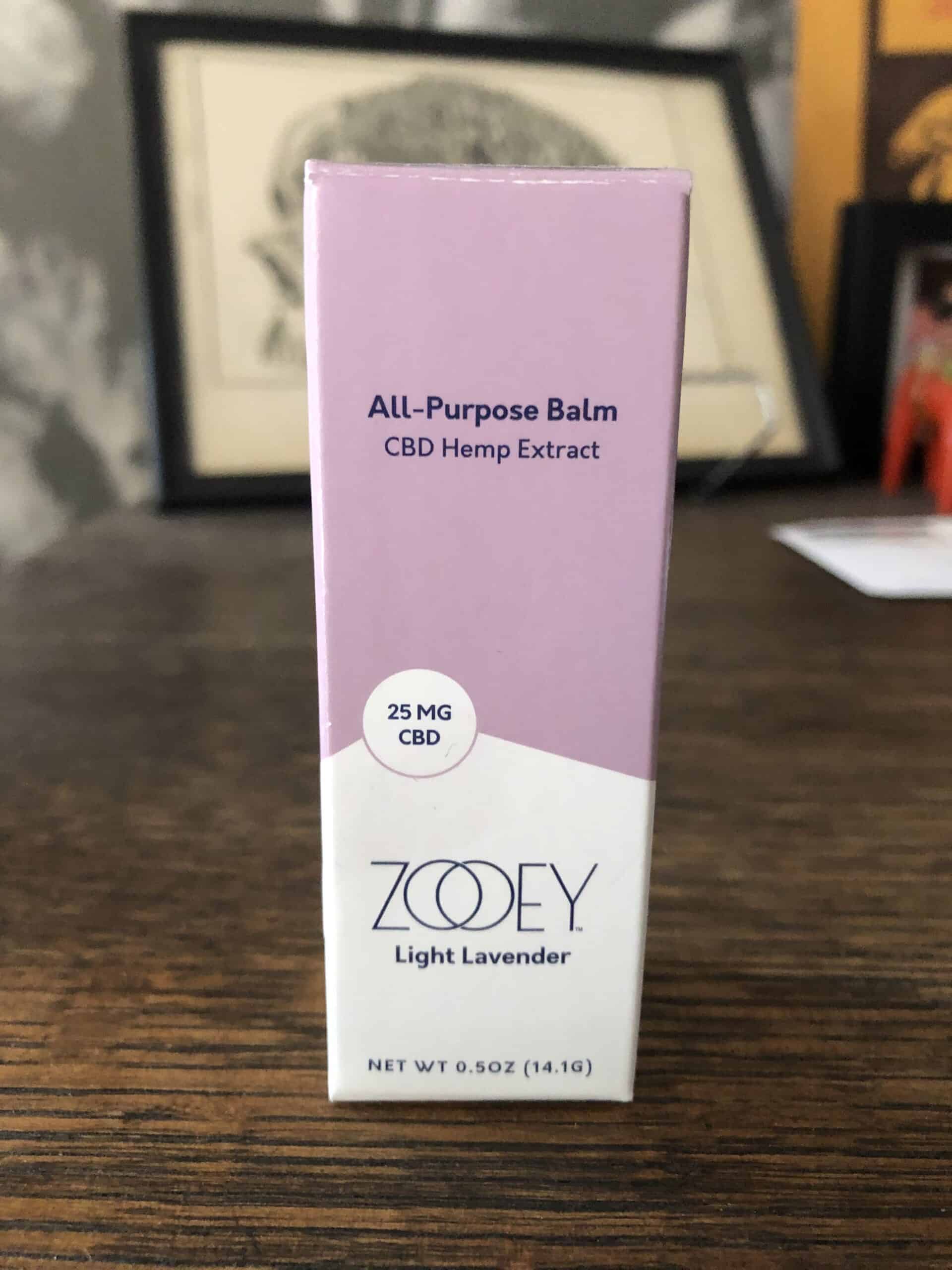 Brand Overview: Social CBD
Social CBD has created a line of CBD products that provide "natural solutions for modern life." Everything they make is 100% plant-based and rich in phytonutrients. Social CBD has a wide variety of drops, vape pens, capsules, and gummies to choose from. Their line of topicals includes products from Volcom, to help with recovery after a workout or time in the sun.
They also have a line of self-care topicals for women called Zooey CBD. Social CBD also makes products just for your pet! Sign up for their mailing list and save 20% off your first order.
Products:Drops, Vape Pens, Gel Capsules, Topicals, Gummies, Pets, Volcom CBD, Zooey CBD.
Price Range ($-$$$$): $$
---
About SOCIAL CBD ZOOEY LAVENDER CBD ALL-PURPOSE BALM
Social CBD's Zooey line makes all kinds of self-care products like face, hair, and body oil, body butter, and hand cream. The balm comes in a compact half-ounce container that is infused with 25 mg of THC-free CBD. You can use this stuff for chapped lips, frizzy hair, and as a moisturizer. The beeswax and cocoa butter provide instant nourishment for dry skin. I tried the lavender-scented balm, but you can also get it in unscented. The Zooey Lavender CBD All-Purpose Balm comes in a travel-ready, TSA-compliant container. Just toss it into your carry-on and use it against the dryness that inevitably occurs during flight.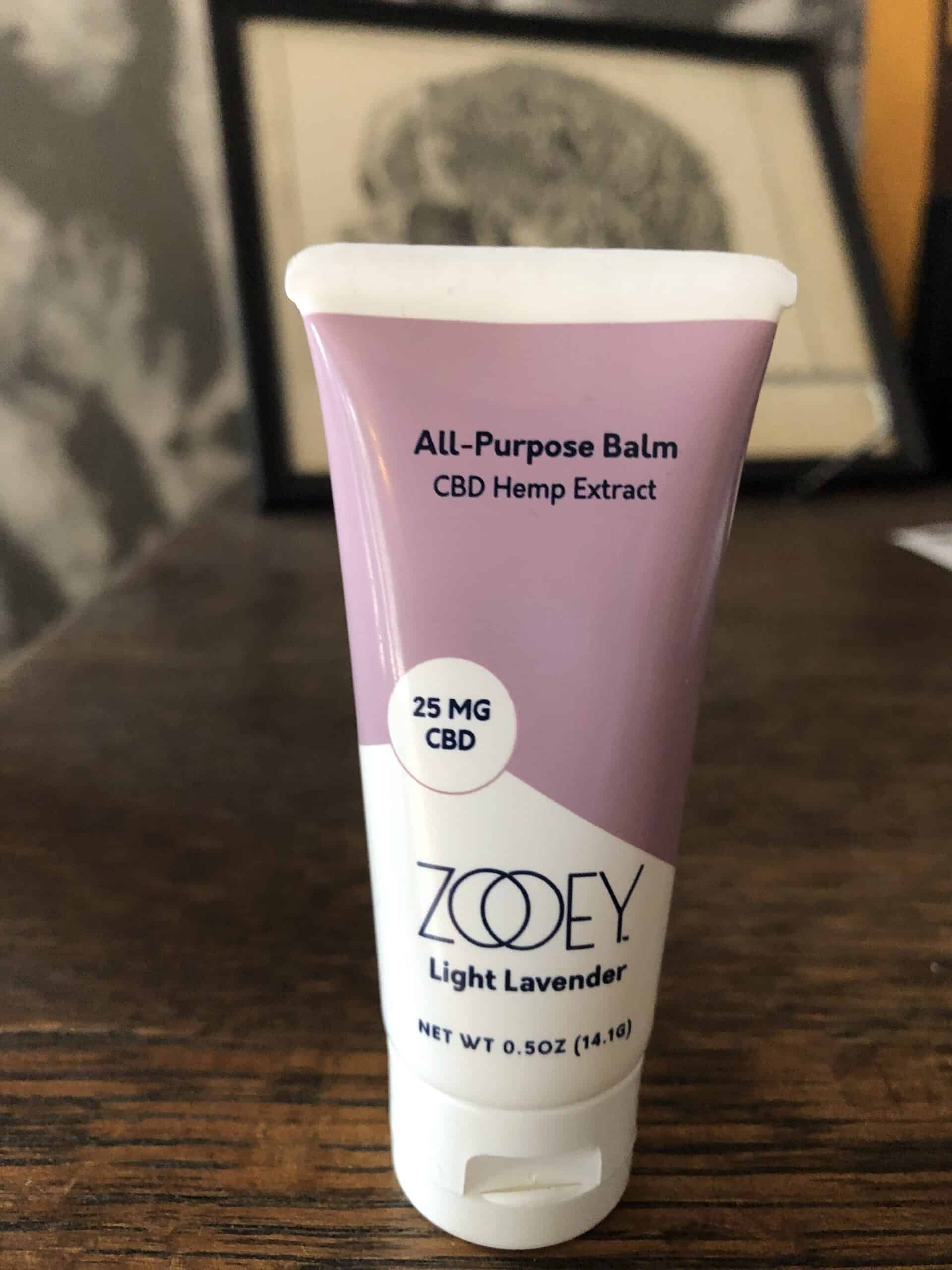 ---
SOCIAL CBD ZOOEY LAVENDER CBD ALL-PURPOSE BALM Specifications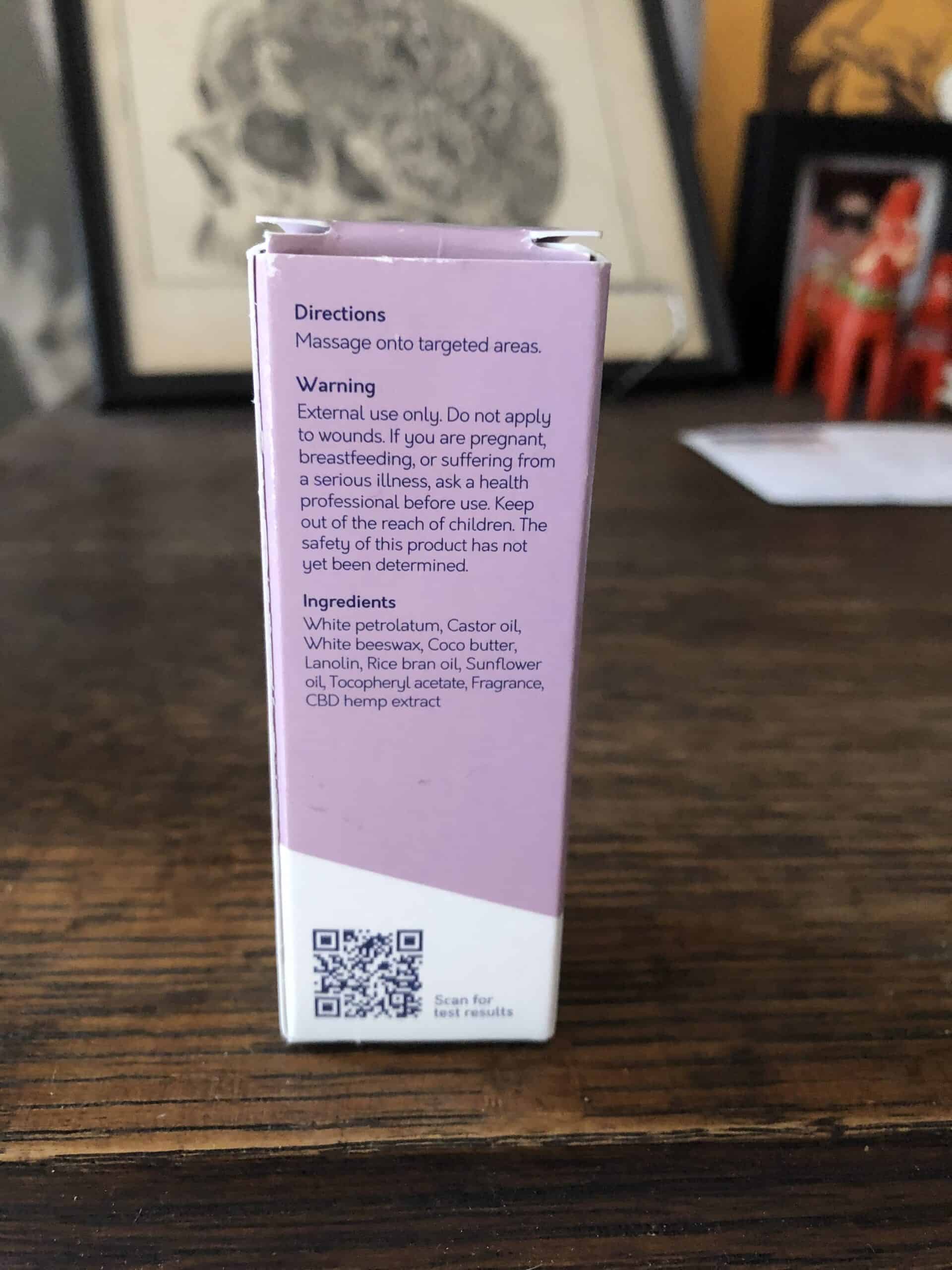 25 mg CBD
.5 oz (14.1 g)
No THC
Ingredients: White Petrolatum, Castor Oil, White Beeswax, Cocoa Butter, Lanolin, Rice Bran Oil, Sunflower Oil, Tocopheryl Acetate, Fragrance, CBD Hemp Extract
---
How We Tested the SOCIAL CBD ZOOEY LAVENDER CBD ALL-PURPOSE BALM
My skin is naturally dry so I'm always looking for something moisturizing. I've adored the other Social CBD products that I tried, so I was eager to use their Zooey Lavender CBD All-Purpose Balm on my lip, dry skin, and frizzy hair. I hoped it would heal my chapped lips, provide moisture to the dry skin on my hands and feet, and keep my curly hair from poofy out like a poof-ball. For a couple of weeks, I regularly applied the balm to my chapped lips as needed throughout the day.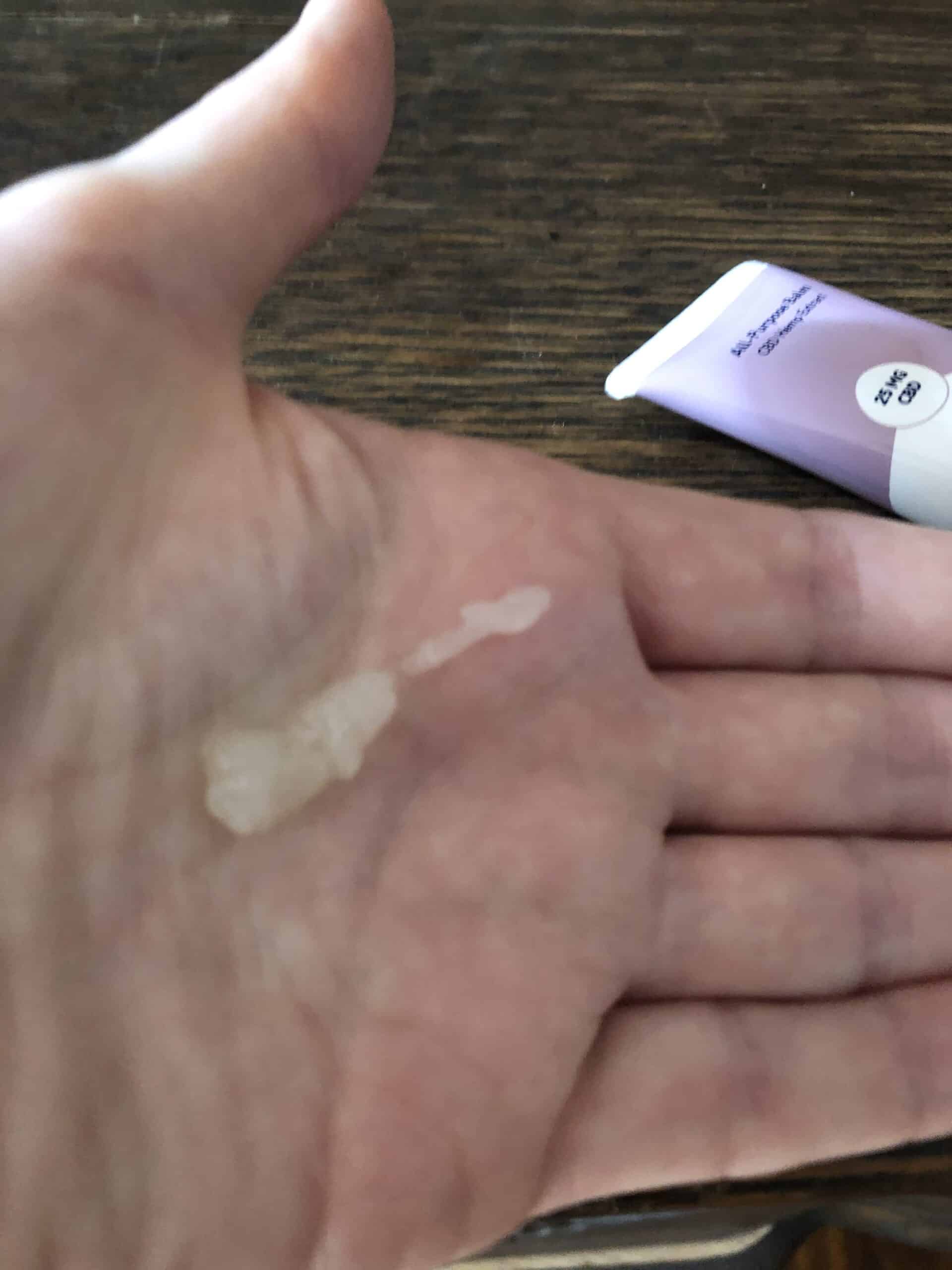 I would use it on my feet after doing physical therapy and would use the balm on my hands after using the computer for a long time. Later in the day, after my hair was a mess, I used a small amount throughout my hair.
---
How the SOCIAL CBD ZOOEY LAVENDER CBD ALL-PURPOSE BALM Worked for Me
I was amazed at how much this balm soothed my chapped lips. It worked immediately to provide relief, and after using it for a week, I found some of the dry, peeling areas had healed. The Social CBD Zooey Lavender All-Purpose Balm provided some much-needed moisture to my dry hands and feet. I found it made a great massage lotion. I massaged it into my hands after using the computer for a long time, and into my feet after walks. While it did smooth out some of the frizziness of my curly hair, I didn't like the way it made my hair feel. I will continue using it as chapstick and moisturizer but prefer my detangler on my hair.
---
Useful and Unique Things to Know About SOCIAL CBD ZOOEY LAVENDER ALL-PURPOSE BALM
Social CBD Zooey Lavender All-Purpose Balm contains white petrolatum which softens and moisturizes the skin. It's also great for itchiness. Castor oil is great for hair and for massage. White beeswax can soothe and heal the skin. Cocoa butter is a moisturizer and lanolin eases skin irritations. Rice bran oil also soothes irritated skin while sunflower oil is great for a wide variety of skin ailments and contains Vitamin E.
---
SOCIAL CBD ZOOEY LAVENDER ALL-PURPOSE BALM Ratings
In the next sections gradings from 0-100 on our review, these grades add up to give the product's overall score.
PRESENTATION • 100
Basic and informative.
RELIABILITY • 100
Soothes and moisturizes.
QUALITY • 100
Natural ingredients.
FLAVOR / SMELL / or EASE OF USE • 100
Lovely lavender scent.
VALUE • 100
Good price.
---
How SOCIAL CBD ZOOEY LAVENDER CBD ALL-PURPOSE BALM Stacks Up Against the Competition
This lavender-scented balm from Social CBD is one of the best moisturizers and massage lotions I've tried that contain CBD. It doesn't flake on the skin, like other CBD topicals. And because it's all-purpose, you're really getting a bang for your buck. It would make a great stocking stuffer! The only downside to this balm is that it only comes in a small half ounce container that's just not going to last long. It's a great product to keep in your travel toiletry kit, but it would be great if Social CBD offered it in a bigger size.
---
Saving Money with Our Verified SOCIAL CBD Coupons
Save money by using our verified CBD Topicals here at Save On Cannabis the World's largest online cannabis coupon code directory.
---
Disclosure: I received these products gratis so that I could try them and then share my honest opinion with the SOC community. I am employed by Save on Cannabis to write honest reviews and provided a flat rate payment for the writing of the review. SOC may receive recurring affiliate payments for purchases made based on this content.
Ready for a detox? Check out our review of the Infinite CBD Nano Shot Detox drink. Our reviewer put this CBD drink to the test, see what she thought now.
Can CBD Gummies help our reviewer get a better night's sleep? Our expert tests the Savage CBD gummies to get some restful zZZzzz.
At great prices is CBDistillery worthwhile or only as good as the cheap price tag? Find out if we think the CBDistillery tincture is quality.