CBD Review: ZenWorks CBD Pet Treats
Jan 23, 2020 | Romy
ZenWorks CBD Pet Treats
Pros
Eases anxiety in dogs
Calming
Easy to use
Formulated by veterinarians
Dog-approved
Good deal
ZENWORKS CBD DOG TREATS
Product Review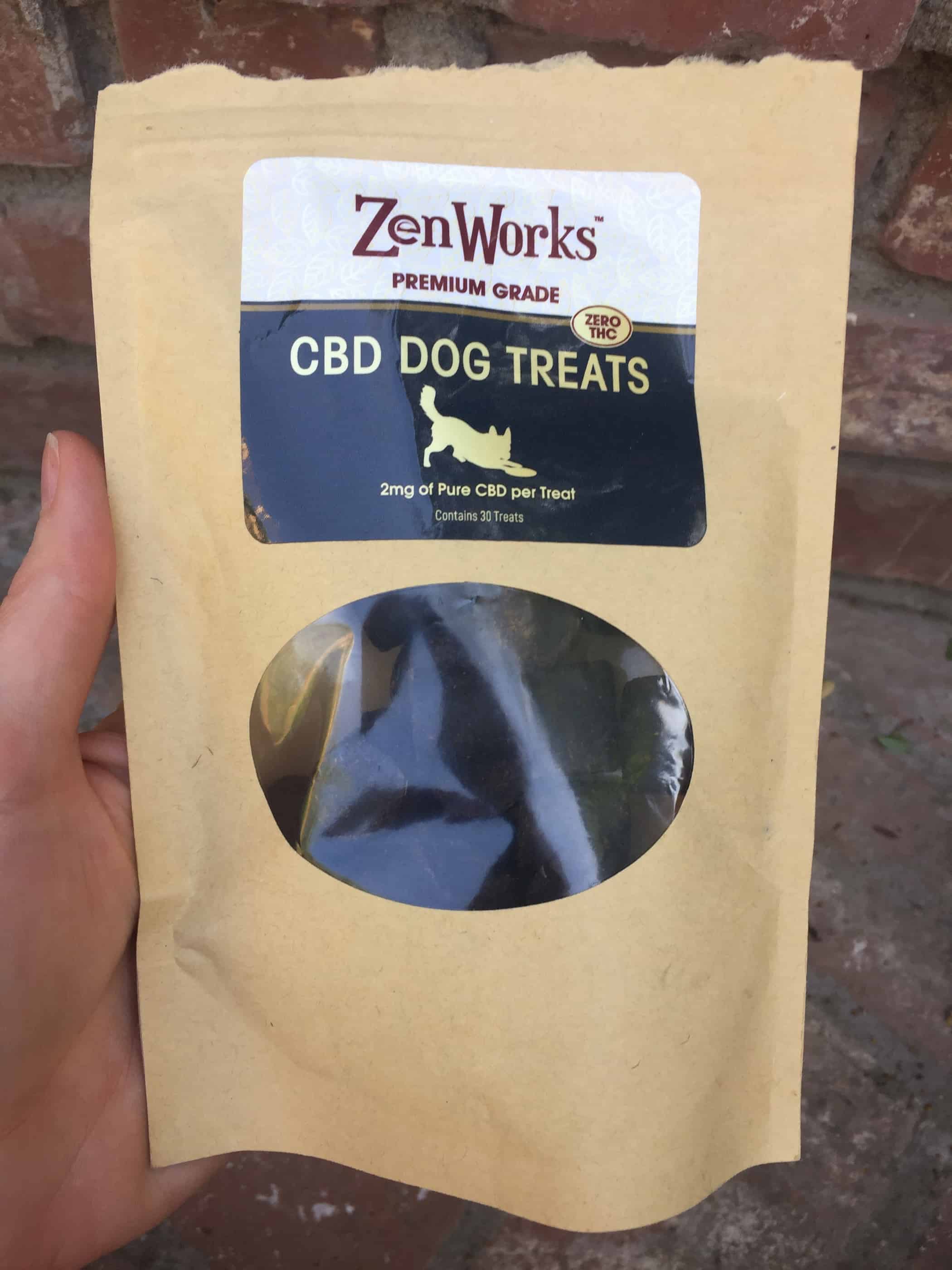 Brand Overview: ZENWORKS
ZenWorks makes a plethora of CBD products for people and pets to help calm inflammation after a difficult workout or calm your anxious pup for when she freaks out after you leave for work. The company's mint-flavored tinctures range from 250 mg of CBD to one thousand. ZenWorks started when the founder discovered he had stage 4 cancer. This led to a strenuous year of medical procedures. Al, the founder, discovered CBD during his recovery process and found that it helped with his sleep, appetite, pain, and mood. Al and his wife Sharon created ZenWorks with a mission to help suffering people with their high-quality CBD products. Everything they make is THC-free, meaning you won't get high. A small portion of every sale goes to a charity like the American Cancer Society, the Cancer Research Institute, and the Make-a-Wish Foundation.
Products: Tinctures, Vape E-Liquid, Edibles, Capsules, Pets.
Price Range ($-$$$$): $$
---
About ZENWORKS CBD DOG TREATS
Your dog can suffer anxiety and pain, just like we do. Ever notice how your pup whines, cries, barks, or even defecates on the floor when you're away? My dad used to say that when a dog poops on the floor while you're on vacation, it's their way of punishing you for abandoning them. He was a dog trainer, so he must have known what he was talking about. This is what psychologists would call anxious attachment manifesting itself. The same way we humans take CBD for our anxiety, aches, and pains, so can your pets.
ZenWorks makes dog treats infused with 2 mg of CBD per serving to help calm the nerves of your upset pets. These treats were formulated by bona fide veterinarians and are made with water-soluble hemp. ZenWorks assures us these dog treats taste great, but I'll just have to take their word for it. Don't worry, the treats contain zero THC, so rest assured your doggy isn't going to get bloodshot eyes or the munchies. These treats not only help with your dog's separation anxiety, but will relieve epilepsy, seizures, and symptoms of cancer.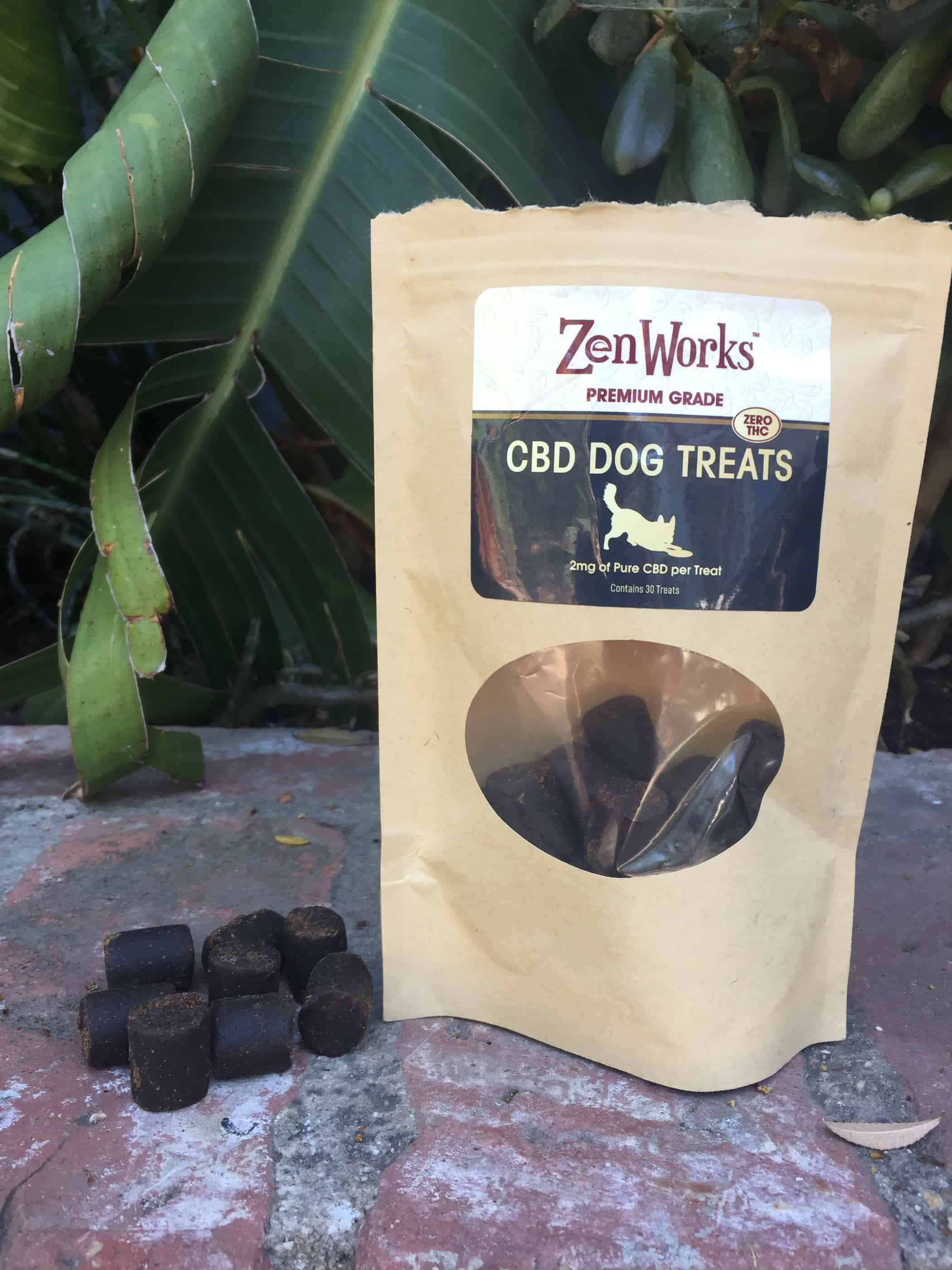 ---
ZENWORKS CBD DOG TREATS Specifications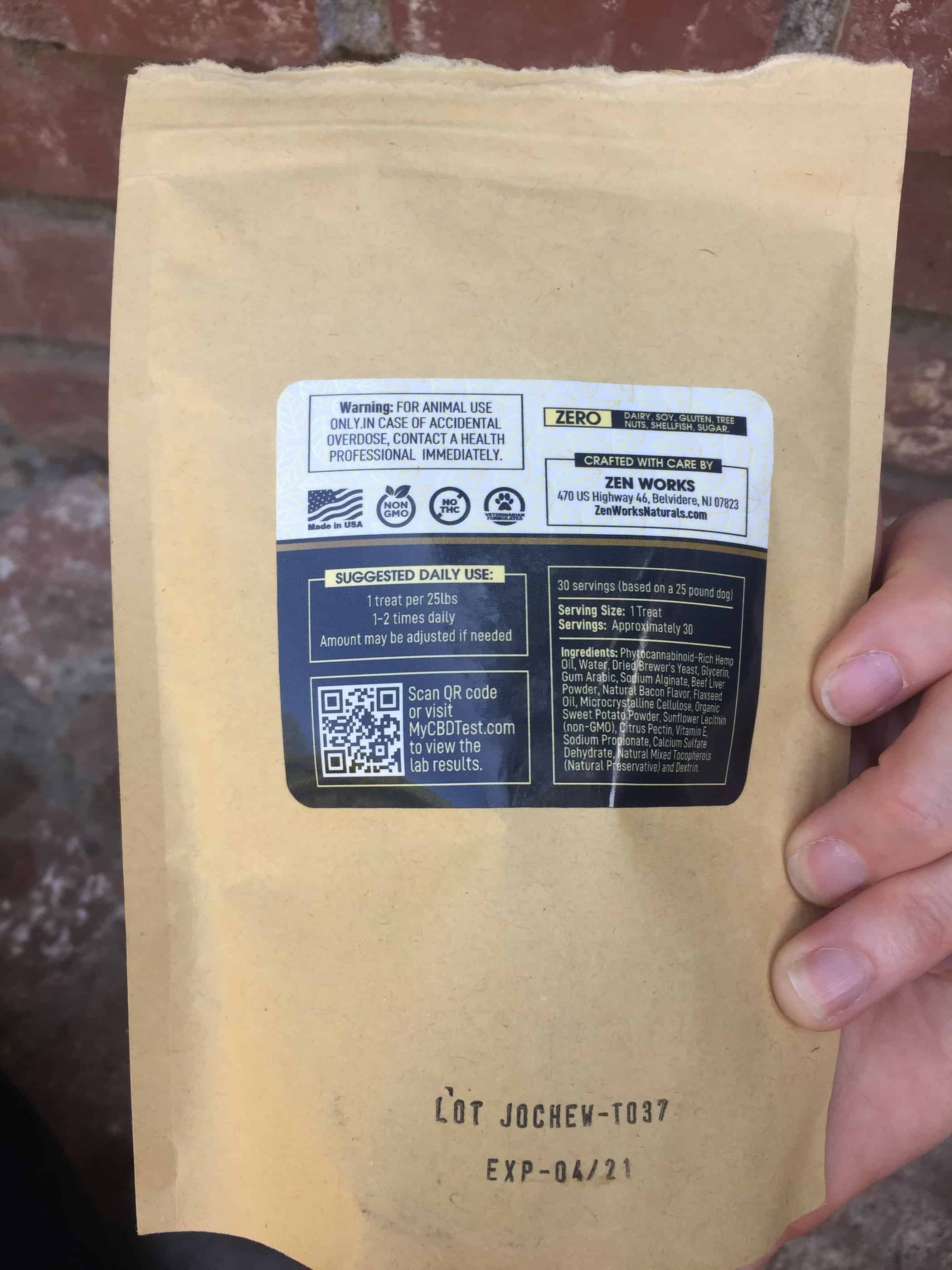 30 treats per bag
2 mg of CBD per treat
60 mg of CBD total per bag
1 treat per 25 lbs
1-2 times daily
Ingredients: 2 mg Phytocannabinoid-Rich Hemp Oil (Per Treat), Water, Dried Brewer's Yeast, Glycerin, Gum Arabic, Sodium Alginate, Beef Liver Powder, Natural Bacon Flavor, Flaxseed Oil, Microcrystalline Cellulose, Organic Sweet Potato Powder, Sunflower Lecithin (Non-GMO), Citrus Pectin, Vitamin E, Sodium Propionate, Calcium Sulfate Dehydrate, Natural Mixed Tocopherols (Natural Preservative), Dextrin
---
How We Tested the ZENWORKS CBD DOG TREATS
My friend Laurel has three hyper-active teenage chihuahuas who require a tremendous amount of walks, rubs, and games of fetch. They're adorable, but they're a lot. I love dogs. I also have chronic pain from a few different injuries that make it so I don't love it when dogs jump on me or try to sit on my lap. I have had to learn how to be zen through the pain over the years so I don't just toss off animals and children who crawl or jump onto my lap in an automatic reflex.
When I received these CBD dog treats, I decided to test them out on Laurel's dogs, to see if they would help calm them down. I handed her the treats over lunch last week, knowing I would be going to her house over the weekend. The instructions on the bag say to use one treat for every twenty-five pounds. Since her dogs weigh only 4 – 6 pounds each, I instructed her to cut the treats into quarters, and give each dog one sliver an hour before my arrival, for about 1.5 mg of CBD.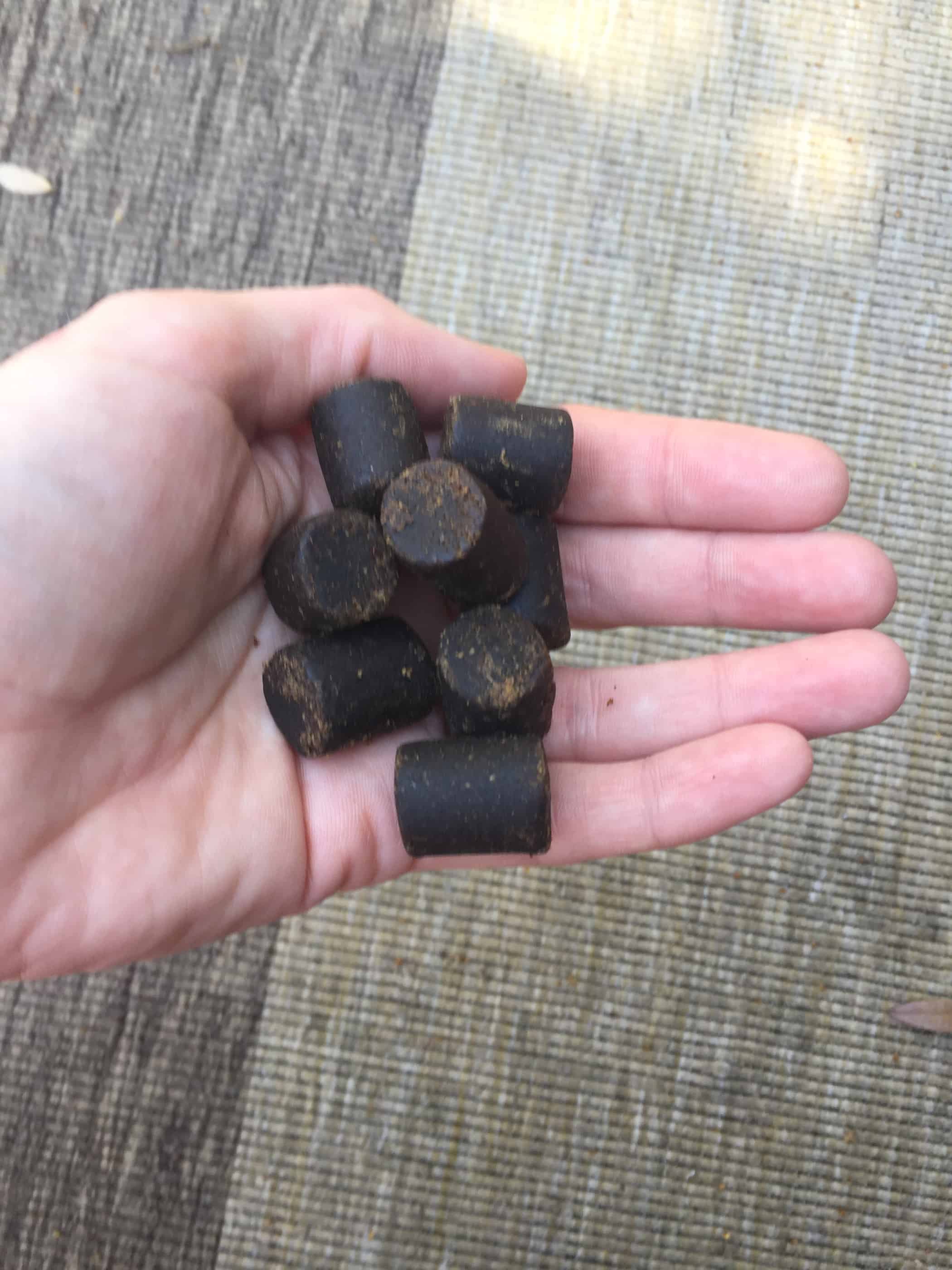 ---
How the ZENWORKS CBD DOG TREATS Worked for Me
I arrived at Laurel's house hoping to not get mauled by her three jumpy chihuahuas as soon as I was let in the door. In my fantasy, the three little ones would be sleeping soundly in an adorable pile somewhere. I let myself in and was immediately greeted by three yappy dogs who seemed overjoyed to see me. They jumped onto my legs and I gritted my teeth.
At first, I thought my experiment with the ZenWorks CBD dog treats failed. I told Laurel that we could try a higher dose next time. The dogs followed us to the living room where we sat down for coffee and catching up. After I sat down, the dogs became unruly again, and I, summoning the alpha-ghost of my dead dog-trainer dad, instructed the dogs to sit. They obeyed, and to my pleasant surprise, remained docile for a good hour before indicating a desire for a walk and a whizz. I had never seen them calm for that long and chalked it up to the CBD.
On the walk, it was clear the dogs were pulling against the leash less than usual. Overall, my experience hanging out with Laurel and her wild beasts was more enjoyable than it had been since before she got the dogs. I've left her with the treats and look forward to hearing more about how they help keep her dogs happy and well-behaved.
---
Useful and Unique Things to Know About ZENWORKS CBD DOG TREATS
ZenWorks understands that pet owners are concerned about the ingredients in their animal's food just as much as in their own food because the founders themselves have pets. The company uses only the highest-quality ingredients that contain zero binders, fillers, dyes, and other toxic stuff. Everything they make for pets is third-party tested in a lab to ensure the purity of the product. For pet-owners with vegetarian pets, however, be aware that this product contains beef liver powder and natural bacon flavor. If your pet doesn't eat meat-products, ZenWorks makes vegetarian tinctures for animals infused with 250 mg, 500 mg, or 1,000 mg of CBD.
---
ZENWORKS CBD DOG TREATS Ratings
In the next sections gradings from 0-100 on our review, these grades add up to give the product's overall score.
PRESENTATION • 100
Calms anxiety in dogs.
RELIABILITY • 100
Relaxing.
QUALITY • 100
Vet-formulated.
FLAVOR / SMELL / or EASE OF USE • 100
Easy to use! Can't speak to the flavor though but the dogs seemed to like them.
VALUE • 100
Good deal.
---
How ZENWORKS CBD DOG TREATS Stacks Up Against the Competition
ZenWorks CBD Dog Treats are a great way to treat your pet's anxiety and pain. Although it's impossible for me to truly compare these treats to others, since, as a human, I haven't tried any CBD-infused pet treat, I can compare price and effectiveness. A while back, I tested out King Kanine's King Kalm Krunch – Honey Oats with another friend's dog. This dog had severe separation anxiety when this woman went on vacation. She reported back that the dogsitter had given the dog 2 cookies for a total of 6 mg of CBD every morning and every night and it had helped ease his anxiety. Since both ZenWorks and King Kanine's treats both worked effectively, I then compared their prices. For 60 mg worth of CBD treats, ZenWorks charges $34.95. For 150 mg work of CBD treats, King Kanine charges $42.99. King Kanine ends up being the cheaper product, but it's easier to cut up ZenWorks into smaller pieces, so it might be better to get the latter depending on the size of your animal.
---
Saving Money With ZenWorks Coupons
Save money on all Cbd Pet here at Save On Cannabis the World's largest online cannabis coupon code directory.
---
Disclosure: I received these products gratis so that I could try them and then share my honest opinion with the SOC community. I am employed by Save on Cannabis to write honest reviews and provided a flat rate payment for the writing of the review. SOC may receive recurring affiliate payments for purchases made based on this content.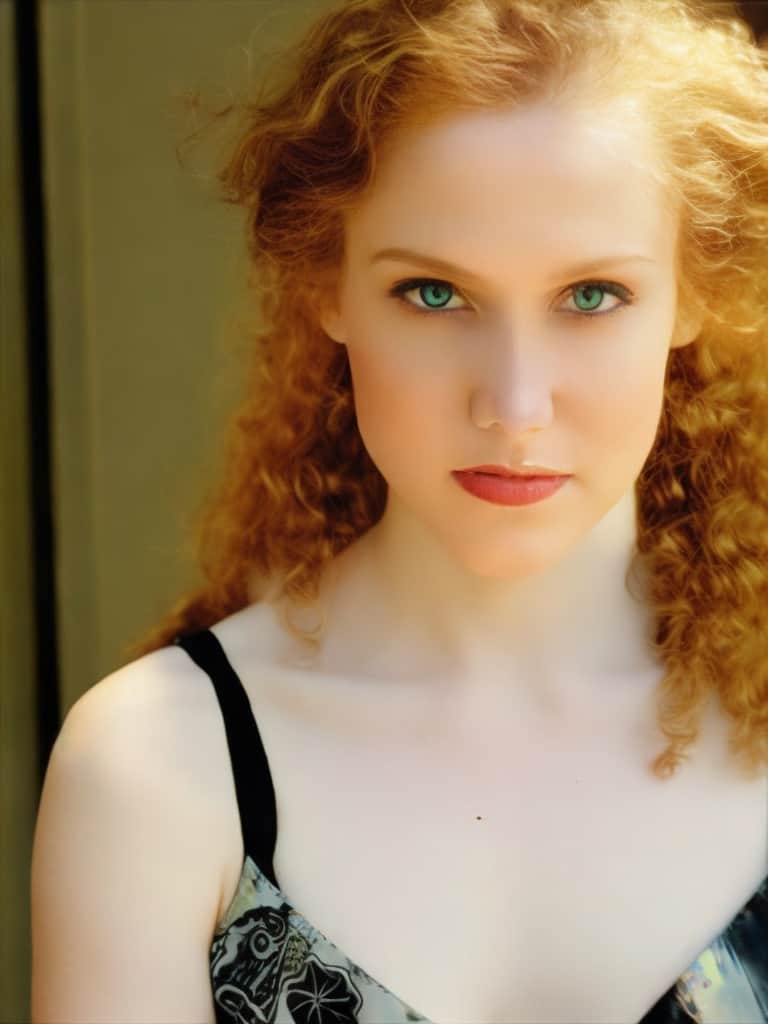 A medicinal cannabis user, utilizing the power of the plant to ease the pains and stresses from long standing conditions that other over the counter or prescriptions could not fix or weren't a natural option like cannabis.  Also, has a background in working directly in the cannabis industry in California within various dispensaries.
Sorry, no coupons were found.
Our reviewer loves CBD topicals, so can the Social CBD Cooling Roll-On Gel make it onto her must have products list? Find out now in our new review.
Looking for a vape oil and vaporizer in Canada? Read the Ohm Connect 2.0 review here! Our expert reviewer breaks it down with awesome photos.
Looking for something to help you get more sleep? See in our NutraCanna review if the CBD Sleep dissolvable tablets worked for us.