Vida Optima: Vitality Gummies Review
Apr 12, 2021 | Save On Cannabis
CBDCBD CandyCBD EdiblesCBD Gummies
Vida Optima: Vitality Gummies
$70.00
Pros
USA grown hemp
CO2 extraction
Manufactured in cGMP certified facility
Full-spectrum hemp extract
Medium strength dose of CBD
Contains Vitamins B12 and D3
4 different flavors in the bottle
Great value
Vegan & gluten-free ingredients
Cons
Use of artificial flavors
Use of artificial colors
Contains corn, a well-known allergen
Vida Optima
Product Review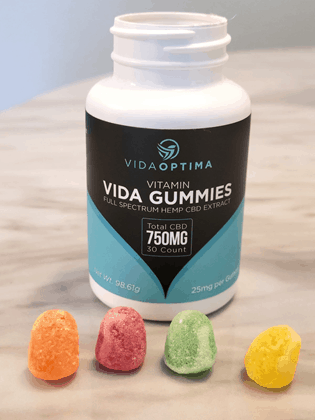 Brand Overview: Vida Optima
The founders of Vida Optima are the same people who started the online CBD superstore called CBDOnly. After years of running this business, they learned a lot about CBD products and tried many of them first-hand. So by 2020, when they launched Vida Optima, they had a pretty good idea of how to make high-quality CBD products.
Based out of San Diego, CA, this company sources its hemp from farms in Colorado, Kentucky, and Oregon, and all the crops are grown to organic and sustainable standards. Then the hemp gets processed in a cGMP-certified facility in California and extracted using a method called CO2, which doesn't involve solvents or harsh chemicals.
Lastly, the company pays a third-party lab to test the cannabinoid profile of its products to ensure the CBD potency you see on the product labels is accurate and verified by an independent party.
Products: CBD oil, lollipops, fruit chews, Delta 8 THC products
Price Range ($-$$$$): $$
---
About Vida Optima Vitamin Gummies
Vida Optima's Vitamin Gummies contain full-spectrum CBD hemp extract, but they have less than 0.3% THC. Also, they have vegan and gluten-free ingredients and contain a boost of Vitamin B12 and D3. Each of the mixed fruit-flavored gummies has 25mg of CBD in each gumdrop (aka gummy). This bottle contains 30 gummies for a total CBD potency of 750mg.
The purpose of these gummies is to dose with a medium strength CBD edible that's both tasty and convenient to consume. Plus, it has long-lasting effects.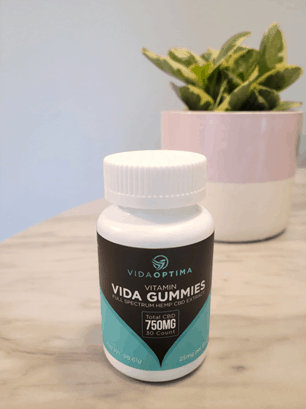 ---
Vida Optima Vitamin Gummies Specifications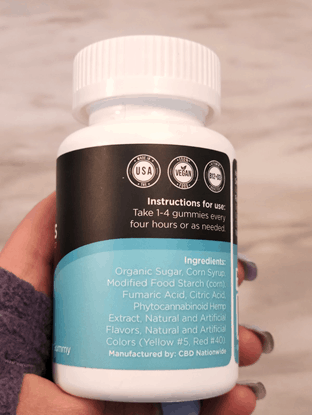 750mg full-spectrum CBD in total
30 gummies per bottle
25mg full-spectrum CBD per gummy
Less than 0.3% THC
Boosted with Vitamin D3 and B12
Mixed fruit flavors
100% Vegan and gluten-free ingredients
Made from hemp grown and extracted in the USA
Flavors and colors come from natural and artificial sources
Ingredients: organic sugar, corn syrup, modified food starch (corn), fumaric acid, citric acid, hemp extract, natural and artificial flavors, natural and artificial colors (Yellow #5, Red #40)
---
How We Tested Vida Optima Vitamin Gummies
Before writing this review, I took this product for about a week, having 1 to 2 gummies a day. I usually had them in the afternoon or late evening. No exact time, just when I thought of it or walked by the bottle sitting on my kitchen table.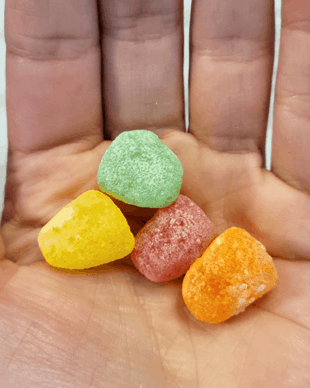 ---
How the Vida Optima Vitamin Gummies Worked for Me
For the most part, I enjoyed the taste of each of the four different gummy flavors. Although the actual flavors weren't listed on the bottle, here are my best guesses.
The red color tasted a bit like cherries, this was the hardest one for me to figure out. The orange tasted like those orange-slice gummy candies and it was my favorite of the bunch. Yellow had a sour lemon flavor and green was super tart and tasted like lime.
Also, the texture of the gummies is very soft and velvety, which I enjoyed.
Shortly after I ate one of them, I actually felt a little sleepy. For me, that feeling kicked in within 5 minutes after eating it. But, I also felt calm and relaxed too. And with some gummies I try, the effects are so subtle that I barely notice any shifts. Yet, the vitamin-enhanced gummies by Vida Optima provided noticeable effects, which I respect and appreciate.
The sleepiness aspect probably had to do with the fact that I feel tired around mid-afternoon and the fact that I gave up my coffee addiction 8 months ago, and am still working to recover my natural energy. So, this may or may not happen to you. It's best to start with half a gummy if you're worried about feeling tired.
---
Useful and Unique Things to Know About Vida Optima Vitamin Gummies
As the name indicates these gummies have vitamins in them, well two vitamins to be exact. They have Vitamin B12, great for brain health, and Vitamin D3, great for immune function. These two vitamins actually have a long list of benefits, but the ones I mentioned are what they're most known for.
Also, not every CBD gummy out there has 100% vegan ingredients, so that's another useful feature to know about these gummies.
---
Vida Optima Vitamin Gummies Ratings
In the next sections gradings from 0-100 on our review, these grades add up to give the product's overall score.
PRESENTATION • 100
Nice branding and the labeling was clear to read and helpful.
RELIABILITY • 100
Each gummy was precisely the same size and delivers consistent effects.
QUALITY • 90
Deducted some points for having artificial flavors and colors in the formula.

FLAVOR / SMELL / or EASE OF USE• 90
Nearly all the flavors were great, with the exception of one.
VALUE • 100
Given the CBD dose, quality of hemp, and infusion of vitamins, they offer great value.
---
PROS of the Vida Optima Vitamin Gummies
The first major pro of these gummies is the source of hemp. It comes from organically raised farms in the U.S. and undergoes C02 extraction and then manufactured in a cGMP-certified facility. Also, these gummies have a medium strength CBD potency and contain full-spectrum hemp extract to promote the entourage effect.
Furthermore, another great feature about them is the infusion of Vitamins B12 and D3 and the mixed fruit variety. Lastly, the formula includes gluten-free and vegan-friendly ingredients and overall they offer terrific value.
---
CONS of the Vida Optima Vitamin Gummies
The only cons I could come up with relate to the formula. As a Nutritional Therapy Practitioner, I'm pretty well versed in good and not-so-good ingredients. Corn is one of the most common allergens in the U.S. and these gummies contain corn syrup and modified food starch that derives from corn. Also, there are artificial colors and flavors, which is not ideal either. However, it's common to see these types of ingredients in CBD gummies.
---
How Vida Optima Vitamin Gummies Stack Up Against the Competition
Vida Optima's CBD Gummies have some fantastic qualities about them and really separate themselves from the competition because they added vitamins to their gummies. Like Vida Optima, other gummies contain high-quality hemp, good potencies, flavor diversity, and great pricing.
So, I'd have to say the inclusion of vitamins D3 and B12 takes these up a notch compared to the comp.
---
Disclosure: I received these products gratis so that I could try them and then share my honest opinion with the SOC community. I am employed by Save on Cannabis to write honest reviews and provided a flat rate payment for the writing of the review. SOC may receive recurring affiliate payments for purchases made based on this content.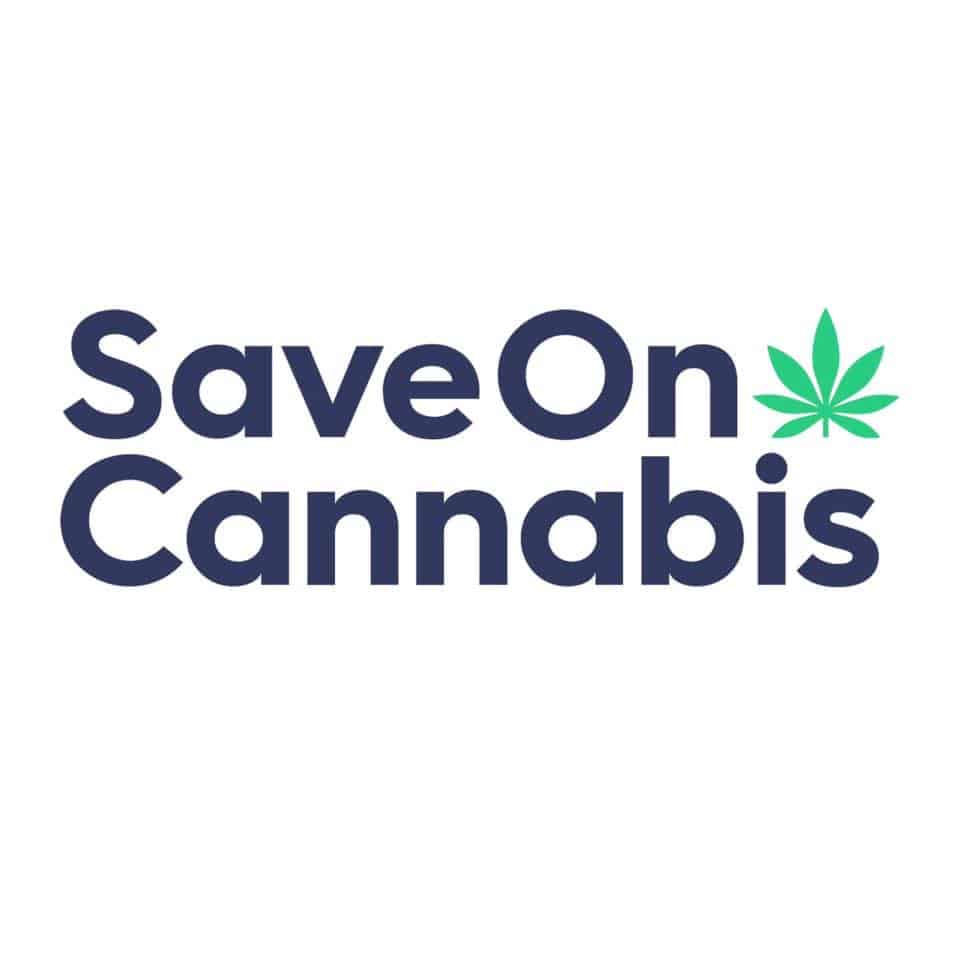 Save On Cannabis is the most trusted source for cannabis discounts and education information.  Vetted deals and clearly written articles to help you become a wiser consumer whether focused on the medical or recreational value of cannabis products.
Candy to help you sleep? In this Pure Relief CBD Night Gummies review we see if they really help us get some sleep.
CBDPure Hemp Oil promises a natural way to ease physical and emotional pain. Read our review to find out if it lives up to the hype!
In this Social CBD review of the Zooey CBD Body Butter see if it fixes dry hands and helps pain. Also get Social CBD coupons.