CBD Review: BioCBD+ Vape Combo Pack (Peace)
Oct 12, 2018 | Romy
BioCBD+ Vape Combo Pack (Peace)
Pros
All Natural (No PG, VG, or PEG or other)
Effective
Great Price
Immediate Relief
Lab Tested
Brand Overview: BioCBD+
BioCBD+ has a mission to provide the highest quality Cannabidiol (CBD) with Ayurvedic herb supplements at affordable prices. Over 30 years of research and development is behind their products. The water-soluble nature of their products makes them 5-10x more bioavailable than any other CBD hemp oil products on the market which means the CBD is more easily transported throughout your body. The company also uses full-spectrum hemp-derived CBD oil, so the customers get the synergistic benefits of a variety cannabinoids & terpenes. All their products are lab tested for purity. They are also committed to delivering products to anyone, despite their financial circumstances, so they have developed a scholarship and a donation program in order to provide the world with their products. All their hemp is organically grown in Scandinavia.
Products: BioCBD Plus Total Body Care Capsules, BioCBD Plus Muscle & Joint Relief Topical Oil, Combo Pack: I AM PEACE CBD Vape Cartridge and Battery, I AM PEACE Vape (Cartridge Only), BioCBD Plus Vaporizer Battery, Charger & Case
Price Range: $$
About the
BioCBD+ Vape Combo Pack (Peace)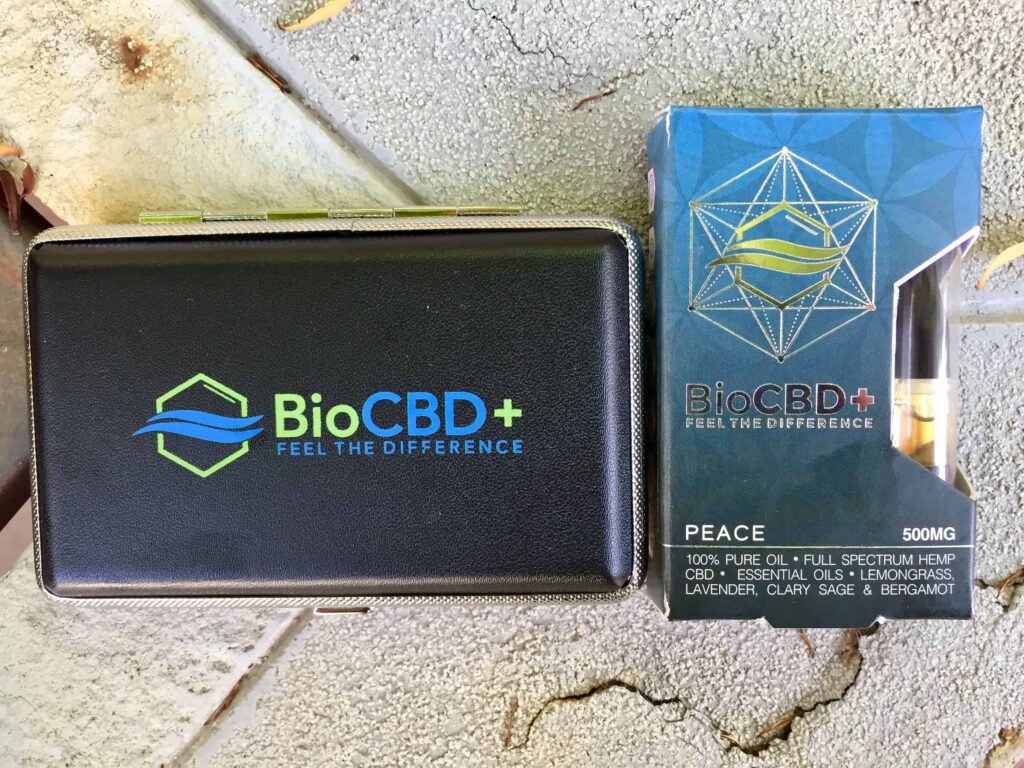 The BioCBD+ Combo Vape Pack with their "Peace" formula comes with a 500 mg vape cartridge, a battery, and a case. The vape blend has 100% all-natural, organic, plant vape formulation with extra strength CBD, and a unique blend of hemp oil, plant terpenes, and essential oils. Vaping allows your body to take in about 95-99% of the CBD. The vape cartridge is endorsed by the top fitness expert, Ben Greenfield. He said, "Vaping allows near instant delivery and instant experience of all the benefits." The BioCBD+ "Peace" formula is great for a good night's sleep, relaxing after work, and anxiety relief.
BioCBD Plus Combo Vape Pack (Peace) Technical Specifications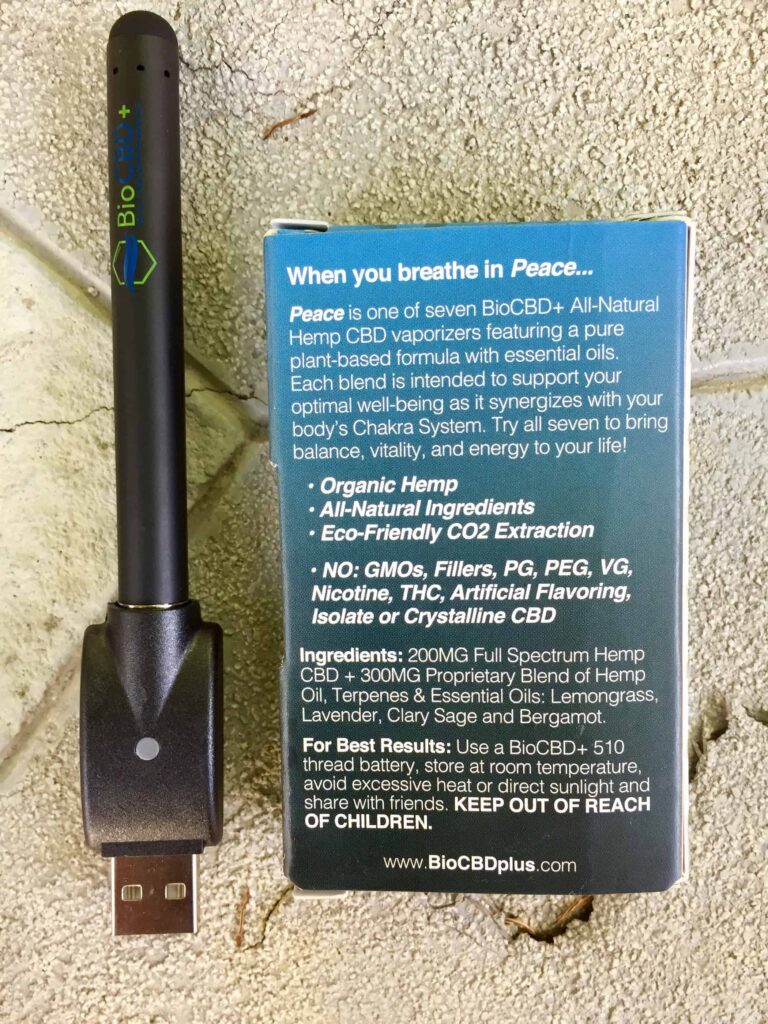 Ingredients: 200 mg of organically grown, full-spectrum hemp CBD

, and 300 mg of all-natural plant

terpenes, & an essential oil blend of lemongrass, lavender, clary sage & bergamot

Combo pack comes with a case, battery, and a 500 mg disposable vape cartridge

Directions for use: 1. Screw cartridge onto battery 2. Place cartridge into mouth 3. Press button to activate (or simply inhale depending on model) 4. Use short puffs to avoid overheating the CBD or burning out the cartridge, no longer than 1-2 seconds

5 inhalations per dosage will give you 10 mg of the blend

Each puff will be about 2 mg of pure Hemp CBD oil

The battery lasts for 100 inhalations

A cartridge can last 30-60 days, depending on your frequency of consumption

Smooth hemp taste with hints of lemon and citrus.

No chemical fillers, THC, nicotine, GMOs, & artificial flavoring

Eco-friendly CO2 extraction

Odorless

Not to be used by pregnant or lactating women.

Lab tested for purity

Money-back guarantee

They offer a certificate of analysis at: https://www.biocbdplus.com/certificate-of-analysis
How We Tested the
BioCBD+ Vape Combo Pack (Peace)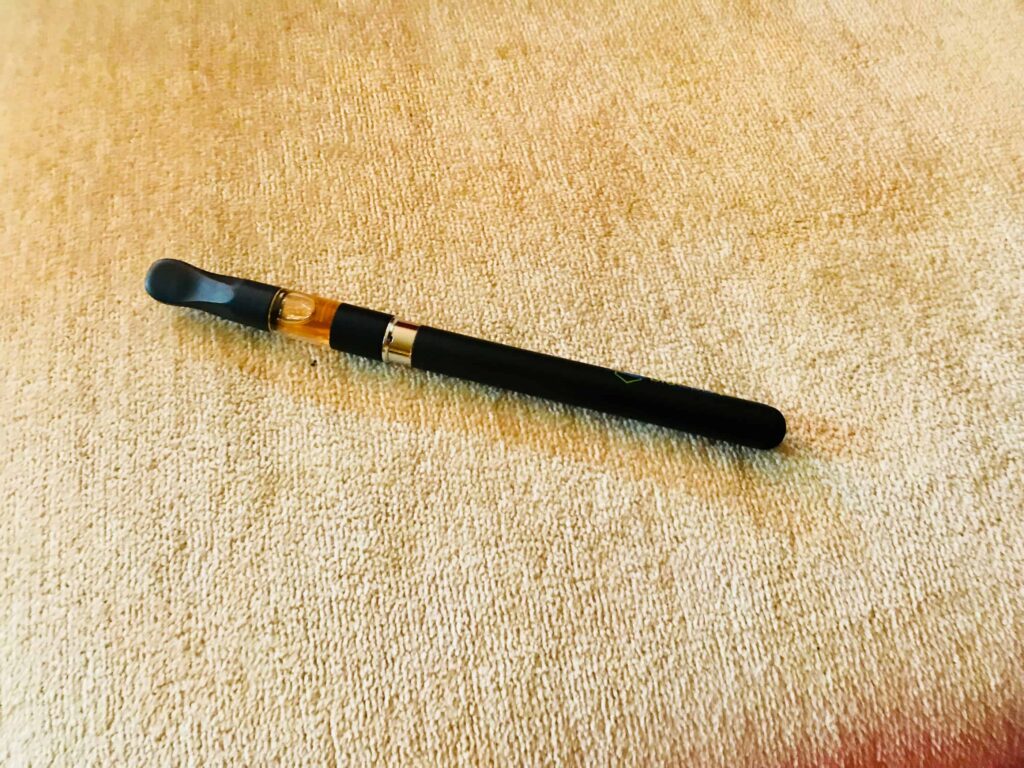 I recently started the process of becoming a certified copy editor. While I enjoy the classes, the combination of homework, tests, and lengthy discussion about grammar on top my regular work and lack of social life have got me feeling scattered and anxious. I have so much to do! I've heard great things about vaping pure CBD oil for anxiety relief because vaping is the most potent ways to get the CBD into your bloodstream and up to your brain. Heck, Coca-Cola is rumored to be coming up with their own CBD health drink! I've tried tinctures before but had to take a lot to feel any effects. I was also excited to try a pure CBD vape cartridge because I haven't seen a lot on the market! There are plenty of THC/CBD cartridges, but I'm not interested in getting high. My process in trying the vape pen was simple: I sat down at my desk with the cartridge screwed into the pen, a cup of tea, and my book for Grammar Lab. I inhaled the cartridge for two seconds to get a hit, which was easy as pie. I did this five time, per the instructions, to get a total of 10 mg of CBD in my system. I hoped that I would feel immediate relief for my scattered brain.

How the BioCBD+ Vape Combo Pack (Peace) Worked for Me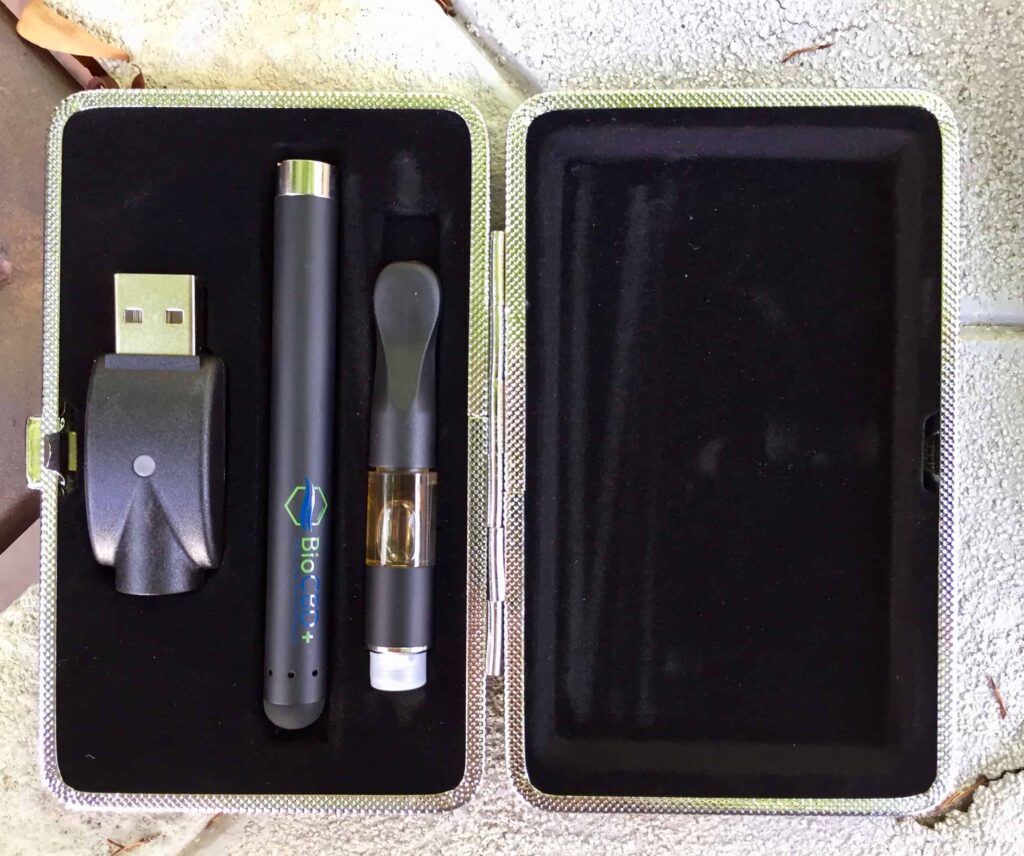 The effects of the vape hit me almost immediately. I felt peaceful, so the name is appropriate. My heart rate went from a slightly panicked speed to normal. This product definitely has the medical benefits I wanted. The taste was nice, like herbs with a hint of sweetness. I loved that the smoke dissipated quickly and didn't leave my room smelly. For an anxious girl like me, this product is exactly what I needed. I will be getting this product again.
Useful and Unique Things to Know About
BioCBD+ Vape Combo Pack (Peace)
This product was very discreet! When my roommate came home, after I'd been hitting it throughout the day, she had no idea that someone had been vaping. It left no residue of smoke or smell. This product is also unique in that it has a blend of essential oils that are also amazing for relaxation.
BioCBD+ Vape Combo Pack (Peace)
Rating Breakdown
PRESENTATION • 100
Packaging was sleek and readable. The pen is discreet.
RELIABILITY • 100
Quality hits. Felt the impact every time.
QUALITY • 100
High quality, organic CBD with essential oil all blended naturally with no yucky additives.
FLAVOR and SMELL • 100
The taste was a nice herbal citrus and the smell was odorless. It was super easy to use!
VALUE • 100
Price is much lower than the competition!
How the BioCBD+ Vape Combo Pack (Peace) Stacks Up Against the Competition
The BioCBD+ Vape cartridge is pure CBD. While there are other CBD cartridges on the market, a lot of them contain THC. This cartridge also contains lab tested ingredients. You can read their lab results on their website. Not a lot of other companies offer that much transparency. Their prices are also cheaper or similar to other products on the market.
Saving Money With BioCBD Plus Coupons
Save money on all CBD Vape Juice coupons here at Save On Cannabis the World's largest online cannabis coupon code directory.
Disclosure: I received these products gratis so that I could try them and then share my honest opinion with the SOC community. I am employed by Save on Cannabis to write honest reviews and provided a flat rate payment for the writing of the review.  SOC may receive recurring affiliate payments for purchases made based on this content.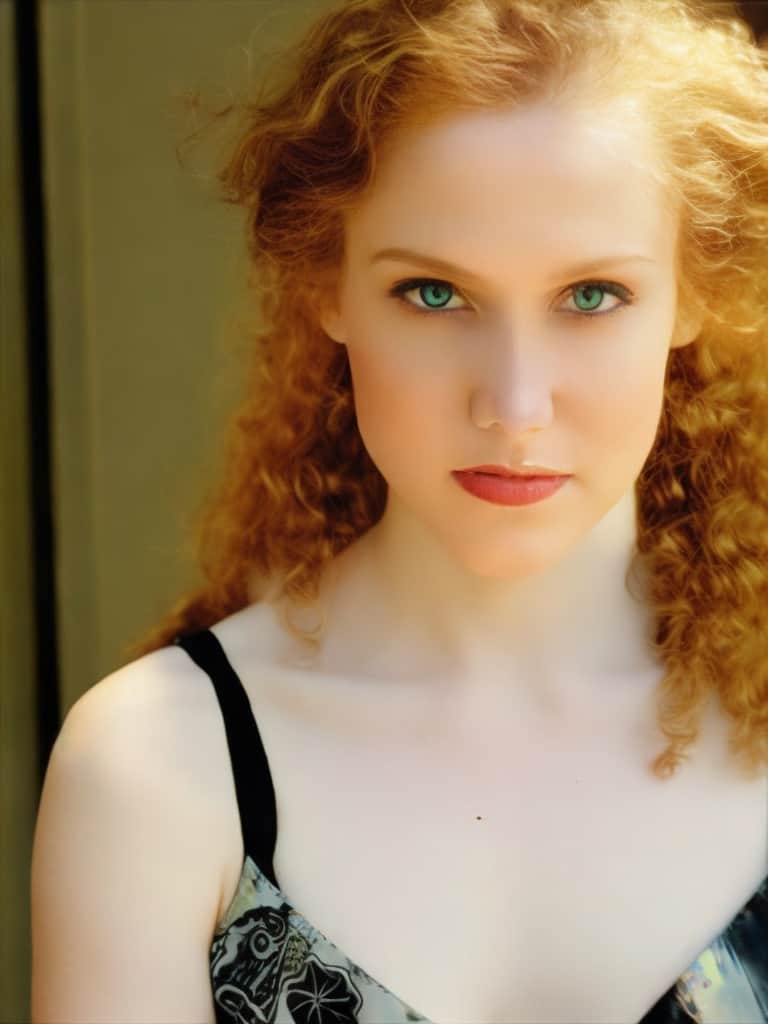 A medicinal cannabis user, utilizing the power of the plant to ease the pains and stresses from long standing conditions that other over the counter or prescriptions could not fix or weren't a natural option like cannabis.  Also, has a background in working directly in the cannabis industry in California within various dispensaries.
In our Lock & Key Remedies review of their CBD cooling muscle rub we see how this topical worked to help our pains.
During the times of COVID, Quarantine, Stay At Home all the words that by themself bring stress, see if the CBDistillery 1,000mg helped ease anxiety.
In this Hemp Bombs review of their CBD Gummies, we see if the taste and results are worth your money. We hope it calms us.