Steve's Goods CBD/CBG Blueberry Oil 20:1 (500mg) Review
Feb 18, 2019 | Romy
CBDCBD TincturesCBGCBG Tinctures
STEVE'S GOODS CBD/CBG BLUEBERRY OIL 20:1 (500 MG)
Pros
Great taste
Potent
Works fast
Helps with pain, anxiety, and PTSD
Perfect oil for food

Price Range ($-$$$$): $$-$$$$
Brand Overview: STEVE'S GOODS
Steve's Goods makes high-quality CBD products grown, extracted, and packaged in Colorado by trusted farmers. This company is one of the only CBD sellers using one of the lesser-known components of the hemp plant, CBG. After years of research, they have found that adding CBD and CBG to your daily routine is a non-psychoactive, natural alternative to opioids. The company also strives to bring superior hemp products to the market at a fair cost.
Products: CBD Tinctures, CBD Concentrates, CBD Vape Oil, Edibles, Bundle Deals, CBD Pet Tinctures, CBD Topicals
---
About the STEVE'S GOODS CBD/CBG BLUEBERRY OIL 20:1 (500 MG)
Steve's Goods makes a terpene infused 20:1 CBD and CBG oil that is made from Blueberry OG CBD/CBG Distillate Wax. CBG is a healing molecule that grows before THC and CBD in the cannabis plant. Not only does this tasty tincture contain the healing properties of CBD and CBG, but it also contains 80 different phyto-cannabinoids. Studies show that a mixture of cannabinoids enhances each other for a more potent product. The benefits of CBG are mental clarity, focus, digestion relief, anxiety, and inflammation. CBD has been a known sleep-aid, pain-reliever, and anti-inflammatory. I need all of these things in my life!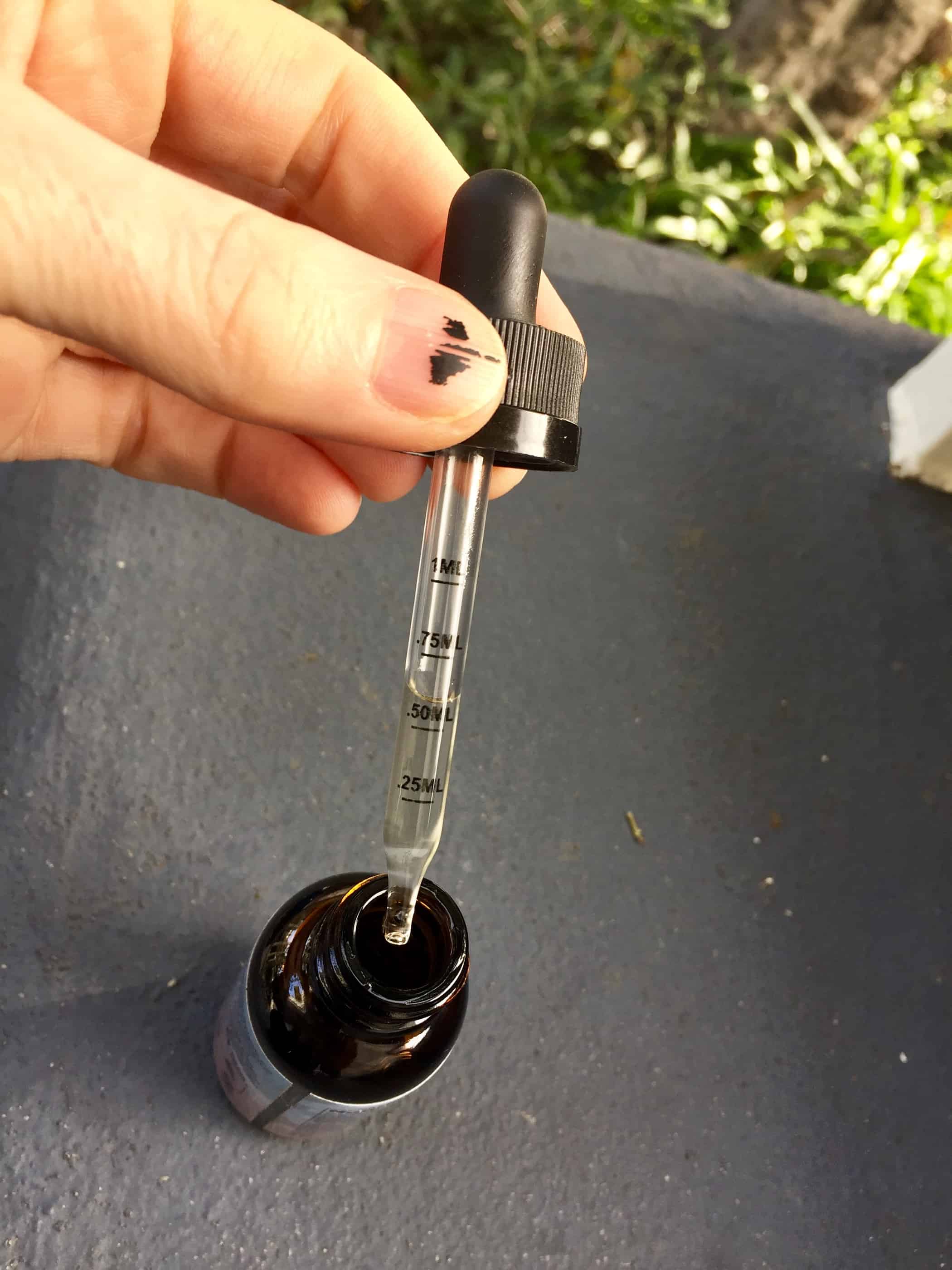 ---
STEVE'S GOODS CBD/CBG BLUEBERRY OIL 20:1 (500 MG) Specifications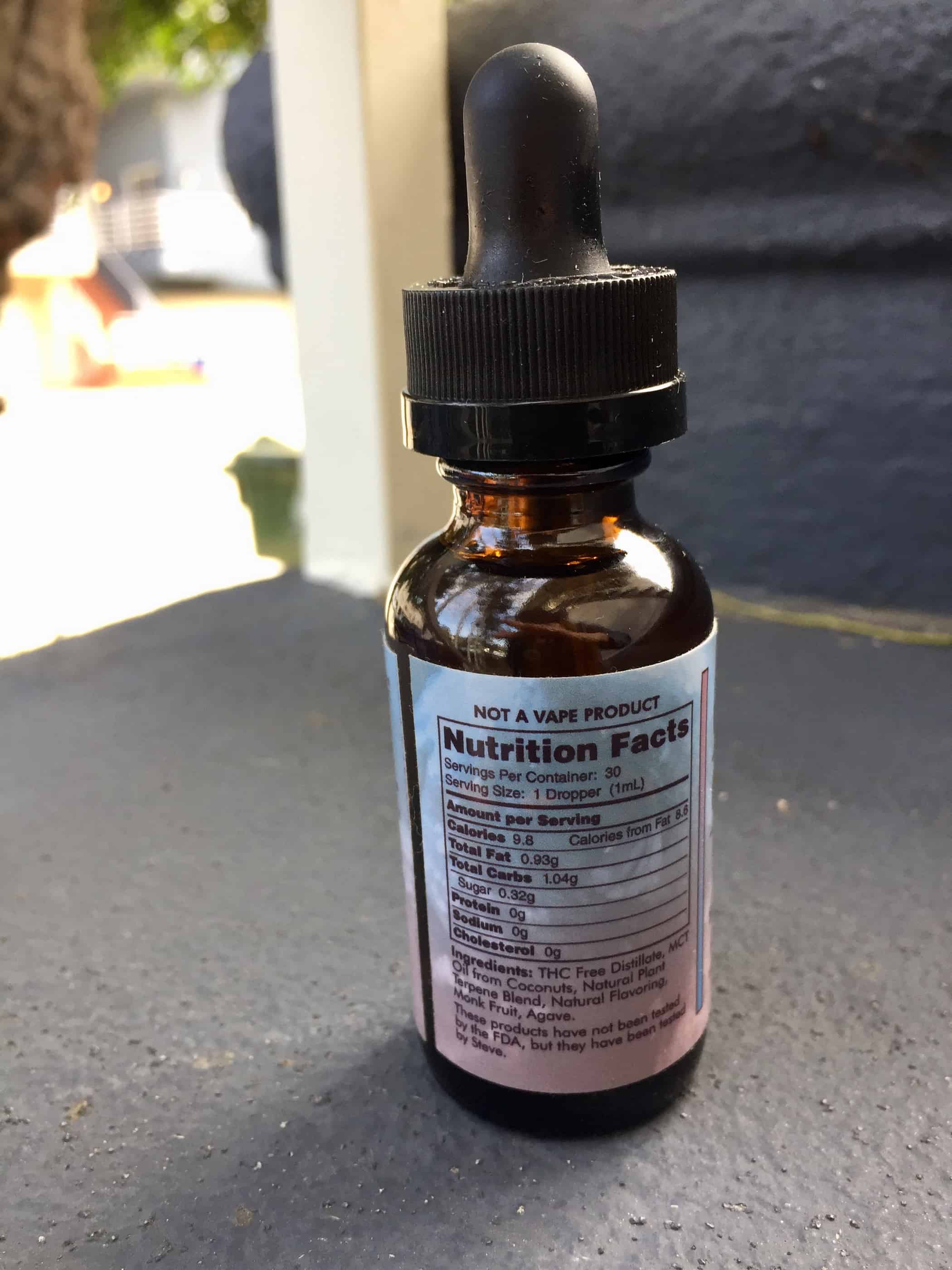 Ingredients: THC Free Distillate, MCT Oil from Coconuts, Natural Plant Terpene Blend, Natural Flavoring, Monk Fruit, Agave
500 mg
20:1 CBD to CBG
About 16.67 mg of the CBD/CBG mixture per serving
Serving size per container: 30mL
High amounts of CBG, CBD, CBN, & CBC
100% THC free
Third-party lab tested
Not a vape product
No soy, no glycerin, no toxins
Made with Colorado hemp
---
How We Tested the STEVE'S GOODS CBD/CBG BLUEBERRY OIL 20:1 (500 MG)

I was recently hit by a car as a pedestrian. The entire experience has me shook. Not only does my back hurt where I felt the brunt of the impact, but I feel nervous all the time, especially in cars or crossing streets. I'm not sure what is worse, physical or mental pain. I was prescribed pain pills, but I'm looking for a natural alternative that won't make me feel high. A girl's got to work, even after getting hit by a car.
My experience with Steve's Goods products has been positive, so I thought I would add the CBD/CBG oil into my daily health and wellness regimen to help with my general anxiety.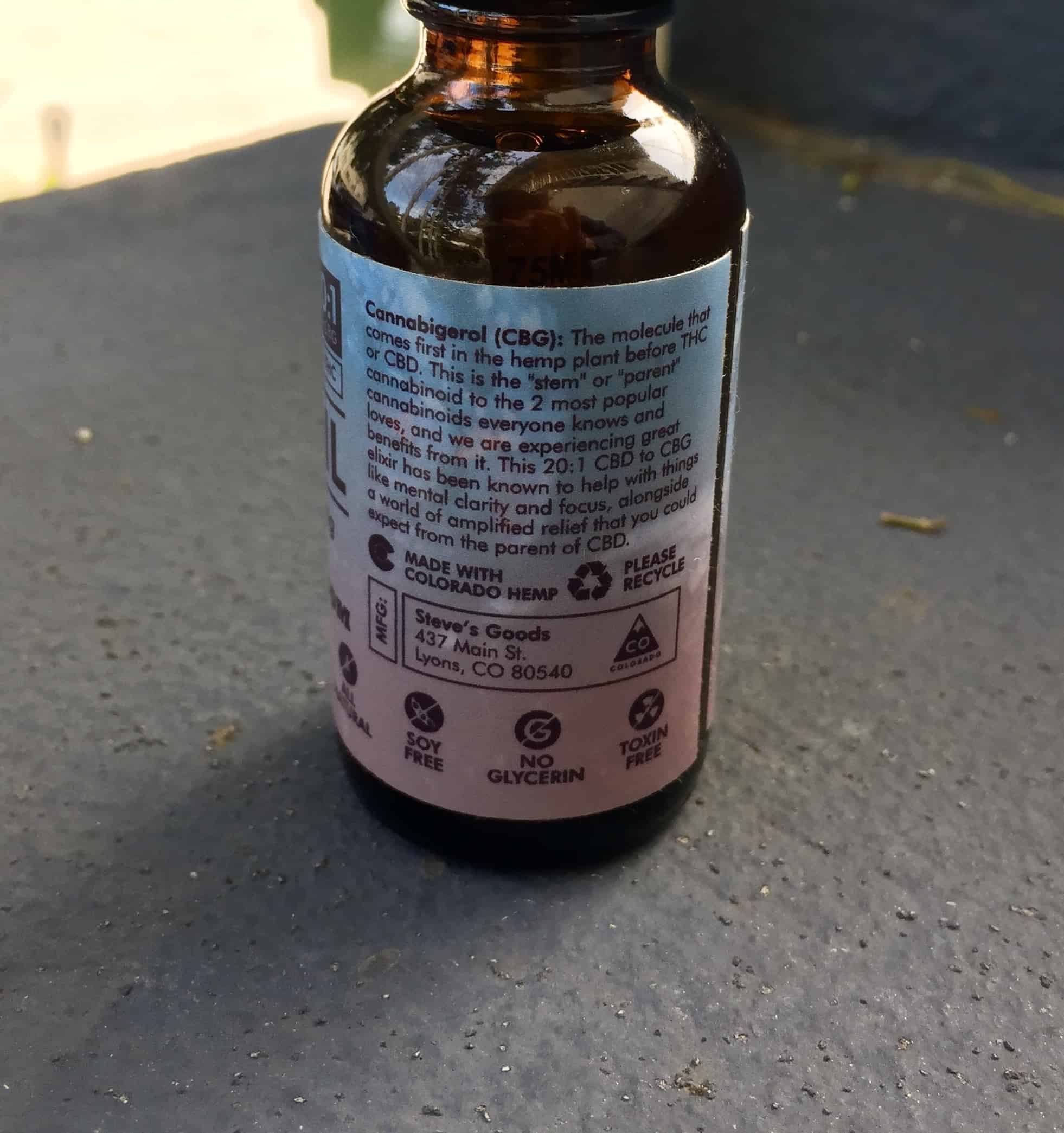 Cannabis oils don't usually help me with physical pain (for me, a vape product works better for that), but I was hoping it would help me go about my day without feeling like I'm about to get run over by a car. Long-term use of CBD/CBG products is best for overall wellness benefits. Ten days have passed since the accident, so I've been taking two full doses when I wake up in the morning and two before bed ever since.
---
How the STEVE'S GOODS CBD/CBG BLUEBERRY OIL 20:1 (500 MG) Worked for Me
I loved Steve's Goods oil. First of all, it tastes amazing. So many CBD oils taste overwhelmingly like hemp. Even if you are a hemp connoisseur, it's not the greatest taste. This company's oil is so refined and high-quality, it's almost tasteless with a hint of blueberry. Because of this, I would recommend this oil for anyone who is looking for an oil to add to food or drink. Besides its amazing taste, this stuff really helped with my anxiety and back inflammation. I could feel the benefits right away. At first, after the accident, I was not sleeping well and having nightmares. I'm no psychologist, but I think I was having some PTSD. I've been sleeping much better lately. I was also having a hard time focusing while working because I was so anxious, and now I'm just as productive as before.
Useful and Unique Things to Know About STEVE'S GOODS CBD/CBG BLUEBERRY OIL 20:1 (500 MG)
Researching this product, I learned that it's made with Steve's Goods very own CBD distillate wax with added Blueberry OG terpenes. It has up to 85% CBD and up to 10% CBG. The wax contains no THC but still has the relaxation benefits of the cannabis plant. No wonder this product is so potent. This product is unique in its use of minor cannabinoids like CBG. Most products do not have such a high percentage of CBG, making this product superior to many.
---
STEVE'S GOODS CBD/CBG BLUEBERRY OIL 20:1 (500 MG) Rating Breakdown
we validate our ratings that show as gradings from 0-100
PRESENTATION – 100
Informative dropper bottle that is packed with information.
RELIABILITY – 100
This is one of the more potent tinctures I've tried.
QUALITY – 100
High-quality oil that packs a punch.
FLAVOR – 100
If I could rate the taste any higher, I would.
VALUE – 95
It's a little expensive but you get what you pay for.
---
How the STEVE'S GOODS CBD/CBG BLUEBERRY OIL 20:1 (500 MG) Stacks Up Against the Competition
You won't find much competition out there for a CBD and CBG oil. You also won't find much competition out there for a hemp oil that tastes as good as Steve's. In fact, out of the dozen tinctures that I've tried, this one tastes the best because it barely has a taste. And out of the dozens of tinctures I've tried this one compares best with one of my other favorites, PureRelieff's 1000 mg CBD oil, another potent hemp oil.
Saving Money With Steve's Goods Coupons
Save money on all CBD Tinctures , CBG Tinctures here at Save On Cannabis the World's largest online cannabis coupon code directory.
---
Disclosure: I received these products gratis so that I could try them and then share my honest opinion with the SOC community. I am employed by Save on Cannabis to write honest reviews and provided a flat rate payment for the writing of the review. SOC may receive recurring affiliate payments for purchases made based on this content.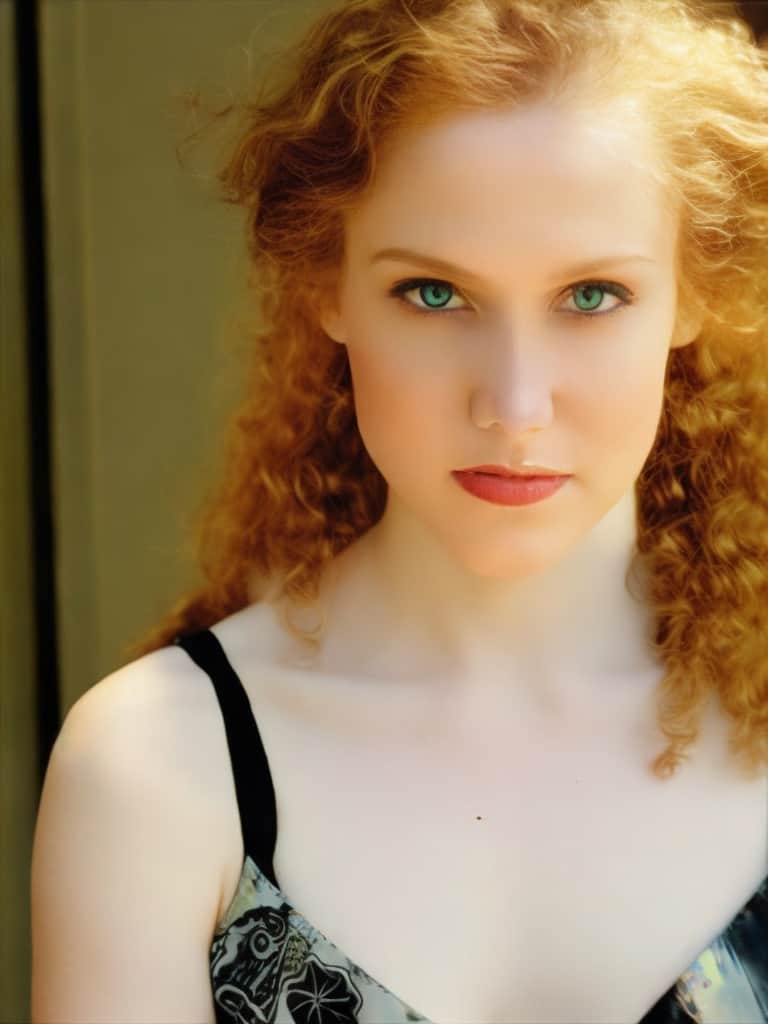 A medicinal cannabis user, utilizing the power of the plant to ease the pains and stresses from long standing conditions that other over the counter or prescriptions could not fix or weren't a natural option like cannabis.  Also, has a background in working directly in the cannabis industry in California within various dispensaries.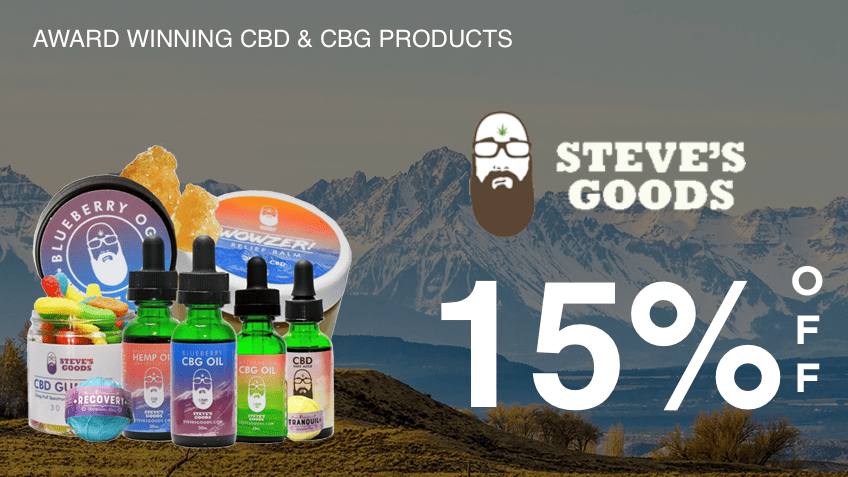 15% OFF CBD shatter with terpenes and more at Steve's Goods! Also get Delta 8 products now. USA Shipping.
Pure CBD Vapors sent us the CBD For Life Bath Bombs, see how the Lemongrass Kiwi worked for our reviewer. Hands-on comparison of flavors and effects.
Our reviewer got to test the Holiday CBD Gummies hands on and taste them for herself. See how these CBD gummies worked in her Holiday CBD review.
Hands on expert GoGreen Hemp review of the CBD Bath Bombs (Milk 'n Honey) with photos. 40 mg of water-soluble CBD powder for your bath.