Aspen Green Review – CBD Full Spectrum Oil – 3,000 MG
Jun 30, 2020 | SOC
ASPEN GREEN FULL SPECTRUM HEMP OIL – 3,000 MG
Product Review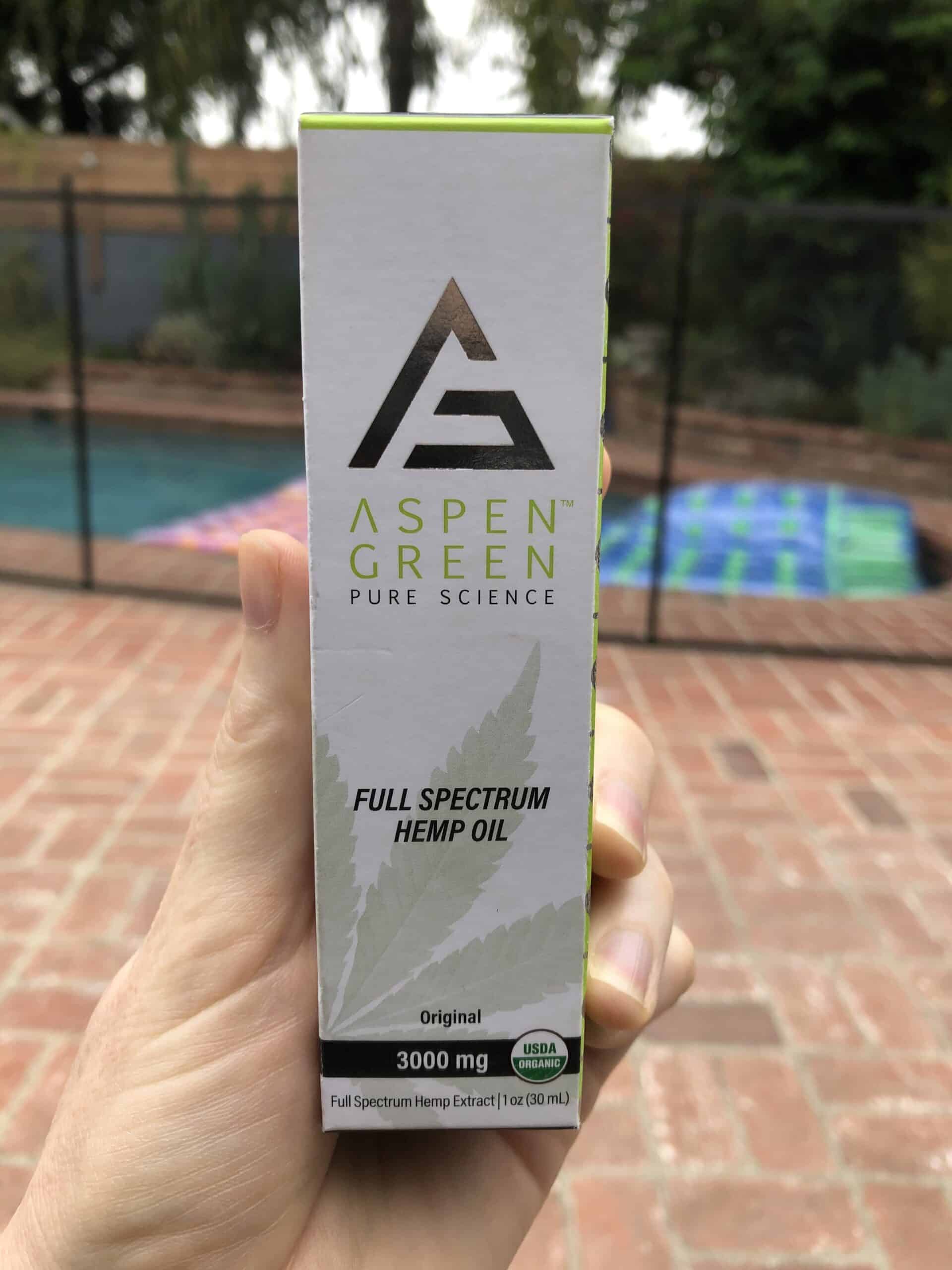 Brand Overview: ASPEN GREEN
Aspen Green uses full-spectrum hemp to create the purest and most potent CBD products on the market. Their products are great for people looking for extra relief from various ailments through natural and non-addictive supplements. Aspen Green was founded on the principles of quality, integrity, and transparency. The company uses organic hemp from the most trustworthy farms in Colorado to ensure that the stuff they put in their products is high-quality from the seeding process to delivery.
Because they use full-spectrum hemp, their products still maintain all the naturally occurring vitamins, minerals, alkaloids, terpenes, and flavanoids for a complete CBD experience.
Products: Full-Spectrum Hemp Oils, Topicals.
Price Range ($-$$$$): $$
---
About ASPEN GREEN FULL SPECTRUM HEMP OIL – 3,000 MG
This oil contains a whopping 3,000 mg of full-spectrum hemp extract for an extra-strength dose of 60 mg of CBD in a single serving. Aspen Green puts this oil through eight different lab tests to ensure its purity and potency so you can get the best in everything cannabis has to offer. The hemp oil contains less than 0.3% of THC, so it would not get you high. You can take 1-3 droppers as many as three times a day by holding it under your tongue for 30-60 seconds then swallowing. Aspen Green recommends taking this oil for a couple of weeks to see the results. If you're new to CBD, please consult with a physician and start at a lower dose. Aspen Green makes this tincture in as low as 500 mg per bottle.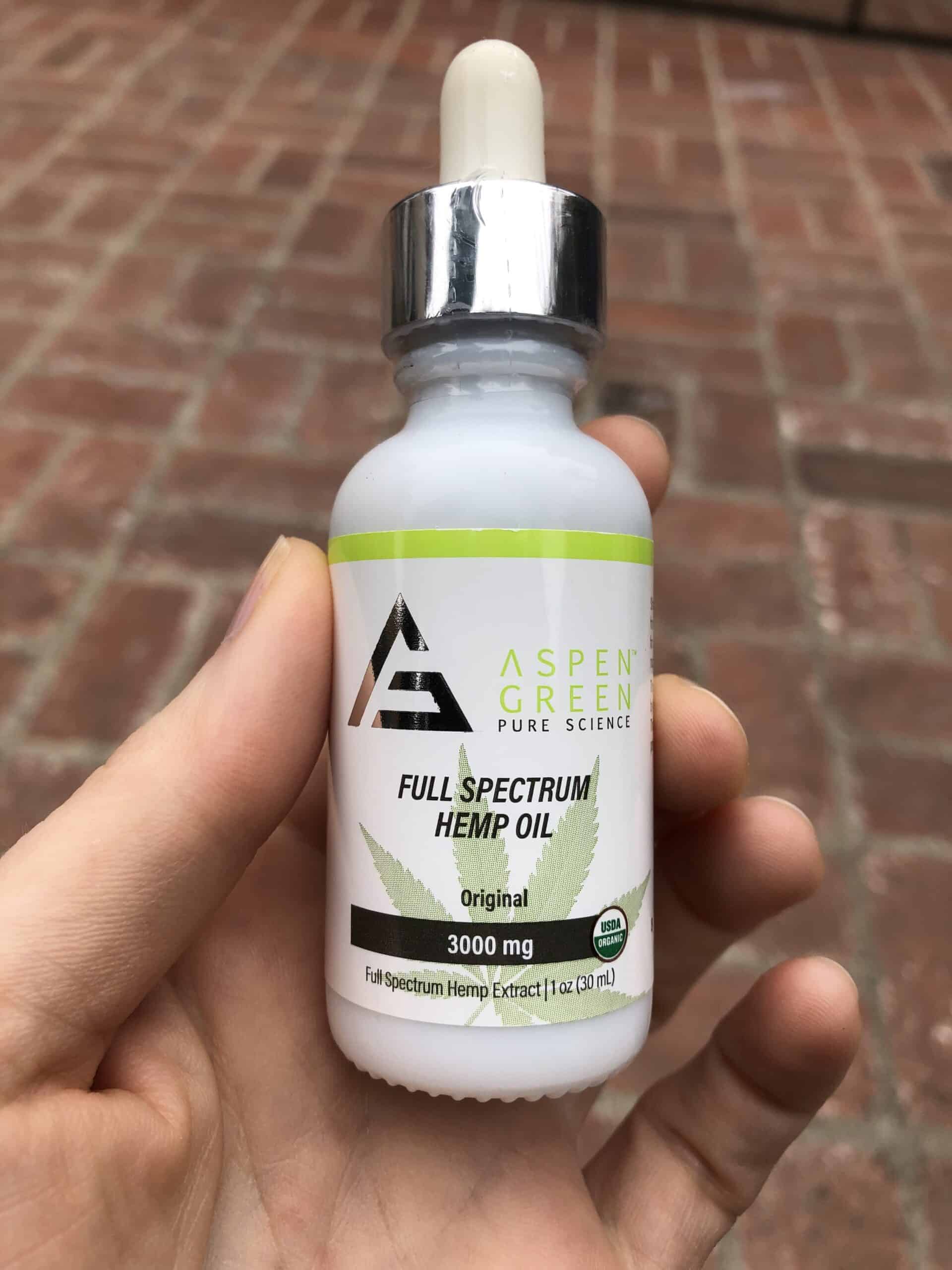 ---
ASPEN GREEN FULL SPECTRUM HEMP OIL – 3,000 MG Specifications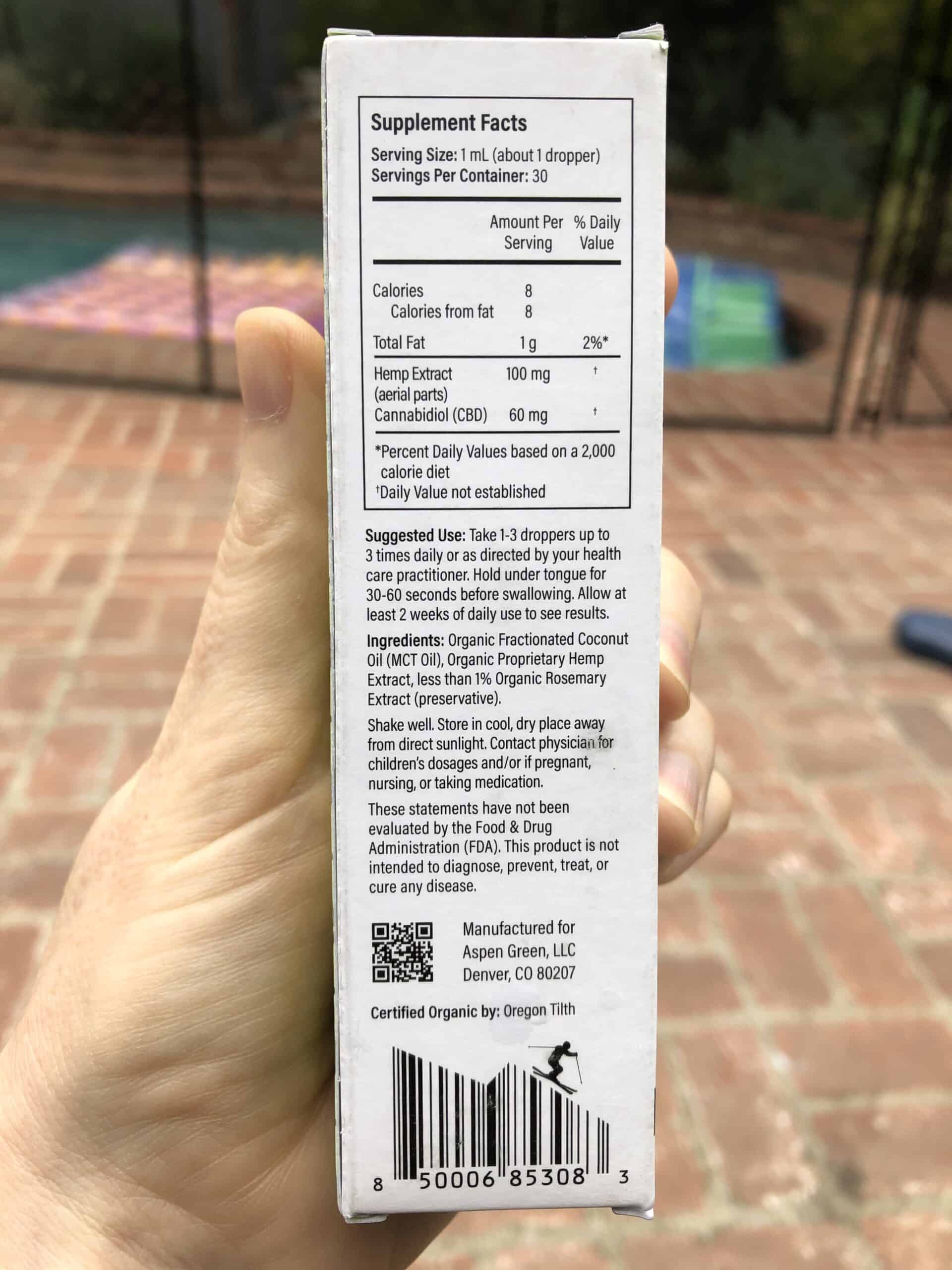 3,000 mg full-spectrum hemp oil per bottle
100 mg hemp extract (aerial parts) per serving
60 mg cannabidiol (CBD) per serving
30 servings per bottle
1 dropper per serving
1 oz (30 ml)
Ingredients:Organic Fractionated Coconut Oil (MCT Oil), Organic Proprietary Hemp Extract, less than 1% Organic Rosemary Extract (preservative).

---
How We Tested the ASPEN GREEN FULL SPECTRUM HEMP OIL – 3,000 MG
Aspen Green's CBD oil can fight stress, pain, and help you get better sleep. I could certainly use help with stress, pain, and sleep, so was eager to give this powerfully-dosed tincture a shot. I used a full-serving three times a day for a total of 180 mg of CBD with the hope that I would feel less inflammation from arthritis, which in turn would reduce my stress and help me sleep. Per the recommendation by the company, I was consistent with this routine for a couple of weeks, taking note of any differences in how I was feeling.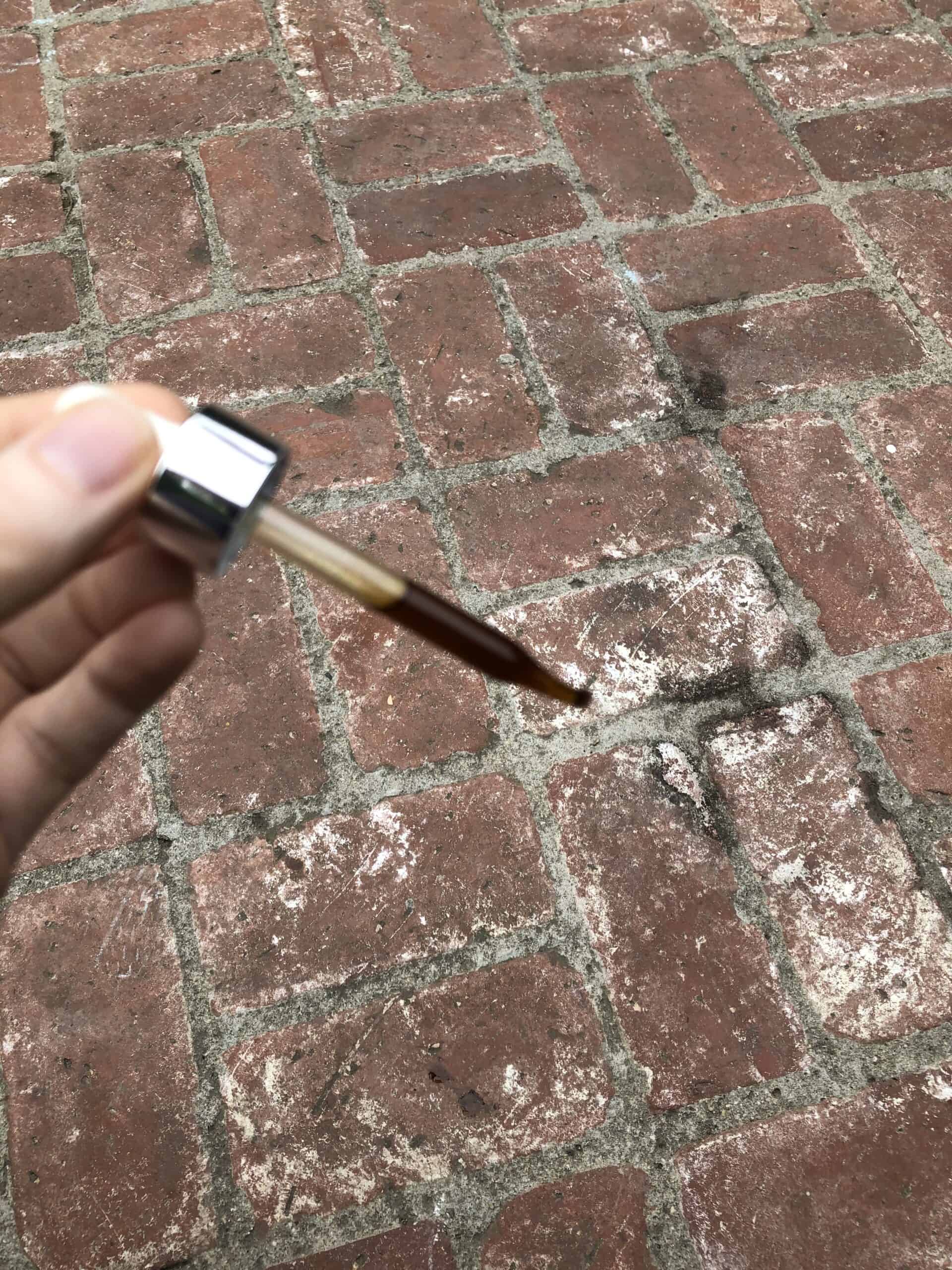 ---
How the ASPEN GREEN FULL SPECTRUM HEMP OIL – 3,000 MG Worked for Me
After using this hemp oil regularly for two weeks, I could feel a subtle difference in my stress levels. The warming and calming effects of the CBD and other phytocannabinoids made it easier to practice mindfulness and live more in-the-moment. The hemp oil doesn't take away stress or pain but works to take the edge off of it so I could live a more enjoyable and productive existence. While I don't believe Aspen Green's hemp oil helped me fall asleep, I found it did help me stay asleep a little bit longer than usual.
I didn't care for the original flavor, however, as it tasted too strongly of cannabis. I tried hiding it in juice, but it was too potent. I ended up just brushing my teeth after each dose.
---
Useful and Unique Things to Know About ASPEN GREEN FULL SPECTRUM HEMP OIL – 3,000 MG
Aspen Green Full Spectrum Hemp Oil is made with organic fractionated coconut oil (MCT oil) and less than 1% organic rosemary extract. MCT oil is one of the most common mixtures found in hemp and CBD oils. It's widely used because it's a trusted supplement for people looking to lose weight or get an energy boost. Rosemary extract is a common and natural preservative often used to keep a product's freshness.
---
ASPEN GREEN FULL SPECTRUM HEMP OIL – 3,000 MG Ratings
In the next sections gradings from 0-100 on our review, these grades add up to give the product's overall score.
PRESENTATION • 100
Informative.
RELIABILITY • 100
Potent and effective.
QUALITY • 100
Organic and natural.
FLAVOR / SMELL / or EASE OF USE • 100
Tastes hempy.
VALUE • 100
Fair price for the amount of CBD.
---
How ASPEN GREEN FULL SPECTRUM HEMP OIL – 3,000 MG Stacks Up Against the Competition
This hemp oil is perfect for CBD-users who want to take a high-dose without having to take a lot. As someone who relies on CBD to manage stress and pain, it's great to find a product at such a high dose wherein I don't have to double up on servings to get the desired amount. It might look expensive at $149.99, but for 3,000 mg of CBD, it's a fair price. There are several unflavored CBD oils on the market that somehow manages to hide the taste of hemp. If Aspen Green wants to stay competitive, I recommend finding a formula that tastes better.
---
Saving Money with Our Verified GREEN ROADS Coupons
Save money by using our verified CBD Tinctures here at Save On Cannabis the World's largest online cannabis coupon code directory.
---
Disclosure: I received these products gratis so that I could try them and then share my honest opinion with the SOC community. I am employed by Save on Cannabis to write honest reviews and provided a flat rate payment for the writing of the review. SOC may receive recurring affiliate payments for purchases made based on this content.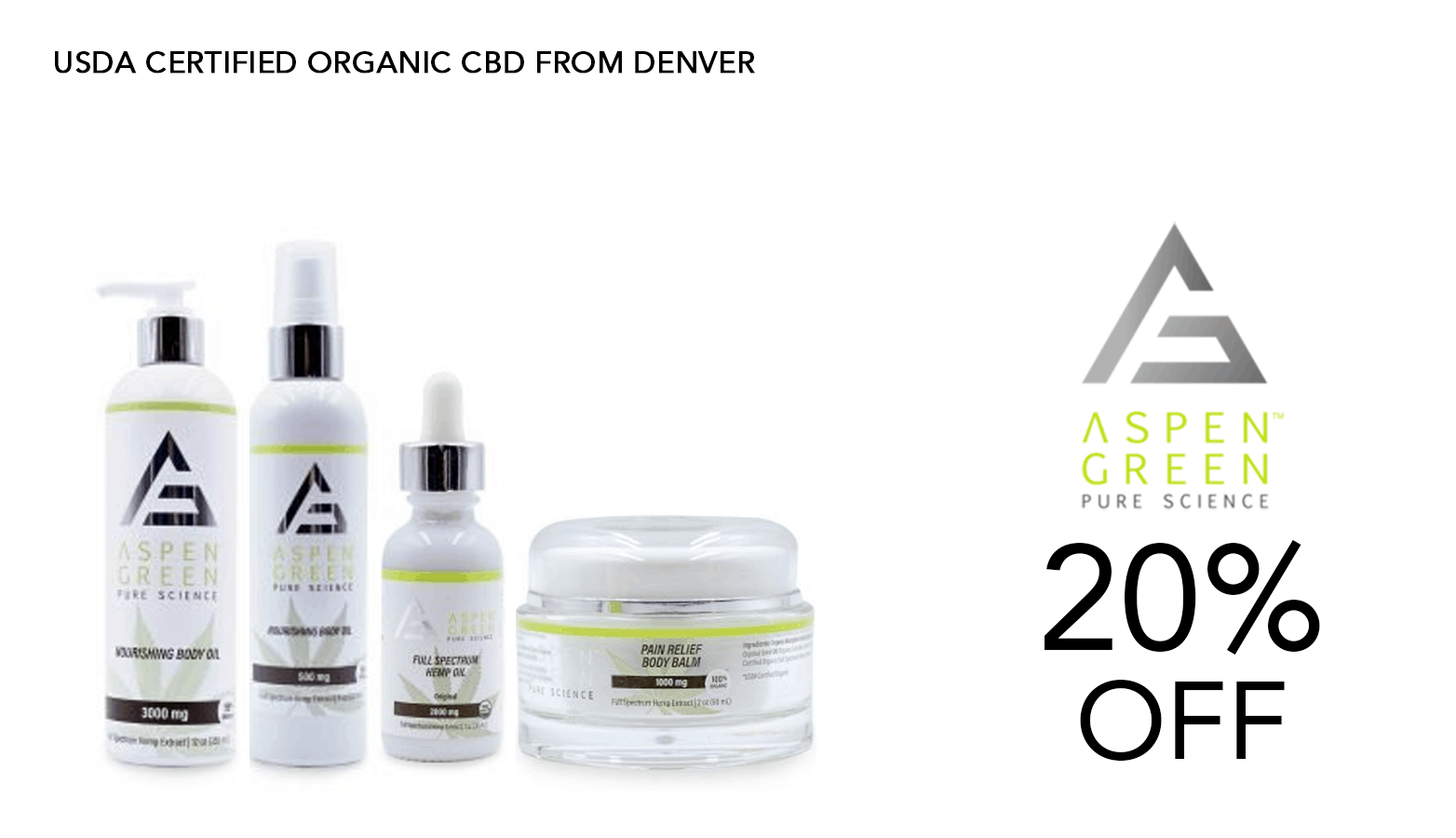 20% OFF site-wide Aspen Green coupon! All users. (Not valid on bulk products or bundles)
During the times of COVID, Quarantine, Stay At Home all the words that by themself bring stress, see if the CBDistillery 1,000mg helped ease anxiety.
Read our hands on review and see photos of the BioCBD+ vape CBD oil and pen combo pack. See what we liked & disliked. Also, get BioCBD Plus coupons here.
A Vital Plan Select review of their peppermint flavor organic CBD hemp oil with a high dose of 1,200mg CBD per bottle we see how it worked.