CBD Review: Social CBD Foot Renewal Cream
Jun 25, 2020 | SOC
SOCIAL CBD FOOT RENEWAL CREAM
Pros
Fresh, mint smell
Softens skin
Renewing
Moisturizing
Natural ingredients
SOCIAL CBD FOOT RENEWAL CREAM
Product Review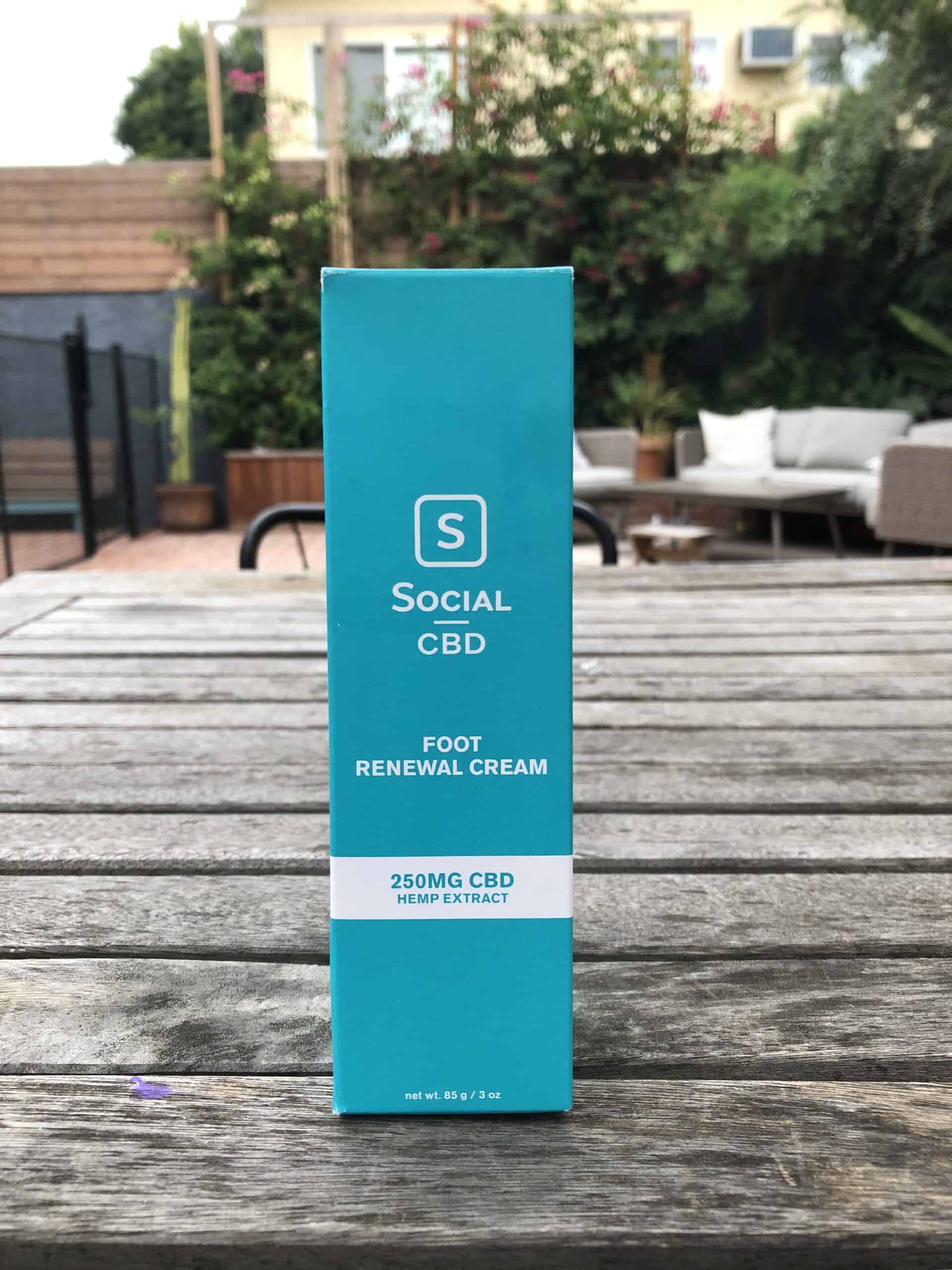 Brand Overview: SOCIAL CBD
Social CBD has created a line of CBD products that provide "natural solutions for modern life." Everything they make is 100% plant-based and rich in phytonutrients. Social CBD has a wide variety of drops, vape pens, capsules, and gummies to choose from. Their line of topicals includes products from Volcom, to help with recovery after a workout or time in the sun. They also have a line of self-care topicals for women called Zooey CBD.
Social CBD also makes products just for your pet! Sign up for their mailing list and save 20% off your first order.
Products: Drops, Vape Pens, Gel Capsules, Topicals, Gummies, Pets, Volcom CBD, Zooey CBD.
Price Range ($-$$$$): $$
---
About SOCIAL CBD FOOT RENEWAL CREAM
The CBD-infused foot cream from Social CBD is a great solution for your tired and dry feet. This moisturizing and renewing topical contains 250 mg of CBD and other natural and healing ingredients like arnica, white willow bark, menthol, shea butter, and avocado oil. There are no artificial fragrances or colors added, and this hemp cream has been third-party tested for purity and potency. You can apply Social CBD Foot Renewal Cream to your barking dogs no more than four times a day.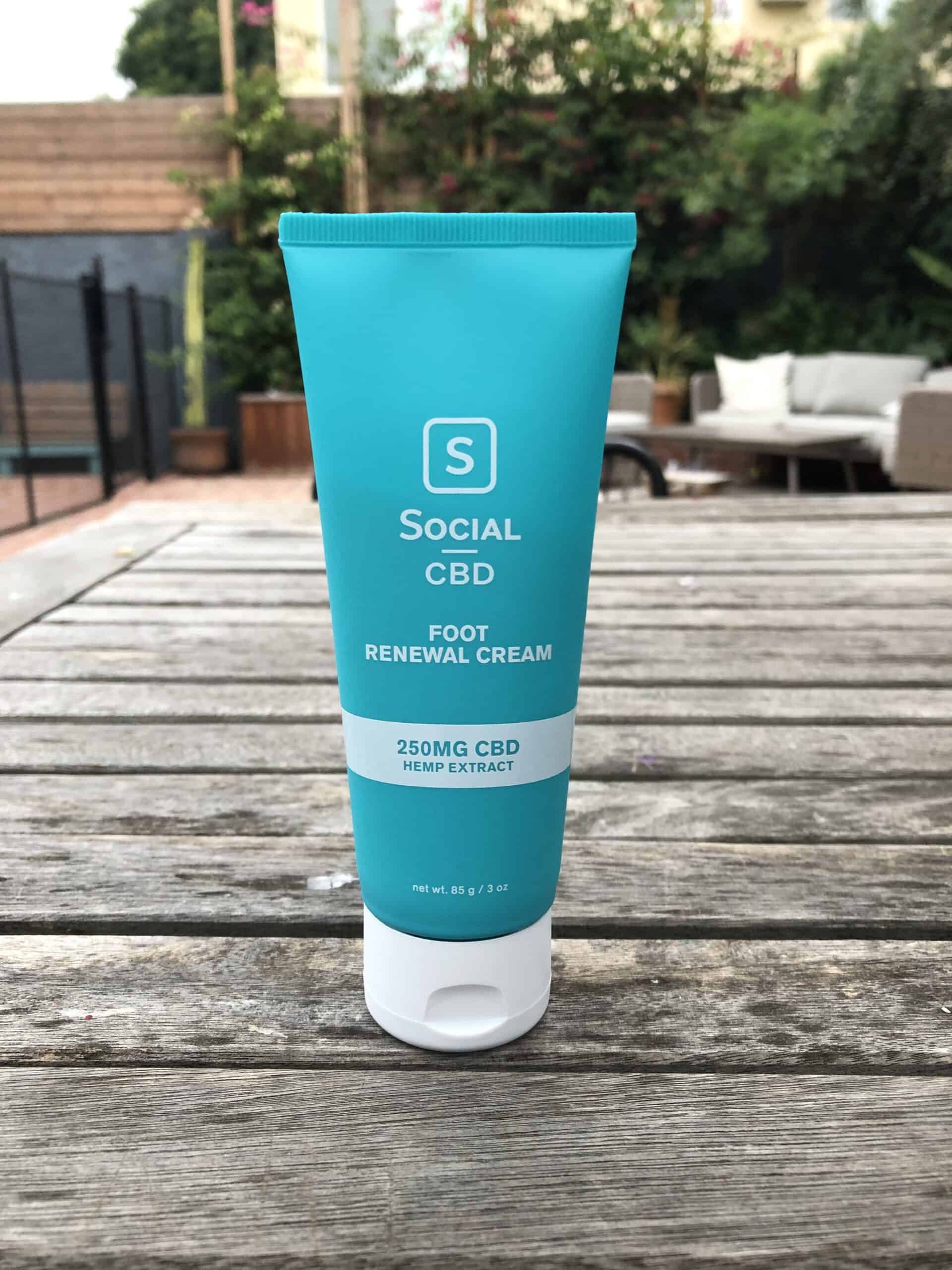 ---
SOCIAL CBD FOOT RENEWAL CREAM Specifications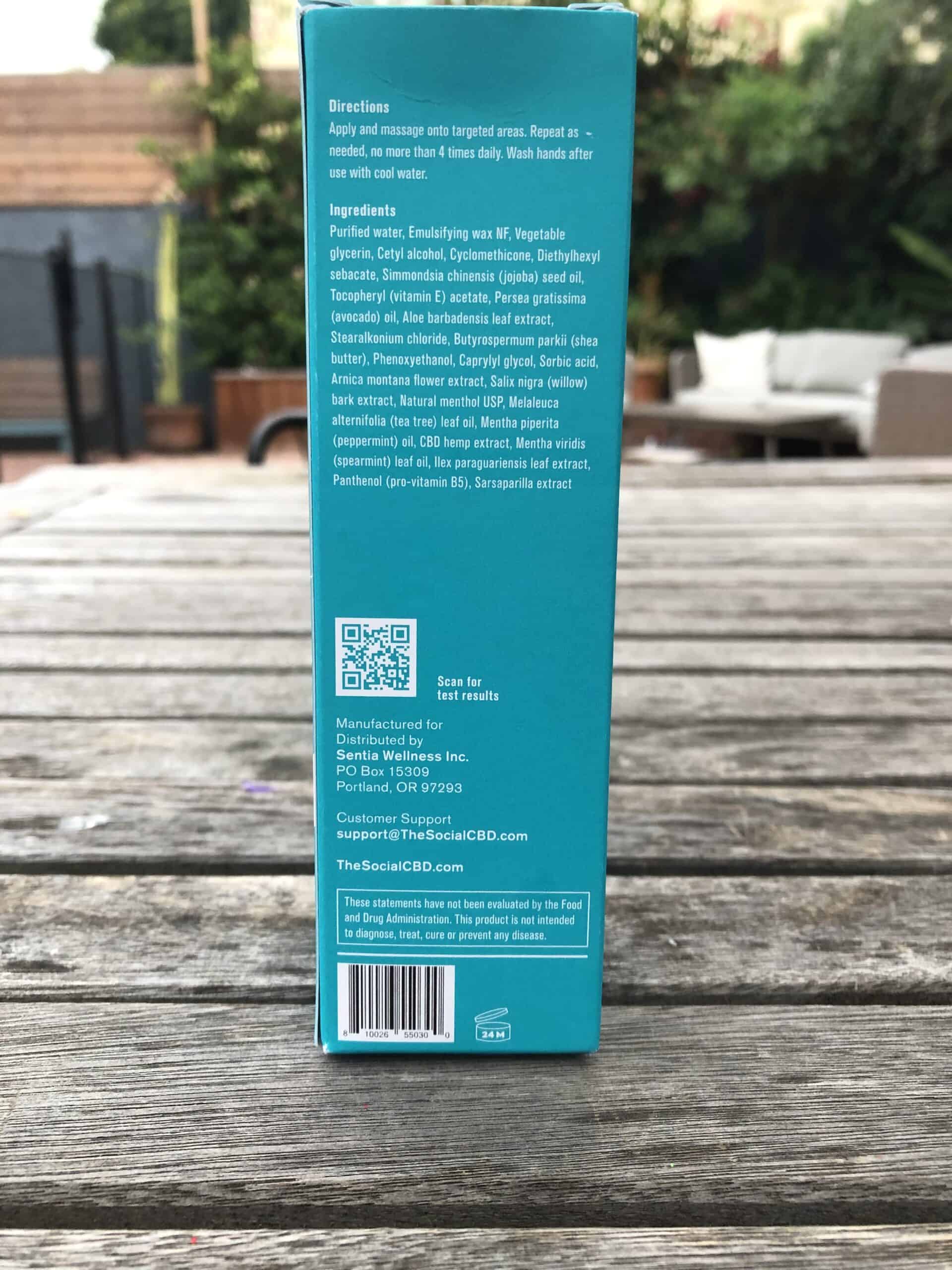 250 mg CBD per bottle
85 g / 3 oz
THC-free
Ingredients:Purified Water, Emulsifying Wax NF, Vegetable Glycerin, Cetyl Alcohol, Cyclomethicone, Diethylhexyl Sebacate, Simmondsia Chinensis (Jojoba) Seed Oil, Tocopheryl (vitamin E) Acetate, Persea Gratissima (Avocado) Oil, Aloe Barbadensis Leaf Extract, Stearalkonium Chloride, Butyrospermum Parkii (Shea Butter), Phenoxyethanol, Caprylyl Glycol, Sorbic Acid, Arnica Montana Flower Extract, Salix Nigra (Willow) Bark Extract, Natural Menthol USP, Melaleuca Alternifolia (Tea Tree) Leaf Oil, Mentha Piperita (Peppermint) Oil, CBD Hemp Extract, Mentha Viridis (Spearmint) Leaf Oil, Ilex Paraguariensis Leaf Extract, Panthenol (Pro-Vitamin B5), Sarsaparilla Extract
---
How We Tested the SOCIAL CBD FOOT RENEWAL CREAM
My poor feet have experienced more in their forty years than a lot of feet do in a lifetime. They were already wracked with mild arthritis when my right foot was unceremoniously run over by a car a couple of years ago. The wound on the top of the foot required a skin graft, and I still have bursitis in a couple of toes. For some reason, ever since the accident, the skin on my right foot is especially dry. When I was scouring Social CBD's website for topicals, and came across their Foot Renewal Cream, I immediately put it into my shopping basket. I'd never tried a topical made just for feet, and was excited to see if it would bring me some relief.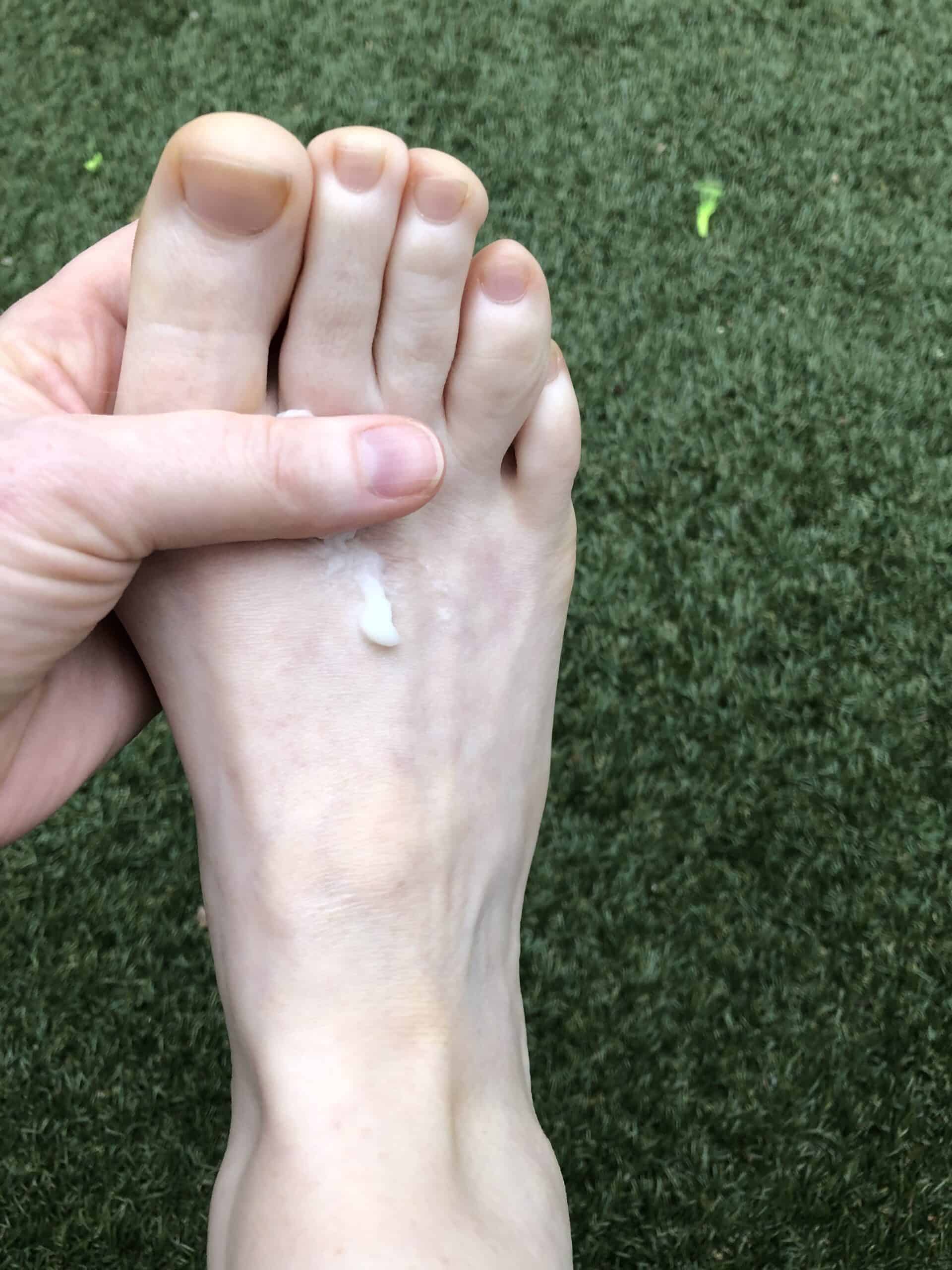 ---
How the SOCIAL CBD FOOT RENEWAL CREAM Worked for Me
I massaged the cream onto both feet, being careful not to press too hard on the toes that still hurt. The peppermint and spearmint were lovely and helped me to relax. The cream was like silk and made my skin smooth and soft. It helped moisturize the dry parts of my right foot, and the menthol even helped distract me from some of the pain when I walked. Count me down as a fan of Social CBD Foot Renewal Cream. I'll be using it on my feet daily, but I also love using it on my dry hands too.
---
Useful and Unique Things to Know About SOCIAL CBD FOOT RENEWAL CREAM
Social CBD Foot Renewal Cream contains a variety of ingredients to moisturize, soothe, and bring renewal to the skin on your feet. Arnica is used in homeopathy to treat pain and swelling. White willow bark can help with inflammation. Menthol creates that cooling sensation and also helps with pain. Shea butter and avocado oil both work to moisturize and repair the skin.
---
SOCIAL CBD FOOT RENEWAL CREAM Ratings
In the next sections gradings from 0-100 on our review, these grades add up to give the product's overall score.
PRESENTATION • 100
Informative and simple packaging.
RELIABILITY • 100
Soothing and moisturizing.
QUALITY • 100
Renewing ingredients.
FLAVOR / SMELL / or EASE OF USE • 100
Minty!
VALUE • 100
Fair price.
---
How SOCIAL CBD FOOT RENEWAL CREAM Stacks Up Against the Competition
Social CBD has become one of my favorite lines of topicals not just for their ingredients and quality, but because of their variety. There aren't a lot of other CBD foot creams on the market, so Social CBD stands apart from the competition in that way. While it's normally $34.99 for a 3 oz bottle of CBD cream, it's currently on sale for $19.99. I might have to stock up!
---
Saving Money with Our Verified SOCIAL CBD Coupons
Save money by using our verified CBD Topicals here at Save On Cannabis the World's largest online cannabis coupon code directory.
---
Disclosure: I received these products gratis so that I could try them and then share my honest opinion with the SOC community. I am employed by Save on Cannabis to write honest reviews and provided a flat rate payment for the writing of the review. SOC may receive recurring affiliate payments for purchases made based on this content.
In our new Pure Relief review our expert got to test out their high dosage 1,000mg CBD tincture. See how this worked for our reviewer now.
See in our Manitoba Harvest review of their CBD oil drops if it helps us get some sleep. Also, enjoy Manitoba Harvest coupons.
Our reviewer gets hold of the Hoboken Hemp Eucalyptus 250mg CBD blend to help her pains & get sleep. Find out how it worked in Hoboken Hemp review.