Magical CBD Mixed Berry 3000mg Tincture Review
Nov 8, 2020 | SOC
Magical CBD Mixed Berry 3000mg Tincture Review
Pros
Great price
Non-GMO
Vegan
THC-free
Fat-free
Sugar-free
Gluten-free
MAGICAL CBD
Product Review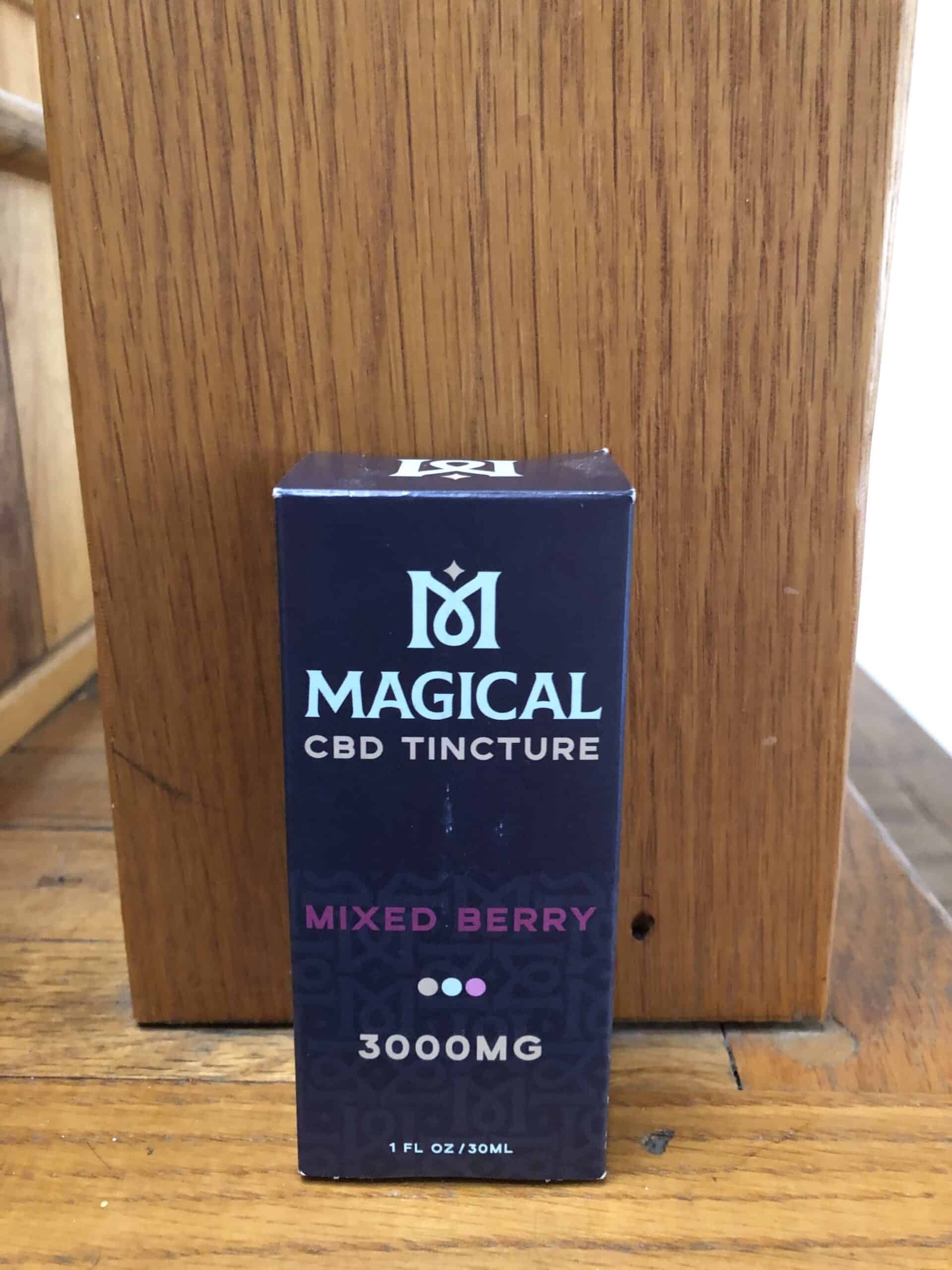 Brand Overview: Magical
Magical has created a line of hemp-derived CBD-infused products that are pesticide-free, cruelty-free, and follow the standards dictated by Good Manufacturing Practices to ensure quality. The founders of the company also created Magical Butter, which sells the MagicalButter MB2e, a botanical extractor you can keep in your home that helps you turn hemp into butter, oil, tinctures, lotions, and more. They use American grown hemp extract and all their products are THC-free.
Magical uses a third-party lab to test their products for purity and potency. You can find a detailed Certificate of Analysis for their products on the company's website. All of their products are vegan.
Products: Edibles, Tinctures, Softgels, Topicals, Bundles.
Price Range ($-$$$$): $
---
About MAGICAL CBD TINCTURE – MIXED BERRY – 3,000 MG
The mixed berry-flavored tincture contains 3,000 mg of fast-acting CBD and no THC, so it won't get you high. Magical CBD combines organic hemp with pure coconut MCT oil and a natural berry flavoring. This product is vegan, gluten-free, sugar-free, fat-free, GMO-free, and pesticide-free. The tincture comes in a bottle with a labeled dropper that makes dosing easy. A full dropper contains 50 mg of CBD, a high dose for a more experienced CBD user.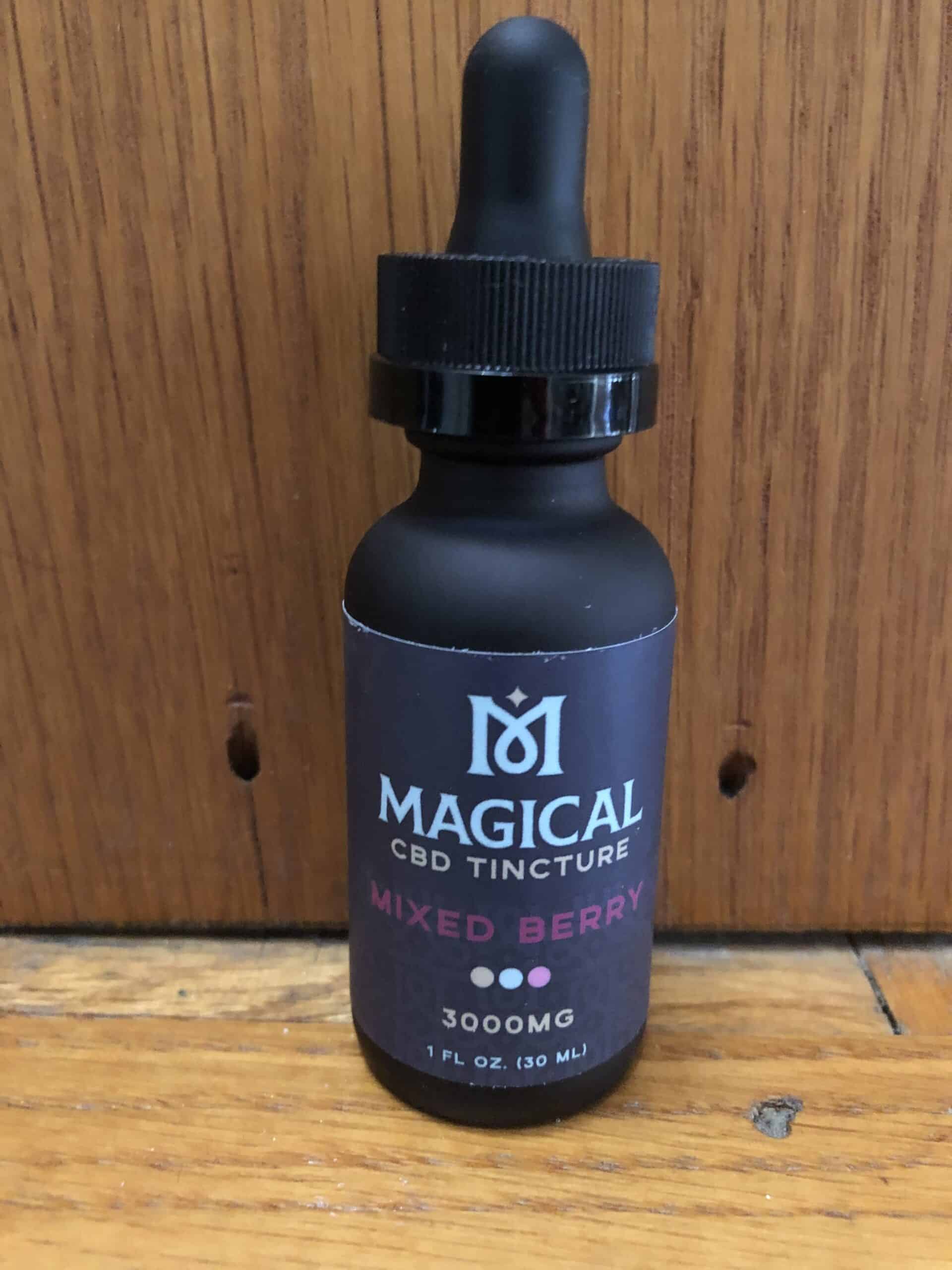 If you're new to CBD, experts recommend starting with 10 – 15 mg of CBD per serving, then working your way up. Magical CBD also creates this tincture with 1,500 mg and you can get it in different flavors like cinnamon, orange, and crème de menthe.
---
MAGICAL CBD TINCTURE – MIXED BERRY – 3,000 MG Specifications
3,000 mg CBD
30 servings
100 mg CBD per serving
THC-free
Fat-free
Sugar-free
Gluten-free
Non-GMO
Vegan
Ingredients: CBD Isolate, Broad-Spectrum CBD, Pure Coconut MCT Oil, Unrefined Hemp Oil, Mixed Berry Flavoring.
1 fl oz / 30 ml
---
How We Tested the MAGICAL CBD TINCTURE – MIXED BERRY – 3,000 MG
I wanted to try Magical CBD's mixed berry tincture because their other hemp oils really helped me relax and focus through stress. I have a chronic illness that worsens with stress, so finding new ways to find peace of mind is vital for me to live a healthy lifestyle. Two of my doctors have recommended using CBD tinctures as a way to manage stress, and one of them even uses it herself for her own chronic illness. I was excited to try the mixed berry hemp oil from Magical CBD because their other tinctures tasted amazing and worked great.
I've gone back to college and have been stressing over midterms. The last time when I had midterms I got super sick afterward and had to take a week off. This time, I'm hoping that using this CBD tincture in combination with meditation and taking breaks will help keep the stress at bay so I don't get sicker. I took 25 mg in the morning, afternoon, and 50 mg before bed.
---
How the MAGICAL CBD TINCTURE – MIXED BERRY – 3,000 MG Worked for Me
I could feel the positive effects of the CBD tincture in less than an hour. I felt warm and relaxed. The CBD didn't make me feel tired or spacy the way THC does so I was able to get hours of focused studying done without being distracted by illness. I managed to get through my exams without getting as sick as I did last time, and I owe that in part to CBD. It helped me be more mindful as to when my body and mind needed to take a break.
I'm obsessed with how delicious Magical CBD's cinnamon and orange flavors were so was disappointed that the mixed berry wasn't as good. The berry flavor is nice, but there's a bitterness to the tincture that I think comes from the hemp. With Magical CBD's other flavored tinctures, I couldn't taste the hemp at all.
---
Useful and Unique Things to Know About MAGICAL CBD TINCTURE – MIXED BERRY – 3,000 MG
I found it interesting that Magical CBD uses both CBD isolate and broad-spectrum CBD. Usually, companies just pick one so I'm curious why they mixed the two. CBD isolate is essentially pure CBD. The hemp undergoes a process that removes all the cannabinoids except for CBD. Broad-spectrum CBD occurs when the hemp maintains all the different cannabinoids, except the THC is removed. It's through broad-spectrum CBD that you experience the "entourage effect" in which all the cannabinoids work in harmony to make the CBD more impactful.
---
MAGICAL CBD TINCTURE – MIXED BERRY – 3,000 MG Ratings
In the next sections gradings from 0-100 on our review, these grades add up to give the product's overall score.
PRESENTATION • 100
Informative packaging.
RELIABILITY • 100
Relaxing and effective.
QUALITY • 100
All-natural ingredients.
FLAVOR/SMELL/or EASE OF USE • 90
Great flavor but slightly bitter.
VALUE • 100
Low price.
---
How MAGICAL CBD TINCTURE – MIXED BERRY – 3,000 MG Stacks Up Against the Competition
Magical CBD has become my new favorite place to get tinctures. I'm obsessed with their cinnamon and orange-flavored tinctures, which taste like candy. While the mixed berry was my least favorite of the four different flavors, it's still an effective product that's sold at a good price. I know Magical CBD can create great flavors, so to be more competitive, maybe they can find a way to make the mixed berry taste less bitter.
---
Saving Money with Our Verified MAGICAL Coupons
Save money by using our verified CBD Tinctures Coupons here at Save On Cannabis the World's largest online cannabis coupon code directory.
---
Disclosure: I received these products gratis so that I could try them and then share my honest opinion with the SOC community. I am employed by Save on Cannabis to write honest reviews and provided a flat rate payment for the writing of the review. SOC may receive recurring affiliate payments for purchases made based on this content.

Sorry, no coupons were found.
Winter is a pain on our lips and we need help! Luckily, we were able to test the CBDistillery Lip Balm with CBD...see how it worked.
Discover if Calm by Wellness Hemp CBD Gummies are right for you! Read our comprehensive review before you buy. Also, get a coupon here.
In this American Hemp Oil review of the 500mg CBD Tincture see how this CBD tincture worked for our reviewer & if it should be on your list.